A/D/O by MINI, the creative space in greenpoint, brookyln, invites the public to step from one city of skyscrapers into another. the immersive installation, called 'spirit of the city', was created by london-based united visual artists (UVA) and is a configuration of dynamic, mirrored nine-foot columns that compose a constantly changing performance of light, shadow, reflection and, most importantly, movement. the site-specific artwork opened in the creative hub's outdoor courtyard on may 18th, during NYCxDESIGN 2018, and will remain open to the public, as well as the natural elements, until september 2nd 2018.
before the opening of 'spirit of the city', designboom exclusively previewed the space at A/D/O. whilst there, we interviewed matt clark, founder of UVA, and esther bahne, head of brand strategy and business innovation at MINI, who discussed the role that A/D/O plays in the creative scene at MINI and in new york, the multiple layers of meaning behind the installation, and how the immersive experience intends to inspire visitors.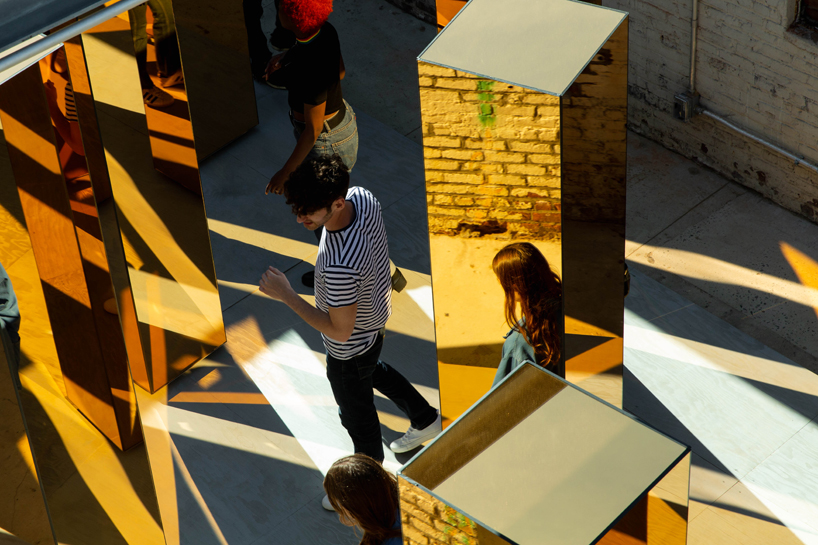 image courtesy of MINI
in A/D/O's exposed courtyard, the spirit of the city is a modular system of 16 revolving columns. these blocks adorn a polished reflective surface that, from the floor upwards towards the sky, magnifies the sun's light, reflection, shadow and movement. as day turns to dusk, the installation changes dramatically, drastically but unpredictably in character as it begins to be illuminated by sodium vapor lamps and even the night sky on clear evenings.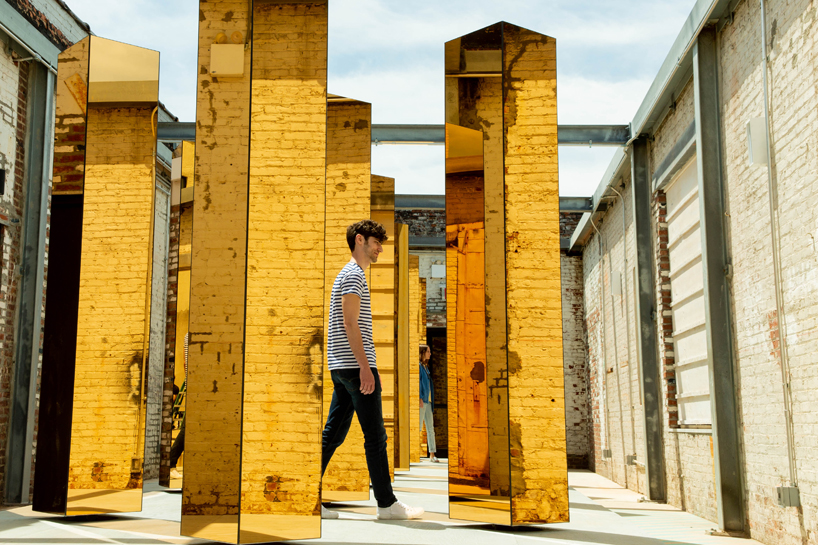 image courtesy of MINI
the mesmerising motion of the installation and its resulting reflections and shadows serve for much more than just visual beauty. its seemingly organic behavior poetically acts as a reference to the underlying forces of those living in cities, specifically in new york, and the constant changes that take place. however, in actual fact, the algorithm is pre-programmed to literately reflect the daily levels of human activity in the urban environment based on open sourced data. an orchestrated performance unfolds during a 24-hour cycle, where multiple numbers of moods are illustrated.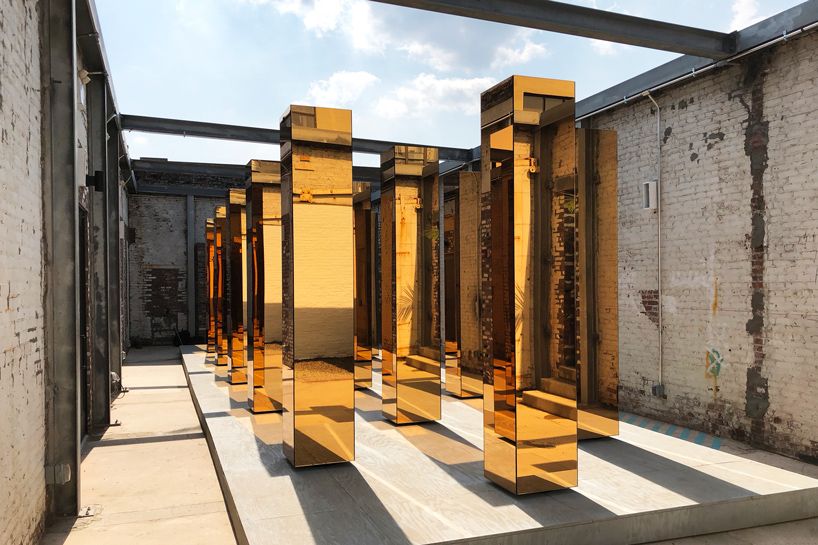 image © designboom
throughout these daily cycles, the installation encourages visitors to immerse themselves in a highly emotional visual representation of their urban surroundings. be it raining, cloudy, sunny or night time, the experience is unique per person and per visit. as such, it aims to challenge personal perceptions, inspire and elicit a powerful reaction similar to the thrill of experiencing a new city for the first time. guests, after stepping back into reality from the golden columns, may take away memories of ephemeral beauty or clear ideas of positive reflection.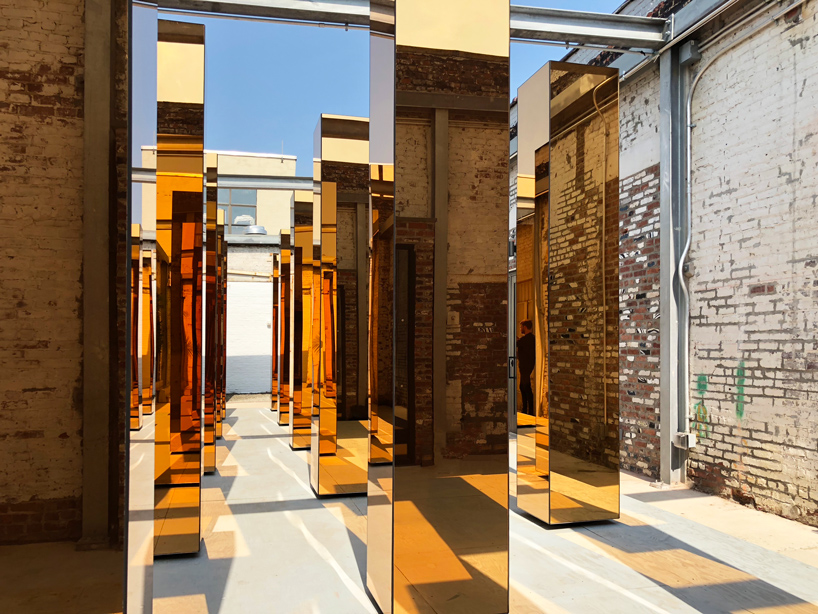 image © designboom
DB: how does A/D/O aid MINI in broadening its artistic activities further than its typical field of automotive design?
esther bahne (EB): for MINI, it is imperative that we create things that are relevant to people. this means creating products, services and events that are appreciated, unique and, in the end, irreplaceable. in this effort, it is inevitably important to continue to innovate and rethink the product offering. we felt that we needed an innovation hub that not only allows MINI to explore new ideas and practices but, more importantly, engage and interact with the people that we are designing for. this is exactly what A/D/O stands for. it has helped transform MINI from being just a car brand to one with a more holistic lifestyle, such as MINI FASHION AND MINI LIVING.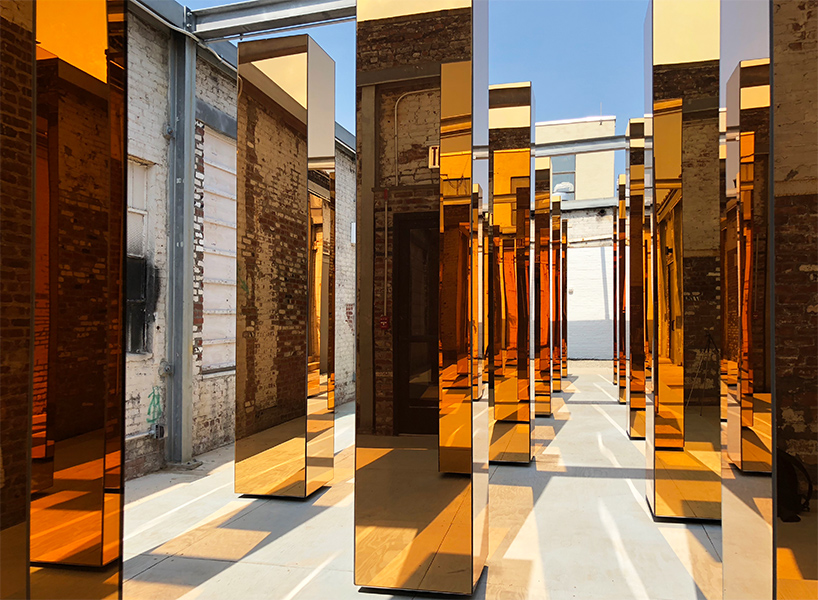 image © designboom
DB: with 'spirit of the city' opening to the public during NYCxDESIGN 2018, why do you think it is important for MINI to engage in cultural programming like this festival?
EB: we have already created different MINI LIVING installations at three milan design weeks and at two london design festivals. these are moments of interest for creatives in cities. however, with 'spirit of the city', the installation invites the public into A/D/O and to get involved in the creative conversation that we encourage here.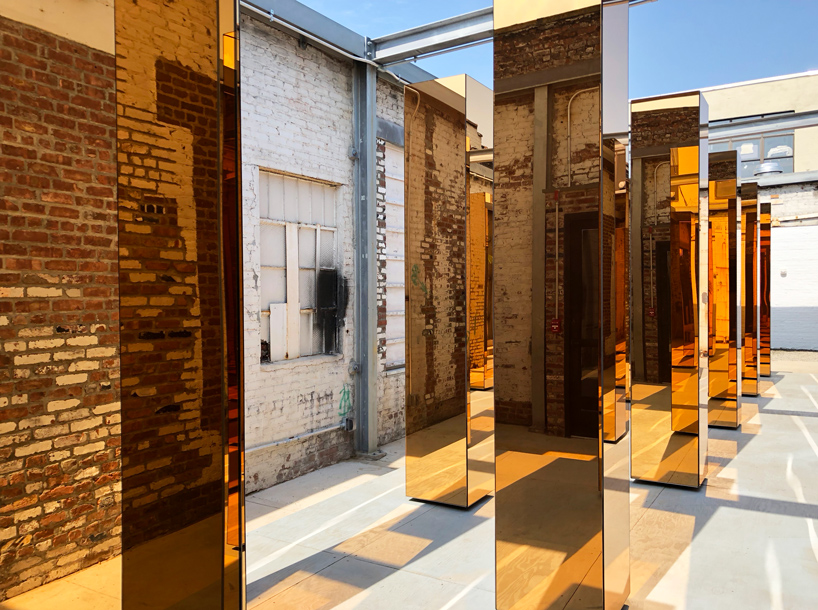 image © designboom
DB: how did the collaboration between A/D/O and UVA start?
EB: it all started from one of A/D/O's previously projects with london-based assemble back in 2017. from that piece of work, we then began increasing our knowledge of creatives in that city's creative scene. this is where we recognized the work of UVA and felt that it was a perfect match. they have a unique way of creating art, which focuses on experiential design, that stimulates emotion. it is impossible to experience their work and stay untouched so to speak. in a similar style to MINI, they are very multi-disciplinary as they unite people from different backgrounds, merge various perspectives and create art with multiple layers.
matt clark (MC): A/D/O approached us to create an immersive artwork for their courtyard. we were really intrigued by their previous commissions with other artists and architects, and so the conversation started there. however, there was not really a brief for the project, apart from its site specification.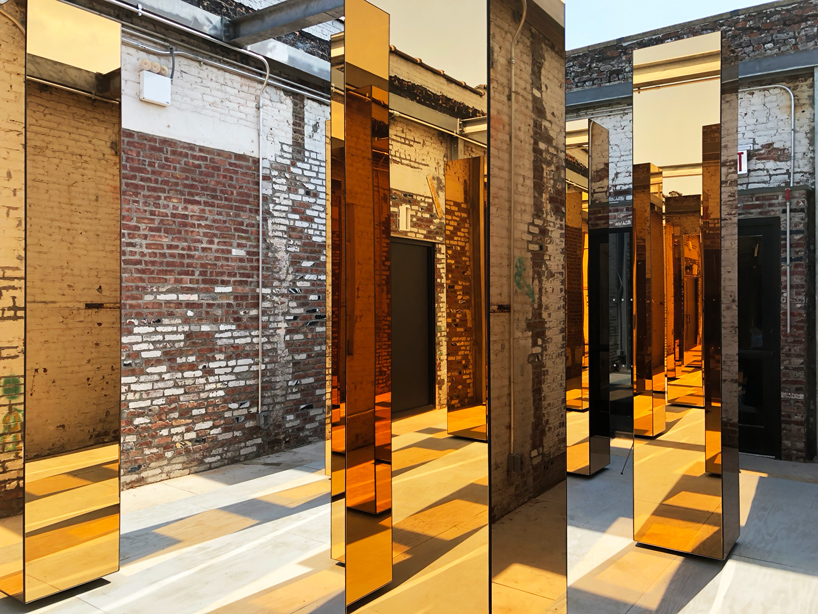 image © designboom
DB: can you explain what the immersive installation, 'spirit of the city', is?
MC: located in A/D/O in greenpoint, brooklyn, we have just opened an installation called 'spirit of the city'. it is composed of sixteen mirrored columns that are slowly rotating throughout the course of a day. it is a very site specific installation as it reacts with the exposed environment.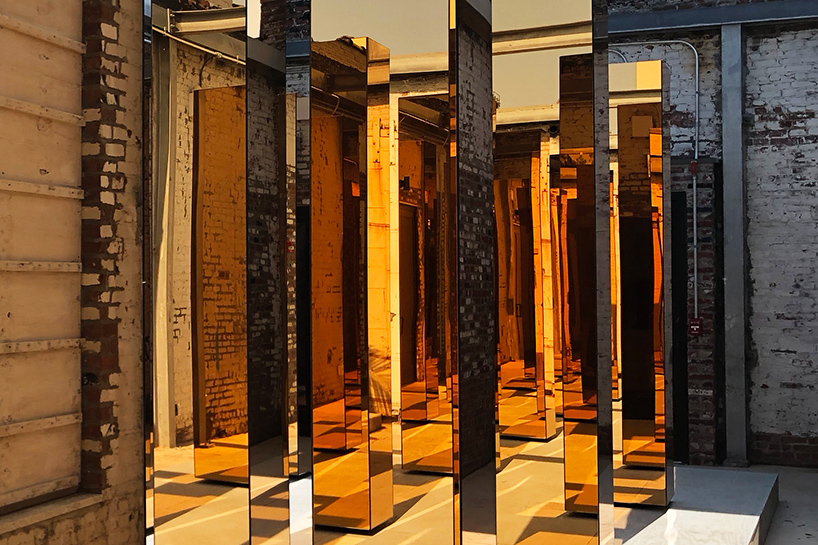 image © designboom
DB: with 16 columns each rotating to its own program, was the installation's degree of movement intended to relate specifically to MINI and their cars?
MC: there was a reference to navigating a city, whether that is by walking or by travelling in a car. as people explore, we are used to seeing everything moving around. it is really peculiar when the environment moves instead of someone moving around it. this creates a very strange sensation for city dwellers and we hope this will result in an inspiring experience.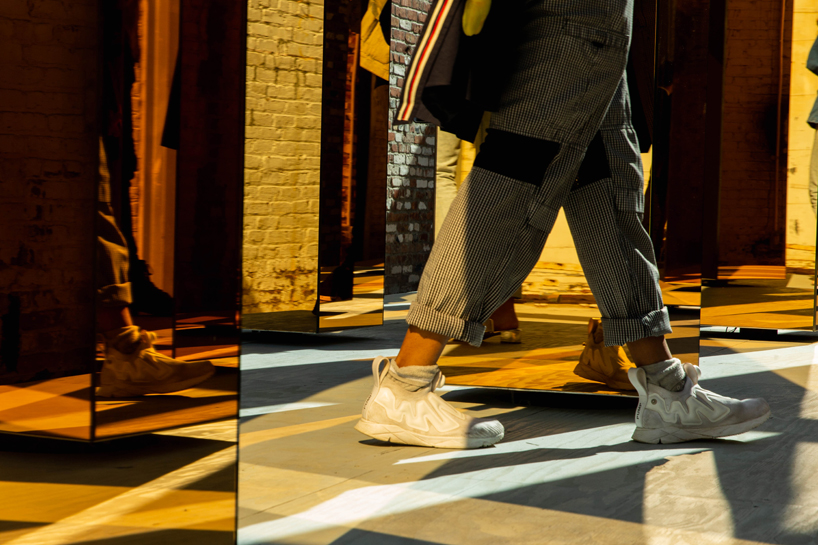 image courtesy of MINI
DB: what was the process of creating and developing 'spirit of the city'?
MC: a piece of work like 'the spirit of the city' involves a lot of different disciplines. it is very minimalistic and has lots of materiality, as well as electromechanical engineering, software design and even more going on underneath the hood so to say. it was really a challenge to bring all these different elements together in an installation that appears quite effortlessly at first glance. this would have been impossible to do without an iterative and collaborative process that we employ at the studio, which is now made up of seven people.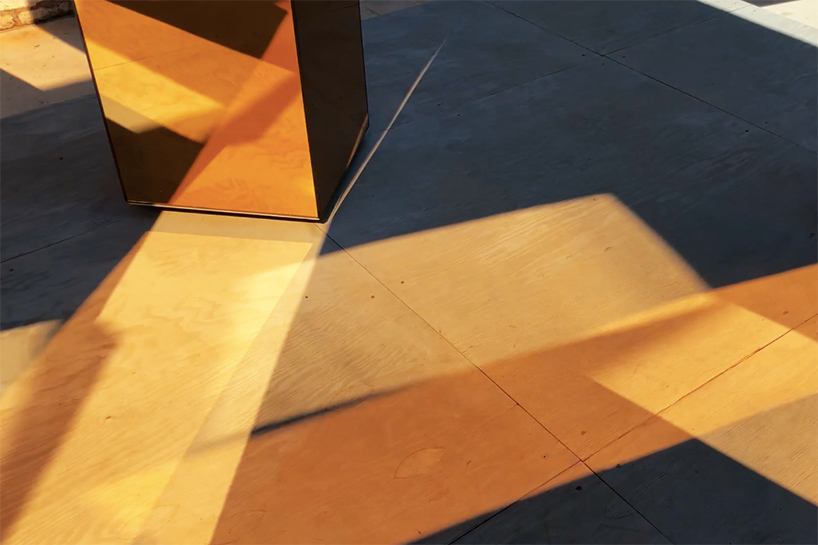 image © designboom
DB: how do you envision visitors will experience the multiple layers of meaning to the installation?
MC: well, the installation is a response to the architectural space available at A/D/O and also in the city of new york. similarly to our work as a practice, it is very much about navigating an urban environment and how it can be simultaneously overwhelming and exciting. as the viewer walks through the work, the intention is that they experience a moment of contemplation and, as the columns move around them, a subtle sense of disorientation. this experience is different per user but also per time of the day. In the morning, 'spirit of the city' rightfully feels completely different to the evening. this is also the case when it rains, is cloudy or sunny. during the latter, the light creates really wonderful reflections where a level of complexity emerges due to the movement.
EB: UVA simulated the skyscrapers of manhattan but decorated as gold pillars and at a much more human scale. this was so that visitors do not feel over powered or claustrophobic, which many people often experience in cramped, big cities. these environments, just like our products at MINI, should entice, intrigue and energize people. we hope that visitors will feel inspired after experiencing the installation so that, in the future, the world can see what they create in turn.
a diverse digital database that acts as a valuable guide in gaining insight and information about a product directly from the manufacturer, and serves as a rich reference point in developing a project or scheme.
designboom will always be there for you
milan, new york, beijing, tokyo

,
since 1999