GUIDE TO THE VENICE ART BIENNALE 2022
Delayed a year due to the global pandemic, the 2022 Venice Art Biennale is finally almost here. The 59th edition is set to run from April 23 to November 27 (pre-opening on April 20, 21 and 22), bringing together thousands of artworks from over 80 countries. As usual, one of the main attractions is the International Art Exhibition, which this year is curated by Cecilia Alemani under the title 'The Milk of Dreams'. The exhibition also includes 80 national participations in the historic pavilions at the Giardini, at the Arsenale and in various venues in the city center. In addition, 30 collateral events in the form of exhibitions and initiatives promoted by non-profit national and international bodies and institutions, take place in various locations in Venice. Finally, the city's museums and art spaces are hosting major exhibitions that coincide with the duration of the show.
As long-time visitors to the Venice Biennale, we know that the overall experience may seem overwhelming. As such, we have gathered a comprehensive overview to help you organize your time around the key exhibitions and events on view. Below you can find our guide to the International Art Exhibition, national pavilions, collateral events, and major museum and art space exhibitions taking place around the city. We have added details of each event's location so you can easily mark these on your map and start crossing them out when you visit. Though this will hopefully help with making sure you won't miss any of this year's highlights, it's good to keep in mind that it is nearly impossible to see it all in one go – let alone remember it. At the end of the day, we suggest you leave your fear of missing out behind and focus on fully experiencing the works that speak to you. Just remember, you have a good seven months to keep coming back if you need to!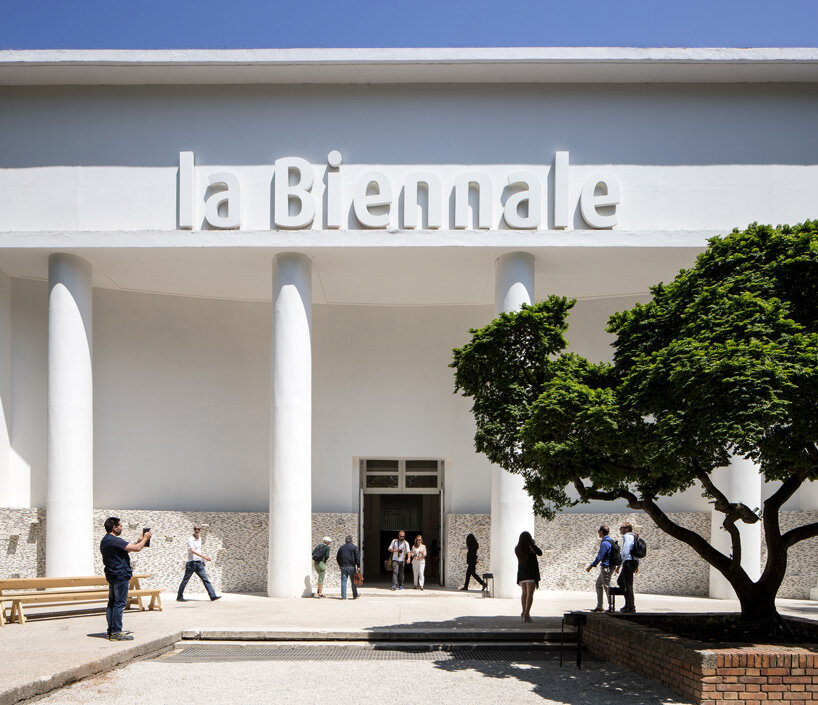 La Biennale, Central Pavilion, Giardini. photo by Francesco Galli
header image: the Gaggiandre venue, part of the Arsenale complex. photo by Andrea Avezzù, courtesy of La Biennale di Venezia
THE 59TH INTERNATIONAL ART EXHIBITION – THE MILK OF DREAMS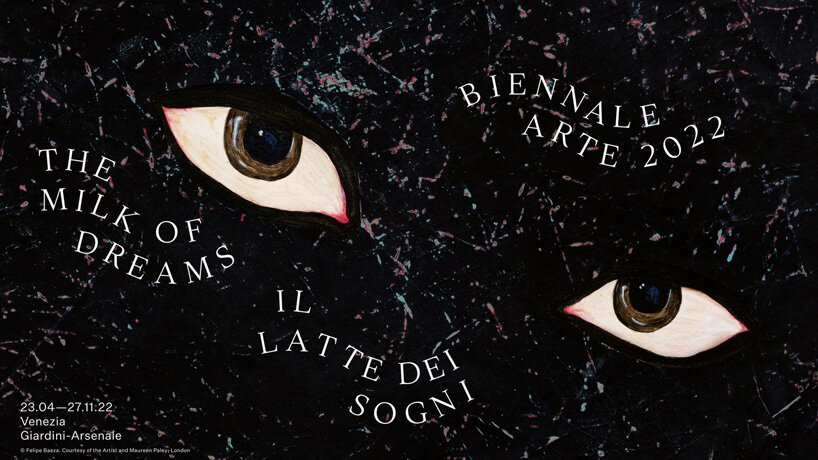 the Biennale's visual identity for the 2022 edition features works by artist Felipe Baeza, image courtesy La Biennale Di Venezia
Overseen by director and chief curator of High Line Art, Cecilia Alemani, the International Exhibition unfolds in the central pavilion of the Giardini, and in the Corderie, Artiglierie, and the outdoor spaces of the Gaggiandre and Giardino delle Vergini at the Arsenale complex. 'The Milk of Dreams' brings together 213 artists from 58 countries, whose work will be displayed within a series of architectural spaces designed by Formafantasma. For the first time in its 127- year history, the Biennale will include a majority of women and gender non-conforming artists. According to Alemani, this choice 'reflects an international art scene full of creative ferment and a deliberate rethinking of man's centrality in the history of art and contemporary culture.' Find out more about it here.
NATIONAL PARTICIPATIONS – GIARDINI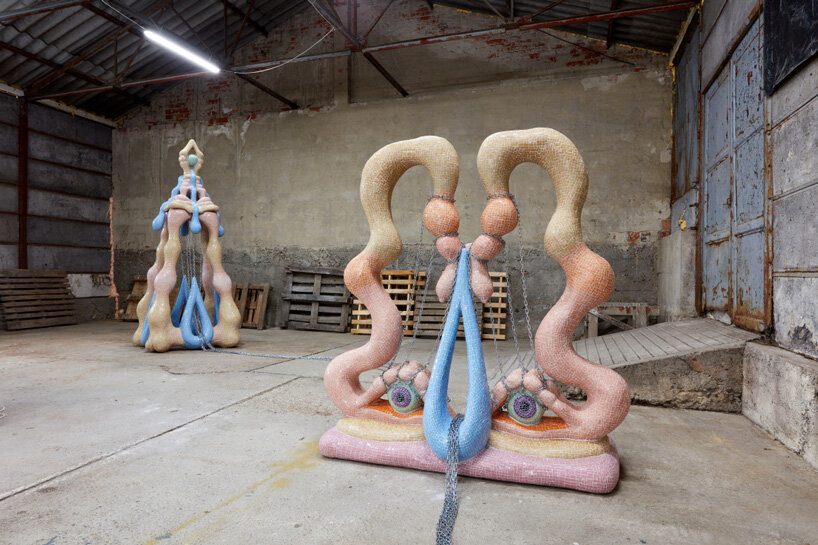 Zsofia Keresztes, 'After Dreams: I Dare to Defy the Damage', 2020 (detail). photo: David Biró
Alongside the Central Pavilion, the Giardini features over 20 National Pavilions enclosed by the green surroundings of the park. These include the Pavilion of Hungary, in which this year artist Zsófia Keresztes presents new sculptures in an exhibition titled 'After Dreams, I Dare to Defy the Damages'; the Pavilion of Canada, where Vancouver-based artist Stan Douglas represents his home country for the first time; and the British Pavilion, where artist Sonia Boyce will be the first black woman to represent the country at the Venice Biennale. Check the full list of national participations here.
NATIONAL PARTICIPATIONS – ARSENALE

Space Caviar, Garden of Knowledge, 2022. rendering courtesy Space Caviar
The Arsenale Complex, which includes the Corderie, Artiglierie, and the outdoor spaces of the Gaggiandre and Giardino Delle Vergini, hosts the Italian Pavilion, as well as a number of national participations. Among this year's exhibitors is the Republic of Uzbekistan, which presents 'Dixit Algorizmi – The Garden of Knowledge', an exhibition of works by Abror Zufarov and Charli Tapp curated by Studio Space Caviar and Sheida Ghomashchi. Following its deput in 2019, Ghana is returning with 'Black Star—The Museum as Freedom', a show that features works by artist Na Chainkua Reindorf, Afroscope, and Diego Araúja, exhibited in an architectural design by DK Osseo Arare. Check the full list of national participations here.
NATIONAL PARTICIPATIONS – VENUES AROUND THE CITY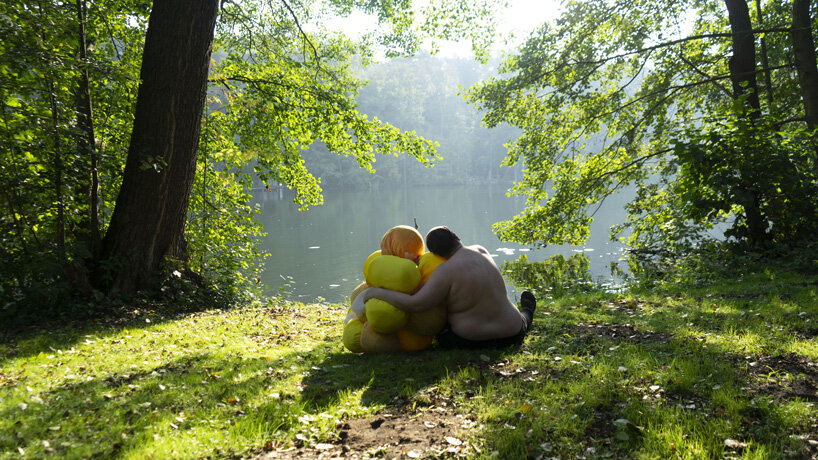 Melanie Bonajo, 'When the body says Yes', 2022. commissioned by the Mondriaan Fund. photo by Sydney Rahimtoola
Several countries are exhibiting in venues around the city center of Venice. For the 2022 edition, the Dutch Pavilion has decided to break with tradition and present its exhibition at the Chiesetta della Misericordia of Art Events, a deconsecrated 13th- century church in Cannaregio. Meanwhile, it has invited Estonia to make use of the Rietveld Pavilion in the Giardini for the current edition. In Via Garibaldi 1513, artist Tomo Savić-Gecan will represent Croatia with 'Untitled (Croatian Pavilion), 2022', an installation that will take the lead story from a randomly selected global news source and feed it as data into an artificial intelligence algorithm. This in turn will prescribe the time, location, duration, movements and thoughts of a group of five performers in the city of Venice. Check the full list of national participations here.
LUCIO FONTANA / ANTONY GORMLEY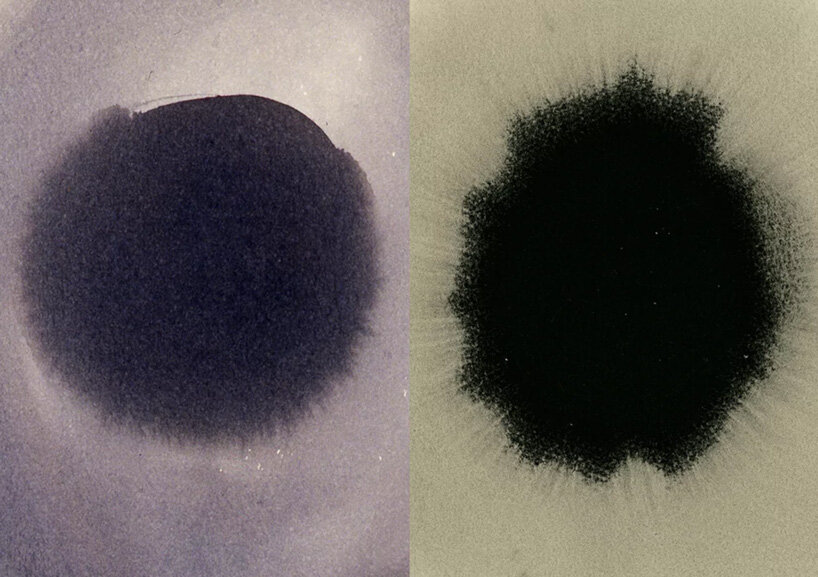 image: Lucio Fontana / Antony Gormley – (from left to right): Lucio Fontana, Ambiente spaziale, 1948, gouache on paper, 37,7 x 22,5 cm (detail). Milano, Fondazione Lucio Fontana. Copyright: Fondazione Lucio Fontana by SIAE 2022 – Antony Gormley, CHROMOSPHERE XI, 2019, Carbon and casein on paper, 27.7 x 38 cm, © the artist
What: Lucio Fontana / Antony Gormley
When: 20 April—27 November 2022
Where: Negozio Olivetti, Venice, Italy
For the first time, the work of artists Lucio Fontana and Antony Gormley come together in a landmark exhibition. 'Lucio Fontana / Antony Gormley' takes place at the historic Negozio Olivetti, a storied mid-century era space designed by architect Carlo Scarpa (originally commissioned by Italian industrialist Adriano Olivetti in 1957) and located on the northern edge of Piazza San Marco in Venice.
MARY WEATHERFORD – THE FLAYING OF MARSYAS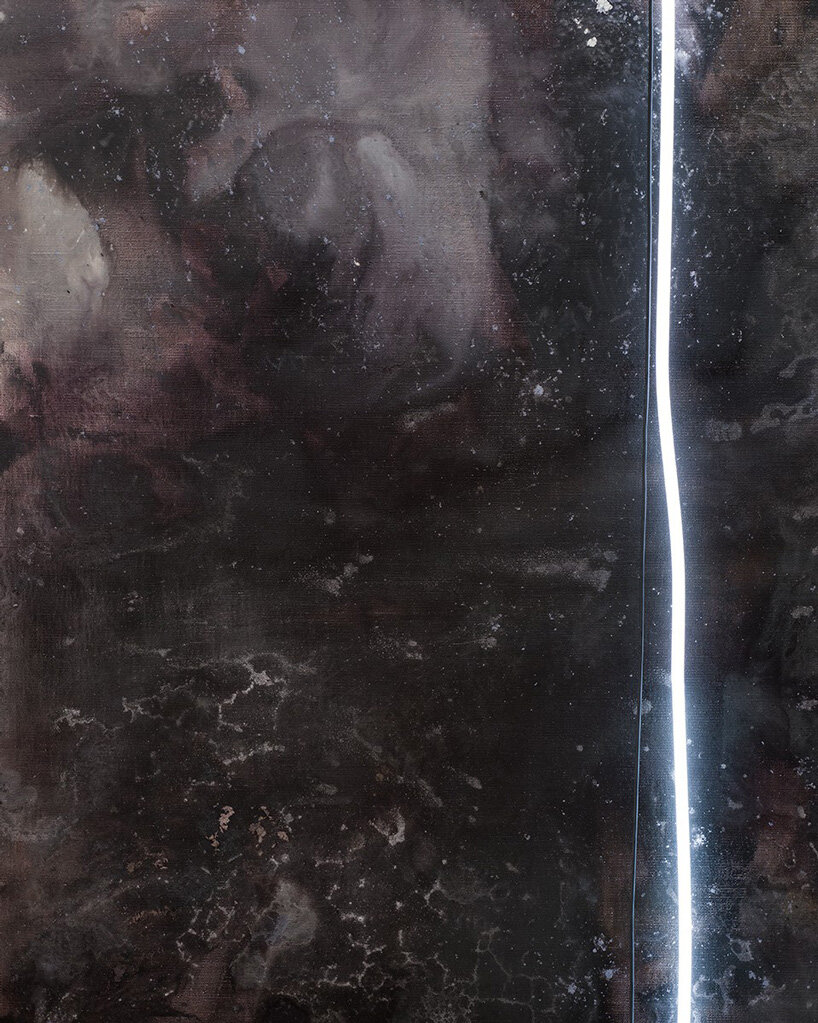 Mary Weatherford, The Flaying of Marsyas—Natural White and Satin, 2021–22 (detail) © Mary Weatherford. photo by Fredrik Nilsen Studio
What: Mary Weatherford – The Flaying of Marsyas
When: 20 April– 27 November 2022
Where: Museum of Palazzo Grimani
'The Flaying of Marsyas' presents new paintings by Mary Weatherford, which are directly inspired by Titian's late, eponymous masterpiece of 1570–76 and reflect her enduring fascination with the painting. Alluding to the Renaissance painter's subdued palette, while paying tribute to the distinctive light of Venice, Weatherford uses Flashe paint and neon tubing to distill the historical canvas's affect.
NILUFAR GALLERY AT AEROPORTO NICELLI, LIDO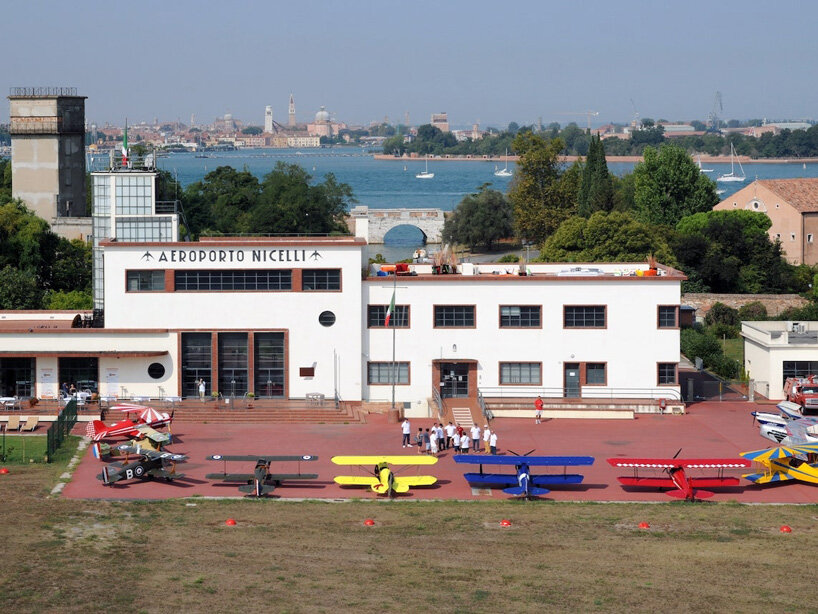 image courtesy of Nilufar Gallery
What: Nilufar Gallery
Where: Giovanni Nicelli Private Airport, Lido Island
Launching in conjunction with the opening of the Biennale, Nilufar Gallery's new exhibition space will occupy an area of ​​the 1920s Giovanni Nicelli Private Airport In Lido Island. The Founder Of Nilufar, Nina Yashar, has curated a selection of historical design pieces, with works by great masters such as Gio Ponti, Franco Albini, Ignazio Moncada, BBPR, Pietro Consagra, Angelo Lelii, and Joaquim Tenreiro, in dialogue with contemporary artefacts by artists such as Martino Gamper, Bethan Laura Wood and Analogia Projects.
DRIFT – SOCIAL SACRIFICE DRONE PERFORMANCE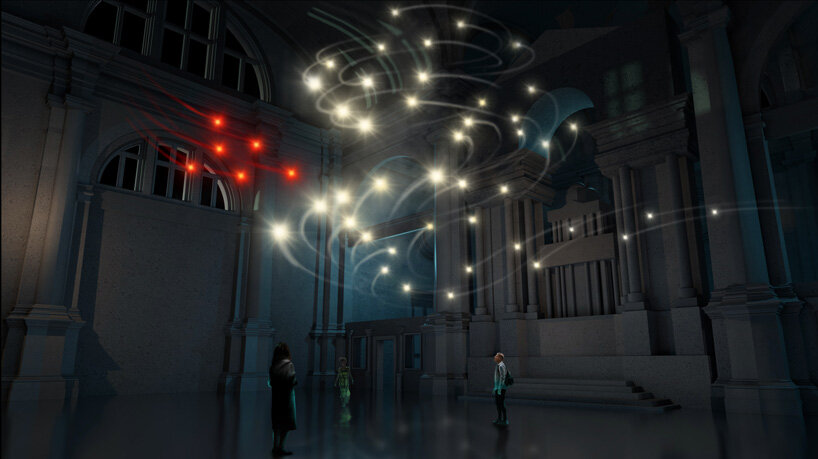 DRIFT, Social Sacrifice (2022), Courtesy the artists and Aorist
What: DRIFT – Social Sacrifice drone performance
Where: TBA21-Academy's Ocean Space
When: Every evening from 9 PM to 11 PM (CET), April 20 to May 1, 2022
DRIFT will stage their first-ever indoor aerial drone performance titled 'Social Sacrifice' in Venice alongside the 2022 Venice Art Biennale. Commissioned by Aorist and hosted by TBA21-Academy's Ocean Space, a Venice-based cultural center for catalysing ocean literacy, research, and advocacy through the arts, Social Sacrifice animates a flying school of A.I. fish that will 'swim' through the Church of San Lorenzo.
ANSELM KIEFER – QUESTI SCRITTI, QUANDO VERRANNO BRUCIATI, DARANNO FINALMENTE UN PO' DI LUCE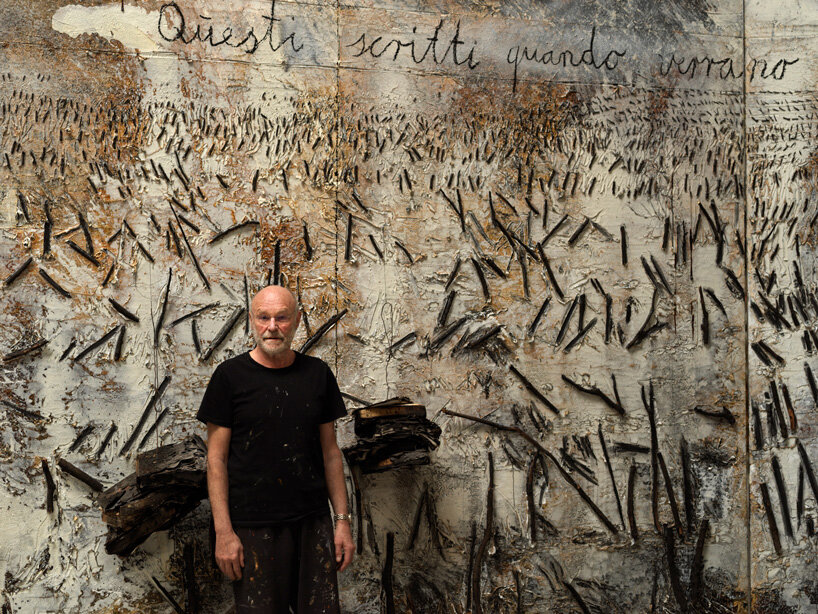 Anselm Kiefer portrait. photo by Georges Poncet
What: Anselm Kiefer – Questi Scritti, Quando Verranno Bruciati, Daranno Finalmente Un Po' Di Luce
When: April 20 – October 29, 2022
Where: Palazzo Ducale, San Marco, 1
Curated by Gabriella Belli and Janne Sirén, Anselm Kiefer's exhibition 'Questi Scritti, Quando Verranno Bruciati, Daranno Finalmente Un Po' Di Luce' opens on April 20 at Palazzo Ducale. Linked to the celebrations marking the 1600th anniversary of the founding of Venice, a series of works created specifically for the palazzo will be presented at the Sala dello Scrutinio, in close dialogue with the monumental paintings on the ceiling in the historic space.
PARASOL UNIT – UNCOMBED, UNFORESEEN, UNCONSTRAINED

Julian Charrière, And Beneath It All Flows Liquid Fire, 2019, 4K colour film, 16:10, continuous video loop Dimensions variable. Installation view, Towards No Earthly Pole, Aargauer Kunsthaus, Aarau, Switzerland, 2020 © the artist; VG Bild-Kunst, Bonn, Germany Photograph by Jens Ziehe
What: Uncombed, Unforeseen, Unconstrained by Parasol Unit
When: April 23 – November 27, 2022
Where: Conservatorio di Musica Benedetto Marcello
For the duration of the Biennale, Parasol unit presents 'Uncombed, Unforeseen, Unconstrained', a group exhibition of works by eleven international contemporary visual artists at the Conservatorio di Musica Benedetto Marcello.
The exhibition brings together works by artists Darren Almond, Oliver Beer, Rana Begum with Hyetal, Julian Charrière, David Claerbout, Bharti Kher, Arghavan Khosravi, Teresa Margolles, Si On, Martin Puryear, and Rayyane Tabet. All work in different media to address a disparate range of topics, yet, common to them all is a deep concern for our world and a preoccupation with a comparable phenomenon that in scientific terms is defined as entropy, that is the measure of disorder, randomness, and unpredictability within a system.
ANISH KAPOOR RETROSPECTIVE AT THE GALLERIE DELL'ACCADEMIA DI VENEZIA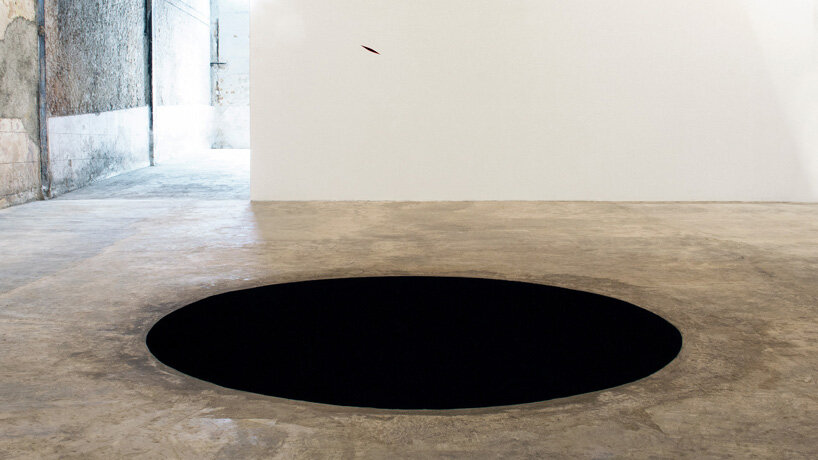 Anish Kapoor, Descent into Limbo, 1992, mixed media and pigment, dimensions variable. photo by Paola Martinez © Anish Kapoor. All rights reserved DACS, 2021
What: Anish Kapoor
When: April 20 – October 9, 2022
Where: Gallerie dell'Accademia di Venezia
The Gallerie dell'Accademia di Venezia presents a comprehensive retrospective on the work of Anish Kapoor, marking him the first British artist to be honoured with a major exhibition at the museum. The exhibition, postponed from 2021 because of the pandemic, is curated by art historian Taco Dibbits, General Director of the Rijksmuseum in Amsterdam.
MARLENE DUMAS – OPEN-END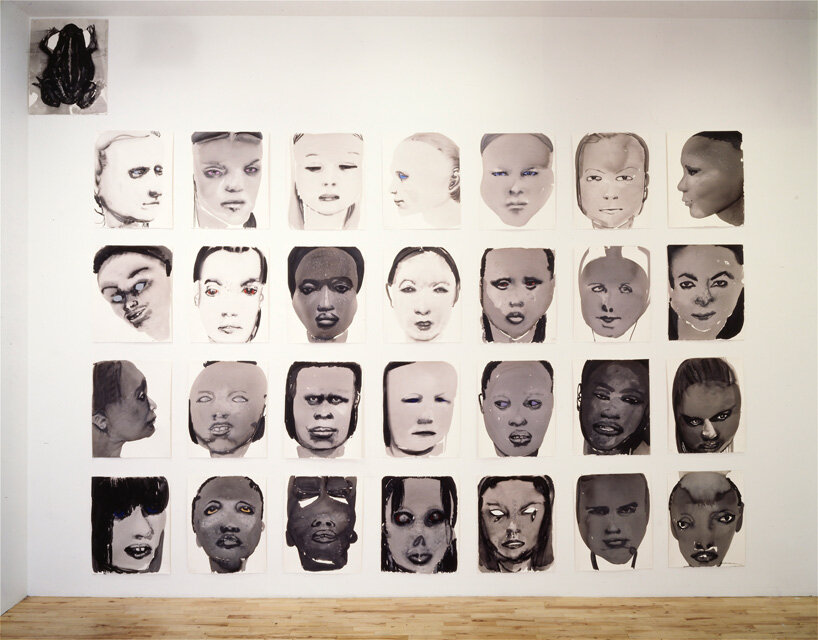 Marlene Dumas, Betrayal, 1994. private collection, courtesy David Zwirner, photo by Emma Estwic, New York © Marlene Dumas
What: Marlene Dumas. open-end
When: March 27, 2022 – January 8, 2023
Where: Palazzo Grassi
Palazzo Grassi presents 'open-end', the first comprehensive solo show presenting the work of Marlene Dumas in Italy, as part of the cycle of monographic shows organised by the Pinault Collection dedicated to major contemporary artists.
RONY PLESL – TREES GROW FROM THE SKY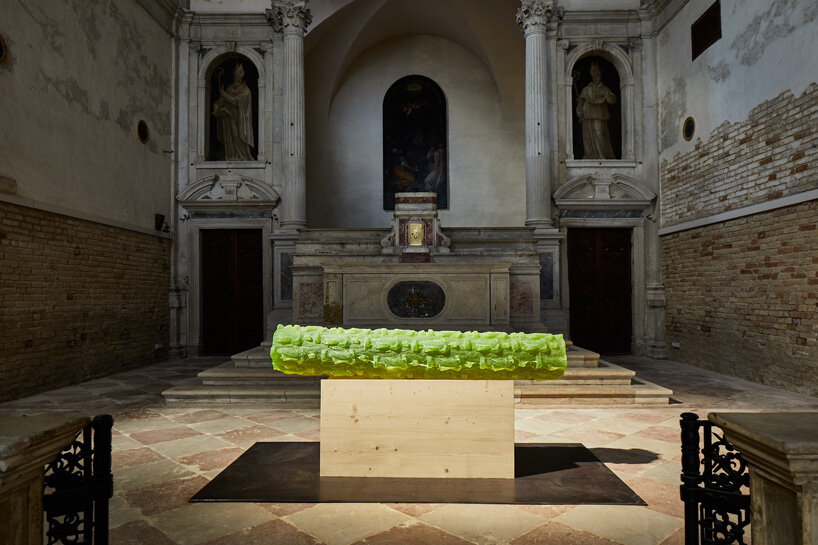 Rony Plesl, Trees Grow from the Sky, 2022. photo by Petr Krejci © Rony Plesl
What: Rony Plesl – Trees Grow from the Sky
When: April 23 – November 27, 2022
Where: Chiesa di Santa Maria della Visitazione
Trees Grow from the Sky, a collateral event of the 2022 biennale, presents a large-scale site-specific installation by Czech artist and sculptor Rony Plesl in the historic Chiesa di Santa Maria della Visitazione. Plesl unveils a new revolutionary full-relief glass casting technology, Vitrum Vivum, which coincides with the 2022 International Year of Glass thus presenting a timely artistic and technological exploration of the material.
KEHINDE WILEY – AN ARCHAEOLOGY OF SILENCE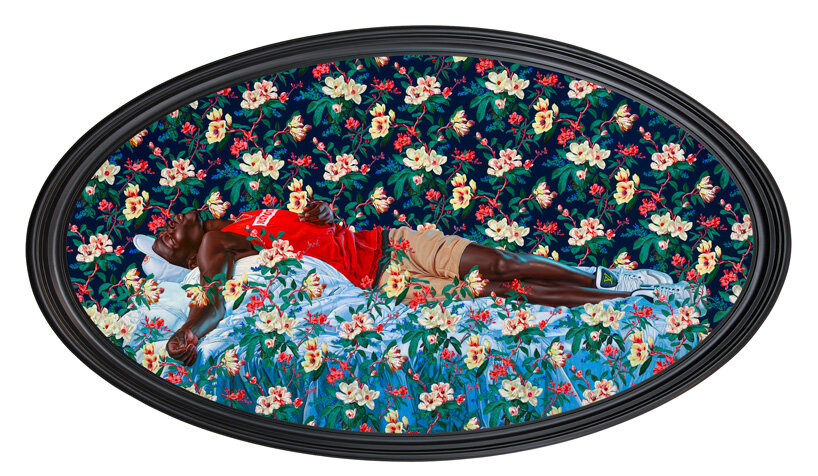 Sleep (Jean-Bernard Restout), 2022, oil on canvas, 302 x 206 cm © Kehinde Wiley
What: Kehinde Wiley: An Archaeology of Silence
When: April 23 – November 27, 2022
Where: Fondazione Giorgio Cini
Curated by Christophe Leribault, the exhibition 'Kehinde Wiley: An Archaeology of Silence' is hosted at Fondazione Giorgio Cini on the occasion of the Biennale. For this new body of work, Wiley sheds light on the brutalities of American and global colonial pasts using the language of the fallen hero. Part of the Collateral Events of the 59th International Art Exhibition, the show is Organized by Musée d'Orsay, Paris, and Supported by TEMPLON.
REOPENING MUSEO FORTUNY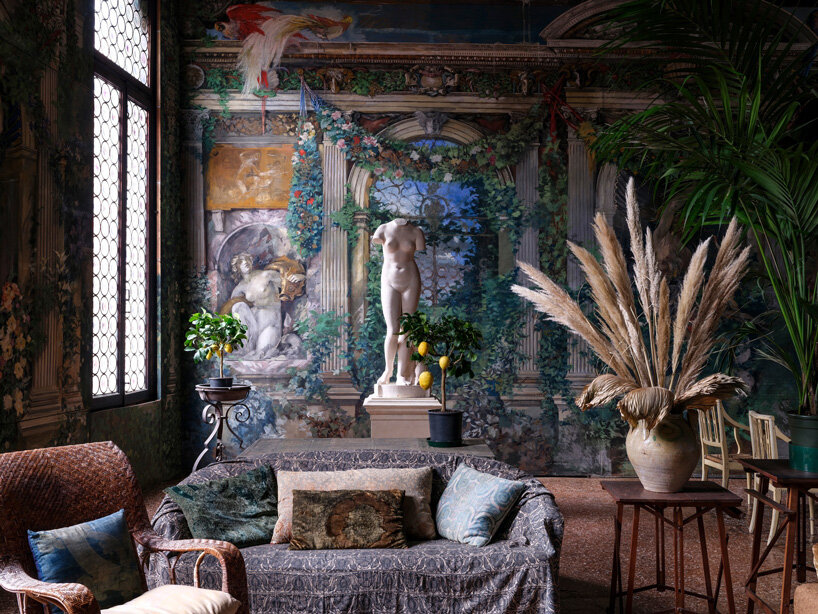 image © Massimo Listri
What: Museo Fortuny
When: from March 9, 2022
Where: Palazzo Pesaro degli Orfei
Two years after the 'Acqua Granda' flooding seriously damaged the Palazzo Pesaro degli Orfei, Mariano Fortuny's house museum reopens its doors to the public, following essential conservation work on the ground floor, and the refurbishment of the upper floors.The Fortuny, as it is called by Venetians, is to become a permanent exhibition venue. Paintings, clothes and fabrics, lighting and stage designs and everything associated with the artistic and productive paths that evolved in the palace is once again on display for Venetians and visitors to admire all year round. The museum will also continue to host temporary exhibitions, with a particular emphasis on the contemporary.
RACHEL LEE HOVNANIAN – ANGELS LISTENING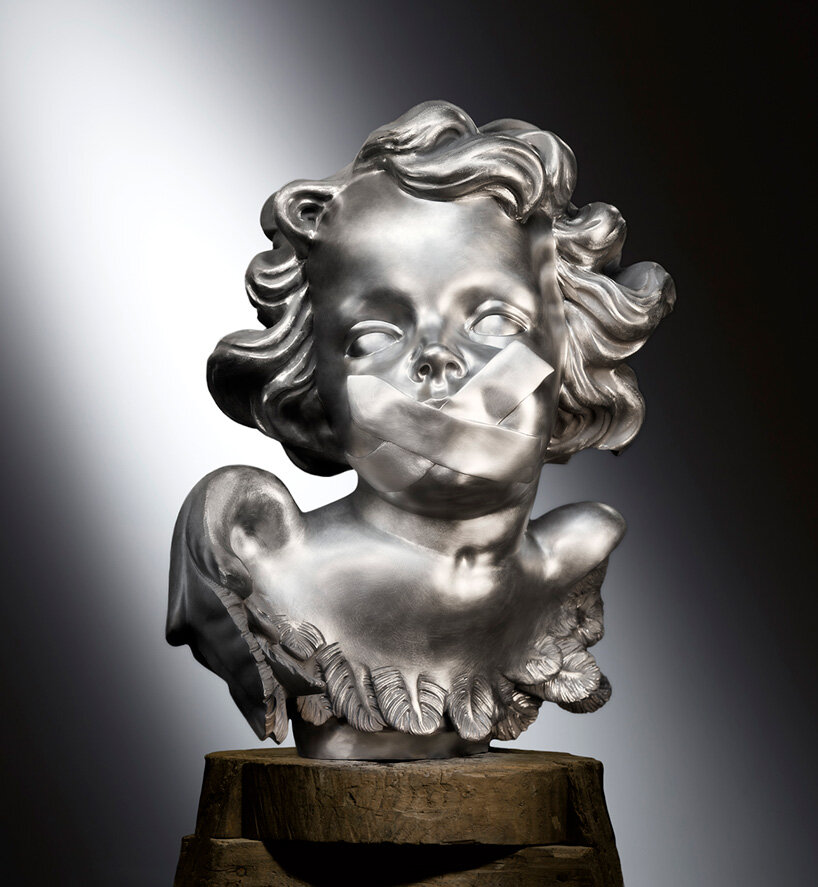 Rachel Lee Hovnanian, Angels Listening, 2022. performance, mixed media. photo © Giovanni Ricci-Novara
What: Rachel Lee Hovnanian – Angels Listening
When: 23 April – 27 November, 2022
Where: CSDCA, Biblioteca Zenobiana del Temanza, Dorsoduro 1602
Centro Studi e Documentazione della Cultura Armena (CSDCA), Venice, presents Angels Listening, an immersive and intimate installation by artist Rachel Lee Hovnanian. Curated by Annalisa Bugliani, the exhibition is a Collateral Event of the Biennale and is being presented at the Biblioteca Zenobiana del Temanza and in its gardens in Dorsoduro, a historic 18th-century Venetian building that has served as the headquarters of CSDCA since 1991.
MARC QUINN – HISTORYNOW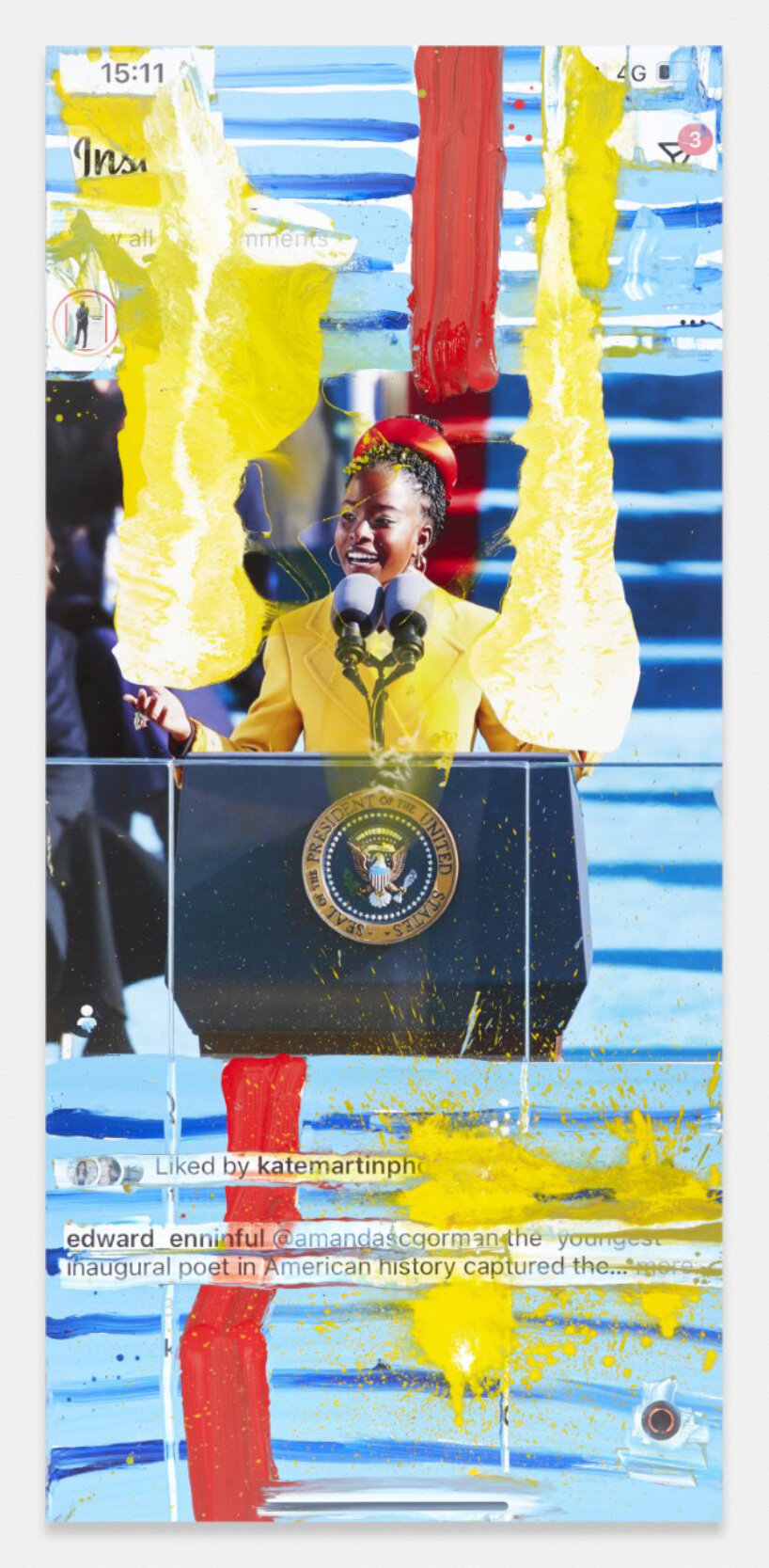 Marc Quinn, 2021, oil paint and pigment print on canvas, copyright Marc Quinn studio
What: MARC QUINN – HISTORYNOW
When: April 21- October 23, 2022
Where: National Archaeological Museum of Venice, Piazzetta San Marco 17
On the occasion of the Biennale, the National Archaeological Museum of Venice presents the exhibition HISTORYNOW, by British artist Marc Quinn. Fondazione Sozzani is pleased to announce that Francesca Pini, a friend of the Foundation, has co-curated with Aindrea Emelife the artist's solo show, which surveys our increasing digital interdependence at a vital point in history.
sofia lekka angelopoulou
I designboom
apr 06, 2022
KEEP UP WITH OUR DAILY AND WEEKLY NEWSLETTERS
a diverse digital database that acts as a valuable guide in gaining insight and information about a product directly from the manufacturer, and serves as a rich reference point in developing a project or scheme.
designboom will always be there for you
milan, new york, beijing, tokyo

,
since 1999