may 11, 2015
korean pavilion at venice art biennale 2015 by moon kyungwon & jeon joonho
korean pavilion at venice art biennale 2015 by moon kyungwon & jeon joonho
image © designboom
moon kyungwon and jeon joonho immerse the korean pavilion at the 56th international art exhibition, in a site-specific work that is a continuation of the artists's ongoing investigation into trying to 'make sense of what they perceive as a fundamental function of art in the increasingly uncertain and precarious environment we are collectively facing'.

'the ways of folding space & flying', 2015, installation view
commissioned and curated by sook-kyung lee, 'the ways of folding space & flying' is a new multi-channel film installation that explores an archeological quest into human civilization, interweaving history with visions of the future dictated through a future-retrospective narrative. simultaneously, it also alludes to the institutional structure and historic evolution of its venue, the venice biennale, specifically its global scale and influence which have been dictated and acquired within a shifting socio-political landscape.

the immersive video installation can be experienced from inside and outside the korean pavilion
image © designboom
the title of the exhibition is derived from the korean words chukjibeop and bihaengsul, both originating from taoist practice: chukjibeop meaning a hypothetical method of contracting physical distance and of allowing one to travel a substantial distance in a short space of time; and bihaengsul refers to a supernatural power to levitate, fly and travel across time and space. in eastern culture, these notions have been researched not only as mediums of meditative practice, but also as a means of arriving at a state of complete emancipation in both mind and body, from physical limitations and natural forces. both chukjibeop and bihaengsul reflect on the human desire to surpass the physical and perceived barriers and structures that bind us, despite the absurdity of such imaginings. while some scientific theories and hypostheses have actually supported the possibility of realize these seemingly farfetched notions, they remain largely in the realms of parable and fantasy, thus epitomizing our intrinsic yearning to transform the world around us.

the façade is a changing vision of the unknown future…
image © designboom
collaborating since 2009, moon and jeon have realized a critically acclaimed body of work, that includes the film installation 'news from nowhere' — focused on creating an interdisciplinary and transnational platform — which is also presented as part of 'the ways of folding space & flying'. 'news from where' involved scholars and experts from various academic and professional fields including architecture, design, film, philosophy and science. the project was intended to yield a concrete outcome: a film, publication or archival exhibition documenting the collaborative process. questions extending from the work centered on the function and meaning of art, acknowledging the constantly evolving nature of the topic.

'the ways of folding space & flying' reflects the human desire to surpass the physical
image © designboom
on the occasion of the 2015 venice art biennale, moon and jeon continue their quest in the direction of the unknown future, that is at once an end and an origin. instead of trying to offer up a definitive thesis, 'the ways of folding space & flying' the artists propose ways of envisioning a future where existing notions of art and creativity may no longer serve as relevant. like the farfetched concepts of chukjibeop and bihaengsul, for moon and jeon, 'art is a crucial yet curiously unexplainable facet of complex human desires that compel us to imagine, dream, wonder and challenge.'

the korean pavilion is composed of a multi-channel film installation
image © designboom

general view of the multi-channel video work
image © designboom

moon kyungwon & jeon joonho
'the ways of folding space & flying', 2015, HD film installation, 10′ 30″
© the artists

moon kyungwon & jeon joonho
'the ways of folding space & flying', 2015, HD film installation, 10′ 30″
© the artists

moon kyungwon & jeon joonho
'the ways of folding space & flying', 2015, HD film installation, 10′ 30″
© the artists

entering into a farfetched universe
image © designboom

moon kyungwon & jeon joonho
'the ways of folding space & flying', 2015, HD film installation, 10′ 30″
© the artists

'the ways of folding space & flying', 2015, installation view

the project is an archaeological quest into human civilization
image © designboom

the korean pavilion at the 56th international art exhibition in venice
image © designboom
jun 05, 2013
jun 05, 2013
sep 03, 2012
sep 03, 2012
aug 31, 2011
aug 31, 2011
aug 16, 2011
aug 16, 2011
aug 02, 2011
aug 02, 2011
jun 10, 2011
jun 10, 2011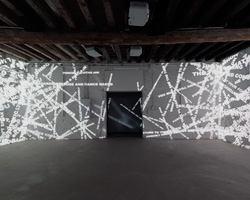 jul 12, 2015
jul 12, 2015
may 22, 2015
may 22, 2015
may 20, 2015
may 20, 2015