jul 23, 2013
wang qingsong: china pavilion at the venice art biennale 2013
wang qingsong: china pavilion at the venice art biennale 2013
above: 'temporary ward' by wang qingsong (2008)
180 x 300cm

beijing-based artist wang qingsong, one of three artists exhibiting at the china pavilion of the venice art biennale 2013, creates elaborate staged photographs overflowing with people and objects in incisive detail. born at the beginning of the cultural revolution, qingsong has watched china's transformation from a traditional society to one struggling with rapid urbanization and westernization, and his work is highly critical of consumerism and the influence that capitalism has had not only on economy but culture and society as well.
this year's china pavilion explores the idea of 'transfiguration' in response to the overall theme of the 55th international art exhibition, 'the encyclopedic palace' where all human knowledge can be collected and absorbed. in fact the curatorial team for china selected the phrase '变位 (roughly, 'changing tastes') for its pavilion, focusing on bridging the gap between past and present cultural values, as well as that between life and art.
wang qingsong's photographs are technically astonishing: despite occupying significant depth, every detail seems to be in perfect focus throughout the image. displayed at the china pavilion as large prints, each mounted along the outer wall of a central cubic form, the three photographs became a kind of triptych investigating the sites and values of education and culture in contemporary society. 'follow him' in particular serves on its own as a theoretical 'encyclopedic palace', where a lone scholar tries futilely to take in all of the knowledge that mankind has accumulated.
the photograph above, 'temporary ward', was filmed in an experimental theatre in newcastle, connecting the idea of wellness to society's cultural and intellectual needs. in the theatre, qingsong reflect, visitors find temporary relief for their minds, an idea he represents visually with a sprawling triage ward of accident victims and sick patients.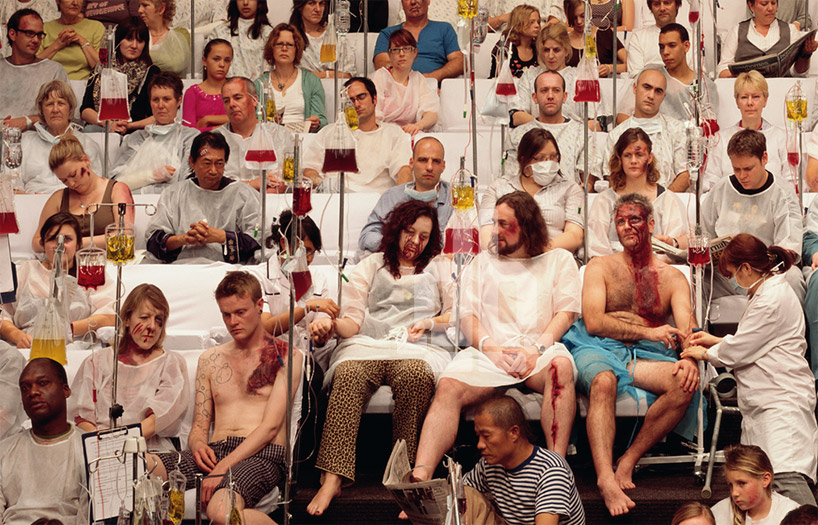 'temporary ward' by wang qingsong (2008) at the china pavilion, venice art biennale 2013
the photograph details a triage room (actually a theatre) filled with people suffering from all kinds of injuries and illness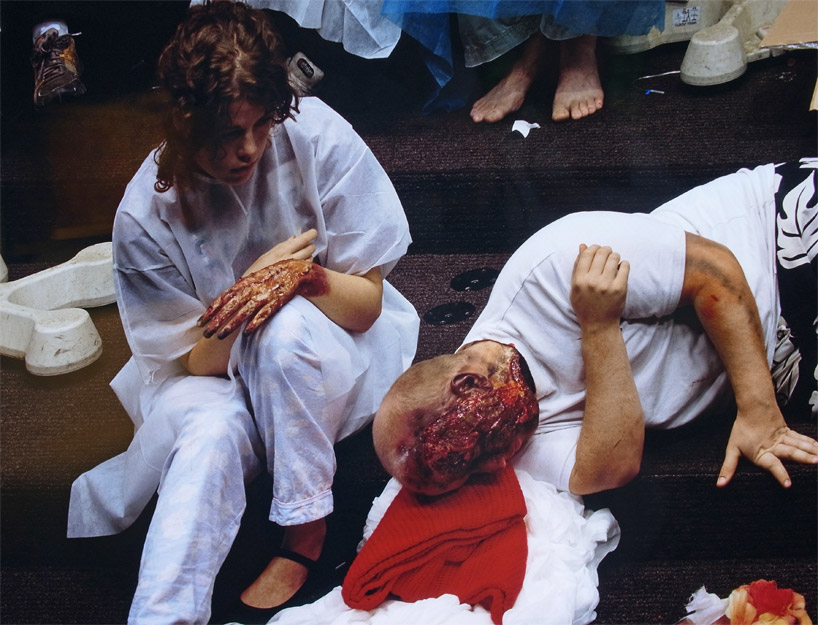 closer view of 'temporary ward' by wang qingsong (2008)
on exhibition at the china national pavilion, venice art biennale 2013
'take a look at the urban people's life. we dine at mcdonald's, KFC, and pizza hut. we drink cola, starbucks' coffe and lipton tea. we live in roman fantasy, lincoln park, vancouver forest and east provence. we drive benz, BMW and lamborghini. all these western consumer products 'modernize' this originally agricultural country. however such life in high fashion is so ridiculous, contradictory and crazy. the chinese traditions and elite culture fail to have energy and vigor, deserving to be trashed. this is the contemporary china in its massive scale.'
– wang qingsong, in his artist statement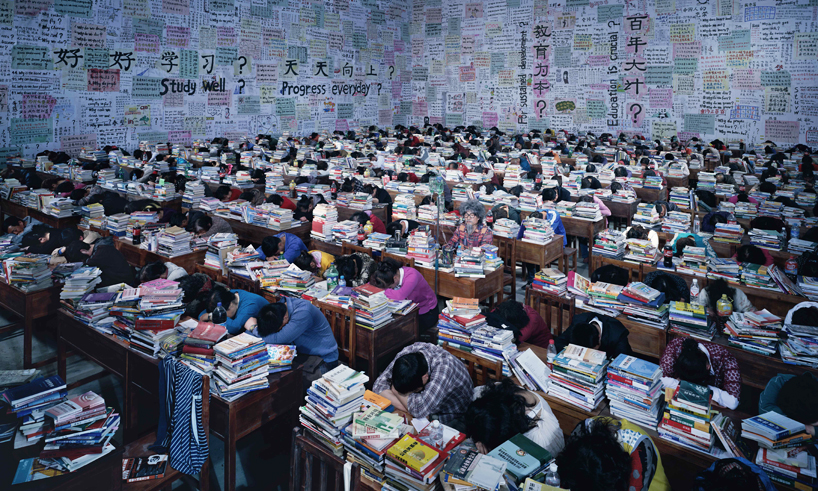 'follow me' by wang qingsong (2013)
on exhibition at the china national pavilion, venice art biennale 2013
180 x 300 cm
the newest of the works, 'follow me', is a statement on contemporary education systems. a large classroom is filled with exhausted students, mountains of books stacked on their desks alongside large bottles of coca-cola. the walls are covered in posters written in chinese and english; some are questions– 'why are babies born?' or 'why do we yawn?'– but others are pivotal statements of contemporary education, to which a question mark is added: 'study well?', 'education is crucial?', 'progress everyday?'. as in many of his works qingsong himself makes an appearance, here as the only alert student in the room, fueled by intravenous liquids.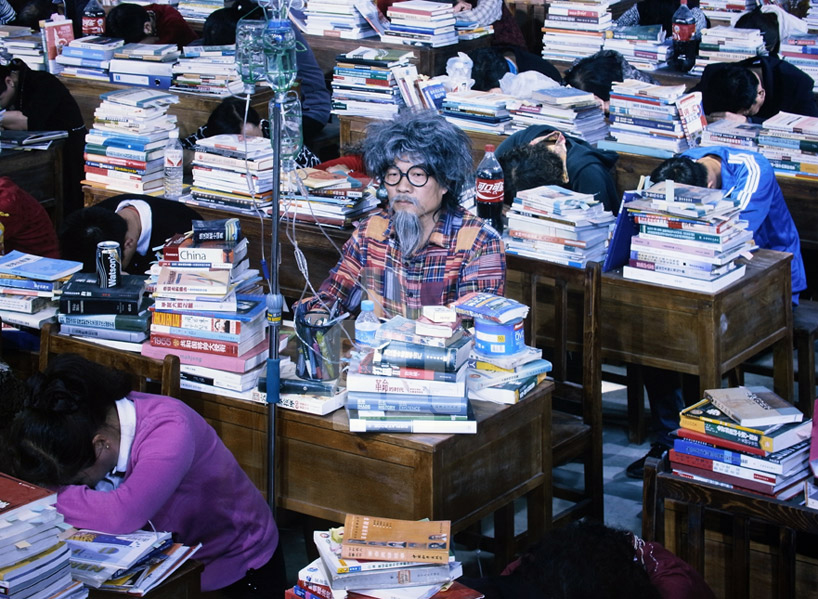 the artist makes an appearance in his 'follow me' photograph
on exhibition at the china national pavilion, venice art biennale 2013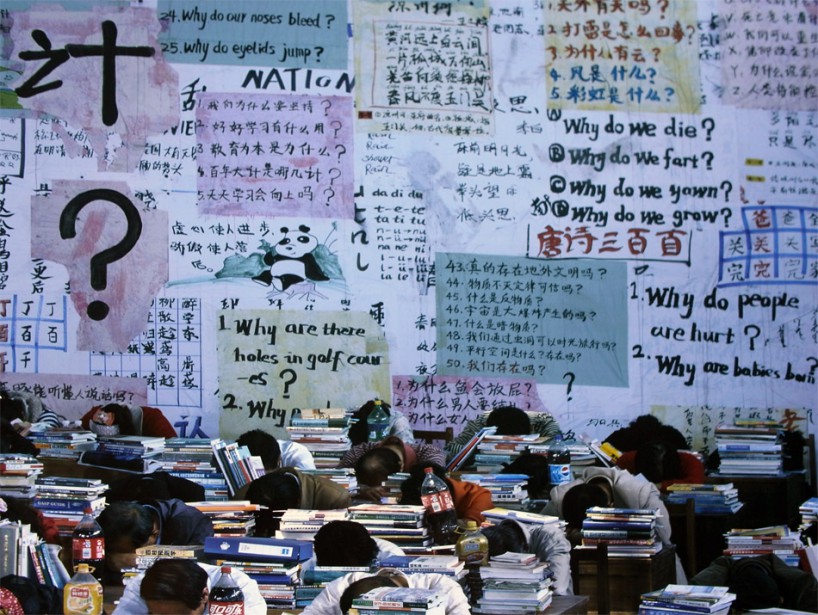 'follow me', closer view of the schoolroom walls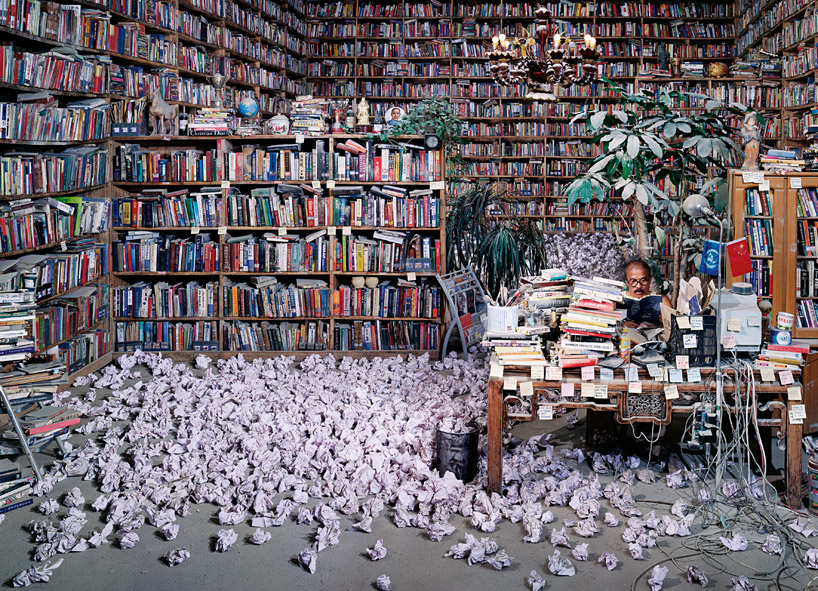 'follow him' by wang qingsong (2010)
on exhibition at the china national pavilion, venice art biennale 2013
130 x 300 cm
set in a sprawling academic's library, 'follow him' reflects on the breadth of human consciousness. even if the solitary person pictured were to succeed in reading each of the thousands of books that surround him, he would be privy to only a tiny sliver of the whole of human knowledge. don't miss the funny close-up on a disguised qing wangsong in the gallery below.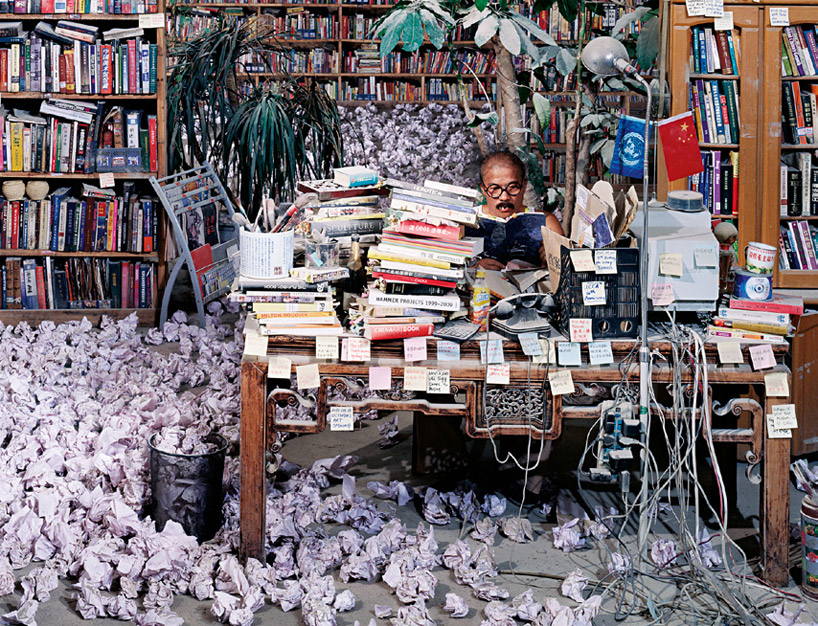 'follow him' presents the futile task of a solitary academic trying desperately to absorb the knowledge mankind has accrued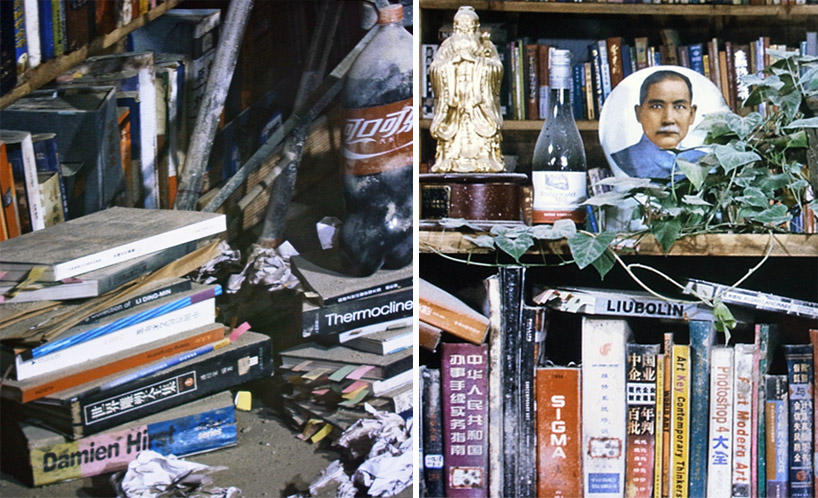 in the stunning wall-scale photo at the 2013 venice art biennale, the title on every bookspine is visible,
juxtaposing contemporary western artists (for example damien hirst at left) and chinese ones (like liu bolin, at right),
amidst books on geology, art history, software, and other themes, traditional objects, knick-knacks, and cola bottles
mar 27, 2018
mar 27, 2018
mar 15, 2015
mar 15, 2015
jun 04, 2014
jun 04, 2014
may 28, 2014
may 28, 2014
jan 29, 2014
jan 29, 2014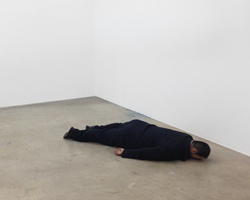 jan 02, 2014
jan 02, 2014
aug 26, 2013
aug 26, 2013
jul 31, 2013
jul 31, 2013
jul 14, 2013
jul 14, 2013
a diverse digital database that acts as a valuable guide in gaining insight and information about a product directly from the manufacturer, and serves as a rich reference point in developing a project or scheme.