short for non-fungible token, an NFT is the registration of ownership of a digital object on a blockchain. it can be any type of media including but not limited to art, videos, music, GIFs, games, tweets and memes. the non-fungible part means the object is unique, making it irreplaceable. 'a bitcoin is fungible — trade one for another bitcoin, and you'll have exactly the same thing,' explains the verge. 'a one-of-a-kind trading card, however, is non-fungible. if you traded it for a different card, you'd have something completely different.'
in short, NFTs help prove authenticity and ownership, powering the emerging economy of digital collectibles and virtual goods. from a virtual art collection by grimes that sold for $6 million to an original banksy burnt and digitized as an NFT, this new crypto-trend is the hottest topic in the digital space right now.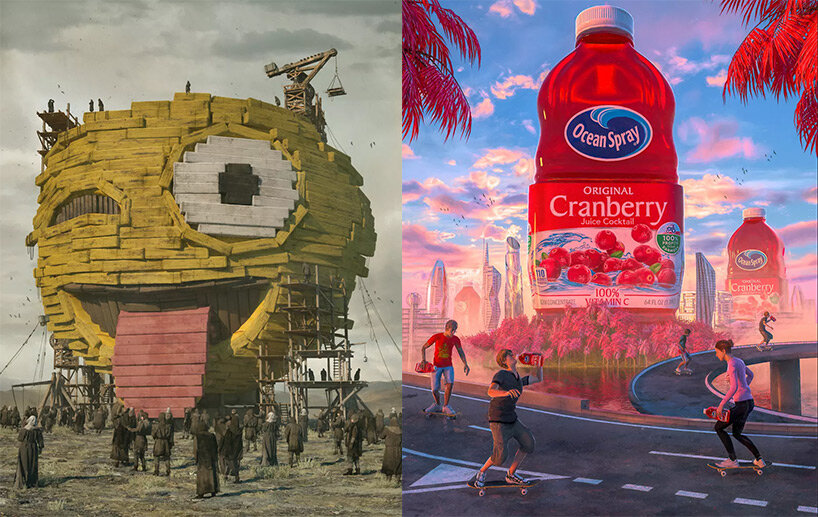 details of 'EVERYDAYS: THE FIRST 5000 DAYS', digital artwork by beeple
editor's note: as of march 12, 2021 NFTs have seen a historic, record-breaking sale. minted exclusively for christie's auction house, a monumental digital collage by artist mike winkelmann, aka beeple (previously featured by designboom in 2015) was offered as a single lot sale at a whopping $69,346,250 to entrepreneur, coder, and blockchain angel investor metakovan, the pseudonymous founder and financer of metapurse. the sale of 'EVERYDAYS: THE FIRST 5000 DAYS' (see artwork below) marks two industry firsts: christie's is the first major auction house to offer a purely digital work with a unique NFT, and to accept cryptocurrency in addition to standard forms of payment for the lot. the sale also positions him among the top three most valuable living artists. see a video from christie's of beeple reacting to the sale in his living room, below.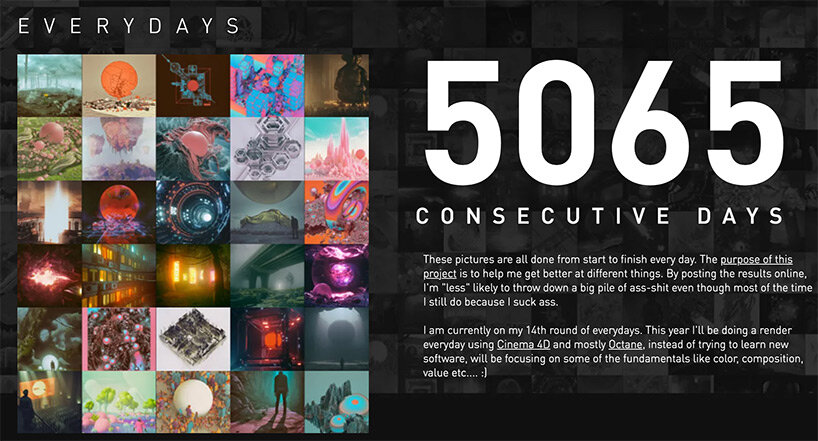 about 'EVERYDAYS: THE FIRST 5000 DAYS', digital artwork by beeple
'what we want is to build a massive monument for this particular work of art which exists only in the virtual world. we have a wish list – a dream, so to speak, of some of the most prominent architects on the planet. 'we'd like to collaborate with them to design something that can exist only in this virtual space and then install this art in it and open it up to the world. the dream is to build the monument and, in two months' time or so, share a link with you so that you – wherever you are in the world – at the click of a button, can experience the grandeur of this work.' said the singapore-based NFT production studio and crypto fund 'metapurse'. read more on artnet news.
beeple also shares his last name with the literal founder of art history: johann joachim winckelmann, scholar of the german enlightenment, who in the late 18th century was the first to systematize the art of the past — read more about the artist on NYTimes
so why all the fuss around NFTs? they are proving to be a catalyst in the transformation of the economics of creative activities, allowing creators to monetize directly with their fans. being able to create artworks on the blockchain as NFTs means an artist's content can be sold globally on decentralized marketplaces. as if that wasn't enough, NFTs also have a feature that pays the artist a percentage every time the NFT is sold or changes owner.
in recent weeks, someone paid $3,600 for a gucci ghost GIF, and a collection of digital furniture by andrés reisinger made $450,000 in less than 10 minutes. but NFTs have been around for quite a while, having one of their first booms in 2017 with the cryptokitties, one of the world's first blockchain games operating on ethereum's underlying blockchain network. today, some of these virtual kittens are on sale and can go up to $1 million.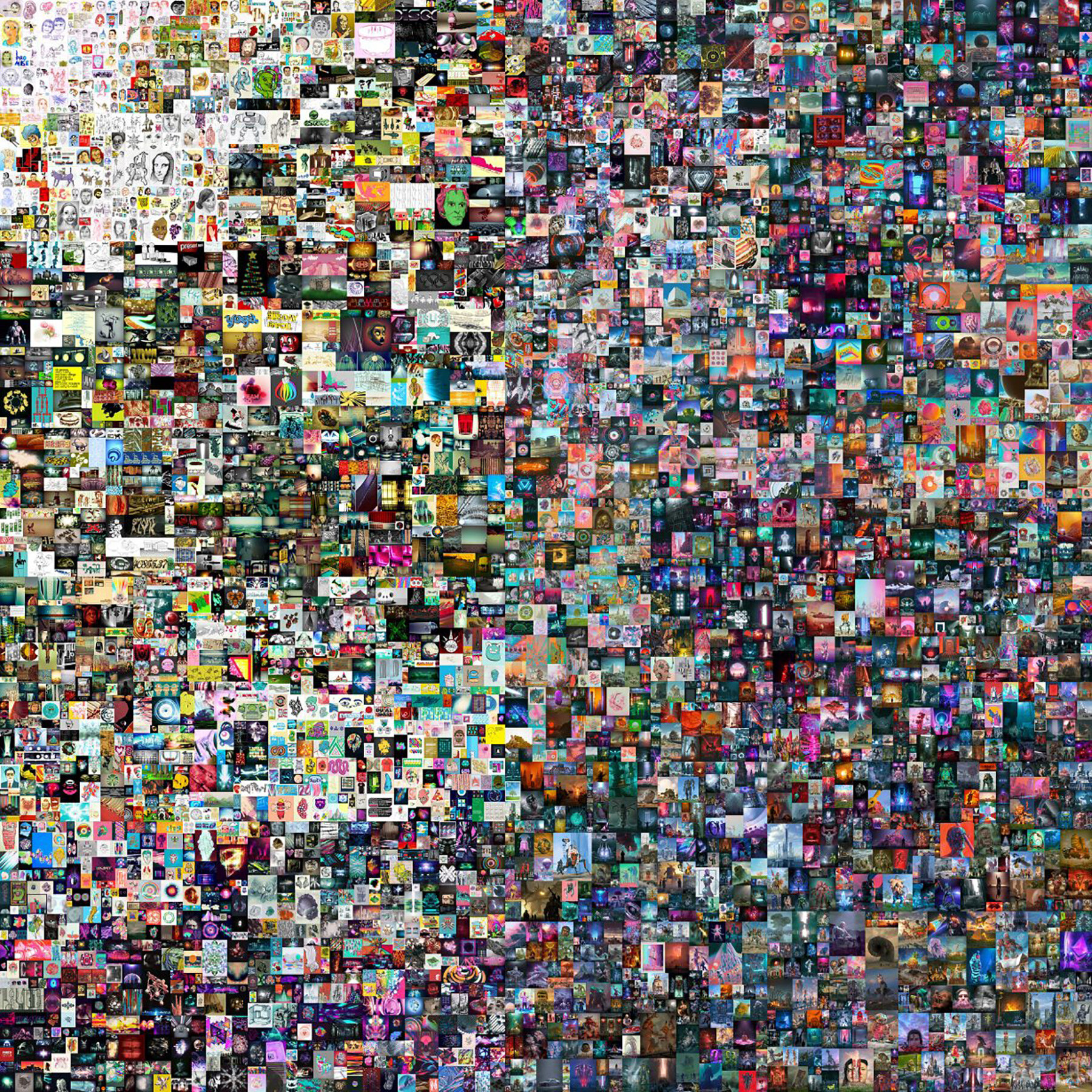 by now you may also be wondering why would you want to buy something anyone can enjoy for free. the answer is simple: 'anyone can see pictures on the internet of the most expensive artworks; posters are sold in museums,' vincent harrison, a new york gallerist told wired. 'but it's the ownership that creates value. so with NFTs, not only do you have ownership, you have ownership on the blockchain, you have ownership that is transparent for everyone to see.'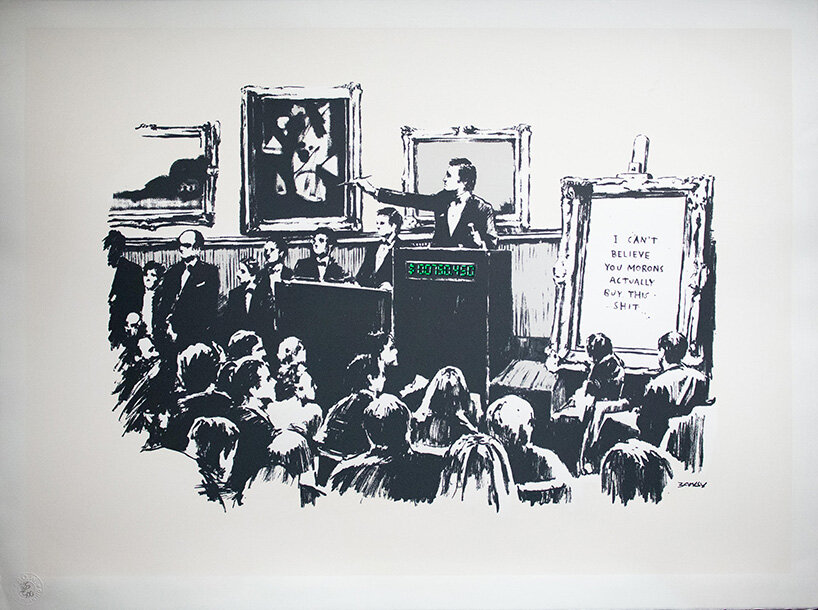 an original banksy has been burnt and digitized as NFT | image via burnt banksy
read more on designboom here
amid all the flashy headlines of multi-million dollar auctions and celebrity sales, concerns about the ecological cost of NFTs are revealing a different side to the scene. cryptocurrencies on the blockchain use an algorithm to store information across many nodes in a network, while remaining reliable and secure. this process is extremely computer intensive and therefore the consumption of energy is remarkably high. 'a single ethereum transaction is estimated to have a footprint on average of around 35 kwh,' writes computational artist and engineer memo akten in 'the unreasonable ecological cost of #cryptoart'. 'I was also approached by another cryptoartist asking about their footprint. they were horrified to hear it was in order of a hundred tonnes of CO2. (to put this into perspective, across europe and the us the annual per capita carbon footprint of all industry, trade, and imported goods is on the order of ten tons of CO2).' also read more on the topic on loop news here.

View this post on Instagram
how is the art world handling this explosion of digitally collectible work and a decentralized ownership and sale, particularly after a turbulent year? 'the artworld is torn by the spectacle of these pop-cultural baubles suddenly transforming what had until now been considered aesthetically thin air into millions,' writes J.J. charlesworth in an opinion piece for artreview. 'the commercial artworld, battered by a year of COVID-19 disruptions and preoccupied with how to monetise art objects that are hard to show and sell (more so in an era of shuttered galleries and art fairs), has found itself forced to turn to the digital world to maintain the visibility of its wares. yet countless video programmes, online art-fairs and viewing rooms have not really cracked the serious problems facing a global artworld that is grounded until further notice. and the flaring up of NFTs presents a seductive solution to two key art-market issues: it offers the promised land of a secure, yet very liquid medium of financial exchange, coupled with an inviolable guarantee of uniqueness and scarcity for the objects traded through it. savvy auctioneers like christie's, of course, jumped in when they spotted an opportunity (aka money).'
and while the contemporary art world has seen a privileged, elite scene of collectors and 'cultural gatekeepers' — 'a place where counternormative values, politics and identities could stake a claim to a degree of cultural autonomy', charlesworth continues — the mass popular consumption of NFTs does come with some resentment.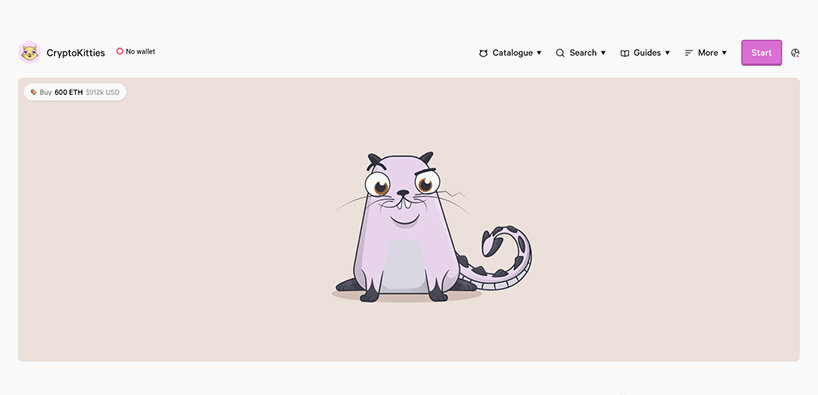 cryptokitty 'dragon' has a buy now price of 600 ETH ($912k USD)
screenshot from cryptokitties.com
so, if you're interest is piqued — where should you look for NFTs? check out OpenSea, rariable, and nifty gateway, where grimes sold her digital art collection. 'non-fungible tokens and the digital goods and collectibles they enable will play a major role in the next era of the digital economy,' said said tyler winklevoss, CEO of gemini, who acquired nifty gateway in 2019. 'they are the perfect form factor for crypto-collectibles, crypto-art, and much more – laying the foundation for entirely new multi-billion dollar industries to emerge…'
juliana neira
I designboom
mar 06, 2021
a diverse digital database that acts as a valuable guide in gaining insight and information about a product directly from the manufacturer, and serves as a rich reference point in developing a project or scheme.
designboom will always be there for you
milan, new york, beijing, tokyo

,
since 1999