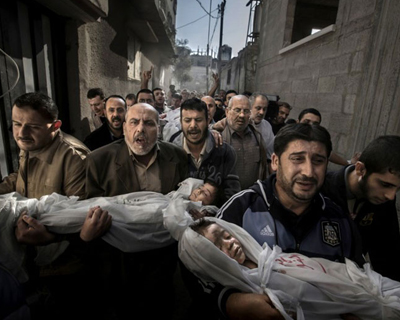 feb 20, 2013
world press photo 2013 image alteration controversy
world press photo 2013 winning image by swedish photographer paul hansenimage © paul hansen
the 2013 world press picture of the year, taken by the swedish photographer paul hansen shows the funeral procession of two palestinian children tragically killed by a missile attack on their gaza home in november 2012. the entry, awarded the first prize in the news category, is currently at the centre of a debate surrounding the practice of image manipulation in documentary photography.
when photography was first invented, its overwhelming power came from the fact that it recorded 'moments' or 'nature' more realistically than any other art form had ever done before. photography could just easily become a manipulated discipline – visual fiction!
the sophisticated reworkings of hansen flirt with the limits of alteration – the perfect framing, high saturation and artificial lighting all examples of creating an idealized artistic aesthetic. a warm lighting cast on the left side of the men's faces illustrate this point more specifically – as the buildings line the street they effectively create a tunnel, rendering this type of illumination impossible in reality. another example of the work's manufactured personality is the lack of suggested movement. the moment captured is one of motion and procession, however the clarity and definition of the details of the actual picture contradict this, instead rendering it static. in addition, the synthetic saturation of colors make it comparable to a painting, creating a 'noble' depiction of the scene.
jury president santiago lyon of the associated press, when asked about the subject during a press conference, reiterated the 'rules' of the contest: 'we are confident that the images conform to the accepted practices of the profession.'he acknowledged that certain pictures were disqualified for excessive alteration, although he refused to say how many.the world press photo jury, in case of doubt, can request to see the original, raw file, the digital equivalent of a film negative.
véronique de viguerie, a getty photojournalist and member of the world press 2013 jury says :
'for me, when the improvement misrepresents reality, when it conceals part of the context of the image, then a line has been crossed'.'there's no question that a raw image file has to be altered in order to produce a publishable image,' says de viguerie. 
'the question is, to what extent. we decided to be strict. otherwise it opens the door to all kinds of manipulation.'
finally, after much discussion, paul hansen had worked in the acceptable limits, that is to say, he remained in the embellishment, without wanting to hide anything. what can be done in the darkroom, as darken and lighten the center angles, can be done with photoshop.
read more on the issue here and here in french, and here in italian.
this is not the first time hansen has been criticized for his retouching techniques, at the swedish picture of the year awards, hansen was also recognised and censured for his winning 2010 photograph of fabienne cherisma – a young girl shot dead by police in haiti.
the background has been blurred to alter the perspectiveimage visualization of the area where image alteration has been applied
the illumination moves away from documentary photography. it is artificial.image visualization of the area where image alteration has been applied
hansen was also recognised and criticized for his winning 2010 image of fabienne cherisma – a young girl shot dead by police in haitiimage © paul hansen