dec 16, 2009
yue minjun: contemporary terracotta warriors
contemporary terracotta warriors by yue minjun image © designboom
born 1962, yue minjun is a contemporary chinese artist based in beijing. he is best known for oil paintings which are portraits of himself in various settings, depicted with a facial expression frozen in a wide-toothed laughter. these simplified, ironic human figures with their disproportional large faces, open mouths and closed eyes have become his signature throughout his work. through his paintings, watercolors, prints and sculptures, yue minjun uses humor to express a turbulent period in modern china.
'I paint people laughing, whether it is a big laugh, a restrained laugh, a crazy-laugh, a near-death laugh or simply laughter about our society: laughter can be about anything. laughter is a moment when our mind refuses to reason. when we are puzzled by certain things, our mind simply doesn't want to struggle, or perhaps we don't know how to think, therefore we just want to forget it.
in chinese tradition you can't say things directly. you have to show something else for the real meaning. I wanted to show a happy smile and show that behind it is something sad, and even dangerous.' – yue minjun
image © designboom
image © designboom
exhibition view image © designboom
the contemporary terracotta warriors are on show among other 180 art works by contemporary chinese artists at the current exhibition 'china – contemporary revival', at the palazzo reale, milan, italy. on show from december 11, 2009 to february 7, 2010.
mar 15, 2015
mar 15, 2015
jun 04, 2014
jun 04, 2014
may 28, 2014
may 28, 2014
jan 29, 2014
jan 29, 2014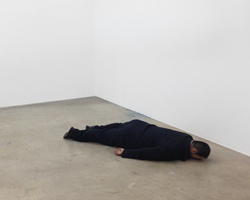 jan 02, 2014
jan 02, 2014
oct 28, 2013
oct 28, 2013
aug 09, 2012
aug 09, 2012