jun 03, 2013
zimoun's mechanical sound installation in an abandoned toluene tank
zimoun '329' mechanical sound installation in an abandoned toluene tank
all images © zimoun studio

bern-based studio zimoun has sent designboom images of their first permanent installation – a large, towering mechanical sound installation
situated inside an abandoned toluene tank from 1951 in dottikon, switzerland. working closely with architect hannes zweifel, the intervention
presents a complex kinetic sound sculpture, with 329 DC-motors arranged meticulously throughout the interior fabric of the space. in an
obsessive display of simple and functional materials, the installation articulates a tension between the orderly patterns of modernism and the
chaotic forces of life; revealing an intricate series of relationships, similar to those found within the artificial and the organic.
zimoun: 329 prepared dc-motors, cotton balls, toluene tank
video courtesy studio zimoun
the large-scale sound installation is situated inside an abandoned toluene tank from 1951
the intervention presents a complex kinetic sound sculpture, with 329 DC-motors arranged meticulously throughout the interior fabric of the space
the installation articulates a tension between the orderly patterns of modernism and the chaotic forces of life
'329' showcases an obsessive display of simple and functional materials
'329' reveals a complex and intricate series of relationships, an ongoing interplay between the artificial and the organic
zimoun: 329 prepared dc-motors, cotton balls, toluene tank – the making-of video by florian buerki
video courtesy studio zimoun
view of the abandoned toluene tank in dottikon, switzerland
zimoun
(7 articles)
jun 16, 2016
jun 16, 2016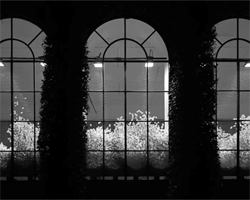 apr 23, 2014
apr 23, 2014
jan 29, 2014
jan 29, 2014