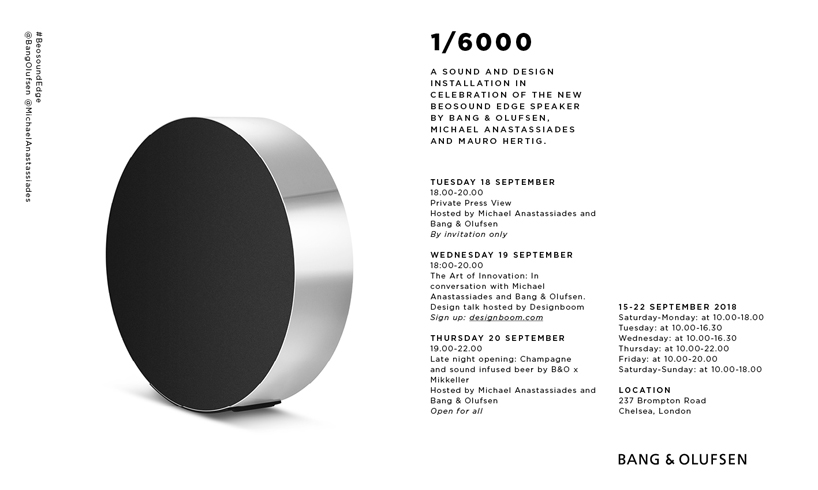 WHEN: SEPTEMBER 19, 2018, at 6:00pm.
WHERE: 237 brompton road, chelsea, london.
WATCH: streamed live on designboom's homepage and facebook page at 6:30pm, and live at the venue.
for nearly a century, bang & olufsen and their innovative products have broken the rules and conventions of product design and altered the perception of how we live with sound. the new beosound edge speaker, created in collaboration with michael anastassiades, once again demonstrates this philosophy by seamlessly pairing high craftsmanship and luxury with advanced technologies.
during london design festival 2018, bang & olufsen welcomes guests into a special sound installation, '1/6000', where they can explore the intuitive and immersive performance of the beosound edge. on wednesday september 19 from 6:00pm - 8:00pm at 237 brompton road, chelsea, designboom will co-host an evening in conversation with bang & olufsen and michael anastassiades. set to be as magical as the speaker itself, the event will be hosted by designboom editor kieron marchese and include kresten bjørn krab-bjerre, concept manager of the beosound edge, alongside the designer. guests will have the chance to experience the installation during a drinks reception, and pose their questions to the creators during a Q&A session with the audience.
the event is free and open to the public! however, as there is limited space available, registration will close automatically once we reach 60 RSVPs. after entering your details below, you will receive an email requiring you to complete your registration. guests will be admitted on a first-come, first-served basis until the capacity is full.
experience the magic for yourself - we look forward to seeing you there!