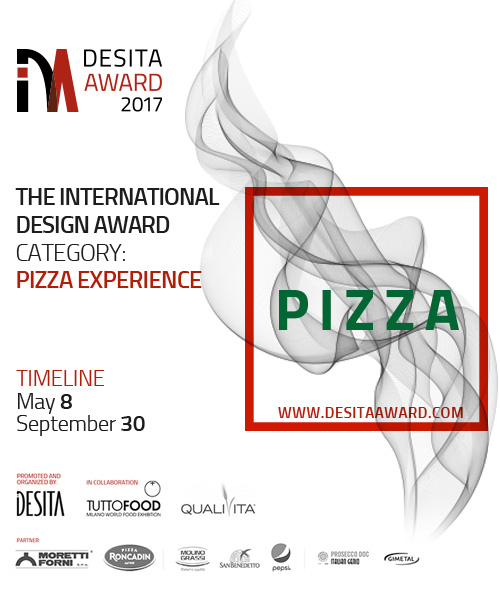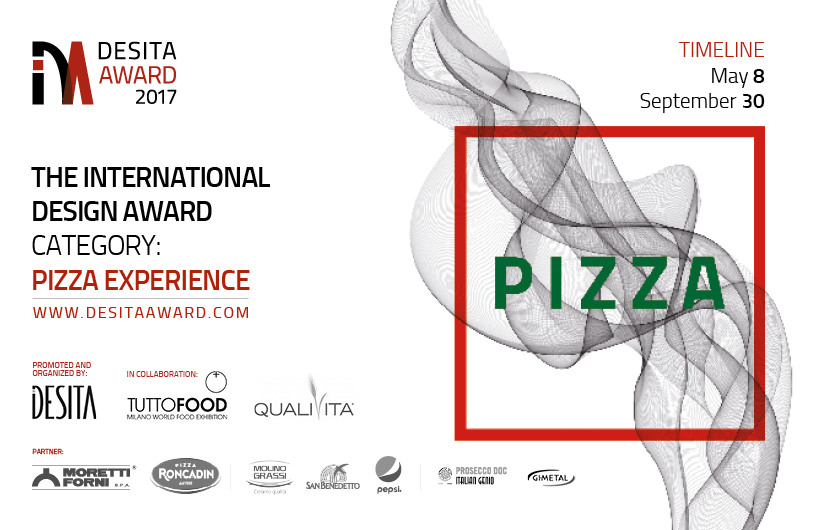 DESITA AWARD Pizza Experience 2017
DESITA AWARD - Pizza Experience 2017 is an International contest that connects the design and food world. The initiative aims to bring innovation and new value to the pizza world offering the possibility to designers and creatives to rethink the whole experiential process, both for the operator and customer, and to propose their idea to the market.
DESITA AWARD invites all participants to explore the pizza concept in a broad sense, considering all elements of its productive and creative ecosystem: ingredients and raw materials, food industries, operations, commercial activities, professionals and consumers. Designers will be able to deepen the relationship between design, edible products and usability, including new technologies and consumer experiences, tradition, functionality and aesthetics.
The contest goal is to explore the relationship between design and tools usability, emerging technologies and functionality, starting from applying innovative approaches, systems or control interfaces, to exploring and redesigning the whole "pizza experience". Both from operator and customer sides.
CATEGORIES
-Tools and Packaging: Design or redesign tools, objects, accessories, packaging, etc. in order to improve the functionality, the food preparing and/or the fruition experience from the service and/or customer standpoint.
-Interior & Interaction: Design or redesign of environments, furnishing elements, workstations, electronic devices/applications, digital devices, etc. that could improve the food preparation and/or fruition experience from the service and/or customer standpoint
-Food Design: Design or redesign effective solutions for food fruibility, new formats, storage elements, preservation and transportation, new materials, communication, etc. that could improve the food preparation and/or fruition experience from the service and/or customer standpoint.
Note: All projects must show a detailed attention to process and product sustainability, with specific consideration to production costs, promoting and presenting gelato as a high quality and healthy food choice while analyzing environment and consumer "experience": sociological, anthropological, economic, cultural and sensorial, defining not only production technologies variations but also marketing and communication that aim to defend and promote local products.
PRIZES
The projects selected by the prestigious jury, will allow candidates access to the following prizes:
WINNER: 3.000 €
2° PLACE: 2.000 €
3° PLACE: 1.000 €
Other than:
Publication of their projects on DESITA and Partners media channels. The possibility to see their projects actualized. International visibility by: media channels, magazines, social networks.
DESITA AWARD aims are:
-Supporting young designers and innovators in their process of growth and technical expertise in building collaborative relationships and learning both individually and collectively;
-Providing designers and innovators an opportunity for visibility to expand within an international market.
-Translating their ideas into marketable prototypes;
cash prize award: $ 6,571.00 USD
Call for entry