Lexus Design Award 2014
designboom presents LEXUS design award 2014 shortlist
the jury has made a decision: designboom presents LEXUS design award 2014 shortlist
for the second time, designboom co-hosted the LEXUS design award, in collaboration with the japan design association NPO: 'curiosity' has been the theme for the second round.
the LEXUS design award provides an opportunity for young innovators to showcase their works while receiving feedback from world renowned professionals in the area of design. through this initiative, LEXUS hopes to nurture and support world-enriching creators. submissions were received by designboom during the application period from august 1 to october 15, 2013. see the call for entries here.
after careful consideration twelve winners have been selected by the six judges (see above). two of them are receiving up to five million yen each to cover prototype production costs. these designers currently have three months to work on the prototypes of their award winning designs through regular creative sessions with two assigned mentors: the taipei-based architect/engineer arthur huang (of MINIWIZ) and the san-francisco-based game designer robin hunnicke (of funomena). mentors hunicke and huang chose the two TOP winners based on criteria of uniqueness, originality, relevance to the theme and the possibility of making a prototype for the LEXUS design award 2014 presentation during milan design week in april.
'macian', a kit planned for enhancing the experience and curiosity of den building, design by james fox from UK
james fox is one of the two winners of the competition's TOP prize and is being supported by recycling design entrepreneur arthur huang and will be worked up into a full prototype in time for the show. 'macian' is a set of connector-like parts that allow children and young people to make dens and fortresses out of found materials like branches, sticks and planks.
'the original concept I had was based on ideas I had around design that's there to be used – a product that's a verb rather than a noun – so it's a 'doing' product. I'm interested in the line between prodcut and experience something to do and use. the theme of the LEXUS competition was 'curiosity' and I think the idea of doing things and play connects really well.
I loved building dens when I was younger, so I did a bit of work with cub scouts and asked them: 'what do you think a den should be?'. all of the ideas and their suggestions were quite big and crazy and then we got to try and build some of this stuff, they were a little daunted by the ropes and tools you need to create a real den, so 'macian' is my attempt to make that process simpler and easier. it's a group of components which are designed to empower the user as they can be used with hands alone – there's no need for screwdrivers and you can essentially click everything together.
there's a male and female component which click together and you use them as the connecting points between the materials you're using to build the structure, whether that's sticks, branches or boards. I like the idea of using found or waste materials in the place of things you'd use to make a house like iron girders and RSJs.'
says james fox.
>>see the full LEXUS interview with james fox here.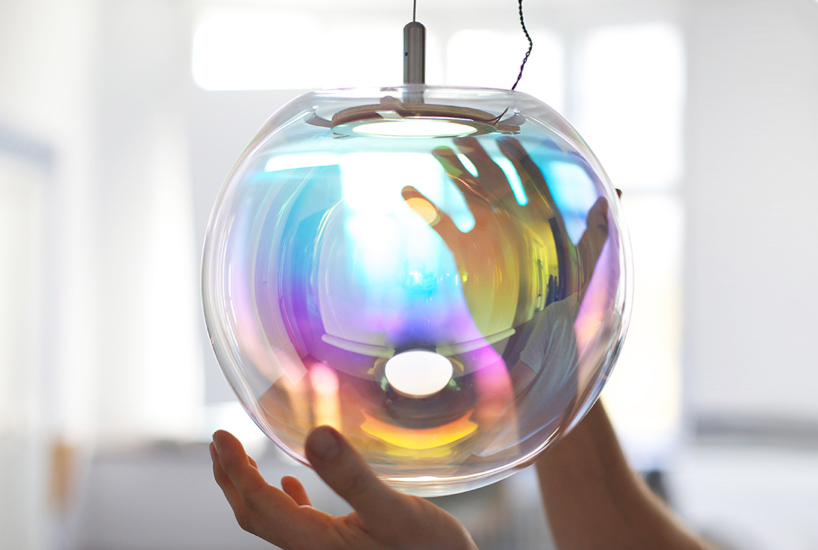 'iris', a hand-blown glass lamp with iridescent shimmering coating, design by sebastian scherer from germany
sebastian scherer is the second TOP winner. the project is receiving the backing of game designer robin hunicke.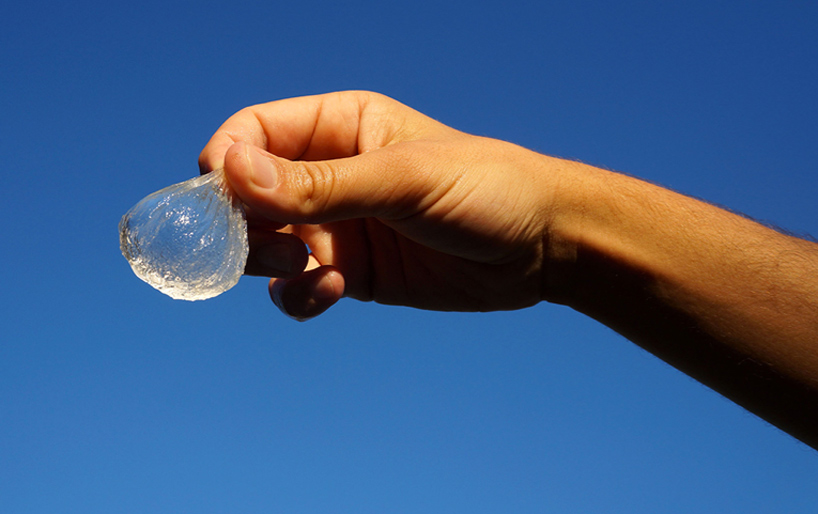 'ooho' water ball, organic membrane packaging for liquids by skipping rocks lab
design by rodrigo garcia gonzales, pierre paslier, guillaume couche from spain.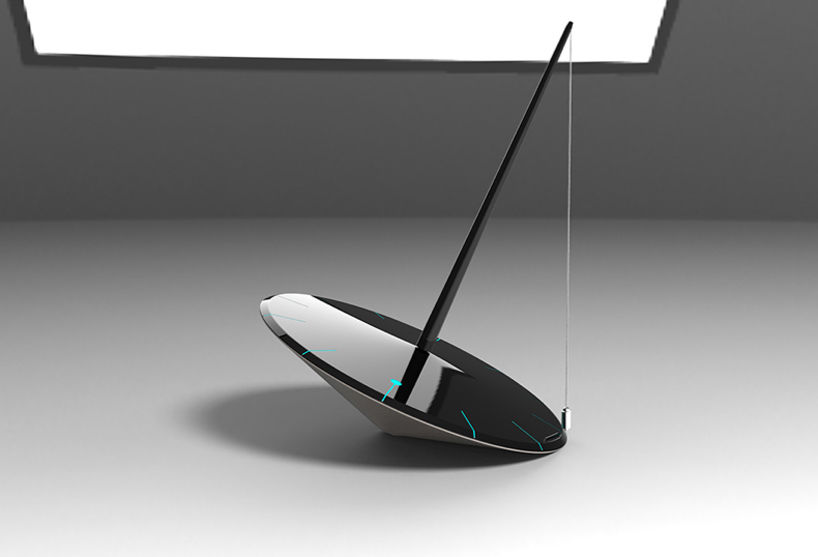 'pause', a timepiece that redefines the perception of time telling
design by stuti & rajeev - stuti mazumdar and rajeev dave from india
'sky lighthouse', a lighting piece that produces the color of the sky as a natural phenomenon
design by yoshiki matsuyama from japan
'flynote', 150 years of musical evolution in just one product, design by alDith - aldo de carlo and judith casa caceres from italy/peru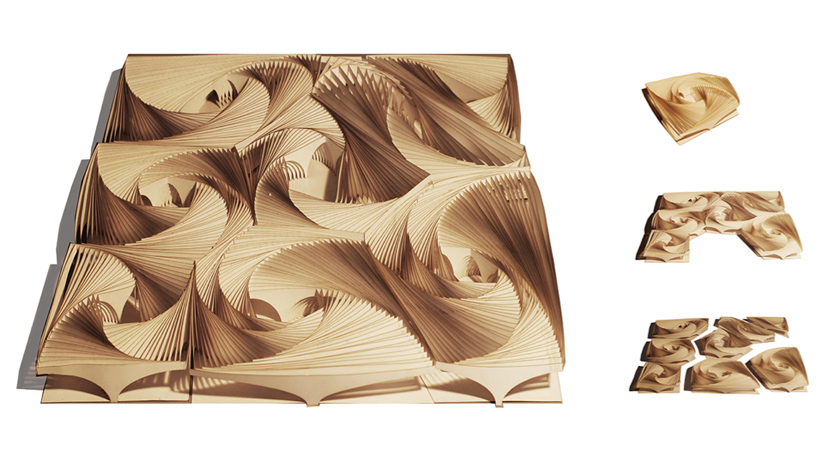 'game of space' is a space of ambiguity based on the flow of time, design by IAO architecture - nan lei and xinyi wang from china
'crane', a book library that creates a game of balance, design by magenta - ronen bavly and ornit arnon from israel
'dicecover', a playful tool that invites people to learn more about our planet, design by mansour ourasanah from USA
'e-wheel', an integrated electric wheel, designed to be all-in-one, design by phuoc nguyen from vietnam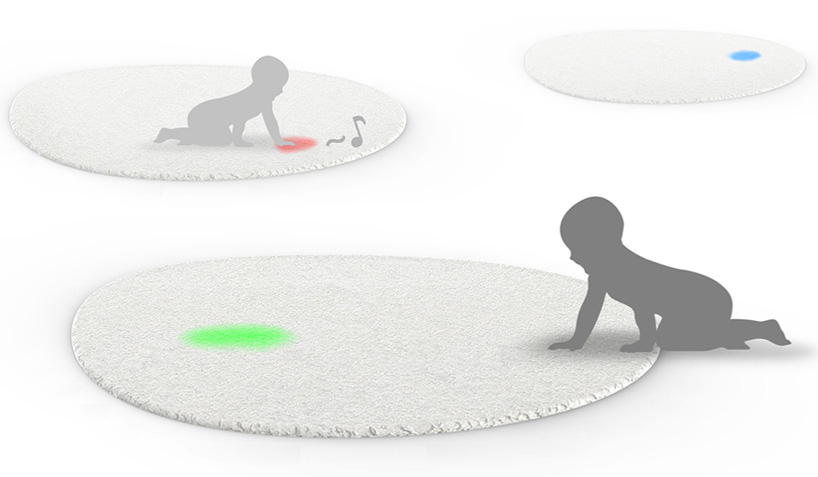 'joy carpet', an interactive carpet that helps babies develop potential, design by meng-ling yang from taiwan
'piximot', an interactive display formed from rotating wooden cubes, design by MAMKIM & CO - mami kim and joe hardi from UK
taipei-based architect/engineer arthur huang (of MINIWIZ) and san-francisco-based game designer robin hunnicke (of funomena) are the mentors who are currently helping to finalize prototypes of the two TOP winners for the LEXUS design amazing 2014 exhibition during milan design week. the two prototypes and also panel displays of the other ten winning entries will be exhibited at the LEXUS exhibition space and the creators of the awarded works will be invited to attend milan design week 2014. an award ceremony will be held on tuesday, april 8th evening at circolo filologico milanese where each winner will receive the 2014 LEXUS design award trophy.