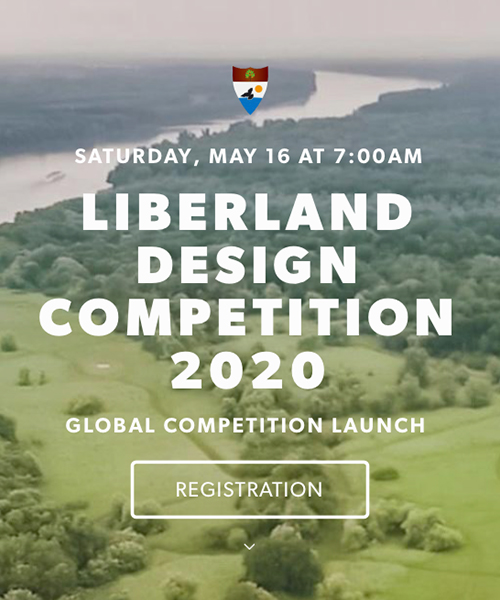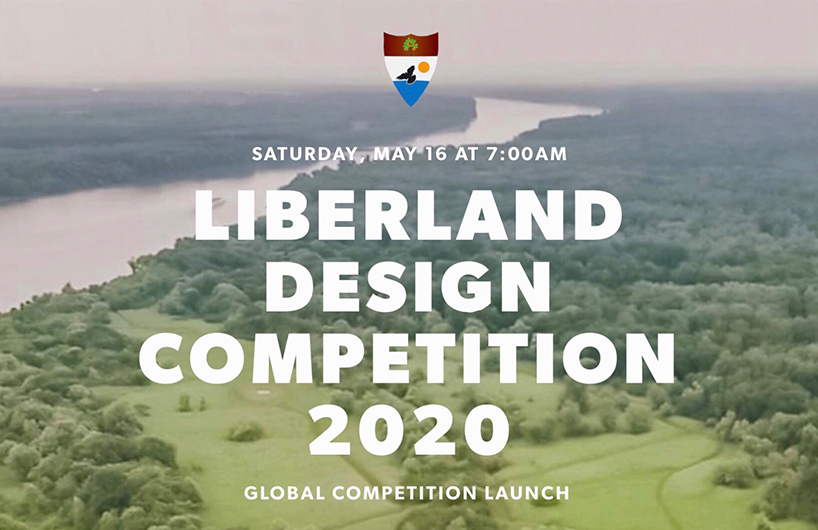 Liberland Design Competition 2020
AGENDA>>> In this unprecedented moment of global crisis, we have the opportunity to collectively rethink the values, agendas and practices guiding the design of our built environments. As countries converge on drastic social control measures that aim to combat the Coronavirus pandemic, the fundamental infrastructures of every societal function system have been undermined and threatened with collapse, or at best, an unstable future (global interdependence, markets, supply chains, personal and collective liberty, healthcare, livelihood, governance, etc). There is a newfound urgency to activate novel agendas to counteract this new normal. Liberland's agenda is an ideal contender.

Liberland, the world's newest micronation, is an incubator and role model for a society founded on the ideology of liberty and principles of anarcho-capitalism. It is founded on the idea that the societal movement towards individual and collective freedom, prosperity and peace will not emerge through bigger governments with increased control, but rather through the distributed intelligence of autonomous innovators and agents of change through "the politics of discourses".

Liberland is a country, a city, a network of communications, a futuristic society, a utopian vision, a globally distributed network of intelligences, and a database of societal visions that can counteract the global chaos unfolding in the wake of the pandemic. Liberland's motto, "To Live and Let Live", is expressed in its aspirations towards individual and collective freedom, autonomy, minimal governance, voluntarism, charity, fair free markets, non-aggression, non-coercion, diplomatic goodwill, radical innovation, entrepreneurship and ecological responsibility, all supported by a distributed and transparent peer-to-peer network (blockchain).

Can Liberland's radical new possibilities for liberty, an unleashed free market economy, and a transparent distributed peer-to-peer computational network (blockchain) stimulate a radical transformation of the built environment? How can the theoretical implications and practical applications of blockchain be translated into new strategies for architectural and urban design? How can maximum design freedom result in a complex legible order, rather than descend into visual chaos? How can a free market urban order, which is fluid, distributed, emergent, and ever evolving, be expressed in Liberland's urban and architectural design? How can 'light touch' rule-based design strategies create an urban main-frame that stimulates new architectural trajectories?

Liberland is real. This is not solely a speculative ideas competition. Liberland needs architecture! Entries must include – but be developed beyond – speculative concepts, into fully visualized, ambitious, flexible design systems demonstrating adaptive agility and maximum potential for a multi-authored fluid built environment, on the basis of ever-evolving 'light touch' rules.

Liberland invites you to challenge the contemporary urban and architectural design status quo by responding to Liberland's fundamental values and to envision the full design potential for this new micronation. Your proposed design must be agile and highly responsive to free market forces that are open to perpetual evolution. Your proposal must also include design scenarios that creatively engage the theoretical, social, and technological implications of distributed intelligence systems, such as Blockchain. On a functional level, Liberland has no zoning regulations or municipal restrictions. It has no pre-established design culture. The field is wide open for innovation on every scale. Liberland's new architecture will be absolutely vital to its survival, success and advancement towards its aspirations.

Rather than purely fantastical or artistic schemes, Liberland seeks radically creative, yet mature proposals for a fertile, high-density city-nation of the 21st century that is responsive to its advanced network society. Participants should approach this competition as a real-world design challenge: A lucid development process for a multi-stage evolution towards a fully functional, architecturally sophisticated, and intelligently adaptive city. Participants are free to propose scenarios that are both design focused and socially speculative, engaging the broader economic, political, social and technological projections on the future of Liberland.

Your proposal must include Napredak, Liberland's "gateway" for visitors arriving via boat in the region. Napredak is an approximately 5-hectare zone within Apatin, situated approximately 10km south of Liberland along the Danube River. It is where Liberland docks its boats, including the boat "Bitcoin Freedom". It is also the site of "Floating Man" summer festival (similar to Burning Man festival). Your vision for Napredak will be considered for near-future development. nbsp;

In summary, you are invited to position your design proposal in response to the following theoretical premise, addressing all its explicit parameters in your designs. The vitality of a fertile network society is dependent on the presence of three stabilizing factors: the radical autonomy of its constituent agents (liberty), a commitment to unregulated affiliation (free markets), and a transparent distributed peer-to-peer network (blockchain).

PROGRAM>>> Liberland encompasses 700 hectares (7 square kilometers) of land, which is situated on disputed territory between Croatia and Serbia. Napredak encompasses approximately 5 hectares of former industrial land, situated within Apatin, about 10km down the Danube River from Liberland (Napredak map coordinates: 45°40'24.5"N 18°58'14.1"E). Liberland and Napredak have no zoning, no mandatory segregation between commercial, residential, retail, municipal and leisure districts. Liberland and Napredak aspire to achieve an artificial ecosystem of high permeability, fluidity and flexibility. Key goals are to translate the conceptual, social and practical implications of a distributed peer-to-peer network (blockchain) into new strategies for architectural and urban design, and to maximize the potential for functionality into a coherent system that remains highly adaptive to local conditions, groups, individuals, institutions and organizations. For a detailed strategic roadmap to possible long term development structure scenarios for Liberland, refer to Patrik Schumacher's paper 'Liberland's Prospective Urban Planning Regimes'.

FIRST PLACE WINNER>>> The team/individual that wins First Place prize will be invited to negotiate a contract with Liberland to design the first phase of the Napredak development, in preparation for Liberland's "Floating Man" festival of summer 2021. This festival is similar to the "Burning Man" and "Ephemerisle" festivals. Napredak is a 5-hectare site situated about 10km down the river from Liberland, and is part of the area known as Apatin.

ALL PRIZE WINNERS>>> One or more teams/individuals, from among ALL the prize winners, will be invited to negotiate a contract with Liberland to further develop a portion of their competition design scheme into a more fully realized proposal that can eventually be built.

PRIZES>>>
First Place 10,000 Merits
Second Place 9000 Merits
Third Place 8000 Merits
Fourth Place 5000 Merits
Fifth Place 4000 Merits
*The prizes will not be awarded in cash, but rather applied towards Liberland citizenship, which costs 5,000 Merits. Merits are Liberland's cryptocurrency, equivalent in value to US Dollars.


SPONSOR>>> Vit Jedlicka, President of Liberland


JURORS>>> 
Patrik Schumacher - Principal of Zaha Hadid Architects
Vit Jedlicka - President of Liberland
Jillian Godsil - Founder of Blockleaders.io
Vedran Mimica - Director of MS program at IIT Chicago
Bruno Juricic - Founder of Atelier Bruno Juricic
Raya Ani - Founder and Design Director of RAW-NYC
Vera Kichanova - Researcher at Zaha Hadid Architects
Garet Crossman - Artist and Interdisciplinary Philosopher
Shady Albert Michael - Founder of S+ Studio
Jan Petrs - Founding Partner of Studio Archistroj


LEAD STRATEGIST/CURATOR>>> Daniela Ghertovici, ArchAgenda LLC
SCHEDULE>>>

• New registration deadline:
January 13, 2021
• New submission deadline:
March 13, 2021
The top prize is equivalent to $10,000, but is awarded through waiver of citizenship fee.
cash prize award: $ 10,000.00 USD
click here for call for entries