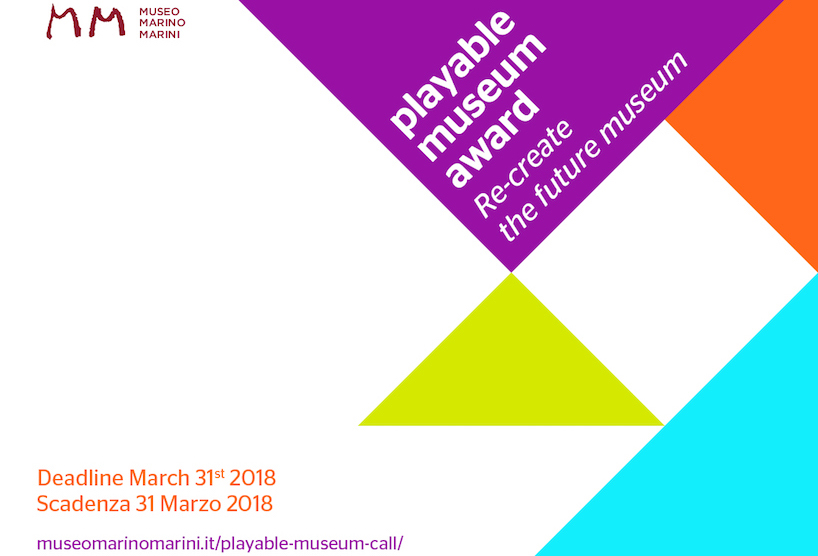 Playable Museum Award
The Museo Marino Marini of Florence launches a call for all the creatives and visionaries capable of imagining the museum of the future with ideas that can rethink the connection between people, the artworks, and the concept of the museum in its broadest sense.
Any proposal bringing innovation, outside-the-box imagination, and new ways of connecting visitors with the museum through technology and creativity, experimentation and playing games, is invited to participate in the international call which offers a grant of 10,000 euro and support in the form of mentorship for the implementation of the chosen project.

The call is open from January 15th and the deadline for submissions is March 31st, 2018.

A panel of international experts, from prestigious institutions in Italy and abroad, will evaluate the ideas submitted and select the winner.

The Playable Museum Award, coordinated by engagement scientist, Fabio Viola, develops precisely in view of the connection between the exponential growth of new technologies and the need to engage new visitor demographics.
Therefore, space is given to innovative projects and solutions that increase audience development, enrich the visitor experience and expand the spaces and their use. The only limit is your imagination.

The call takes place in collaboration with the Cultural Association TuoMuseo and with the support of the Fondazione Cassa Risparmio Firenze and PCube.
cash prize award: $ 1,200.00 USD
Call for entry