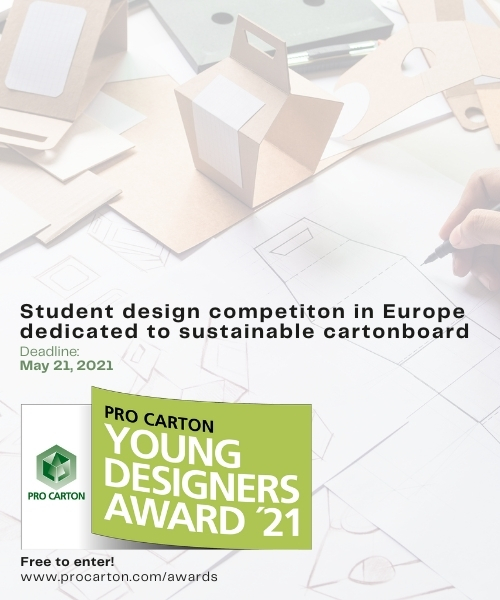 Pro Carton Young Designers Award 2021
The Pro Carton Young Designers Award is a creative design competition dedicated to sustainable cartonboard and open to all students studying in Europe.

It's free to enter and the deadline is May 21, 2021.

Entries can be submitted across these categories:
Creative Cartonboard Packaging: Eat & Drink
Creative Cartonboard Packaging: All other
Creative Cartonboard Ideas
Save the Planet

In addition to these four category winners, the jury will also choose the winner of the "Newcomer Award" plus, consumers will have the opportunity to vote and select the winner of the Public Award.
The jury consists of designers, brand owners, retailers as well as manufacturers of cartonboard and cartons. This ensures that the needs of the entire Supply Chain are taken into consideration.

The initial submission should be made online and you will only need to send your physical 3D cartonboard design if it has been confirmed that you have made it onto the shortlist. Students that do not make it to the shortlist will not have to send in their physical designs/prototypes/dummies for the jury meeting.

The winners and their teachers will be invited to the Award Gala ceremony to be held in September subject to restrictions concerning COVID-19. The announcement of the winners will be published in September/October on all our media channels.

Prize:
- For the 5 main winners – the prize for each of the winners is a three to four-day visit to Mayr-Melnhof Karton and practical training at Mayr-Melnhof Packaging International, both in Austria (Vienna and Austria countryside). It will be a unique and memorable experience.
- A trophy and certificate.
- The winner of the Public Award will win an iPad and a certificate.
- International publicity and recognition.

Tipps and hints:
When filling in the entry form, take the time and put yourself in the shoes of the jury: will they understand the innovative idea behind it?
If you've worked on a cartonboard design in the past: enter with it! It would be a shame to let it disappear in the desk drawer!
cash prize award: $ 0.00 USD
click here for call for entries