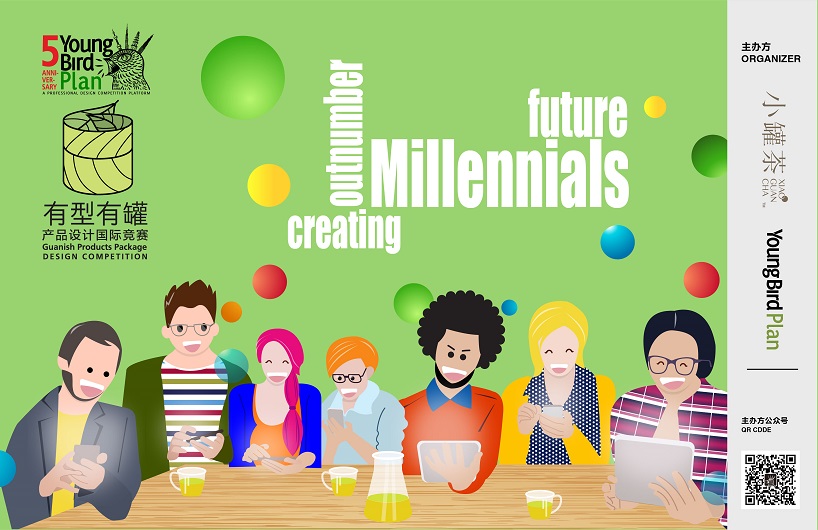 Young Bird Plan 2018 Guanish Product Design International Competition
Introduction

In recent years, countless brands have upgraded their products, and made products more attractive to young consumers, especially those top luxury brands. In this August, Burberry, the traditional luxury brand in UK, adopted bold letters as its logo instead of the original knight image and published its new logo graph. Besides, in late 2016, Burberry invited young idol Kris Wu as its brand endorser. Undoubtedly, the world is continuously re-constructed and everything deserves to be redone in the era of consumption update. Ranging from urban renovation to living necessities, it is your value that makes you successful, and it is the person who is dependent on you determines the trend.

Just as the poet says, with wind it steals in night, mute, it wets everything. So when re-construction permeates through our daily life, it is always in a gentle way which can't be rejected. We may come to a new stage of happy life if we change original living norms. So do tea.

Tea, a leaf grown in deep forests and remote mountains is always the spiritual drink of scholars through thousands of years' accumulation. However, it can't be accepted by 80s and 90s young generations in China. Under the promotion of cultural rejuvenation and consumption update, tea market is changing its traditional sales mode to a more diversified, modern and younger sales mode. As a result, it is reported that young people pay more attention to tea and tea-drinking lifestyle than before and tea becomes the best substitution of coffee and soft drinks.

Xiao Guan Tea, a high-end Chinese tea brand covering all tea categories takes its responsibilities to explore a happy lifestyle and improve people's living standards. It begins its business from scratch and becomes a legend in the industry within only two years. Apart from its high quality, Xiao Guan Tea makes every effort to promote the importance of innovation and make Chinese tea younger and more fashionable.

Millennial generation is defined as the generation born between 1980 and 1996, while Generation Z between 1997 and 2010. The general editor of Kantar China Insights says millennials and generation Z may respectively correspond to 80s and 90s group in China. However, it's interesting to find that the gap between above two generations becomes more and more blurred in pace with your deeper exploration. And it is even widely recognized that the two generations have combined into one strong group with great power which will reshape the consumption culture in the global market.
It is undoubted that how to win millennials and generation Z becomes the key point in the commercial world. Let's wait and see how will the Guanlish Product Design Competition catch the eyes of new generation.

This time, Xiao Guan Tea, along with international competition platform Young Bird Plan, launches "Guanish"product design international competition. It calls for younger and creative minds to design a new series of tea drinking products which may create new style for young generation to drink tea.

The Jury Panel

1. Hideo Kambara: Emerging designer in Japan and former art director of Toto Ltd. and Dentsu Group
2. Tim Kobe: Founder and CEO of Eight Inc.; Designer of the first Apple Store
3. Chunxuan Feng: Founder and general editor of Xuxuhuasheng Media Group and general editor of Wallpaper China.
4. Guoying Du: Founder and CEO of Xiao Guan Tea
5. Wei Di: Design and Development director of Xiao Guan Tea
6. Isa Ye: Founder of Young Bird Plan

Design Challenge

Whole design schemes for Xiao Guan Tea shall include:

Colorful tea jar (it shall be fashionable, cool and attractive to young people);
Colorful tea set;
Package jar for the tea; package for the tea set; package for the whole suit;
Package materials are not limited, but environmental protection and sustainability shall be considered.

Evaluation Criteria

Deep understanding of tea culture demands in modern era, which shall be presented in your design work. (analysis graph is ok);
Your design shall deconstruct the image and people's cognition of traditional tea culture in anindividual way, while maintain key elements in traditional tea culture;
Your design shall be fashionable and can stimulate interest in tea and tea culture of the young;
Your design shall be economic, practicable and aesthetic. Besides, your design shall be easy to be realized and manufactured in low cost and large scale;
Environmental protection will be a plus.

Timeline

☞ 2018.11.27: Call for entries
☞ 2019.02.07: Registration deadline
☞ 2019.02.14: Submission deadline
☞ 2019.02.26: Release of shortlisted winners
☞ 2019.03.12: Release of Top 30 & Public Voting (account for 20% on Top 10 selecting)
☞ 2019.03.20: Release of Top 10
☞ TBD: Ceremony of Top 3 & Champion
The timeline is just for your reference not the final version.

Award

★ First Prize
1 winner; 60,000 RMB (pre-tax); black-edition tea; 2.0 version tea set
★ SecondPrize
2 winners; 20,000 RMB each (pre-tax); golden-edition tea; travel mug with tea leaf filter
★ Top 10
7 winners; silver-edition tea; if the winner do not graduate from school, he or she will be offered an opportunity to practise or work in headquarter of Xiao Guan Tea Group.
★ Top 30
20 winners; Top 30 honor of certificate
★ Shortlists: Finalist certificate

All winners (include shortlists) will be awarded YOUNG BIRDS Magazine of 5th anniversary edition; winning schemes will be published on media platforms of Young Bird Plan and its magazines.
cash prize award: $ 14,564.00 USD
Call for entry