apr 20, 2008
milan design week 2008: ingo maurer
see 38 photos in our snapshot gallery 'ingo maurer'
'exit light by ingo maurer' – composed of luminescent exit signs clamped together.
the german lighting specialist presented several new pieces at spazio krizia.
'early futures' by ingo maurer the 'early future' lamp designed by ingo maurer for OSRAM, is produced as limited edition since it uses panels taken straight from the testing laboratory. OLED or organic light emitting diodes are a new form of lighting technology that emit light evenly from a surface instead of individual points, like LEDs do. they do however provide many of the same energy efficiencies and long life expectancy as LEDs. this lamp marks an important step in bring this technology to the marketplace.
installation by ingo maurer, featuring the pieces 'seven rats' and 'alizzcooper'.
'alizzcooper' table light by ingo maurer
detail of the 'LED paravent' by ingo maurer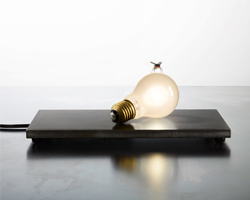 dec 26, 2016
dec 26, 2016
jun 18, 2016
jun 18, 2016
may 11, 2016
may 11, 2016