from 50 nations worldwide almost 10,000 ideas and concepts were submitted by students and narrowed down to just 161 ground-breaking projects honored by the iF design talent award 2021. to celebrate young creatives and their future-oriented works whilst respecting the fight towards an ecological approach, the platform categorizes designs corresponding to the sustainable development goals (SDG)* of the united nations specifically. from egg shells that turn into biodegradable lighting design to structures that like flowers respond to UV index, the concepts prove how budding creativity may hold the key for a brighter future…
out of the thousands of participants and two rounds of judging, the elaborate jury panel awards 161 concepts from which just 13 are awarded with money totaling 50,000 euros. moreover, the lucky students get to have their projects featured permanently on the renowned platform's website. to reach that stage, and for a complete and fair judgement, each winning design needed to achieve above-average scores in the following questions: does the project solve a problem; does it reflect or promote high moral-ethical standards; does it strengthen group relations; does it make economic sense, and does it create a positive experience.
as a first in our twelve-series collaboration, designboom features 10 university winning concepts from iF design talent award 2021 that offer original solutions for the SDG of the united nations.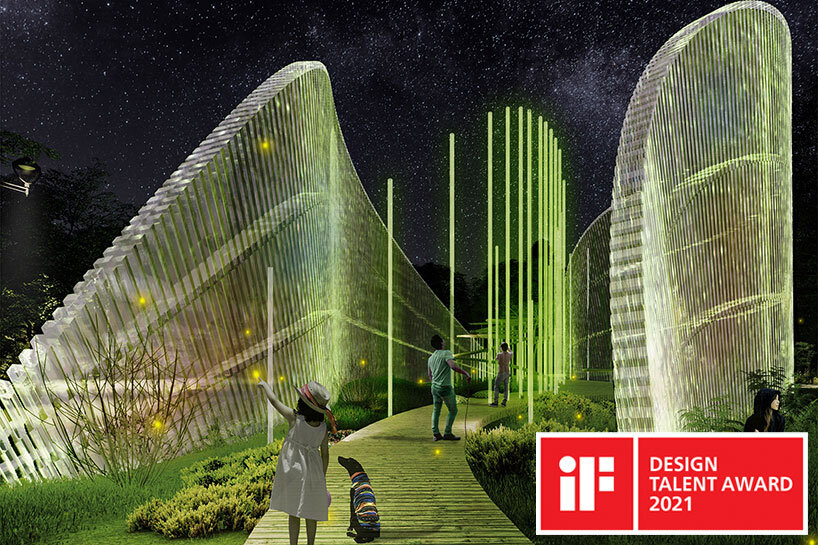 name: PSN protective shell
university: national taiwan university of science and technology (NTUST), taiwan
SDG: 13- climate action
designers: chien-hsun chen, hsiao-yu sun
functioning as a shield, 'PSN protective shell' uses a green fluorescent protein to absorb ultraviolet light, making it open and close like a bionic flower in response to the intensity of the UV index. with a higher index, the structure acts like a pavilion providing shade, while at night it becomes an art installation that glows naturally. the design serves a dual purpose- practical and conceptual.
jury statement: 'this concept creates a moment of well-being for people of all ages while at the same time helping to explain the need to change our ways of living.'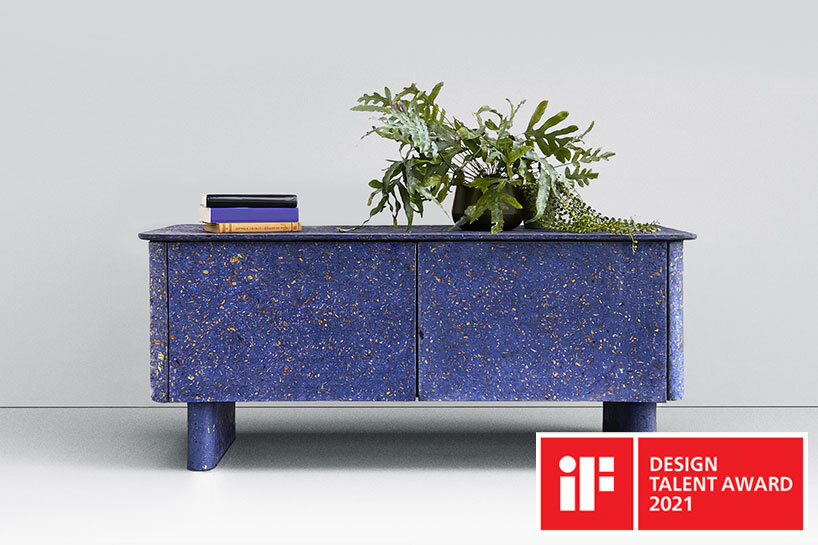 name: dessa
university: university of the arts poznan, poland
SDG: 12- responsible consumption + production
designer: oliwia ledzińska
the 'dessa' furniture system responds to the problem of overconsumption. thanks to a system of easy assembly and disassembly and in accordance with the principles of the circular economy, multiple uses of the same components continue to create new products. the resources come from the users who donate old parts to the company that can then be manufactured and turn into new collections. for the needs of the projects, the designer showcases a special biodegradable material that can be regenerated and recycled.
jury statement: 'this is a really interesting project. the idea is good, the design process effective, and the result is highly aesthetic.'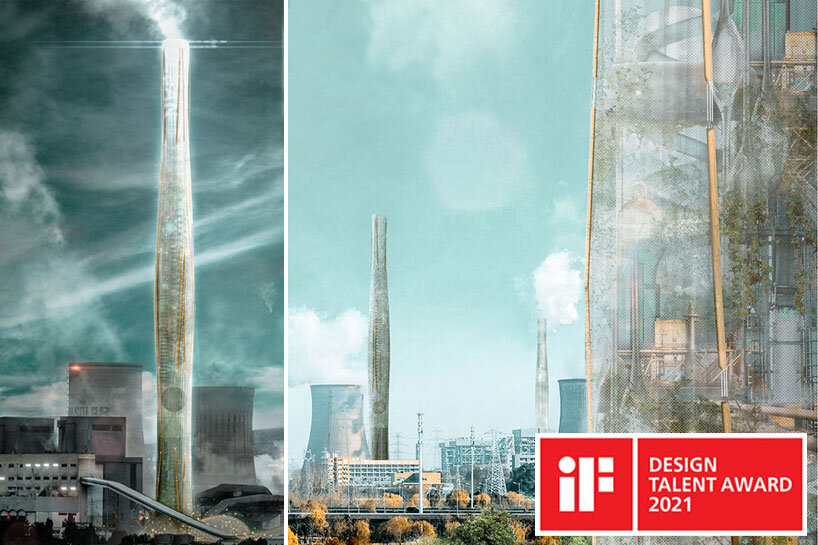 name: carbon dioxide purification tower
university: national taiwan university of science and technology (NTUST), taiwan
SDG: 13- climate action
designers: han-yu lai, chien-hsun chen, chun-yi yeh
excessive emissions of carbon dioxide have led to increased global warming and extreme climate change, and nowadays industrialization is increasingly affecting human health. to fight this, the 'carbon dioxide purification tower' uses biotechnology to decompose excessive carbon dioxide emissions through the use of bacteria and genetically modified e. aureum or devil's ivy. with this unique new filtering process combined with carbon capture technology, a vision of sustainable resource use is foreseen.
jury statement: 'the design of the air pollution filter tower would make a fascinating addition to any city skyline. Its static appearance means it can serve as a landmark and visual reminder that we need to change our consumer behavior in order to create a healthier environment. meanwhile, it also quietly works to decompose carbon dioxide emissions and create clean air.'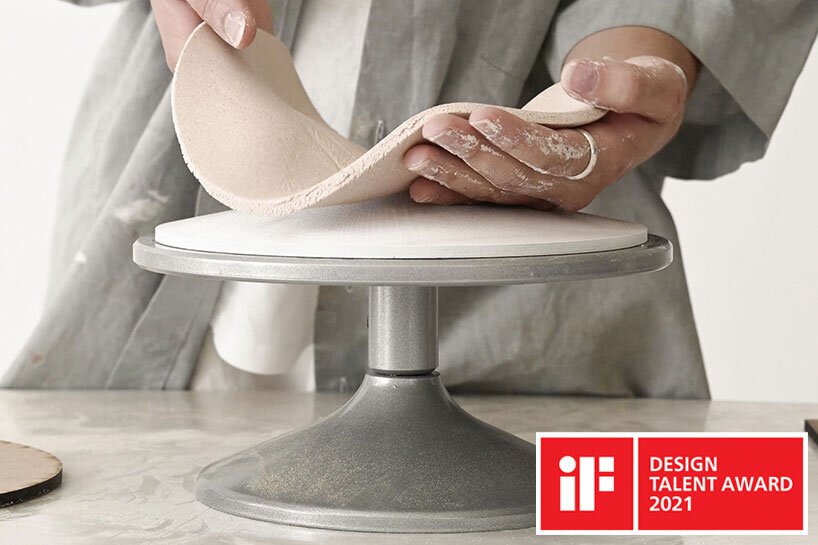 name: SÊLO
university: IED madrid, spain
SDG: 12- responsible consumption + production

designer: inés balbás
'SÊLO' is the result of an intense process of research and experimentation with waste matter. the continuous accumulation of residues, generated by the linear economy is the main aspect of the project which touches on the recycling materials. from egg-shells to a biodegradable and sustainable material, the designer proves that an easily sourced, light, and local residue can take part in the world of design.
jury statement: 'wonderful project. the research process to use eggshells as a biomaterial is powerful and the outcome fascinating. also, the video and PDF presentations by students are perfectly realized,'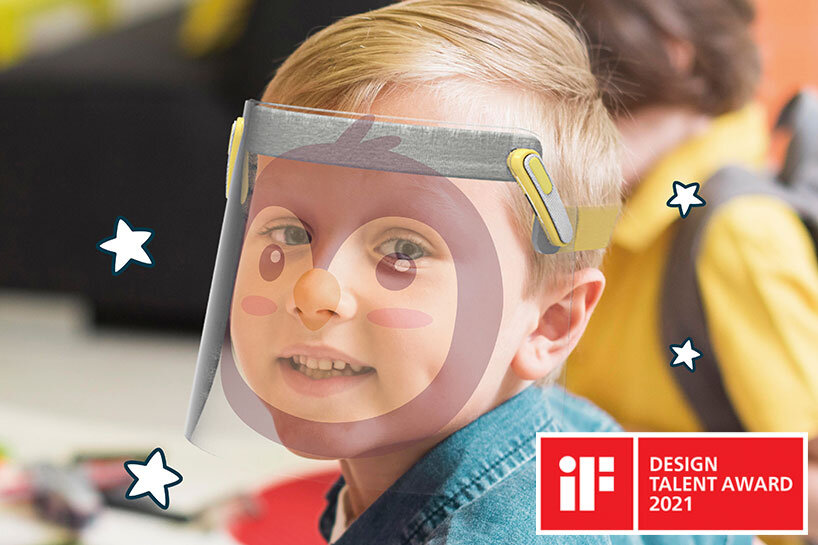 name: wama drama therapy
university: national taiwan university of science and technology (NTUST), taiwan
SDG: 03- goodhealth + well-being
designers: fang-ping hsu (ming chi university of technology MCUT), chien-chen lai (NTUST)

used for drama therapy, the 'wama' app is used to reduce the spread of pathogens during group activities. with the psychotherapist's guidance, children with autism and other neurodevelopmental disorders are aided into reflecting their feelings during role play, whether that is done through the voice changing feature or the drawings on the mask. through the transparent electronic paper for AR as well as external cleaning, the children can play someone else and enjoy the drama therapy session.
jury statement: 'this is a simple yet powerful design that has been very well realized. although there is no economic evaluation, this could be understood as a relatively low-cost proposition. work well done.'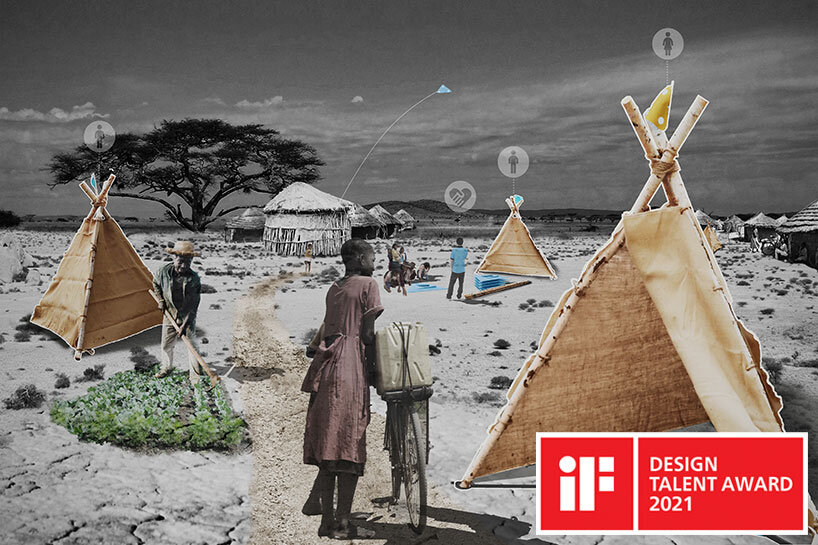 name: blue triangle: african latrine aid program
university: harbin institute of technology harbin, china
SDG: 06- clean water + sanitation
designers: yunhao zhong
inadequate sanitation is one of the leading causes of death in africa. the 'blue triangle' program is designed to support hygiene education and the construction and maintenance of efficient, low-cost latrines. firm and light, the project can easily be carried as a single set by one adult while apart from the squatting pan, all other parts of the latrine can be built using local materials.
jury statement: 'this is a perfect example of how design can be used to harness benefits at multiple levels of a complex problem. an instantly recognizable mass-manufactured product design is offered for proper disposal of human feces in remote rural villages, but with an important twist. the product is completed using local resources, through training of local volunteers, and ultimately through changing the sanitary practices of the community.'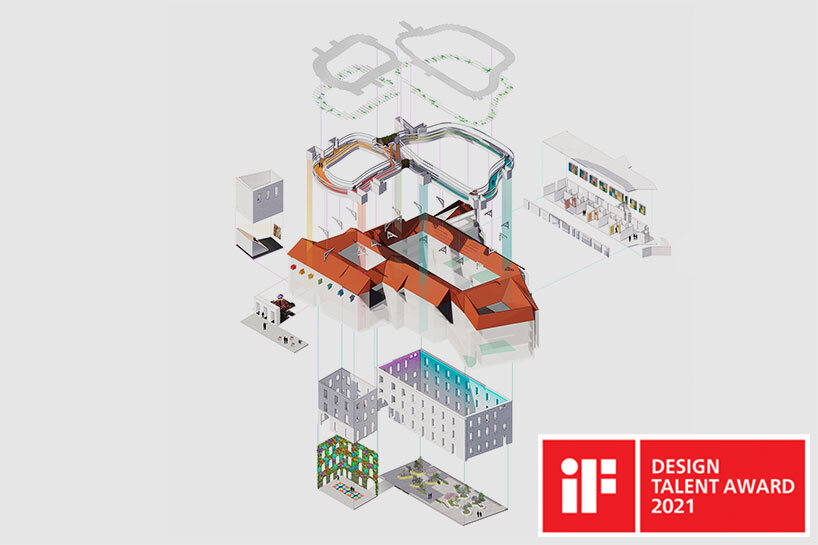 name: hávitat
university: IED madrid, spain
SDG: 10- reduced inequalities
designers: ruth mota villalobos
designed for the elderly or people in palliative care, 'hávitat' is a social center that offers the chance to enjoy an active social life. the space balances private and public areas, and includes recreational spaces where the community is invited to participate. despite an unavoidable path, the environment offers the residents a pleasant time with their loved ones.
jury statement: 'the users' needs were clearly centered in the design process, resulting in a designed space that is highly sensitive to the fact that this, for most residents, is their final home.'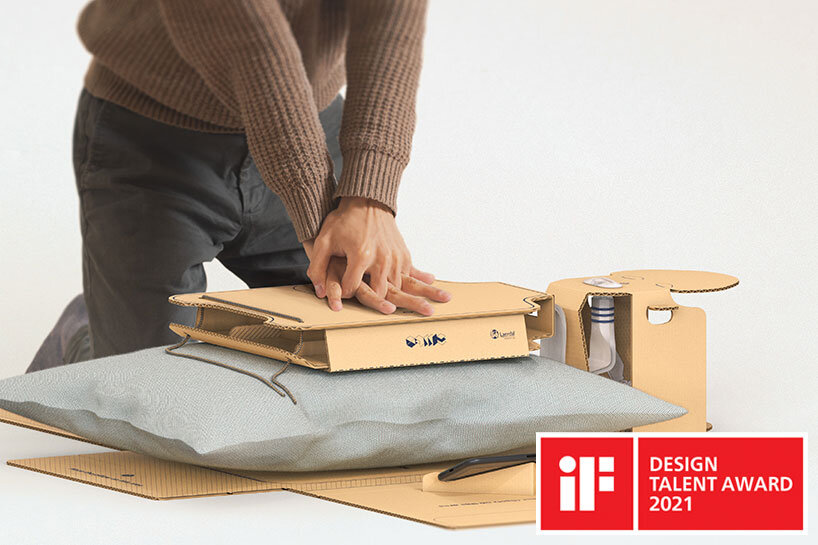 name: canne
university: umea institute of design, sweden
SDG: 03- goodhealth + well-being
designers: shuai li

self-directed, low-cost and sustainable; the home-delivery CPR kit 'canne' provides people the opportunity to learn the technique while saving timing and medical resources. the corrugated cardboard basic life support (BLS) learning package allows laypeople to master practices like cardiac arrest identification, chest compression, and ventilation all by themselves. with a self-directed smartphone app the learning experience is enhanced as simulating cardiac arrest scenarios and real-time feedback of compression and ventilation are offered.
jury statement: 'smart and simple solution with high beneficial experiences for health and well-being, as well as high value for social and community development.'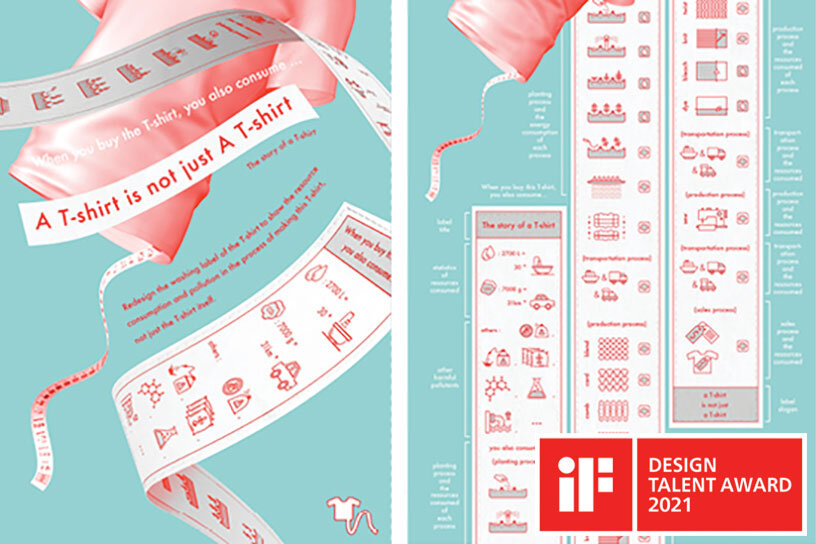 name: a t-shirt is not just a t-shirt
university: university of the arts london, UK
SDG: 12- responsible consumption + production
designers: bin li
ever heard of excessive consumption? as luring as businesses make buying seem, unnecessary purchases often leads to higher levels of waste, thus environmental pollution. particularly in clothing, labels only indicate the material and washing instructions, which is often misleading. with loooong labels, consumers can have much more insight into the story of what they wear. the longer the label the more the energy consumption
jury statement: 'sometimes responsible consumption starts by making sure people have access to reliable information, from which they can make informed decisions and change behaviors. this entry humorously and informatively tells shoppers about the provenance and production lifecycle of new clothes. the 'long label' is sure to grab attention and help persuade people to purchase sustainably sourced and produced clothing. it's a brilliant and neat solution that will also raise smiles (and shocks) amongst conscious shoppers.'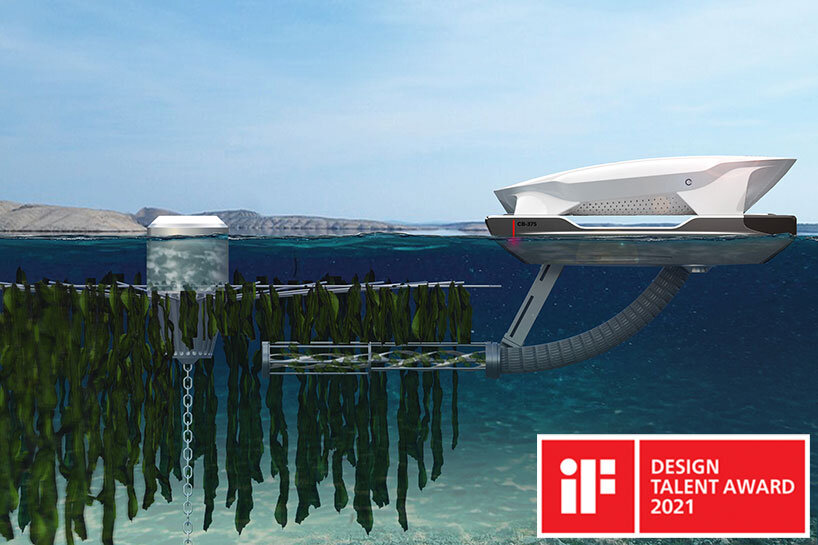 name: cerberus
university: HTW berlin, germany
SDG: 12- responsible consumption + production
designers: bernhard büttner, ony yan, arthur worbes
varied types of algae are likely to become a major resource in the future and the 'cerberus' cultivation system plans to open up the revolutionary prospect of truly sustainable agriculture or, more precisely, aquaculture. fast-growing algae can be grown for food but also used in medical technology, 3D prototyping, the production of e-fuels, textile processing, and many more applications. although processing technologies are already advanced, little progress has been made in developing systems of cultivation and harvesting. this semi-autonomous system creates a basis for a sustainable working cycle by providing raw material without creating air or water pollution, sparing precious aquatic resources.
jury statement: 'great design solution that is economically and environmentally feasible.'
if you're a student and wish to submit your sustainable idea on iF design talent award 2022, mark november on the calendar!

for the first time, designboom and iF design talent award announce together 10 student projects that respond to the sustainable development goals (SDG) of the united nations. 10,000 entries were narrowed down to 75 by the elaborate international jury panel, from which the 13 are sharing eur 50,000 in prize money. from therapy masks for autistic children to a carbon dioxide purifying tower, we aim to highlight some inspiring, future-oriented and always creative designs from young talents. the companies haier, samsung electronics, grohe AG, wonderland nurserygoods, compal electronics and dongguan south china design innovation institute are committed to young designers and act as sponsors of this award. to view all the student projects of iF design talent award 2021 winners, visit here.
*sustainable development goals (SDG):
the SDGs are a key element of the UN's 2030 agenda for sustainable development and were adopted by all UN member states in 2015. they are understood as a universal call to action for emerging and developing countries as well as industrialized nations. what links them all is that they aim to end poverty, protect the planet and improve the lives and prospects of everyone and everywhere. in order to honor the important work of the UN, iF design talent award has been adapted to respond to the growing issues.
a diverse digital database that acts as a valuable guide in gaining insight and information about a product directly from the manufacturer, and serves as a rich reference point in developing a project or scheme.
designboom will always be there for you
milan, new york, beijing, tokyo

,
since 1999