with the urge to fight the pandemic, designers from all over the world put their skills to the test by showing their own creative response. from hundreds of proposals, iF design award 2021 recognizes some of the most inspiring designs. with inspiring visions ranging from self-cleaning robots to anti-disinfectant public showers, smart technology proves how it can adapt and evolve in any given situation. all the winners demonstrate ideas and concepts that diffuse the risk of viruses whilst embracing the changing normality.
designboom picks 10 winners from the iF design award 2021 that best showcase the creative use of design and technology to help us adapt to life in the pandemic.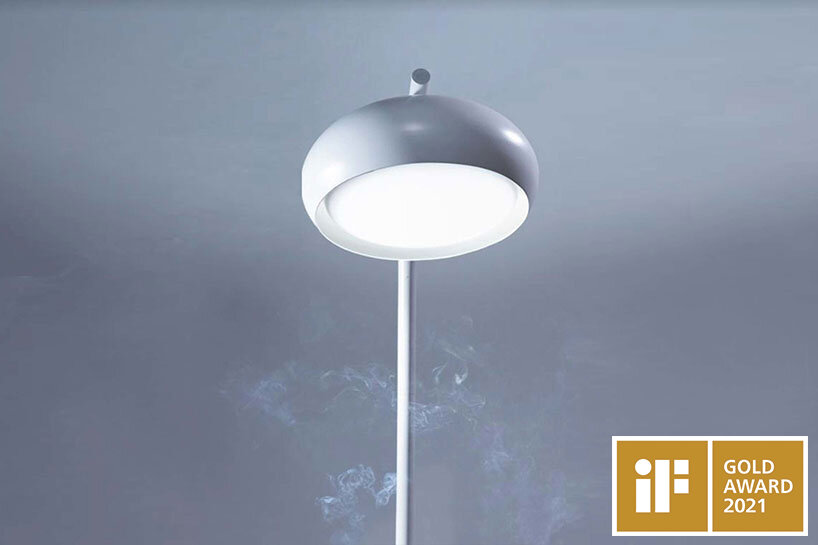 name: airluna
brand: ASA innovation & technology limited
designers: kinoshita mui ngo suet, tomimatsu dan, anthony huen chun kit
award: iF gold award
our curation of winning iF design award 2021 projects that respond to the pandemic starts with a world's first. chinese designed 'airluna' breaks ground in hong kong SAR china as an air-purifying lamp. the gold winner blends contemporary design with cutting edge technology, destroying up to 99.9% of viruses. equipped with PACO nanotechnology, the lamp can even break down microbes smaller than COVID-19, including other harmful chemicals and odors. to shine more light on its properties, the featured app allows users to remotely control and monitor their desired indoor air quality. ensuring even higher efficiency, not only does the product's technology promise a lifetime of 10 years but the airflow lowers the heat of the LED to prolong the lifespan further.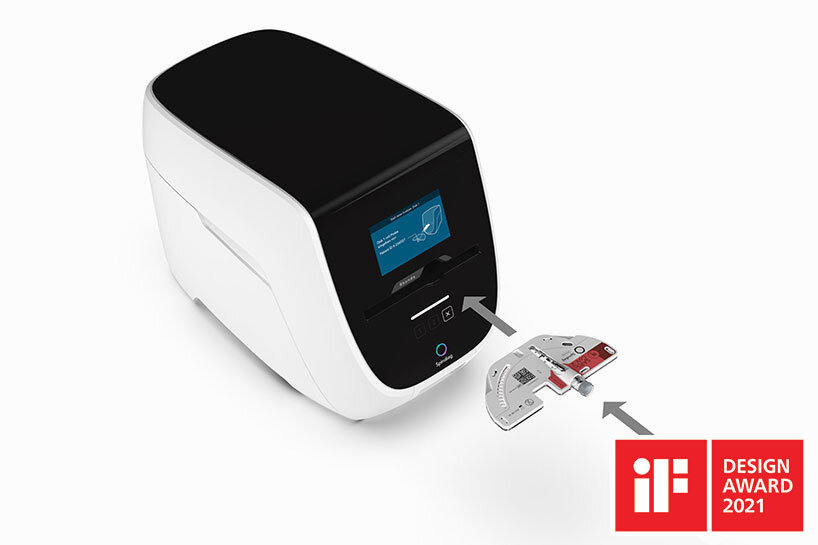 name: spindiag rhonda

brand: spindiag gmbh
designers: sebastian wolf, sven dörhage
as the pandemic has dispersed worldwide, undergoing PCR tests is becoming more common place. the german product, 'spindiag rhonda' system, gives the opportunity to any person with basic medical qualifications to perform their own molecular test. the fact that the procedure can be carried at home allows anyone at risk to be tested and isolated, all within 40 minutes. practicality also applies to the simplicity of the interface, enabling the tests to be taken independently at any preferred time.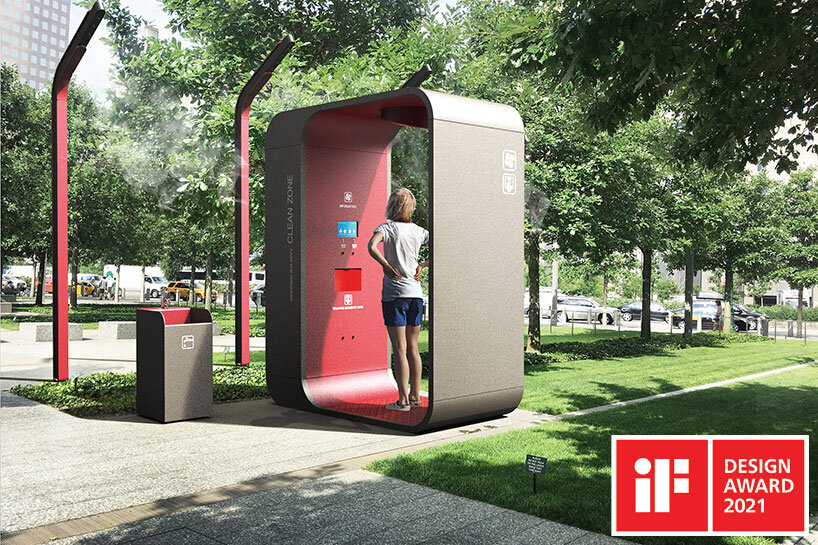 name: the clean zone
brand: hyundai engineering & construction
designers: wonnts
it's no lie that battling viruses and germs has become a sort of obsession. 'clean zone', a concept designed in south korea, is the response to blocking these pollutants whilst outside, before entering indoor spaces. the public-oriented shower-like facility is fitted with a sink that physically washes dust away, a cooling mist reducing finer dust, and a clean box sterilizing the body using wind and UV light. in the midst of the pandemic, the packaged system can be ideal in children playgrounds or any public space where high numbers of people interact.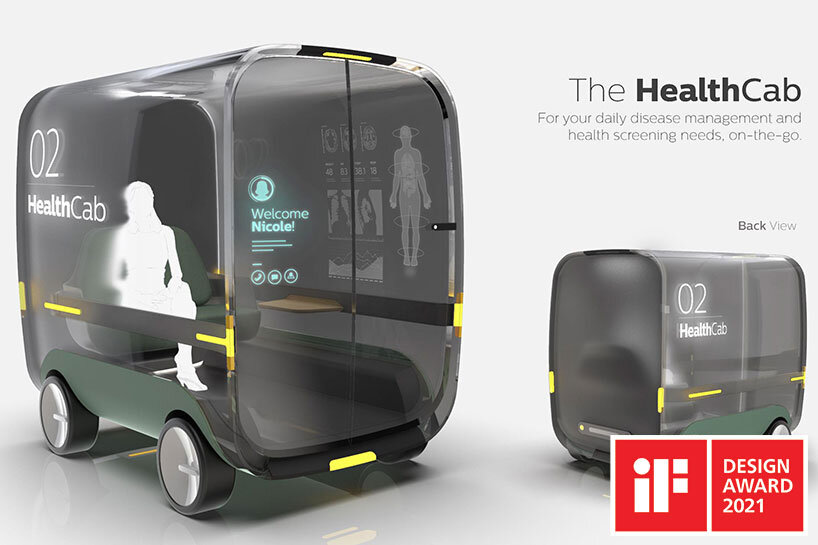 name: a brief speculation of autonomous healthcare
brand: philips
COVID-19 globally exposes various weaknesses in medical systems and that's where the health cab comes in. 'a brief speculation on autonomous healthcare' is a dutch design concept constructed to challenge current models of care delivery. by eliminating the need to travel in order to obtain treatment, feasibility in the sector becomes easier. what emerges from the design is how social and technological trends can evolve the healthcare need into an autonomous and experiential service.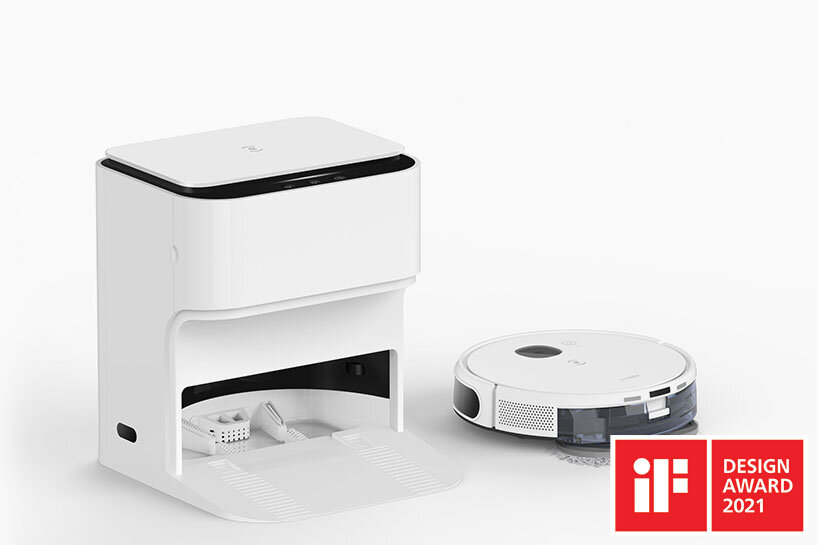 name: DEEBOT N9+
brand: ecovacs robotics co., ltd.
designers: mengdan chen, pingxing huang, fang he, jiaxing zhang, wenli liao, zheng cheng
hands-off cleaning sounds like one of the most effective ways to avoid bacteria. chinese design 'DEEBOT N9+' is a household product promising users minimum effort. the self-cleaning device makes sure that the only thing the buyer does is personalize settings on the app, such as the designated area to clean, frequency, suction power and water volume. once these are updated, the wet and dry vacuum both sweeps and mops where assigned. it is built with two counter-rotating brushes and a fitted tank that automatically replenishes water so that the mop is always wet. taking 'self-clean' on another level, the product itself also cleans and dries the mop, limiting exposure to germs even more.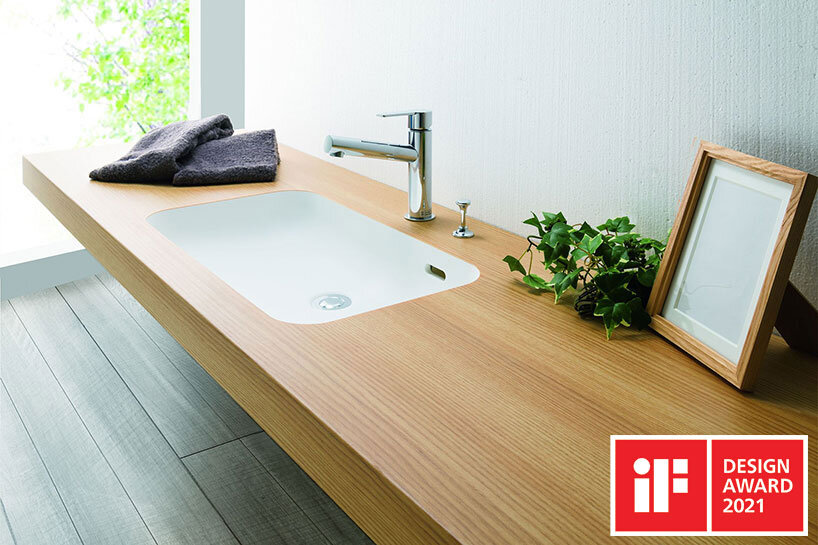 name: virutect
brand: aica kogyo co., ltd.
designer: eiichi tomita
'virutect' is the response to COVID-19 or other viruses adhering to tables, walls, doors and whatnot. instead of constantly worrying about avoiding surfaces, the japanese-designed product introduces anti-viral and antibacterial textiles. options include HPL laminates, non-combustible wall panels, counters, toilet booths and interior doors. all can be suitable for the interiors of medical and public facilities, as well as residences. no matter how often disinfection may be needed, the surfaces do not undergo deterioration.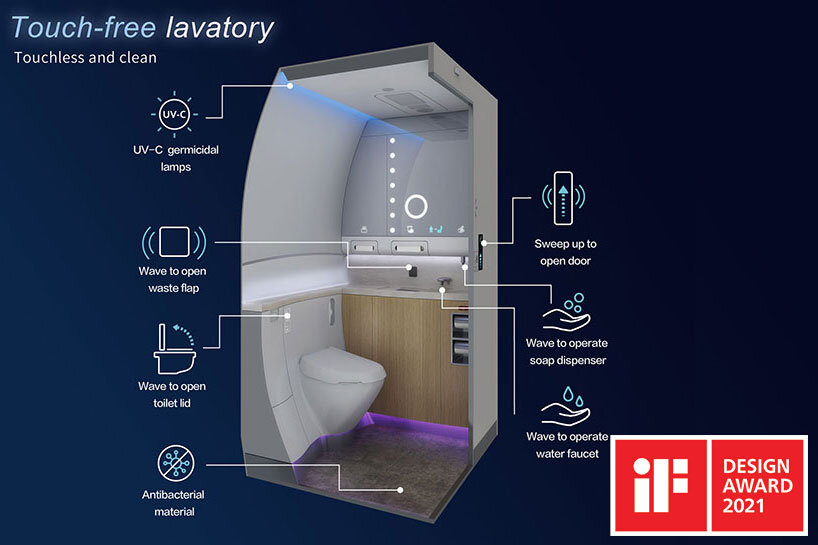 name: touchfree lavatory
brand: ameco
designers: ping li, wang liang, gao weijie, zhang zhijian, zhu limeng
as travelling is becomes more complex amidst the pandemic, hygiene safety becomes a bigger concern. ideal for flights, chinese manufactured 'touchfree lavatory' works with sensors and actuators to reduce the possibility of virus transmission. just by waving a hand, passengers can activate the waste flap, water faucet, toilet cover, soap dispenser and even the door lock. a comfortable and fresh atmosphere is achieved with a soft-colored interior design and lighting.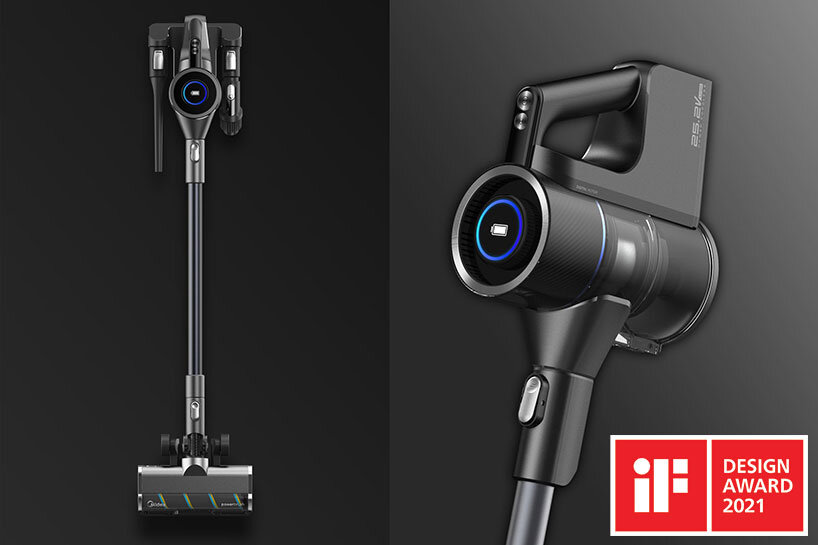 name: midea Q3 antibacterial cordless vacuum cleaner
brand: midea group co., ltd.
designers: shin hyun seon, qiu zhirui, liu gang, wang jin, cao pei, liu chang, wang lu, xiong ge, LERTWITTHAYAPHON, xu jian, hua runmin, lau zhaohua
'midea Q3' is the ideal vacuum cleaner that requires no touching. the lightweight chinese product allows customers to use the interface, clean the filter and even remove the dustbin and nozzle with a touch of a button. the interface and use become even easier as an OLED display features standard looking icons, whilst the few detachable parts are completely washable. built with an electric motor, the device is also efficient and sustainable.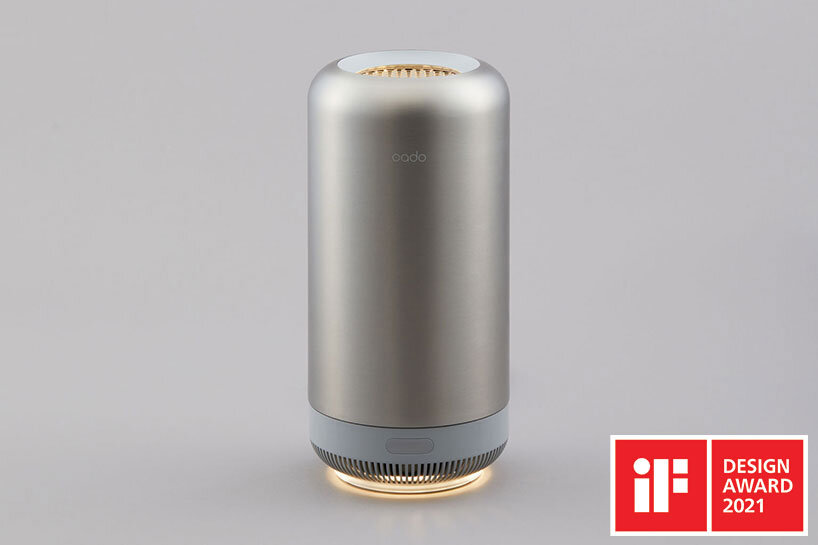 name: SAP 001
brand: cado co., ltd.
japanese deodorizer 'SAP 001' is another winner. the stylish metallic product is developed for removing odors as well as for disinfecting up to 99.9% of airborne bacteria. fitted with a catalyst and an oxidative action of ozone, the device can actually decompose and neutralize the cause of smells. whatever remains on the surface of the catalyst is then further decomposed with heat, which, in turn, then regenerates the device's power. as a result, there is no need to ever replace the filter. most importantly, the user can literally place the project wherever desired, from the bathroom to the kitchen.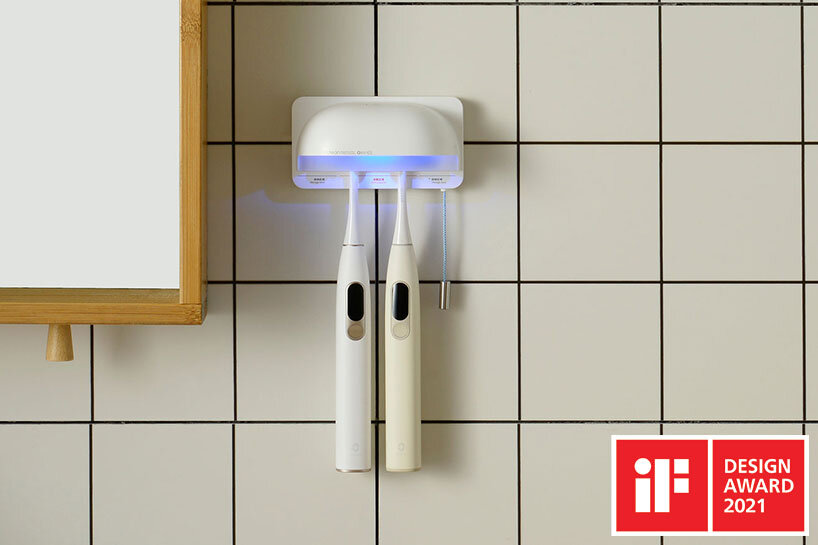 name: the bloom slim
brand: shenzhen yunding information technology co., ltd.
designers: kaixiang hu, haoxiang hu, kan song, xiang luo, liting yang, yu wei, jinlai yan, chenglian chen, yulin zhang
last on the list of iF design award 2021 winners that respond to the pandemic is a sophisticated looking sanitizer that keeps oral health at optimal levels. 'the bloom slim', designed in china, can accommodate toothbrushes of various types and sizes, offering fast and automatic sterilization every six hours. by preventing bacteria, the device makes it certain that each user no longer needs to worry about gum disease or other infections. the rope-like pull switch and LED light give an elegant feel while the product is available in both white and black to fit any bathroom design.

in an ongoing collaboration with designboom, iF design award announces the winners of the 2021 edition! as thousands of entries were reviewed and narrowed down by an elaborate international jury, we have the honor to reveal our top picks. projects also include winners earning the prestigious iF gold award. together, we aim to highlight inspiring and always creative ideas, responding respectively to each theme. to view the full curation of iF design award 2021 winners, visit here.
intrigued to enter the challenge? showcasing the 'creatiFe power of design', registration for iF design award 2022 is now open, here.
a diverse digital database that acts as a valuable guide in gaining insight and information about a product directly from the manufacturer, and serves as a rich reference point in developing a project or scheme.
designboom will always be there for you
milan, new york, beijing, tokyo

,
since 1999