with the triennale di milano's new season underway, celebrations begin in an exhibition dedicated to one of italy's masters of design. 'there is a planet' marks 100 years of ettore sottsass, the architect and designer, who during the 20th century mastered the art of italian cool.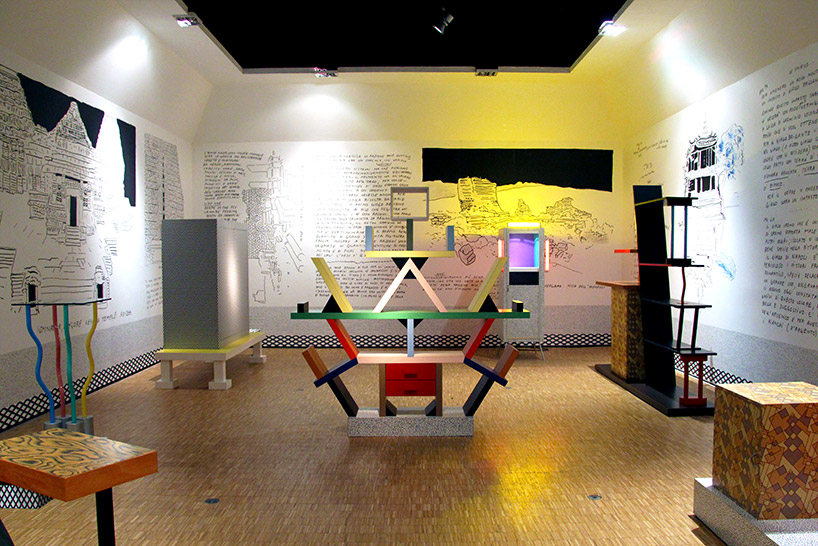 room view – 'the structures are trembling', all images © designboom
the title of the monographic exhibition and its accompanying book refers to a project that sottsass started in the 1990s but never completed. published today as he had imagined it, the catalogue acts as the protagonist alongside a vast collection of images taken by the designer. the exhibition is curated by barbara radice, sottsass's companion for thirty years, and takes this overarching theme – as well as nine other issues drawn from the archives of sottsass's writings – to inspire nine rooms. these represent crucial phases of the designer's career with the main body of the exhibition following his eclective endeavors including drawing, design, photography, architecture, painting, objects, furniture, glassware, ceramics, publishing and writing.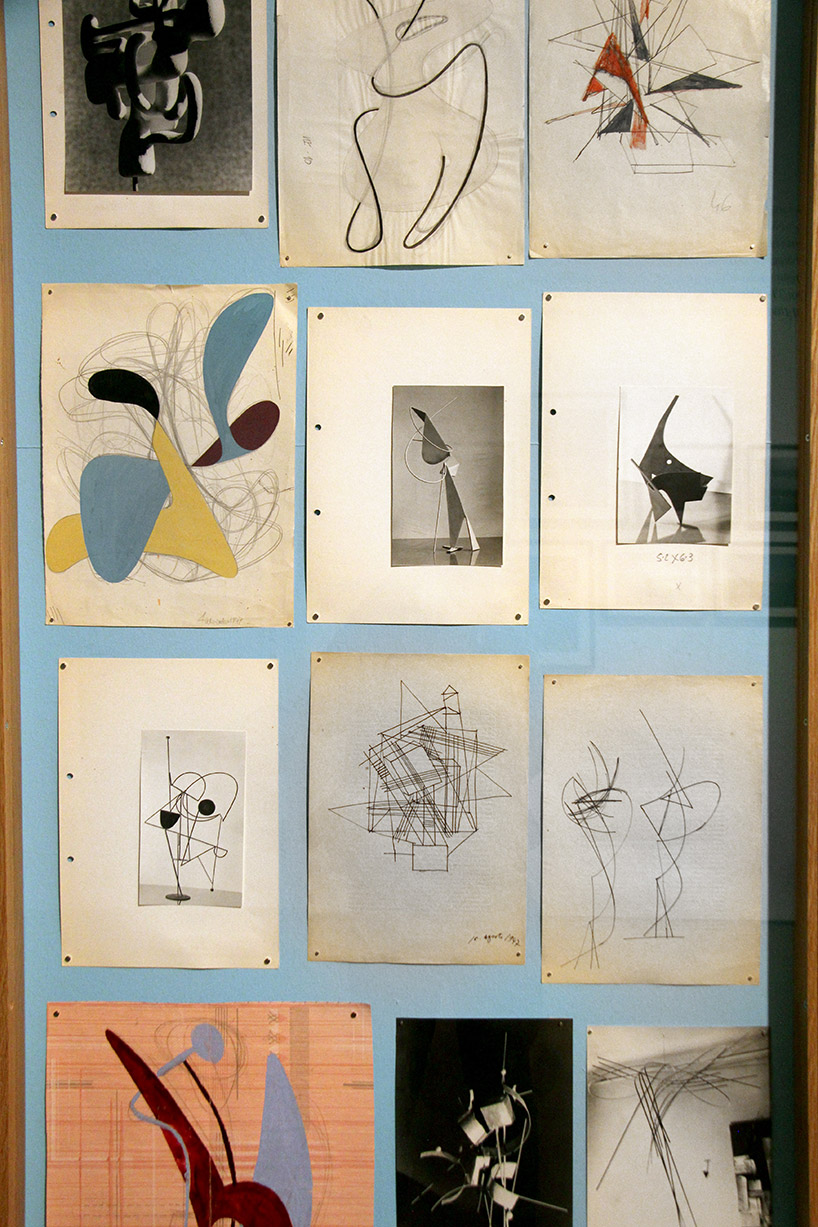 studies and photographs for sculptures, 1946-1950, all images © designboom
on entering the rooms a series of works related to each theme is displayed, whilst portraits, landscapes and architectural details cover the walls that run parallel. an embossed surface of a cliff face, a geometric facade, or the faces of passers by, the photos offer an insight into sottsass's travels. landscapes, homes, objects, architecture and people grant an insight into the artist's unique look on the world, the plethora of inspirations complimenting an extensive oeuvre of work reaching far beyond the icons often related to the designer.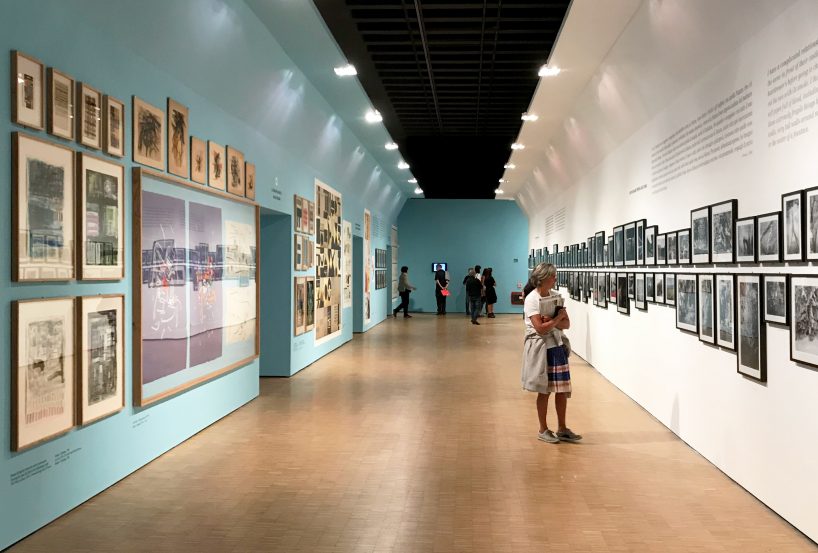 view of gallery halls showcasing sottsass's extensive collection of photography, all images © designboom
the opportunity to understand ettore sottsass's most popular work can be understood in the first exhibit. here 12 plates, a sample of 100 dedicated to the hindu deity of destruction and regeneration, introduce sottsass's spiritual outlook. the plates, that were one of two series of hand-made ceramics, are a symbolic allusion to the cosmos produced following a severe illness sottsass contracted in india.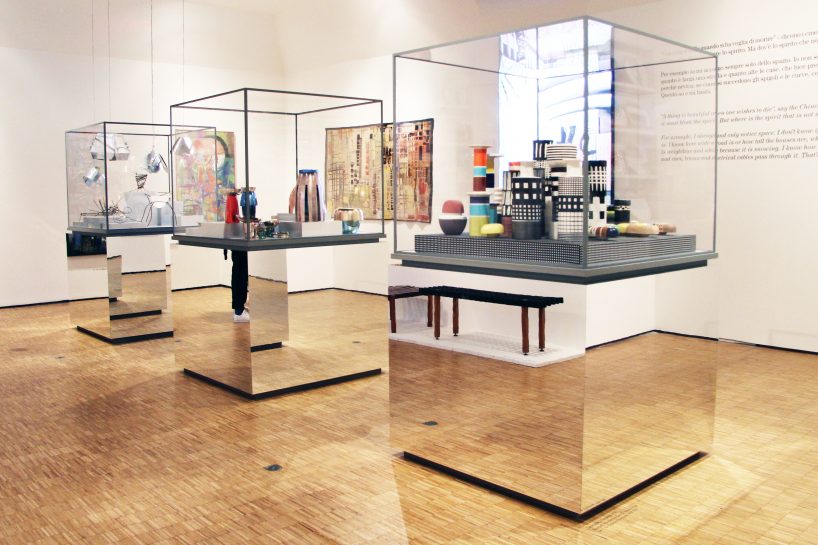 room view – 'for some it may be space', all images © designboom
'all those extremely fragile things hidden beneath our skin… those things are nature too. that's why i quite often need to build tall walls, very tall walls around me, closed gardens where nature may reveal herself only through roses and parsley, myrtle bushes or the water of a fountain', wrote sottsass in 1994.
throughout the rooms a dichotomy is developed between the designer's awareness of the overwhelming presence of an unpredictable nature and his attempt to create save havens through design. extracts from sottsass's writings explaining an intrigue in the concept of darkness are paired with sculptural drawings for example.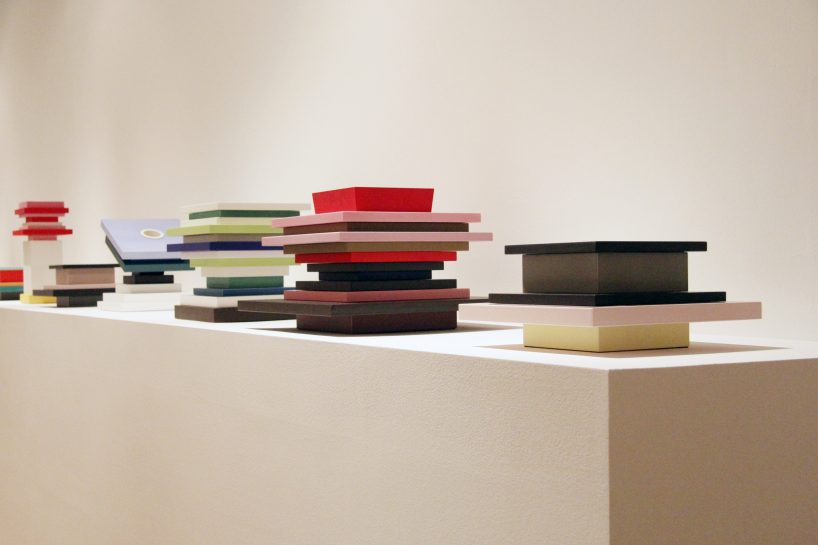 a selection of sottsass's boldly coloured designs, all images © designboom
inspired to carry out tests on the 'inhabited space' sottsass expresses a distaste for the civil world of ancient rome, exploring motifs such as greek columns and reinterpreting them as bold plastic containers. these large-scale objects are a chance to rectify the static narrative of domestic drama found in greek theatre, creating instead a changeable stage for the scene of the home.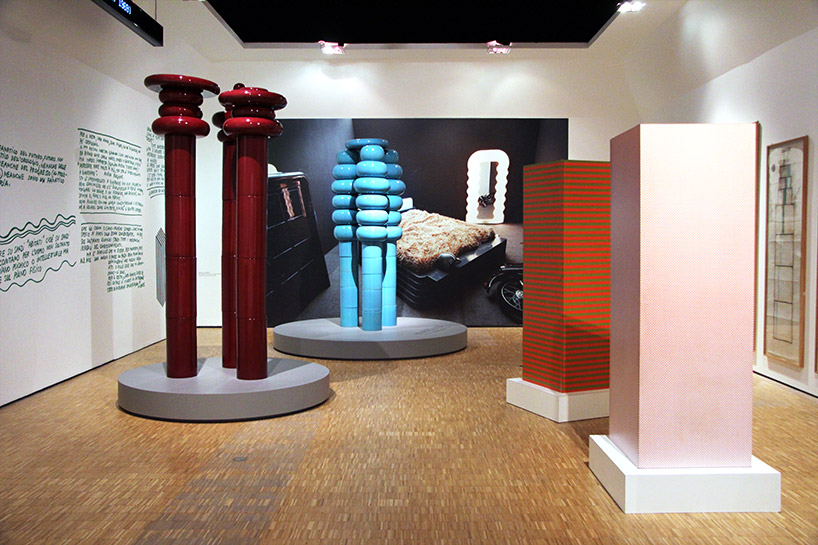 room view – 'memories of whipped cream', all images © designboom
this critique on the development of the modern world progresses into what has become the most well-known phase of sottsass's work. the memphis group, founded by the designer in 1981, where he worked alongside his wife and fellow designer barbara radice, created often plastic laminated objects characterized by ephemeral design. the group itself was a reaction to the minimalist uniformity of design at the time.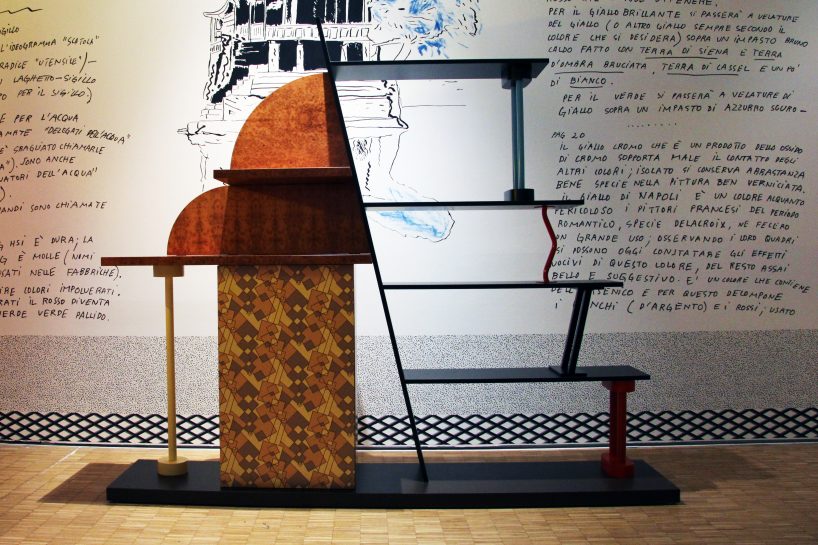 malabhar, memphis, 1982, all images © designboom
as the exhibition draws to a close, the vision of the designer is developed in the final hall where projections and spotlighted models of sotsass's architectural work are the only sources of light. titled the 'real space' this particular endeavor is described as the most honest, framed as a final recognition of all human beings responding to 'the aggression of the universe'.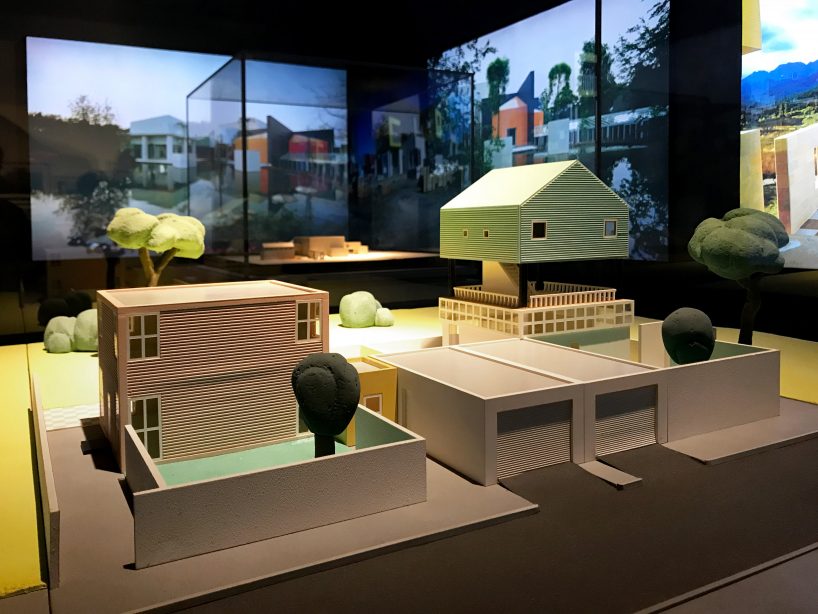 close-up of sottsass's architectural models, all images © designboom
sep 11, 2019
sep 11, 2019
nov 05, 2018
nov 05, 2018
jan 11, 2018
jan 11, 2018
may 19, 2017
may 19, 2017
feb 01, 2017
feb 01, 2017
dec 21, 2013
dec 21, 2013
sep 11, 2019
sep 11, 2019
apr 18, 2019
apr 18, 2019
feb 02, 2019
feb 02, 2019
a diverse digital database that acts as a valuable guide in gaining insight and information about a product directly from the manufacturer, and serves as a rich reference point in developing a project or scheme.