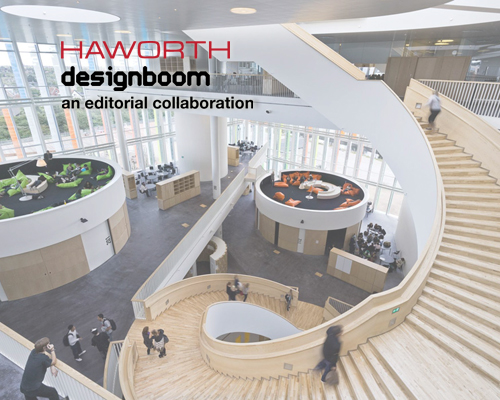 may 29, 2015
architect kim herforth nielsen of 3XN on the open workspace
architect kim herforth nielsen of 3XN on the open workspace
image © adam mørk
designboom partners with leading office furniture company HAWORTH on an editorial series that investigates the future of the contemporary office environment and new ways of working. our alliance brings forth insights into the workplace and how it has evolved from something more static, into an active and modular condition.
in this ninth feature, we interview kim herforth nielsen, founding principal of 3XN. the danish firm is recognized for its international projects which include a number of headquarters and offices for major global companies such as deloitte and swedbank. 3XN focuses on bringing positive qualities to their sites, considering a project's complexity and challenges a creative force in which they can create something unique. we speak with nielsen about his approach to designing for these particular types of office spaces, and how his own workspace is organized and functions.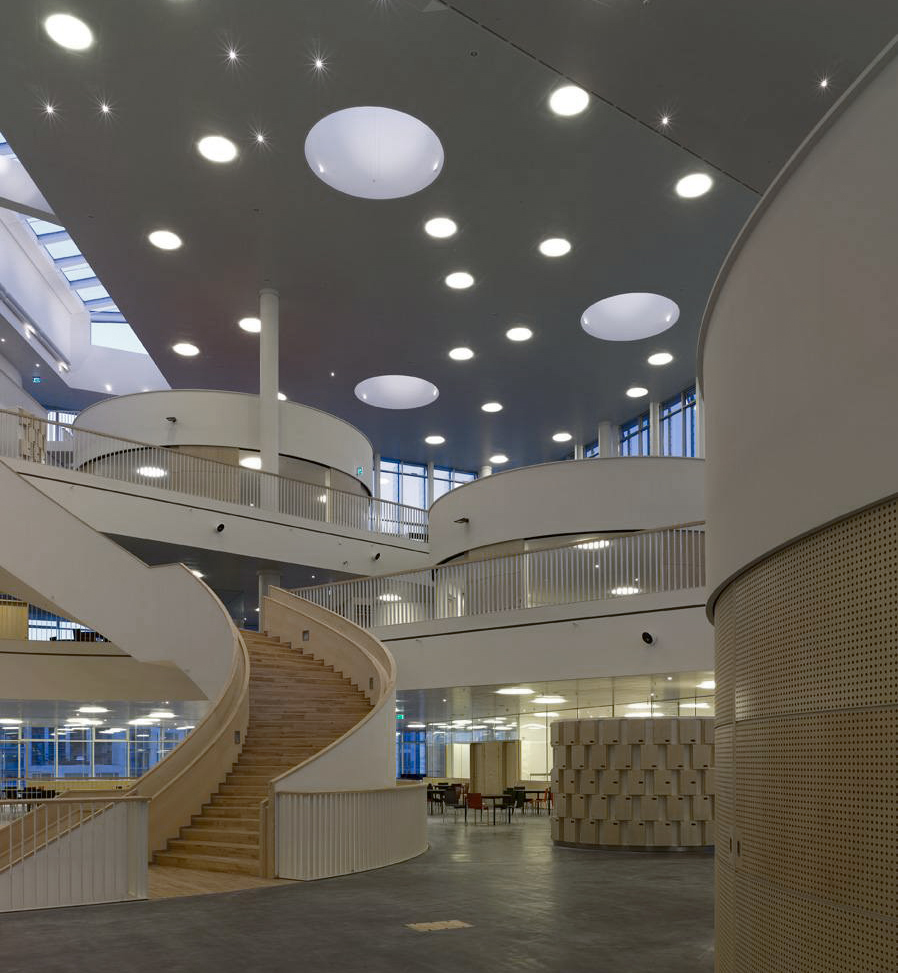 ørestand college in copenhagen is an open space that provides a lot of communal and private work/study zones
image © adam mørk

kim herforth nielsen on his approach to designing the idea office space
video © designboom
designboom: how do you approach designing a cool, functioning workspace?
kim herforth nielsen: I think diversity is a keyword. there have to be a lot of different environments. big scale, small scale, small islands, more quiet islands, and of course places to go into to have quiet meetings to have a personal phone call or whatever. but, we just did a big headquarters for swedbank that accommodates 2700 people in one big open space, but there we worked with a lot of islands. it's sort of a zigzag shape with a street in the middle, but not a corridor! it always gets daylight from two sides, and it leaves room for some islands where you can sit and work, and this is activity-based. so when you have a certain activity — some people have to work together in the morning — they meet in a coffee station. there are 31 coffee stations in this building, and then they get briefed on what today's work is, or what this week's work will be, and then they work together in a group on this task they have to do; and they find the best place to do it. so, diversity is a keyword because there's not one way of sitting that is the best way.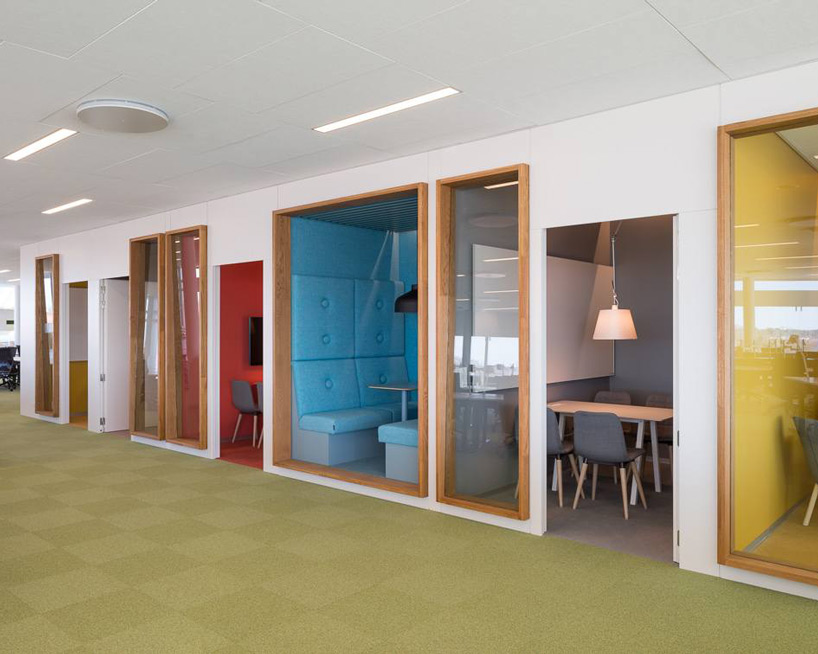 'swedbank headquarters' in stockholm
image © adam mørk
see more about the project on designboom here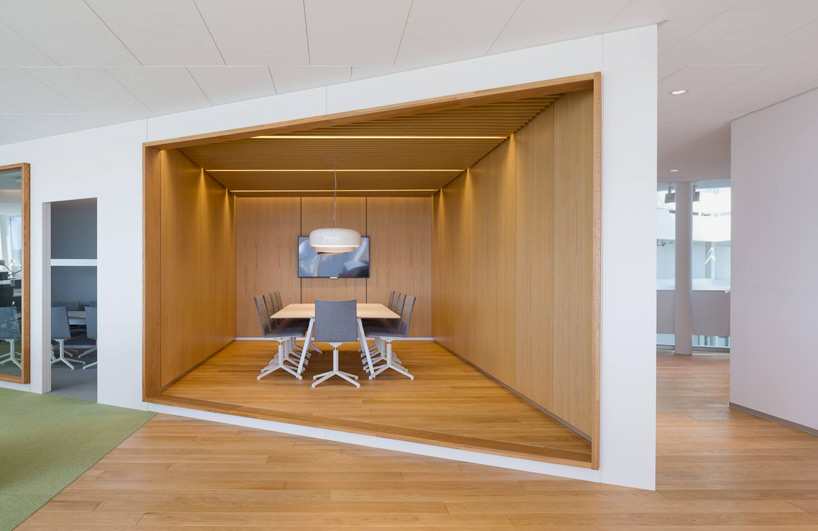 the swedbank headquarters features 'caves' where more private work can be accomplished
image © adam mørk

architect kim herforth nielsen on the notion of the private desk
video © designboom
DB: so there are no private desk anymore?
KHN: of course some still need a private desk, the main CEO and others like that, have to have private meetings. we made the headquarters for deloitte, a 26,000 sqm one open space, in a way that even the director is sitting in this open space because it's so much about knowledge sharing; and you get a better knowledge about what is happening both from the director's side and from the people that work in the company in this way, and that improves productivity a lot. so, this idea about having a lot of private workspaces, this is not the way to do it nowadays.
DB: with this change in how office spaces are organized, what becomes the role of the office furniture producer?
KHN: that actually gives him a lot of different ways to design because as I said, there has to be diversity. there isn't only one piece of furniture that works. in the swedbank headquarters we designed, there are some spaces where you walk into like a little cave. you walk into where you're more or less by yourself. in other zones, you're sort of sitting in a lounge area, then of course you can be sitting at a desk as well. so, while there are a lot of challenges, this also comes with a lot of possibilities for a manufacturer to do a lot of different kinds of furniture.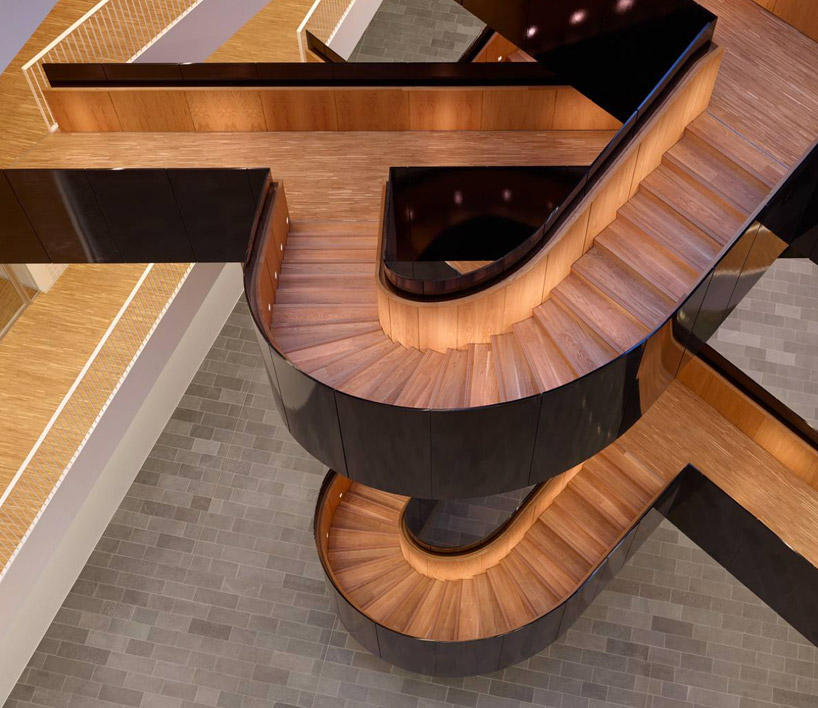 'UN city' office building in copenhagen
image courtesy of 3XN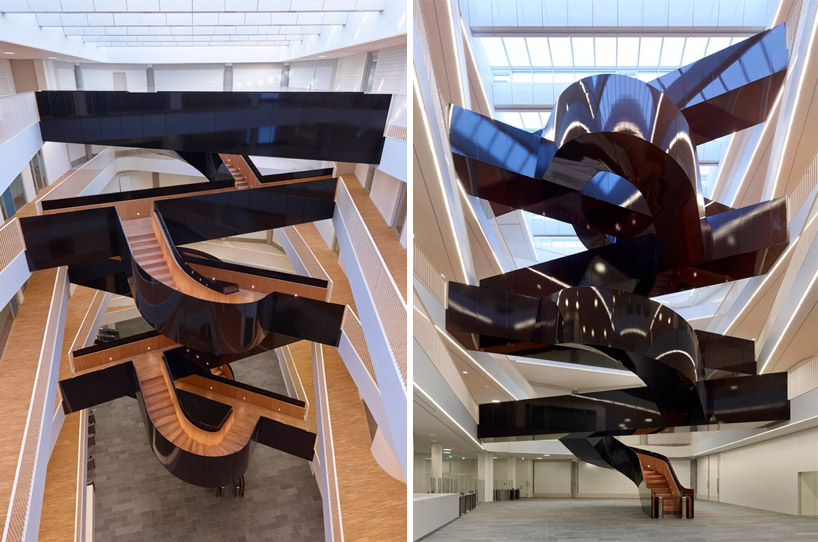 the staircase at the 'UN city building bring offers overall views of the interior's organization
image courtesy of 3XN
DB: one of the main features of 3XN's work is staircases. it's like a catwalk, a moment to meet and share knowledge; and during events it is a nice place to sit down on different levels. the utilization of stairs becomes more than just connecting two floors. can you elaborate a little bit more on the various aspects you're thinking of when integrating this architectural element into your buildings?
KHN: I think it's fun to make a staircase more than something connecting one floor to the next. we did a music building in amsterdam where it's so wide, they use it as a tribune for events so people are sitting on it as well; or they're sitting and waiting on it, so it becomes a meeting place in itself. I think it's important that it should be interesting in the way it looks. it should experience a lot of daylight, and it should allow you to see what is happening around the organization of the building when you walk up.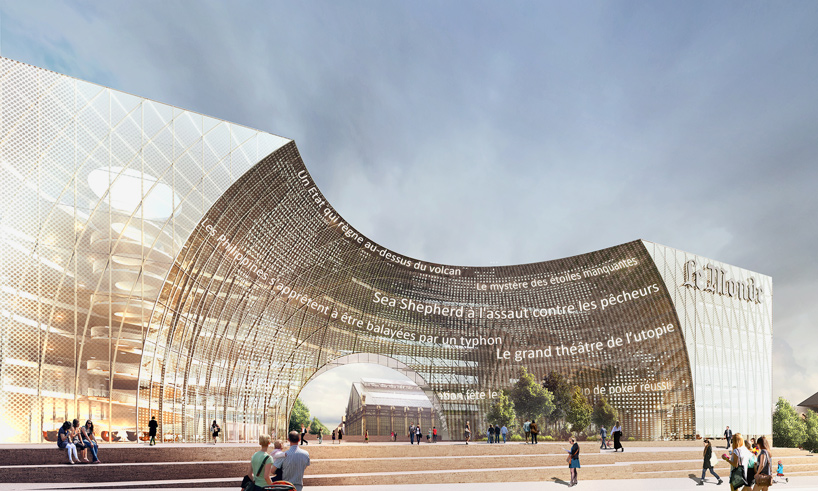 proposal for the 'le monde headquarters' in paris
image courtesy of 3XN
see more about the project on designboom here
DB: what is your personal workspace like? is it similar to those that you design for others?
KHN: ya, it is very much. we are moving to a new space because we are now so many people we cannot be sitting on one floor, so some have had to move to another floor. I didn't like that. I said we all have to be on the same floor, or at least we have to be in an open space. actually, I would like my workspace to be like ørestad college that we designed – to have this kind of openness. I would love that, but that's far too big for my office. we're moving out to a 2000 sqm open old boathouse with high ceilings so we can make large models. I think that generates creativity, because creativity is very much working together, especially in the field of architecture.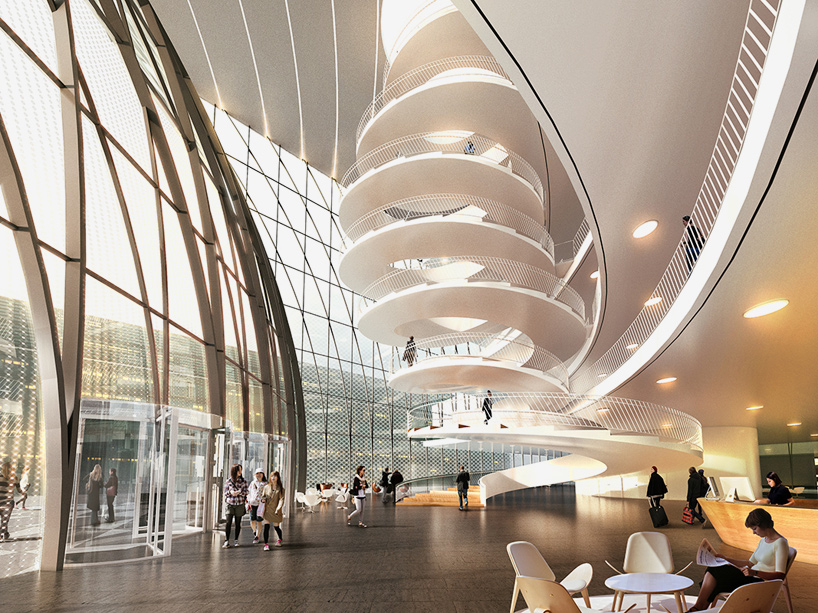 a spiral stairway provides physical and visual connections throughout the 'le monde' scheme
image courtesy of 3XN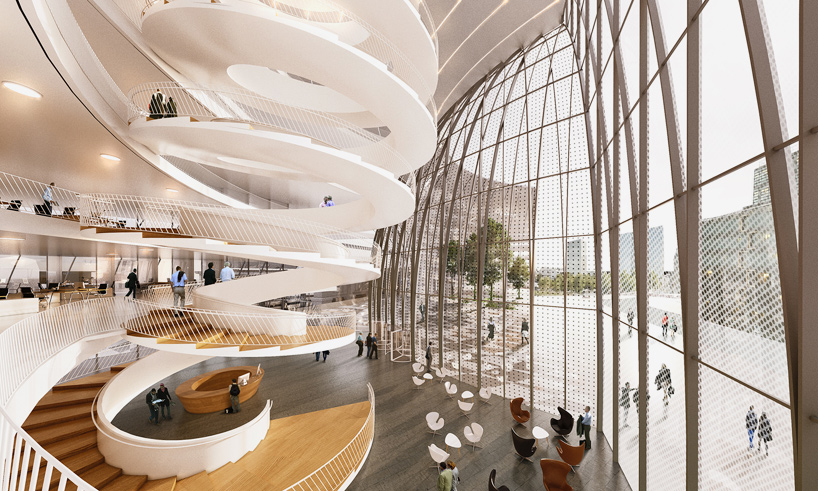 visual rendering of the headquarter's atrium which benefits from a lot of natural light
image courtesy of 3XN
Save
3XN
(53 articles)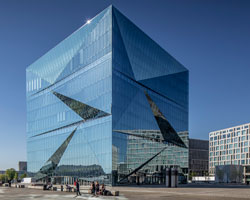 may 02, 2020
may 02, 2020
jun 19, 2019
jun 19, 2019
feb 14, 2019
feb 14, 2019
nov 06, 2018
nov 06, 2018
sep 05, 2018
sep 05, 2018
aug 31, 2018
aug 31, 2018
oct 26, 2015
oct 26, 2015
oct 01, 2015
oct 01, 2015
aug 06, 2015
aug 06, 2015
oct 26, 2015
oct 26, 2015
oct 01, 2015
oct 01, 2015
aug 06, 2015
aug 06, 2015
may 26, 2020
may 26, 2020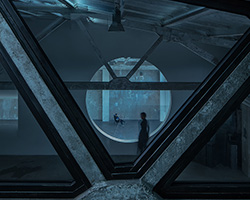 may 26, 2020
may 26, 2020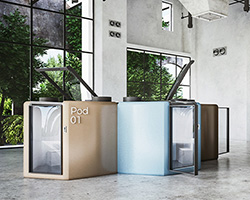 may 25, 2020
may 25, 2020
a diverse digital database that acts as a valuable guide in gaining insight and information about a product directly from the manufacturer, and serves as a rich reference point in developing a project or scheme.