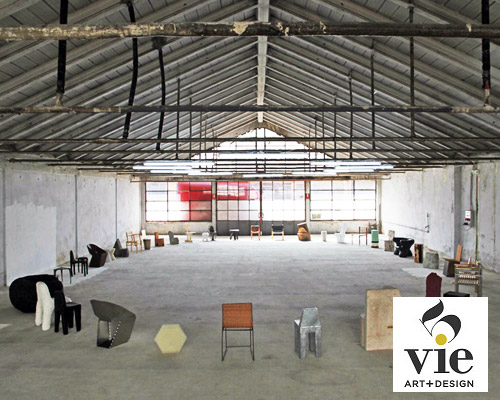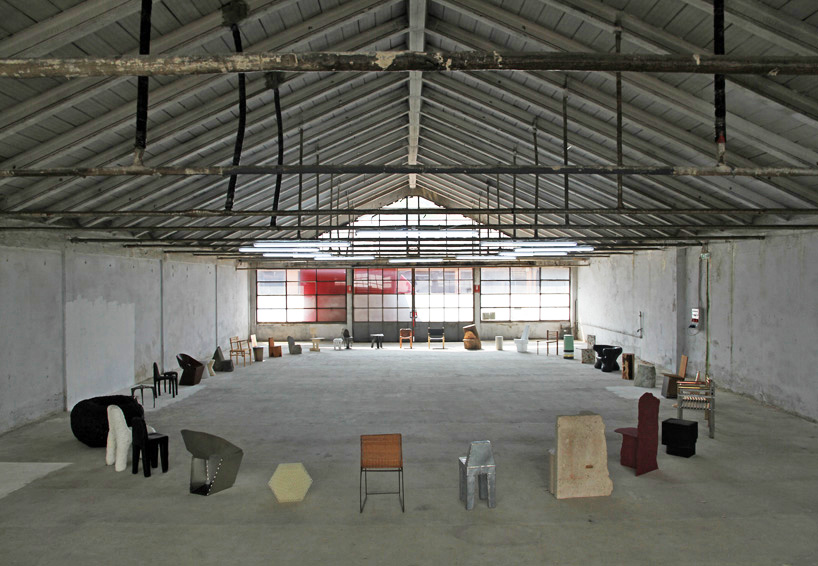 apr 12, 2015
5vie milano: max lamb's exercises in seating at milan design week
5vie milano presents max lamb's exercises in seating at milan design week
all images © designboom
milan's industrial garage sanremo is infilled with more than 40 of british designer max lamb's chairs, comprising the mongraphic exhibition 'exercises in seating'. presented by the 5vie art + design quarter, the program acts as a living catalogue of lamb's material, experimental and transformative investigations on the theme, with the curated show by federica sala encompassing a nearly 10-year window of work.
the exhibition takes its title from the artist's degree thesis at the royal college of art and spans a large selection of pieces, ranging in type — stools, benches, chairs — style —rough, refined, crudely sculpted — and material — aluminum, oak, marble. each represents a different phase an near-obsessive search for the identity of the material, with some seats clearly revealing their physical genesis and materially, and others formally measured and composed. the 'seat circle' that takes up nearly the entirety of the gutted garage comprises pieces presented in new variations of materials, alongside new chairs, which have been worked on for some time and which demonstrate a finality of formal research during the exhibition.

max lamb guides designboom through the exhibition, 'exercises in seating'
designboom speaks with max lamb about the exhibition at spazio sanremo, as well as individual pieces on display, delving into the artist's reasoning about materiality, composition and form. lamb tours the site describing the process in creating — for example — flexibility for his leather and ash 'campaign chair', the fragility of the 'lost wax ceramic stool' and his thinking behind his 2008 'mclean's cypress tree'. watch the features below.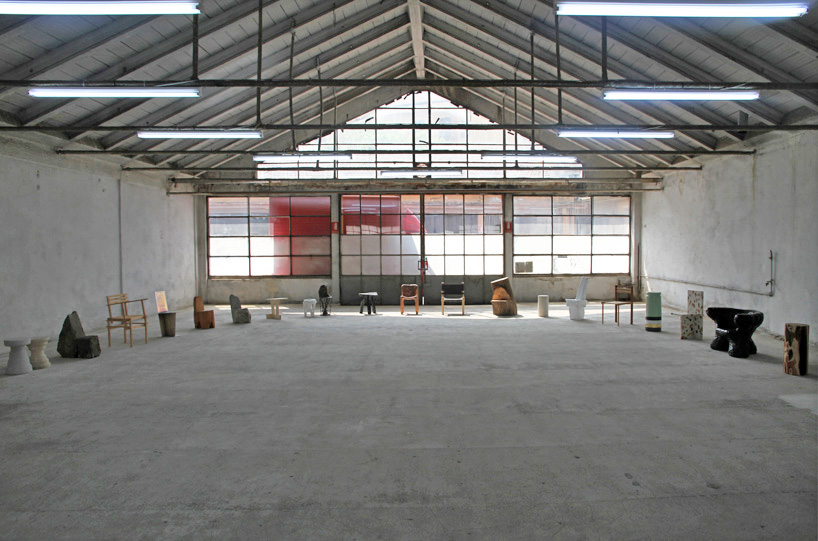 installation view of the ringed layout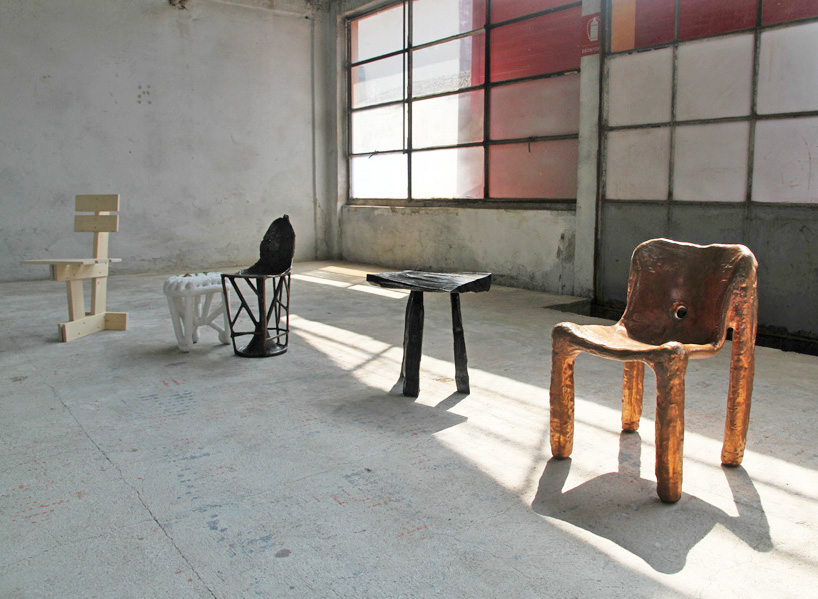 (far right) nanocrystalline copper chair, 2010
copper / 430 x 450 x 650 / 8kg / produced for johnson trading gallery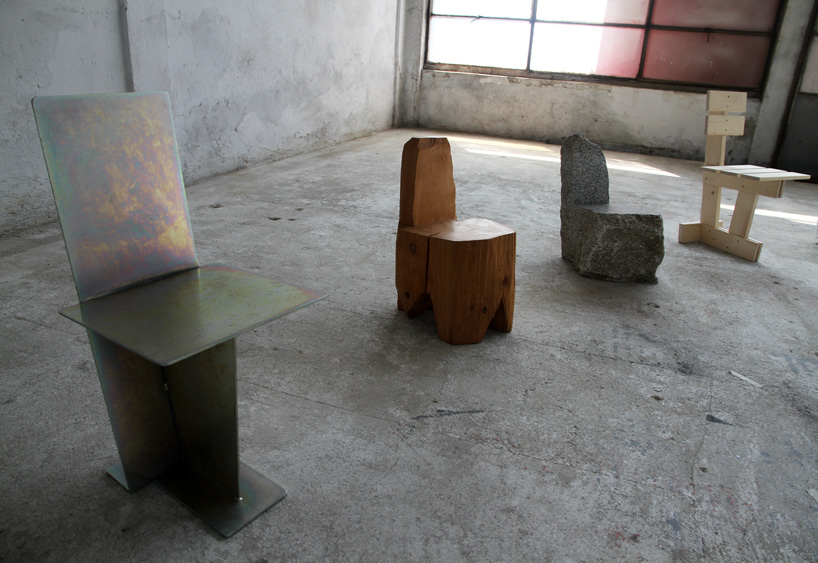 (front) 52 flat iron chair, 2008
zinc plated 5mm mild-steel plate / 350 x 450 x 780 / 20kg / produced by gallery libby sellers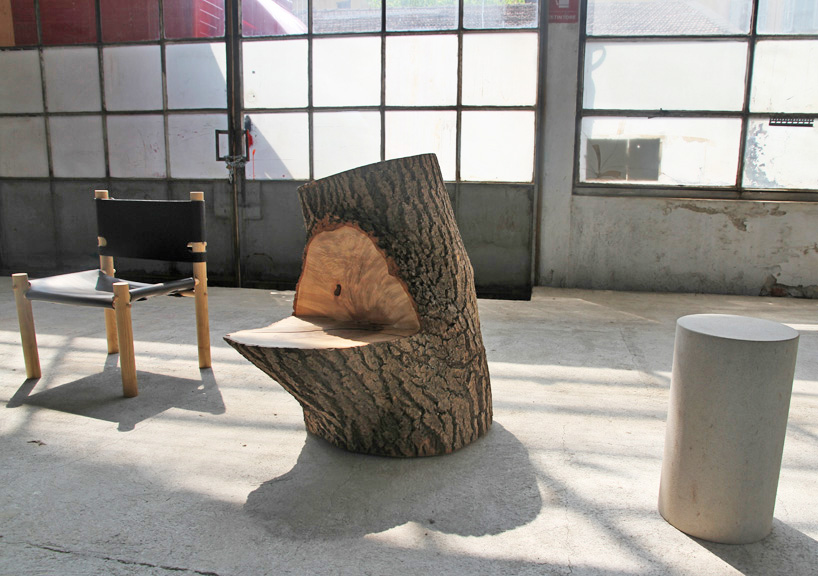 (center) my grandfathers tree, 2008 – 2015
ash log / 630 x 840 x 830 / 100 kg

max lamb tells designboom about the flexibility of his leather and ash 'campaign chair'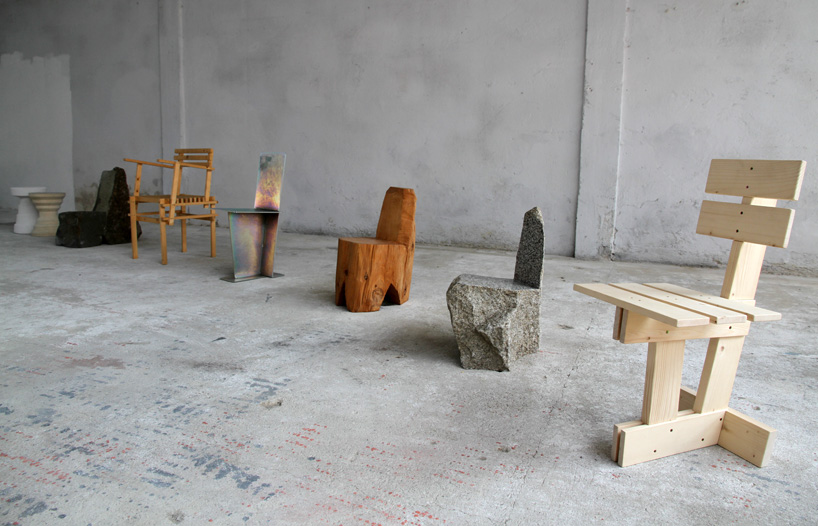 (front) third chair, 2010
spruce pine fir / 380 x 520 x 790 / 3kg / produced by E&Y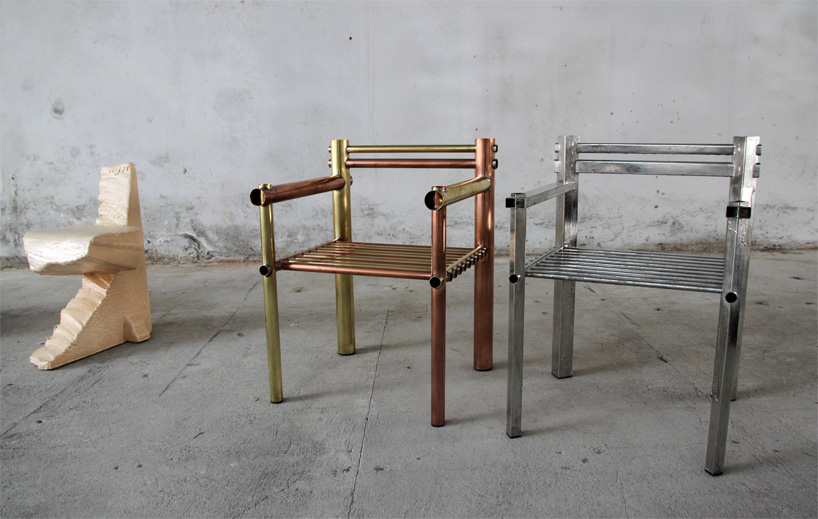 (right and center) metalware chair (ERW), 2015
16g ERW mild-steel tube / 530 x 530 x 760 / 10kg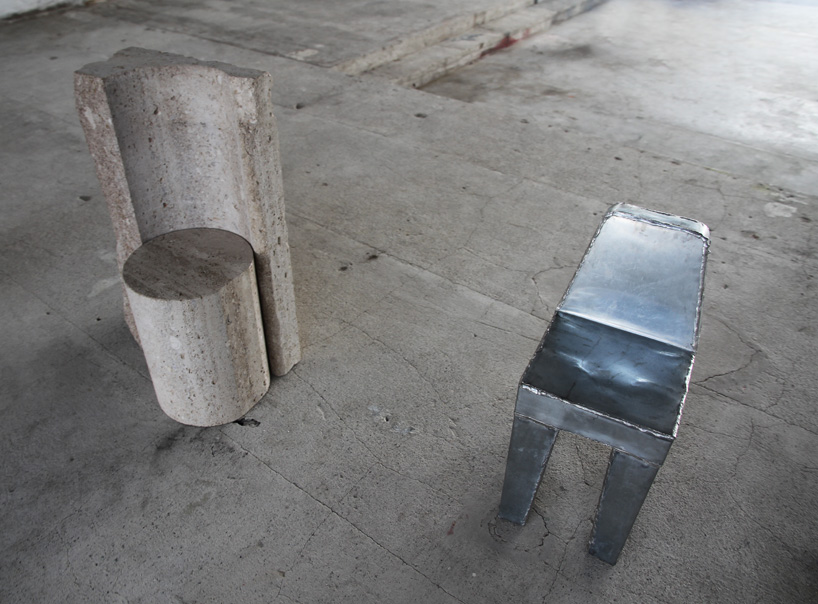 (left) hard core chair, 2015
portland limestone – coombefield shelly whitbed / 650 x 390 x 900 / 260 kg
produced for johnson trading gallery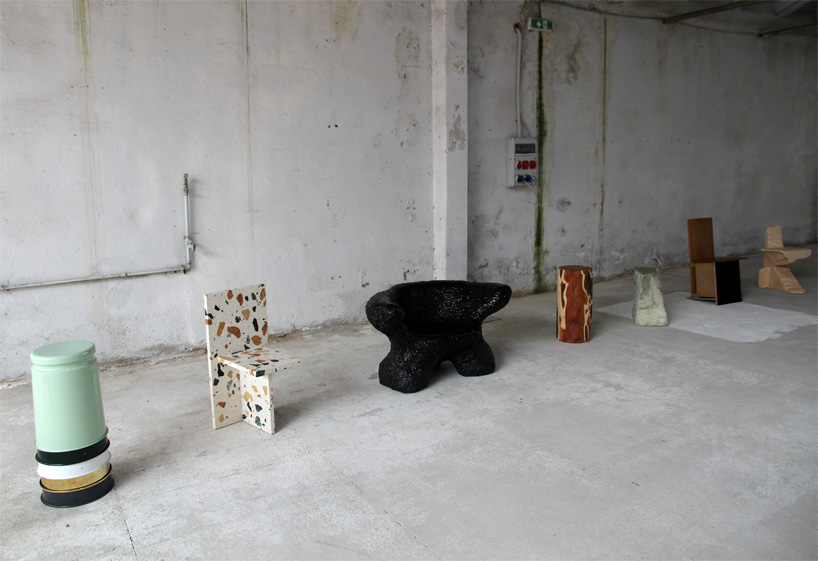 installation view at spazio sanremo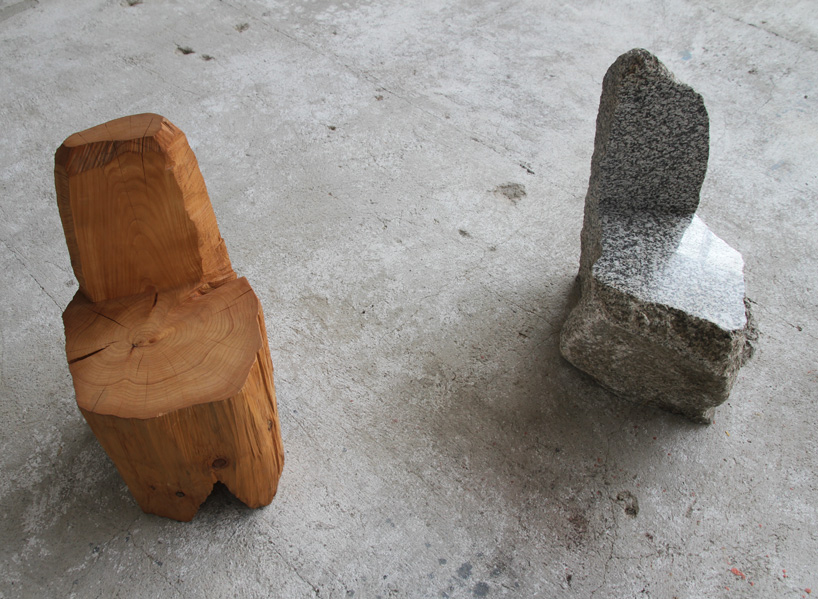 (left) mclean's cypress tree, 2008
cypress log / 330 x 420 x 610 / 11 kg
(right) de lank granite chair, 2009
de lank granite / 370 x 490 x 580 / 78 kg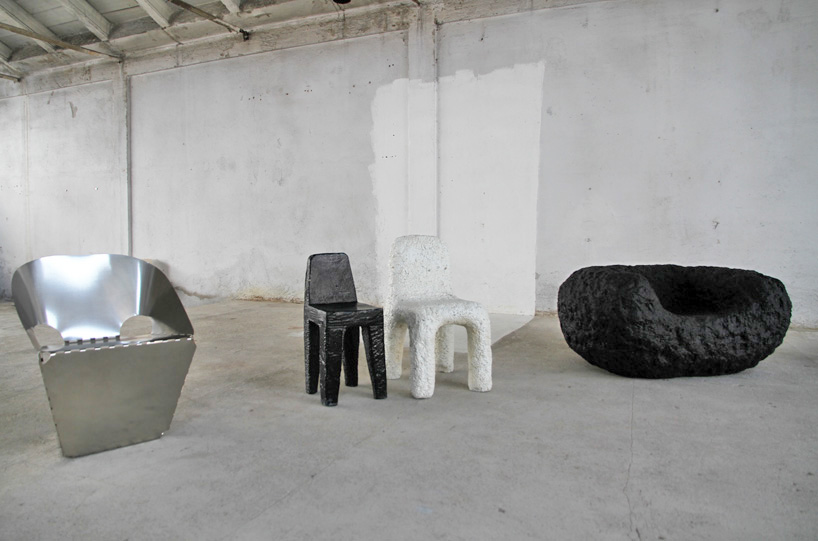 (center left) poly chair pair, (black), 2006
expanded polystyrene / polyurethane rubber / 310 x 350 x 710 / 4kg
(center right) poly chair pair, (white), 2006
expanded polystyrene / polyurethane rubber / 620 x 480 x 720 / 8kg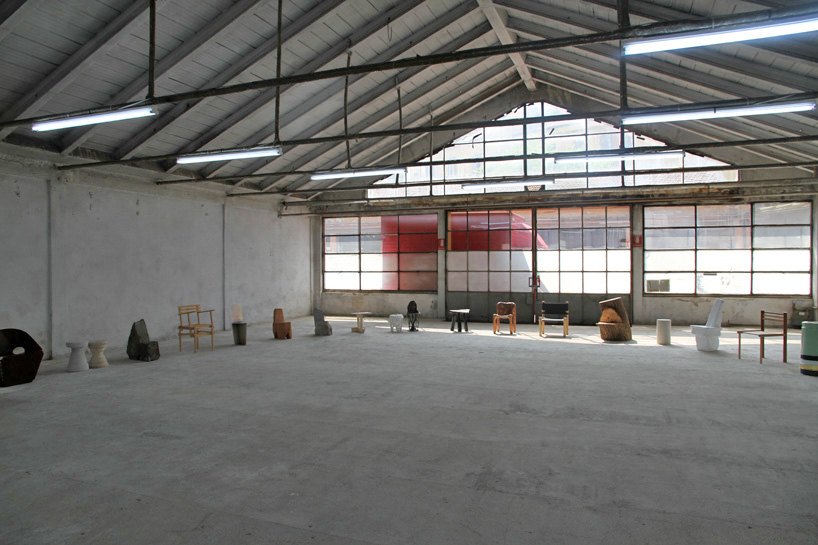 the exhibition 'exercises in seating' during milan design week 2015

lamb talks about 'mclean's cypress tree' and its comparison to the spruce pine fir 'third chair'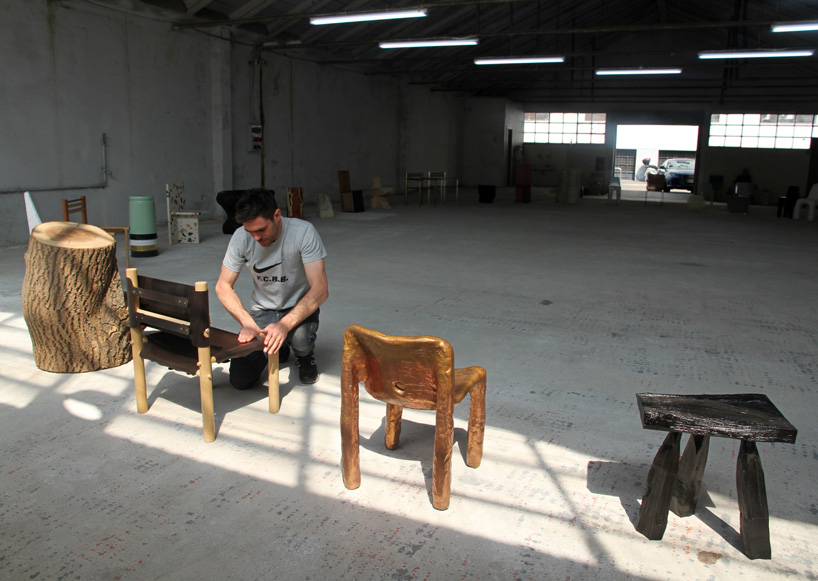 max lamb arranging the campaign chair from 2011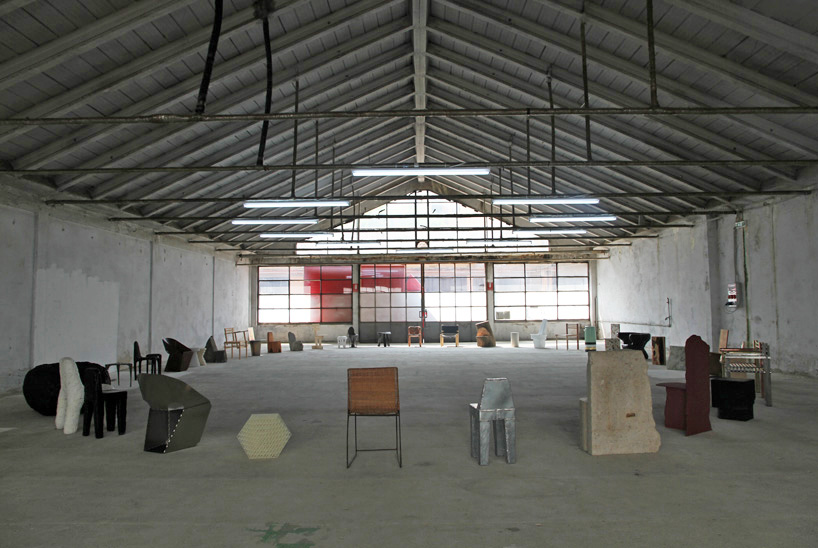 more than 40 chairs conceived and realized over the past 10 years are laid out in a 'seat circle'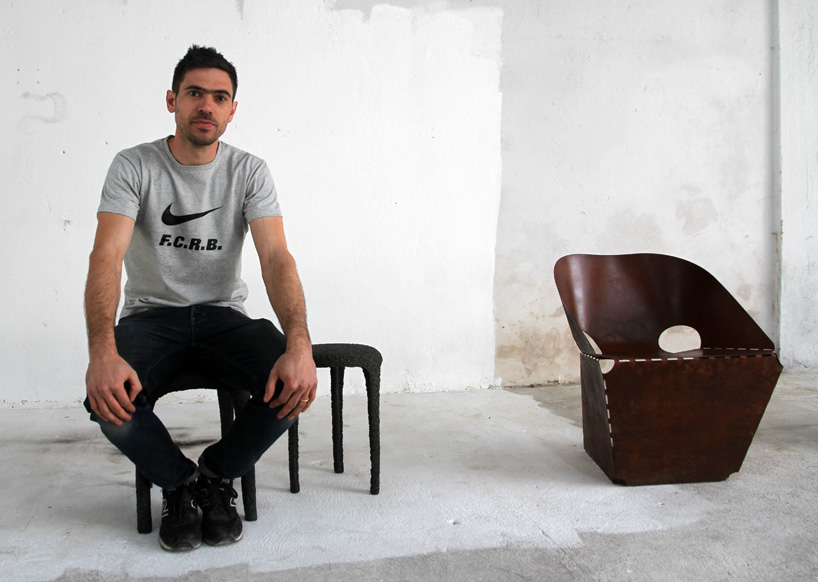 max lamb with rusty steel chair, 2008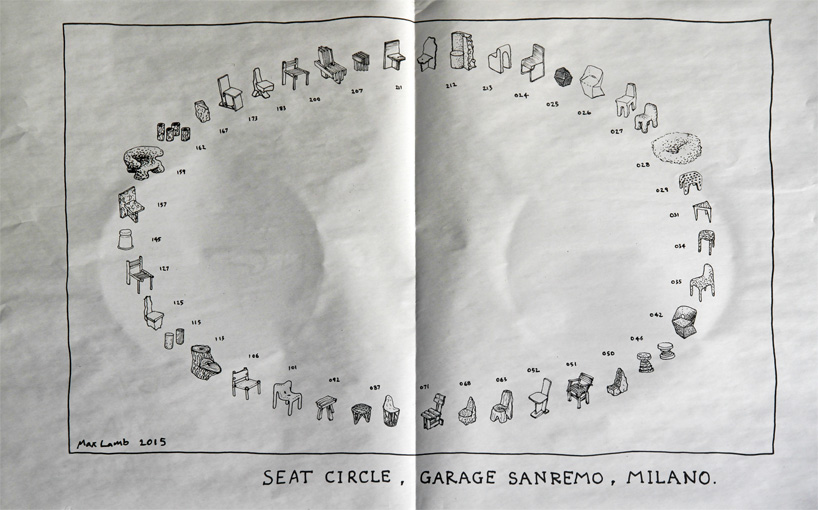 the 'seat circle' arrangement at garage sanremo, milano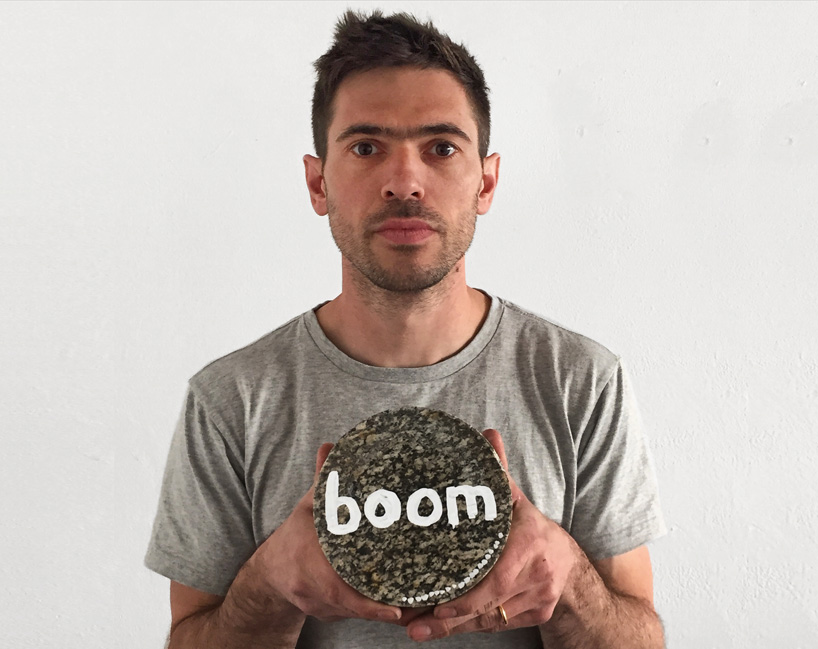 portrait of max lamb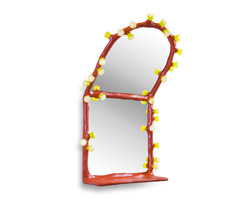 may 06, 2015
may 06, 2015
may 04, 2015
may 04, 2015
apr 22, 2015
apr 22, 2015
sep 18, 2016
sep 18, 2016
jun 07, 2016
jun 07, 2016
may 13, 2016
may 13, 2016
nov 12, 2015
nov 12, 2015
oct 19, 2015
oct 19, 2015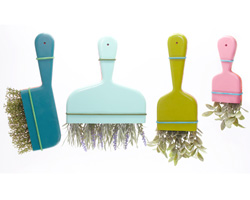 sep 04, 2015
sep 04, 2015