as part of MINI's investigation into the future of city life, the brand is always encouraging imaginative design solutions for some of the world's most pressing problems. for the previous 12 months, A/D/O – their brooklyn-based creative space – has invested in the global drinking water crisis and has partnered with jane withers studio to raise awareness. the year-long research program concludes with a new exhibition in 2019, titled 'water futures', where nine exploratory designs are being showcased.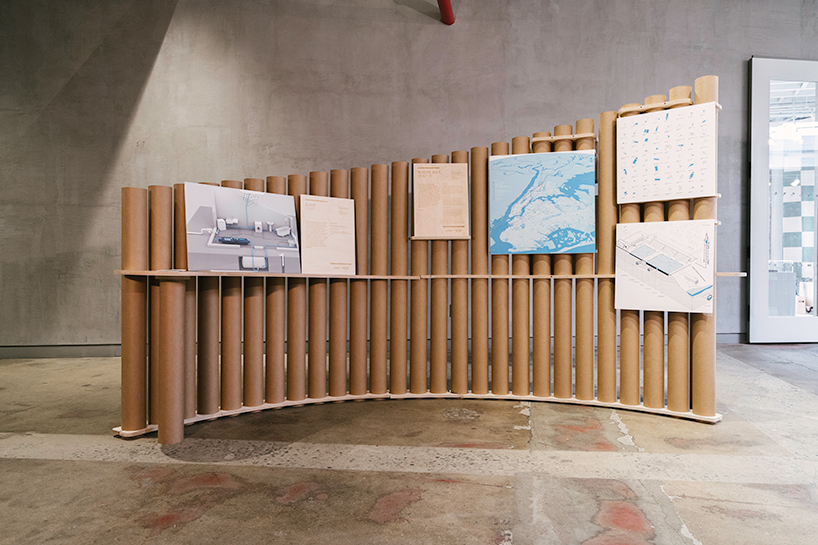 all images courtesy of A/D/O
under the curatorial direction of jane withers, A/D/O's year-long research project sets to illustrate and support opportunities in which the design community could address the future of safe drinking water. this encompasses issues such as pollution and purification, creating off-the-grid resources, re-imagining single-use plastic bottles and more.
'the past year has broken unimaginable barriers on the waterfront – among other things we've witnessed a major city at the brink of running dry and finally woken up to the catastrophic impact of marine plastic pollution – underlining the severity of the crisis, and forcing the realization that the ways in which we use and abuse this vital resource must be urgently rethought', explains jane withers. 'water futures residency at A/D/O has been an extraordinary opportunity to bring together experts from different disciplines and create an experimental framework for design to help shape the future. we are already seeing the fruits of A/D/O's vision and support, and the huge potential for design in shaping change.'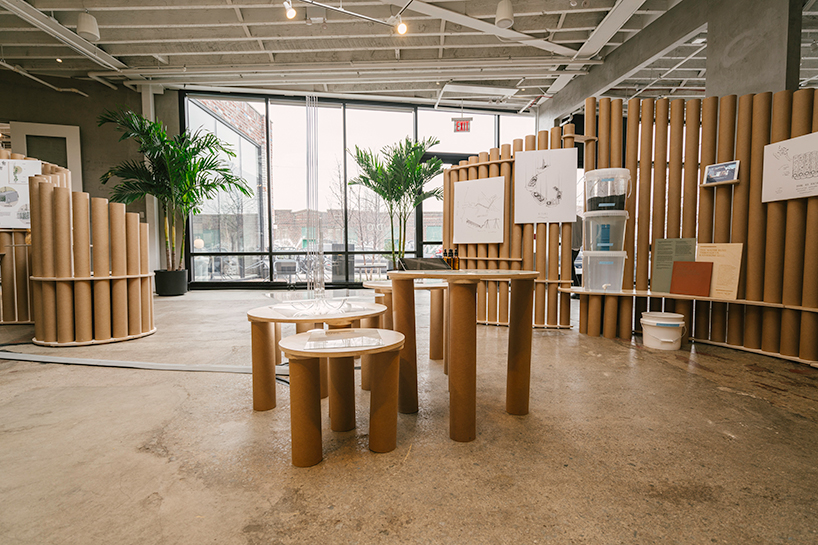 throughout the research project, A/D/O has hosted over 15 symposia, workshops, lectures, exhibitions, curated events and an open design challenge for 'water futures'. the programs, exhibitions and collaborations has encouraged dialogue and discussions, and considered critical issues of design. over 2,000 designers from 30 countries submitted proposal solutions, with an expert jury selecting nine semi-finalists. these teams were then paired with mentors who helped develop their designs further.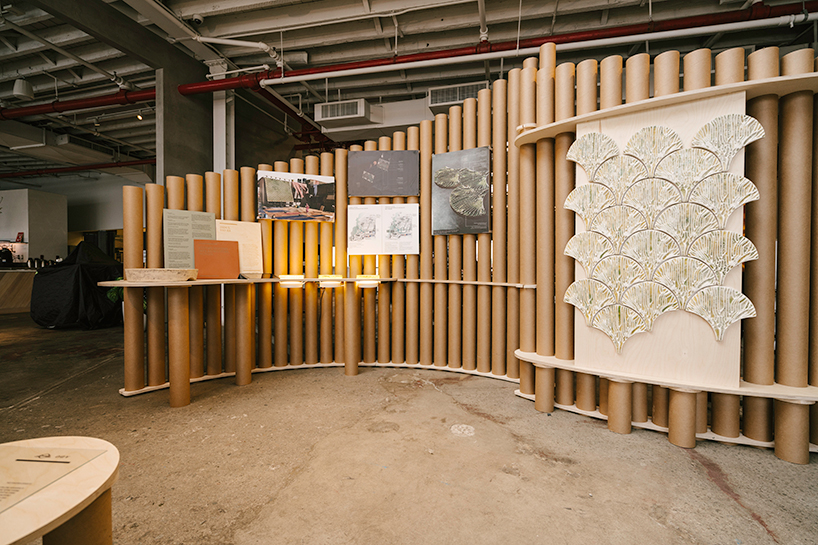 all nine design proposals feature in the 'water futures' exhibition, which was open from april 5 to 26, 2019. these are split into three categories – future objects & materials, future systems & infrastructure, and future information & communication – with a winner chosen for each group. visitors to the exhibition and online initiative are able to vote for an audience award, where the winner will be announced at the end of the exhibition.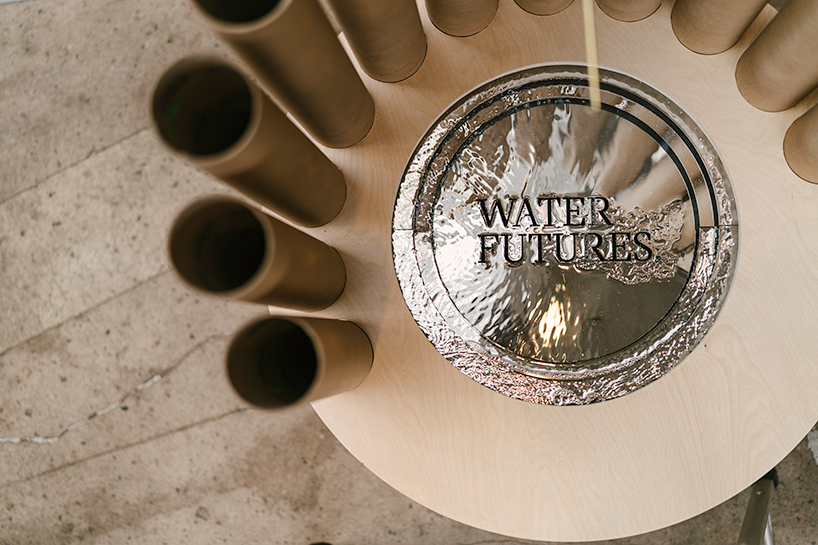 read more information on A/D/O's 'water futures' exhibition, here. more information on the nine finalists and each category winner can be found below:
THE WATER RUNS THROUGH US
designer: katherine ball
winner: future information & communications
'the water runs through us' envisions a system that transports and transforms water from new york's east river into an immersive bathing ritual. a transparent aqueduct carries water above ground from bushwick inlet to A/D/O, where the water moves through a series of tanks containing beneficial bacteria, membrane filters, and biological filters that purifies it. the water eventually cascades into a bathtub filled with halophytic, or salt tolerant, plants where visitors can grab a bathrobe and go for a swim. 'the water runs through us' encourages us to reflect on our relationship with water and what we might do if we could drink the east river.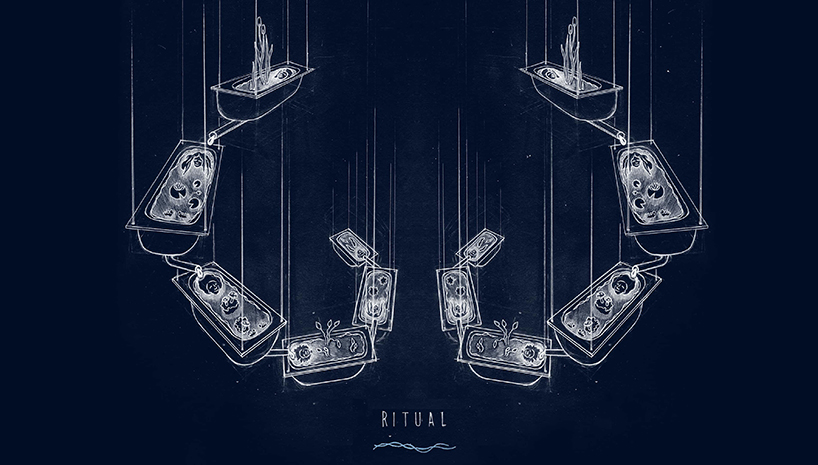 the water runs through us
WATER MAP
designer: only if
team: adam snow frampton, AIA and karolina czeczek
finalists: future information & communications
'water map' is an educational campaign about water in the urban environment. the project aims to build a public understanding and sense of ownership and responsibility for new york city's water system. the 'water map' represents multiple elements and scales of the water infrastructure that new yorkers engage with and depend on every day. by revealing the physical presence of water, the map raises awareness about water as a shared asset and catalyst for community empowerment.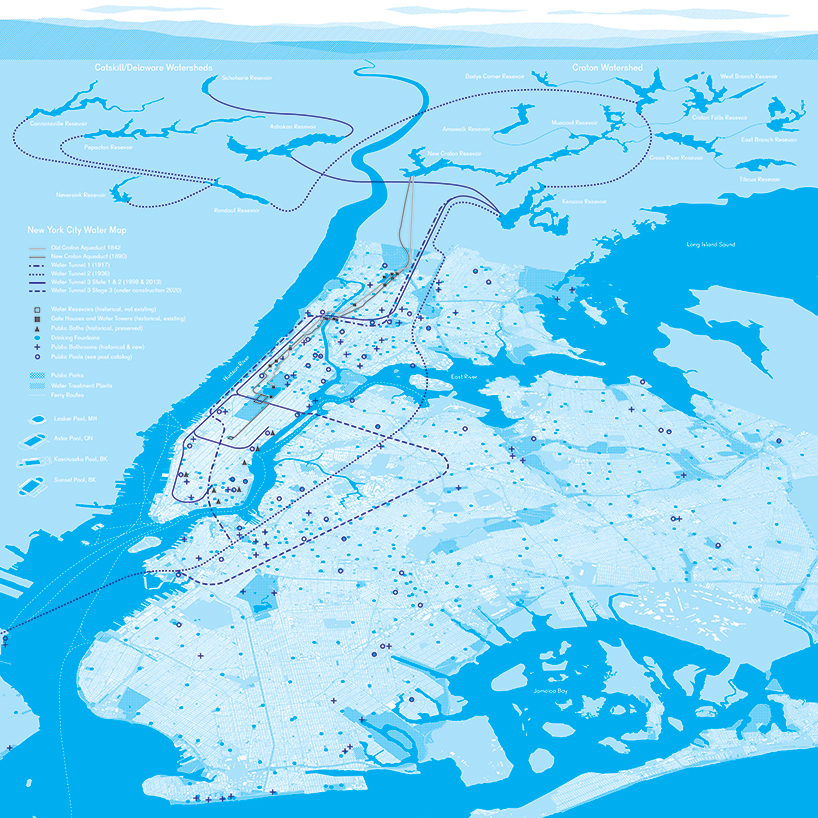 water map
RARE
designer: G2G ™
team: guillaume berthillier and gaëtan robert
finalist: future information & communications
'rare' uses design fiction to observe what the future of society could be in urban areas confronted with water scarcity and high-level pollution. a series of fictional video reports and interviews present a new reality in which a 'rare' filtration cartridge, which purifies and recycles wastewater, is installed in individual homes and creates a closed loop system of water use. this communications campaign is intended to provoke debate and instigate change to make wastewater recycling a viable possibility.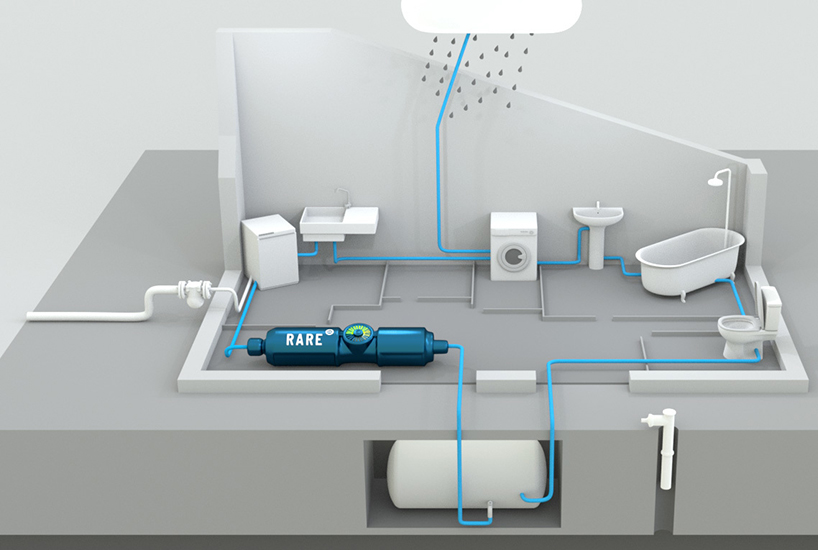 rare
OPACIFY: DESIGN NUDGES FOR SUSTAINABLE CONSUMPTION
designer: post carbon lab
team: dian-jen lin
finalist: future information & communications
post carbon lab looks to hack the packaging design of PET bottled water to change the way people consume. they propose an alternative to traditional sustainability communications by modifying the labels on plastic water bottles to present either a positive encouragement towards sustainability, negative and inconvenient truths about plastic bottles, or neutral and distracting information. a final option uses black thermochromatic ink to completely obscure product information until the bottle is held in the consumer's hand.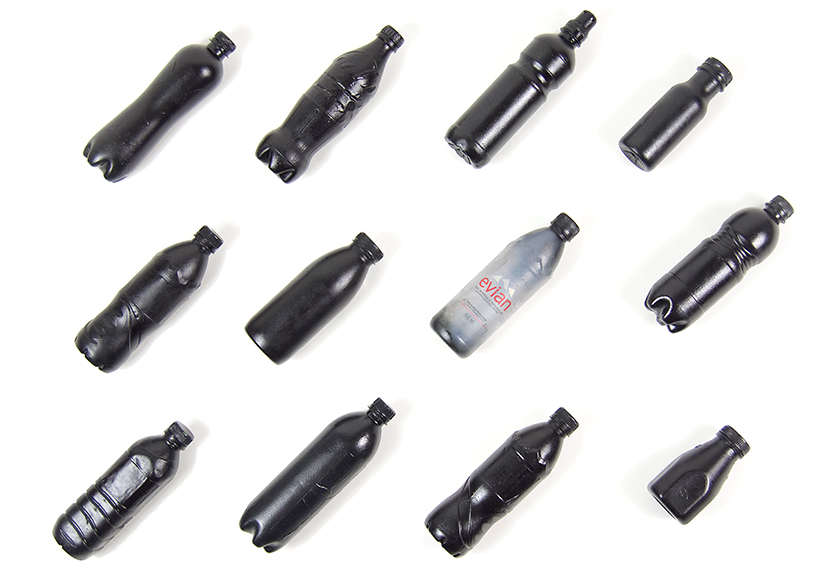 opacity
WATERS
designer: clara schweers
winner: future objects & materials
'waters' is a series of ritualistic and poetic glass objects that reframe our relationship with water, presenting it as a precious living element rather than a product. as water evaporates from the objects, traces of the water are left behind on the glass, showing us that water is alive, every-changing, and possesses individual characteristics. at a time when water is taken for granted and consumed as a utility, 'waters' treats this essential element with a reverence that has been largely lost.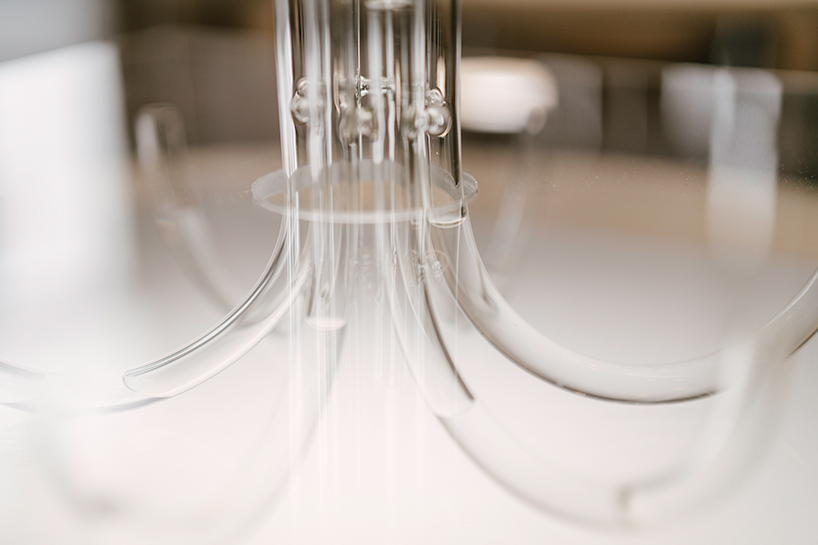 waters
FILTERING GLASS STRAW
designer: ulysse martel
finalist: future objects & materials
'filtering glass straw' is an open source project that offers a simple, low-cost alternative to current emergency-use plastic water filters. two sintered glass tubes encase a cartridge composed of dried cilantro, activated charcoal powder and dried moringa seed powder, all of which are known for their purifying properties.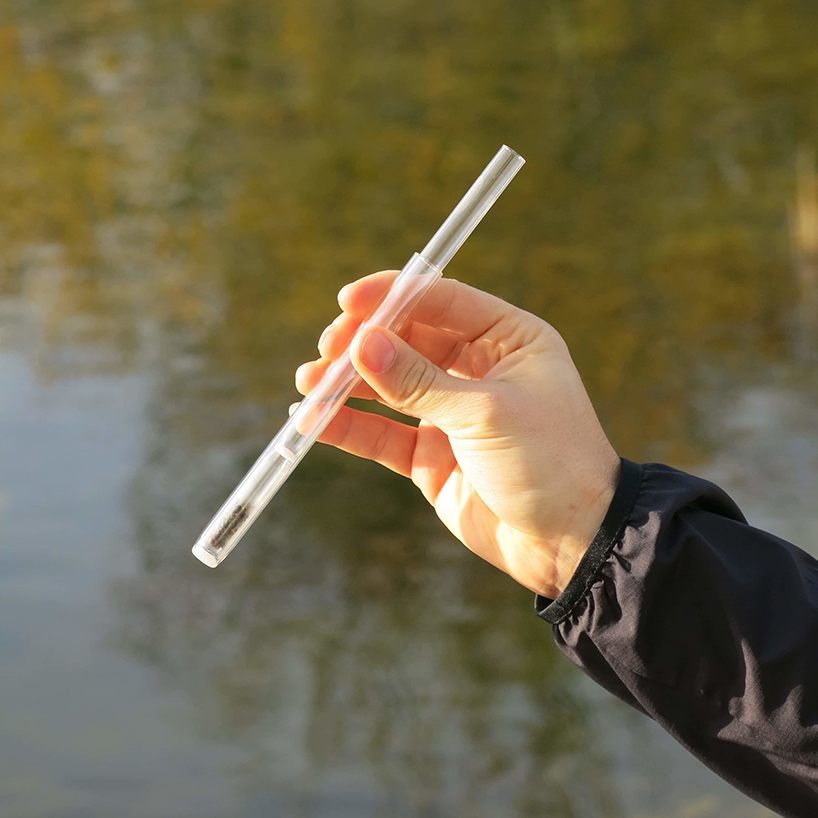 filtering glass straw
HY-O CUP
designer: crème / jun aizaki architecture and design
finalist: future objects & materials
'Hy-O cup' is a chemical free, fully compostable alternative to single-use plastic cups. gourds have historically been used in many cultures as functional and decorative water vessels. by using 3D-printed molds to grow gourds into more useful shapes, crème has created a series of cups and carafes, and proposes an indoor lab to mass-produce the vessels while maintaining their sustainability.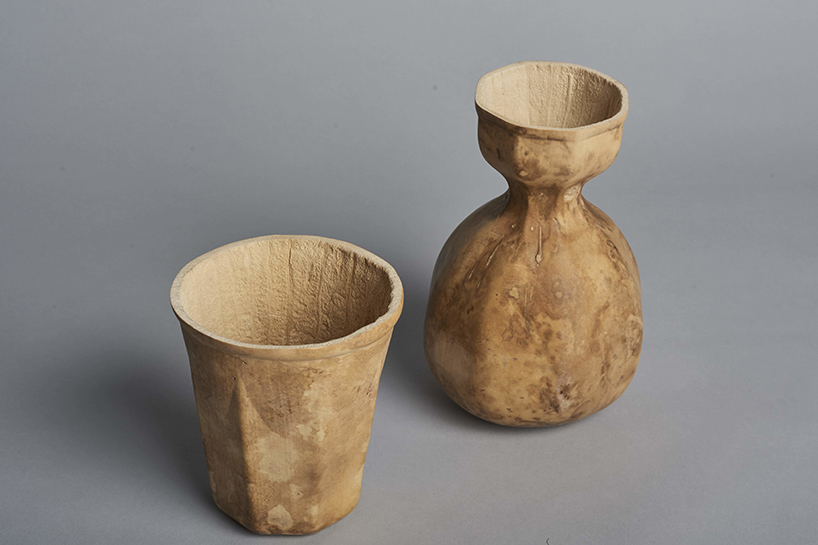 Hy-O cup
INDUS
designer: BIO-ID
team: shneel malik, professor marcos cruz, dr. brenda parker
winner: future systems & infrastructure
challenged by managing wastewater treatment with limited resources as small-scale artisan industries in india, 'indus' is a modular wall system of leaf-like clay tiles that purify water via biomediation. vein-like channels in the tiles hold a seaweed-based hydrogel containing microalgae that can isolate heavy metals from wastewater and degrade compounds from textile dyes. 'indus' offers a low energy alternative to chemical wastewater treatment and enables rural communities to purify water on site for reuse within their manufacturing processes.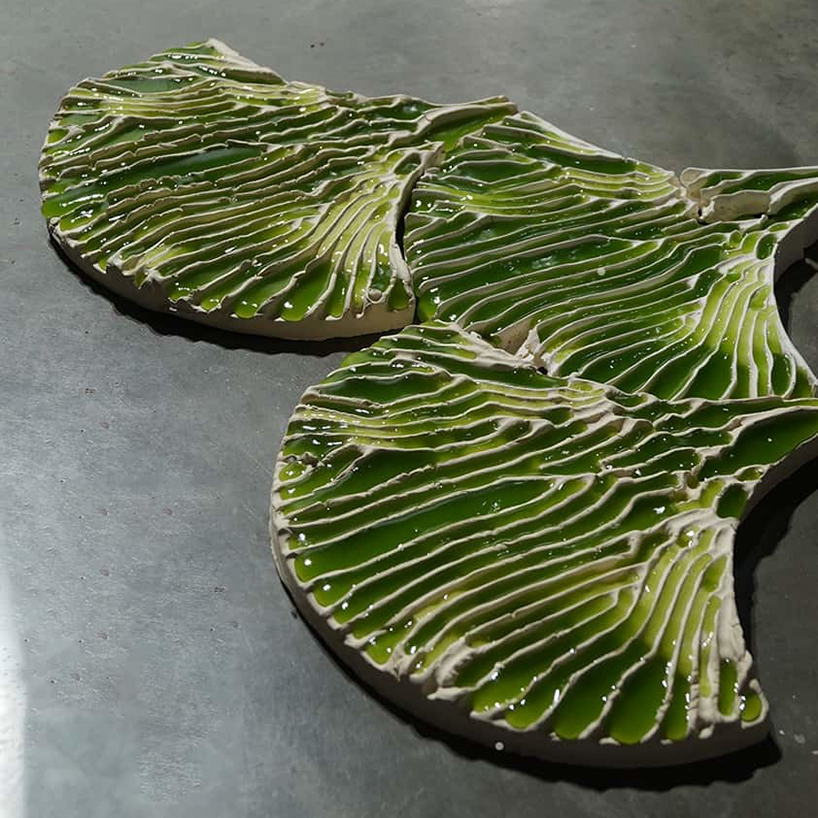 indus
WATER EVERYWHERE
designer: assemble mass
team: jason kim
finalist: future systems & infrastructure
'water everywhere' proposes using large-scale inflatable versions of traditional solar stills to sustainably desalinate seawater with higher output and efficiency. these stills are equipped with a new plasmonic absorber technology made from aluminum, an abundant and affordable material. the floating metal surface efficiently absorbs light and optimizes the conversion of solar energy to heat in order to expedite evaporation. installed as public sculptures along a waterfront, the system can be scaled up to serve as a public infrastructure project or scaled down to a simple drinking station.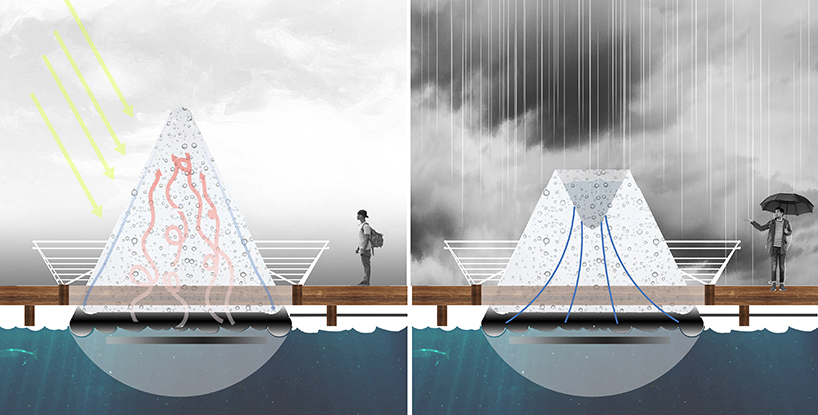 water everywhere
MINI
(63 articles)
mar 27, 2020
mar 27, 2020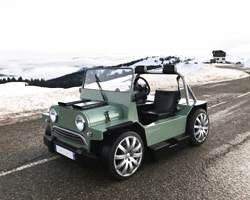 mar 22, 2020
mar 22, 2020
jan 29, 2020
jan 29, 2020
dec 11, 2019
dec 11, 2019
nov 20, 2019
nov 20, 2019
jul 11, 2019
jul 11, 2019
a diverse digital database that acts as a valuable guide in gaining insight and information about a product directly from the manufacturer, and serves as a rich reference point in developing a project or scheme.