orgatec 2016: the ACTIU 'cool working' exhibition showcases the alicante furniture firm's new philosophy on wellbeing and productivity. aiming to align with the demands of modern work spaces, their new way of thinking reflects how redefined offices can be adjusted to become more communicative, technological and emotional. fitting into their stand and this scenario, the brand also presents five product ranges that are focused on ergonomics, flexibility and versatility. these include the 'efit' and 'TNK flex' office chairs designed by alegre design, and the 'bend' created by stone design.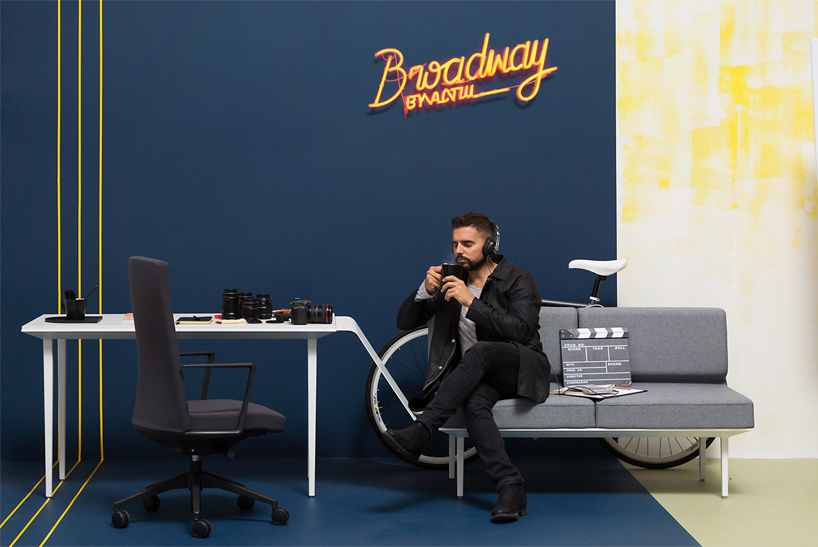 the 'longo nomada' connects and facilitates a multitude of modules and uses in one space
all images courtesy of ACTIU
ACTIU's 'cool working' philosophy presentation at the orgatec 2016 fair, utilizes six different stages as varied environments suited to the demands of specific users. in spite of these different needs, every scenario still aims to improve the overall wellbeing and productivity. furthermore, based on conclusive efficiency studies, their work spaces are designed according to four trends; concentration, collaboration, sociability and training. using this process and understanding the needs of clients, the spanish design brand can use this philosophy in order to design the optimal office solution for a certain space.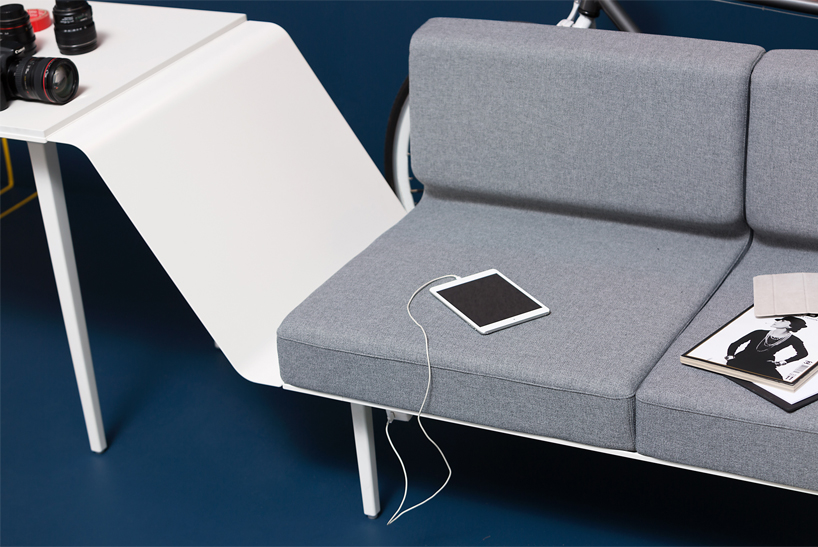 the structural furniture highlights the flexibility and dynamism needed in modern offices
designed by ramos & bassols, the ACTIU 'longo nomada' is a range of sofas and armchairs that are part of a robust structure which connects a multitude of office modules in one space. building on the original family, as covered here on designboom, the 'long nomada' can be collective or independent, and can be added to managerial desks, storage solutions like bookshelves, and sound-proofing panels. the versatile furniture offers a strong minimalist and elegant style, yet acts as mini-architecture as it creates multi areas within a space.
ACTIU' stand at the orgatec 2016 furniture fair in cologne, germany
video courtesy of actiubf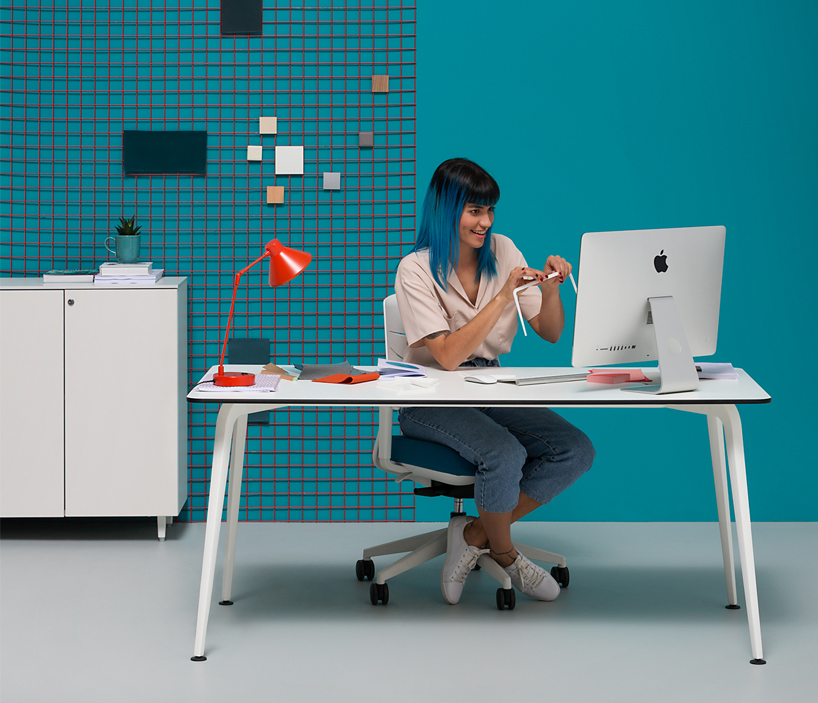 the 'twist' is a trapezoid-shaped desk
offering multiple configuration options, the ACITU 'twist' desk grants the office with agility, rhythm, freshness and flexibility – much like the movement of its name. with a solid aluminum structure and central framework, the system enables the possibility of up to three workstations being set up in one single three-legged construction. its trapezoid-shaped worktops, which are available in standard or tall heights, makes it suitable for both individual use or for group meetings and presentations. increasing its flexibility even more so, titling desks are also an option and enable its position to be moved with a 360-degree radius of its central connection.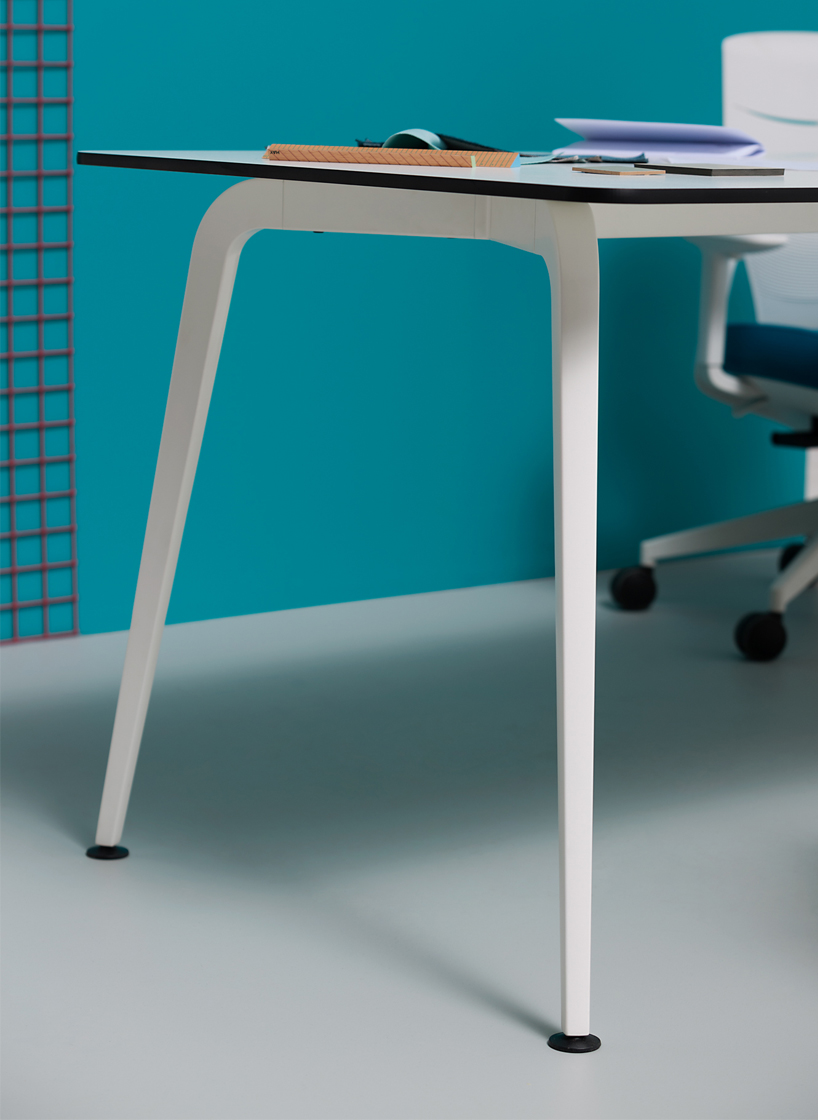 the position and direction of the tables can be moved within a 360-degree radius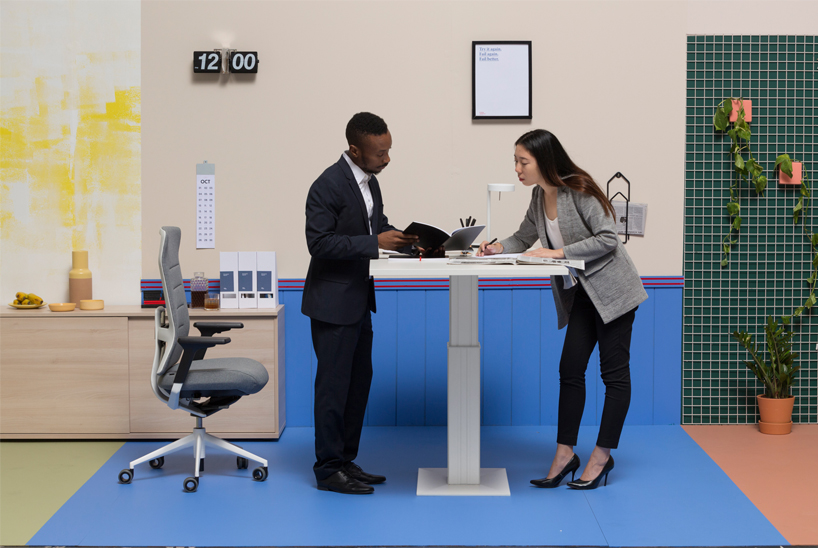 mobility: standing desk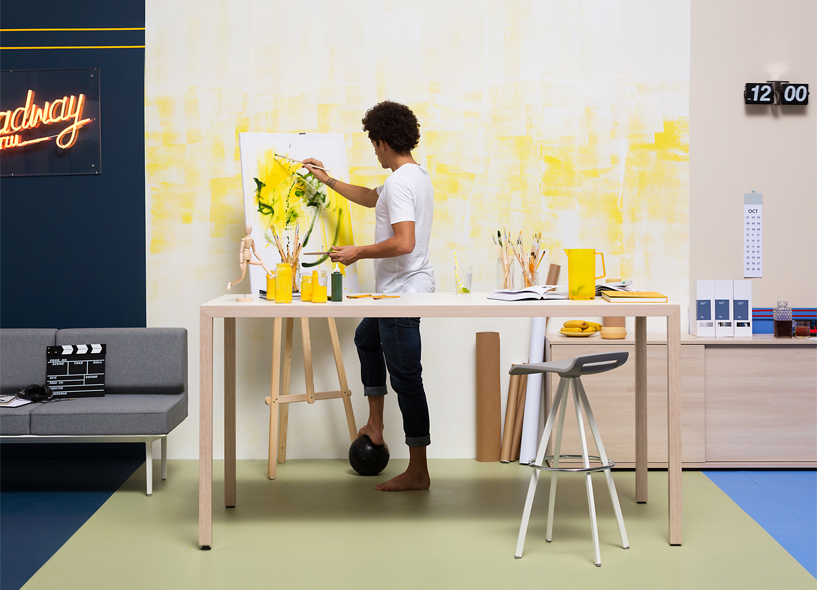 prisma by sylvain carlet & isern serra, is an office desk with a design influenced by a nordic style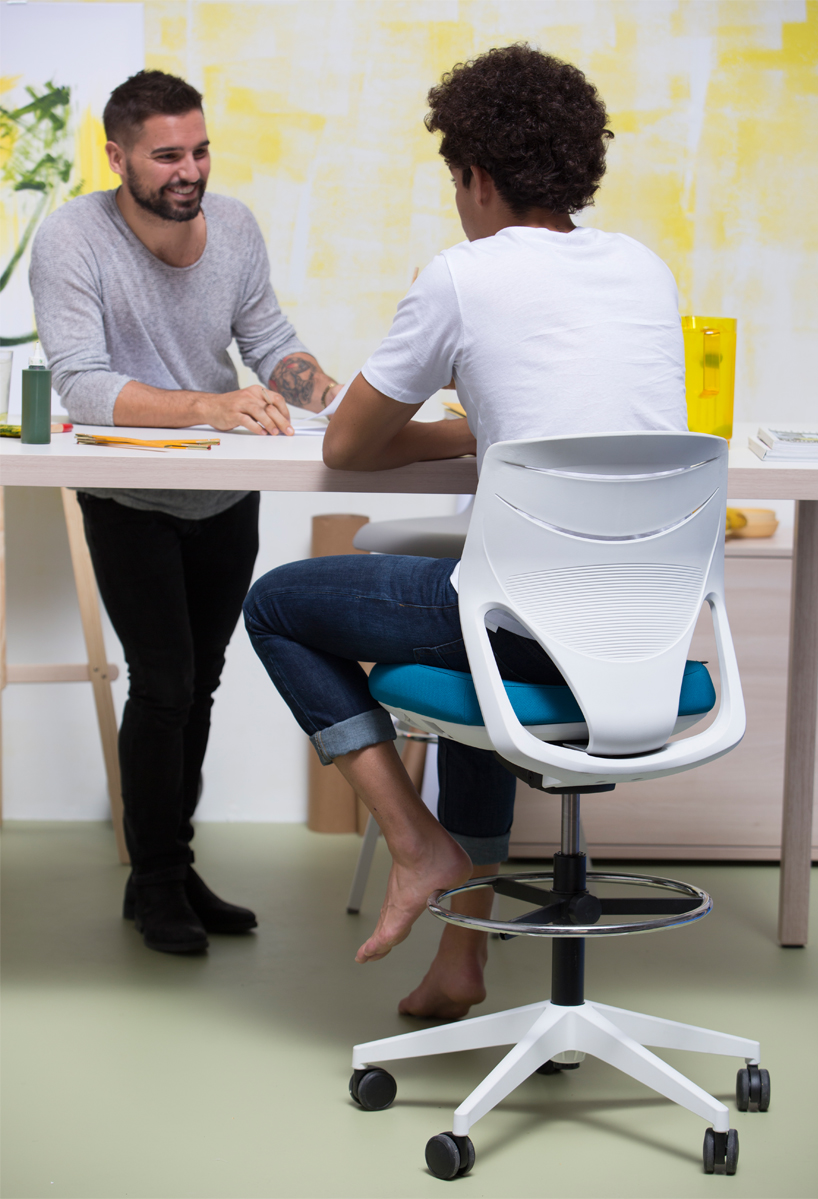 the 'efit' chair has a fresh, young and light hearted aesthetic
designed as a versatile chair for the millennial generation and the new ways of the working environment, ACTIU also presents the 'efit' office chair at orgatec 2016. created by alegre design, the seat sources the customization characteristics of younger generations, opting to enable a more dynamic, flexible and creative use. with a focus on health through comfort and ergonomics, the furniture has a flexible and breathable backrest that enhances a dynamic lumbar system. furthermore, its two back heights, self-weighing system and imprint on the lumbar section, are all designed to offer the utmost comfort to the worker.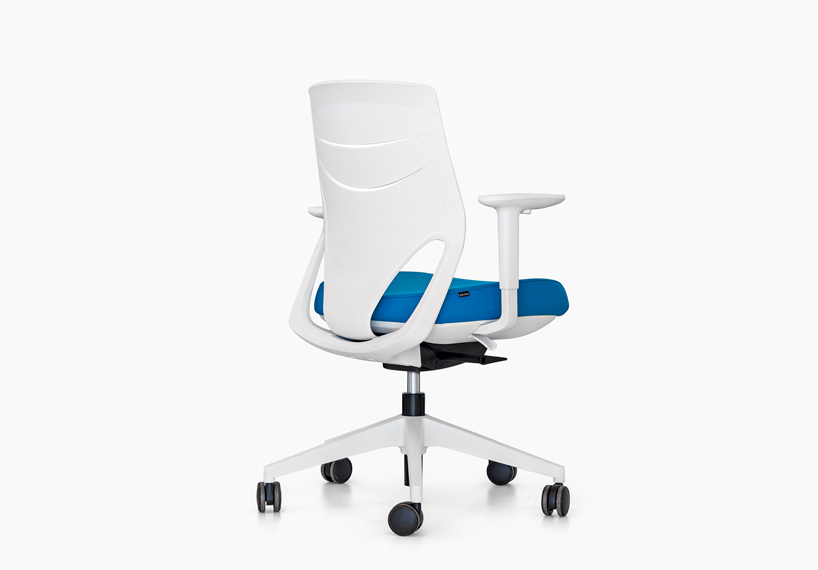 the task seat is focused on improving health with a more ergonomically-sound design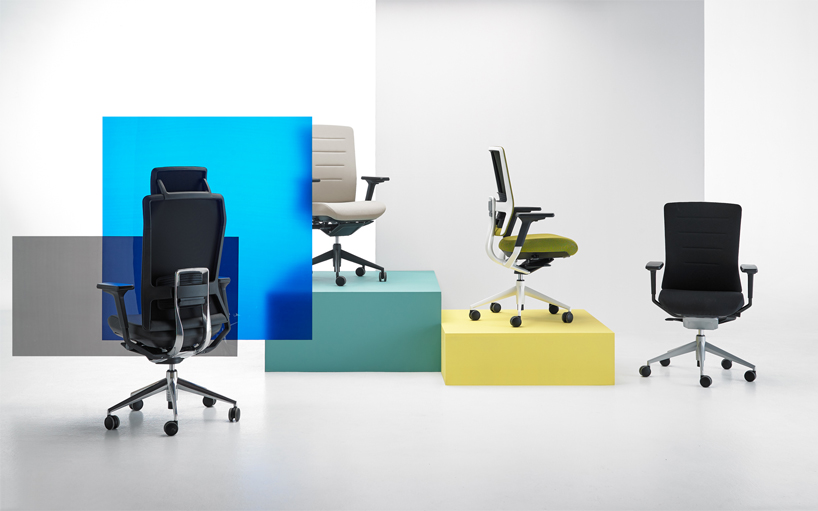 the seat back of the 'TNK' flex chair, acts as a second skin by anticipating the user's movements
crafted by alegre design again, the 'TNK flex' chair is a functional and managerial chair that further extends the product family – following on from the original chairs that feature in the designboom milan office. the chair intuitively anticipates the user's needs by adapting and adjusting itself to the shape and movement of the human body. the latest design introduces two new fundamental developments; a suspended seat that provides the sensation of weightlessness through air chambers inside of the foam; and haptic interaction with the user which is the sensory perception received through contact of any part of the body. with these updates, the chair further facilitates the user to total freedom of movement during their working day, whilst ensuring that maximum efficiency and correct posture is maintained.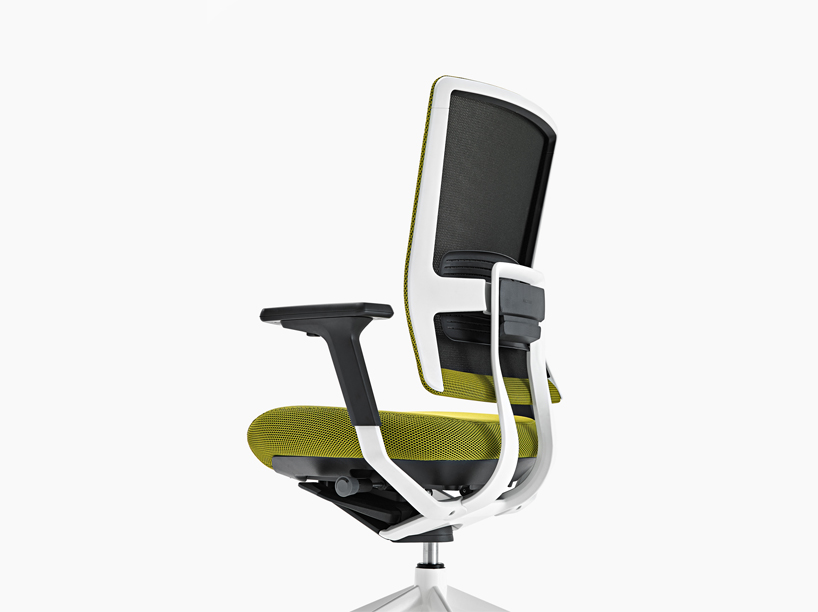 the work chair provides a feeling of weightlessness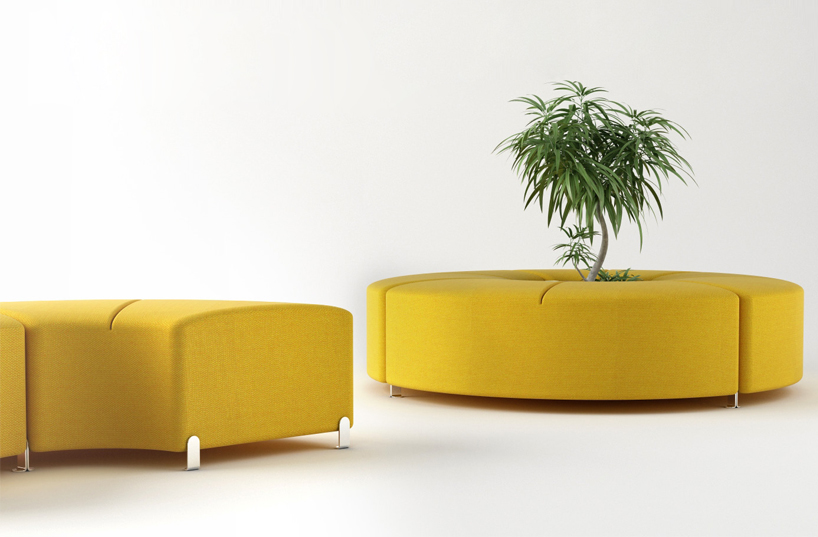 'bend' aims to bring dynamism and informality to the work space
the ACTIU 'bend' bench, designed by stone design studio, offers more freedom in the work space with a collection of elastic soft seating. reflecting the meanders of a river, the modular system's bends create resting areas which can adapt to different users and many requirements. with its varied depths, the seats are able to generate an almost infinite capacity for customization. the system can be further enhanced with features such as desks with inductive charging or with flowerpots. with its flexibility and wide range of additions, the 'bend' is similar to the other furniture products within 'cool working' as it facilities multiple office functions.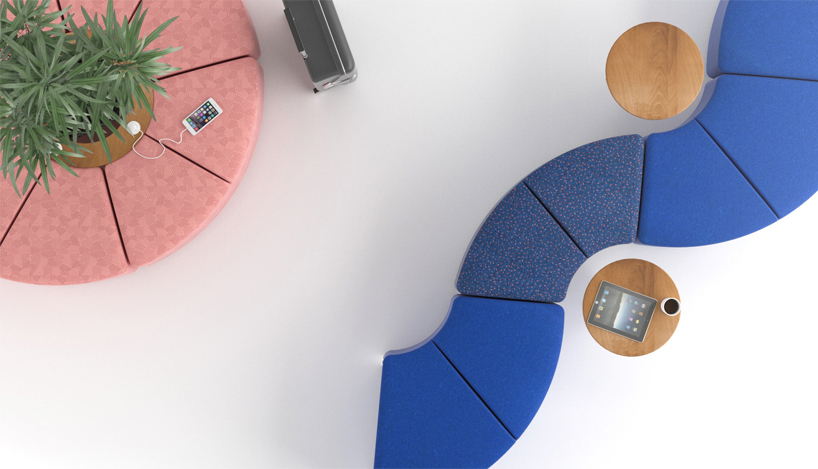 the furniture system is equipped with an accessory kit
bend; the soft seating that can transform and adapt to any space
video courtesy of actiubf
ACTIU
(8 articles)
dec 15, 2017
dec 15, 2017
nov 27, 2017
nov 27, 2017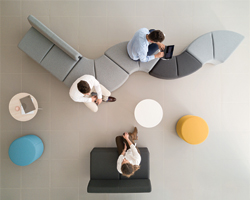 jun 28, 2017
jun 28, 2017
jun 30, 2016
jun 30, 2016
may 29, 2014
may 29, 2014
jul 20, 2013
jul 20, 2013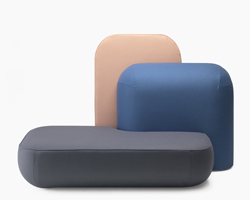 nov 27, 2016
nov 27, 2016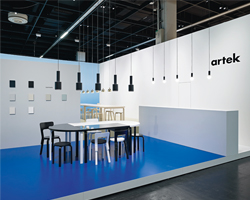 nov 13, 2016
nov 13, 2016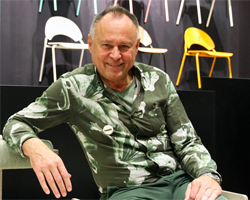 nov 08, 2016
nov 08, 2016
nov 07, 2016
nov 07, 2016
nov 01, 2016
nov 01, 2016
oct 31, 2016
oct 31, 2016
mar 24, 2019
mar 24, 2019
jul 11, 2018
jul 11, 2018
apr 28, 2017
apr 28, 2017
apr 19, 2017
apr 19, 2017
nov 21, 2016
nov 21, 2016
oct 17, 2016
oct 17, 2016
a diverse digital database that acts as a valuable guide in gaining insight and information about a product directly from the manufacturer, and serves as a rich reference point in developing a project or scheme.