oct 28, 2014
adam torok's collapsible belt-scooter is a wearable mode of transport
adam torok's collapsible belt-scooter is a wearable mode of transport
images courtesy of szalai csaba
the 'collapsible belt-scooter' by adam torok transforms from a mode of transport into an article of clothing. the diploma project was envisioned by the theory that vehicles which are not entirely portable, will become obsolete. the graduate from the university of west hungary's institute of applied art, analyzed that the most efficient method of traveling in the shortest amount of time, are those powered by legs.

the belt when folded out into a fully-functioning scooter
meeting both the portability and leg-powered transportation needs, the 'belt-scooter' folds to become wearable around the user's waist. it is easy to wear around the place as it is manufactured from plywood and iron – weighing 1.7kg. adam's 'collapsible belt-scooter' was shown at the 2014 budapest design week and the next prototype is in development.

the scooter is made from plywood and iron

weighing just 1.7kg, it is easy to carry around when not in use

close-up of the rear wheel's side view

adam torok's collapsible belt-scooter is a wearable mode of transport
nov 30, 2014
nov 30, 2014
nov 19, 2014
nov 19, 2014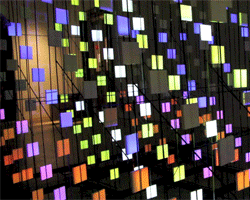 nov 01, 2014
nov 01, 2014
jul 11, 2017
jul 11, 2017
jul 06, 2017
jul 06, 2017
jul 06, 2017
jul 06, 2017