jun 21, 2010
adrian lippmann: fold flat shelter
'fold flat shelter'
'fold flat shelter' was created by german designer adrian lippmann, founder interior design firm form-al. these tent like structures are unsupported mini-houses made of light composite panels to be used as disaster relief shelters. developed with only a few elements, each panel comes in relatively small dimensions resulting in a compact building design.
basic-module requires 8 sq.m of floorspace and can be expanded to 13-18 sq. m
the shelters are shipped flat and are assembled manually by first folding the walls and roof to attain the basic shape. adjustable substructures are then mounted and placed on top of this primary construction to finalize the building.
'fold flat shelter' was presented at the DMY international design festival berlin 2010.
interior
jul 18, 2010
jul 18, 2010
jul 12, 2010
jul 12, 2010
jul 08, 2010
jul 08, 2010
jul 05, 2010
jul 05, 2010
jul 04, 2010
jul 04, 2010
jul 03, 2010
jul 03, 2010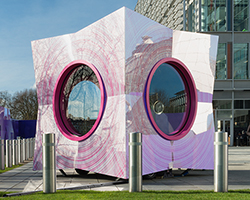 mar 05, 2017
mar 05, 2017
feb 27, 2017
feb 27, 2017
feb 24, 2017
feb 24, 2017