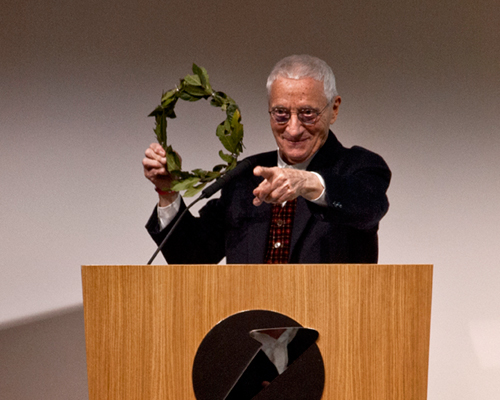 feb 15, 2015
alessandro mendini receives the european prize for architecture
alessandro mendini receives the european prize for architecture
alessandro mendini (1931), has been honored in milan as the recipient of the 2014 european prize for architecture. the award recognizes those creatives who have challenged and changed the direction of contemporary architecture; and who have blazoned a more humane and intellectual approach to the field through their pursuits and achievements throughout europe and abroad.
the european prize for architecture is given to those who have demonstrated the highest standard of public design, and have significantly contributed to humanity, and the built environment through architecture. this year's acknowledgement of mendini's career in architecture and design comes as no surprise — having worked for more than half a century, and making big strides in architecture theory, design and the profession in general, mendini's diverse practice has seen his portfolio range from furniture objects, interiors, paintings, installations, architecture and urban planning. in addition, he is known for his theoretical work, having been one of the first members of the legendary studio alchimia founded by alessandro guerriero — a gallery for experimental work, not constrained creatively by industrial production, and mocking the scientific rationale behind modernism.
this is the 5th edition of the european prize for architecture, given every year as a collaborative effort between the european centre for architecture art design and urban studies and the chicago athenaeum – museum of architecture and design. in the previous years the prize has been given to the following laureates: in 2010 to the danish architect bjarke ingels of BIG architects; in 2011 to the german architects graft architekten ; in 2012 to the norwegian firm tyin tegnestue architects; and in 2013 to the finnish architect marco casagrande. read more here.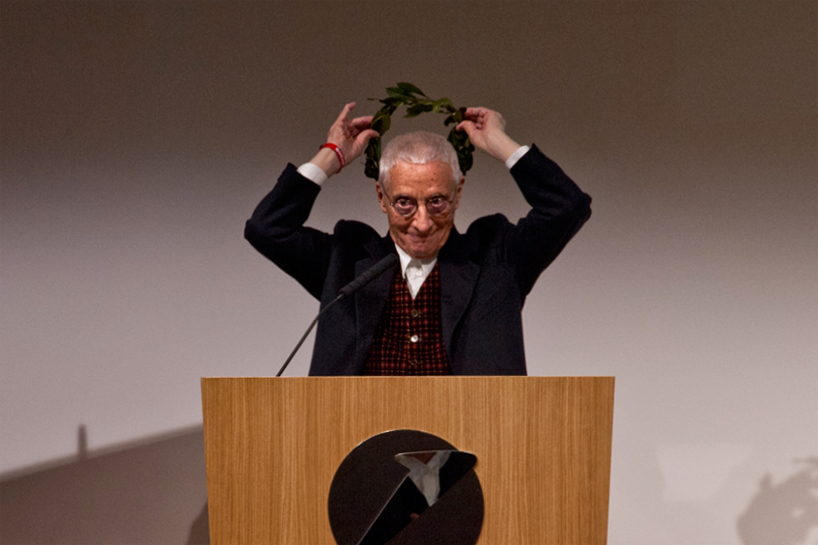 the ceremony has been held at the isozaki tower in milan
alessandro mendini's activity with studio alchimia saw him as being the movement's l'enfant terrible, in which he collaborated alongside other italian greats andrea branzi, michele de lucchi, paola navone and ettore sottsass. during this period, he designed furniture that has since revolutionized the image of italian design, and his pivotal role in the development of its portrayal did not just stop there.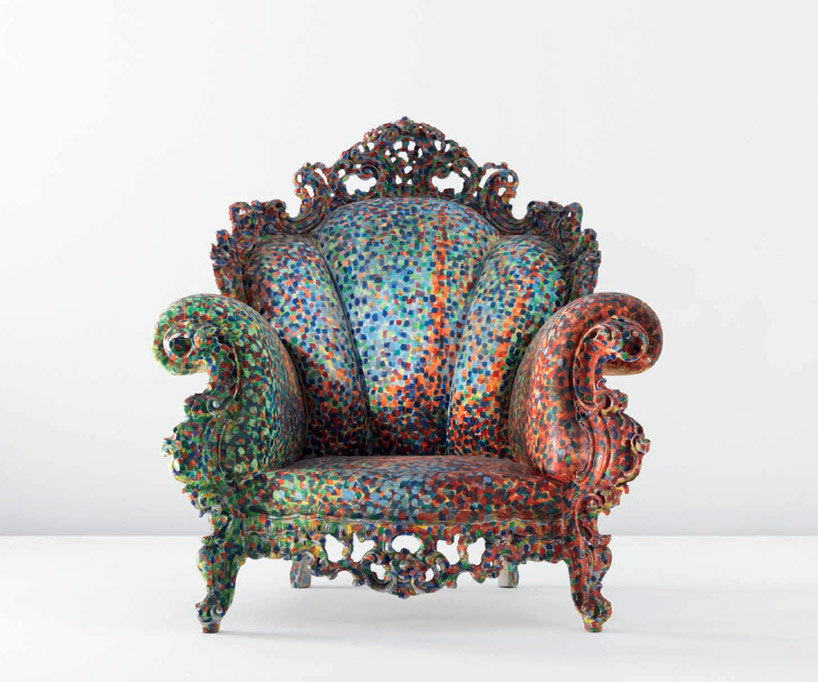 'proust' chair, 1978
he also acted as publisher for the magazines casabella (1970-1976), domus (1980-1985 and 2010-2011), modo (1979-1985) and ollo (1988).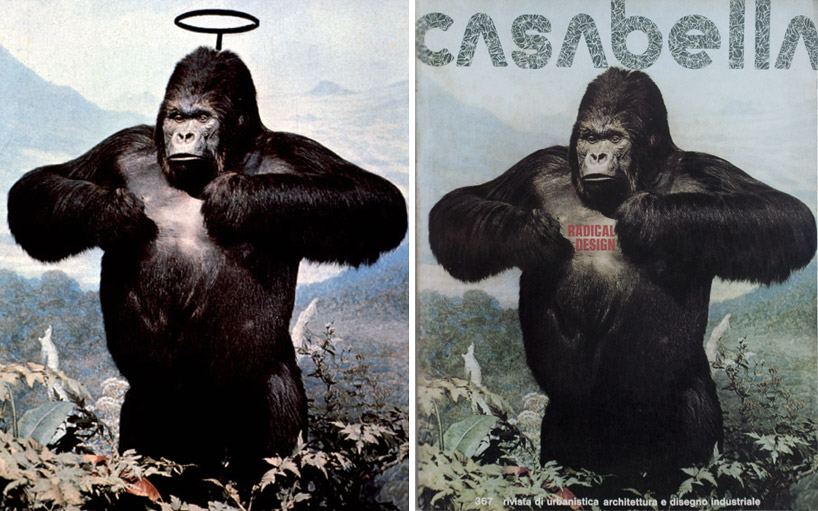 collage of an gorilla beringei with mendini's 'aureola' and the 'radical design' cover of casabella, 1973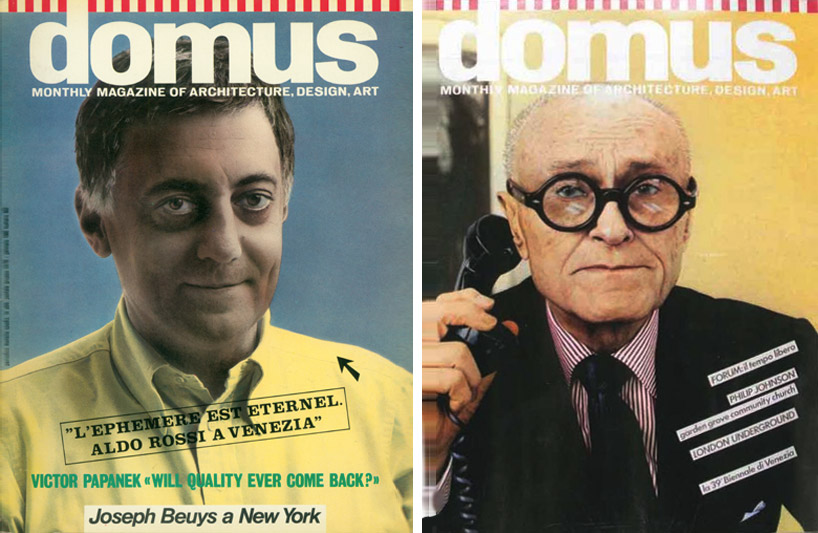 domus covers (1980-1985)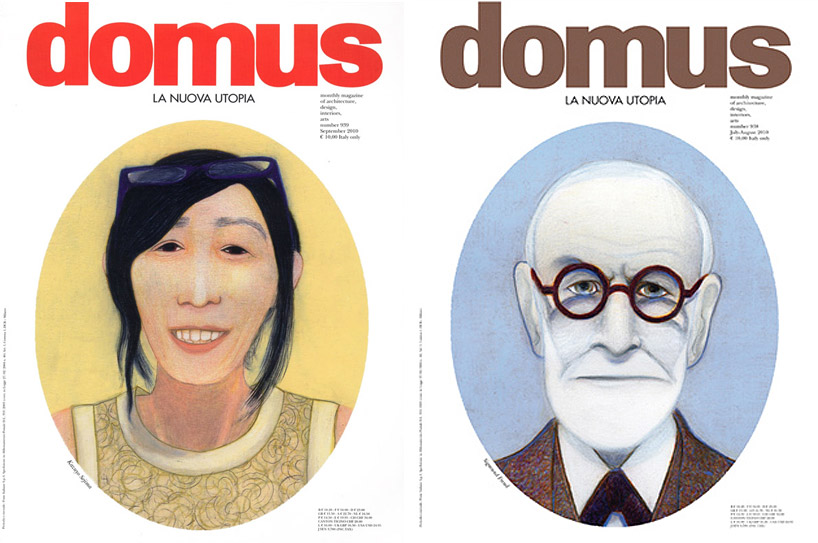 domus covers (2010-2011)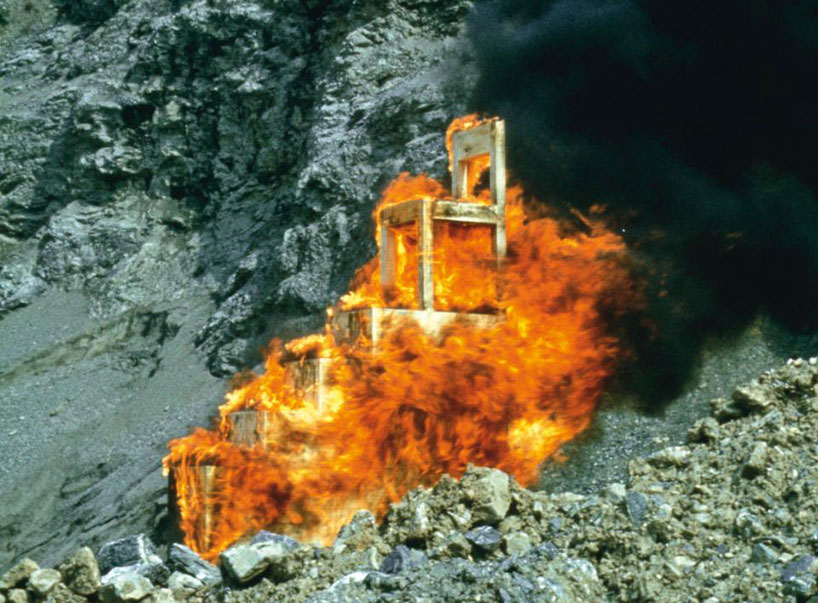 'lassu' performance, 1995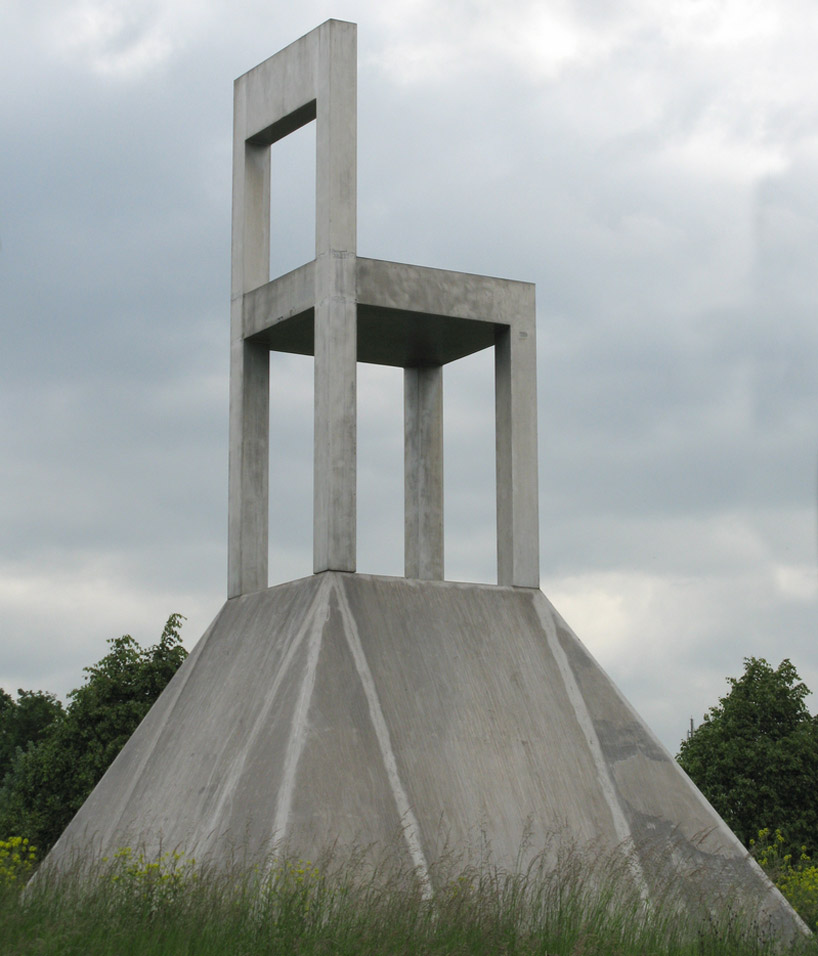 monument 'lassu' in wheil am rhein
together with italian designers, including franco raggi and daniela puppa, mendini conceived the so-called 'banal design' transforming everyday objects through innovative colors and forms, into new, ironic objects of design — which can be seen in his signature style.
you might want to read a designboom interview with alessandro mendini from 15 years ago (yes we were already online). where he basically said 'I am on a quest to communicate through my objects and work in general, trying to say things that encourage people to deepen meditation and spirituality'.
he is also responsible for having collaborated extensively with alessi's dream factory, for which he has produced many of the italian brand's most well-known products, including: anna g. corkscrew, 1994 and moka alessi, 2011.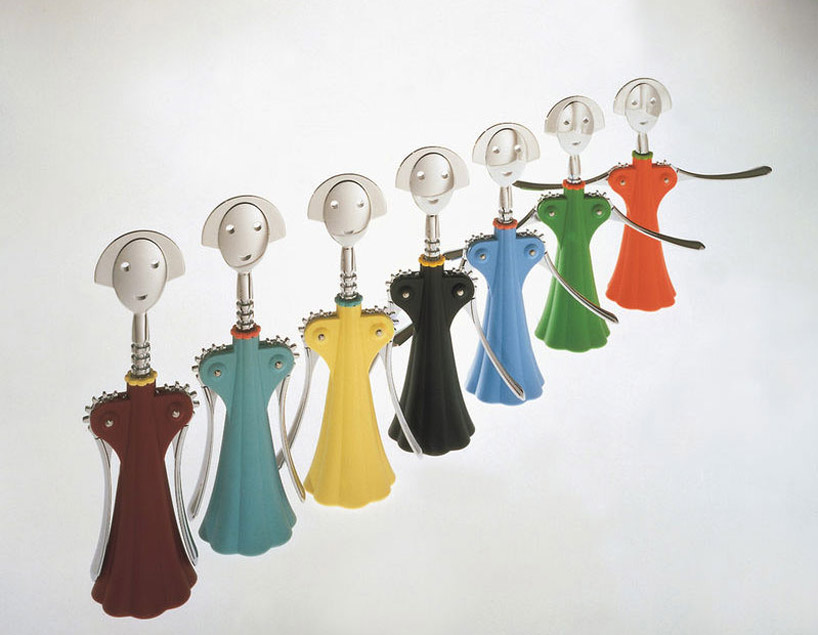 'anna g' for alessi 1994, corkscrew in PA, light blue and chrome-plated zamak. a tongue-in-cheek homage to an important woman in his life. her smiling face has become something of a cult figure over the years, giving birth to a rich family of similar 'humanized' objects for the table and kitchen in a wide range of materials.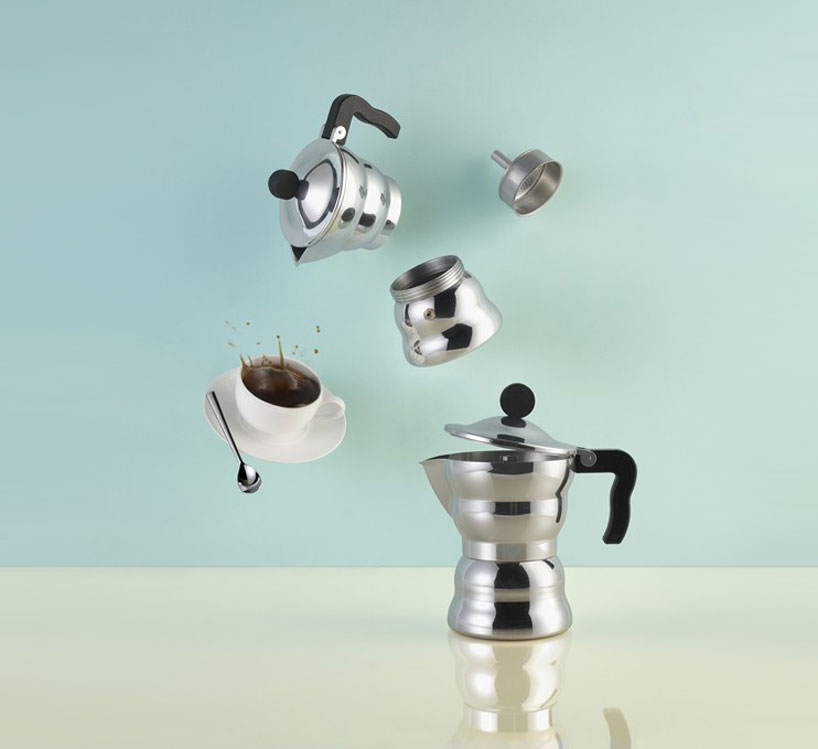 moka for alessi, 2011 read more here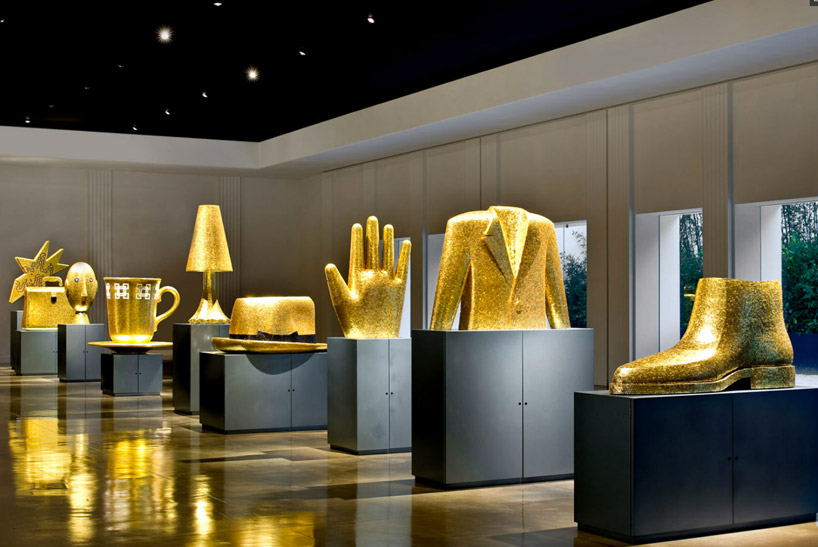 alessandro mendini for the 30th anniversary of bisazza (a leading italian manufacturer of tesserae for mosaics), 2011 exhibition of dimensional paradoxes: a jacket, a shoe, a glove and a classic borsalino hat – elements borrowed from a man's wardrobe – were decorated with hand-cut 24-karat gold leaf mosaics and magnified, turned into monumental pieces of furniture via an alchemical process.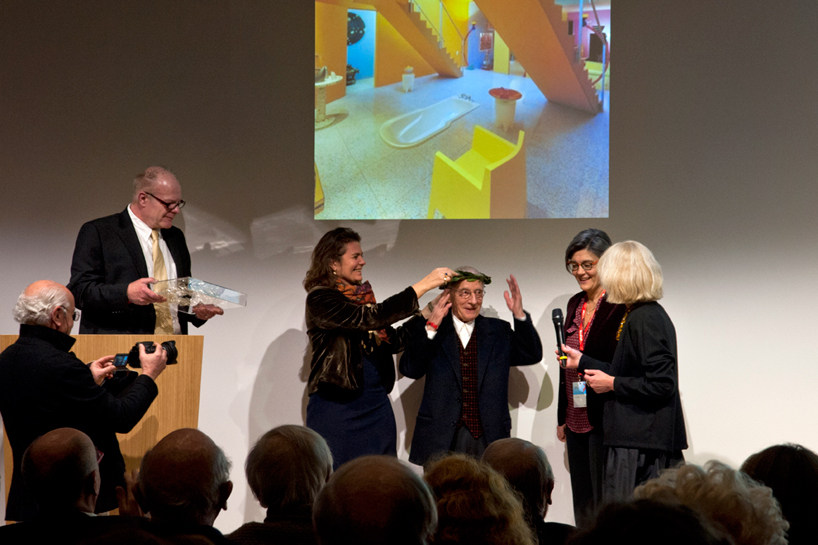 the european prize for architecture award ceremony
alessandro mendini's architecture projects in italy include: alessi offices and factory (two extensions of the factory), omegna, (italy) 1993; swimming and sports centre, trieste (italy), 2004; naples underground stations, naples (italy), 2000-2009; town hall, naples (italy), 1999; byblos art hotel, verona (italy), 2005; trend group's offices in vicenza 2005; bovisa tech district in milan, italy; reorganization for the seaside promenade, catanzaro (italy); complex in via della bicchieraia (including the teatro comunale aretino), arezzo (italy), 1997; la casa della felicità" for alberto alessi ('the house of happiness') omegna (italy), 1980-1988; clock tower, gibellina (italy), 1987.
outside of italy, mendini designed torre paradiso, hiroshima (japan), 1988; groninger museum, groningen (the netherlands), 1988-1994; dinosaur at hukui – dinosaur museum, katsuyama (japan), 2000; posco neighborhood, seoul (korea), 2013; triennale di milano – branch in incheon (korea), 2009; busstop hannover – steintor stop, hannover (germany), 1992; madsack publishing company headquarters, hannover (germany); and numerous other buildings. he has also been an urban planning consultant for some cities in south korea; and in 2007, he designed the new triennale di milano – branch in incheon (korea), 2009.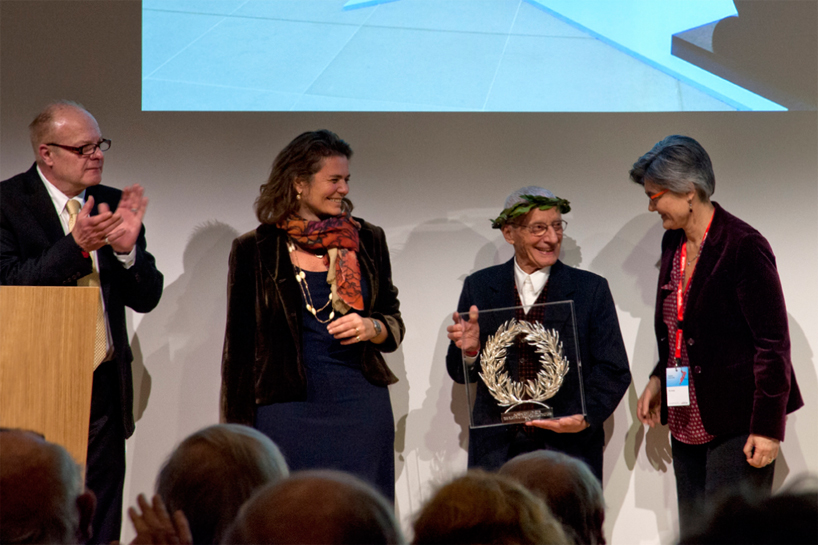 on the left: christian narkiewicz-laine, museum president of the chicago athenaeum
'alessandro mendini,' states christian narkiewicz-laine, museum president of the chicago athenaeum, 'is one of the rare, most iconic architects and architectural minds in the history of art and architecture. his philosophic thinking is more than original. he has pushed concept beyond the perimeters of the inventive, relentlessly searching, in a most non-compromising way, for the most essential design idea. and the results center on the most visionary and far-reaching of our times. in an era where architectural ideas are copied and duplicated worldwide faster than 'viral,' mendini and his works remain singular, prophetic, and original with the unique finger print of nothing less than a genius architect. not since frank lloyd wright has the world seen a more theory-driven and profound-thinking architect than mendini,' continues narkiewicz-laine.
'alessandro mendini has represented a sea of change in the culture of the project, from design to architecture,' states the milan-based design critic and journalist, claudia donà.
'he is the father of radical design and neo-modern; first with the direction of the magazine casabella, then by creating modo magazine (where I first met him), and finally with domus. alessandro mendini has caused a real earthquake for cultural change. he repositioned italian design in the role of the international avant-garde for the mutations of taste. through exhibitions, writings, drawings, the direction of magazines, and epic projects, he was able to concentrate around his innovative ideas as the most revolutionary mind of both architecture and design. a personality like mendini is rare in italy, in europe, and perhaps, in the world,' continues donà. 'his persona is very current, very contemporary, and as extraordinary as is his humanity and the way he relates to others through his work. the european prize of architecture awarded to mendini is with great wisdom, insight, and vision.'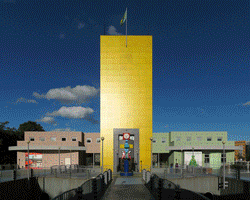 feb 19, 2019
feb 19, 2019
feb 18, 2019
feb 18, 2019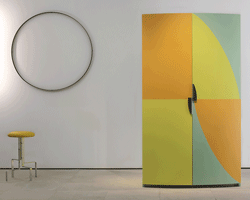 apr 18, 2018
apr 18, 2018
jan 23, 2018
jan 23, 2018
apr 16, 2015
apr 16, 2015
may 18, 2013
may 18, 2013
a diverse digital database that acts as a valuable guide in gaining insight and information about a product directly from the manufacturer, and serves as a rich reference point in developing a project or scheme.