jul 12, 2010
alex dodge: generative
the interests of new york-based artist alex dodge extends into the relationships between humanity, technology, art and design, in which he has designed a collection of garments of concept prototypes developed in collaboration with brooklyn-based tech start-up generative. each of the works address the notion of passive interfacing; engaging the human body through acquiescent means. some of the pieces seem to be influenced by science fiction while others are more accessibly clear-cut. the prototypes developed by dodge himself, range in their levels of functionality, but are presented here as art objects and design objects on equal standing. while dodge may focus on creating mass-manufacturable products, envisioning that they bring people one step closer to a utopian ideal, dodge's objects fetishize the technological imperative, or the inevitable hybridization of man and machine, as something worthy of appreciation in itself.
sleep talker (dream interface GEN-1Y), 2010
the 'sleep talker' dream interface is an experimental prototype offering a means for two or users to interact with each other while in similar sleep states, or as a means of broadcasting one's unconscious experience within a specialized social network.
the device monitors the user's brainwaves, heartbeat and environmental audio. once connected to a PC the 'sleep talker' client software identifies the user's dormant state using the electrodes embedded in the sleep cap. when the software detects synchronous or compatible dream sleep it attempts to pair with either a predesignated user over the internet or automatically to an available user with the sleep talker social network. in group mode, multiple users can form dream clusters defined by specific criteria or a single user can designate their feed as broadcast-only for others to listen to. the various data feeds, including EEG, pulse, galvanic skin response and audio (in the form of actual 'sleep talking' or environmental sound) are modulated into a real time audio visual feed and played back via the integrated headphones and sleep mask, forming a reciprocal link or 'dialog' between the users.
sleep talker (dream interface GEN-1Y), 2010
this social network is loosely based on conventional social networking models, can also be observed by the wakeful in a passive / interpretive mode wherein multiple dream feeds can be viewed in real time offering a new social analytical tool with such features as geographic and signal filtering as well as speech to text searchability. as with most existing social network sites, the users in the sleep talker social network can set their personal privacy level as desired.
sleep talker (dream interface GEN-1Y), 2010
sleep talker (dream interface GEN-1Y), 2010
sleep talker (dream interface GEN-1Y), 2010
sleep talker social network
wearable interface (GEN-1J), 2010
taking the form of a light, cross-seasonal jacket, this wearable interface prototype explores the possibilities of embedding various mobile technologies in a wearable garment. within the jacket are multiple adaptable standard USB ports, GPS, accelerometers, microphones, temperature and photo sensors, the garments on-board processor can be trained and programmed to interact with a range of other devices.
while most current smart phones offer similar modes of input the generative wearable interface is intended as an always-on constant-feed device that can react to each user's unique actions and environment in real time, detecting useful patterns and conditions over time.
wearable interface (GEN-1J), 2010
wearable interface (GEN-1J), 2010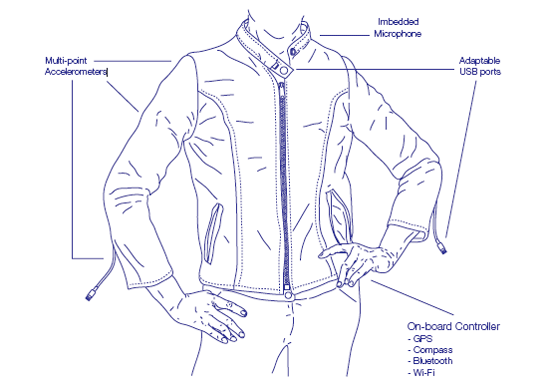 indications of the various interfaces within the jacket
powerstep (GEN-1PZ), 2010
the 'power step' shoe employs an encapsulated piezoelectric ceramic that produces electric potential during applied mechanical stress. the cast silicone sole allows a maximum range of flexibility for the encased piezoelectric while offering utmost comfort to the wearer. the energy produced by each step is collected and stored in a removable power-cell in the shoe's heel. the energy collected can later be used to power other mobile devices. this initial prototype designed for generative explores new ways of making shoes that convert mechanical energy into stored electrical energy both practical and stylistically functional, building upon substantial research done by thad starner and others at MIT in the mid 90s, among others.
powerstep (GEN-1PZ), 2010
powerstep (GEN-1PZ), 2010
diagram of the piezoelectric ceramics
achilles cell (GEN-1DEN), 2010
vantage point (integrated mobile broadcaster GEN-1HC), 2010
the vantage point allows the wearer to capture moments of their daily experience with the aid of a socially unimposing hands-free device; specifically a POV camera embedded in a pair of headphones. image and video capture can be done either passively with the camera, automatically taking snapshots every 5 to 30 minutes or more precisely, when the user likes. the collected images and video can either be stored and reviewed at a later time or immediately uploaded to a web-share or social networking site via embedded wi-fi and wi-fi hotspots.
the collected images can be both time and date stamped as well as geo-tagged making the captured imagery incredibly valuable data for either the analysis of ground-level urban experience or a means of enriching existing technologies such as google street view or microsoft's photosynth.
motivated by the increasing saturation of socially networked content, generative's vantage point prototype demonstrates a passive method for capturing the wearer's personal experience in the form of a head-mounted pov camera. while similarly driven concepts have embedded recording devices in everything from eye glasses to tethered necklace cams, this device found its inspiration from nyc's pedestrian and public transit-bound inhabitants; so many of which tune into their ipod or music player while on the move.
vantage point (integrated mobile broadcaster GEN-1HC), 2010
haptic-synth garment (GEN-1SH), 2010
haptic-synth is a concept being researched by generative that considers the viability and potential benefits of non-visual interfaces based entirely on touch. in these two studies dodge has interpreted the concept in the form of a reactive shirt and a customizable hand-held widget.
the thin breathable stretch shirt is intended as an undergarment and is embedded with an array of haptic-synth 'cells'. each cell is comprised of a compression touch sensor coupled with a miniature haptic feedback actuator. unique surface gestures can be trained to perform specific functions on a paired device. feedback in the form of touch-perceptible 'clicks' offer both confirmation of gesture-based input as well as mediated output from a paired device.
haptic-synth widget (GEN-1WH), 2010
the handheld widget's casing is customized to fit the user's hand perfectly using a specialized semi-solid rubber compound that sets to the shape of the user's grasped hand. the internal core is equipped with five compression touch sensors and multiple feedback cells. control devices like these offer new ways to interact with personal electronics without interrupting one's visual or auditory concentration. other possibilities include alternative interfaces for those with impaired vision or hearing. such devices could also prove to be useful physical therapeutic aids.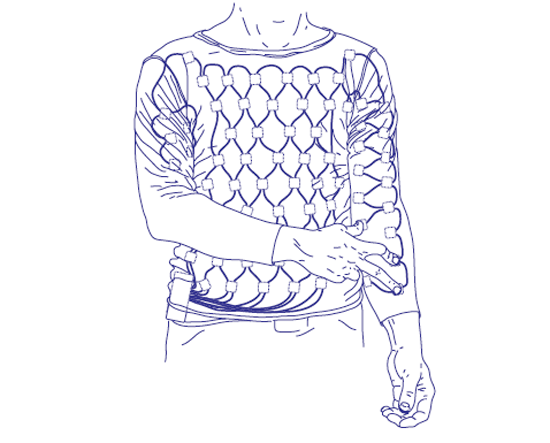 diagram of the haptic-synth widget (GEN-1WH), 2010
human interface device (GEN-HID), 2010
alternative interface-driven physical supports. these two preliminary studies address the standing dilemma of the accepted body posture for device interaction in domestic spaces. what dodge refers to as the 'typewriter window paradigm'; the notion that the interfaces we use today are predominantly derived from an evolution of input systems over the past fifty years spanning punch card machines to dumb terminals, culminating in the PC.
zaisu (GEN-1Z), 2010
even with the growing trend toward touch-based interfaces, dodge felt that one facet often overlooked or taken for granted with human-machine interfacing is the engaged posture of the human body; where most interfaces imply a form of active engagement that doesn't always allow for relaxation and an efficient means of interfacing simultaneously. dodge explores two variations on the problem. in his 'zaisu', inspired influenced by japanese floor chairs of the same name, dodge creates a minimal design that uses the body's own weight through redirected compression to maintain a self supporting passive nest. the user is held upright in a receptive posture without much exertion, maintaining a position that is both relaxing and optimal for using assorted hand-held devices like laptops, tablets, and mobile gaming consoles.
zaisu (GEN-1Z), 2010
in his aptly named 'human interface device', he addresses the issue playfully with a degree of functional humor by modifying an existing massage table. by adding a touch screen monitor and keyboard, the user is able to operate a computer while laying flat on their stomach in a more relaxed position.
video for generative by alex dodge
alex dodge's 'generative' series is currently on show at the klaus von nichtssagend gallery in new york until july 19th, 2010.
a diverse digital database that acts as a valuable guide in gaining insight and information about a product directly from the manufacturer, and serves as a rich reference point in developing a project or scheme.