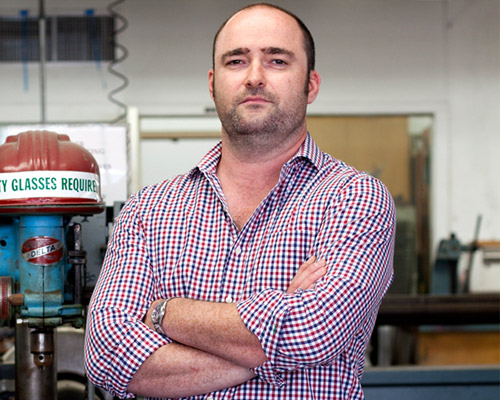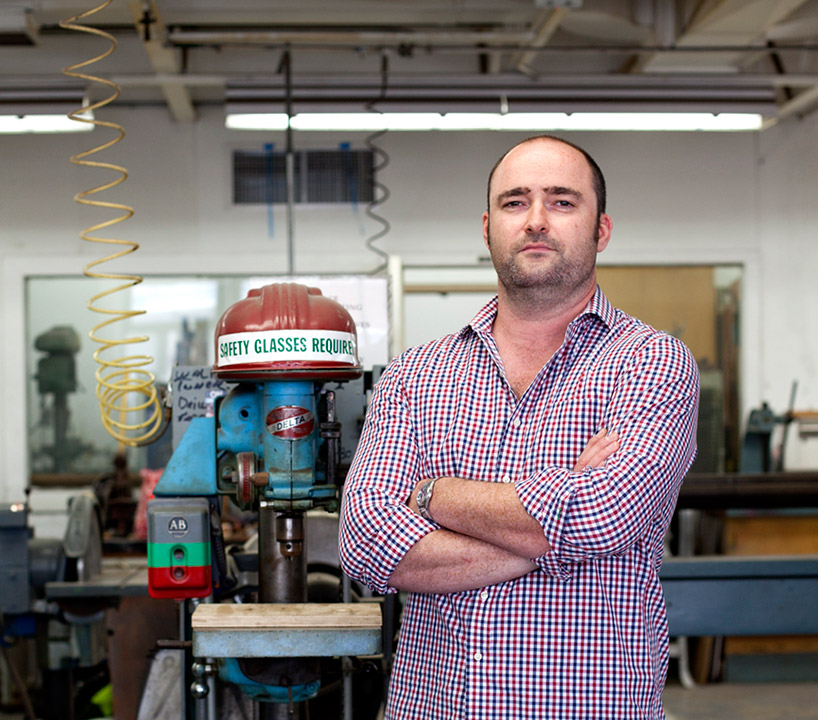 dec 16, 2013
andrew byrom interview
andrew byrom interview
photo by katherine sheehan
we spoke to andrew byrom, a british graphic designer now based in los angeles.
DB: please could you tell us how your exploration of 3D typography began?
AB: as a student studying typography at the university of east london I developed an interest in finding typographic forms in everyday objects. I'd study things like band aids, road markings drinking straws etc. and find inspiration for digital fonts. at that time I would bring these new forms back to traditional 'flat' typeface design. I still always produce a 2D version of my designs – but over the years I've started to view the physical objects as the end result.
the initial breakthrough came when I designed a typeface based a simple chair in my office – almost twenty years ago. after generating the digital font I decided to actually contract the design back into real furniture. I collaborated with a welder and we constructed twenty-six full-size tables and chairs that represented each letter of the alphabet. this project opened up a new area for me that felt unique at that time.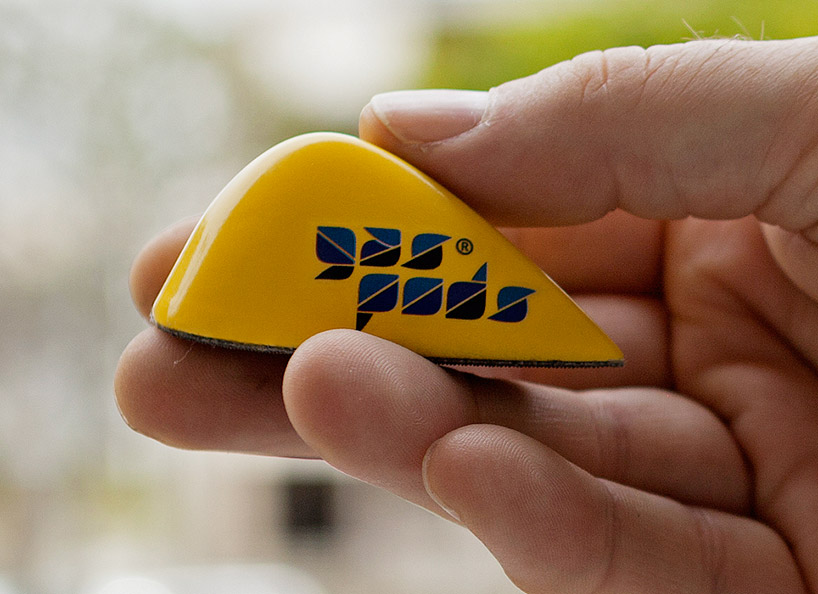 logotype for gas pods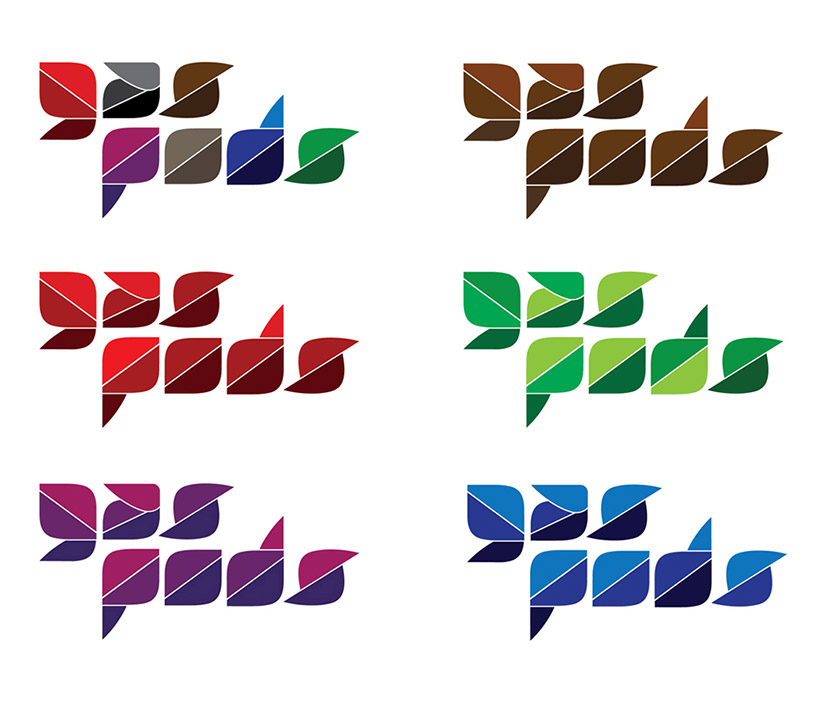 DB: how would you describe your work to someone who hasn't seen it before?
AB: I make typography that is real and physical.  you can sit in it, fly it in the sky, use it as shelving, as hand-rails, etc. I am working in three dimensions to force myself to find new forms.
eric gill wrote: 'letters are things, not pictures of things'. although I may be using his words out of context, I do like this quote as a rationale for what I'm doing.
my work doesn't recreate existing typefaces in three dimensions. instead, I allow the constraints of materials – and the limitations of creating physical structures with these materials – to help guide me towards new typographic forms. I adhere to traditional typographic principles (x-height, baseline etc.), but not to the look or style of printed typefaces. I believe this is an important distinction and is what makes working in 3D unique.
I work in the same way as most traditional typeface designers. I have an idea and design the letters – then other people use the designs to say different things. for example, over the past few years my 3D designs have been used by the new york times, UCLA extension, sagmeister inc. etc. recently I have moved into areas of exhibition design and environmental graphics, but I still try to use the same experimental principles.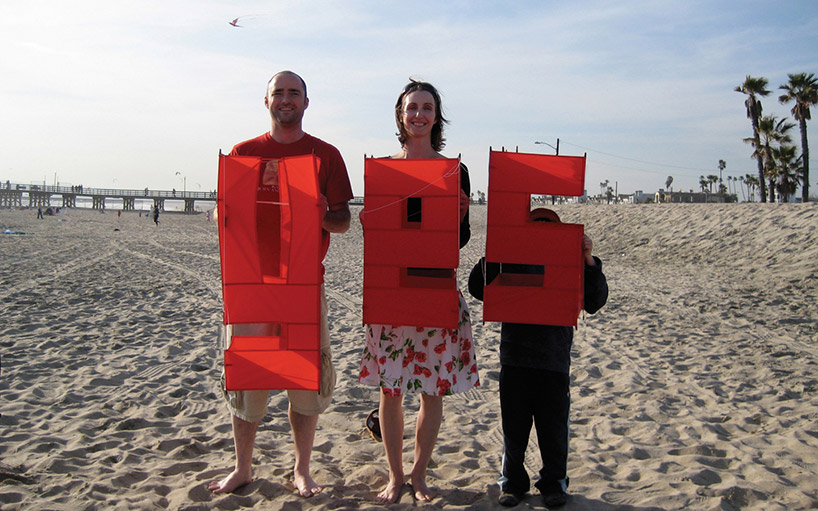 letter box kites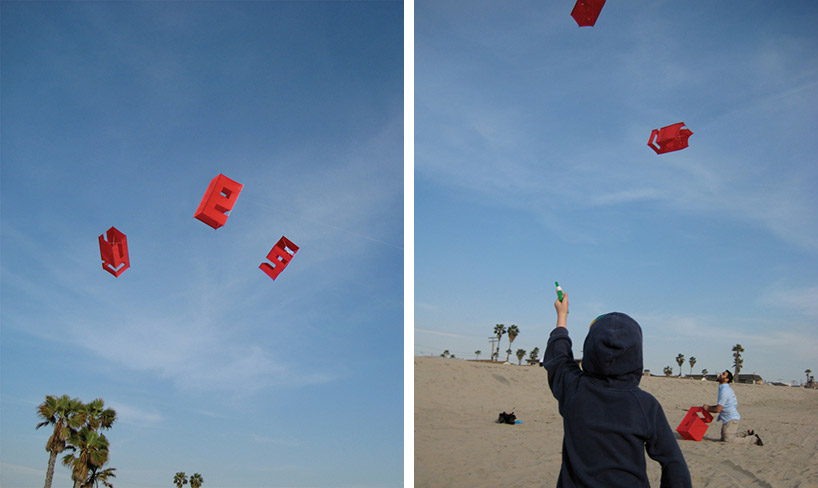 DB: what mistakes or 'traps' should a young designer avoid when working on a typeface?
AB: work on the difficult parts first. don't shy away from the elements that you expect to fail. your solutions to these problems will inform the rest of the design. I think this advice is good for designers working in any field – not just type design.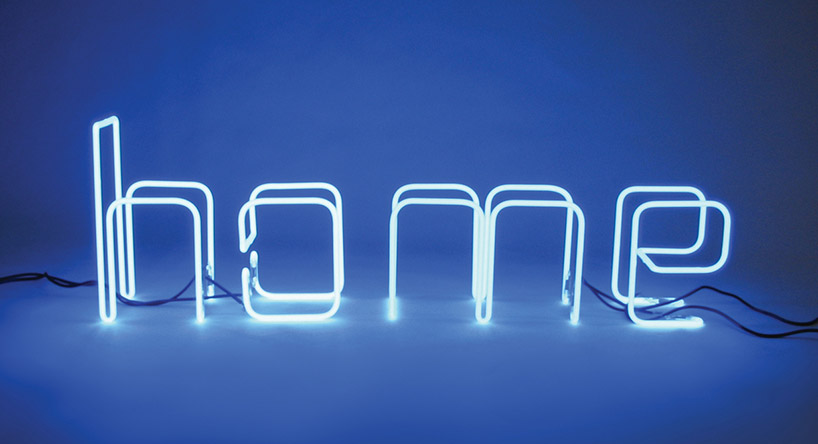 interiors light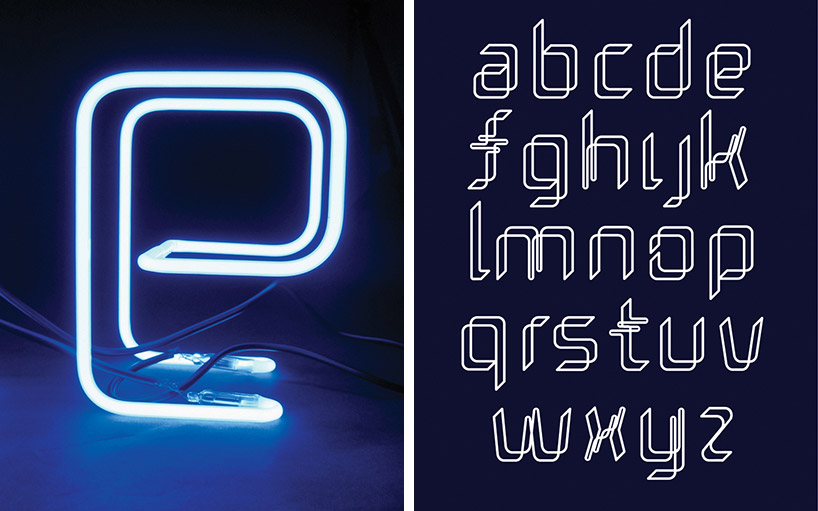 DB: what are your thoughts on specialization vs generalization?
AB: in some ways my work is very specialized. its always based on letterforms but I have managed to do is be more diverse with the application. I have taken type away from the flat printed page and made it physical. I work in many areas of design, but always apply my understanding of typographic principles and rules.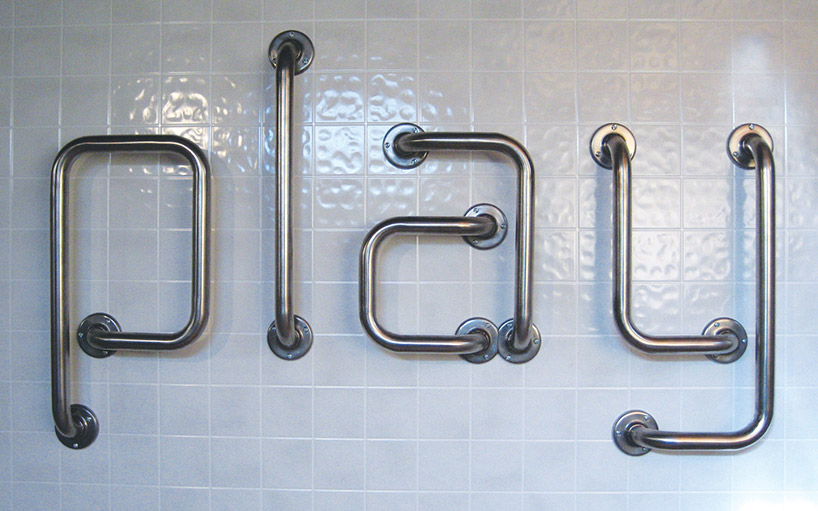 grab me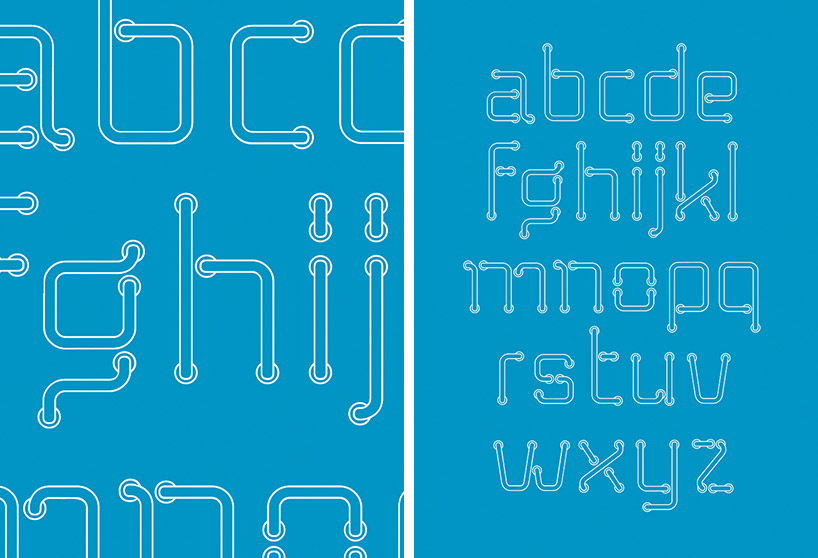 DB: who or what has been the biggest influence on your work?
AB: charles and ray eames have been my biggest inspiration. they moved across many disciplines – while keeping to their strong design principles. they embraced new materials and processes and worked to master the associated constraints.
the materials I use may not be new… aluminum, neon, steel tubing, nylon etc. but they are new to me! I often feel naïve when I'm exploring new materials and processes, which is a good thing as it forces me to spend time to understand their properties, limitations etc.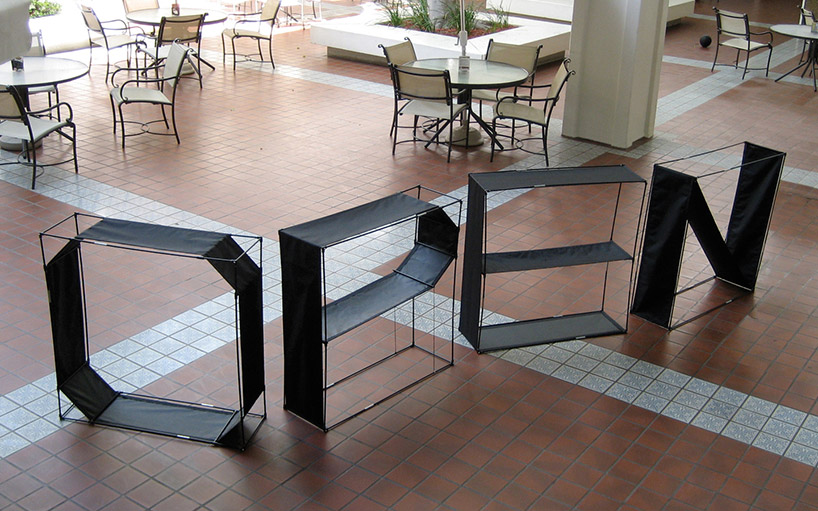 byrom TSS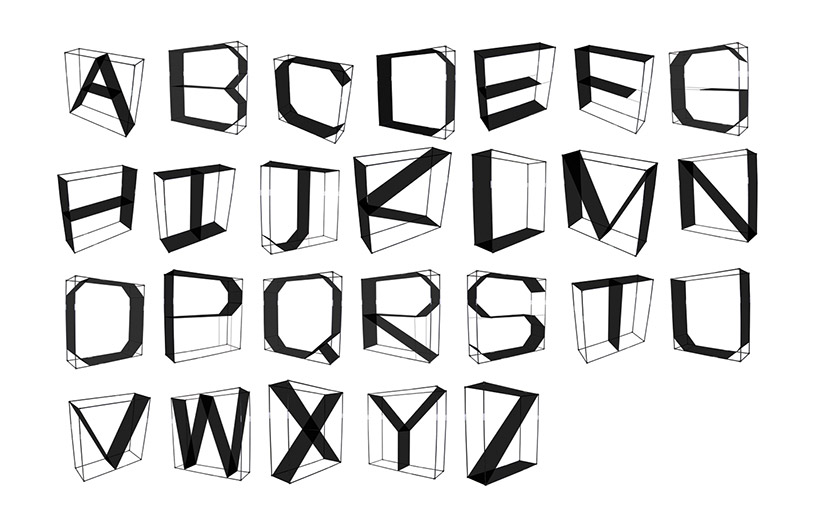 DB: how important is it for a graphic designer to be able to draw?
AB: I think its useful, but perhaps not necessary for all designers. in my own work drawing is very important in the development process. usually its either drawings for myself , to prove that my ideas will work or rough sketches to show collaborators what's in my mind. I'm a big believer in prototyping and so being able to draw streamlines this process immensely.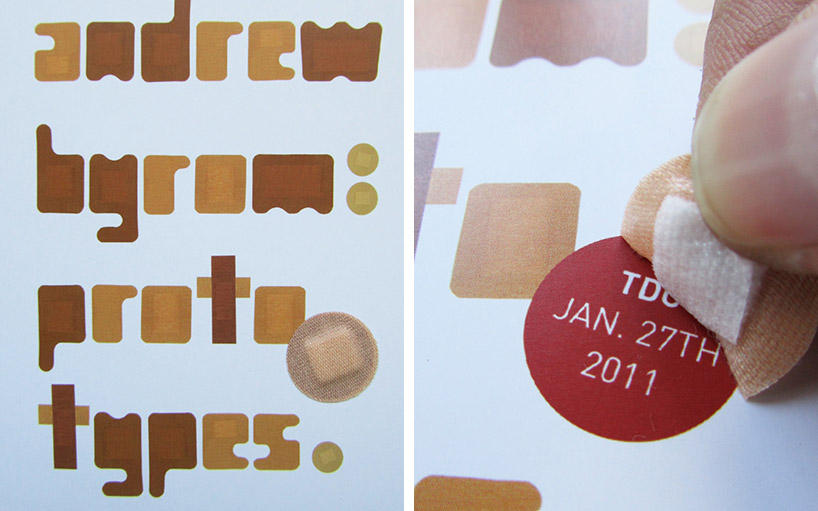 exhibition poster
DB: how do you think online design resources have influenced the work being produced today?
AB: blogs and other online forums have opened up design in an important and significant way. they allow for a good design to be seen and celebrated, regardless of who it was designed by. before the internet designers relied on a handful of book editors to select or 'approve' their work for publication. for the most part, good work now has a much better chance of resonating and breaking though to a large audience.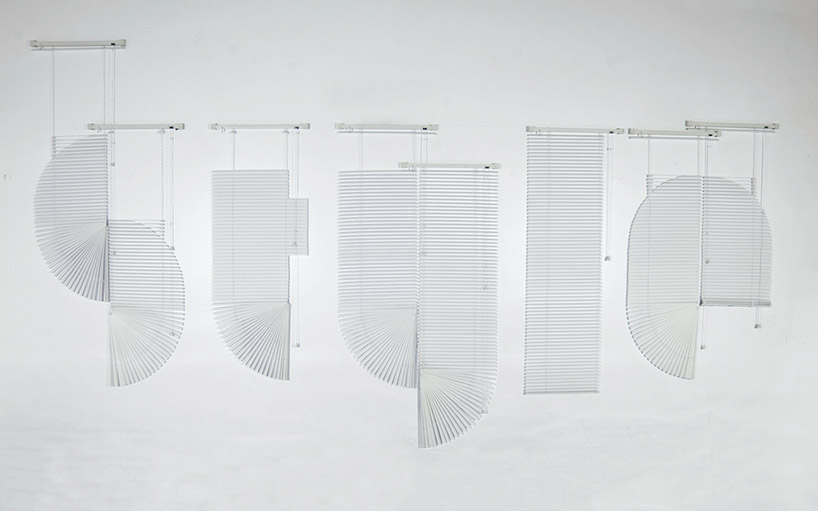 venetian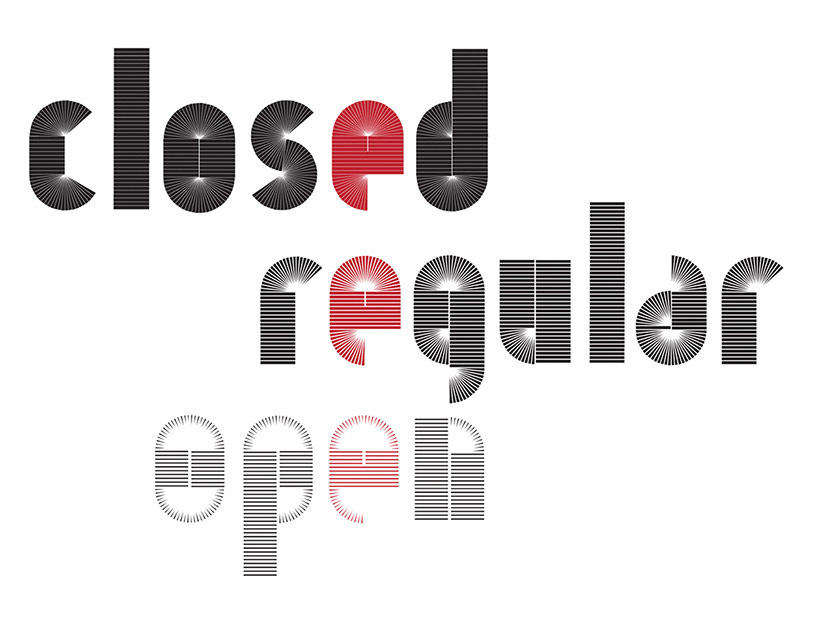 DB: besides design, what are you passionate about and why?
AB: It's hard to say because I'm passionate about a lot of things, but I usually manage to relate them all back to design. for me, my work and my life are one and the same. I like jazz and see a connection to how music is constructed and how I approach design problems. I see parallels in jazz to design elements like legibility, heirachy, contrast, clarity, confusion etc.  when I'm working I listen to artists that are more challenging like alice coltrane, pharaoh sanders and yusef lateef. when I have company I listen to things like chet baker or duke ellington.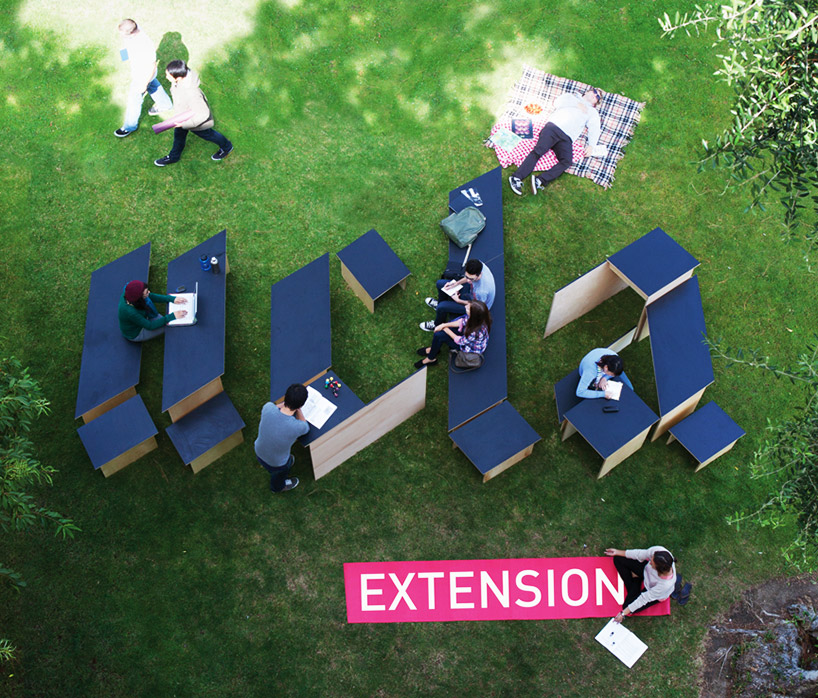 UCLA extension book cover
DB: do you have any superstitious beliefs?
AB: not at all. I have no lucky charms or rituals. I believe that real hard work pays off and that it comes back to you in the end. its important to acknowledge when things go well, after you get a big project, or your work wins an award etc. and to remind yourself of the effort that went into making that happen.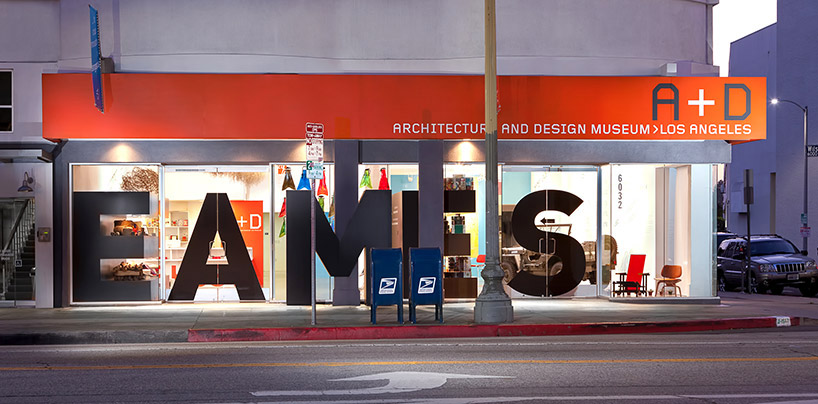 eames words: pacific standard time exhibition with deborah sussman, todd erlandson and lara hoad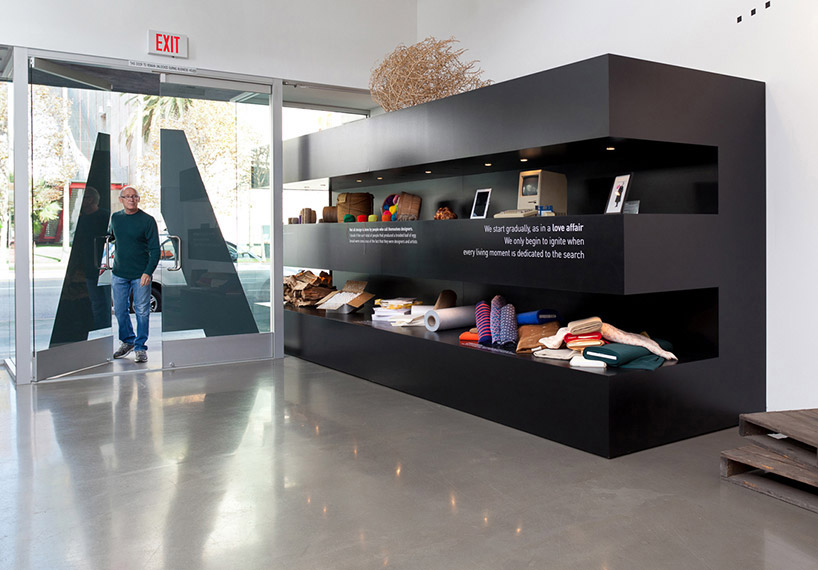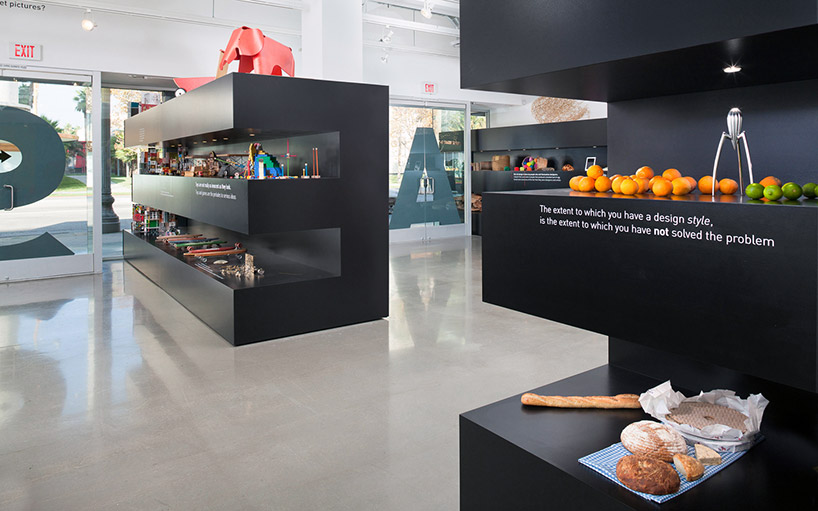 DB: what is the best piece of advice you have ever been given?
AB: 'start over.'
DB: what is the worst piece of advice you have ever been given?
AB: 'design should be fun.' to me the design process is hell. my work comes out over many weeks of painful experimentation and thought. I get satisfaction when things work and are finished, not usually during the process. it's perhaps the same as running a marathon; a great feeling to cross the finish line, but only after a period of torture. 'fun' is not a suitable description.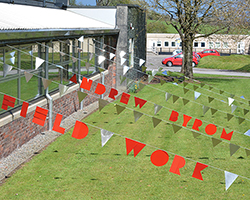 jun 25, 2016
jun 25, 2016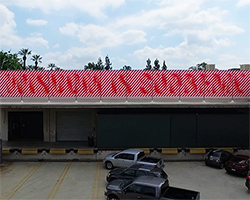 jun 05, 2016
jun 05, 2016
jul 29, 2011
jul 29, 2011
jul 08, 2010
jul 08, 2010
jul 07, 2010
jul 07, 2010
nov 25, 2009
nov 25, 2009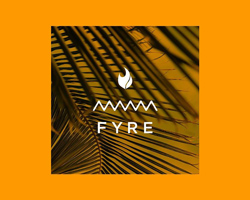 feb 10, 2019
feb 10, 2019
jun 21, 2018
jun 21, 2018
may 17, 2018
may 17, 2018
a diverse digital database that acts as a valuable guide in gaining insight and information about a product directly from the manufacturer, and serves as a rich reference point in developing a project or scheme.