arik levyportrait © designboom
—
designboom met arik levy at the baccarat manufacturing plant on february 19th, 2013 in lorraine, france.
—
what is the best moment of the day?waking up because I realize the machine works. I'm alive. all the uncontrolled muscles are working.
what kind of music do you listen to at the moment?instrumental indian.
do you listen to the radio?I never get the time to listen to the radio because it's something you have to be attached to in a way–but, in the car I listen to classical.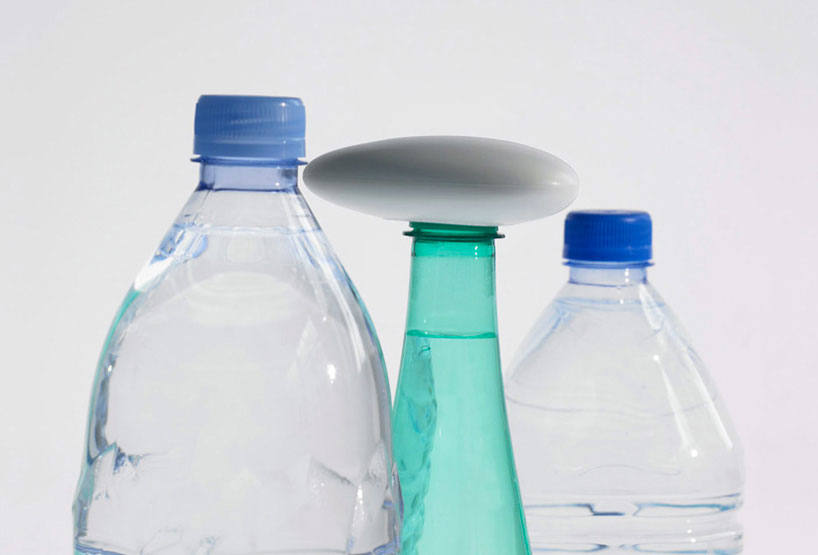 'water=life' pebble bottle opener for guzzini, 2011see designboom's full coverage of this project here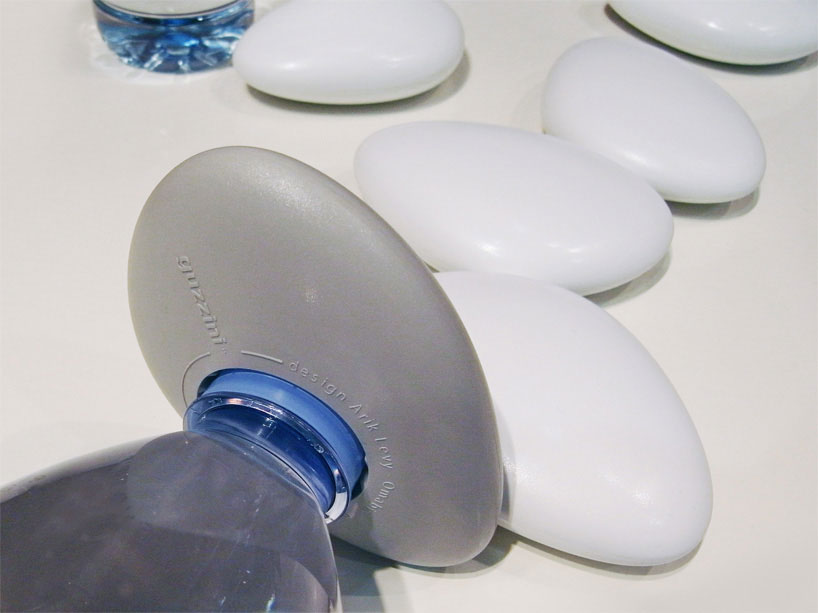 the pebble fits securely around bottle caps for easy openingimage © designboom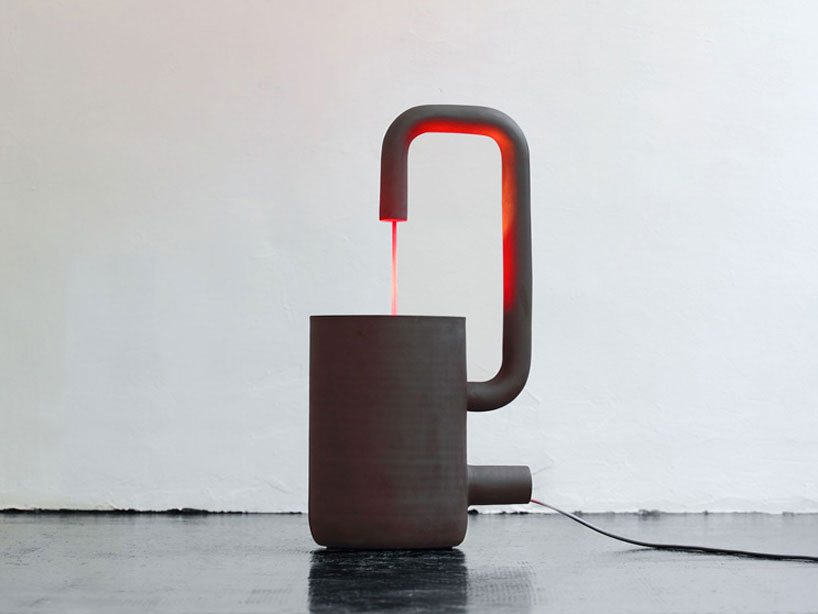 'fontana' of the 'well of life' series by arik levyphoto by ian scigliuzzisee designboom's full coverage of this project here
what books do you have on your bedside table?I just finished a book called 'the dinner' by dutch author herman koch.it's centered around a dinner between two families who are connected by one terrible act. it's very intense. I was reading it to try and understand dutch people better because they have a very different way of thinking and I thought it would give me some insight into this.the new book I am reading is a thriller by harlan coben which puts me to sleep very fast.
do you read design / architecture / fashion magazines?I try not to, but if I do, I go through them for the visuals.I only read when I know the person, or when I'm interested in a certain kind of work.
where do you get news from?from the radio I don't listen to! (laughing)news is a tricky thing because if you receive too much news you are invaded.I'm a visual person. I'm dyslexic so I can't really read.it's not that I don't want to read, I love reading, but when you read a book in two or three weeks, I read the same book in six months – so reading is another voyage for me. news is the same thing.we are inundated by a visual minestrone of things all the time, and sometimes it's disturbing. so, I try not to get news not from the industry I'm working in, but from the environment of which the industry is connected to: technology, microbiology, science etc.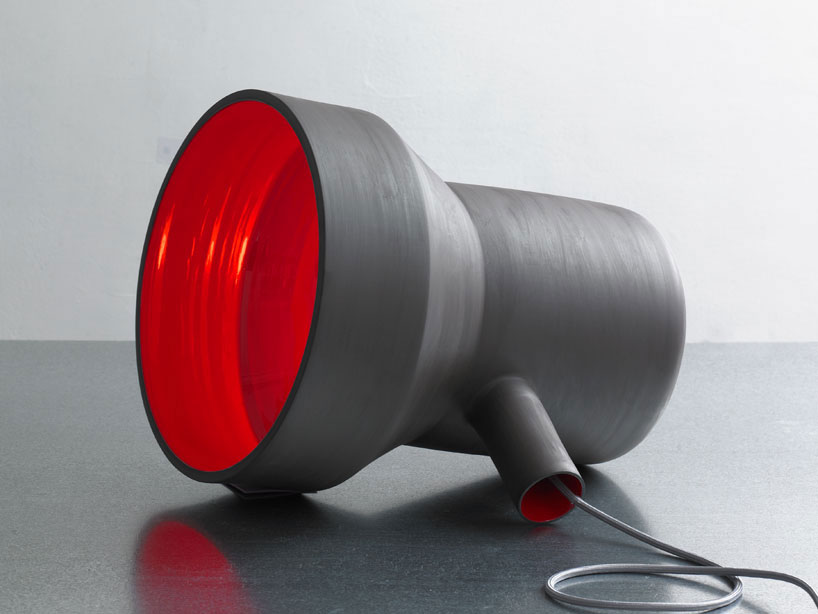 'well of light' by arik levy photo by ian scigliuzzisee designboom's full coverage of this project here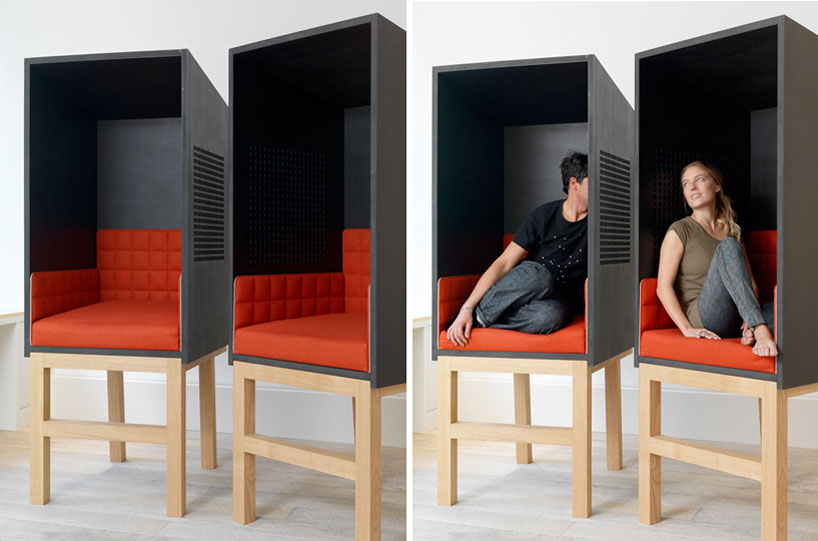 'contemporary domestic confessional', 2009see designboom's full coverage of this project here
I assume you notice how women dress.do you have any preferences?I prefer them undressed (laughing). but really it depends on the day – everyday is its own perversion. I'm more animal than intellectual so I sense when a person feels comfortable,and that is the right way for them to dress. some people dress-up and they are not themselves and that is very troubling for me because I prefer the rawness of one feels. I don't care if it's a t-shirt or if it's a suit, as long as the person is 'there'.
what kind of clothes do you avoid wearing? I don't wear ties and I don't wear wool.
do you have any pets?I've never had my own pets.my girlfriend had a cat, and we gave him away a week ago. it was a beautiful cat, but you know it had four left legs and it was whining at the wrong times, and missing the litterbox when he went to the bathroom.I have three kids. I don't have time for these logistics.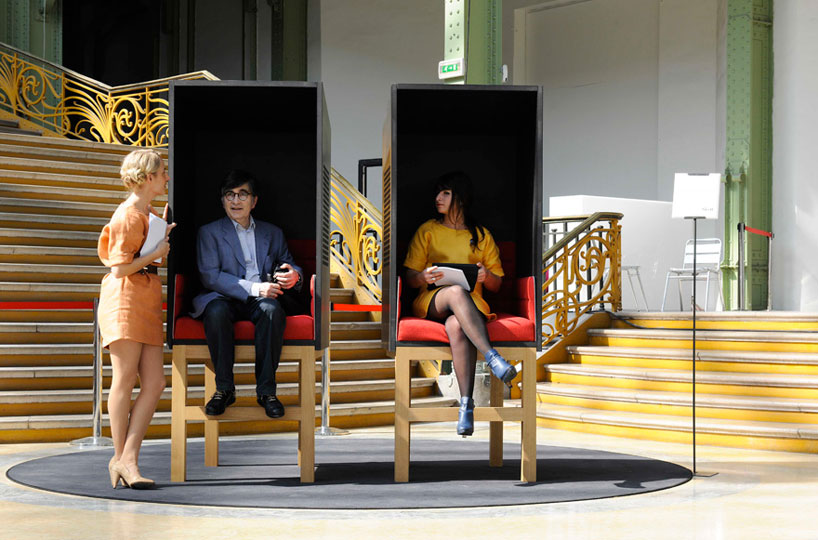 'contemporary domestic confessional', 2009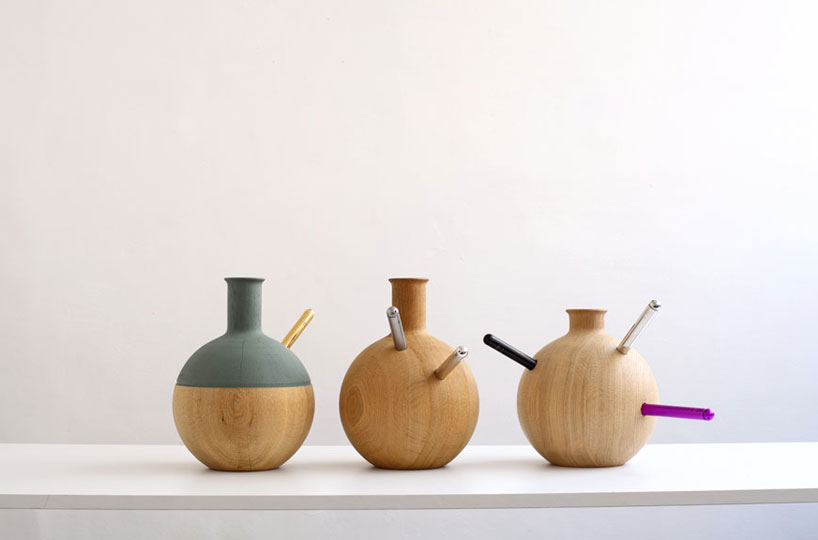 poweredbyjimmyjane 2, 2012oakwood and painted oakwood bottle and anodized aluminium vibrator / ∅21 x H23 cmphoto by ian scigliuzzi
when you were a child, did you want to become a designer?no.like every normal boy I wanted to be an astronaut first (laughing) but, it was a little less accessible.I was interested in making things, since a very young age and that creativity developed.art was my initial interest and design is part of the passion. together they are complimentary and they give each other's field added value.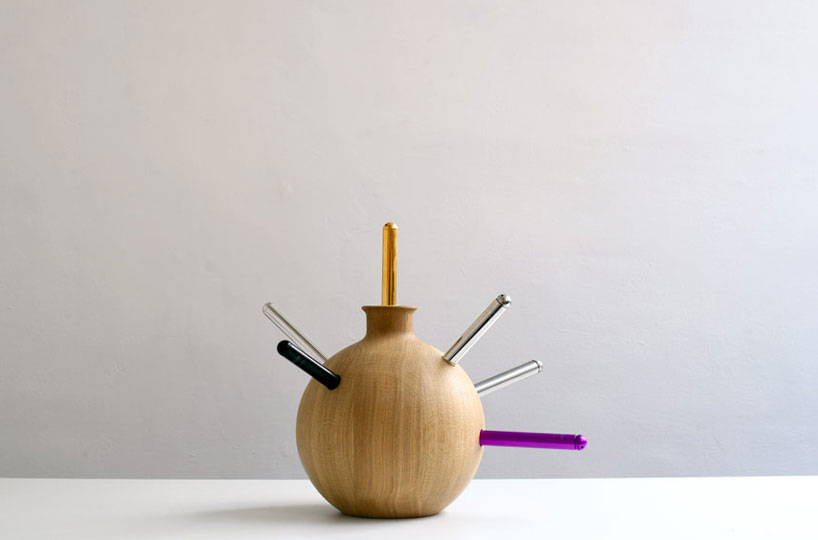 poweredbyjimmyjane 2, 2012oakwood and painted oakwood bottle and anodized aluminium vibrator / ∅21 x H23 cmphoto by ian scigliuzzi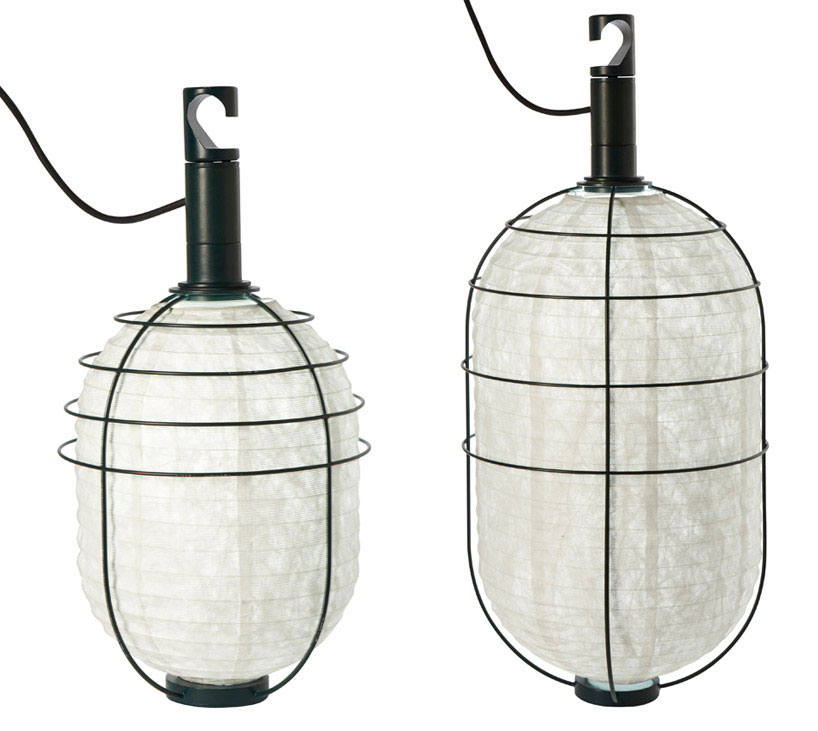 'in & out' for forestier see designboom's full coverage of this project here
where do you work on your designs and projects?everywhere.in the studio I have the least time possible to work on new things because I'm busy doing everything else which is on going. in the studio I'm maybe doing 10% design and 90% managing. you have people, you have logistics, you have economics, you have bureaucracy. it's huge. you have to generate and manage all this, but the 10% design I do is very distilled and concentrated.I work on it anywhere I am– airports or airlines, the taxi, sleeping. I have notepads everywhere so I am ready whenever an idea pops into mind.
do you discuss your work with other designers?yes, but not intensively outside of the studio though.it depends on what it is.the art no. the art I will tell my friends about – artists or not –but I will not discuss it because it's very personal. design has a lot of different issues, and I'm open for improvements.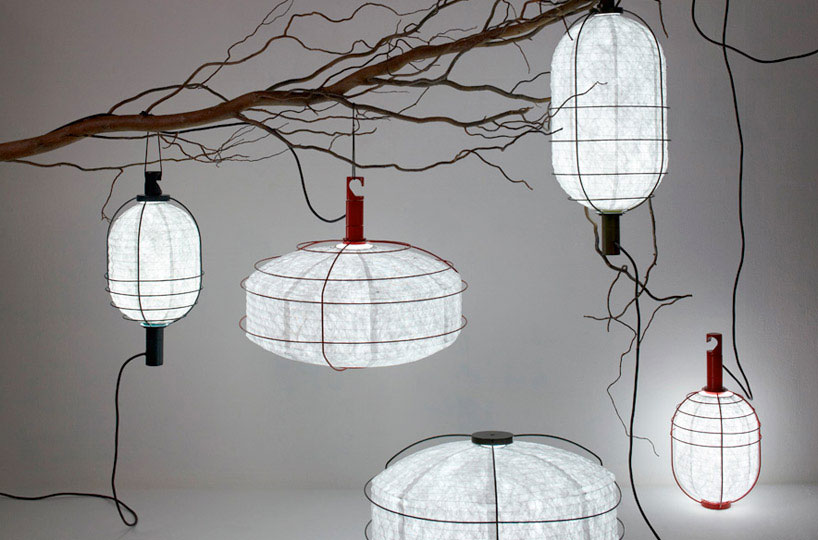 'in & out' for forestier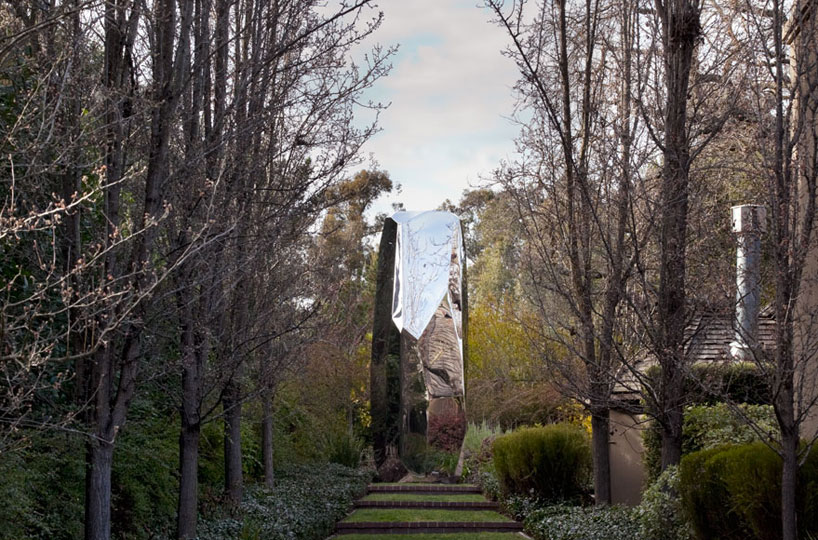 'rockevolution', 2012mirror-polished stainless steellarge rock: L140 x W139 x H448 cmprivate collection, USAphoto by richard barnes
describe your style, like a good friend of yours would describe it.maybe I should take the camera and ask you the question and you can describe it! (laughing)I think I'm too young to look back and say I have a style. I'm doing what I do, with dedicated effort. I'm a very bad stylist so I can't really define my style.if someone was to describe it in one word it would probably be techno-poetic.
please describe an evolution in your work, from your first projects to the present day.I think the evolution is mostly in me, and not necessarily in the work.I think from a passion point of view, the work was done equally in the past as it is done today.obviously so many years have passed, and I have gained so much knowledge, so I can create something today –with different abilities and with more tools – that has a better performance on many different levels than I did 20 years ago when I did not know enough about economics, logistics or about strategy or branding, and other aspects. today, I design and create with the same passion as when I started, just with more ingredients.
what project has given you the most satisfaction?every birth is satisfactory and every failure is an instruction.I think I learn the most from what I did wrong. if everything just goes well, you don't get to learn– it's just another thing you did well. I'm learning from my own mistakes and having self-criticism is the hardest, but the best tool for progress.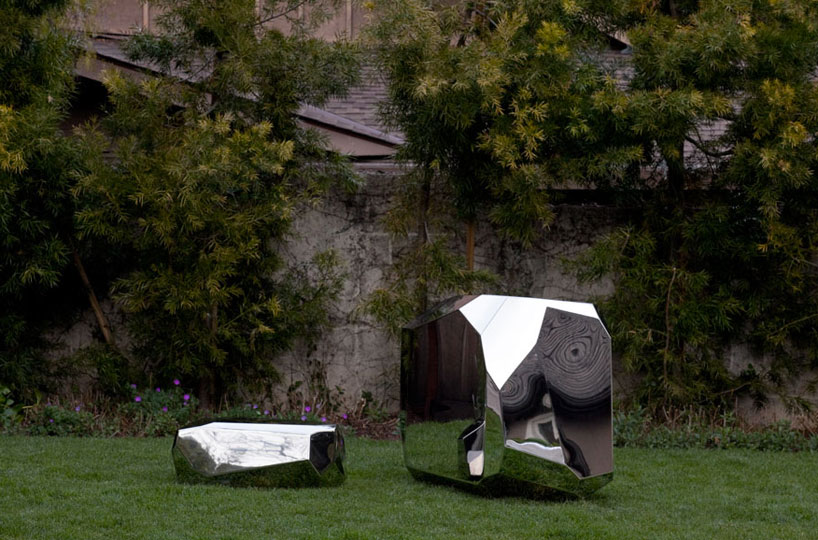 'rockevolution', 2012mirror-polished stainless steelsmall rock: L84 x W58 x H35 cm;medium rock: L142 x W105 x H79cmprivate collection, USAphoto by richard barnes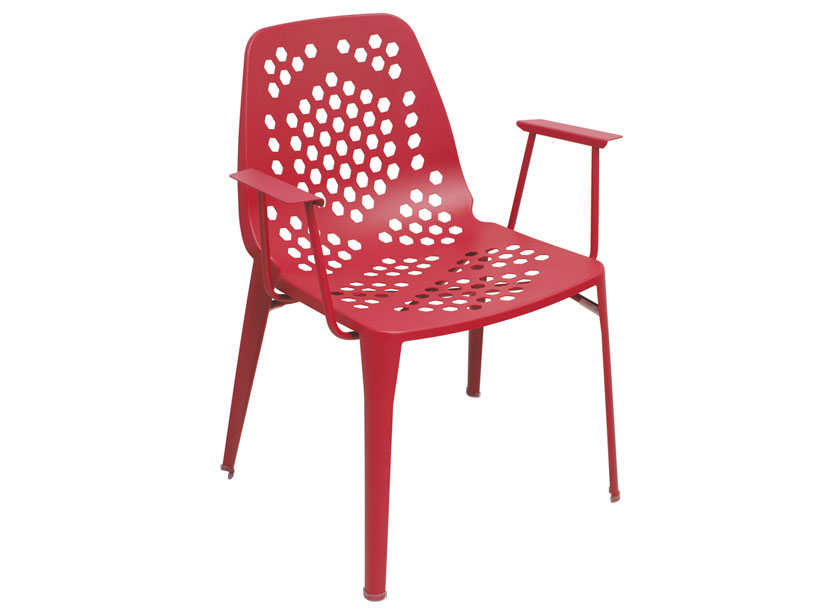 'pattern' chair for emu, 2011see designboom's full coverage of this project here
is there something you would like to design which you have not done yet?I would like to invent a new screw. screws are amazing. if you imagine taking all the screws away from where they are today, the world would fall apart. when they came out with a screw that also drills (self-drilling screw) it was a revolution. you don't have to drill first and then screw which is huge. you've got one machine, you do it twice as fast. it's fantastic. so if I can I want to develop a new idea for a screw, and change the way we put things together.that interests me.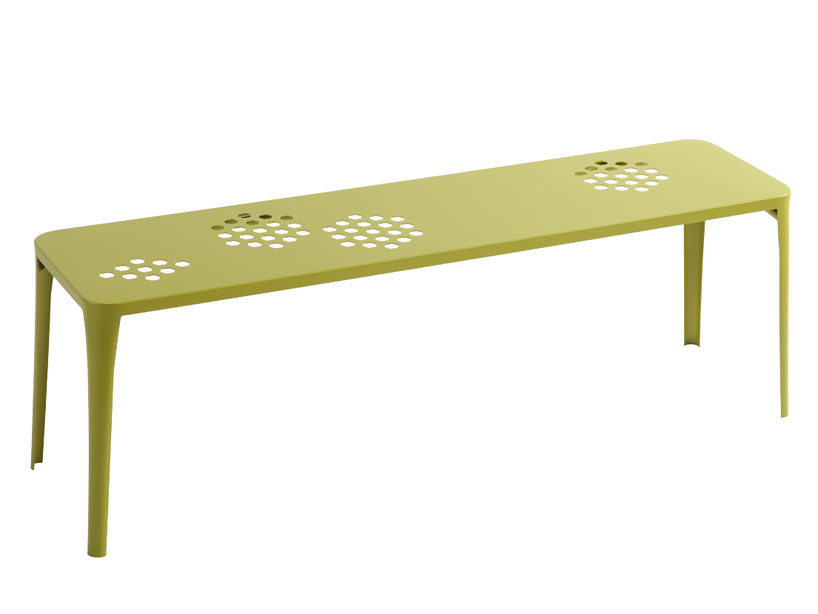 'pattern' table for emu is made from pressed and molded sheet metal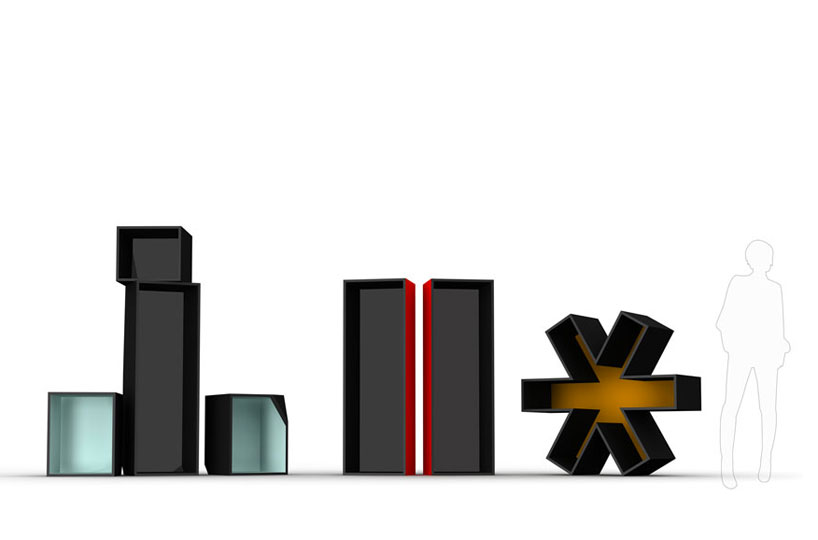 dick, pussy & ass, 2009
is there any designer and/or artist from the past, you appreciate a lot?all of them. thanks to them, I'm working on this rather easy asphalt road, trying to drive my own car my own way, and I'm part of the paving, like the other designers in my age group – laying the foundation for the others. I don't have one guru that has changed my way of thinking. I can name hundreds and each one has been great. victor papenk, carlo scarpa, achille castiglioni… and then there are people that nobody knows about, but who did a great deal of explaining to non-designers about what design is, telling our clientele, our partners, the factories, the manufacturers, the entrepreneurs… what we are doing. I think all of them in the past, and all of them in the future are doing important work.
and of contemporary ones? in my studies, I had so many different professors and each one has given me something that I did not have before – like an ingredient I'm working out. before, I was an autodidact. I taught myself and designed and created from necessity. I think the person who most influenced me was my grandfather. he was an industrialist and had a consumer electronic shop when a radio looked about that big (gestures size with his hands). he explained to me so many things that I still use today.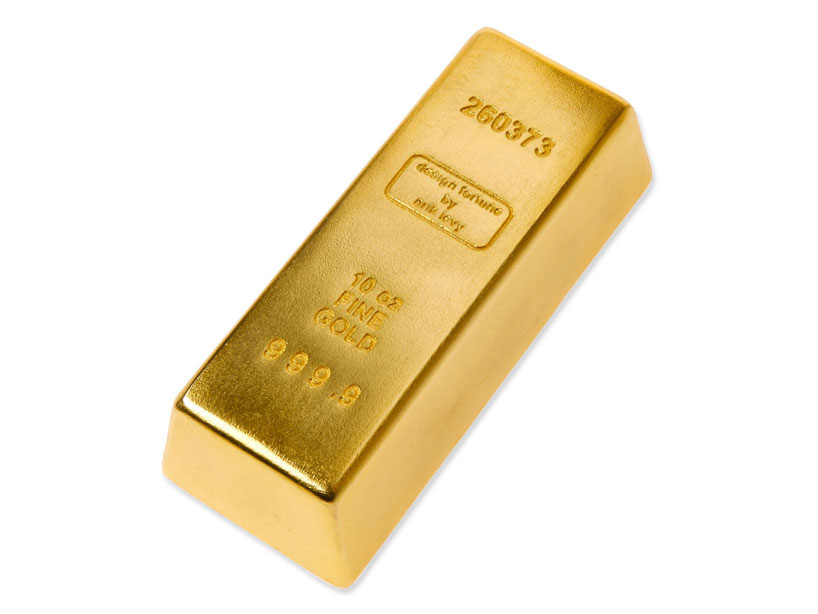 'gold' doorstop for eno, 2009see designboom's full coverage of this project here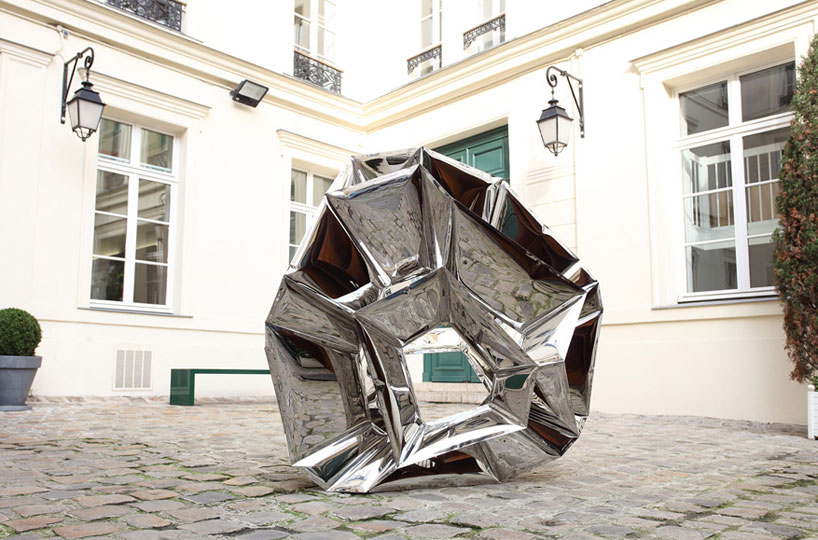 craterair, 2012mirror-polished stainless steel pockets formed by air injection, FiDU technology (inner pressure forming)L203 x W110 x H188 cmphoto by ian scigliuzzi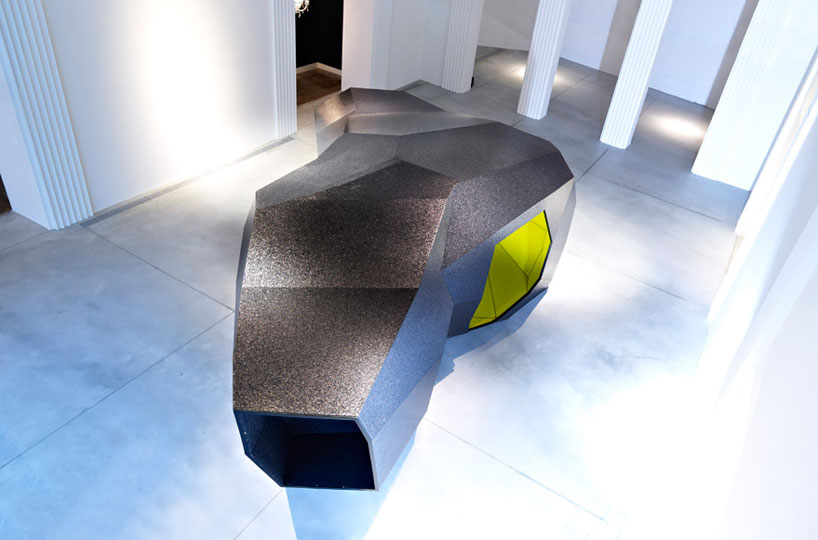 'rockchamber', 2012fondazione bisazza mosaic tiles surfaceL827 x W505 x H260 cmpermanent collection at fondazione bisazza, italyphoto by lorenzo cerettasee designboom's full coverage of this project here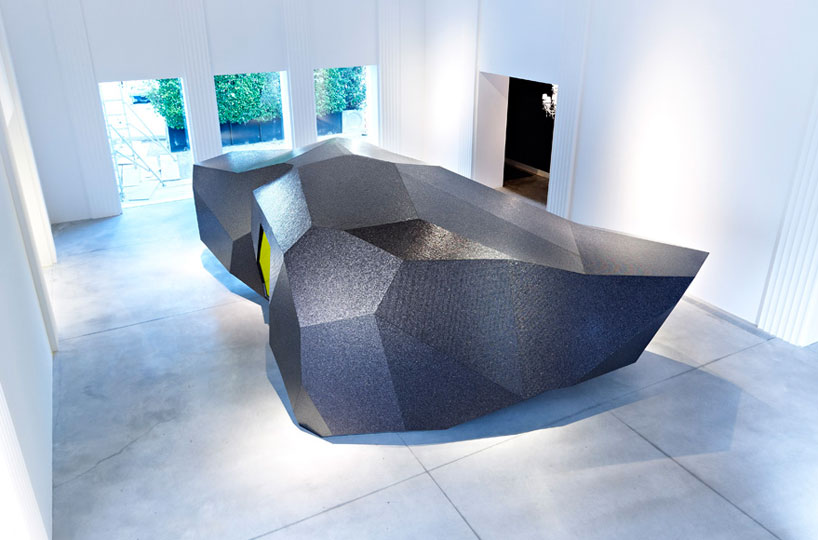 'rockchamber', 2012fondazione bisazza mosaic tiles surfaceL827 x W505 x H260 cmpermanent collection at fondazione bisazza, italyphoto by lorenzo ceretta
designboom asks arik levy: 'what advice would you give to the young?'video © designboom
what advice would you give to the young?the world is about people. it's not about objects, and it's not about buildings, and it's not about milan and it's not about parties and it's not about openings, it's not about articles… it's about people, and what we do for people. and what we should try and do or make to improve everyday life. 1%, 100%, whatever, but even 0.1% is an improvement. and, self-criticism is the best tool one can have. garbage can is number two. so, put in the garbage what's not good, if one can. don't fall in love with your work, and design is not a golden egg. it's a lot of work, a lot of effort, physically, mentally and emotionally. other than that if you don't have all these three, don't be a designer.
what are you afraid of regarding the future?what I fear of is whether I will manage in time to deal with everything I need to deal with before I go. I don't control the moment I go, or I will go. it could be now, like now! or it could be in 25 or 40 years from now. maybe I have an overdeveloped sense of responsibility versus my kids, my family, my environment. it's mostly personal and emotional, it's not professional or financial.it influences my work because I try to make products that improve everyday life.it's not the next chair in milan. it might be more comfortable, it's better, but it's another chair and it doesn't improve our lives.I work in different fields, and I try to give attention to those things are not necessarily the most obvious, because this is where I think the intention should go. and then I try to look back to see what I did, what had become of it and what should become of it.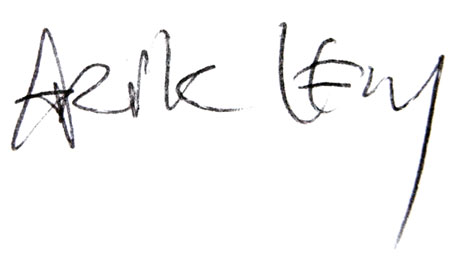 —
arik levy (1963) was born in tel aviv, and currently lives and works in paris.he studied industrial design at the art center college of design in switzerland graduating with distinction in 1991,and moved to japan where he began his creative career.an artist, technician, photographer, designer and filmmaker, levy's skills are multi-disciplinary, as seen through the wide-range of works he has exhibited internationally at institutions such as the natural history museum, london; 21_21 design sight gallery, tokyo; istanbul modern, istanbul; centre georges pompidou, paris; and the MoMA, new york, to name a few.he is best-known for his signature rock sculptures, as well as his furniture and lighting designs, and has developed hi-tech clothing lines and accessories for firms in the far east.since 1997, he has been running Ldesign studio with co-founder pippo lionni.
KEEP UP WITH OUR DAILY AND WEEKLY NEWSLETTERS
a diverse digital database that acts as a valuable guide in gaining insight and information about a product directly from the manufacturer, and serves as a rich reference point in developing a project or scheme.
designboom will always be there for you
milan, new york, beijing, tokyo

,
since 1999