three new york-based creatives have come together to offer artistic interpretations of 'tsumiki' — a set of triangular, wooden building blocks designed by architect kengo kuma. the idea for 'tsumiki' was first conceived over a year ago, when kuma collaborated with celebrated composer ryuichi sakamoto and his forest conservation organization more trees. during tokyo design week 2015, kuma used this concept to create a temporary pavilion in tokyo's midtown park in an effort to engage the public in the organization's determination to restore a positive relationship between forests and modern japan.
more than a year later, 'tsumiki' celebrates its US launch by hosting an exhibition of small-scale interpretations by new-york based artists aranda \ lasch, sonia rentsch, and nanse kawashima. as part of the show, kuma is also presenting his own special art installation using the 'tsumiki' triangles. 

aranda \ lasch: study of shingling, 2017
all images by paul barbera
commissioned by creative communications agency melting butter studios, and curated by creative director jenny nguyen, '#artformoretrees' comprises a series of site-specific installations that incorporate the stackable and configurable 'tsumiki' triangles. the exhibition engages visitors in more trees' vision to promote forest restoration in japan and abroad, and recover and diversify the functions of forests.

making final configurations to 'study of shingling'
aranda \ lasch has envisioned 'study of shingling', which explores the possibilies of simply stacking 'tsumiki' to create a construction that appears like a cascading wall or roof. 'the improvisation involves offsets and stacking, or lapping, to create stability without the use of adhesives or nails.'

side view of 'study of shingling'
kuma is presenting 'cedar cone', a luminaire that takes the shape of a pine cone. 'people invented tsumiki (building blocks) from an inspiration of masonry (architecture built with stone stacking). however, i do not need to imitate the method of masonry, because this tsumiki is made from wood. it should rather be separated from an idea of masonry, and collect hints from tree branches. this is how i came up with the tsumiki design. there are many more hints hidden within a tree. pine cones were my play toy during my childhood, and this nostalgic form made me think of an idea of a cedar cone.'

kengo kuma: cedar cone, 2017
collage artist nanse kawashima turned a 2-dimensional paper universe into a 3-dimensional desert landscape using 'tsumiki'. the stackable triangles have been configured to form an architectrual tableau of small scenes and vignettes, including an abandoned tower where 'a once progressive civilization existed is now being mourned and explored by beings from various places and time.'

kengo kuma's luminaire takes the shape of a pine cone
still life artist sonia rentsch created an abstract interpretation of a bonsai for 'the language of trees'. 'in the understanding that 'more trees' uses primarily thinned, discarded woods I like to imagine that the building blocks of my bonsai are pieces of larger trees still in existence. like humans who lose limbs, I ponder that the trees may still feel these pieces even in absentia – thus my small tree is itself a living forest. I ask the audience in viewing my tree to contemplate the forests that have stood between earth and sky for generations past and will so, for generations to come. they alone bare witness to that which came before and that which will come longer after.'

nanse kawashima: the tower in the desert, 2017

kawashima turned a 2-dimensional paper universe into a 3-dimensional desert landscape

'tsumiki' have been configured to form an architectrual tableau of small scenes and vignettes

the installation includes an abandoned tower set in a dystopian reality 

kawashima's collage elements are incorporated into the installation 

sonia rentsch: the language of trees, 2017

rentsch created an abstract interpretation of a bonsai using 'tsumiki'

the triangular pieces have been configured to create a tree-like shape
jun 22, 2017
jun 22, 2017
mar 04, 2017
mar 04, 2017
dec 01, 2015
dec 01, 2015
nov 30, 2015
nov 30, 2015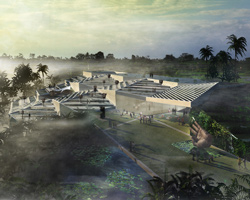 oct 01, 2015
oct 01, 2015
sep 05, 2010
sep 05, 2010
oct 18, 2017
oct 18, 2017
oct 09, 2017
oct 09, 2017
oct 06, 2017
oct 06, 2017
aug 20, 2017
aug 20, 2017
aug 01, 2017
aug 01, 2017
jul 25, 2017
jul 25, 2017