aug 20, 2015
arts & foods: rituals since 1851 at la triennale di milano
arts & foods: rituals since 1851 at la triennale di milano
image © designboom
arts & foods: rituals since 1851
la triennale, milan
on now until november 1st, 2015
since its beginning in 1851, the universal exposition (also known as the expo for short) has had a strong focus on promoting the arts, alongside highlighting the general culture, industrial production and manufacturing of goods in countries across the globe. as host of the 2015 world expo, milan has devoted la triennale di milano to 'arts & foods: rituals since 1851' — an exhibition that brings attention to the theme of the event: 'feeding the planet, energy for life'; creating an area for art in the center of the city, outside of the official expo venue. curated by germano celant, the exposition investigates the relationship between the arts and different food-related rituals around the world, offering: an historical view of the aesthetic and functional influences eating has had on the language of creativity; while exploring the way in which art in all its forms has dealt with themes of nourishment.

urs fischer, bread house, 2004-2006
image © designboom
the roughly 7000 square meter exhibition presents a wide variety of objects and settings that revolve around feasting from 1851 to the present day. offering a panoramic view of the way aesthetics and design are intertwined with the ritual of eating, 'arts & foods' is not only made up of artworks, but also includes installations and aural, olfactory and cinematic experiences that offer visitors an overview of the diverse forms of creativity that have been developed across cultures as a result. 

fischer has created a dwelling using bread as its main structural property
image © designboom
from a perspective that is both chronological and thematic, the exhibition tackles a number of culinary topics, including food preparation, distribution and its consumption, both in private and public spheres. these subjects are expressed through the reconstruction of more than 15 different settings and rooms that are connected with cooking and the enjoyment of food and its associated environments (dining room, kitchen, at a bar, during a picnic etc.). they are further illustrated through advertising posters, album covers, clothes, documents, electric appliances, film clips, furniture, objects, menus, photographs, publications on gastronomical subjects, sculptures, toys and TV programs.

'arts & foods' touches on the rituals of food illustrated through installations, photographs, sculptures
image © designboom
over 2000 works on loan from museums, public and private foundations, collectors and artists from all over the world round out 'arts & foods'. collectively, they highlight some of the changes that have taken place in relation to the rituals of food touching on the areas of 'eating on the move' — looking at the birth of the roadside dinner, to airline catering to how astronauts eat in space; how food has influenced architecture through the development of buildings and smaller-scale structures dedicated its production and service; as well as the expression of food through fashion and pop culture.

jana sterbak, chair apollinaire, 1996-2010
image © designboom
'arts & foods' proposes a journey in time that develops the theme of expo milano 2015 in which visitors are able to immerse themselves physically in a narration that does not isolate the work of art in a neutral setting, but anchors it in its historical, sociological and anthropological context in a highly evocative and gripping way.

sterbak uses real food to create her seating, using flank steak and black button thread to cover a resin structure
image © designboom

general exhibition of 'arts & foods' which looks at the special bond between the visual arts and food
image © designboom

mario merz, igloo del pane, 1989
image © designboom

dennis oppenheim, sleeping dogs, 1997
image © designboom

one of the topics explored in the exhibition is the notion of 'eating on the go'
image © designboom

pleats please sushi
art direction/design/productive design: pleats please issey miyake, 2014
image © designboom
pleats please bakery
art direction: taku satoh
design: shingo noma
productive design: pleats please issey miyake, 2012
image © designboom

each pleats please pastry or sushi unravels to become a clothing item
image courtesy issey miyake

frank o. gehry, the get fish, 1985-1986
image © designboom

tom friedman, big big mac, 2013
image © designboom

sandy skoglund, the cocktail party, 1992
image © designboom
andy warhol, cambell's soup i portfolio, 1968
image © designboom
tom sachs, nusty's mcdonald's, 2001
image © designboom
image © designboom

paul mccarthy, daddies tomato ketchup, 2007
image © designboom
nov 12, 2015
nov 12, 2015
oct 19, 2015
oct 19, 2015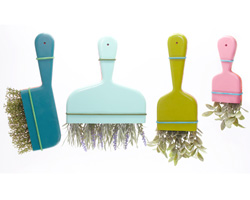 sep 04, 2015
sep 04, 2015
oct 12, 2011
oct 12, 2011
oct 11, 2011
oct 11, 2011
sep 30, 2011
sep 30, 2011