toronto's expo for design, innovation and technology (EDIT 2017) is a 10 day festival produced by design exchange. this year, the living architecture systems group (LAS) collaborated with artists, scientists, designers, and engineers to create astrocyte, an empathetic soundspace that feels and speaks with its viewers. the project, led by philip beesley, is a testament to living architecture systems' research into resilient and adaptable structures. it challenges traditional architecture, embraces digital fabrication, and blurs the lines between two opposing elements: structure and motion.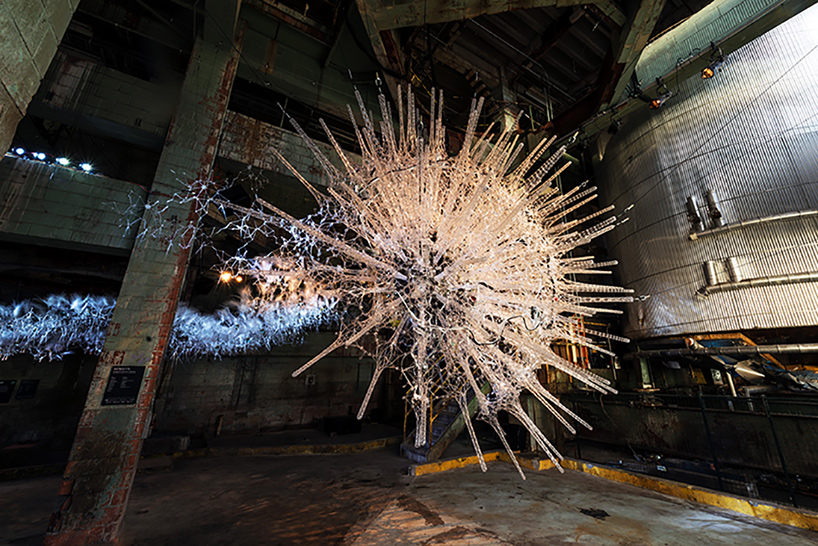 astrocyte is an immersive soundscape
all images courtesy of philip beesley and alex willms / PBAI
the word astrocyte comes from the greek, astro, meaning star, and kytos, meaning cell; they're the most numerous cells of the central nervous system and also the most diverse. appropriately, LAS's installation is comprised of over 300,000 components –– a symphony of therapy-formed acrylic, mylar fronds, electronic sensors, 3D printed lights, inorganic chemicals, and custom glasswork.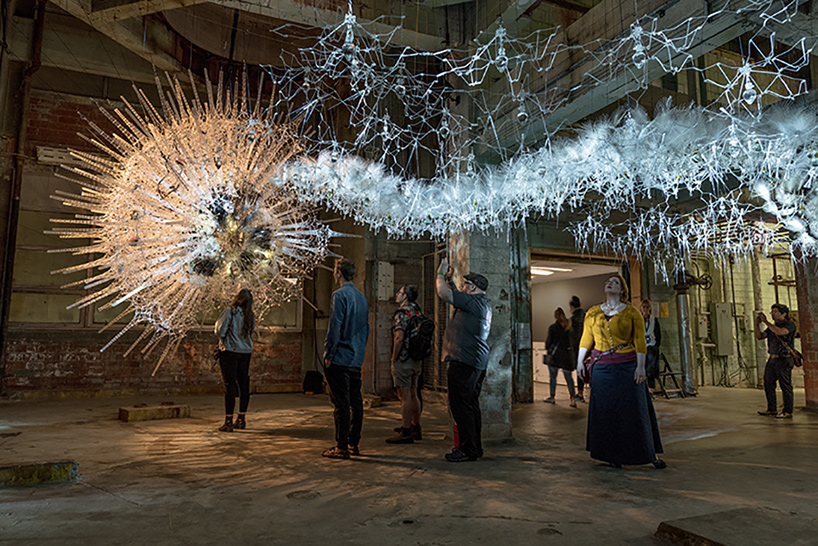 the structure features over 300,000 custom components
these intermeshed astrocytes are resilient, capable of supporting varying forces and shifting motions. together, the piece responds to viewers' movements with patterns of light, vibration and multichannel sound. philip beesley's team created the auditory experience in collaboration with sound artists, 4Dsound.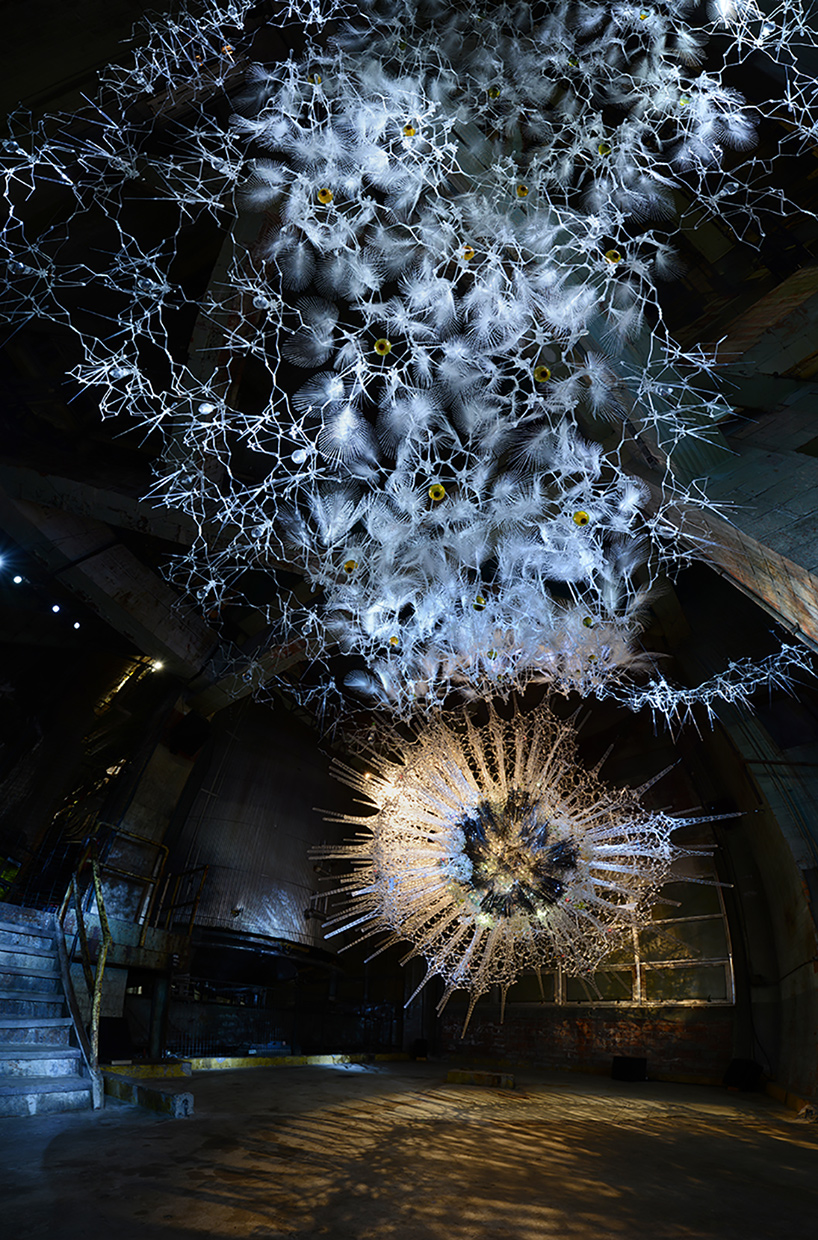 the structure is digitally fabricated
within the glass, artificial chemistry reminds viewers of the sparks of life. with further development, this first iteration experiment, this strangely beautiful combination of oil and chemicals and glass, may lead to new kinds of self-renewing skins for future buildings. EDIT's feature, astrocyte, is a direct product of the experimental, interdisciplinary culture of the university of waterloo. it was made possible by the support of the social sciences and humanities research council of canada and the ontario arts council.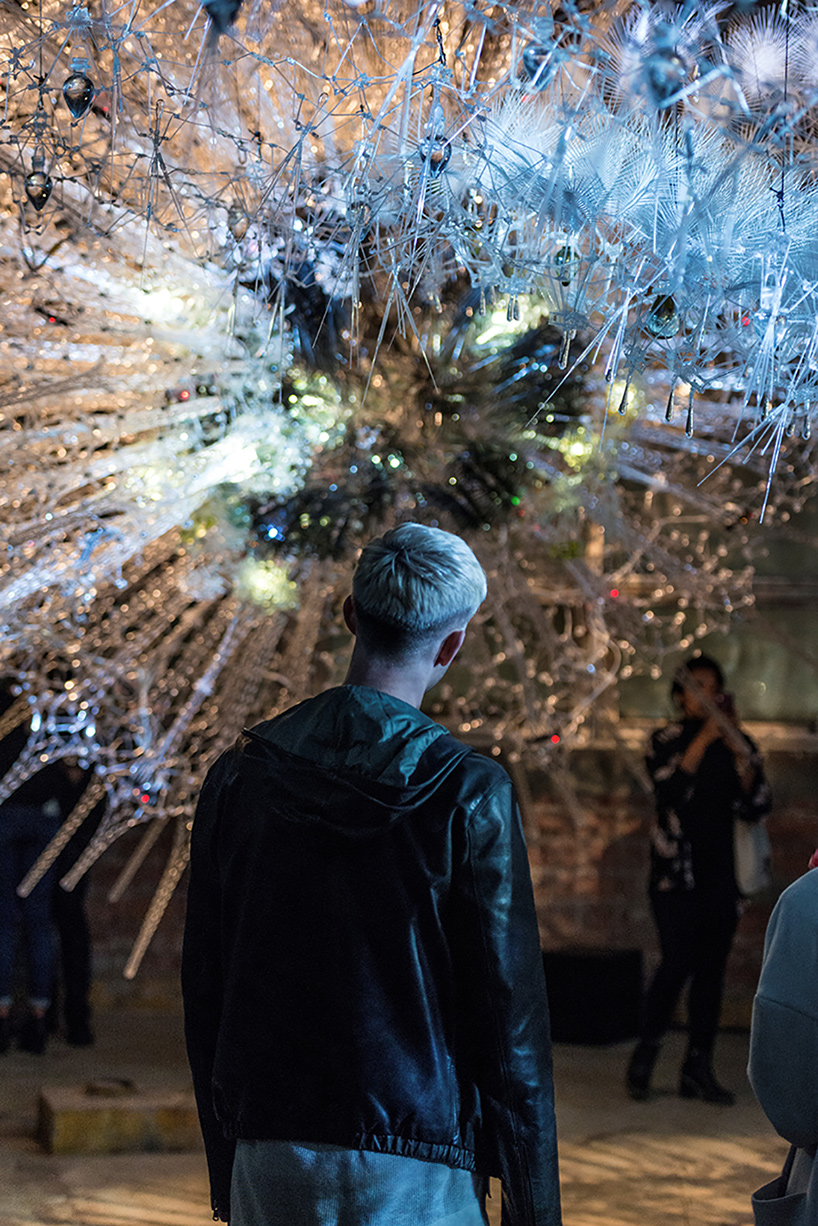 the piece mimics filaments between the inner and outer shells of bone structures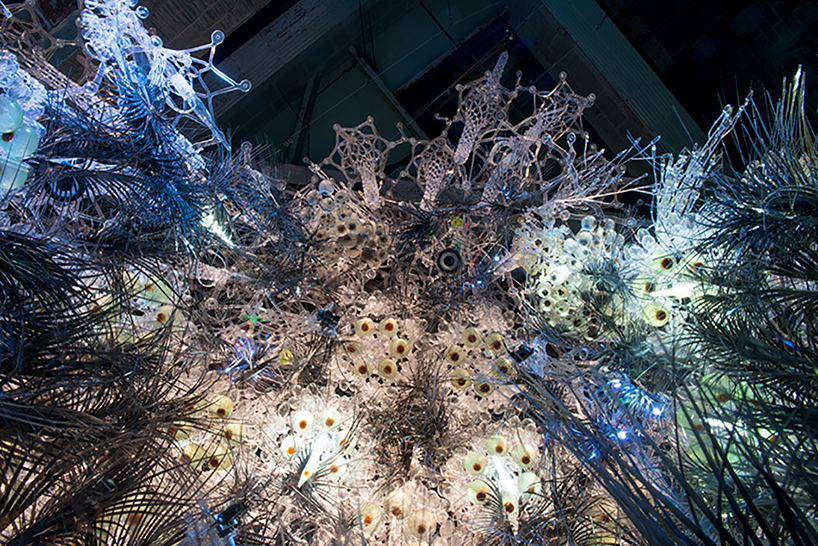 bundles of inorganic chemistry flow between the glass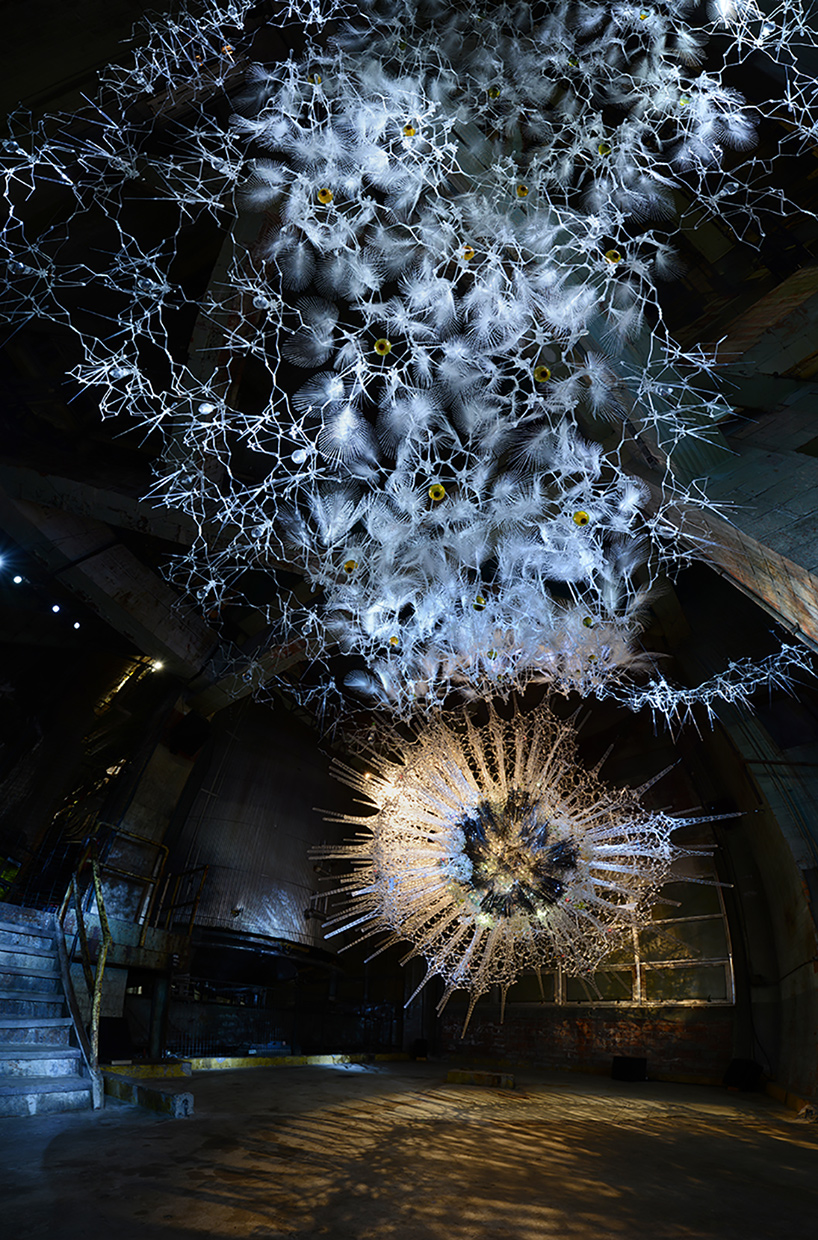 it challenges the rigidity of traditional architecture and adapts to its surroundings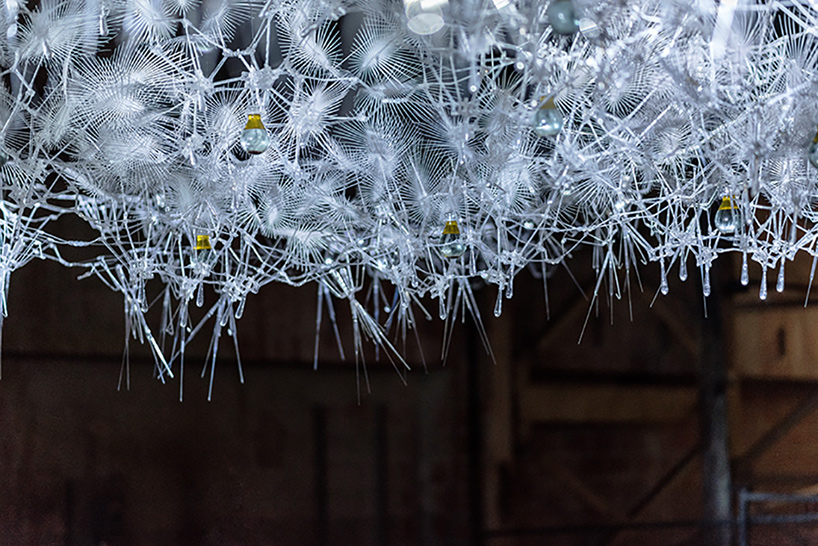 the intermeshed structures create resiliency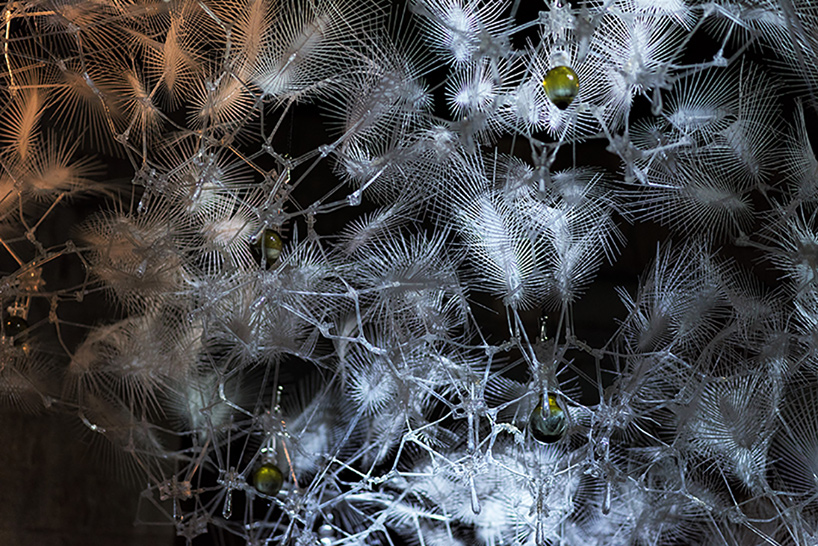 kinetic systems of electronics cover the piece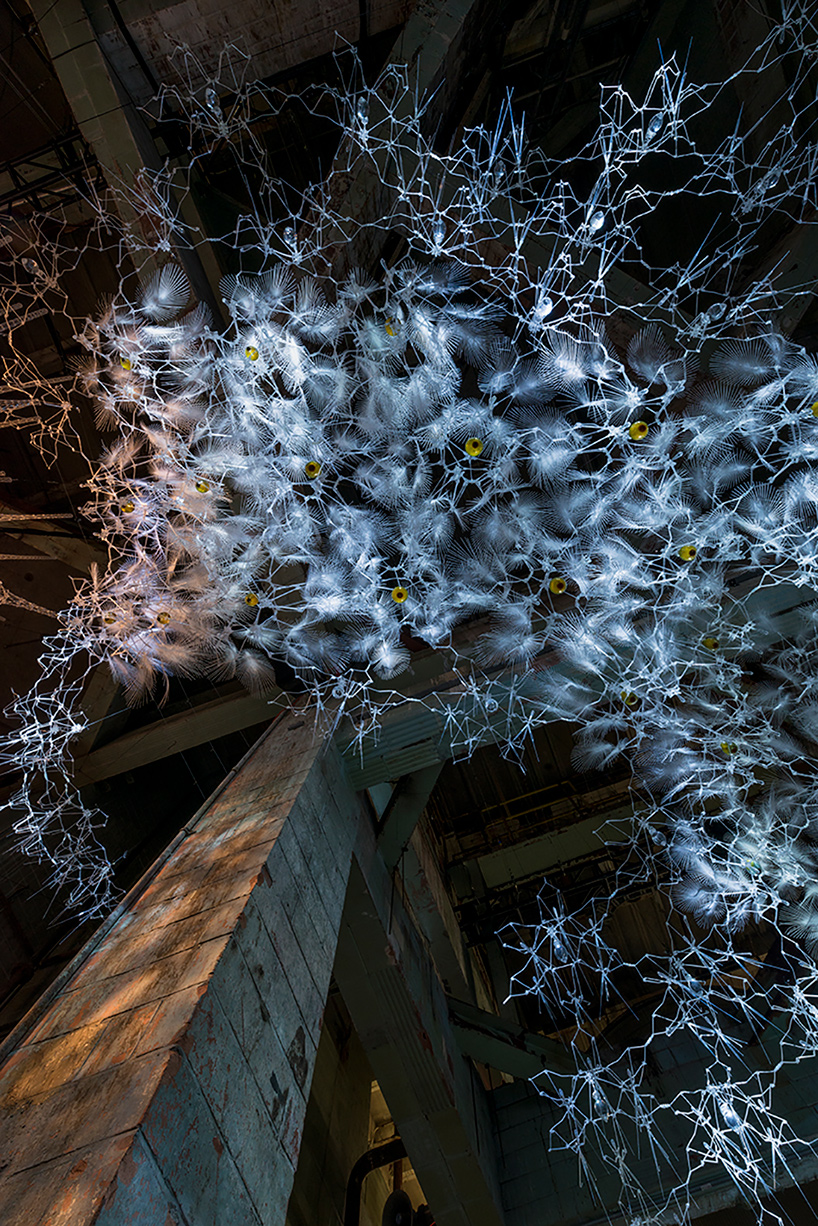 the vibrating kinetics and chemical systems push steadily-evolving installations further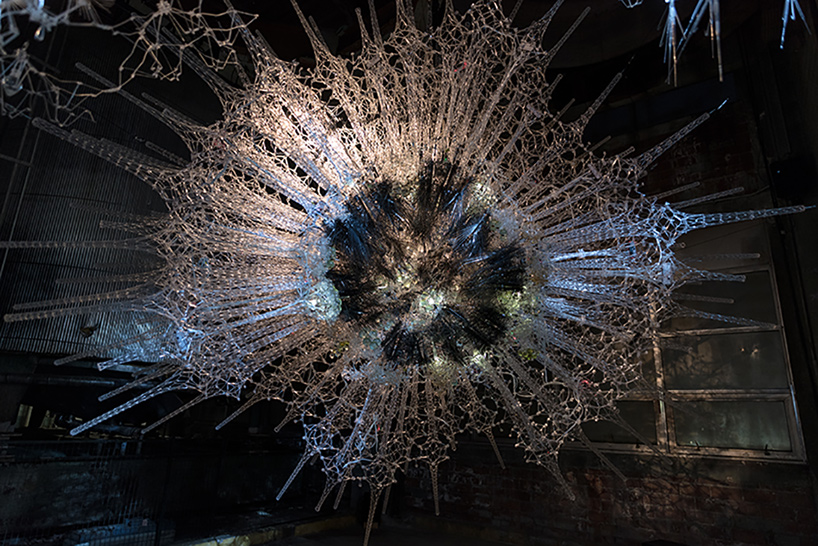 the title alludes to the star-shaped cell at the core of the work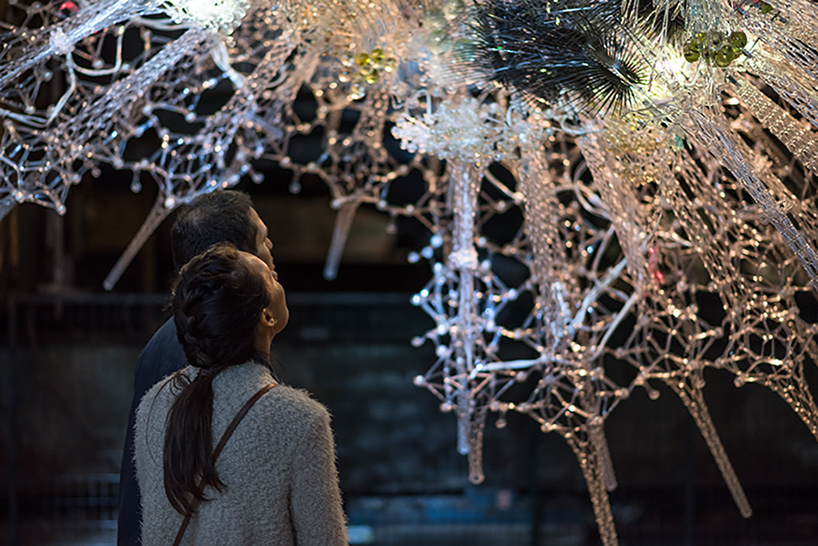 sound immerses the audience in a multidimensional experience
project info:
design: philip beesley
joey jacobson, anca badut, gabriella bevilacqua, siddhant chandgadkar, charlotte dyck, adam francey, mark francis, maxime gordon, maite iribarren, nicole jazwiec, kevin lam, daiwei lin, jordan prosser, iris redinger, penny unni, guyi yi, alex willms
research and support:
lorena almaraz, carolina garcia, rob gorbet, dana kulić, anne paxton, matthew spremulli, 4Dsound, salvador breed, poul holleman, paul oomen
fabrication and installation:

mayyasah akour, natalia bakaeva, rudy benson, madeline brimble, annie burnett, caitlin chin, filipe costa, isabel delaney, aleena derohanian, lanxi dong, jo fan, kelley gu, manik, perera gunatilleka, yujia guo, ahlam hassan, alifiyah hussain, akash inbakumar, dani, kastelein, jeff kwok, bianca martin, shevaun mistry, ahlam mohammed, mollify moyo, richard mui, cassandra murphy, anitha nathan, doyeon park, dylan pereira, iris phung, arvin relleve, sharlene santos, bhavika sharma, charlie sills, jacqueline vo, justin weir, jenn wingfeild, soo jung woo, melih yazici, zhino yousefi, maryam zaraimajin
sponsors:
toronto design exchange, social sciences and humanities research council of canada, government of canada, ontario arts council, university of waterloo, formlabs, consulate general of the kingdom of the netherlands in toronto
oct 04, 2017
oct 04, 2017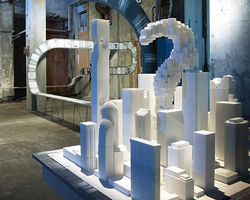 oct 02, 2017
oct 02, 2017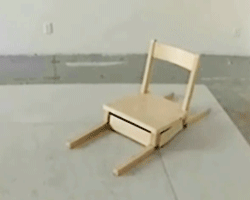 sep 24, 2017
sep 24, 2017
sep 06, 2017
sep 06, 2017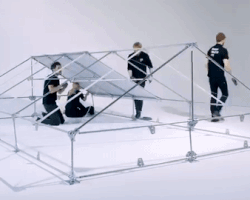 jan 31, 2017
jan 31, 2017
feb 29, 2016
feb 29, 2016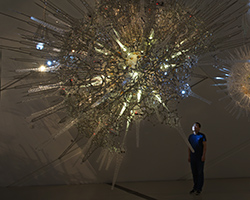 jul 18, 2018
jul 18, 2018
mar 08, 2017
mar 08, 2017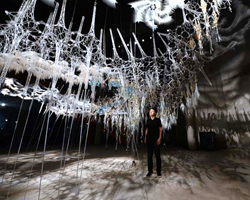 oct 13, 2015
oct 13, 2015
a diverse digital database that acts as a valuable guide in gaining insight and information about a product directly from the manufacturer, and serves as a rich reference point in developing a project or scheme.