the work of atelier biagetti is concerned primarily with human obsessions. what experiences and achievements do we collectively desire, and why do they hold so much sway over our lives? founded by alberto biagetti and laura baldassari, the milan-based studio regularly interrogates the themes and fixations that drive contemporary society by creating experience-based installations, objects and interiors.
their 2015 project 'body building' — curated by maria cristina didero — began atelier biagetti on a journey of sorts, tackling the pillars of modern society. the collection of limited edition objects playfully questions society's preoccupation with perfect physique and aesthetic beauty. here, rough and ready gym equipment and athletic apparatus are reimagined as items of utmost luxury. challenging the preconceptions viewers have with such objects, atelier biagetti creates a short circuit between societies' preprogrammed assumptions and the physical reality of an object.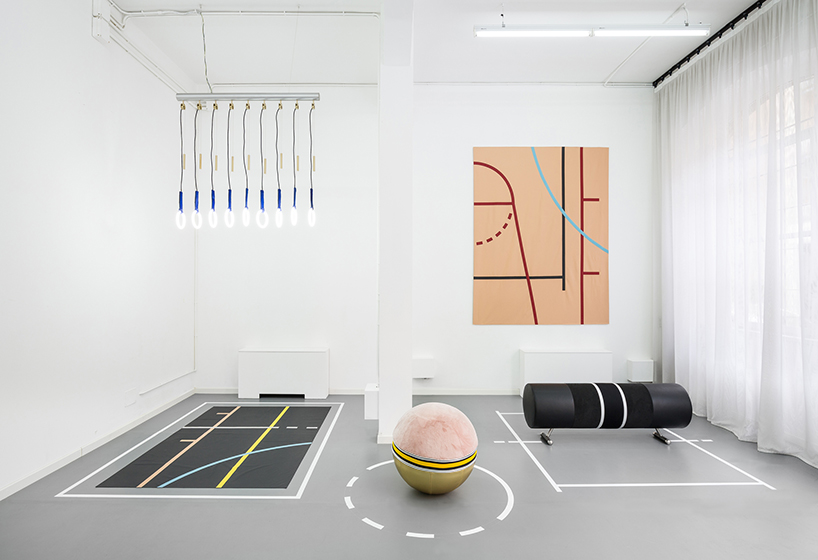 'bodybuilding': a collection of objects referencing common gym equipment (see more on designboom here)
'anelli yogall', 'lapalla yogall' and 'cavallinanera'
portrait image by mauricio fuentes corridan, still life and installation views by delfino sisto legnani
all images courtesy of atelier biagetti
the studio followed this up with the hugely successful 'NO SEX', presented at milan design week 2016 and subsequently at design miami of the same year. again taking the form of a collection of objects, the exhibition interrogated the role of sex in society, its manipulation by the media, its accessibility through the internet and its translation into a physical reality. the work of atelier biagetti has a taste of the theatrical about it. each installation is presented as an immersive event, placing the viewer in the role of protagonist, narrator and audience member.
most recently, the studio took on nothing less that the concept of god itself. laden with irony, 'GOD' focused on humanity's infatuation with money and wealth; the modern deity of the human race. designboom spoke with the duo about their most recent undertaking, as well as their process, influences, and aspirations for the future.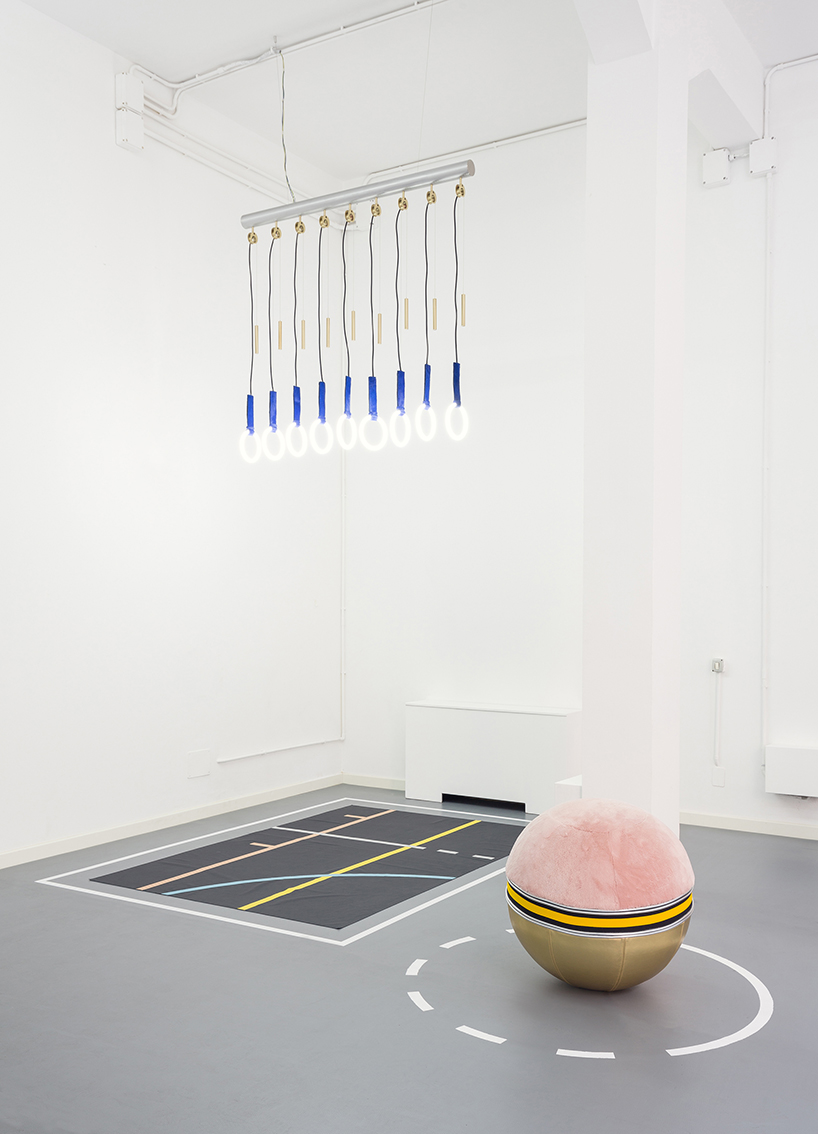 installation view of 'bodybuilding'
designboom (DB): can you talk us through a day in the life of atelier biagetti?
atelier biagetti (AB): life in the atelier is a compilation of different experiences. our work is generated from our experiences and it comes from a process of following our intuition and through letting things resonate over a period of time. so the creative process is not communal and it is as if we have a blank canvas in front of us everyday. this means that the morning begins with a big dose of fear, followed by the thrill of the unexpected in the afternoon and ends at night before going sleep with the idea of not dealing strictly with the tradition of established disciplines. so we end up working with objects as a metaphor for people.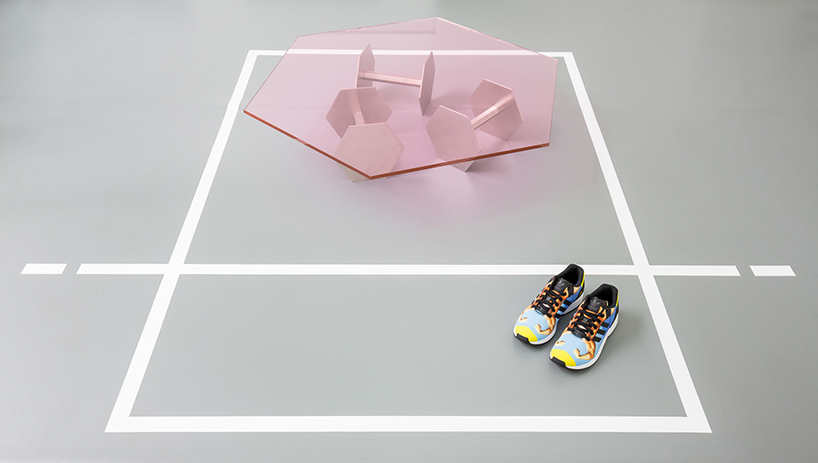 the project interrogated common obsessions with physique and physical beauty
DB: your installations blur the distinction between art and design. can you talk a bit about the relationship between these two things in your life and work, and how important it is to you to walk the line between them?
AB: we all act in a big 'contemporary theatre' where the goings-on in society around us are much faster than either art or design. we use design together with video and performance, as an expressive medium — it is a codified visual alphabet which we use to work on the boundaries between the unexpected and that which is sedimented in our memories. the objects that populate our houses record and narrate our behavior — even if we do not realize it. they witness actions that take place in that most natural, private and fertile environment — the home. it is very interesting.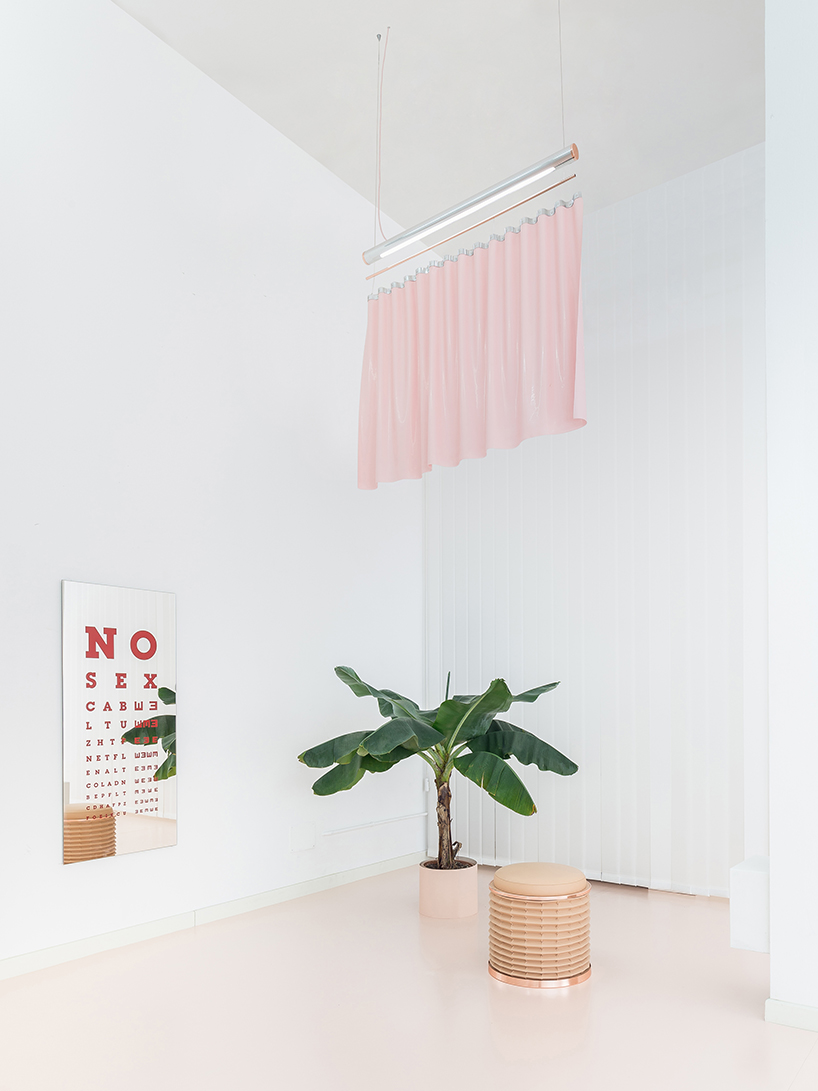 'NO SEX' took the form of a conceptual 'clinic', where visitors might liberate themselves of their preconditioning
see more about the project on designboom here
DB: can you give us some insight into how your collaborations with curators such as maria cristina didero come about. where does the initial idea come from, and what are the different steps involved from the conception to the realization of a new exhibition?
AB: this kind of close collaboration comes about through a shared idea — a common aim. within that framework everyone has a different role but all concerned have to believe in an overall vision — there needs to be a chemistry. the three part project that we worked on with maria cristina was conceived as a sort of 'movie' where each part of the production was developed by us as a team and was very well studied and practiced. the communication is an integral part of the project and every choice, every image and word, is really important to get the final result.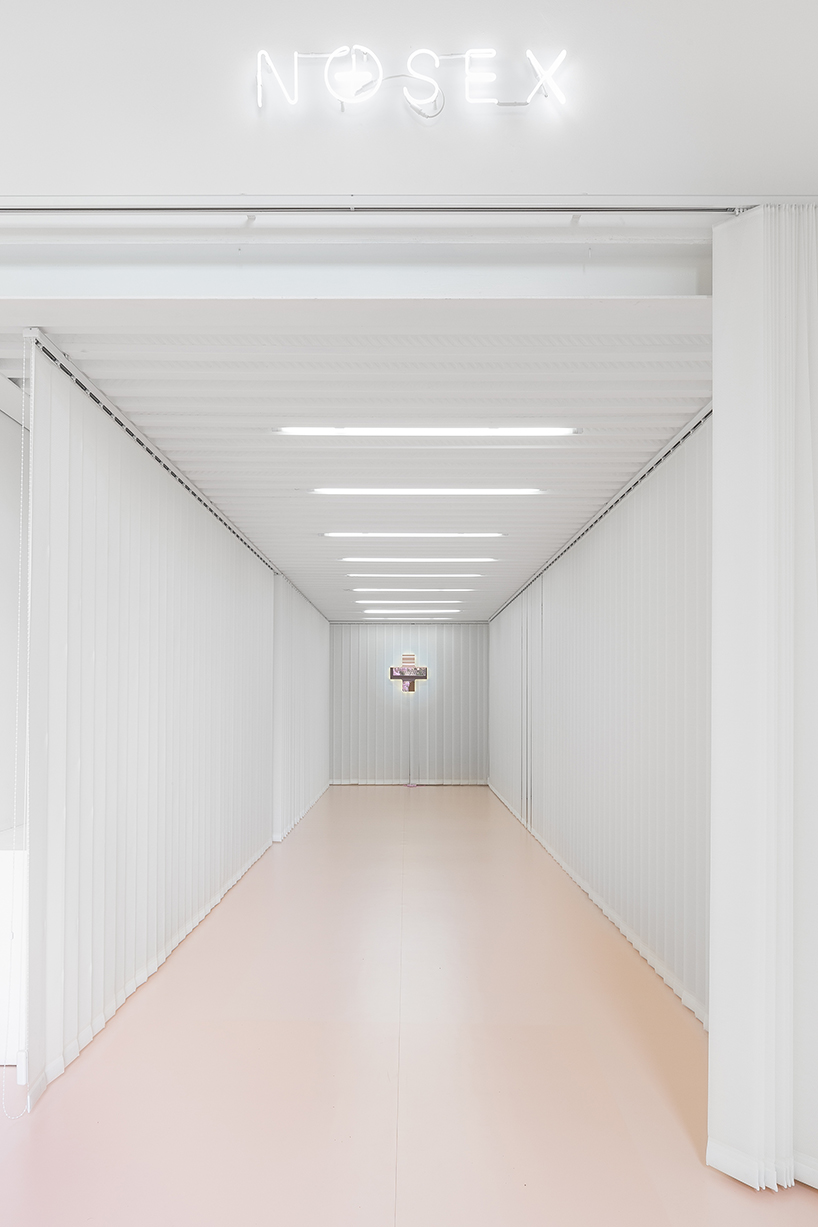 'every choice, every image and word, is really important to get the final result'
DB: thematically, each of your projects is linked: in what ways is 'god' similar to 'NO SEX' and 'body building', and how does it differ?
AB: money, sex and beauty are three very important elements that we used to talk about desires, expectations, illusions and obsessions of contemporary society, a sort of three step 'portrait' or the three ingredients for a gourmet recipe that can result in the best ever dish or the most bitter.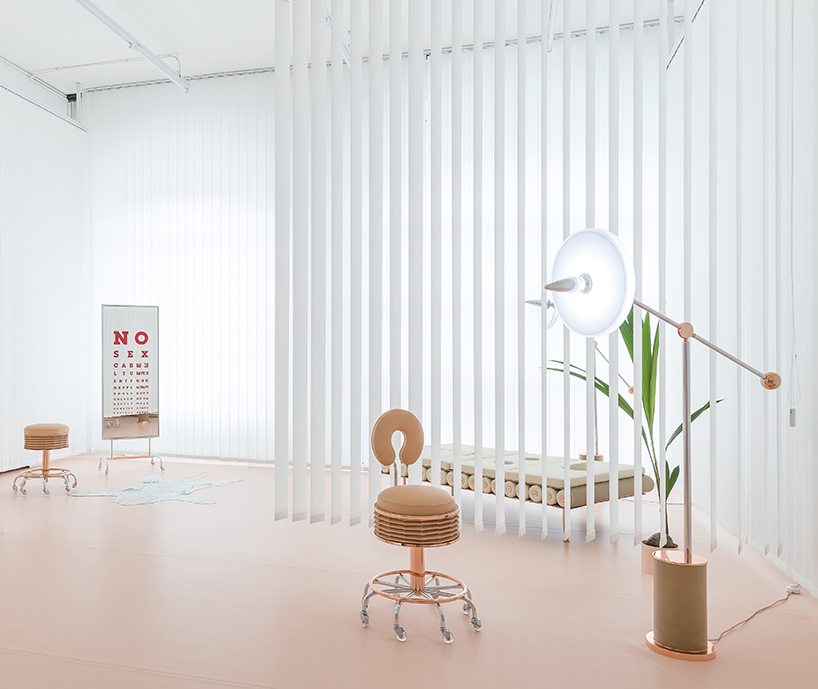 shade of champagne pink and skin tone add a warm and somewhat sexual flavor to the installation
DB: can you give us some idea as to what the next installment might be?
AB: we are working on a new project focused on our ecological impact on this planet, and we are looking to find creative, conscious solutions.
 this is very important for us right now but since the project is quite big, we are looking for a financial partner so we can move forward.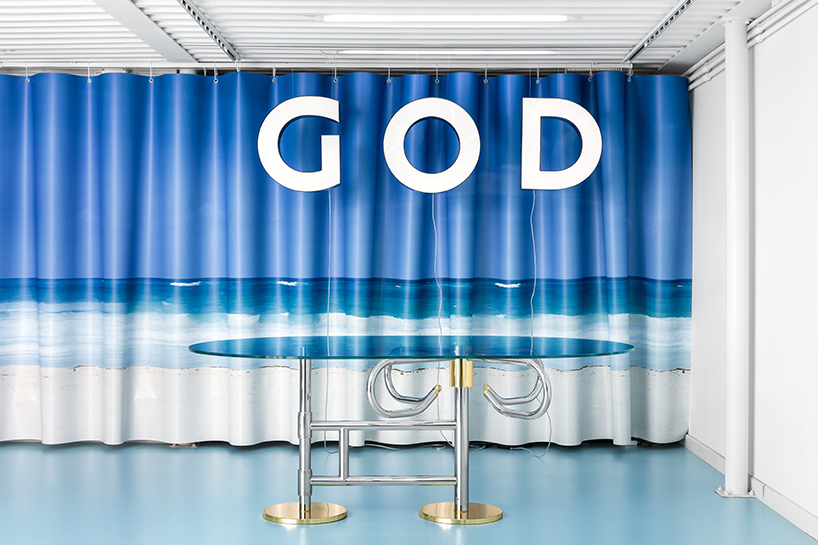 installation view of 'tornello'
DB: your installations — while asking important questions about modern society — are also fun and humorous. how important is this light-hearted attitude in your process?
AB: irony has been present in human life since ancient times in all the disciplines addressed by history's great minds: philosophy, music, poetry, movie, theatre — it's a point of view, a perspective, a way of reading everyday life in a different way — sometimes the opposite way. duchamp, magritte, jeff koons, manzoni, maurizio cattelan, are just some of the artists that, by using irony, managed to show us life from a different point of view, on those aspects of life that are not obviously visible but that lead us to reflect (sometimes ruthlessly) on the reality around us. we try to mix a sense of irony with a visual language that uses cliches and familiar situations that everyone can identify with. this approach really is the key to our work.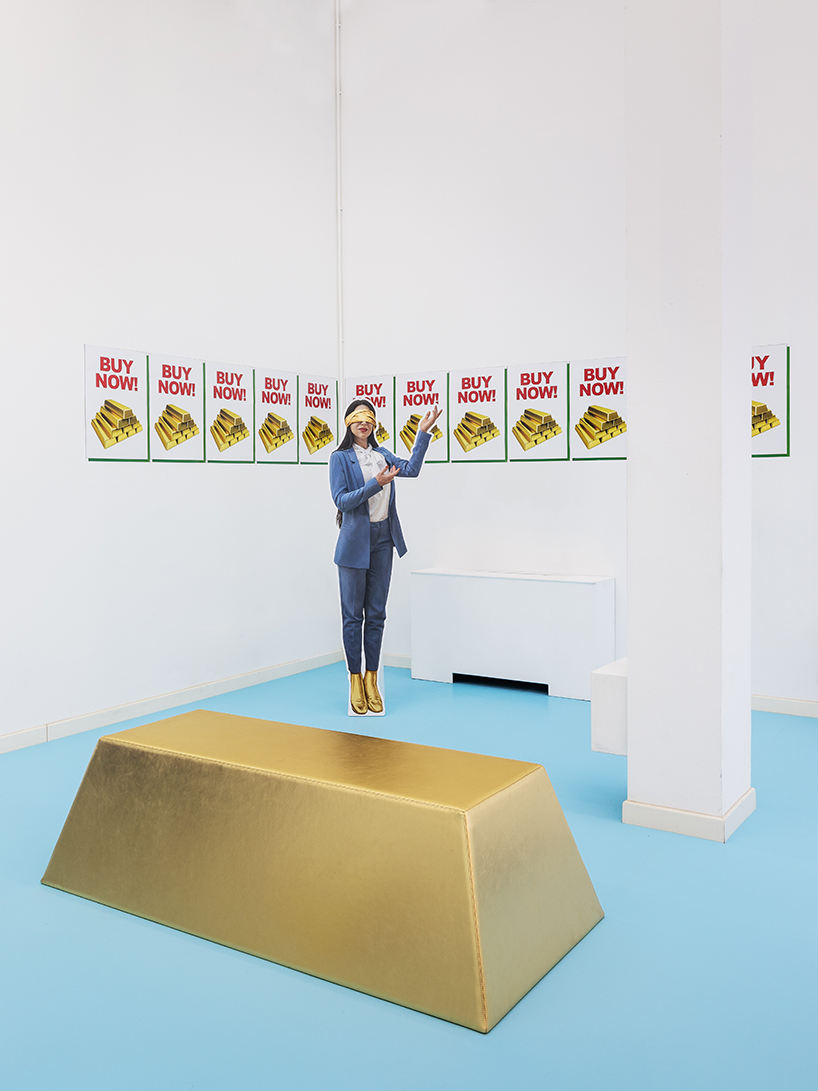 installation view of 'lingotto' as part of 'GOD'
DB: how has atelier biagetti evolved since its inception, and in what direction do you see yourself moving in the future?
AB: 
our evolution or involution (depending on the point of view) follows the idea of focussing on content which is, to us, the most important side of our work. we started to think that objects themselves are not as important as the actions that happen around them. this brought with it the idea that we don't actually need to design another chair or another table because there are already a lot and the world doesn't need more.
so that's why, in our view, a new chair should bring something more, not just from the perspective of usability or ergonomics but also from a psychological and anthropological point of view.
 we are facing a future where the virtual world will be like a sponge absorbing contents from the real one and the new scenario is a very interesting theme to go through.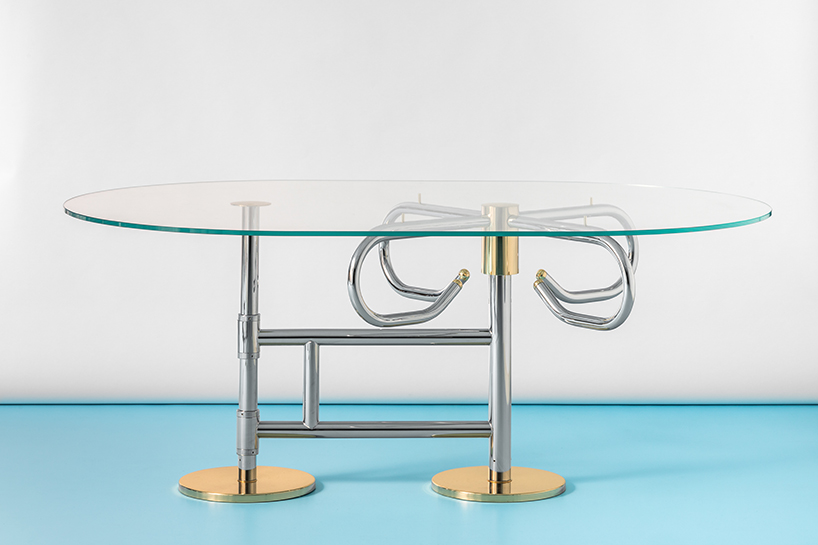 'tornello', reappropriates the common turnstile into a sleek and modern table
DB: are there any other artists or designers you are particularly fascinated with at the moment, or would like to collaborate with?

AB: we would like to work with sorrentino on a movie set.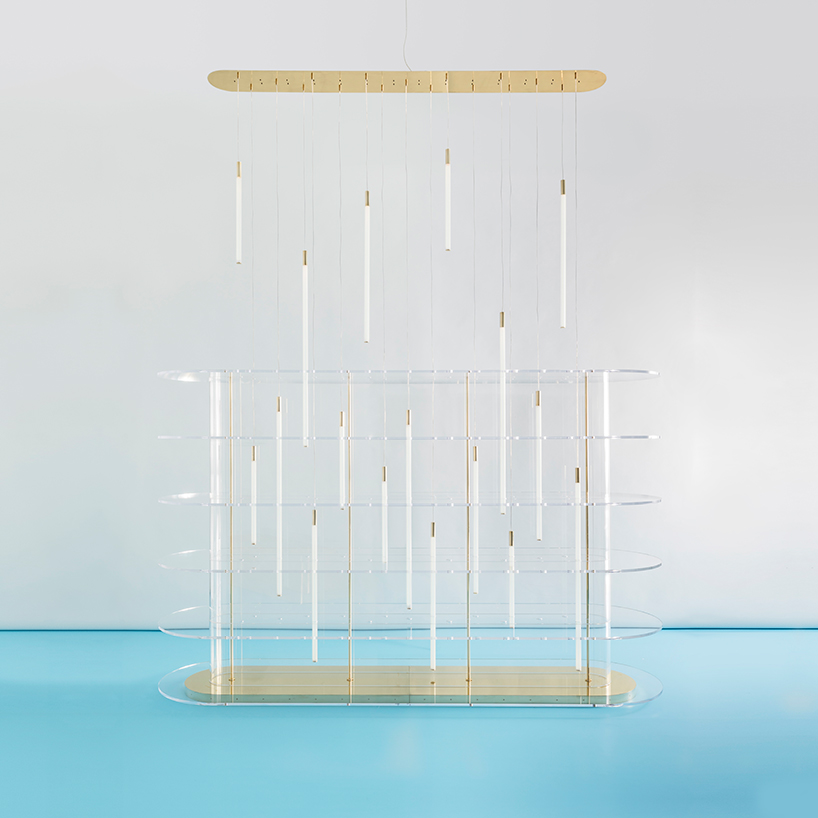 included in GOD, 'euforia' is a series of plexiglass shelves with a brushed brass base
DB: how do other creative fields influence the way you work?
AB: we take our inspiration from all walks of life: art fashion, film — even from just looking out of the window… we are particularly influenced by the storytelling elements of theatre and film — stanley kubrick is an all-time favorite, and we love the italian surreality of federico fellini (how could we not? he is so great he even has an actual adjective named after him!)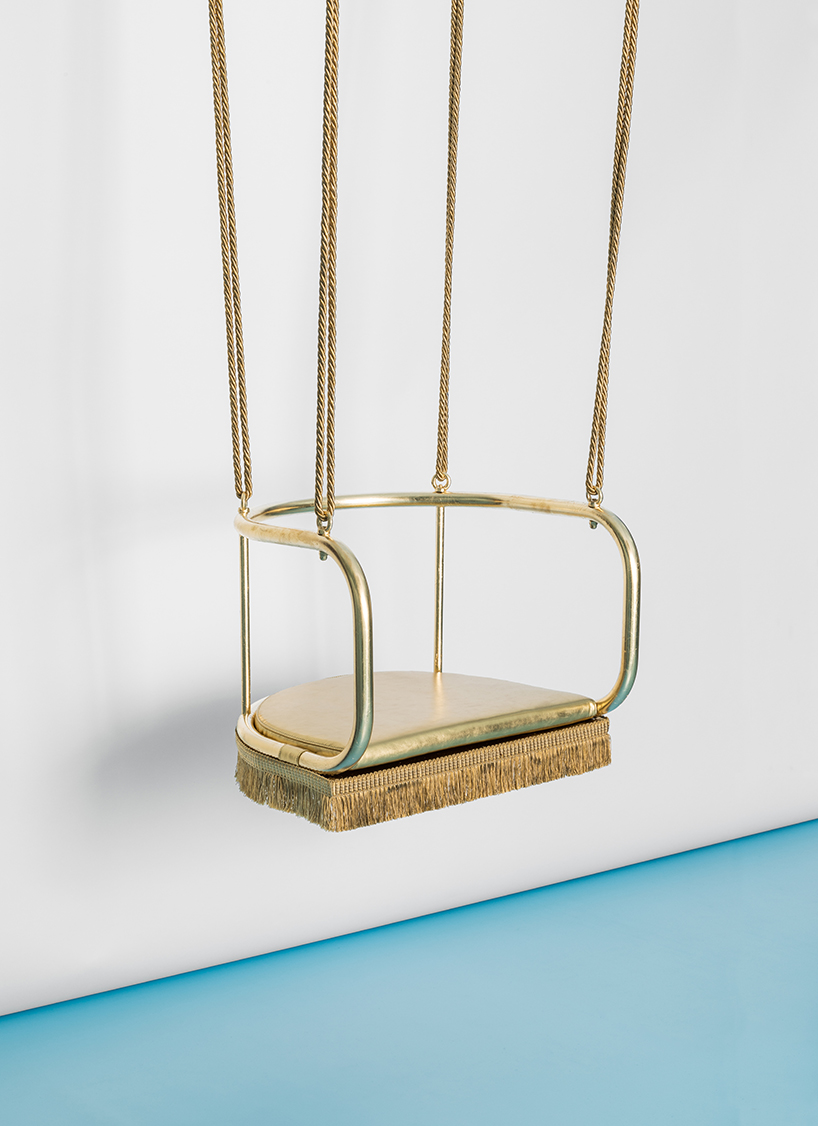 'the island' is a gold leaf coated brass frame with a fringe of silk strings
DB: how 'limited' are your limited edition pieces, and do you ever see yourself creating something for the mass market?
AB: 
some of the pieces we create are one-of-a-kind which means that, apart from the prototype and author's proof, there is just the one unique piece. our limited editions pieces generally vary between 7 and 18.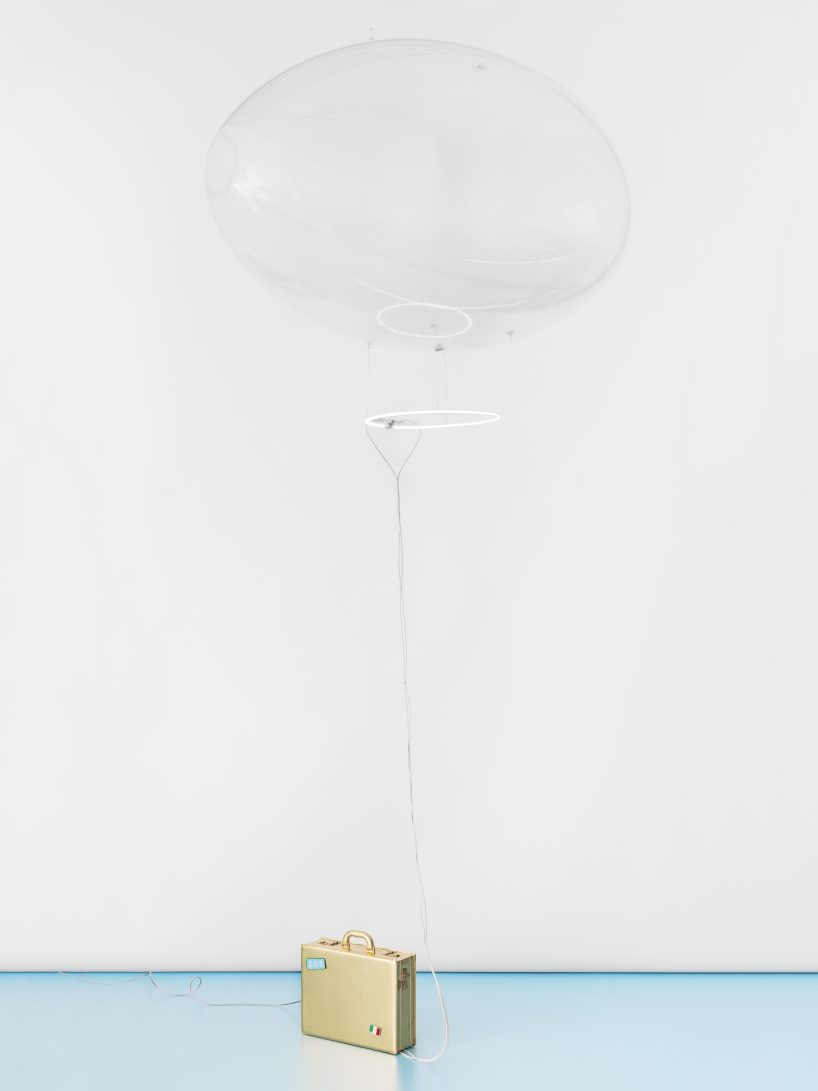 'the GOD light' is created from transparent PVC and neon light, with a padded case in gold leather and brass details
about atelier biagetti:
atelier biagetti is a milan-based studio founded by alberto biagetti and laura baldassari in 2003. the practice operates in the fields of art, design and architecture, creating objects, interiors and site-specific installations. through their characteristic method of decontextualizing visual elements, atelier biagetti creates a short circuit between the senses of the body, the preconceptions of the mind and the physical reality of the surrounding environment. each project that the duo creates tells a story, comparable to a short film; but instead of watching a moving image, the narrative develops between the mise en scène of the work and the personality of the viewer – thus recounting a different and intensely intimate story to each and every individual.
peter corboy
I designboom
jun 26, 2017
a diverse digital database that acts as a valuable guide in gaining insight and information about a product directly from the manufacturer, and serves as a rich reference point in developing a project or scheme.
designboom will always be there for you
milan, new york, beijing, tokyo

,
since 1999