atlas concorde, the internationally renowned italian company founded 50 years ago, have the production of high-end porcelain and wall tiles down to a fine art.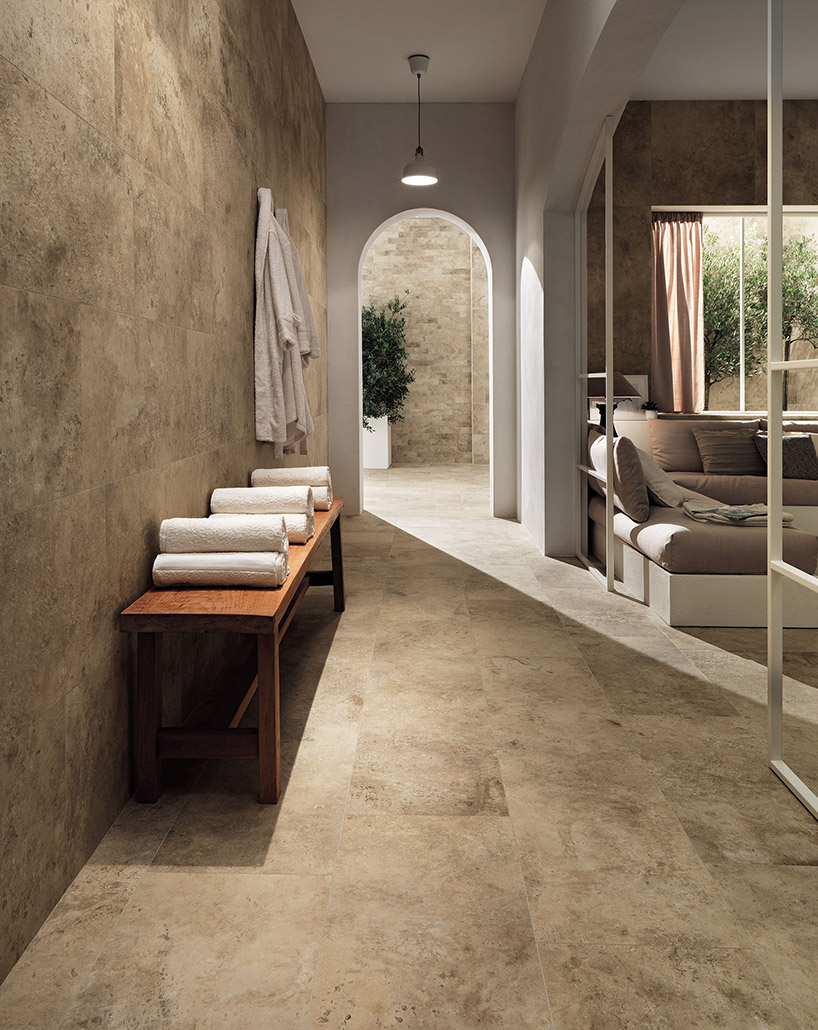 aix's porcelain floor and wall tiles in beige evoke the well-worn, limestone floors of ancient mediterranean villas
all images © atlas concorde
historically, some artistic souls have believed that art is superior to life and nature: late 19th century artists and writers, notably those in sympathy with the aesthetic movement, even believed that life imitated art – that we only become aware of the beautiful, natural phenomena surrounding us when artists and authors draw our attention to them. but for atlas concorde, the internationally renowned italian maker of high-end porcelain tiles founded 50 years ago, art and life are indivisible and nature and architecture almost interchangeable.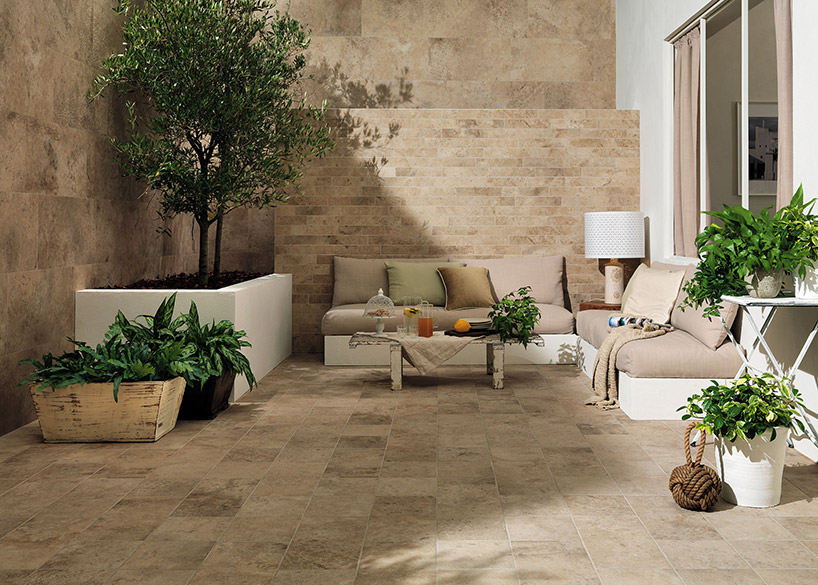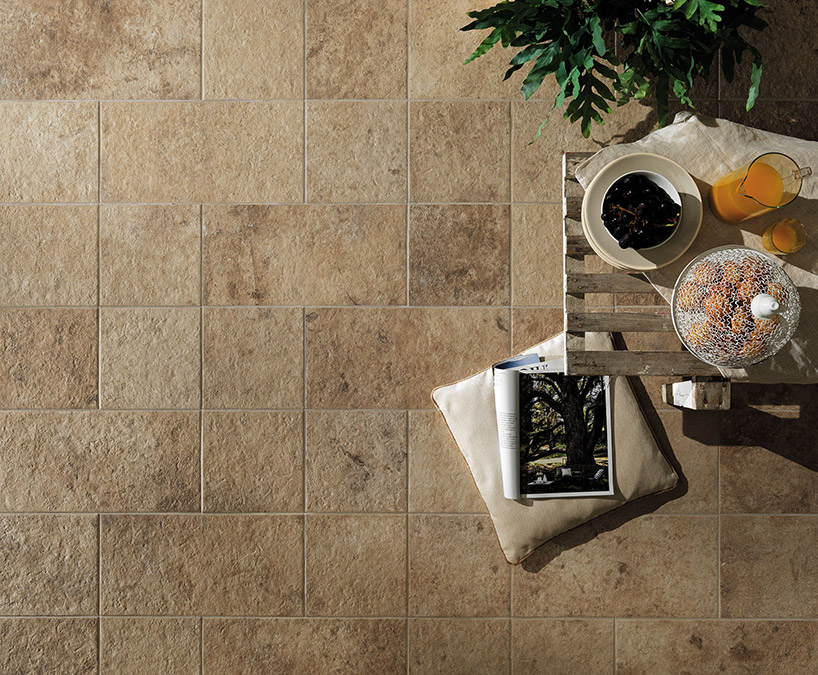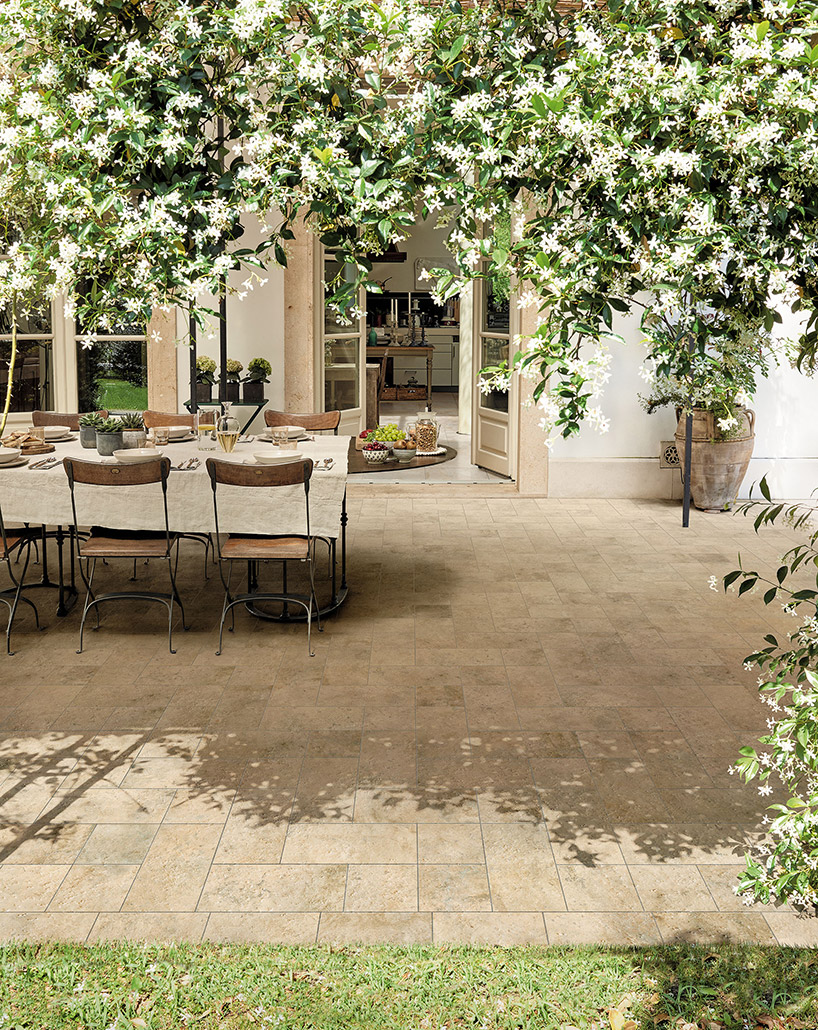 equally suited to landscape architecture, aix's tiles can be used for patios, seamlessly linking indoors and outdoors
the company's international reach is ensured by the global distribution of its products which are available in 120 countries. its global profile allows it to meet the needs of interior designers around the world, yet its various ranges are designed to convey the character of specific regions and countries. witness atlas concorde's collection, aix – porcelain and wall tile collection inspired by rustic, ancient limestone floors found in age-old french villas. their surfaces appear scuffed and furrowed, as if weathered by the passage of time and constant human traffic. different tonal variations within the tiles make each one unique.
aix's porcelain floor tiles, which measure 22.5 sq cm or 22.5cm by 45cm, are also available at a thickness of 20mm, rendering them suitable for outdoor patios, poolside paving and driveways, and as such enter the domain of landscape architecture. indeed, the collection seamlessly connects indoor and outdoor environments, unifying interiors and gardens to create spaces that ambiguously fuse the natural and artificial. the collection also comes in a larger size – 120 sq cm – resulting in an even more homogeneous surface redolent of uninterrupted vistas found in nature, from sandy hillsides to beaches.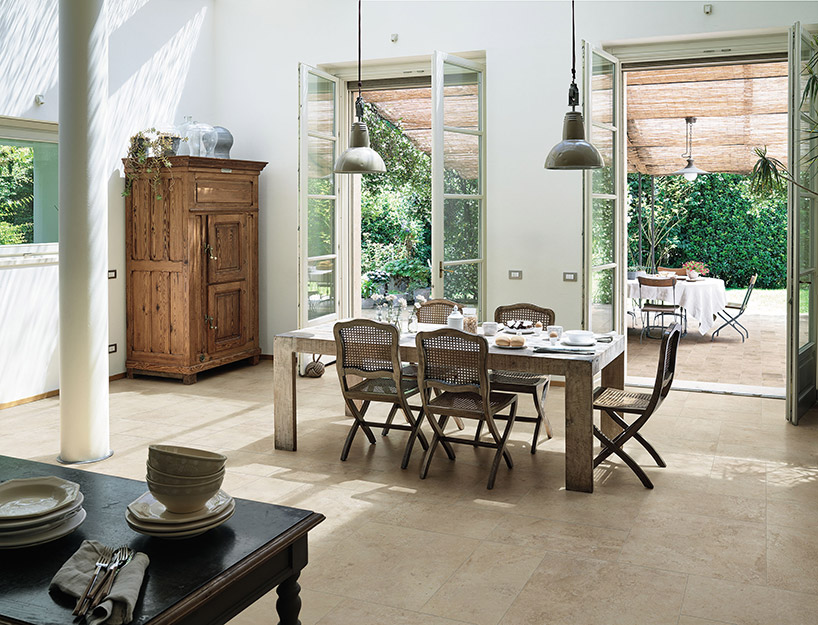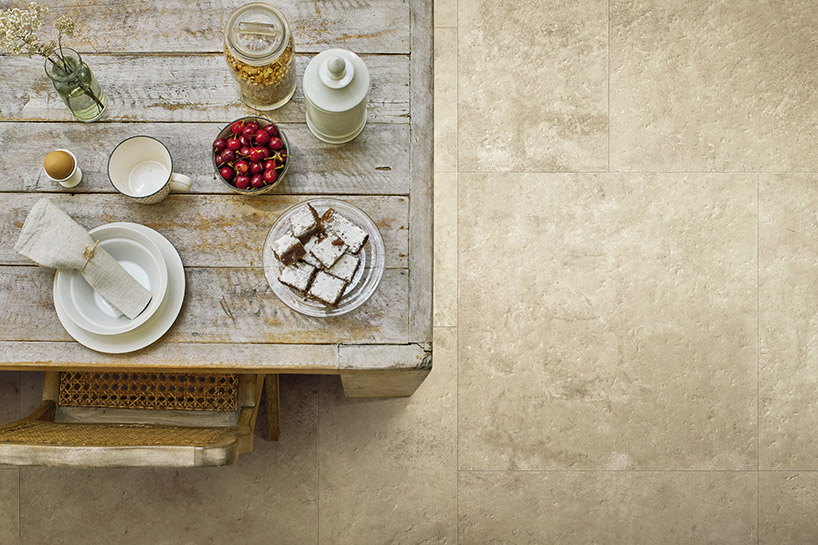 aix in the paler blanc tone has a similarly rustic feel that conjures up images of sunbleached provencal farmhouses
aix's natural hues are suggestive of ruggedly natural terrain or well-worn indoor surfaces in ancient buildings. the collection comes in two color palettes. one consists of warmer, creamy tones called 'blanc and beige', which clearly relate to the collection's name. after all, they are influenced by a southern climate epitomized by sun-bleached mediterranean villas and provencal farmhouses. conversely, the second color range – two smoky grey tones, 'cendre' and 'fumée' – evokes the misty, cooler central and northern european climes of germany, belgium and britain.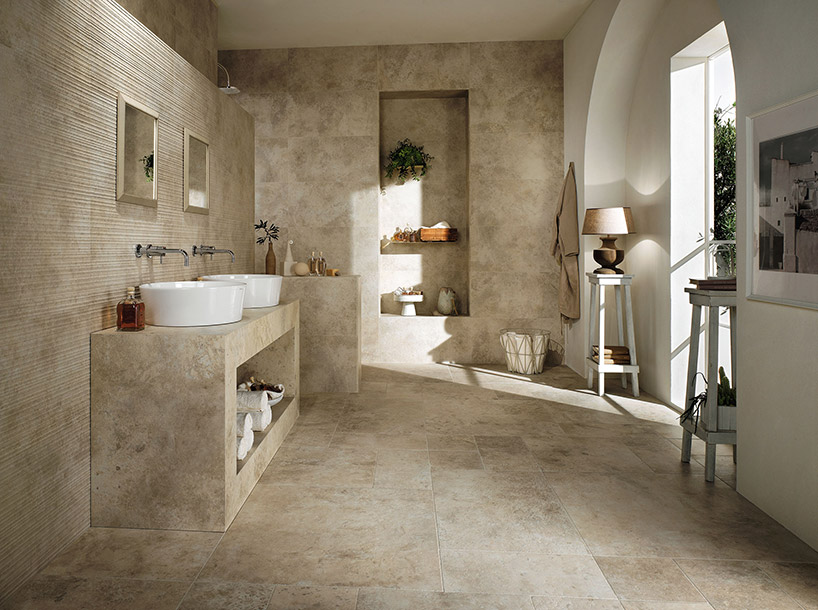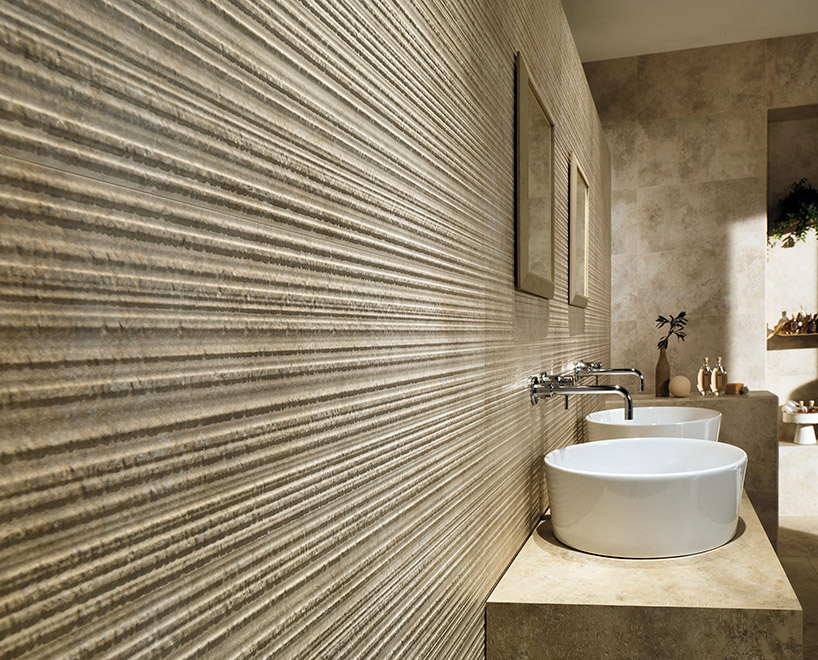 aix's mottled surfaces are appealingly weathered, while the collection can be personalised with its ridged wall tiles from its decorative range
aix can be further personalized thanks to its decorative range: kit multiformato tumbled, inspired by natural floors and with tumbled edges; 'brick tumbled' (bricks with tumbled edges for indoor and outdoor use); 'honeycomb tumbled' (hexagonal tiles with tumbled edges for outdoor use as well as for bathrooms and kitchens) and 'mosaico tumbled' (tiles for floors and walls recommended for bathrooms).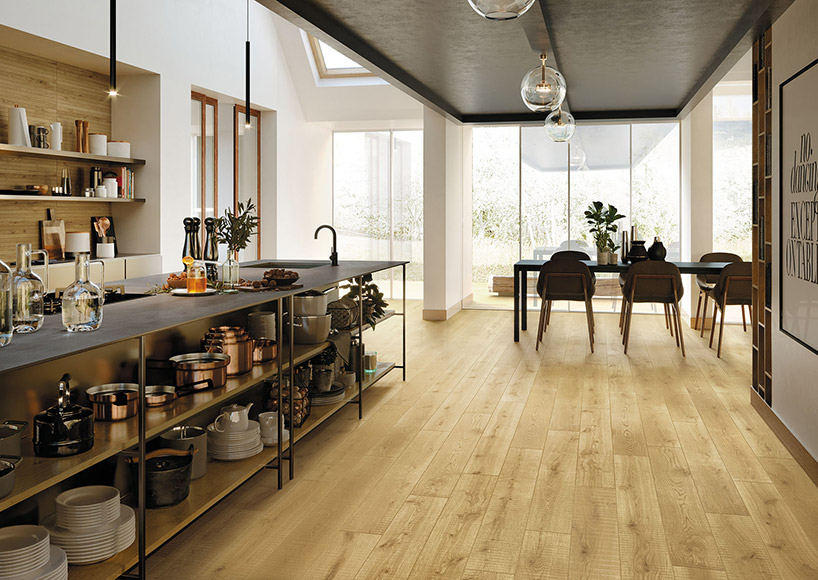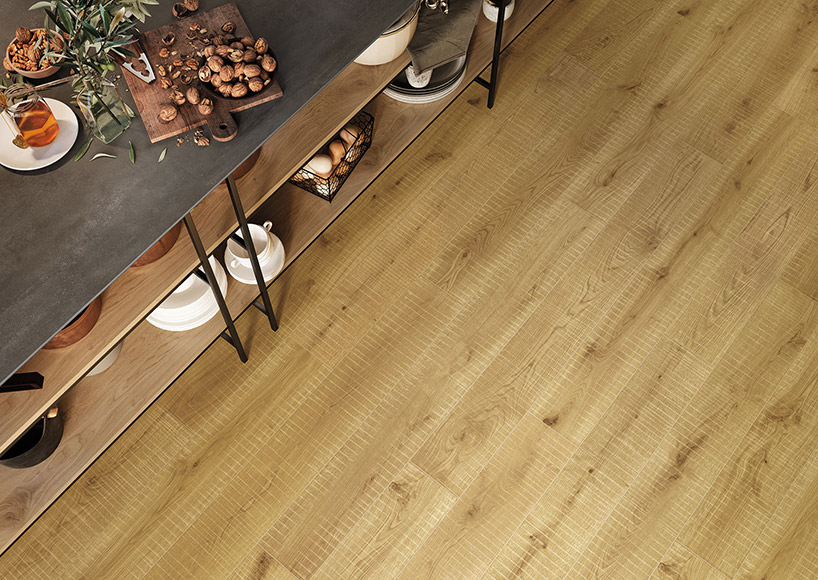 atlas concorde's exence collection, which simulates italian oak, looks similarly rustic but evokes more northern european climes
another key atlas concorde collection is exence, which conjures up images of northern europe, in particular, the scandinavian tradition of hygge – or cosy – interiors currently inspiring many designers creating high-end hospitality, retail and residential spaces. exence comes in a natural version that celebrates wood's appealing imperfections or in a sawn-cut form, scored with grooves like those left on wooden planks by band saws. the range comes in two sizes (18.5cm by 150cm and 20cm by 120cm) in a matt finish and in one size in a grip finish (18.5cm by 150cm) and as outdoor paving at a 20mm thickness (30cm by 120cm).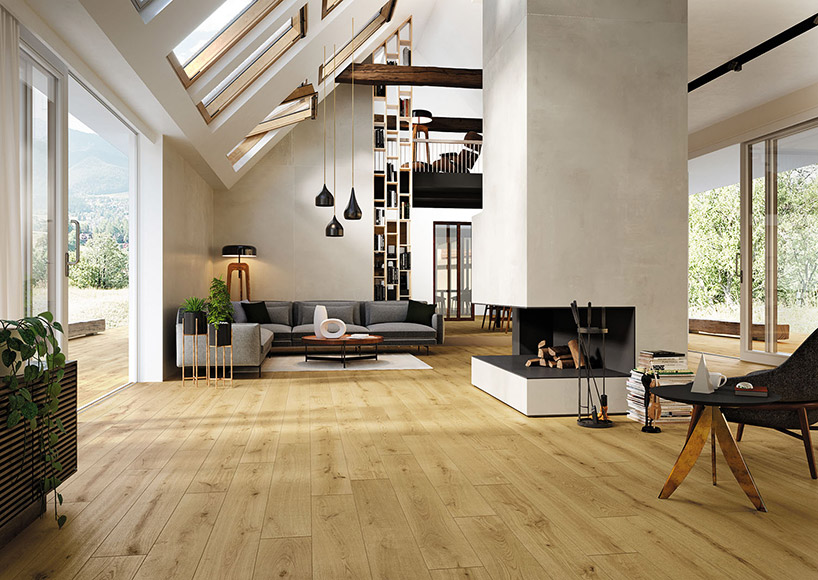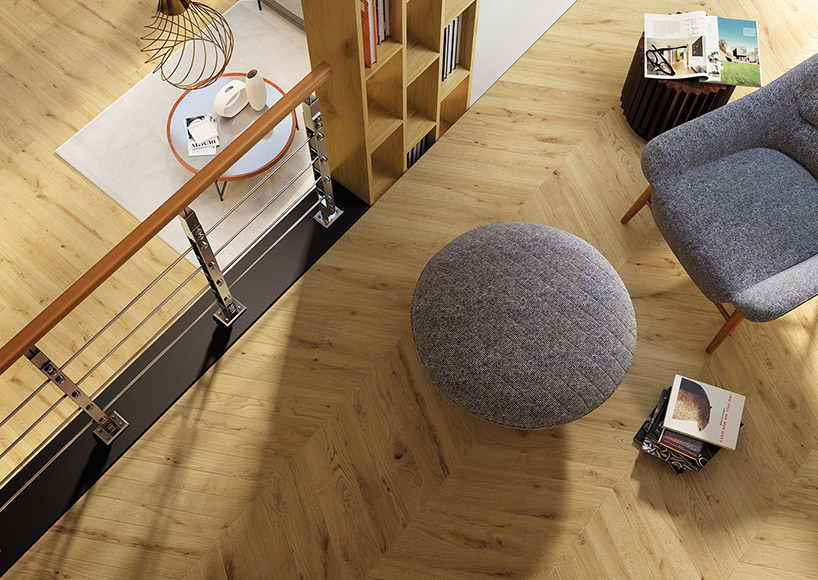 the exence range comes in three tones, including mid-tone almond shown here, as well as in a chevron pattern
like aix, exence dissolves the division between nature and architecture by simulating italian oak: it explores its appealing, characterful imperfections, faithfully reproducing such minutiae as knots and grains and comes in three warm tones, gradually building up in intensity — pale vanilla, mid-tone almond and the richer, honey-toned amber.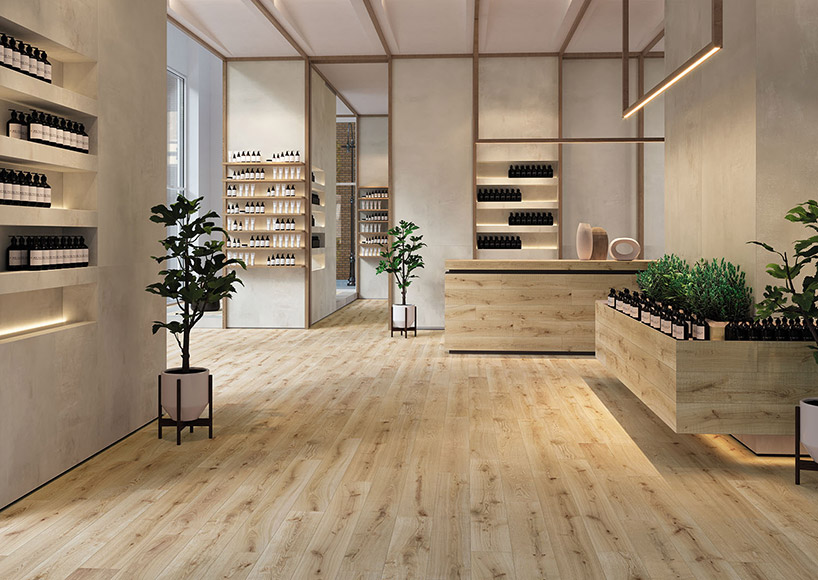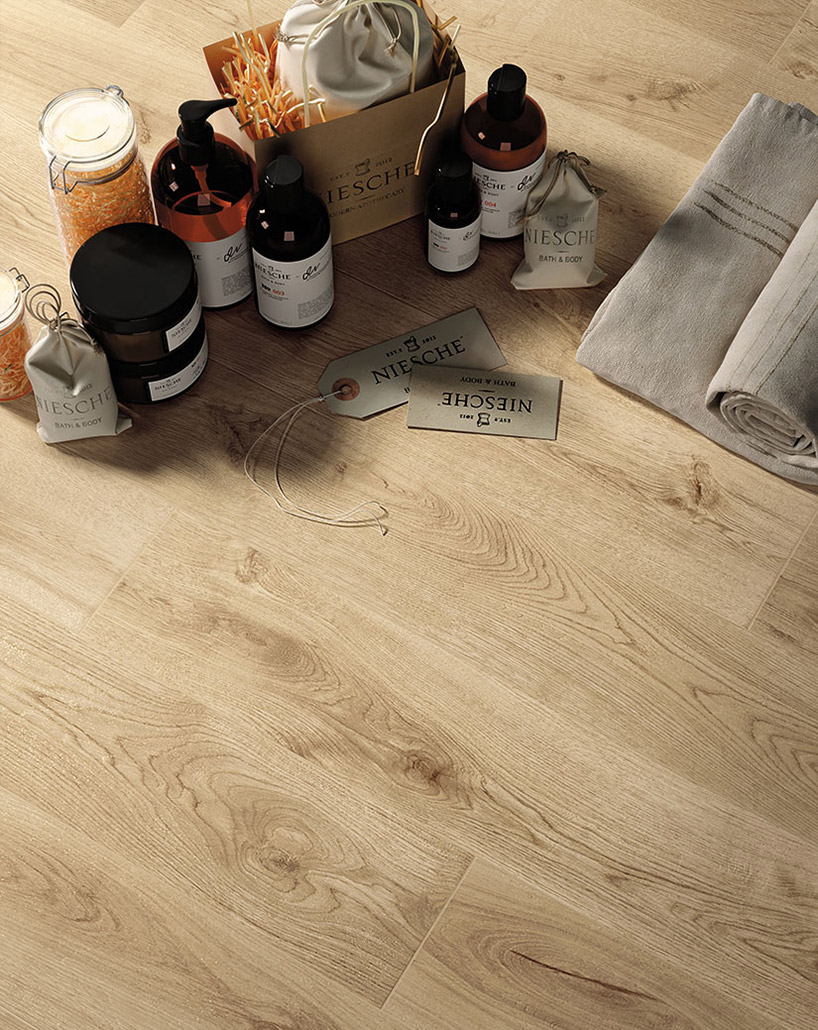 despite their natural look, exence's floor tiles are also appealing in a metropolitan setting
while exence mimics wood with impressive verisimilitude – and welcomes the great outdoors in – it nevertheless satisfies a taste for a more metropolitan aesthetic. ultimately, aix and exence convincingly collapse the false boundaries between nature and culture without sacrificing the comfort and convenience of modern living.
guest feature by dominic lutyens / architonic
may 29, 2020
may 29, 2020
may 14, 2020
may 14, 2020
may 03, 2020
may 03, 2020
may 01, 2020
may 01, 2020
apr 26, 2020
apr 26, 2020
apr 23, 2020
apr 23, 2020
a diverse digital database that acts as a valuable guide in gaining insight and information about a product directly from the manufacturer, and serves as a rich reference point in developing a project or scheme.