AUDI urban future initiative brings automated parking garage for self-driving cars to boston-area
all images © AUDI urban future initiative

since 2010, AUDI has been working to establish a dialogue on the evolution of mobility and how cars will affect our cities. its aim is to find solutions for more sustainable and pleasurable means of moving from one place to another within our world's bustling metropolises. through the AUDI urban future initiative, the automotive company is putting forth a multifaceted effort that addresses prospective mobility challenges through a collective and interdisciplinary context — working with teams from around the globe to stimulate new visions dedicated to the future of urban mobility. in particular, it is focused on how the integration of autonomous self-driving cars into our lifestyles could positively affect our economy, environment and social development.

'the courage to change ways of thinking and to question what exists is a decisive pre-requisite for permanent progress and is the core of AUDI's corporate culture. this is why we have set up the AUDI urban future initiative, in order to draw attention to and press ahead along routes to a sustainable and responsible future', comments robert stadler, chairman of the board of management of AUDI AG.


how the assembly row project will efficiently manage the flow of vehicle traffic and parking shortages in somerville
video courtesy of AUDI

at the smart city expo world congress 2015 in barcelona, the AUDI urban future initiative introduced two initial strategies which will be conducted at assembly row, somerville — an affluent district in the centre of the boston metropolitan area. in the context of the conference, joseph a. curtatone, mayor of somerville, and professor rupert stadler, CEO of AUDI AG, signed a memorandum of understanding relating to projects that will see somerville serve as a testing ground for new technologies delivered by AUDI.

somerville is an ideal role model for 'smart cities' for the future, and testing ground, because of its young population (more than 40% of its inhabitants are aged between 18 and 34). 'the proportion of millennials – the generation born between 1980 and 2000 – is 43%. this generation pioneers the digitization and networking of society, making somerville the ideal test laboratory for the future of urban mobility,' says philip parsons, an urban planner and strategic consultant who lives in the town. as the second fastest-growing economic center in north america after silicon valley, and undergoing major urban redevelopments, the expansion of an effective urban mobility structure is very important for somerville. in the near future it will be the site of a new hotel, office buildings, residences, retail spaces and leisure amenities — a project that is being planned by federal reality investment trust (FRT), which is a real-estate developer with a stock exchange listing. mixed-use masterplans of this kind in the US mandate that a specific number of parking spaces be dedicated to places of housing or office units. this sees approximately 40% of the overall area dedicated to this type of program. the cost involved is one of the biggest obstacles, because as chris weilminster, executive vice president for real estate and leasing at FRT states, 'each parking space in somerville could cost upwards of $25,000 USD on average, and today, these costs can either make or break the profitability of a development.'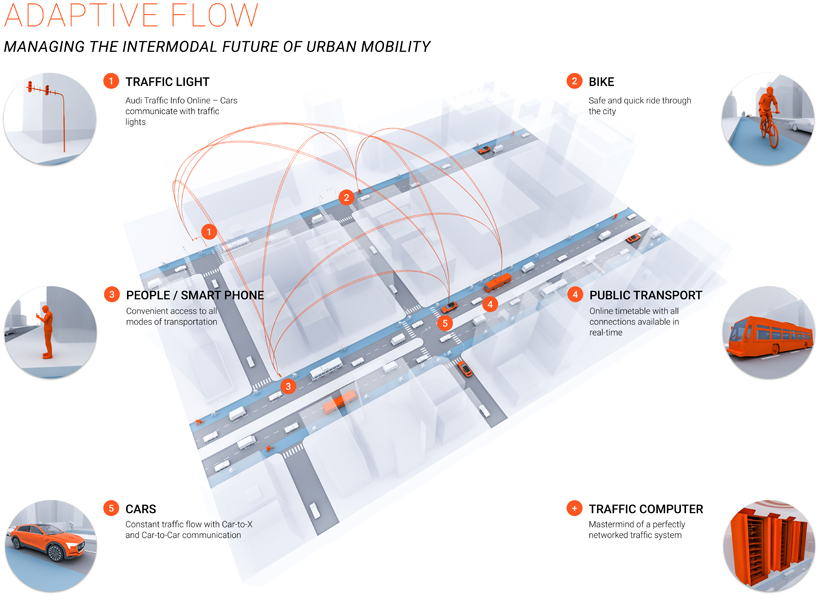 this is where AUDI's technologies come in, particularly that of its parking pilot that is ready for the market, and sets to create scope for investors and urban planners. in somerville, the strategy is to plan a garage exclusively for self-parking cars, which according to AUDI's calculations, has the potential to save 62% of the area of the assembly row project – or in monetary values, the equivalent of $100 million USD. with a piloted parking garage set in place, the required space for vehicles would be reduced by two square meters per car, with driving lanes becoming narrower, and staircases and elevators no longer needed; offering the possibility for cars to be parked more compactly and in several rows, one behind the other. this garage would be accompanied with an intelligent mobility service — a shared fleet of AUDI's self-driving cars which has the potential to change mobility behaviours, traffic flows, save time and reduce emissions. the cars could be driven privately by residents in the morning and evening, while during the day, business customers could make use of the fleet. currently, the average use rate of cars is five percent, and conversely the parking time is 95%. if these proportions are shifted, the skillful fleet management would enable the parking area to be reduced: individuals would not be idling their vehicles as much while in search of or waiting for a parking spot; and time would be saved because you would just leave your vehicle at a designated drop-off area, it would go ahead and park itself and you could focus on more important things like spending time with your family, getting errands done etc. equally, the integrated service would no doubt guarantee that electric vehicles, which take advantage of inductive charging in the parking garage, would always have a charge level appropriate to their intended use.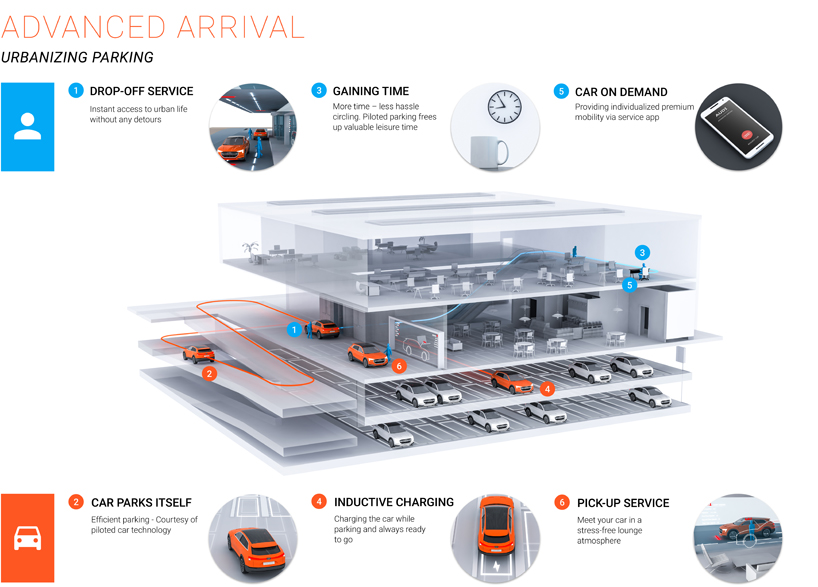 dr. miklos kiss, head of predevelopment, driver assistance systems at AUDI AG on the assembly row project:
'our team was astonished to see how much space can really be saved thanks to automated technology. in a parking garage that is newly planned and built for piloted parking, a good 60 percent of the area, in the most extreme case more than 80 percent, is not required. the highly exact driving maneuvers and superior driving strategies of piloted cars alone mean that considerable densification is possible: lanes with a width of three meters are adequate. we plan ten centimeters of space between the mirrors of parked cars. this makes it possible to shrink each parking space by two square meters. these parameters are fixed so that the cars can still maneuver well. if the space per car is reduced further, maneuvering is more difficult and this does not necessarily lead to the most efficient use of parking space.'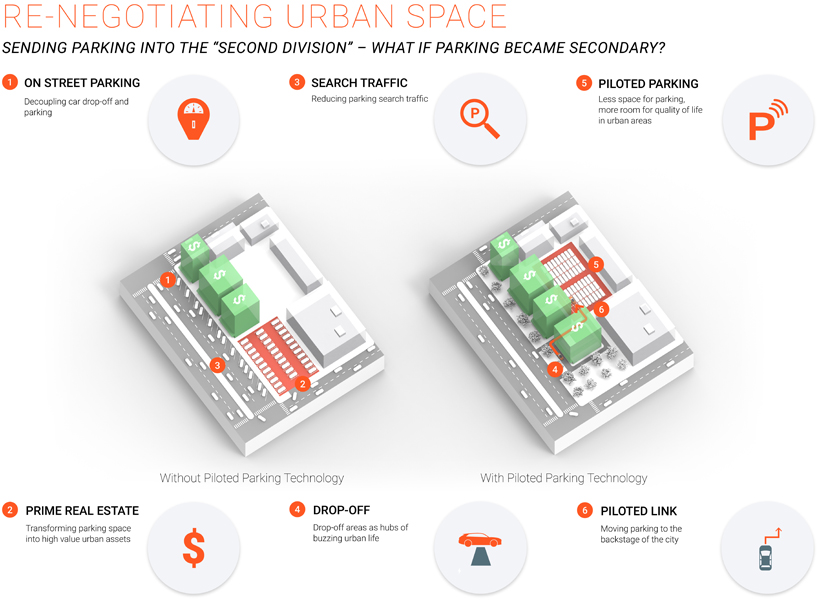 for mr. weilminster, reducing the parking area by means of autonomous cars and intelligent fleet management is an idea that could be a model and applied to many mixed-use developments in the USA: 'we are not only building in somerville. we have a multi-billion-dollar pipeline of potential projects that will require significant amounts of parking. if we could incorporate fleets of self-parking automobiles, we could potentially utilize more land for uses that will benefit our communities and at the same time save significant costs and improve profitability.'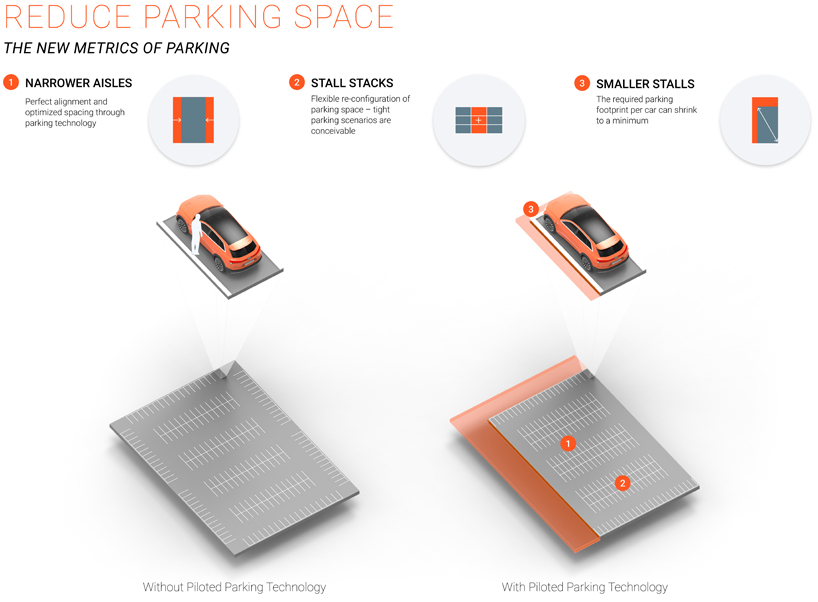 the new site at assembly row has already had an initial impact on future construction considerations. according to AUDI, if implemented, FRT could save approximately 26 percent of parking space areas in the first building phase of the piloted parking optimized garage — even if it serves multiple users including conventional and self-driving cars, next to each other. the highest efficiency in parking space would be around 60%, and could be achieved in the assembly row neighborhood by 2030.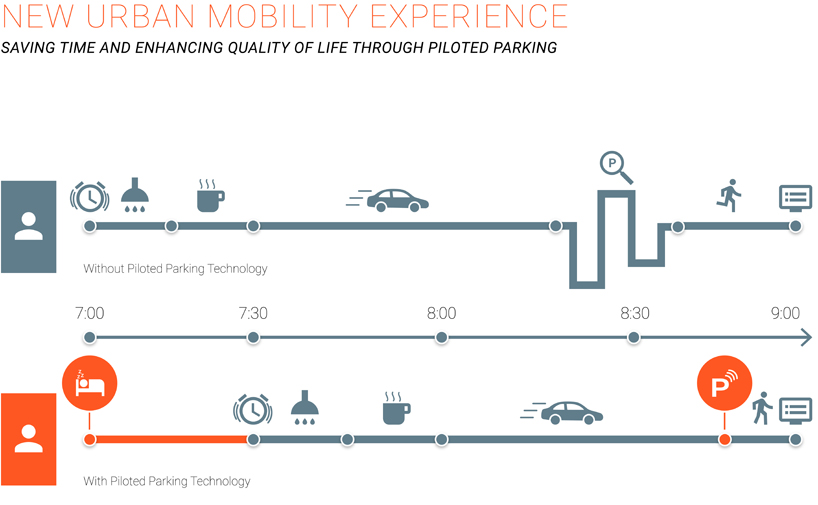 the second initiative in somerville is related to intelligent traffic management, specifically at the site of union square which in the coming years, will be transformed into a flourishing city center as a result of urban development. however, this means that more people concentrated in the same area would see the existing mobility infrastructure reach its capacity limits very quickly. simultaneously, the price of land per square meter in the city center is rising. so, while AUDI's urban future partnership seeks to defuse the critical parking situation which sees 40% of urban space dedicated to this, it also looks to reducing traffic volumes at peak times, in which most of this congestion of vehicles is a result of drivers looking for somewhere to park. this frustrating driving around in circles will cease when cars have an automated parking function, and the piloted driving capability will allow vehicles to positioned close together, thus transferring parking from the curbside to garages. the aim is that parked cars or vehicles looking for an available space, would disappear entirely from city streets.


why somerville is an ideal role model for 'smart cities'
video courtesy of AUDI

in addition, car-to-X technologies like AUDI's 'traffic-light information online, a system that shows the ideal speed for reaching the next lights on green, would improve the flow of traffic. in the mid-term, AUDI, in collaboration with somerville, wishes to conceive a central traffic management network that includes all traffic participants via a smartphone app. the suspected traffic flow with this type of technological implementation would improve by 20 to 50% through a reduction of tailbacks at intersections, along with the number of cars looking for parking spots. this would mean that 20% percent of the existing roads around union square could be made smaller or allocated to other forms of traffic such as bikes, pedestrians and public transit.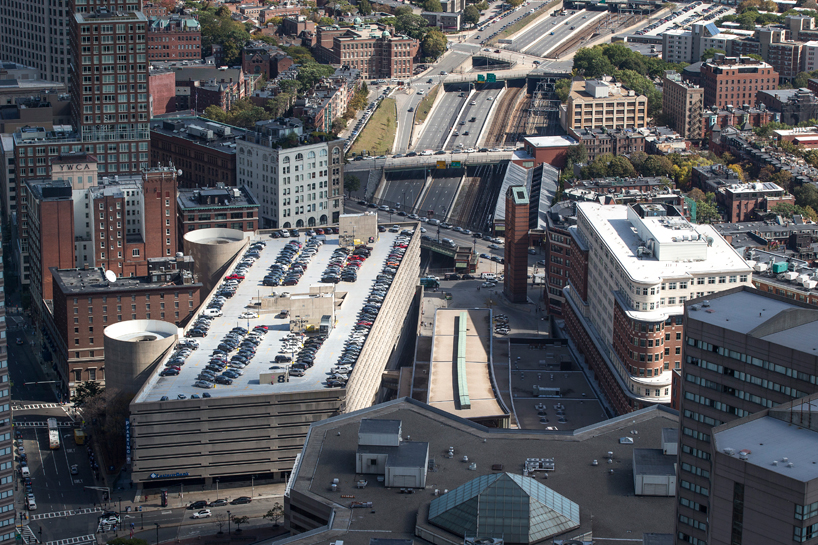 aerial view of somerville and its current parking infrastructure
'traffic-light information online is just the first step on the road to the smart city. for many years AUDI has been examining the optimization of traffic flow in cities. we are therefore working continuously on new car-to-infrastructure services in order to extend our portfolio further. on the basis of our fleet data and optimized communication between vehicles and infrastructure, in future cities will, for example, be able to control traffic-light phases and traffic management systems dynamically.' – gerhard stanzl, head of predevelopment, car2x / big data, AUDI AG
another advantage of piloted parking is that garages designed for self-parking cars could potentially be sited in less attractive places. users could leave their cars in central locations, and cars could drive themselves along designated routes to garages in secondary locations, freeing up prime real-estate for more meaningful urban development. 'the car will always be part of our mobility. at the time, due to congestion and parking problems, today it shows us the limits of our mobility. with technologies from AUDI, we expect to be able to use the available urban space more efficiently. this enhances the quality of urban life,' says curtatone.
a diverse digital database that acts as a valuable guide in gaining insight and information about a product directly from the manufacturer, and serves as a rich reference point in developing a project or scheme.
designboom will always be there for you
milan, new york, beijing, tokyo

,
since 1999