at the 2015 london design festival, hansgrohe's design brand AXOR presents an interactive shower control, designed by barber & osgerby. conceived as a 'focal point for the senses', 'axor one' seeks to eliminate the need for various control units, by consolidating their combined functions within a singular element. 'with edward barber and jay osgerby we transformed the idea of a central shower control element into an engaging, purely mechanical interface that refines showering into a tactile, precise and responsive practice', explains philippe grohe, head of axor.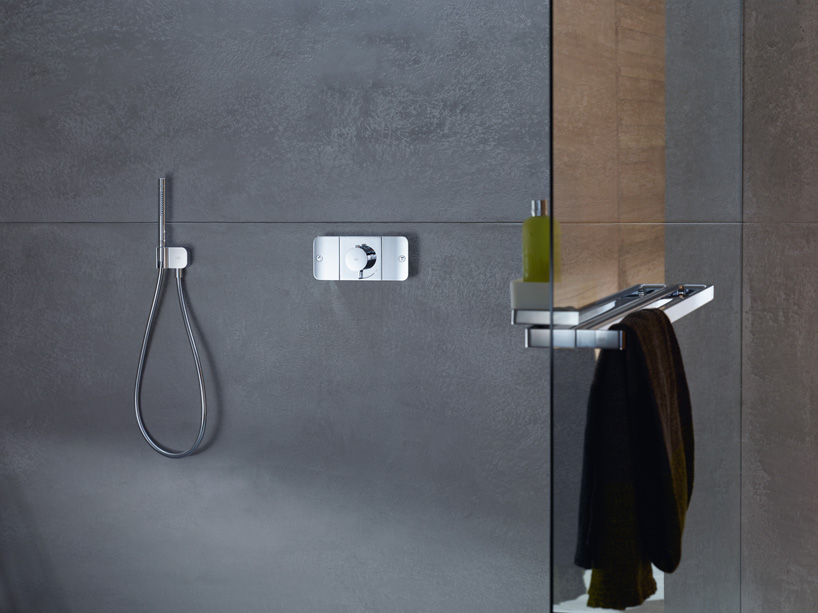 the interactive control seeks to eliminate the need for various units
all images courtesy of axor
the device allows its user to easily turn multiple water outlets on or off simultaneously, while the temperature is regulated by turning the central dial. a small lever directly below regulates water volume, and the eco mode can reduce water consumption by up to 50%. the flow is activated and deactivated by tapping the paddles: clear symbols indicate the specific water outlets the user can choose from (e.g. overhead, hand, or side shower).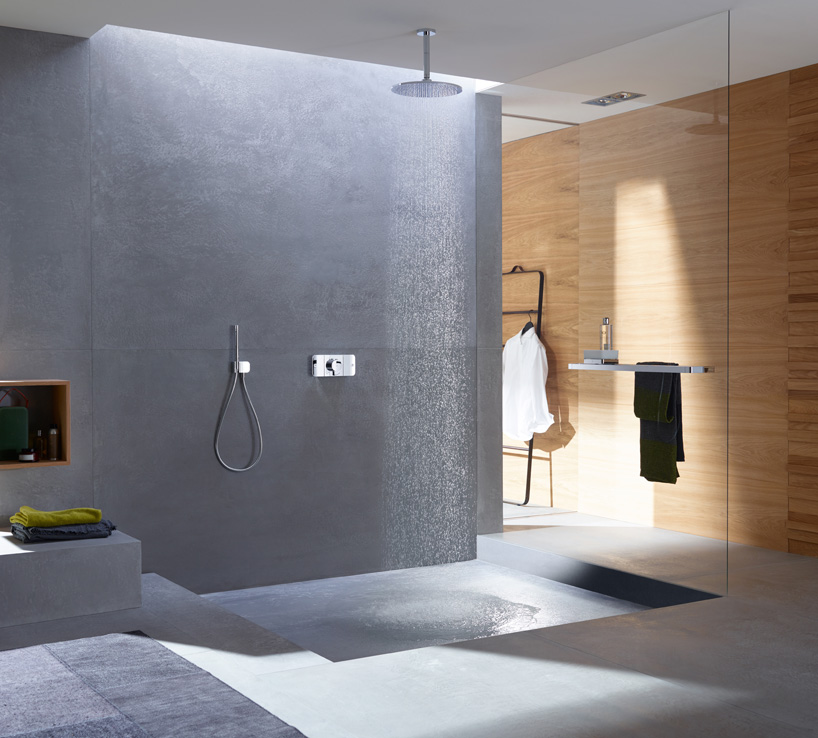 combined functions are consolidated within one interface
barber & osgerby's pared back design incorporates smooth surfaces, rounded edges and elegant proportions, ensuring that the functional thermostat appears at home in a range of contemporary bathroom settings. the device is available in a variety of special finishes, ranging from subdued chrome to a bold red-gold.
designboom spoke with edward barber and jay osgerby to understand more about the development of axor one, and the role it plays it today's bathroom environment. read our full interview below.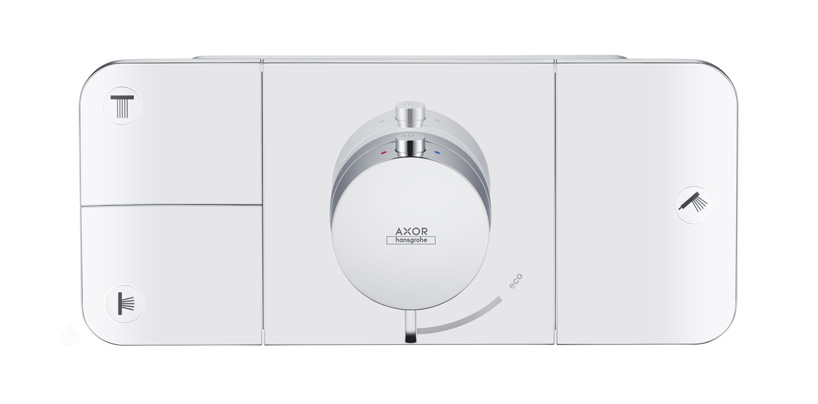 temperature is regulated by turning the central dial
designboom: can you start by talking about the collaboration with axor began?
edward barber: we'd been talking to philippe grohe for 100 years and we definitely wanted to do a project together, but we wanted to start with something that was very meaningful and something that was new. we looked at what they were doing currently and found that, when people use lots of different thing in the shower — overhead shower, hand shower, jets and all these complex different ways of using water — it becomes very complicated because you have lots of different controls separately on the wall. we thought maybe we can try to combine everything to see if it could be firstly easier to use, but also easier to install, and then cost effective as well.
jay osgerby: that was incredibly challenging to do. it's a problem solving thing, how do we make complexity simple? and when we discovered a way to do that, we then spent the last four years trying to realize that simple, or that apparently simple idea.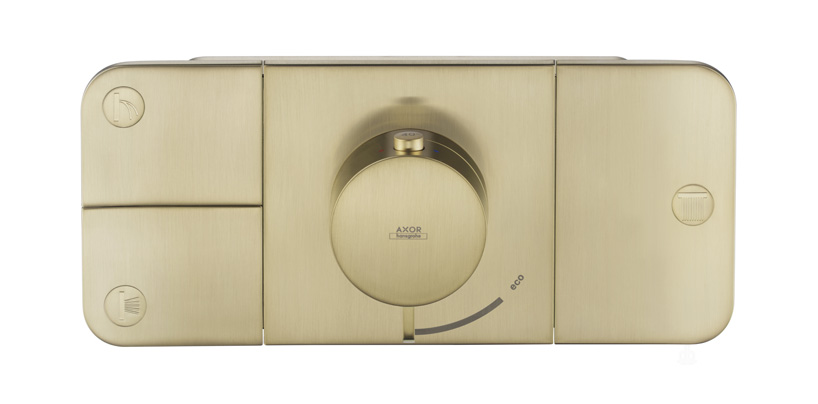 a small lever directly below the dial regulates water volume
EB: and so, you end up with a simple rectangular panel, with a circular control in the middle. and when you see it now, it just seems very obvious that you would end up with something like that. but we started off with lots of very complex things in one object, and over time we have reduced it and reduced it so you have this object which can visually fit with existing axor products, as well as any future axor products, since it doesn't say too much in terms of the styling. alongside that we have also been developing other products to go with it and we felt it was appropriate to launch just the control panel to start with, because then people can really understand what it can do and then we'll add our other products later.
JO: for us, it is the most important thing in design to find a solution which is completely new, but very intelligent, which uses less resource, which is less complex for people to use and less complex for people to install. so it was a perfect starting point for our project with axor.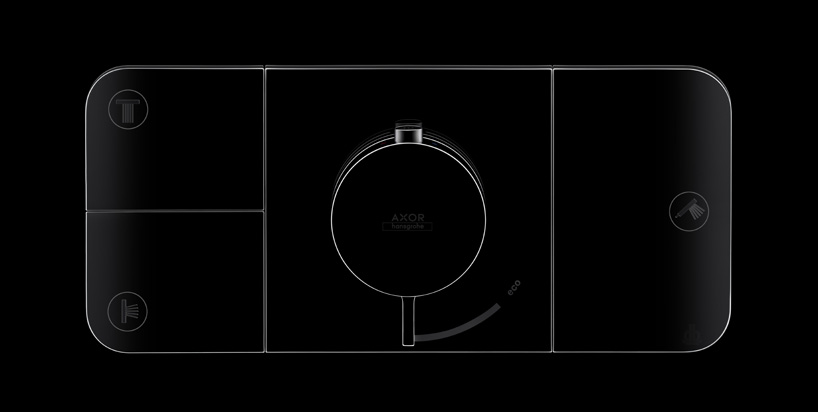 the thermostat is available in a range of colors and finishes
EB: there are two other advantages to this control panel: one, that you have the very precise on and off settings, which mean that it's good for water conservation as it's impossible to leave the tap running — or leave the shower running with the water dribbling out. the other aspect is that the paddles are very generous in their proportion, it means that people who don't have full use of their hands, or their grip, can actually turn it on and off just by hitting it or using your elbow. so it's actually very good in terms of inclusive design.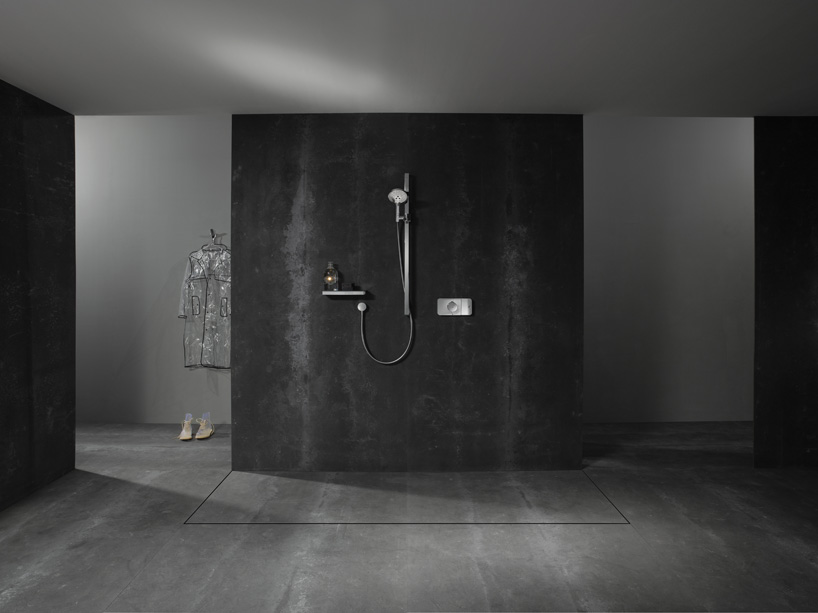 the functional thermostat appears at home in a range of contemporary bathroom settings
DB: could you talk about some of the technical challenges you faced during the development process?
JO: one of the big challenges was to design a rotary movement into a binary movement. you know how when you click down on a ballpoint pen you have something that turns which brings the pigment? it is exactly that motion we use in creating this incredibly complex, very clever valve. we had to understand how we could make that work and how we could convert that innovation into an interface which was super easy for everyone to understand.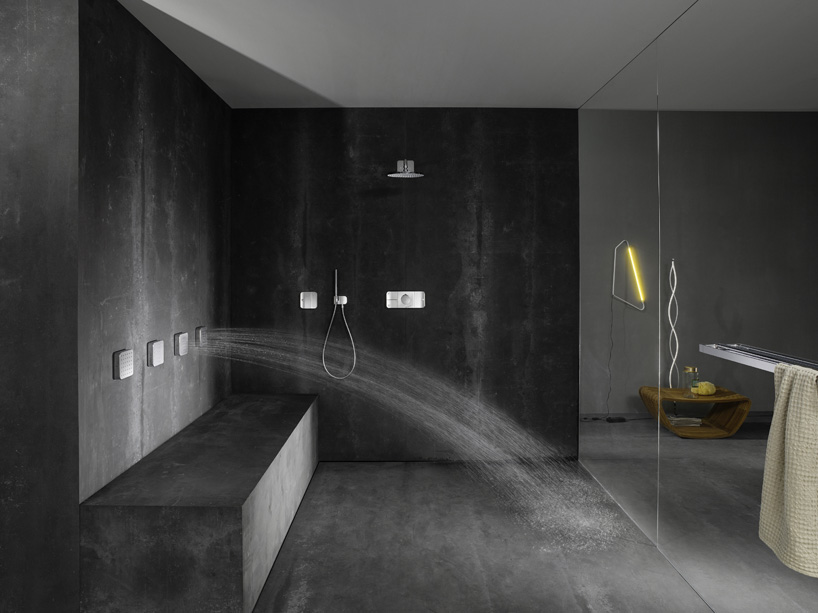 water flow is activated and deactivated by tapping the device's paddles
EO: also to start with we were mainly using buttons, which was logical because this thing is a button. but it was just too fiddly, it wasn't generous enough. when you're in the shower and there is water everywhere, you just want things to be simple and fast to use. so that button grew into a larger and larger panel and at the center we have a large circular dial, which is the focal point of the temperature control, so that every single part of it is very easy to use.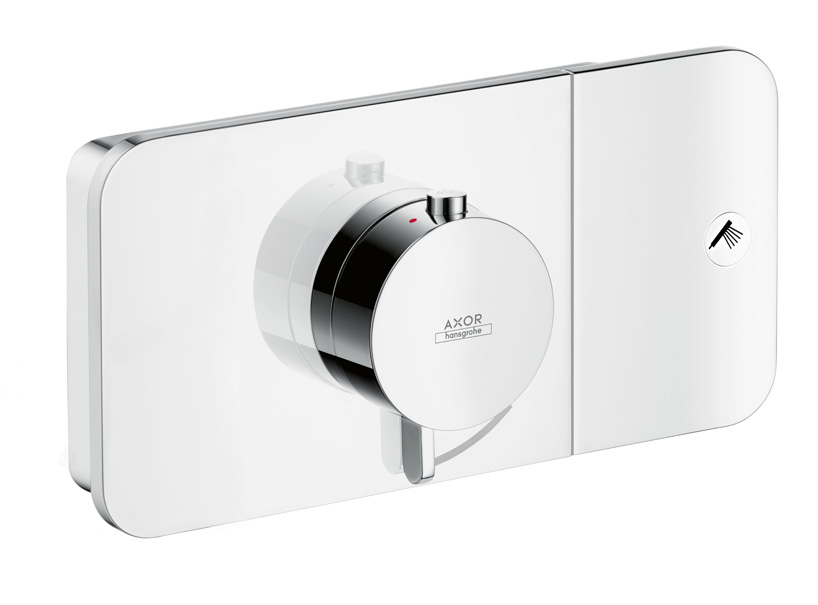 the pared back design incorporates smooth surfaces and rounded edges
DB: how does the creative development of your bathroom hardware for axor differ to your furniture product development with vitra for example?
JO: there's a lot more water!
EB: we actually approach every project in the same way, which is to understand what the problems are. if it is something which is existing or, how we can make the product more intuitive. maybe there is a process or material that could be used to make it more efficient, or easier to produce. so there is always a list of criteria which we collate at the beginning, that we almost tick off as we work through the project. that's why projects take a long time. they don't just happen like that (snaps fingers) and typically projects take between two and four years. something like this, needed at least a year of testing as well. when you look at it you say: 'how could that possibly take four years?'. it takes drawings, models, prototypes to be made, as well as physical working prototypes by axor, as they need to start to understand the complexities which are behind the project.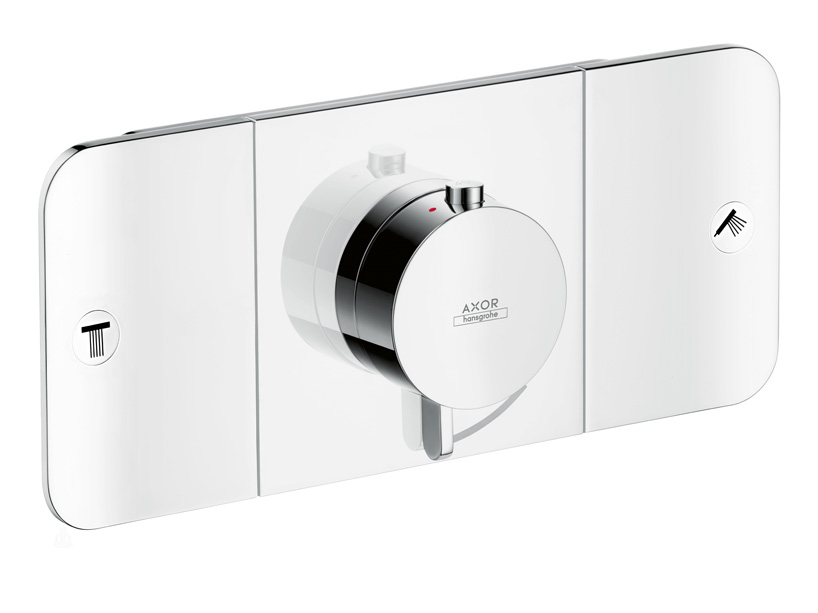 the axor one thermostat shown with paddles for two outlets
DB: do you think the role of the designer is to satisfy the public?
JO: no, not really. 'satisfy' is the wrong word.
EB: (our role) is to present opportunities for the public to engage in, that maybe offer something better than what can already be obtained. for us, it's at least a way of experimentation. every project is an opportunity for us to work in a new way, or to experiment in some way or another.
JO: I think we have also a responsibility to the people we work for, to work hard to find answers to problems they don't even know they have. it is our job to make sure that they continue to flourish by producing more projects that are intelligent and can improve people's lives.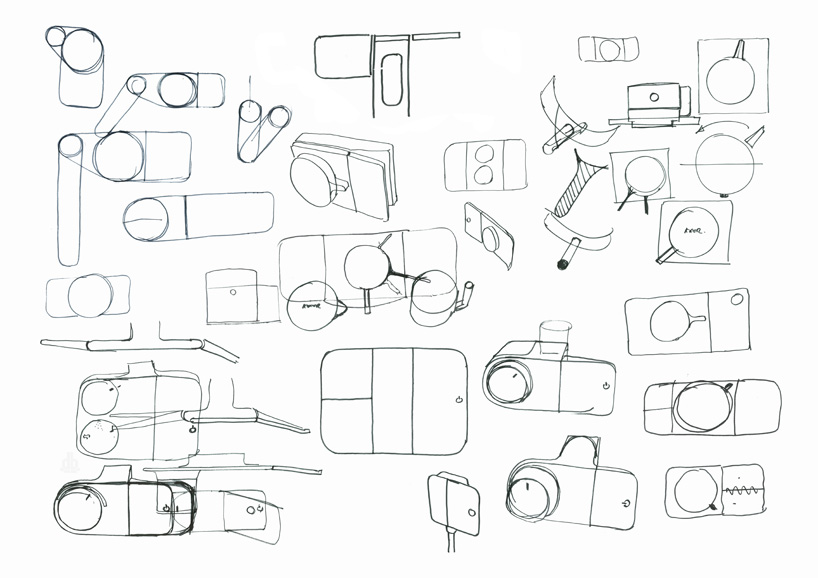 concept sketches by barber & osgerby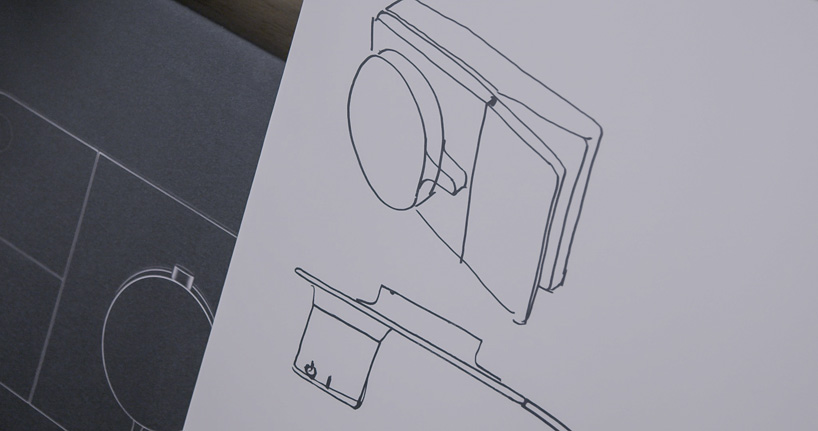 development sketch of axor one
photo by alexander schneider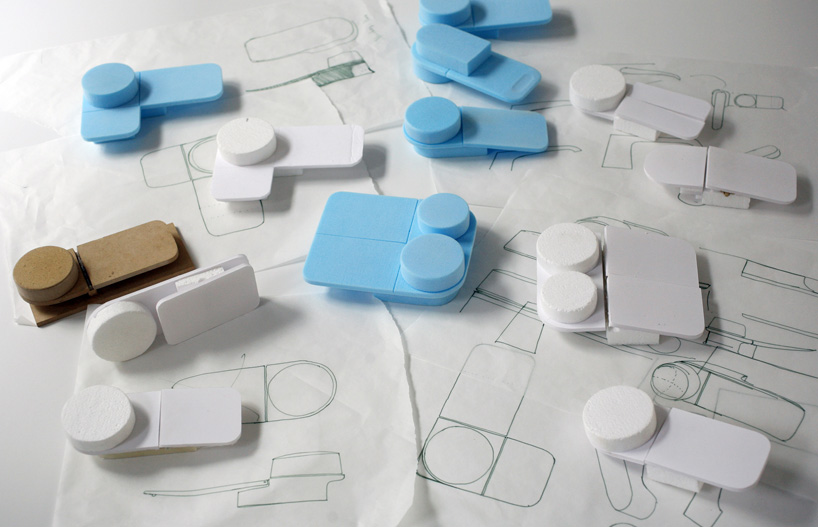 a range of product models by barber & osgerby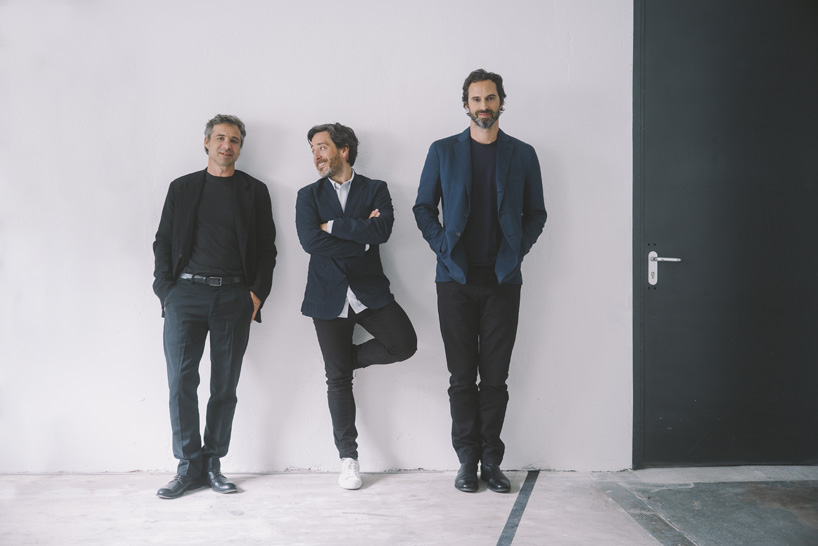 (from right to left) edward barber and jay osgerby with head of axor philippe grohe
photo by alexander schneider
shuhei senda
I designboom
sep 25, 2015
a diverse digital database that acts as a valuable guide in gaining insight and information about a product directly from the manufacturer, and serves as a rich reference point in developing a project or scheme.
designboom will always be there for you
milan, new york, beijing, tokyo

,
since 1999