italian company beeing wants to encourage the bee population and foster a new generation of beekeepers by creating a compact colony that simplifies the harvesting process. designed to fit into urban spaces, the b-box is a plywood-enclosed colony that aims to encourage people to see beekeeping as something that can be easily done at home.
the b-box is made predominantly of wood that has been cut into panels and layered with polycarbonate to create a warm exterior. together, these materials form the main structure, which encloses the hive, with a removable panel that allows you to view the bees at work.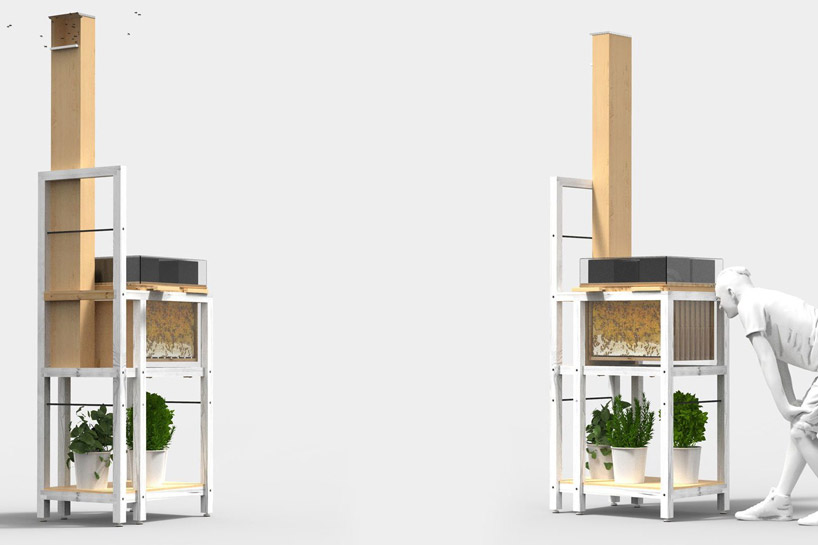 bees enter via a 2.2 meter long chimney, which has an opening at the top so that the keeper can observe the hive without disturbing exit and entry. with base dimensions measuring 67×47 cm or 27×19 inches, the hive is suitable for small spaces but can also be customized.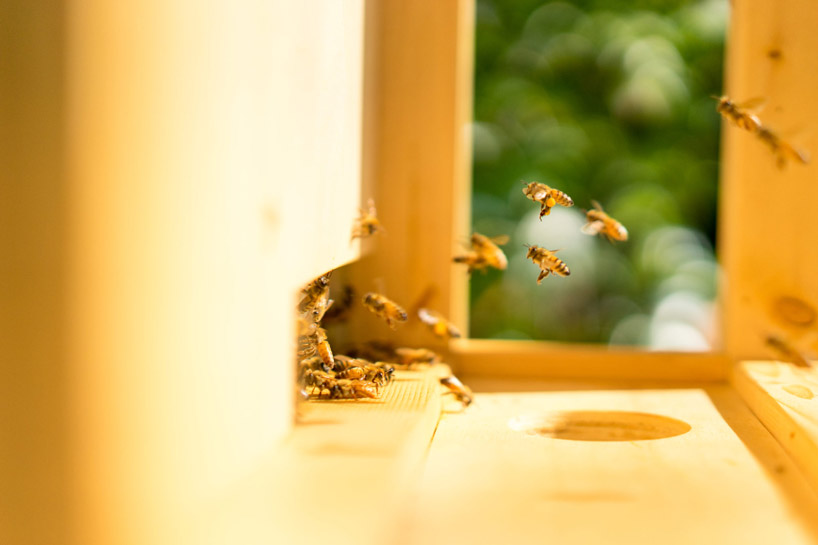 'bees are special: not only do they produce honey, but they are also responsible for pollination. we want to give everybody the chance to know them, observe them and produce honey in a very easy and safe way,' beeing says.
'the patented system separates the area in which bees live from the one in which they store honey, so that you can extract it safely, without a veil or gloves, and without any contact with bees either.'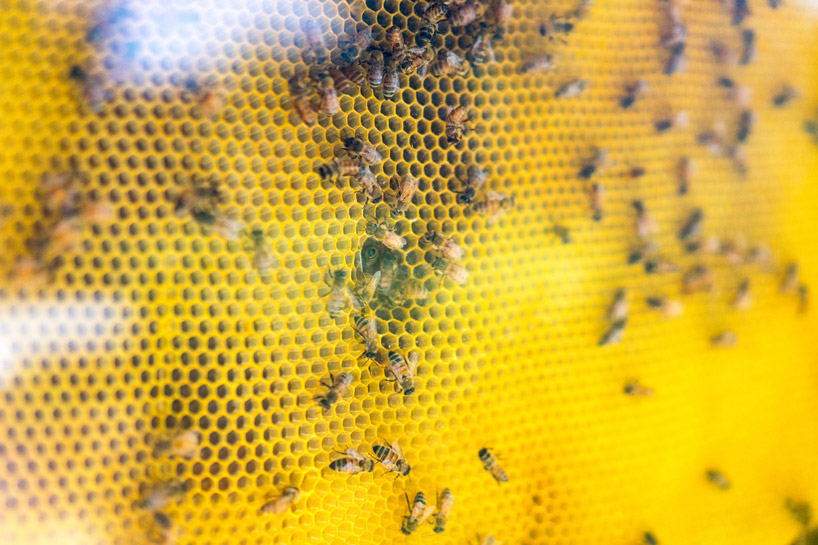 beeing has designed a patent pending honey harvesting system that safely separates the honey from where the bees live. sat atop the main hive, a series of honeycomb chambers enclosed in a perspex box lets users observe the honey making process without the need for protective clothing.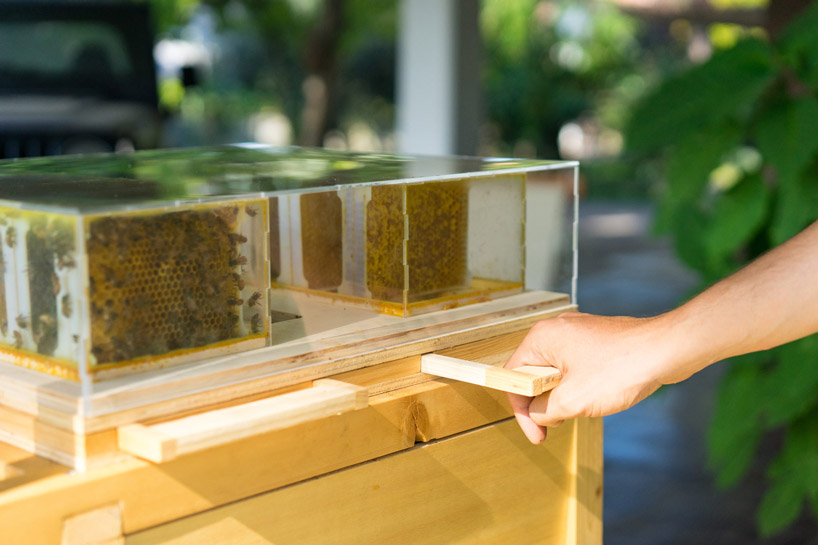 bee entry is granted by a lever that firstly let bees into the honeycomb chambers. when users want to harvest the honey the lever can be pulled, letting bees exit the chambers but not enter. after just a few hours the honeycomb chamber will empty of bees.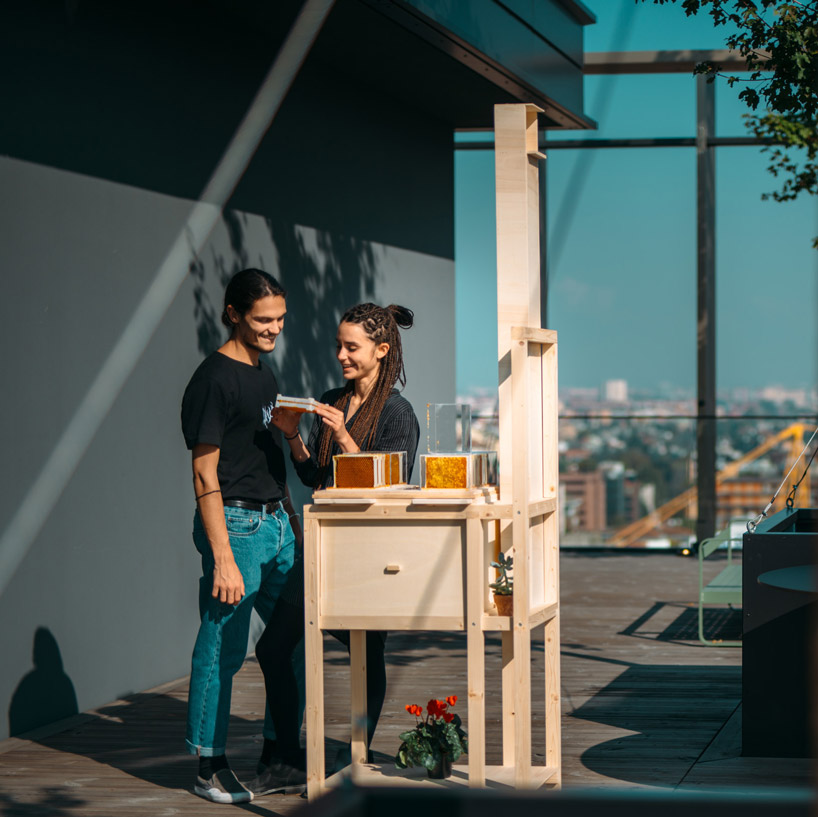 beeing wants to simplify the process of beekeeping to encourage a new generation of harvesting as well as help increase the bee population. the company also offers training and customer services where experts are available to help with installation as well as everyday queries and learning.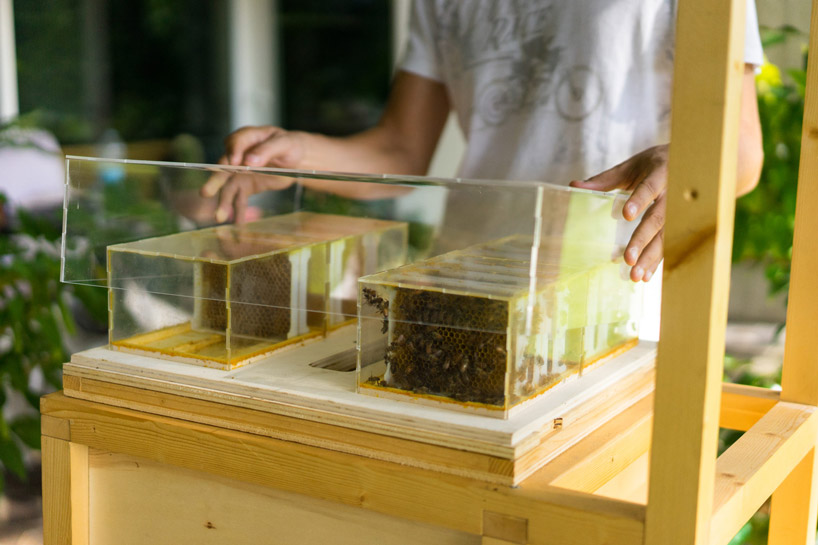 the b-box is currently ready for production and beeing is accepting pre-orders via an indiegogo campaign, which closes in a few weeks. as of july 4 2019, the company has exceeded its goal of €40,000 by %147, with 181 backers pledging almost €100,000. the first shipments of the bare expected in november.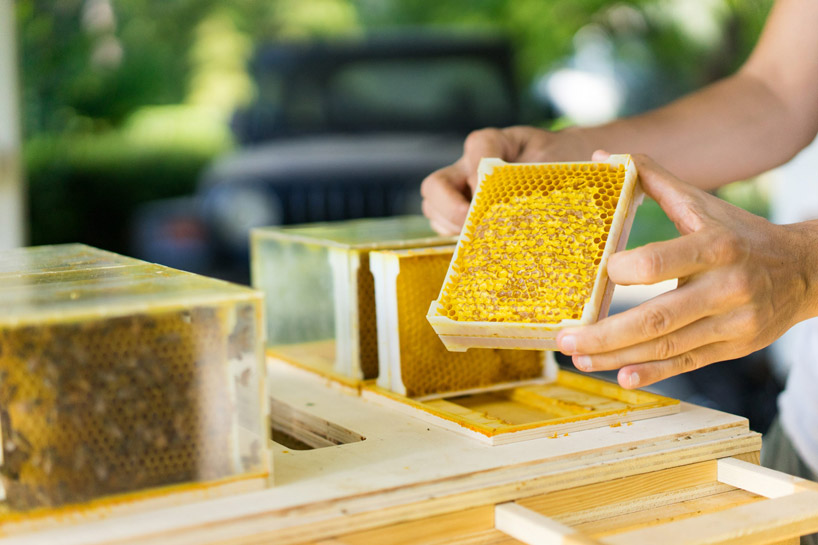 beekeeping is growing increasingly important as studies report high rates of decline in bee populations. more than 80% of global food supply is made possible by bees and they are fundamental to the ecosystem and human survival on this planet.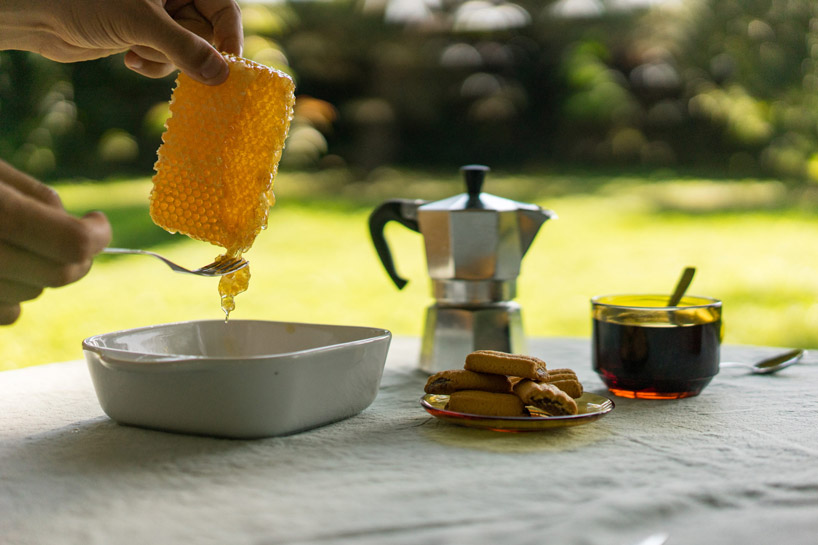 in the last decade, periodic collapses have been a source of inspiration for designers and other companies who want to restore the population to its former glory. back in 2014, architecture firm snøhetta designed a series of wooden hives for the roof of an oslo food court in a bid to encourage bee population in the city.
mcdonald's sweden recently unveiled the 'mchive', a mini beehive designed to look like one it's restaurants. it is part of a wider initiative towards the wellbeing and preservation of bees that has seen several of the fast food chain's restaurants install the beehives on their roofs. franchises are also replacing the grass around their restaurants with flowers and plants.
aug 02, 2020
aug 02, 2020
may 29, 2020
may 29, 2020
may 14, 2020
may 14, 2020
mar 21, 2020
mar 21, 2020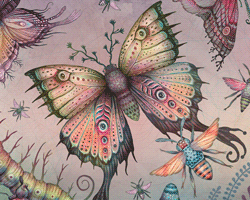 jan 21, 2020
jan 21, 2020
nov 04, 2019
nov 04, 2019
a diverse digital database that acts as a valuable guide in gaining insight and information about a product directly from the manufacturer, and serves as a rich reference point in developing a project or scheme.