l'harcourt toujours: an icon reaches 170 galerie/musée baccarat 11, place des etats-unis, 75116 paris on show until january 28th, 2012
entrance of maison baccarat in paris image © designboom
2011 marks the 170th anniversary of french crystal maker baccarat's iconic 'harcourt' range. it is the oldest stemware model designed that is still in their catalogue and produced with the same quality standards, with the exact original design to this day. the emblematic dorm is recognized by its hexagonal foot, triple knop stem and wide, flat-cut sides, and is the company's best seller. the beauty of the vessels is derived from their outline, heft, transparency and bowl, reminiscent of a flower's corolla on its stem, and of a chalice. it is its distinctive shape which embodies a constant search for perfection and a desire to magnify the purity and incomparable sparkle of crystal which results in over 10,000 harcourt glasses purchased each year.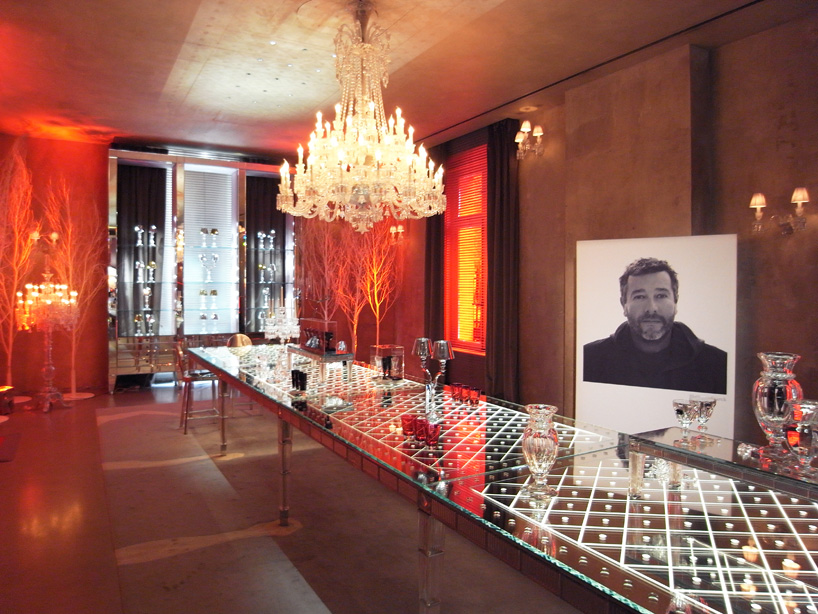 philippe starck for baccarat – exhibition of various collections image © designboom
the 'harcourt' stemware range was first issued in 1841 during the reign of king louis-philippe, printed in plate no. 30 of the tarif des cristaux taillés of 'price-list for cut crystal – published by launay, hautin & cie, whose paris depot in rue du paradis near the gare de l'est sold baccarat-manufactured items. during that period, the stemware set was called 'service de table de forme gondole à côtes plates larges' (gondola-shaped table service with triple knop and wide, flat-cut sides). its uncluttered lines were perfectly attuned to the style of the decade – 1835-1845 – a period in which décor was simplified to emphasize diversity of form. at that time – when people traditionally ordered a complete table service – it was composed of thirty items: six different glass sizes, decanters with different volume capacities, water jugs, cups, hors d'oeuvres dishes and fruit bowls. later in the 20th century, new pieces were added including a champagne cup, a rhenish wine glass or 'roemer', a mug and a goblet, whose respective additions to the service were a response to the changing dining fashions. for similar reasons, a caviar service, salad bowl and wine cooler were also added to the range.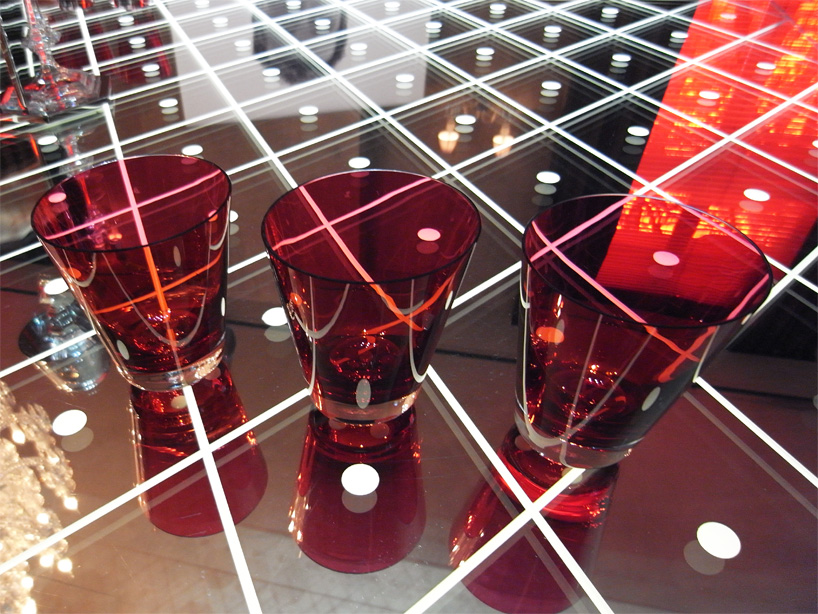 image © designboom
it was in 1920 that the table service was named after one of normandy's most aristocratic families, whose existence is documented as early as the ninth century. from then on it was known as 'harcourt'. it was at the international exposition of modern industrial and decorative arts held in 1925 that baccarat then began naming all of its table services, identifying them in relation to their form or décor, given such titles as 'les jets d'aeau' (the fountains), pour le yacht, etc., while other sets were given the names of cities or famous persons, such as 'flers', or 'ecouen'.
in 1975, the 150th anniversary of the technical development of pieces with wide, wheel-cut, flat-cut sides, were acknowledged with a limited edition of magnum decanters, followed by a series of outsize glasses called hanaps: pink in 1976, cobalt blue in 1977, emerald green in 1979, moss in 1981, amtheyst in 1982, and orange in 1983.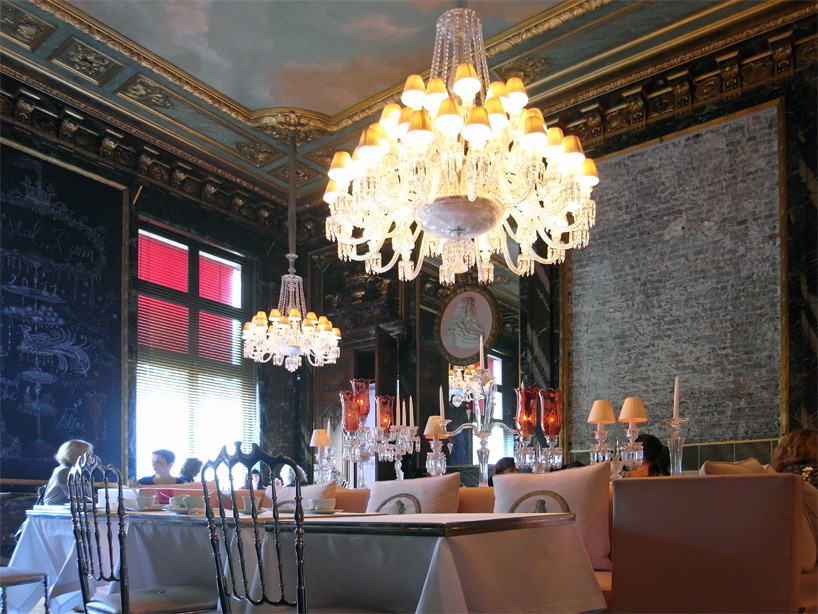 café of maison baccarat image © designboom
since its birth, 'harcourt' has been reinterpreted on a number of occasions:
in 1956, 'empire' was a variation of the classic design which featured a gold décor applied to each flat-cut side and the foot. then in 1982, there was 'ems' which featured a gold line painted around the edges of the bowl and fool. 'enée' realized in 1982 had silver lines.
in 2002, baccarat invited invited a selection of young designers to interpret 'harcourt' with their contemporary, creative flair. for the 'harcourt saga' collection, tsé & tsé, vincent dupont-rougier, arno billault, inga sempé, florence deygas and olivier kuntzel gave their imaginations free rein, with the upshot that the glass was transformed into a 'powder box', 'vaporiser', 'candleholder' or a detective story, with items aptly named 'impact', 'clues', and 'investigations'.
then in 2005, french designer philippe starck subverted the harcourt icon by transposing it into black crystal, designing the 'un parfait' presentation set and the 'black angel' mug. later he experimented with crystal to create 'hell', that seems to be carved out of a solid block, and 'aïe' ('ouch'), with its raw crystal inclusions. most recently, in 2011, starck and his daughter ara designed a set of draughts, 'je de dames en noir', with light and dark colored 'harcourt' champagne flutes used as the game pieces. also this year, students of the design and luxury goods master's programme at écal in lausanne for which they were asked to give their interpretation of harcourt glass. the resulting 15 designs are a mix of the playful and pragmatic and you may see the finished projects in designboom's previous article here.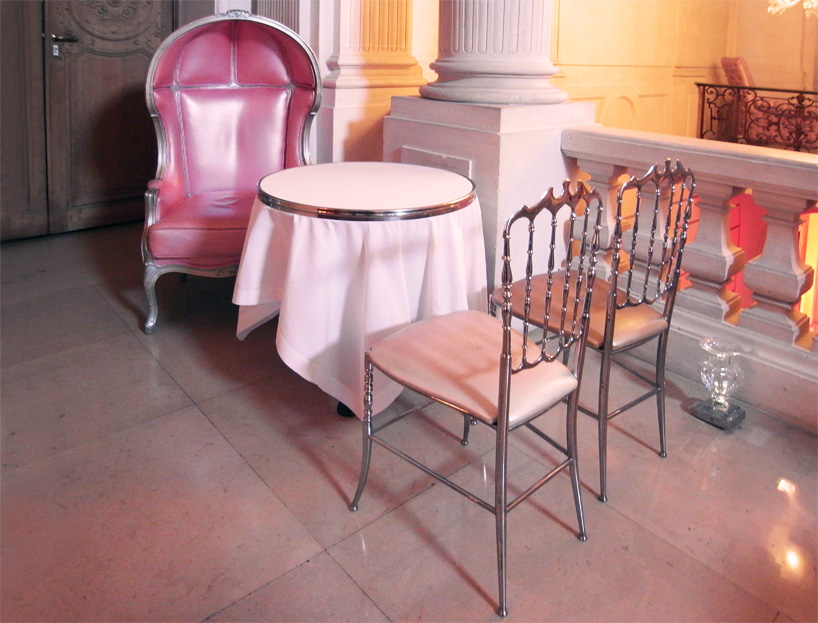 quaint resting area image © designboom
throughout its rich history, the 'harcourt' stemware has had some prestigious commissions… napoléon the III was the first french monarch to have ordered the service, similar to the stemware used for the state banquets of his predecessor, king louis-philippe.over time many prestigious commissions for the table service have been made. the french president uses it for dinners given outside of the official residence of the elysée palace (ie. the hall of mirrors in versailles), and it also makes appearances on some of the tables of the most important french embassies including those in the united states and the united kingdom.
numerous coats of arms have been emblazoned on harcourt's iconic flat-cut sides. kings and heads of state the world over have ordered the service engraved with their coat of arms or cipher. among them have been popes benedict xv (1914) and john-paul II (1979), the presidents of brazil (1952), lebanon (1955) and mexico; the ruler of the united arab emirates (1959), and the kings of cambodia (1961) and morocco (2010). the service also graced dinner tables at the 1971 celebrations in persepolis, organised by the shah of iran to mark the 2,500th anniversary of the founding of the persian empire.
boni de castellane, the belle epoque arbiter of elegance is recorded as saying that the harcourt glass, 'with its understated design, imbued a table with nobility'. a table graced with the harcourt service – whether an intimate dinner or a king's banquet – is always synonymous with the exceptional. designed for yesterday, today and tomorrow, the timeless harcourt service perfectly symbolizes the beauty of noble materials in their purest expression.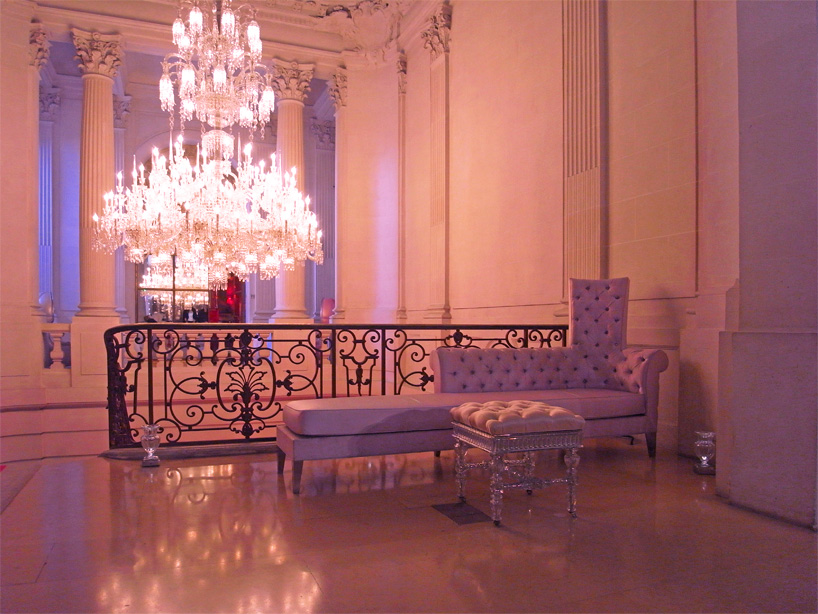 chaise lounge image © designboom
baccarat is commemorating this occasion by showcasing its brilliance and romantic story in an exhibition arranged by baccarat curator and archivist michaela lerch with staging executed by philippe jarrigeon in conjunction with architects abinal & ropars. the show retraces the history of the stemware from its first days to the present – through its precursors, prestigious commissions and variations on a theme.
'the idea is to suggest the atmosphere of a ball,' explains jarrigeon. 'a sort of never-ending celebration imbued with the poetry of passing time, with its dance floor and deserted banqueting tables, and the presence of the remaining guests suggested by cut-out silhouettes. it is rather as if monsieur and madame harcourt had invited us all to a magical evening entertainment. to do this, we concentrated our efforts on creating theatrical, surrealistic ambiences appealing to all five senses; on the idea of time suspended; and on themes evoking music and dancing. on a more practical level, we used special effects, differences of scale and tricks of lighting. so it's all about playful, quirky reinterpretation, to show that harcourt stemware is a resolutely contemporary design,' he says.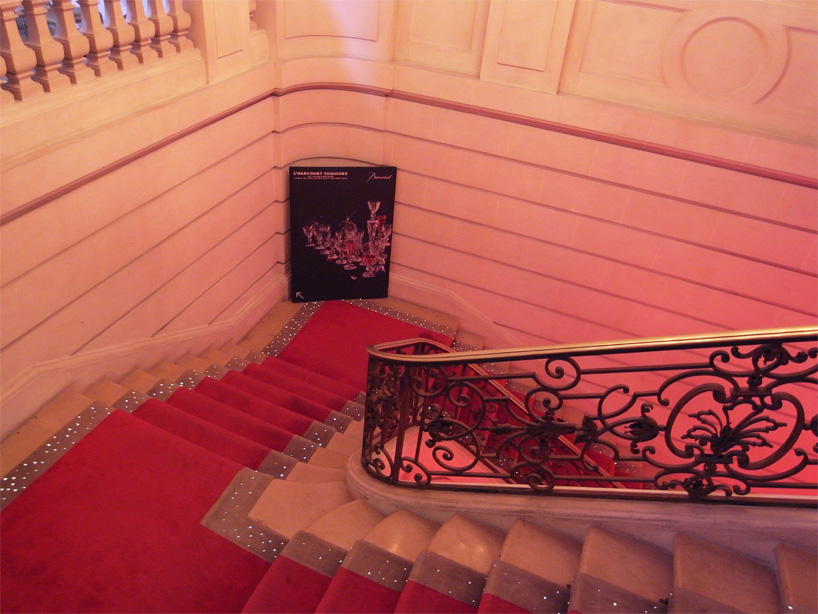 staircase image © designboom
the festivities begin on the ground floor at the foot of the staircase. set on starck's giant crystal chair, visitors are welcomed by a character set on, carved in an allusion to the outlines of the legendary harcourt glass. the scenography for this celebratory exhibition start on the ground floor of the galerie/musée baccarat, at the foot of the grand staircas. set on philippe starck's giant crystal chair. at the top of the staircase, one's eyes are drawn to the large glass display case set against the wall, on a series of outsized metronomes (an homage to the black crystal obelisk designed by georges chevalier, whichplayed an influential role for italian designer ettore sotsass's own collection in 2002) that takes up half of the display. throughout, baccarat's signature ruby red intoxicates the space.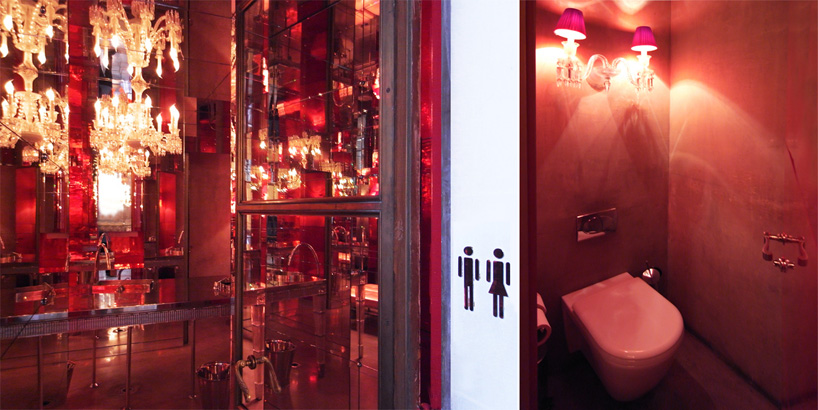 bathroom of maison baccarat image © designboom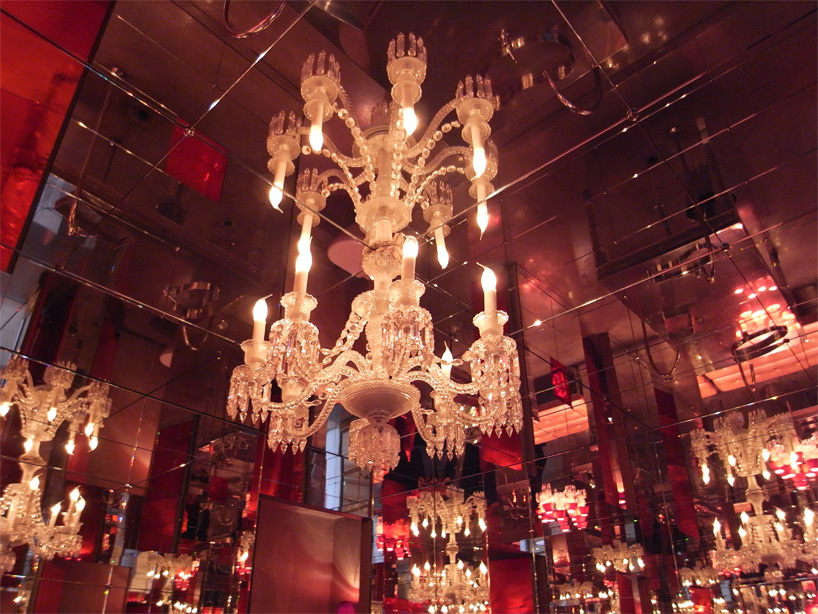 chandelier in the bathroom image © designboom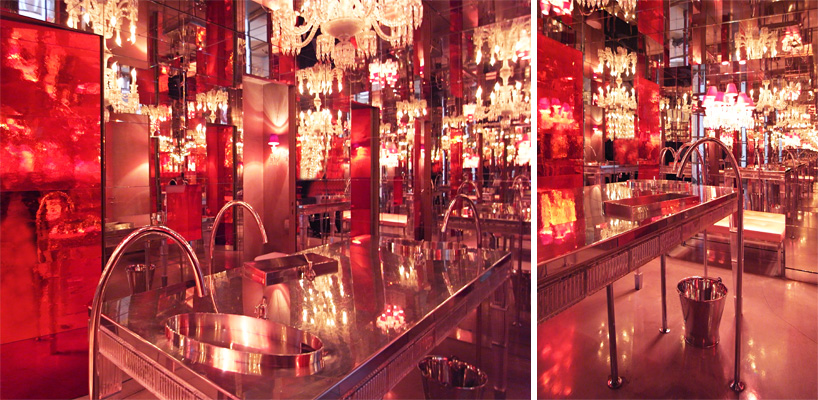 images © designboom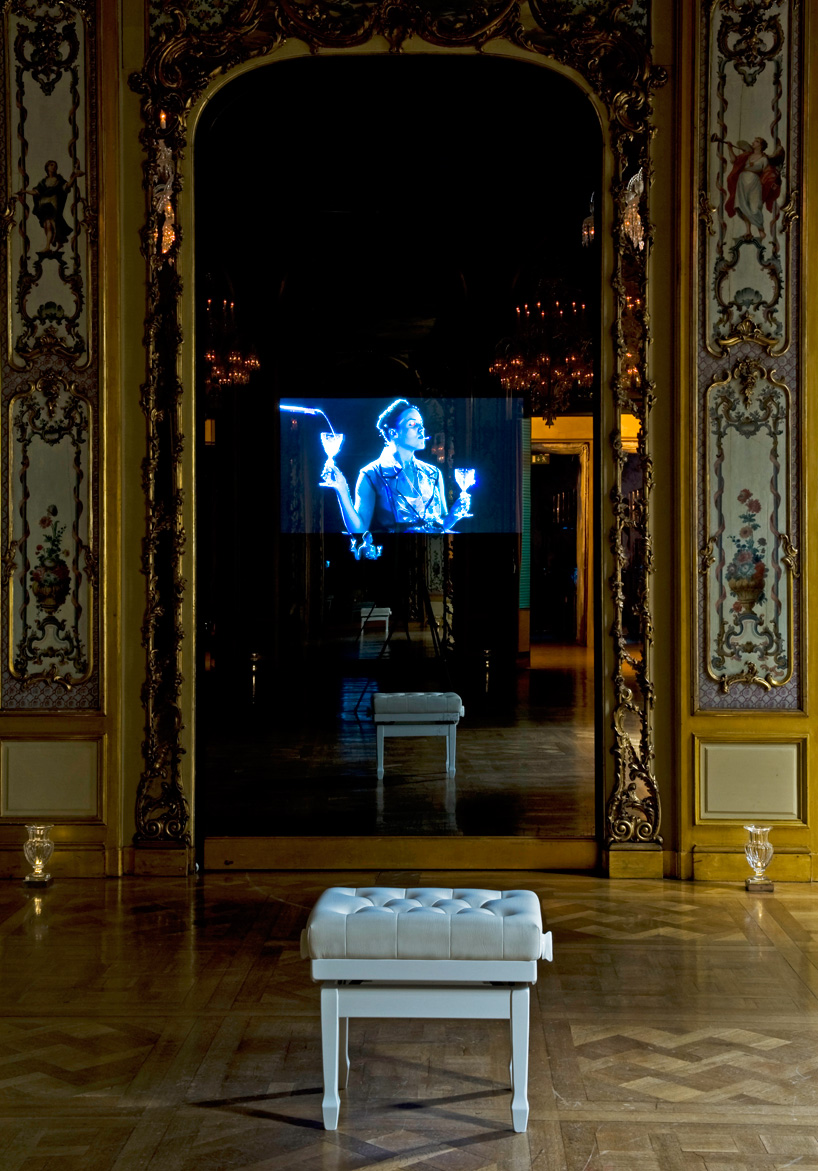 'fontaine' video installation image and video © philippe jarrigeon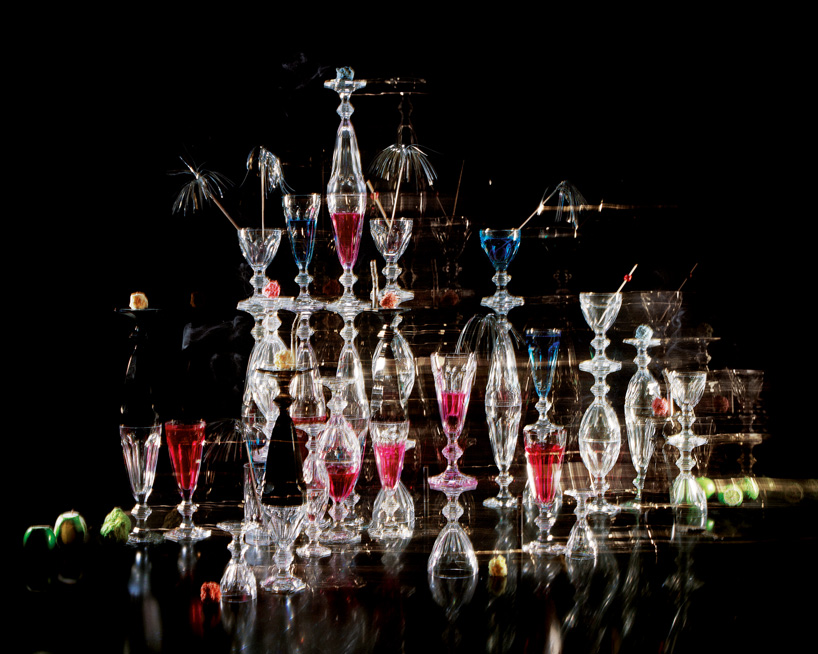 'harcourt' service image © philippe jarrigeon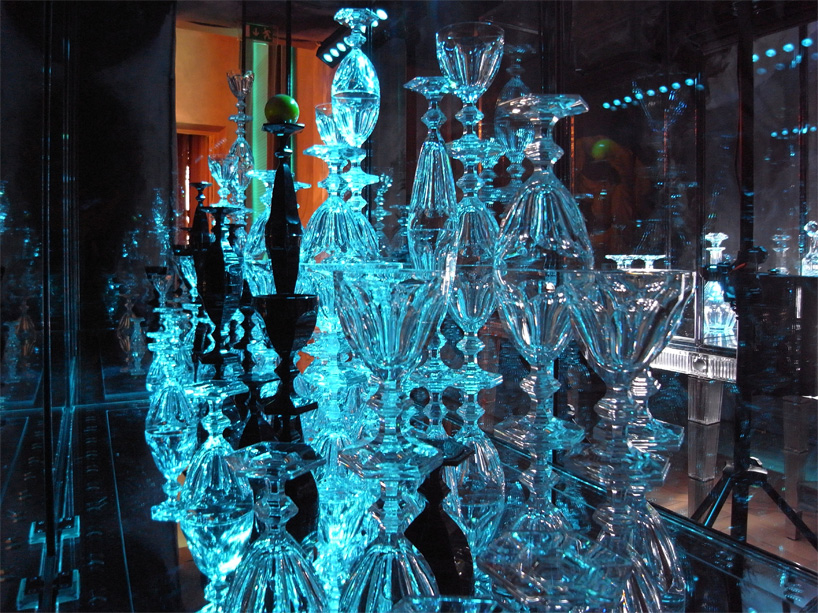 image © designboom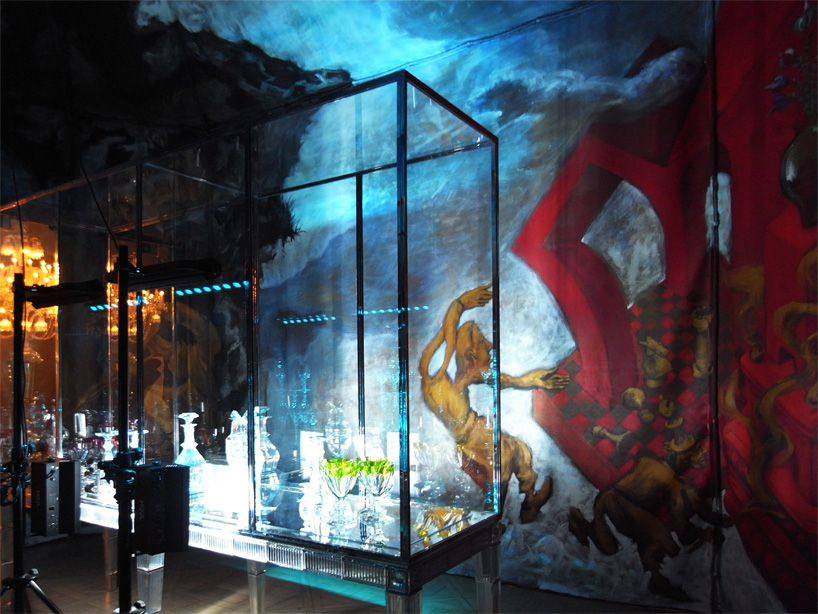 exhibition installation by philippe jarrigeon image © designboom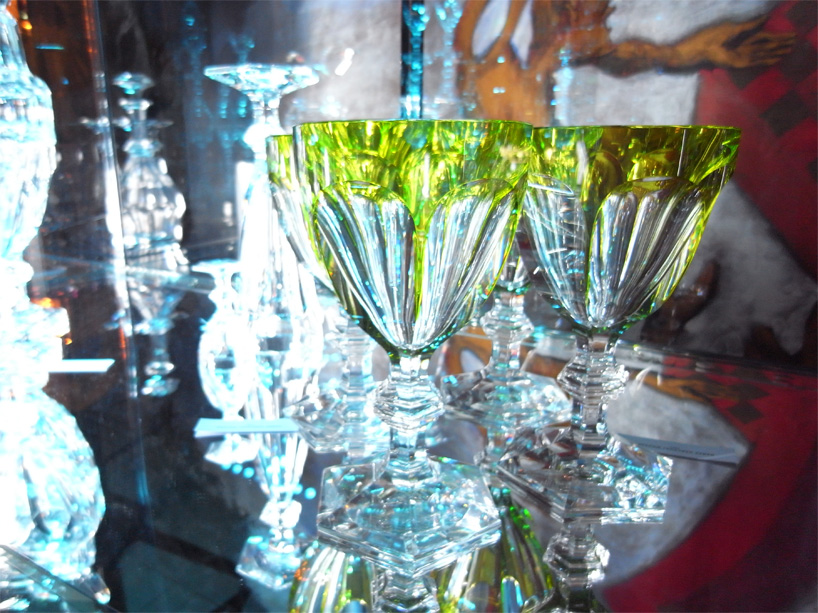 image © designboom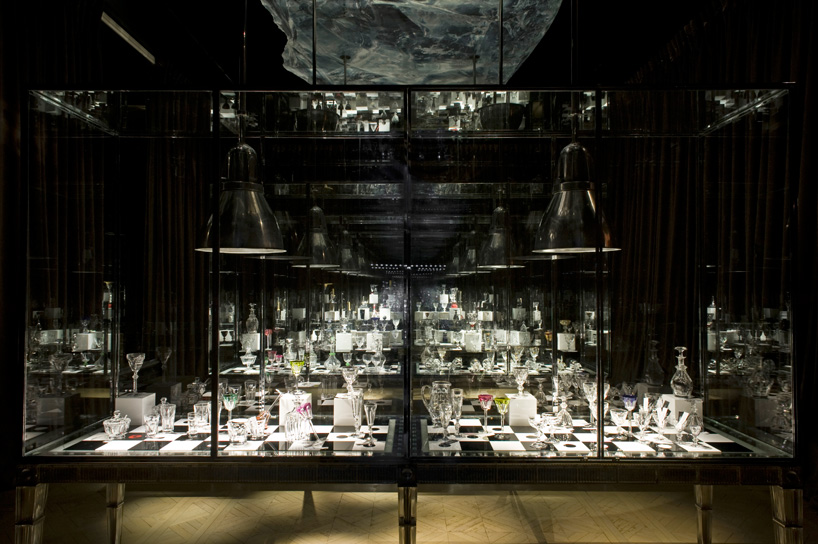 image © thomas deron
in the main room of the museum gallery, the rear four display cases are made up of black and white mini-cubes of translucent plexiglas, used as supports for he thematically-grouped items displayed within. one display, the dancing room, contains the complete set of harcourt precursors, such as the service made for french king charles X, the louis philippe state glass service and other prestigious commissions. there is also the 'games room' which showcases the wonders of black crystal ad the intermingling of different materials. finally, there is a VIP area which presents variations on the harcourt saga, designed by tsé & tsé, kuntzel + deygas, inga sempé and arno billault…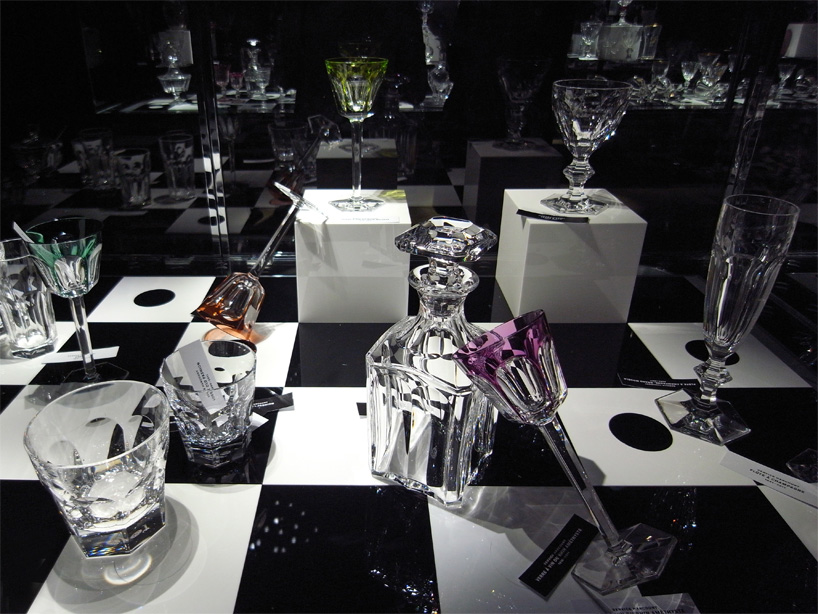 'harcourt' glass collection image © designboom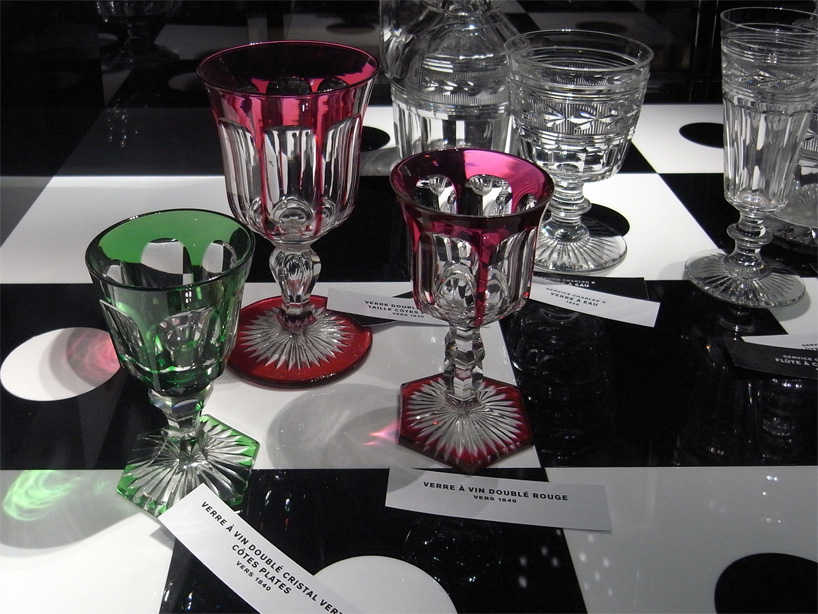 'harcourt' vine glasses image © designboom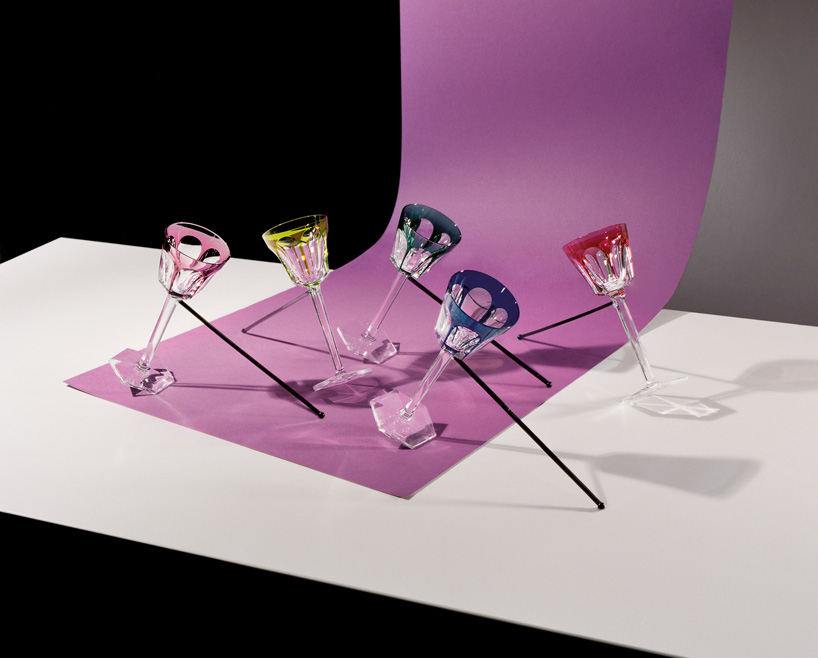 'harcourt' glasses for sweet wine image © philippe jarrigeon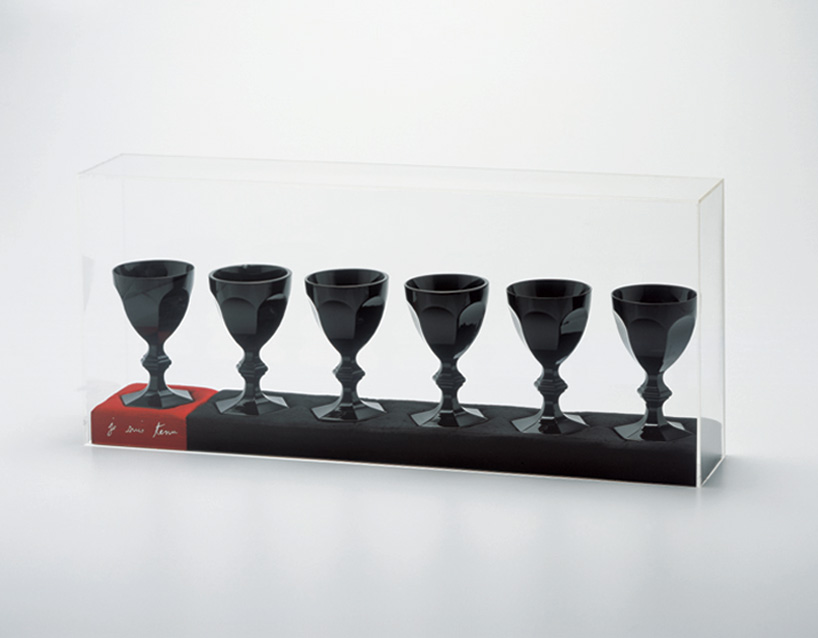 'un parfait' (one perfect), collection darkside by philippe starck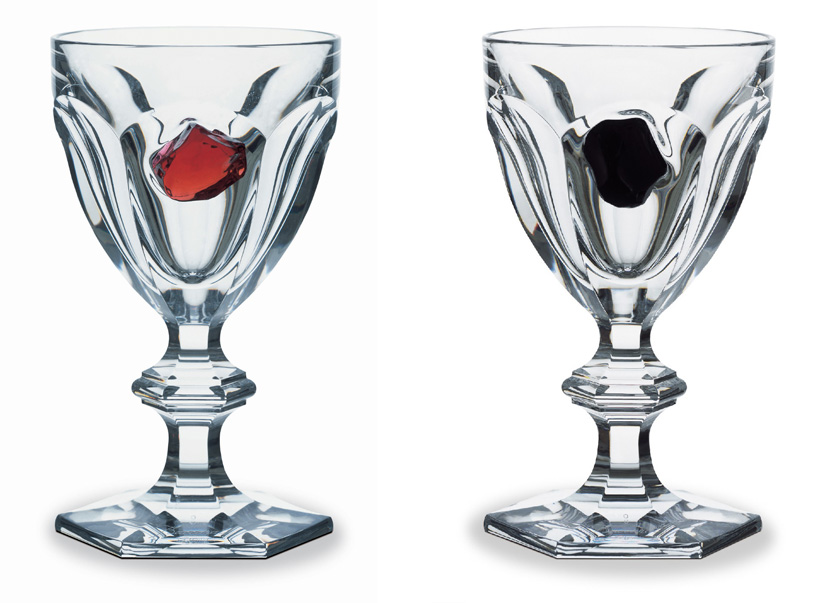 'aïe' glass, darkside collection by philippe starck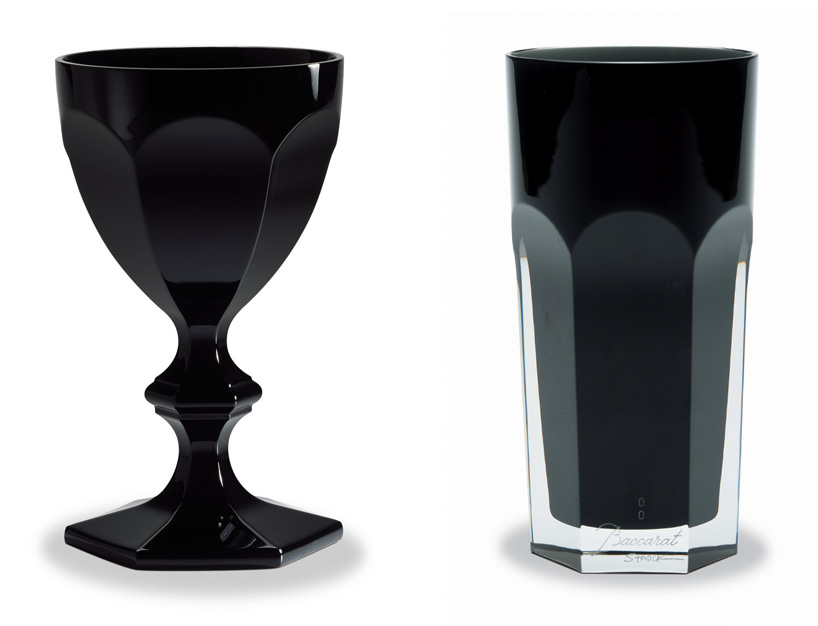 'jeu de dames en noir' (checkers in black) by philippe starck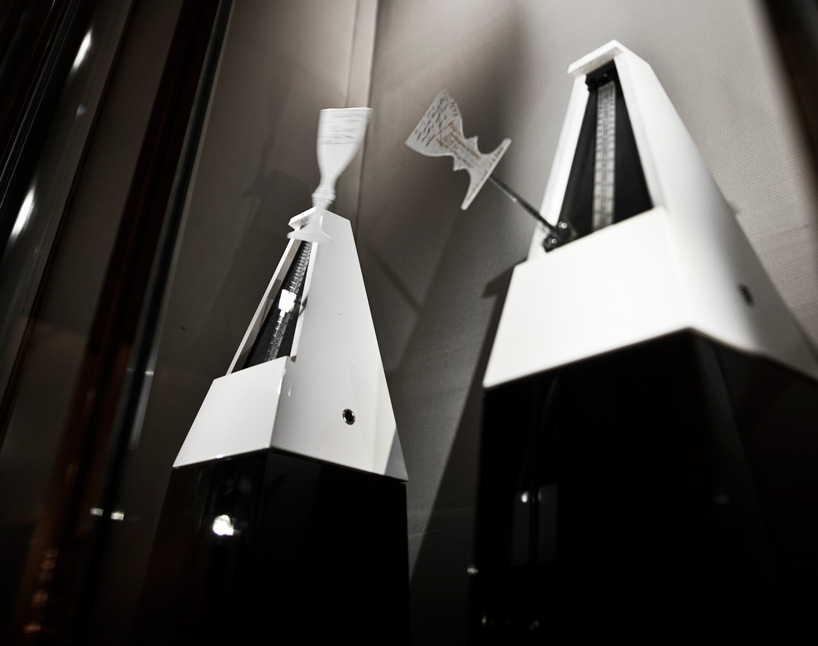 image © thomas deron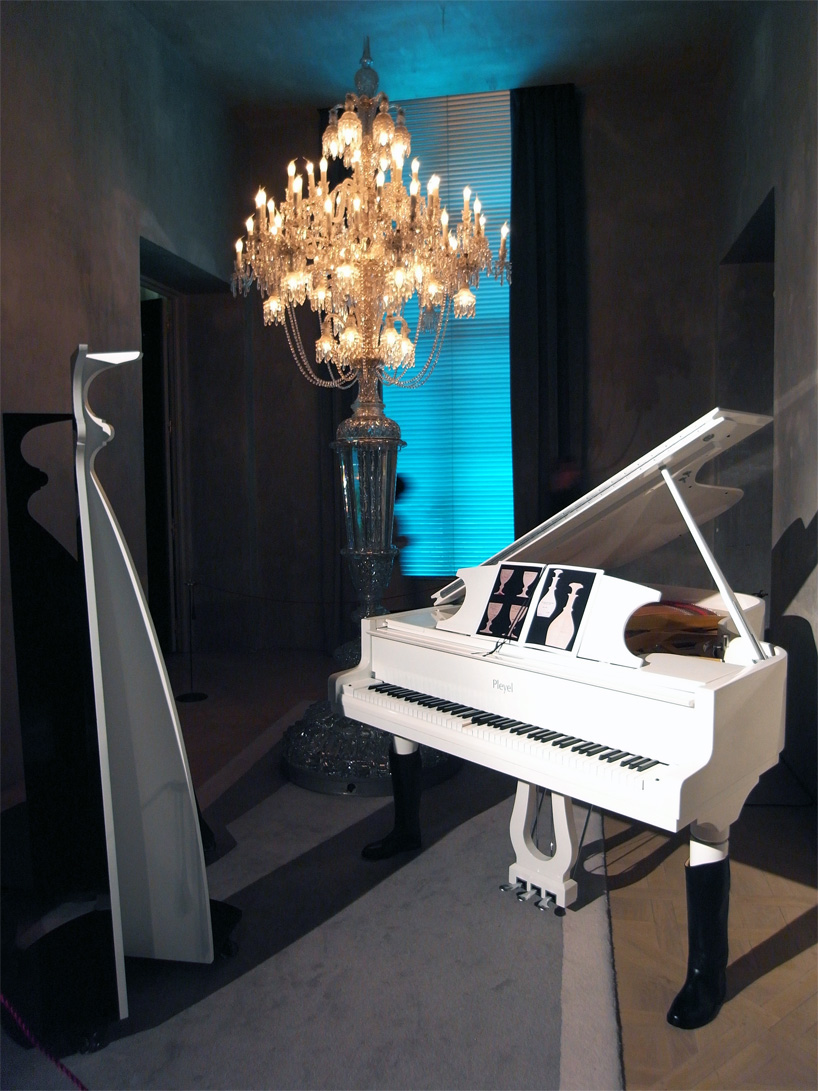 image © designboom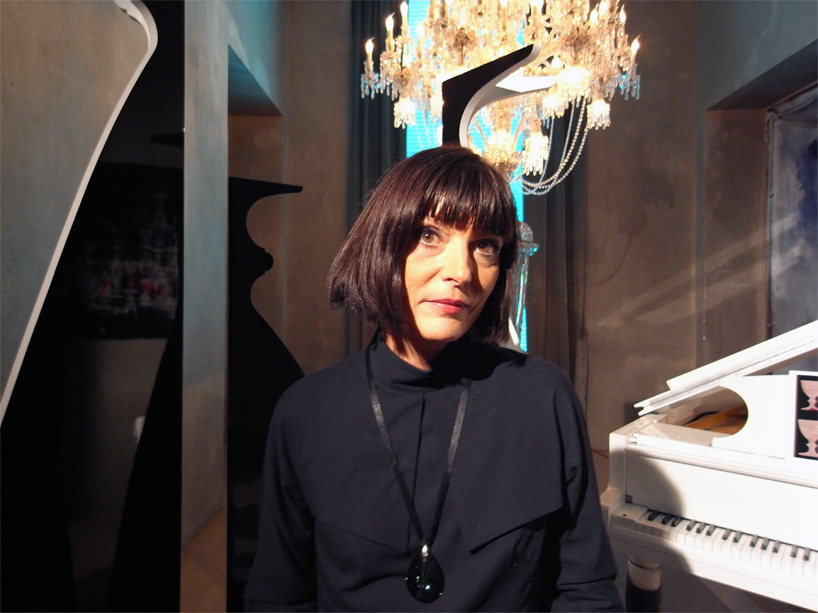 michaela lerch, curator of the l'harcourt toujours exhibition portrait © designboom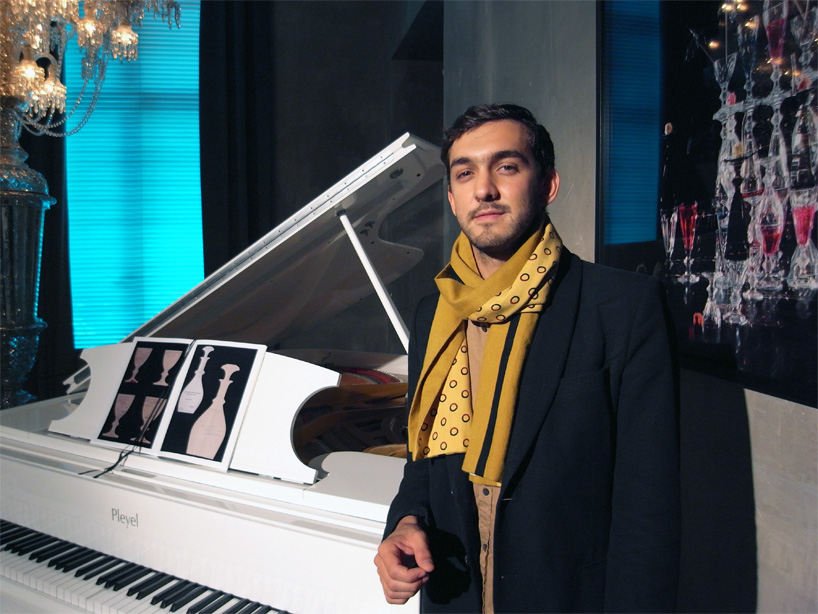 philippe jarrigeon portrait © designboom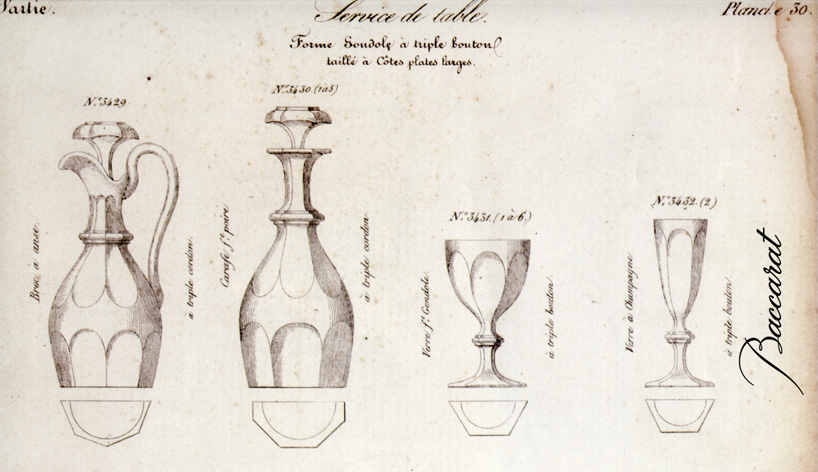 historical drawings of the 'harcourt' collection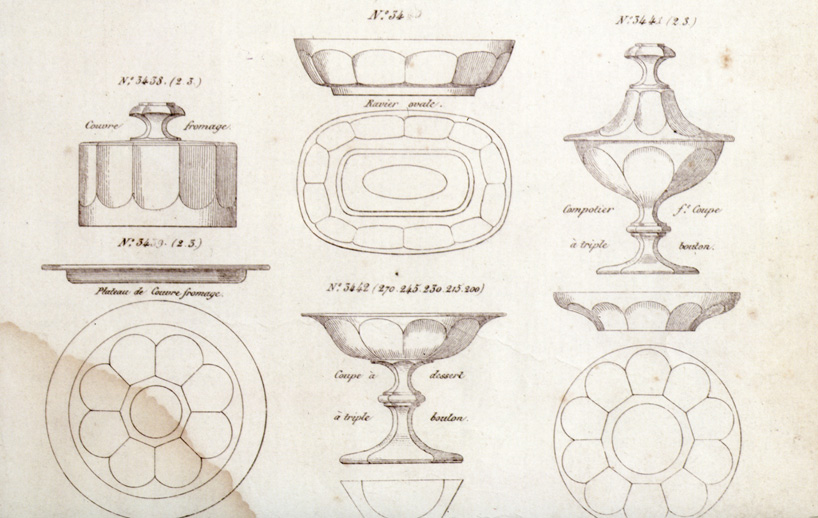 historical drawings of the 'harcourt' collection
birgit lohmann
I designboom
sep 30, 2011
a diverse digital database that acts as a valuable guide in gaining insight and information about a product directly from the manufacturer, and serves as a rich reference point in developing a project or scheme.
designboom will always be there for you
milan, new york, beijing, tokyo

,
since 1999