'very little design is actually great, very little of it is even any good, most of it is mediocre, and an enormous amount of it is damn right bad', says alice rawsthorn, world-renowned design critic and author of books hello world and the most recent design as an attitude. recently taking to the stage at design indaba 2019, she is making an effort to explore design in its most unflattering guises, and there's good reason why…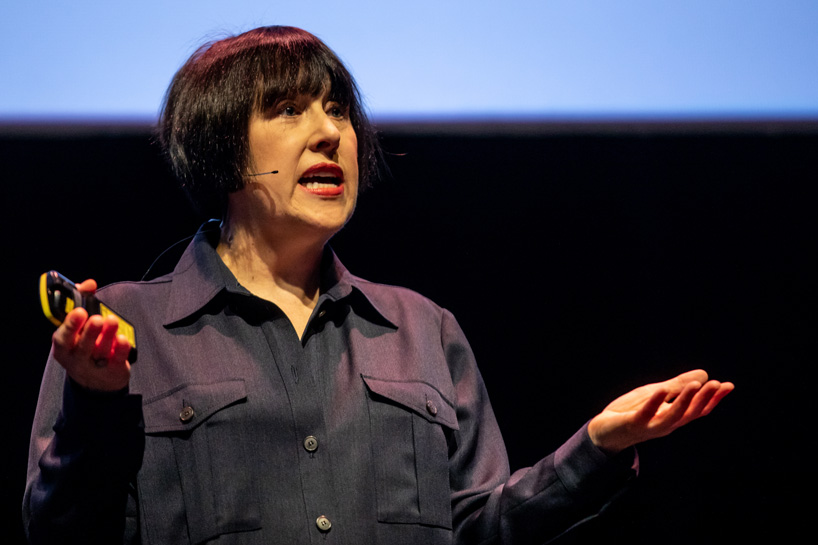 alice rawsthorn expressed her thoughts on stage during the design indaba conference 2019. she uses a digital printer as a useless bad design example, the single most requested product in rage rooms globally, chosen for their countless faults and stress-inducing malfunctions.
image © design indaba
'bad design is a problem that bedevils all of us and unless we understand it, how on earth can we get to grips with it?' by paying attention to bad design alice rawsthorn wants to make it easier to avoid, and for designers to make mistakes far less often.
but in an industry thats quicker to laud than criticize, how do you begin to identify the failures? rawsthorn outlines 8 categories: pointless, useless, lazy, thoughtless, ominous, untrustworthy, offensive, and last but not least, good intentions but…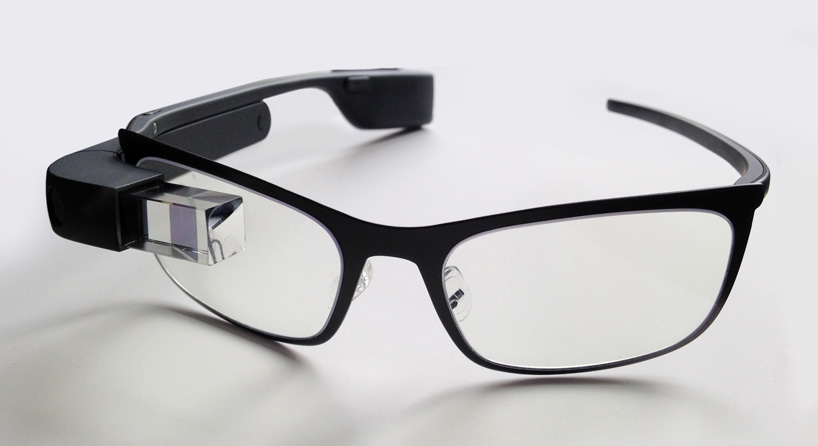 pointless bad design example: google glass steered its designers into thinking the average person would want a camera permanently attached to their face, unintentionally filming everyone and opening themselves up to lawsuits for privacy infringement. google stopped production of glass after 18 months and has since tried to reinvent it, but never convincingly.
image © mikepanhu
in her quest to name and shame design sinners, albeit with good intention, rawsthorn takes to task legendary examples both past and present. at the top of the list, buckminster fuller and the dymaxion car. tooted for its fuel-efficiency, the futuristic vehicle could barely make it through prototype testing. with one destroyed by fire, another in a crash, and a final prototype sold for parts, the dymaxion car ended up in history's scrapheap, along with countless concepts, prototypes, and ideas never been brought to fruition.
that's why bad design is so difficult to spot. beyond poorly designed architecture or legendary tech failures (the protagonists of rawsthorn's more humorous anecdotes), serious perpetrators and their creations, whose effects are far more damaging to the planet, are often laid to rest in garbage piles around the world. in a state of limbo, their impact is no longer felt by fickle consumers but the communities they are now slowly toxifying.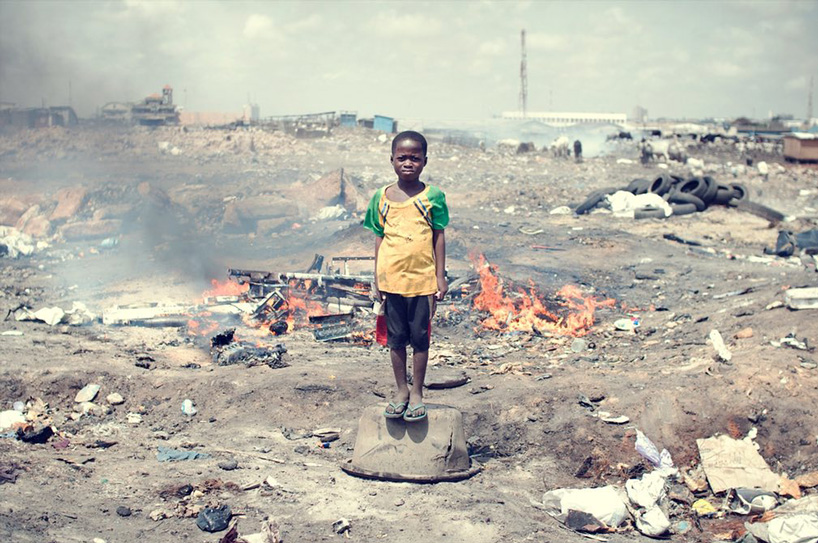 lazy bad design example: the notorious agbogbloshie dump, a place where electronic and digital products are dumped, failing to decompose and poisoning the land as a result. lazy design makes the products difficult to recycle, one example being copper wire, covered in black rubber and therefore unidentifiable to optic sensors in recycling plants.
image courtesy of environmental justice atlas
after being schooled on the not-so-good, the bad, and the ugly, designboom caught up with alice to talk about some more recent controversies, the issues facing the design industry right now, and the newly-founded power of digital media in the 21st century that is taking them to task…
designboom: you referenced the recent onslaught of bad design from fashion brands like gucci and burberry. do you think that this is consequential of an industry that is too demanding on creativity or do you think it is a generational naivety?
alice rawsthorn: actually, I think it's a different thing. I think that the differences that brands who perpetuate racist stereotypes, or homophobic stereotypes, or gender stereotypes are just likelier to be detected now and called out on it. so unfortunately, fashion brands in particular have perpetuated all of those cliches over the years but given that they tended to have a close relationship with the fashion media they were less likely to be reported on whereas now they're named and shamed on social media. I mean the so called 'gucci blackface sweater' had been on sale for several months without anyone noticing. then suddenly there's a twitter storm about it and quite rightly, I mean what possessed gucci to produce it? so I suspect it's established traditional practice that now they're far likelier to be detected on and hopefully that will be they'll be much more vigilant in future.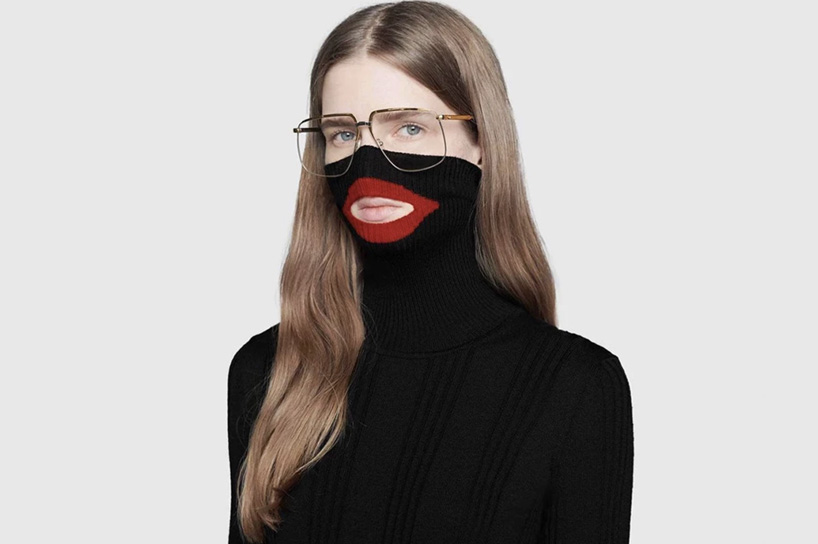 image © gucci
DB: so digital communications and a sense of responsibility amongst consumers is working together to take bad design to task?
AR: I think those are huge factors. for example the burberry now notorious 'noose' which when I mentioned it at the conference people were covering their eyes. I mean burberry was called out by one of its own models who because of her personal experience was particularly sensitive to that, she posted about it on her instagram with commendable courage because she could have thought well modelling career now over, you know, having offended a powerful, highly capitalized brand like burberry, whereas as it is they had to apologize immediately and abjectly and hopefully wont perpetuate something like that again.
DB: you mentioned the danger of biometrics in the future, and there's also a lot of discussion right now around driverless cars and programming morality. as these things evolve, they demand a consciousness when it comes design. can you talk a little about the importance of this?
AR: when we look at the application of technology, which partner with new technologies, which obviously has been a primary role of design forever, you know, long before the industrial revolution and the digital age, I think that because of artificial intelligence, whether it's neurorobotics or whatever, these technologies will affect so many areas of our lives, that the role of design is more important than ever before. I think a fascination but also terrifying aspect of them is the moral implications of every technological application. so driverless cars are a classic example. you can say that they are less likely to cause congestion, they will save us from the problems caused by tired, inattentive, drunk, or lousy drivers, or you could be terrified at the thoughts of unknown robotics at the helm determining the course of our roads.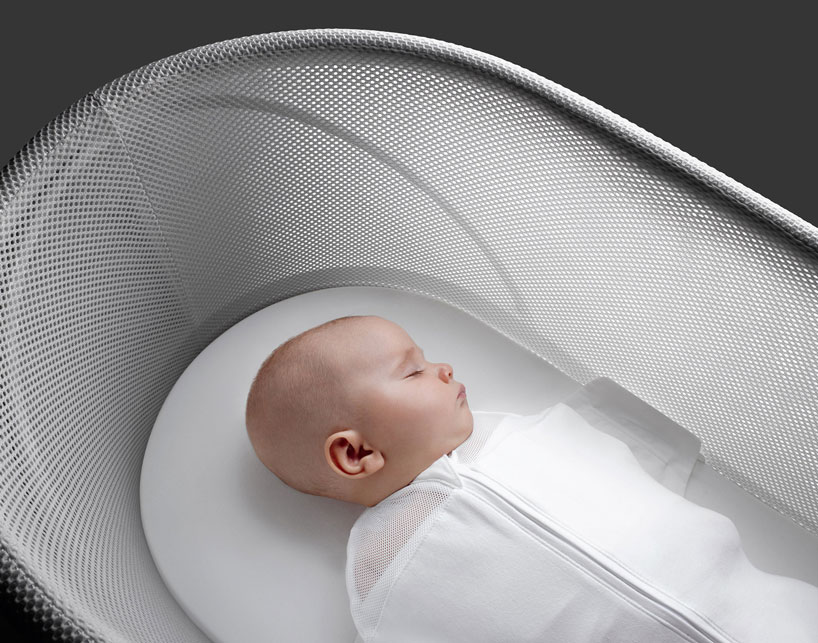 image © fuse project
DB: there is an element of not knowing or fully understanding these technologies, and I think that can cause concern amongst consumers…
AR: definitely. one of the most controversial instagram posts that I ever made was about the snoo, the robotic crib by fuseproject. half the respondents said 'this is the best thing ever, if only it had existed eight years ago when my kids were babies and weren't sleeping', whilst someone else accused it of child abuse. it absolutely nailed questions of bringing up children and caring for babies, which of course, are of the utmost importance to us. but people interpret morally in very different ways as to what is or isn't responsible. I think that in each of these applications, those fundamental questions need to be asked to a greater degree than ever before. so actually, it makes design much more important.
kieron marchese
I designboom
apr 22, 2019
KEEP UP WITH OUR DAILY AND WEEKLY NEWSLETTERS
a diverse digital database that acts as a valuable guide in gaining insight and information about a product directly from the manufacturer, and serves as a rich reference point in developing a project or scheme.
designboom will always be there for you
milan, new york, beijing, tokyo

,
since 1999