apr 28, 2010
bamboo furniture systems
bamboo furniture system was scheduled to be part of the selection of contemporary indian design production in designboom's curated exhibition 'asia_now', at dwell on design in los angeles, june 25 – 27, 2010. unfortunately, due to unforseen circumstances – road blockades enforced for political reasons, and heavy rains in the northeastern part of india – bamboo furniture systems did not make their way to the exhibition.
demonstrating the stability of the book shelf
'book shelf'
'book shelf'
'truss me' is a sustainable furniture system developed my indian designer sandeep sangaru. designboom promotes the use of bamboo in the fields of architecture and design and we asked sandeep to document his ongoing bamboo project for our readers. the concept behind the collection explores new construction possibilities with solid bamboo poles – strictus dendocalmus – and splits, using modular forms and lamination joints for new applications. enjoy!
'book shelf' rendering
the strong fibers of bamboo can withstand compression and tensile loads. using the properties of the fibers, 'truss me' was developed on a technique of splitting and laminating the poles with another strip of split bamboo. when the glue cures, the laminated module acts like a truss.
different configurations of 'book shelf'
wall hung 'book shelf'
the 'truss me' protoypes were developed with the help of a group of artisans in the village of sankhela, tripura, india, a region which has an abundant bamboo resource, cultivated in organized plantations by local farmers.
all of the products are completely handcrafted. the components used for construction are modular and repetitive, and can be produced in batches by a group of craftsmen. the equipment involved for production are basic hand tools. through a modular system of jigs, fixtures and templates, the construction elements were quickly realized and also maintained a formal consistency and quality to the individual components. the furniture has been designed to use locally resourced bamboo and skills in a sustainable fashion.
adjusting the jigs
modules being laminated
each piece is handmade by local craftsmen
'sofa' and 'bookshelf'
framework of the sofa prototype
testing the sofa prototype
'chair'
process work of 'truss me' chair
'square stool'
measurements and modules ready for construction
basic construction module
demonstration of load bearing qualities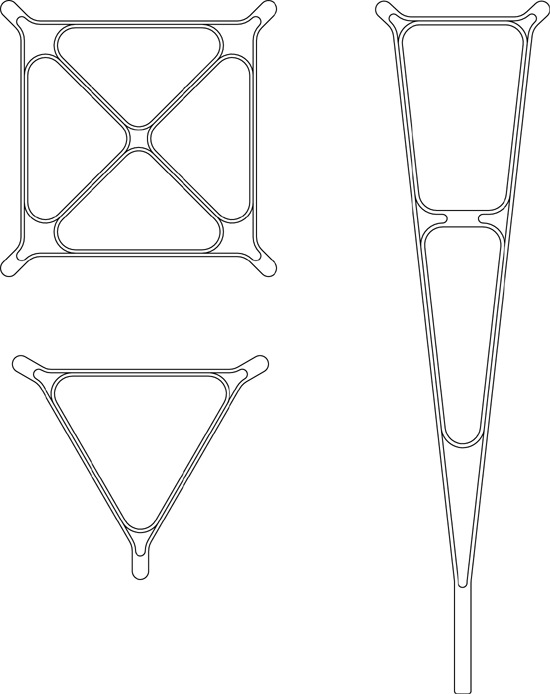 technical drawings of the various modular forms
'truss me' collection
the various configurations and pieces
oct 11, 2010
oct 11, 2010
aug 10, 2010
aug 10, 2010
aug 09, 2010
aug 09, 2010
aug 01, 2010
aug 01, 2010
jul 31, 2010
jul 31, 2010
jul 30, 2010
jul 30, 2010
aug 29, 2017
aug 29, 2017
aug 24, 2017
aug 24, 2017
aug 09, 2017
aug 09, 2017