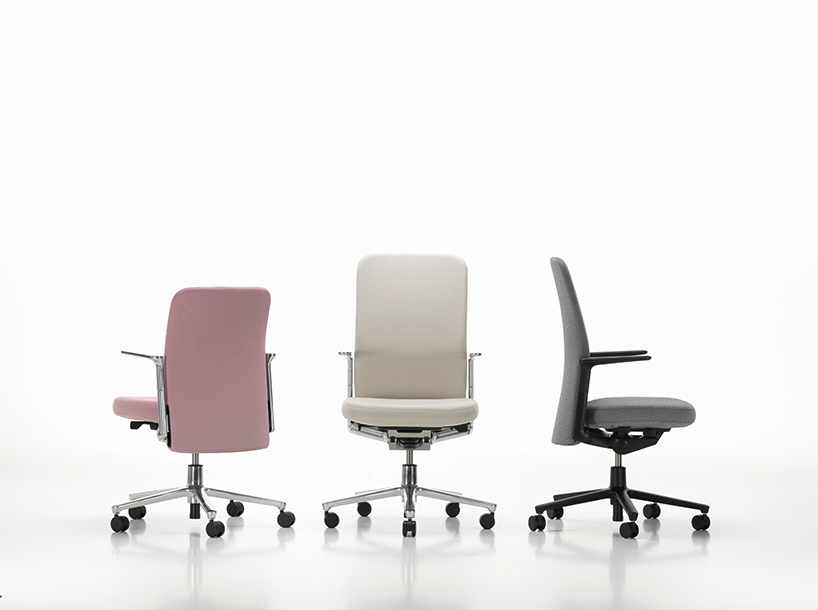 orgatec 2016: barber & osgerby have debuted the 'pacific chair' — a reinterpretation of the workplace staple created in collaboration with VITRA. with the guiding principle of 'full performance, quiet design', the duo have produced an object that is both aesthetically minimal and effortlessly functional.
at the orgatec fair in cologne, designboom spoke with edward barber & jay osgerby about the 'pacific chair', the facets of its innovative design, and what makes it stand out from the crowd.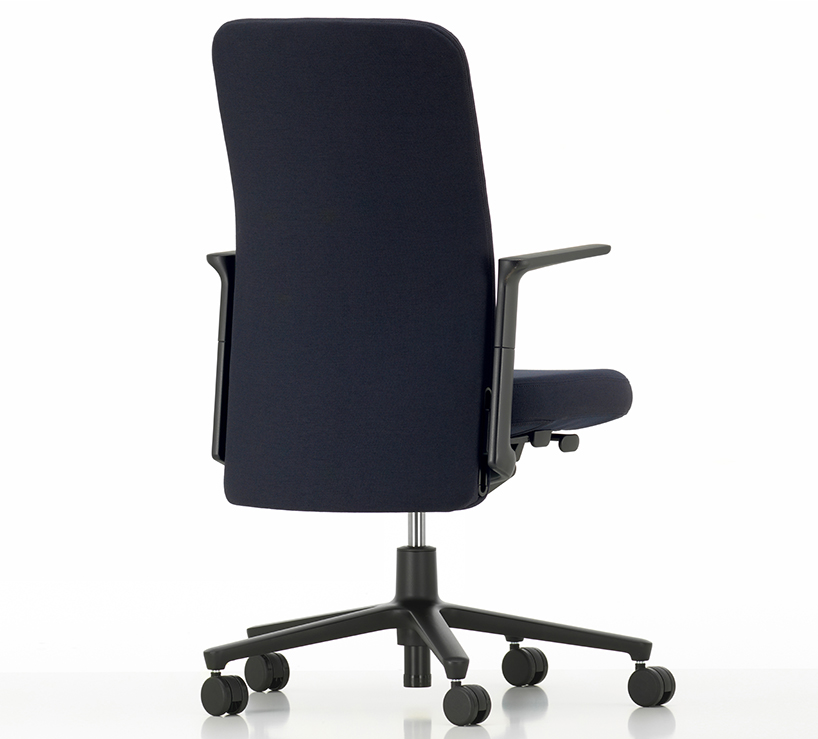 the project was created under the guiding principle of 'full performance, quiet design'
concerned with the inorganic and overcomplicated design of traditional office furniture, barber & osgerby sought to create a chair that would fulfill the functions of its conventional counterpart while also presenting an adaptable and tranquil architecture — unhampered by the levers, dials, buttons and switches that have become synonymous with our morning work routine. created from simple and unhurried linear forms, the 'pacific chair' for VITRA is anchored by its long and elegant backrest. its slender form extends so far down that no mechanical elements are visible from behind, creating a cohesive and current language of design between its various components.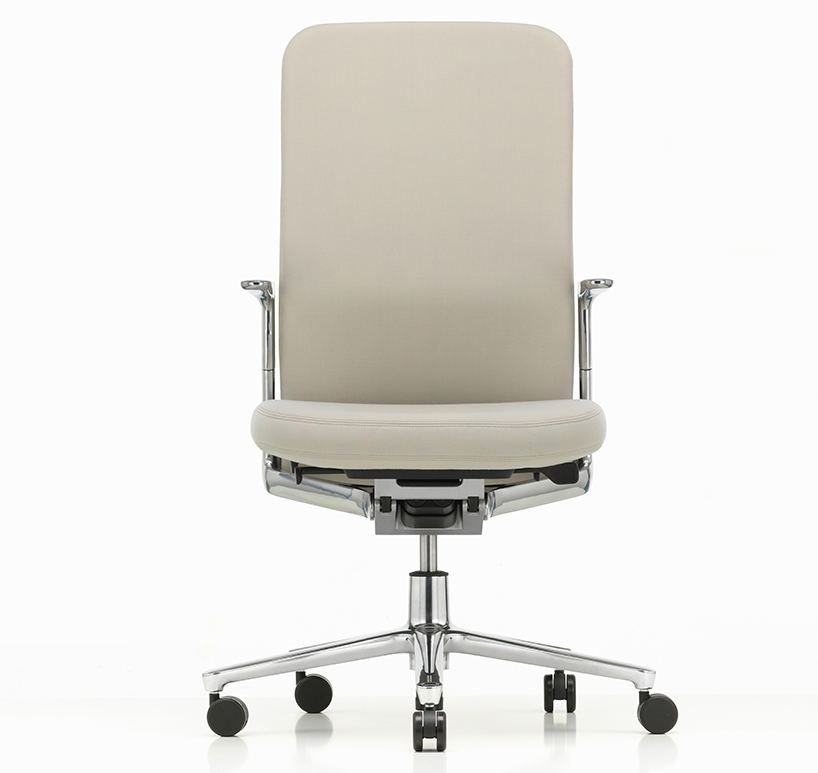 the barber & osgerby-designed range presents an adaptable and tranquil architecture
this idea of 'calm' is one that dominates the project: the name 'pacific' means 'peaceful in character'. designed as a non-territorial object, the chair aims to be as adaptable and versatile as possible, meaning you won't have to worry about someone stealing your seat. a synchronized mechanism in its core intuitively adapts to the user's weight, ensuring optimal alignment. adjustment levers are positioned for ease of use — the cleverly concealed instruments beneath the seat minimize set up time and their responsive and precise design removes the need to constantly readjust in search of that sweet spot.
the piece is available in a number of color-ways that are both vibrant and mature in presentation. the back rest comes in three different heights (one available in a mesh cover) and arm supports come in both plastic and — in what is proving to be the most popular choice — painted aluminium.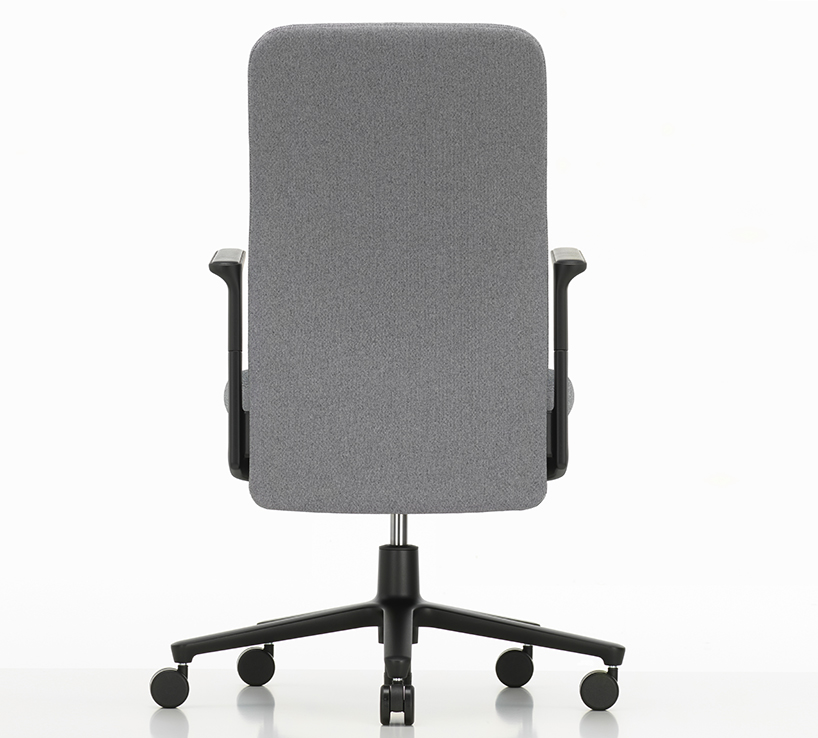 the pacific chair is designed as a 'non-territorial' object
designboom: can you tell us how the 'pacific chair' came about?
jay osgerby: the 'pacific chair' project started a number of years ago with the realization, or observation, that office chairs were becoming overtly mechanized. they were sort of becoming a machine. we, from the beginning, wanted to design the antidote to that. to create a chair which does everything that a checklist chair does. all the things that people have come to expect and need in an office chair, but without looking like a contraption. really, it offers everything, but it's a calm object. unlike many chairs, the office chair is often seen in series — in an office space you may have tens of hundreds of chairs, so we felt it was important to have a certain calmness to something that was incredibly visually simple but fully functioning.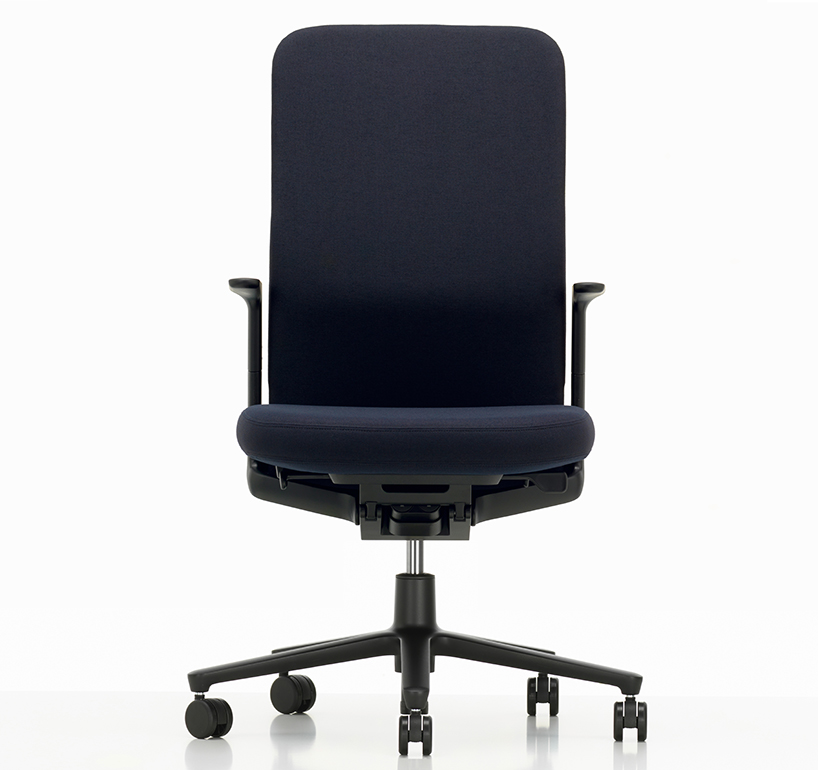 the piece is available in a number of color routes that are both vibrant and mature
DB: a lot of people would say that work chairs need all those different mechanisms to offer the right support. how have you still offered all this in the pacific chair?
edward barber: the thing about a 'task' chair is that it's all about options: you have to have the options. because these chairs are bought in series, in hundreds and thousands. and whoever is responsible for them — for finding that chair — has to be certain that it has all those different features in case one of their employees complains, 'oh my arm-rest doesn't go up and down' or 'my back support is too low'. this is the problem, you have to design every single option! and that in itself creates in many cases these monsters, where they look like contraptions. there's so many levers and dials and buttons that it just becomes a very unsavory object to interact with and sit on. so our concept was still to have all of those functions, but visually reduce it all down. so we've brought the controls in underneath the seat, and instead of having a numbered dial on the back of the chair the whole back rest goes up and down. but you actually lift the backrest. the aluminium group chair is still one of the absolute bestsellers, which just proves that people are quite happy to work on an office chair with a metal arm. so we did as one option a chair — which is actually our favorite option — with a fixed, painted metal arm. this is proving to be the most popular one actually, because it's so clear and so simple when you see the chair, and you think, 'wow, it does all those things but it doesn't look like it's doing all those things.'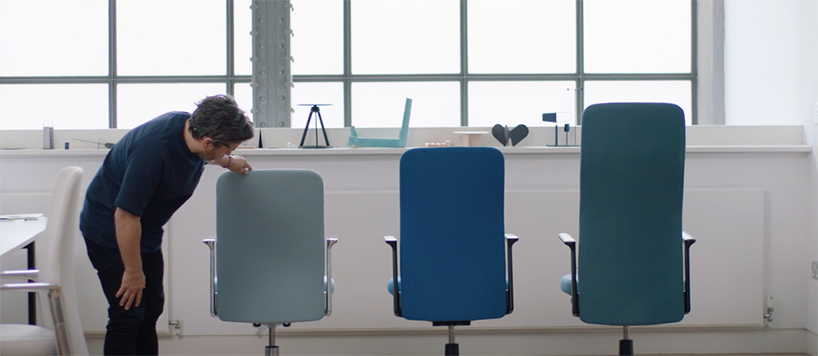 the back support comes in a choice of three heights
JO (continued): the most important thing is that half the chair is the mechanism. the mechanism we have on the pacific chair is incredibly clever. it self adjusts to the user's weight, and the result of that is you need a hell of a lot less adjustment yourself, because it's automatically doing it for you. so with that, and with moving the controls in slightly, and with having a passive height adjustment back, and with having a long back — which hides the mechanism from behind — you have something which is really clean looking, and really straightforward to use. that also means that it becomes a non-territorial chair, because anybody can sit in it and it automatically adjusts to the user's weight. that makes it easy. it's a very 'quick' chair — it doesn't need to be set up for you.
DB: so it's not that situation where you go into the office and you can't take someone else's chair because it's just perfect for them…
JO: no, and it shouldn't be! it self adapts and makes a couple of changes.
EB: the height adjustment is the most used function of a chair, it's always in the same position either to the front or the right of the seat, but other than that, yeah, it's very intuitive.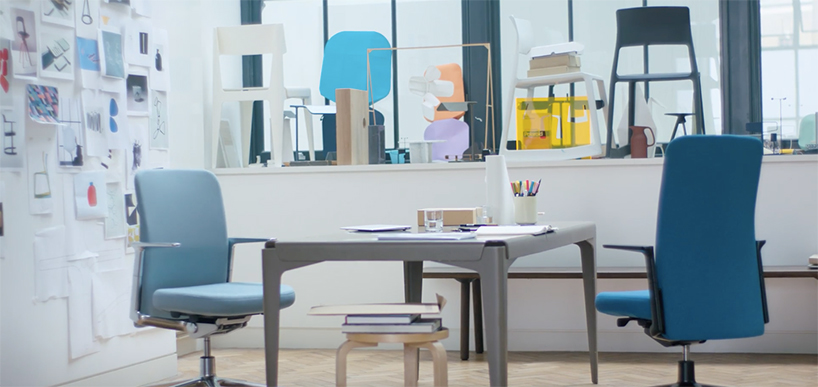 the mechanisms are cleverly concealed by the elegant back
DB: so you mentioned there were a couple of different style options, can you tell me more about them? do you just have the aluminum arm?
EB: the aluminum arm is one option. you also have what's called the 'height adjusting' arm, and then you have another arm that is both height-adjustable, and the top surface moves both back-and-forth, and in-and-out. as the options become more complex, the visual appeal of the piece becomes less and less interesting because you're trying to do too many things with a simple object. the nicest one for us is just the simple aluminum one — and then the next one and then the next one. but you have to have these options because if you have someone that wants to buy a thousand chairs, there might only be a hundred of them that have all the functions. the rest of them are all really simple. it could be the difference between them not buying the chair or buying the chair. so you have to do it.
JO: the other thing is that the chair has three different back heights, so you have a low back which is more like a studio chair. you have a medium back which is more like a classic office chair, and then you have a really high back one with a headrest, if you need to get some sleep in the office…and we're working on the next version as well.
DB: so this is just the initial launch?
JO: VITRA always do this with their office chairs. they launch, test the market, get into the market, and then they'll develop it for four or five years. even now the ID chair is still being reinvented, which is 8 years old.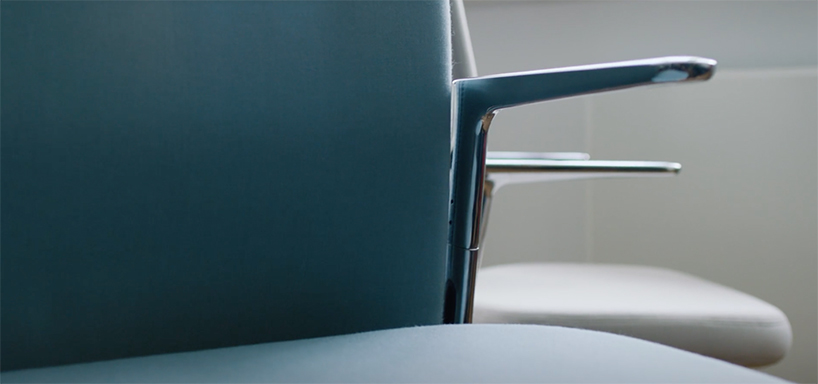 the aluminium option to proving to be one of the most popular
DB: how long did this chair take to develop?
JO: we started four years ago in terms of research, but this chair — this actual version — took two and half years probably, maybe even three. it's a lengthy process but also when you look at that, when we did the 'tip ton' chair, it took two years and that was regarded as being relatively quick — and that was one object. okay, it was quite complex, but it was one object. if you imagine the office chair, there are probably over a hundred different parts and each one of those needs to be designed.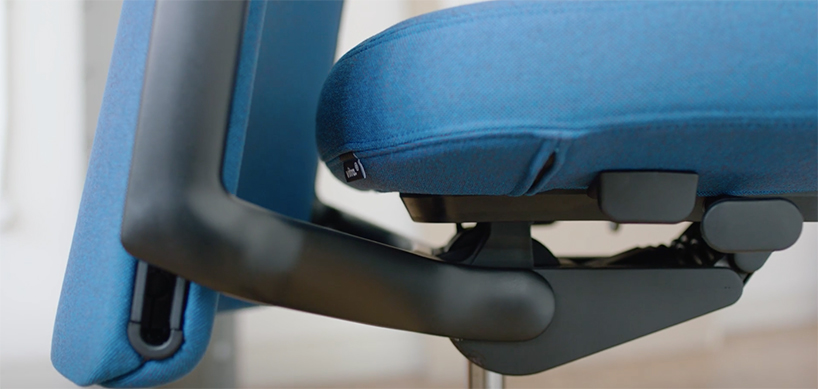 an intuitive mechanism in the core automatically responds to the user's weight
DB: how did the project start? you talk about frustration with office chairs at the moment and their many different parts — did VITRA approach you?
JO: yes VITRA said, 'look, we need to start working on our next generation of office chair and we'd like you to do it'. so it absolutely came from them, but then the starting point was always a discussion between us and them. I wouldn't say frustration, but our observation was that these chairs have become very machine-like. that appeals to certain people, but to us, what we would want in our studios is the absolute opposite. we want the simplest armrest chair that still has all that function. so that was our starting point.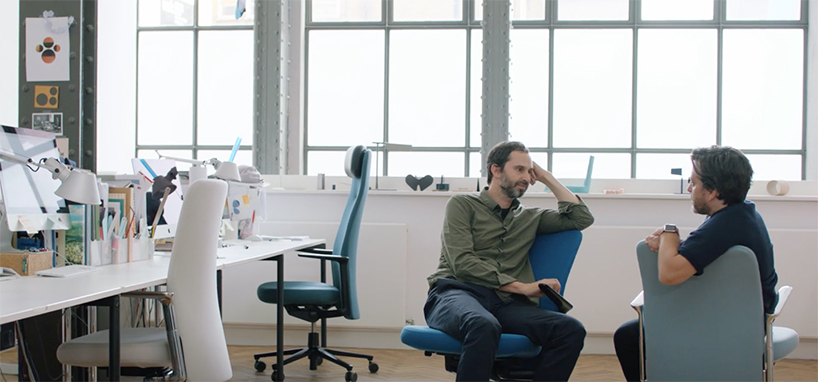 'it's probably more close to an armchair than an office chair, really'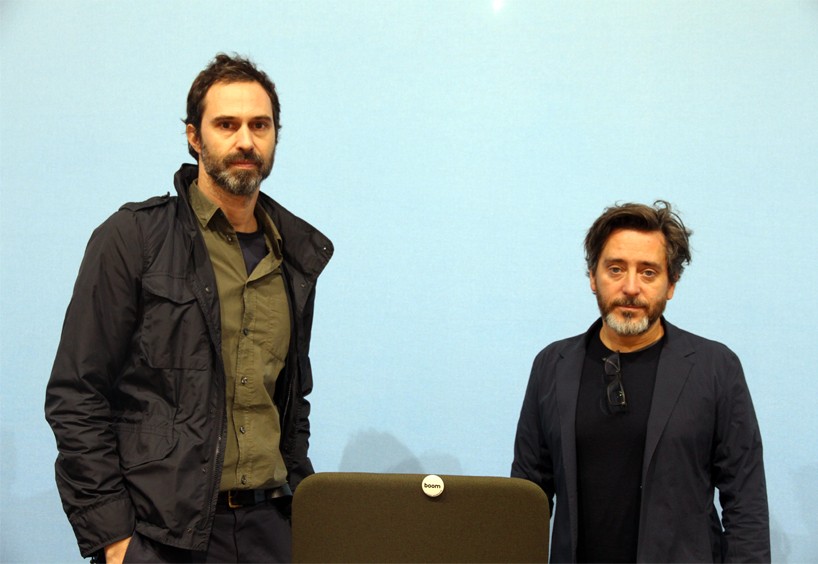 edward barber and jay osgerby standing next to the 'pacific' chair
image © designboom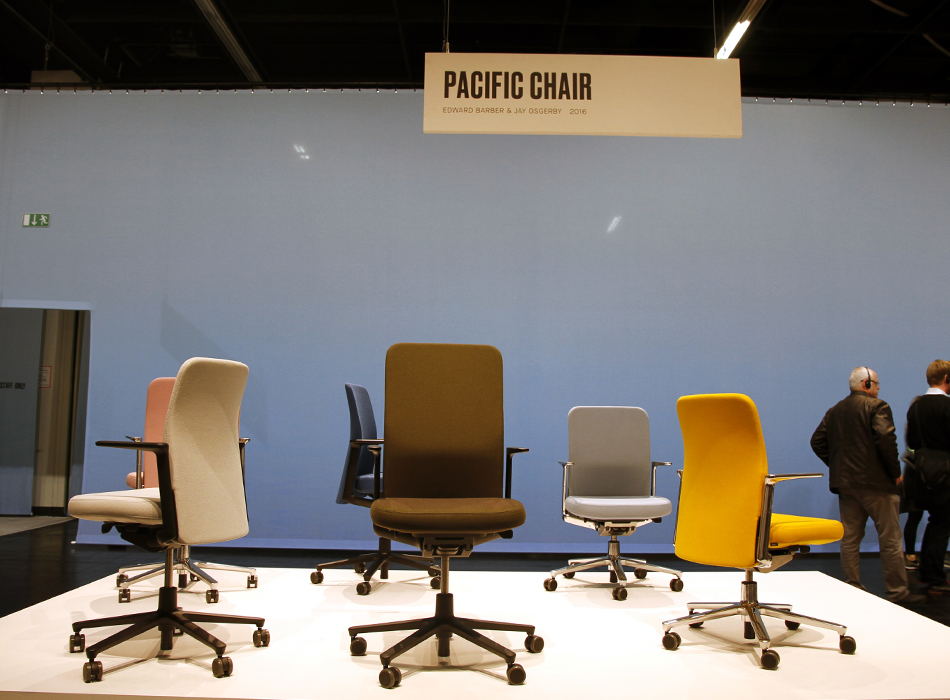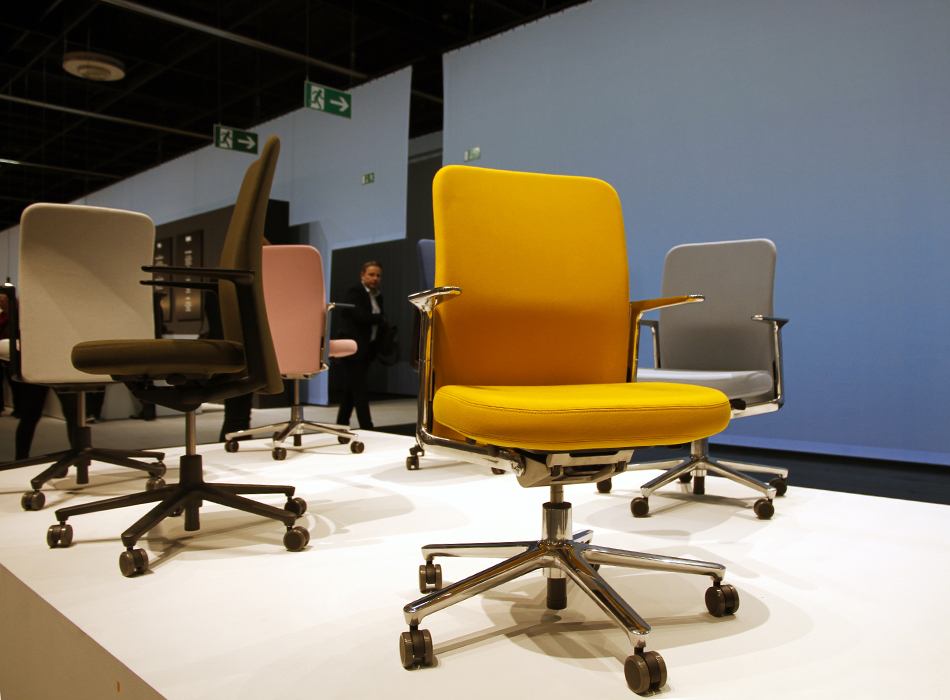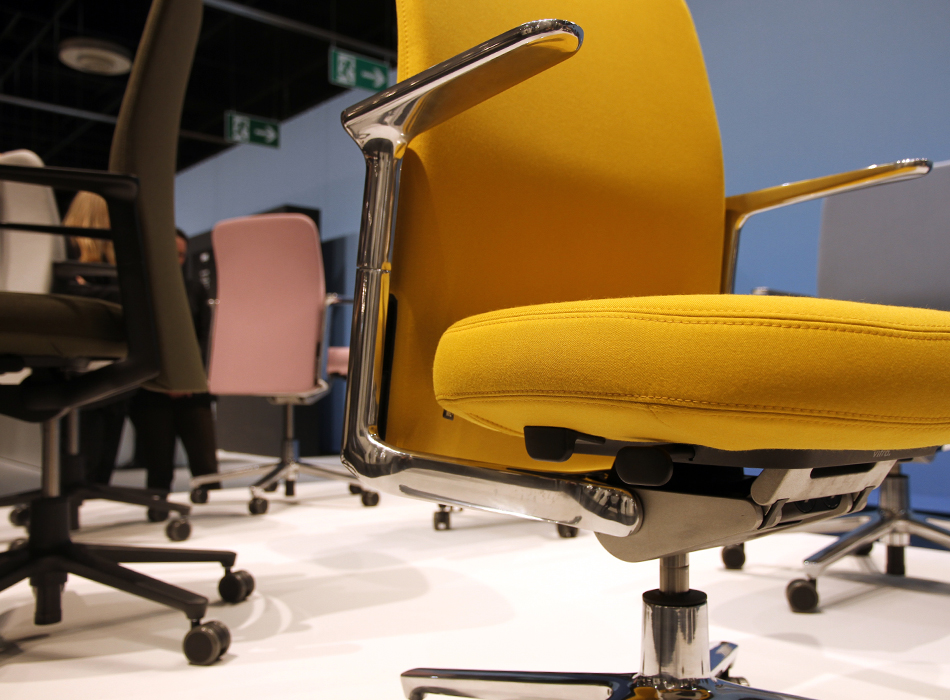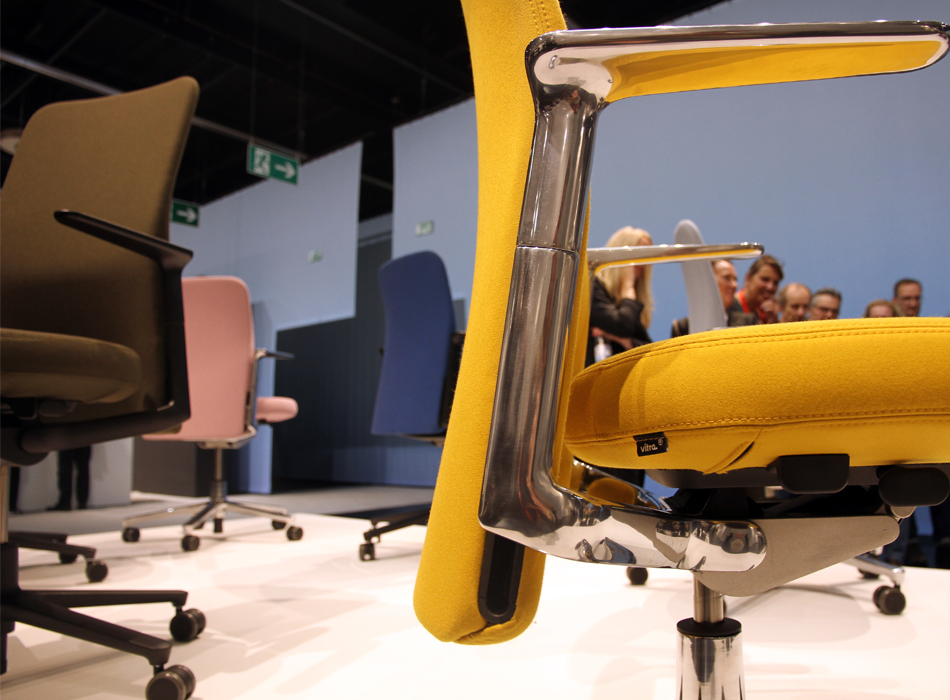 peter corboy
I designboom
oct 26, 2016
a diverse digital database that acts as a valuable guide in gaining insight and information about a product directly from the manufacturer, and serves as a rich reference point in developing a project or scheme.
designboom will always be there for you
milan, new york, beijing, tokyo

,
since 1999