british designers edward barber and jay osgerby have collaborated with the german based furniture producer DEDON for the first time to present the 'TIBBO' collection. consisting of a dining chair, four sizes of dining tables, two sizes of benches, a lounge chair, a coffee table, and a side table, it is also the first time the company has released a whole line in teak timber. the pieces feature a distinctive, elegant, and pure design throughout, unifying textiles and woven fiber to convey a timeless quality as well.
meeting at their studio in shoreditch, london, designboom sat down with edward barber and jay osgerby to discuss the new collection further.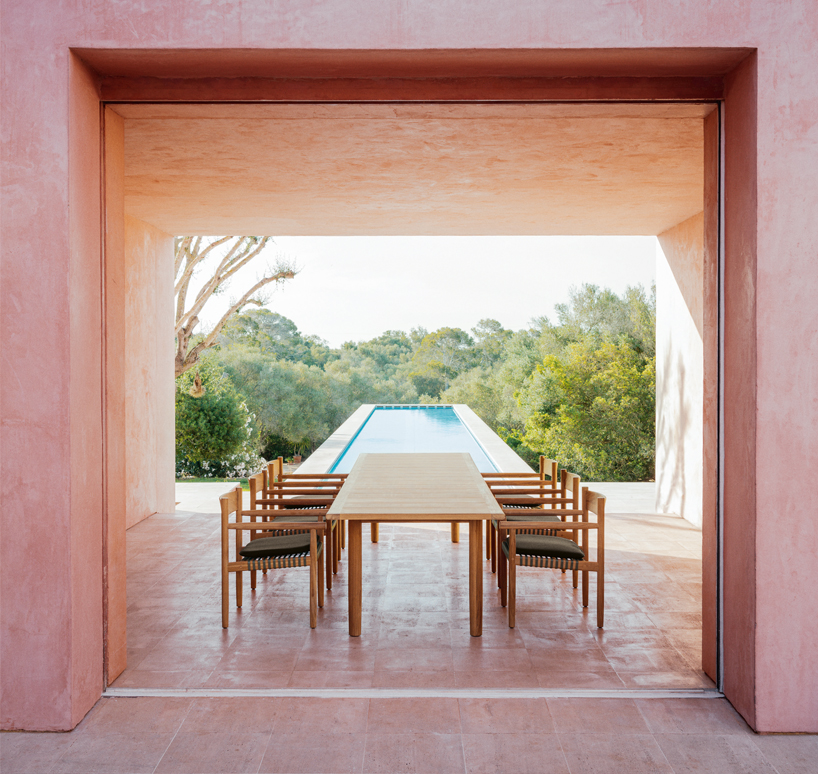 all images courtesy of DEDON
displaying an architectural rigor in both its construction and proportions, the chairs are distinguished by turned arms and legs, and a sail-like curve for its thin seat back. this is balanced with the comfort of the cushions, and the soft touch and natural appearance of the woven fibers. around the largest of the four dining tables, with a size of 3.5 meters in length, 10 of these chairs can be accommodated.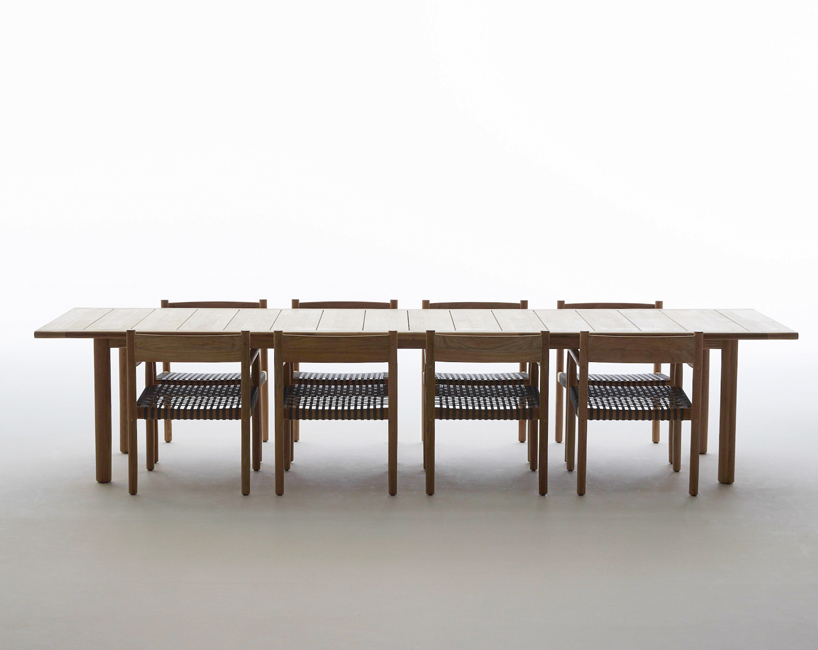 what truly unites the 'TIBBO' collection is its use of the slow-growth premium teak timber, which is sourced from sustainable plantations. its great weather-resistance and durability, even in extreme conditions, makes the furniture ideal for both outdoor and indoor use. this will add another layer of quality to the design as outdoors, the teak will acquire a silver-grey patina, or indoors, it will retain its naturally warm, golden hue.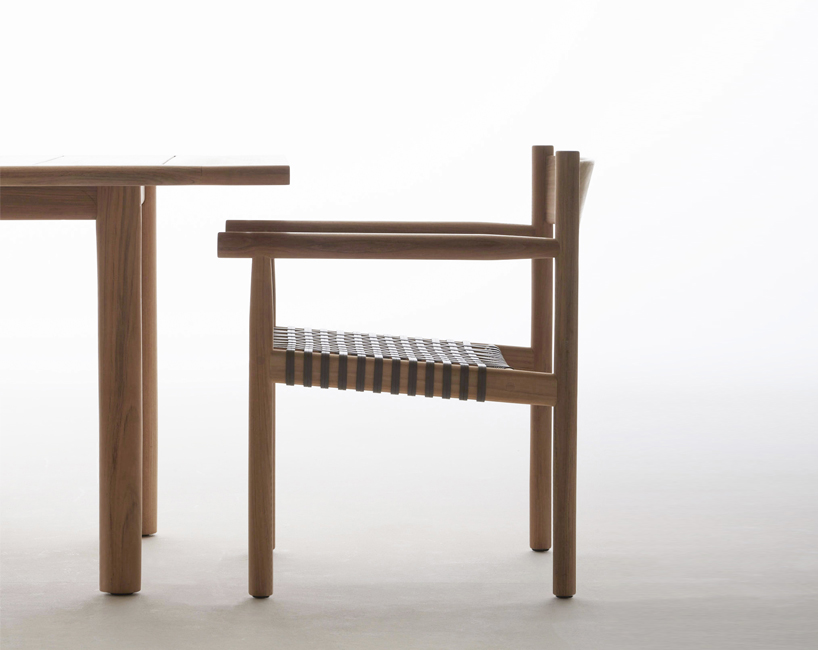 after presenting the new collection, we sat down with the barber & osgerby who discussed how the partnership with DEDON first started, the choice of material, and the challenges of designing furniture for both indoor and outdoor use.
designboom (DB): this is quite a significant collection for both yourself and edward as its your first outdoor furniture, but it is equally as significant for DEDON as its their first in teak. how did this collaboration come about?
jay osgerby (JO): I don't know how we managed to avoid designing outdoor furniture for so long, we didn't really try to avoid it. its quite funny, we literally bumped into dedon and were introduced to them in milan a couple of years ago. they really liked the work that we had done with VITRA and they were interested in talking to us about a project. the truth is, at that time, I wasn't hugely familiar with their full range but due to what I had seen of them, from adverts and magazines, I had a certain feeling about them already. when the word DEDON came out, I conjured up a picture of a holiday which is a very nice image to have as they are all about the outdoors and sunshine or 'barefoot luxury' as they call it. from meeting their very nice people and getting a holiday-like feeling about them was a very good starting point. we went to see them at their production center as we always try to do with our clients, and realised that there was a really big gap in their product line. they evolved from a background in polymer technology where they extruded plastics for outdoor use, such as their contemporary woven material. however, we thought that increasingly people are living and staying in places where the main living spaces are separated by a piece of glass to the outside. this results in an odd juxtaposition between modern living aesthetic and the outdoors, which when you think about outdoor furniture on a whole, you picture slates of wood that is bashed together. we felt that it was a really good opportunity to design outdoor furniture with the same sensibility as we would for chairs used indoors. these pieces can be used indoors but we can move them outside, leave them there for 30 years, and then bring them back inside where they will be as perfect as ever. this is an important collection for DEDON because they don't have a wooden range. as well, there aren't many companies on the market that produce anything that would be suitable for both indoors and outdoors. designing something that would work inside and outside is challenging.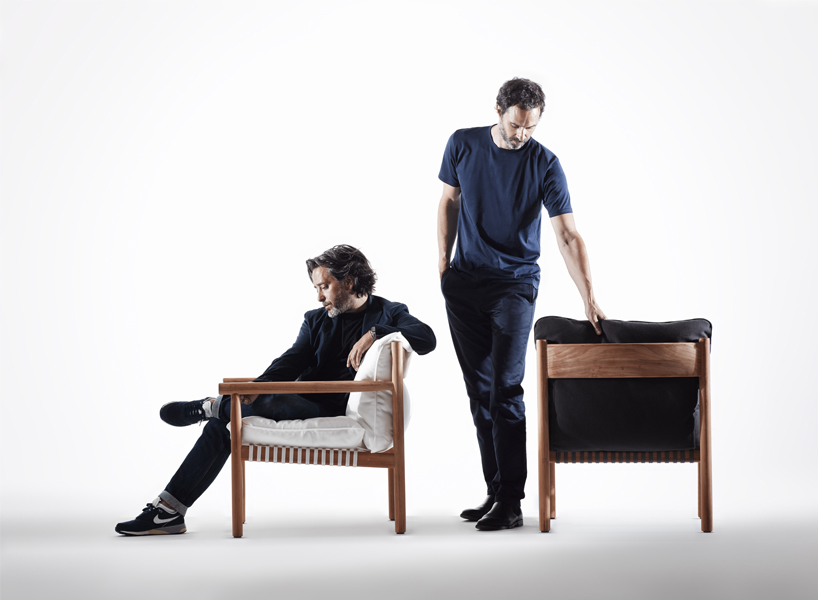 DB: by wanting to offer a versatile collection for different settings, was this why you chose to use teak and what was the challenges of working with this material?
JO: it was really hard to find sustainable teak for a start. it has to be plantation grown because the majority of teak on the market is illegally logged. the wood we are using is FSC certified that is grown in plantations. it is not the same as the old teak which was two or three hundred years old. this is grown as small pieces in comparison, but it still has that characteristic of an oily sap and its that quality which makes it not deteriorate outside. instead it actually gives it a really nice, aged hue in a silver color.
edward barber (EB): talking about the material, what really has been interesting is that we designed the pieces here in london, and so when I went out to indonesia with the drawings, I suddenly got into another world where I had to modify the design to fit with the raw material. the teak planks only come in certain standard lengths or depths. taking the table as an example, we originally wanted the boards along the edge, they are only about six or seven millimeters wider, but to be able to get that we had to get a very wide plank and saw it out. this meant a lot of wood was getting wasted. we just couldn't do that so we then reduced everything in order to make it more material efficient.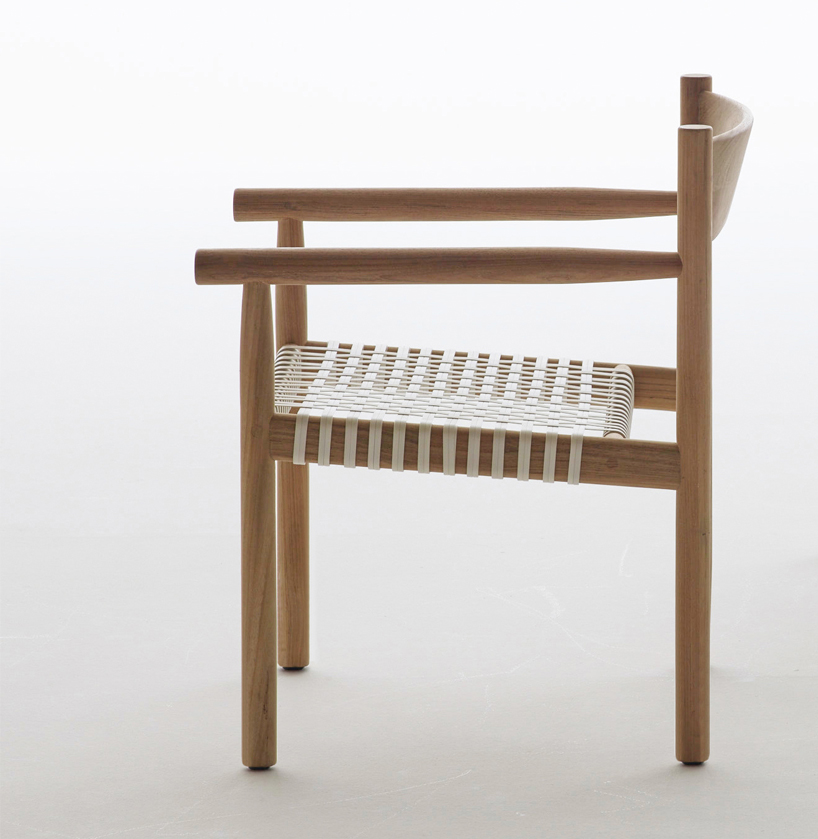 DB: the ageing quality to the material adds another strong quality to the collection, one which makes it much more personal to the customer.
JO: it is all about that whole aspect of wearing in and not wearing out. this is an aspect for all the things edward and I design, we always want the products to out live us so it has to have a timeless character to it. you can only really do this by investing in quality and not producing a cheap object. in terms of practical and physical quality, it won't break and it should out last you. this outlines a particular approach from a design point of view and overall, we could have but didn't want to design the range to scream a design image or designer. this quality is very subtle with the pieces.
DB: did this design approach lead to the thin architecture that defines the whole collection?
JO: exactly, it levels the whole line. we had lots and lots of models for the different sections of the chair's arms for example. this took a really long time to get right, but ultimately, we decided to keep it really simple so that we could extend the range with sofas, sun-loungers, and more.
DB: so this collaboration with DEDON will continue further and be expanded?
JO: yes, we will be showing the sofa and sun-lounger in milan this year. I actually think that the sofa is my favourite part of this collection, it is so nice. I am very happy with the whole collection though and would love to have it in my home.
EB: the sofa has an open back where it is just the cushion. obviously the cushions have a structure to it but that means that the sofa's back doesn't need any webbing.
JO: the collection's language is so straight forward with its columns and beams of timber, it makes it easy to extend the collection into other pieces.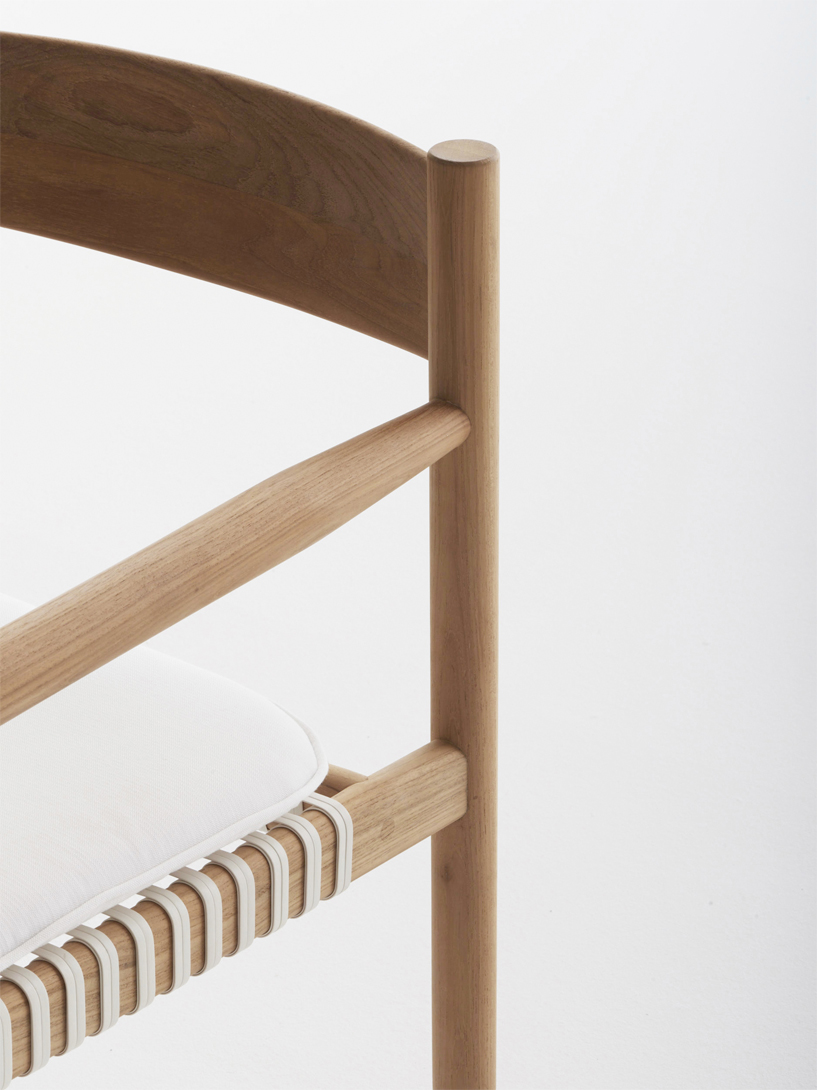 DB: what were some of the challenges of designing for the outdoors?
JO: one of the other things that we realised when designing outdoor furniture was that there seemed to be two different things on the market really. at the moment, you either have this kind of rubbish wood that is hashed together, or you have over expressive plastic pieces in silly colors. when you studying it, you actually realise that the outdoors is naturally wild. it has lots of forms that you can't fight with and so without completing with this formally, we put a lot of effort into making this project feel quite architectural and tidy. for example, the back leg of the chair has a strong vertical sense and this is the same with the table legs and bench legs. when you put the collection together, it all feels very controlled so it enables nature to do its thing around it without seemingly fighting with it aesthetically. it sits calmly with its surrounding.
EB: again, most of the teak furniture that you can buy now is pretty much made out of planks. it all looks very rectangular and very uncomfortable. we wanted to do the opposite by making every element to our collection as soft and tactile as possible. this is extremely important for the outdoors in the summer, where people will be wearing light clothing or swimwear so don't want to sit on a sharp edge.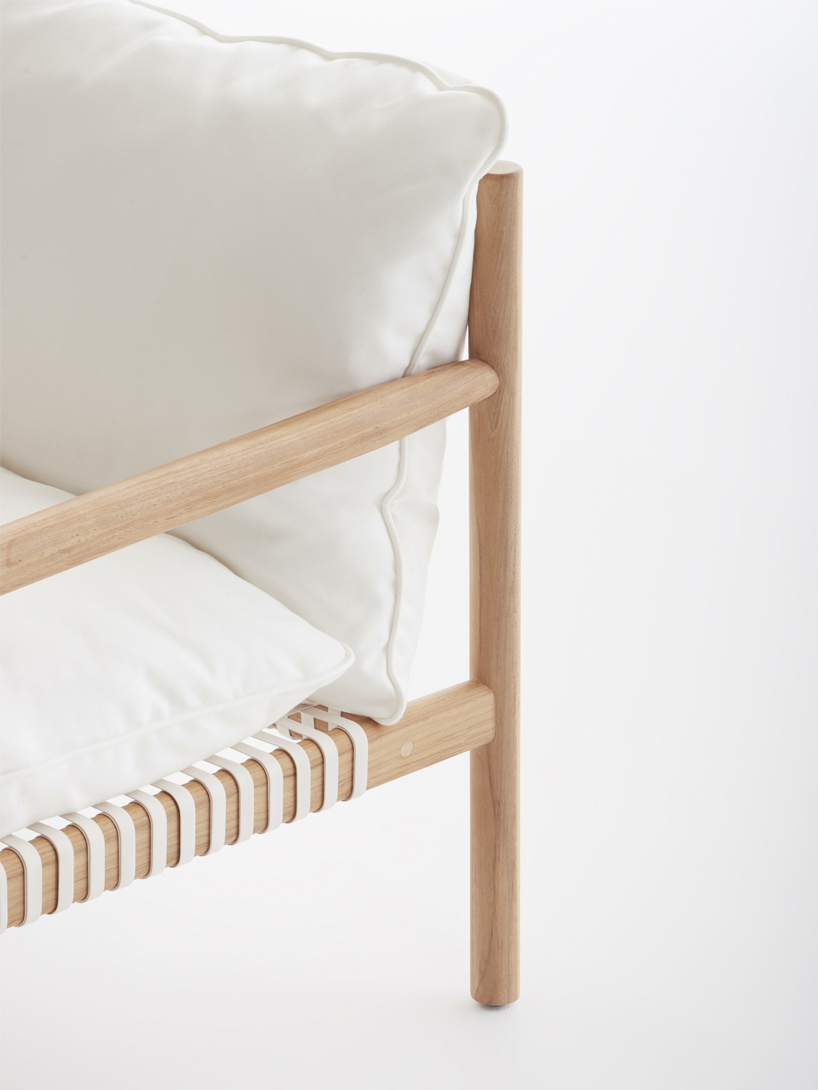 DB: do you think that this collection is more suited to residential settings or contract projects such as hotels?
JO: it is designed for both really. the table comes in a lot of different sizes so it is perfect for hotels and homes. the largest one can fit up to four chairs down one side. we are currently designing a hotel in stockholm and have ordered some of this collection to feature in it. personally I would love to have it in my home as it has an inner calmness and a crafted quality which truly feels residential.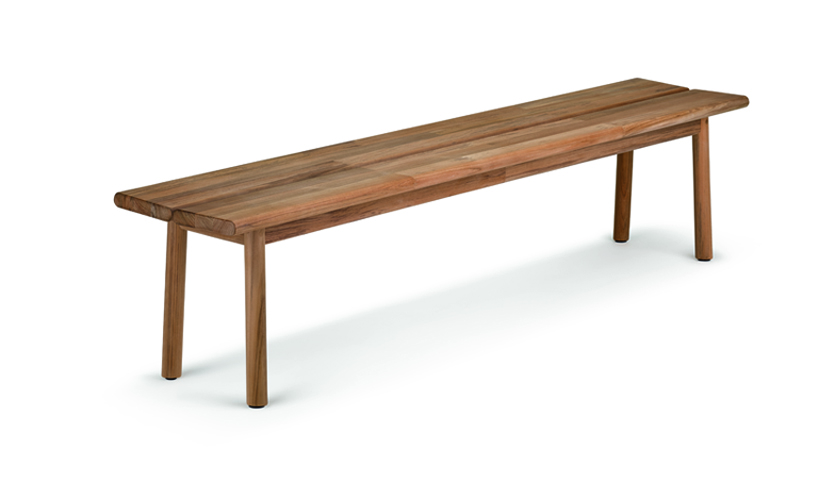 DB: can you talk a bit about the development of this project and how long it has taken to design this whole collection?
JO: it has taken a couple of years.
EB: the project was not in fast track when compared to other ones, because most of our meetings are done in germany whereas the models are being built elsewhere. this means that the prototypes would have to be made and then shipped back so there has always been a little time delay. if they were being made in germany then we could make changes to the design within the same day. when things are being made overseas, you have to build in a bit of extra time. this was launched to our dealers in september so the project has pretty much been completed since then. saying that, we are actually still making minor tweaks here and there – the chair cushions are one aspect that we are still changing.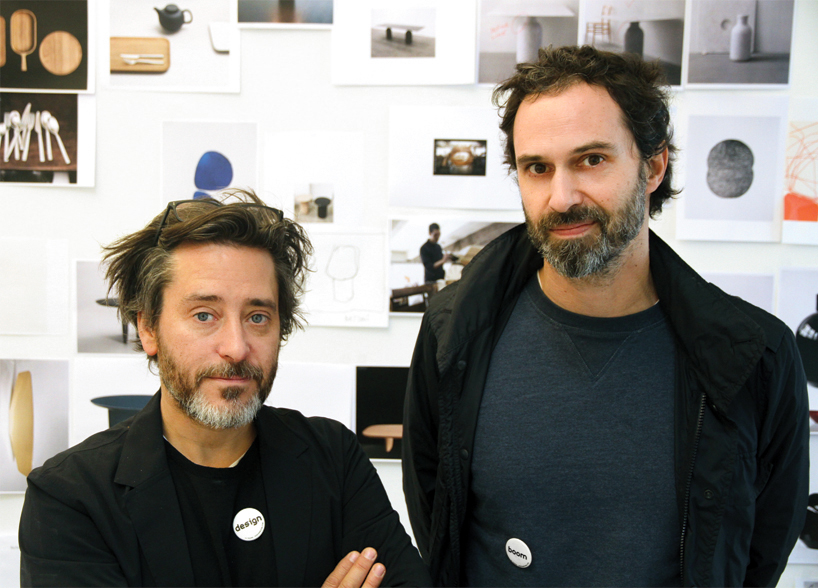 jay osgerby (left) and edward barber (right)
image © designboom
a diverse digital database that acts as a valuable guide in gaining insight and information about a product directly from the manufacturer, and serves as a rich reference point in developing a project or scheme.
designboom will always be there for you
milan, new york, beijing, tokyo

,
since 1999