oct 19, 2009
bas van der veer: a drop of water and bioplastic planter
this past weekend, bas van der veer was awarded the prize for best project at the design academy eindhoven graduation galleries exhibition for his 'bioplastic planter' and 'a drop of water' which deal with planting and water collection in the urban environment.
preparing the MDF mould in order to cast 'a drop of water'
van der veer makes collecting water easy with his 'a drop of water' rain barrel. the device includes a watering can which is automatically filled when it rains, therefore eliminating the task of having to fill the can with tap water. instead, free rainwater is used to keep your garden growing.
the mold
the form of 'a drop of water' was translated into a mold through CNC milling
once the mold was coated, an epoxy gel coat was applied in order to develop the outer layer of the barrel
applying the gel coat
once the gel coat was applied several layers of fibreglass and epoxy resin were used build-up the form
after the parts dried, they were removed from the mold
each individual part was then glued together and the final form refined
giving the rain barrel a final coat before attaching the water tap
a small tap at the bottom of the barrel makes it easy to refill the attached watering can
a watering can sits inside the larger water barrel
making the basic shape of the bioplastic planter on the lathe
the bioplastic planter contains a young tree or a plant which is made from renewable bioplastics. when the tree is put into the ground, the bioplastic planter will protect it from falling over. overtime, the support system will biodegrade into the soil, returning back to the earth and letting the tree grow on its own.
the two parts ready to be thermoformed – these are just two of the nine different sizes which the bioplastic planter comes in
a layer of bioplastic sheet material is thermoformed over the mold in order to create the planter
handles are incorporated into the design of the planter making it easy to transport and plant the tree and protects the tree from animals
the bioplastic planter makes use of renewable plastics
an illustrative graphic of the planter's biodegrading process
bas van der veer's multiculti herb planter has been a part of designboom's handled with care and kitchen ecology exhibitions.
oct 27, 2009
oct 27, 2009
oct 26, 2009
oct 26, 2009
oct 25, 2009
oct 25, 2009
oct 21, 2009
oct 21, 2009
oct 20, 2009
oct 20, 2009
oct 19, 2009
oct 19, 2009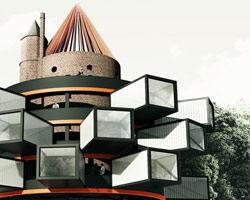 oct 11, 2013
oct 11, 2013
oct 07, 2013
oct 07, 2013
feb 22, 2013
feb 22, 2013
a diverse digital database that acts as a valuable guide in gaining insight and information about a product directly from the manufacturer, and serves as a rich reference point in developing a project or scheme.