MILAN DESIGN WEEK 2022 RETURNS IN FULL FORCE
Following the cancellation of the 2020 edition, and a down-scaled version in 2021, Milan Design Week returned in full force in 2022 to delight visitors with new products and artistic interventions. Without a doubt, one of the creative's world most hectic moments of the year, people from around the world traveled to the Italian city to see not only the latest product releases at the fair, but to enjoy the ever-growing immersive installations and social events that took over the courtyards and historical buildings.
Milan Design Week 2022 also marked the entrance of the DAAily Platforms. Our group — designboom, Architonic & ArchDaily — curated the space inside the Centro Svizzero building on the eastern edge of the Brera Design District with installations, hourly talks with figures within the art, architecture and design fields, and a bar that created a common ground for culture enthusiasts brought to you in partnership with BALLY and supported by Christian Fischbacher, Brunner, Vibia, MAGIS, Andreu World and ames.
Scroll down to discover what went down during the week, as we unveil the TOP BEST shows of Milan Design Week 2022.
DAAILY BAR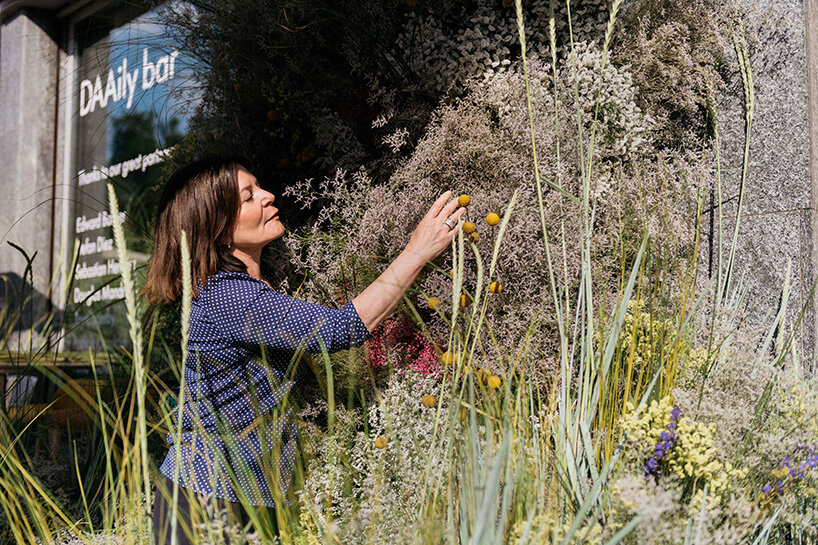 image + images on video © José Salto FELICES Agency
Located on the eastern edge of the Brera Design District at the Centro Svizzero building, the DAAily Bar welcomed renowned design personalities and enthusiasts. Not only was the Live Talks program impressive, so too was the bar itself with a stunning floral installation by Anne Vitchen — floral designer at the Ritz Paris — joined by Swiss artist Douglas Mandry's Art Curtains in collaboration with Bally and Christian Fischbacher.
Providing insights into their current work and developments, the Live Talks hosted international guests from the worlds of design, art and architecture, including Paola Antonelli, Alice Rawsthorn, Boonserm Premthada, Anne Vitchen, Douglas Mandry, Julian Bedel, Laura Casalis, Giovanni Moro, Edward Barber & Jay Osgerby, Alper Derinboğaz, Stefan Diez, Carlo Ratti, Cristian Zuzunaga, Jakob Lange, Sebastian Herkner, Alfredo Häberli, Mario Cucinella, Patricia Urquiola, Fabio Calvi & Paolo Brambilla, Benjamin Gallegos Gabilondo, and Cazzaniga Mandelli Pagliarulo.
And we also hosted a party! Watch the video above to get a glimpse at the DAAily Bar.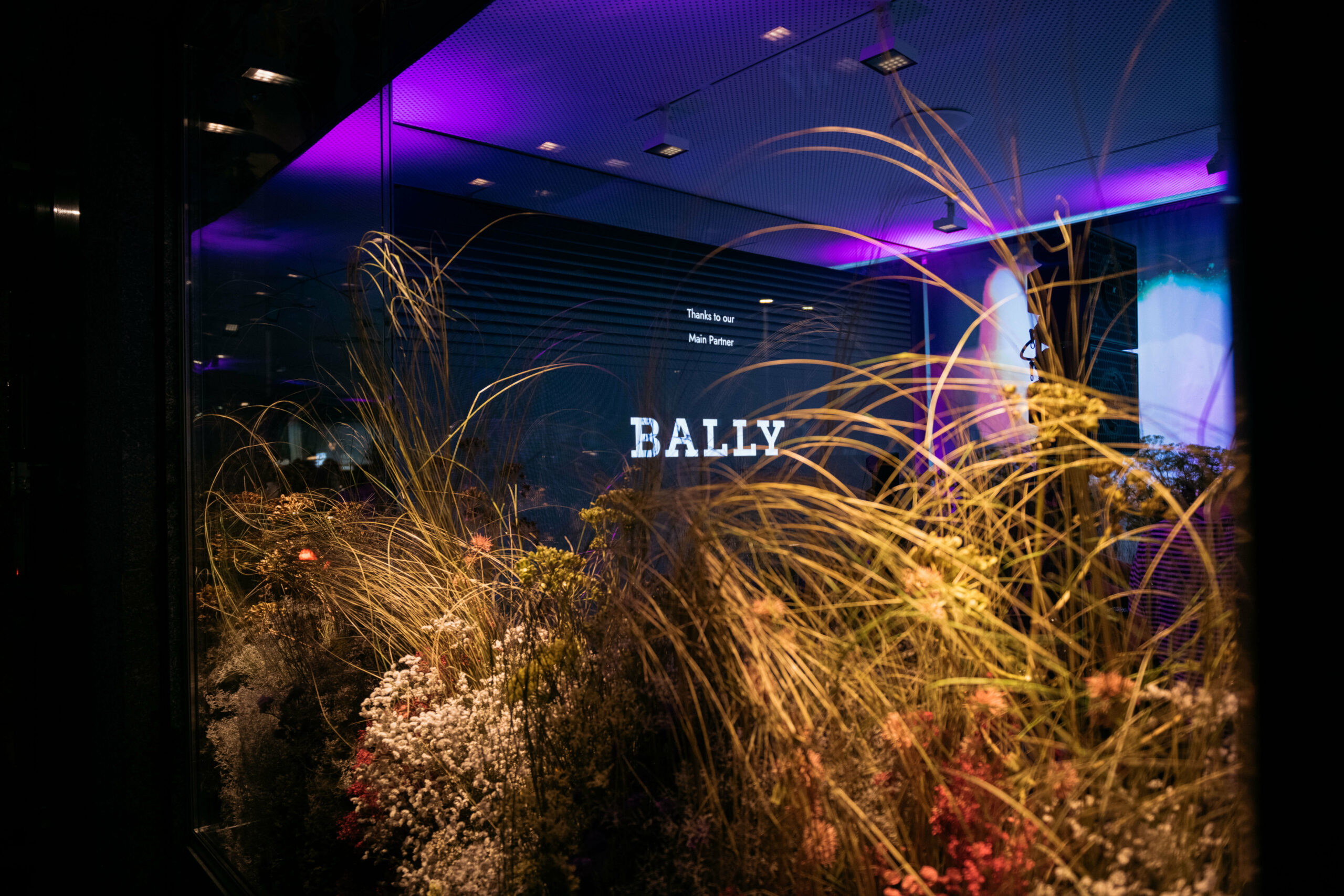 LOOKING FOR LIGHTNESS BY HERMÈS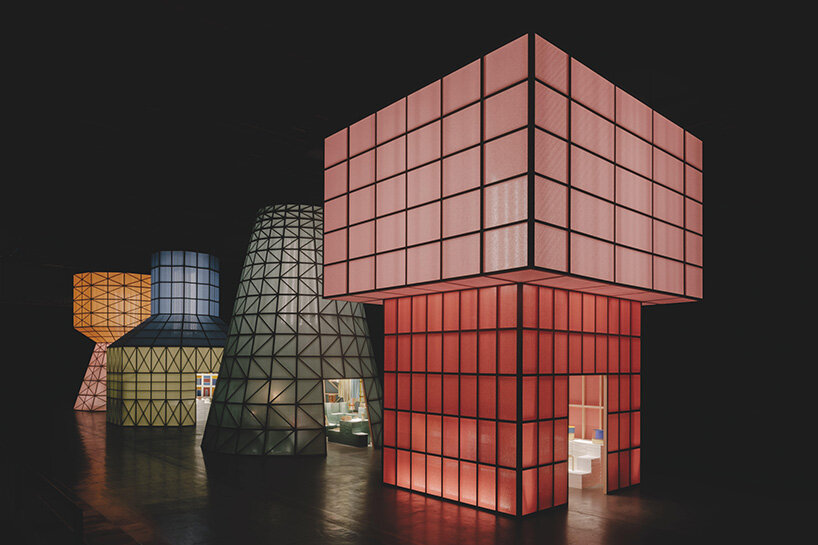 Hermès understood the possibilities of creating a space within a space, and this year continued to wow spectators with an installation that highlighted a quest for lightness. Set within La Pelota, the installation was composed of four massive translucent structures which played with light and gravity, while seeking a balance between color and light. Despite the immense size of their wooden skeletons, the structures appeared soft and delicate.
Upon entering the small openings, visitors encountered different household items from decorative pieces to chairs and dinnerware, all precisely positioned to seek 'lightness in the design of the object'.
Read more on designboom here.
DIVIDED LAYERS BY DANIEL ARSHAM FOR KOHLER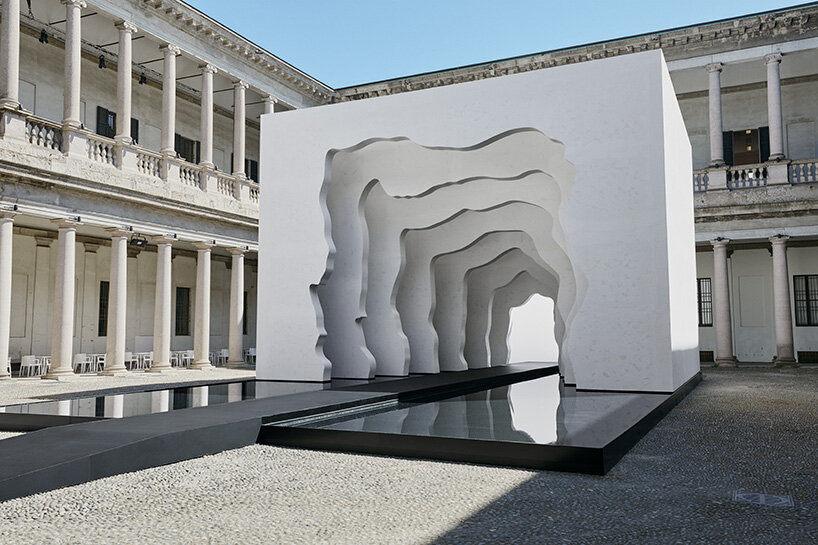 Probably the most instagrammed installation of Design Week, Daniel Arsham's Divided Layers for Kohler took over the courtyard at Palazzo del Senato. Described as a large-scale immersive art experience, the site-specific installation built upon the duo's release of Rock.01 — a 3D-printed sink. Visitors paraded along the walkable tunnel created by a series of stackable panels, where a pond acted as a mirror surface, doubling and reflecting the opening of the cavernous volume.
MONUMENTAL WONDERS BY SABINE MARCELIS & OMA AT ALCOVA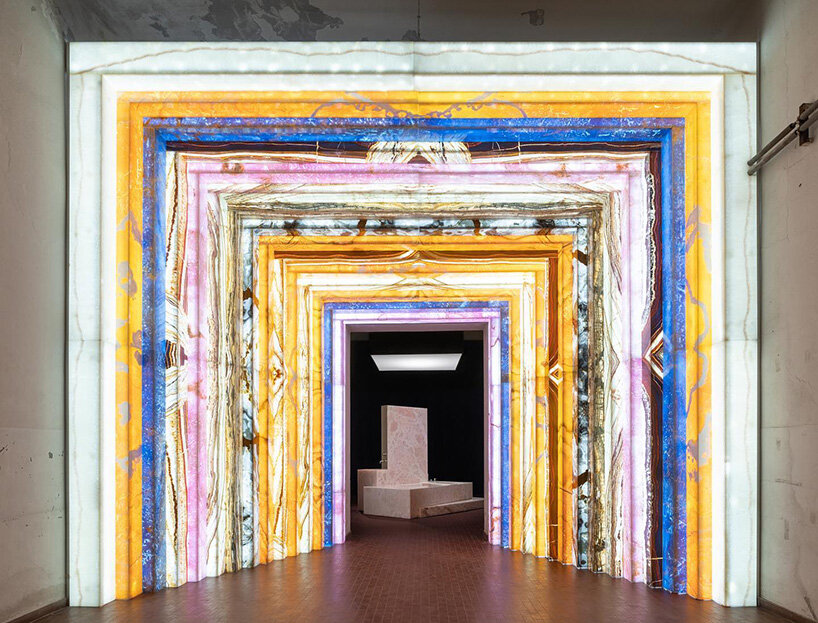 Natural stone brand SolidNature debuted at Milan Design Week with an impressive installation at Alcova, which welcomed visitors through a luminous, OMA-designed portal composed of nine different types of onyx assembled in sequence. Across this entryway, people later encountered a monolithic Pink Pale Hue Onyx bathroom sculpture by Dutch designer Sabine Marcelis; and a multi-functional cabinet and a bed by OMA.
Read more on designboom here.
WEAVE, RESTORE, RENEW BY LOEWE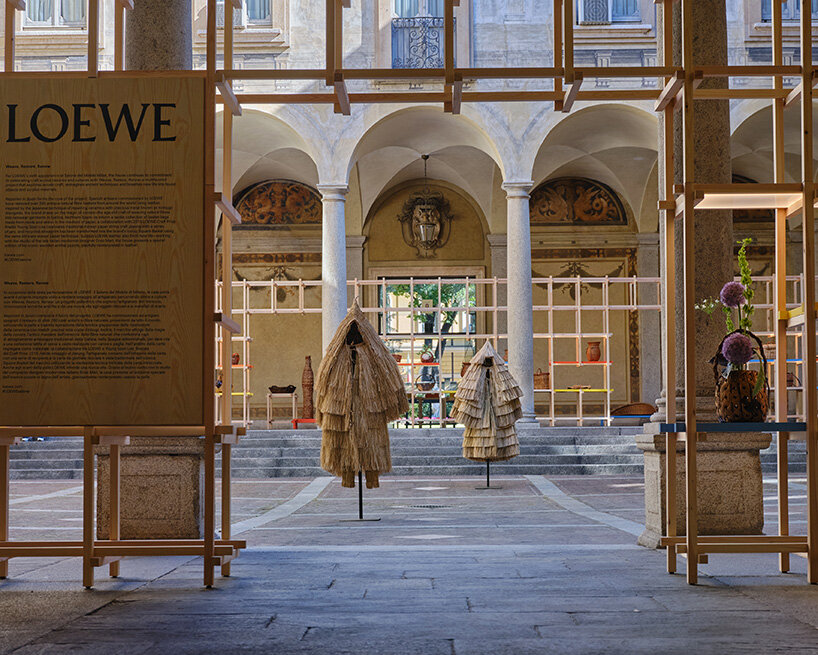 The art of weaving marked the re-entrance of LOEWE at Milan Design Week, two years after its last exhibition at the annual design event. For its sixth installment, Anderson and LOEWE explored leather weaving, the Galician straw-weaving tradition known as Coroza, and the Korean technique of paper weaving known as Jiseung. The poliform project revolved around the concept of resuscitating objects and materials that may be forgotten or discarded and transformed them into baskets, handbags, canisters, cribs, vases, and storage, all sold during the event.
Read more about the project here.
Ceci n'est pas un mur BY KONSTANTIN GRCIC AT NFQ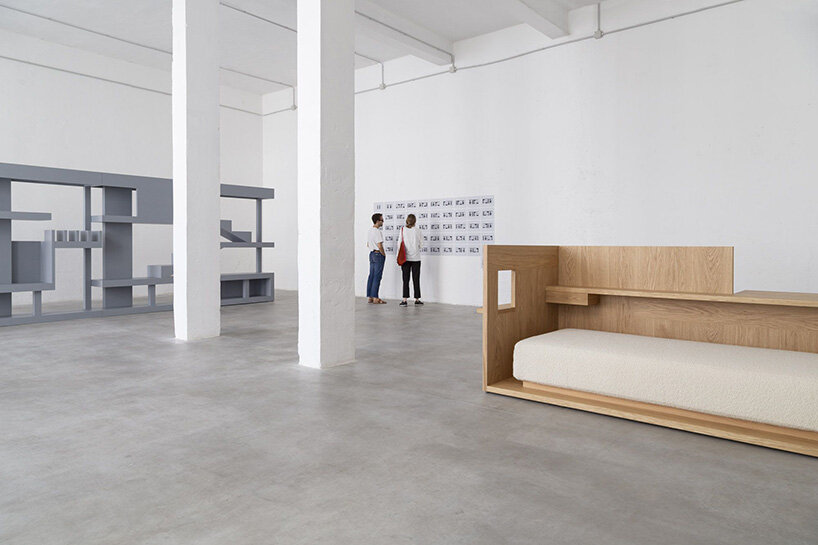 Konstantin Grcic set two imposing limited-edition pieces inside NFQ. Created for Giustini/Stagetti and titled DAYBED and WALL, the pieces were presented with an exhibition titled 'Ceci n'est pas un mur,' which 'ironically makes reference to Magritte's famous painting of a pipe which is known to be an image of a pipe and not the object itself.'
Both pieces recall the German designer's formalism, and have been designed to reinterpret the classical format of furniture on the scale of a 'micro-architecture.' In doing so, they not just furnish a space, but create one in turn.
Read more about this project on designboom here.
OBJETS NOMADeS BY LOUIS VUITTON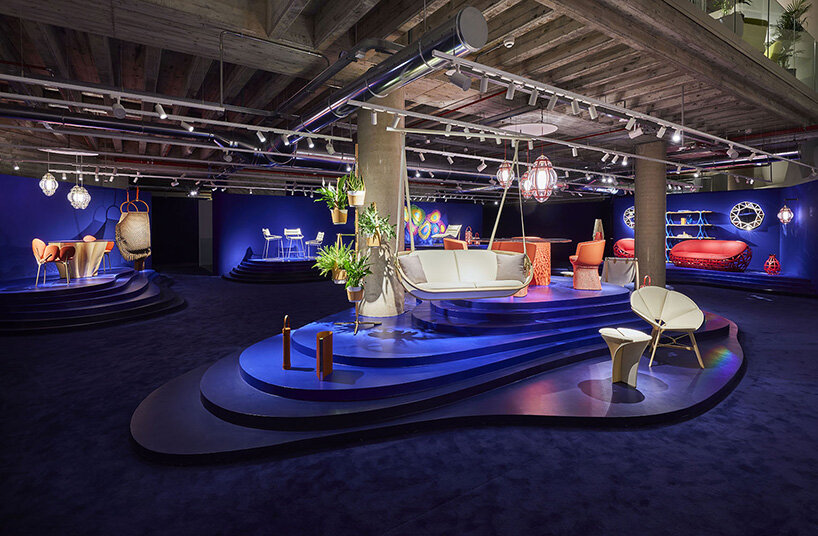 Louis Vuitton celebrated ten years of the Objets Nomades collection of furniture and design objects during Milan Design Week 2022. Set within the iconic Garage Traversi, the French Maison unveiled two new additions together with recent and classic pieces by Atelier Oï, Campana Brothers, Maarcel Wanders, Frank Chou and Raw Edges among others.
INNESTO (RUBBINGUPTHEWRONGTREE) BY MARTINO GAMPER AT NILUFAR DEPOT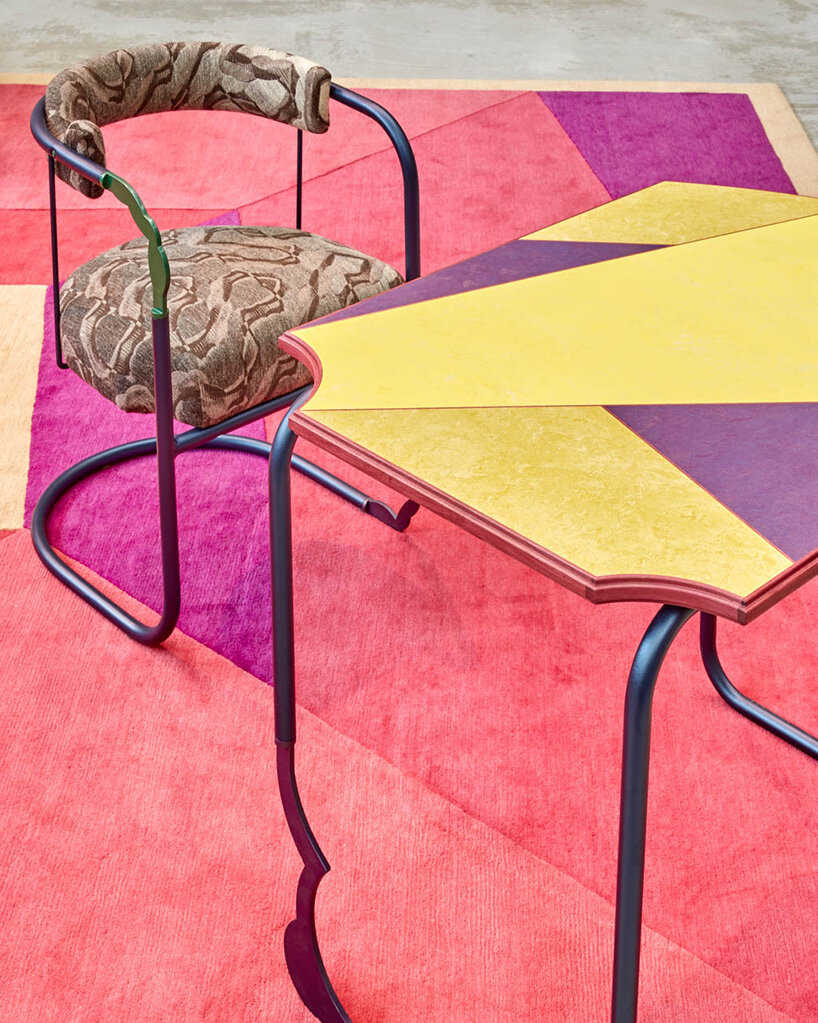 At Nilufar Depot, Martino Gamper highlighted the botanical art of grafting — innesto in Italian — and translated it into exquisite refurbished furniture pieces. By mimicking the act of placing a portion of one plant into the stem of another to create a union, Gamper presented an array of old Cox furniture he reinterpreted in a contemporary key. The vintage pieces were dissected and then restored with insertions of flat laser cut steel, creating a dialogue between the purity of the original design and its new elements.
Curated by Nina Yashar, the site-specific installation continued to demonstrate why Yashar, Nilufar Gallery founder, is a leading figure in the collectible design sphere.
MISS DIOR BY PHILIPPE STARCK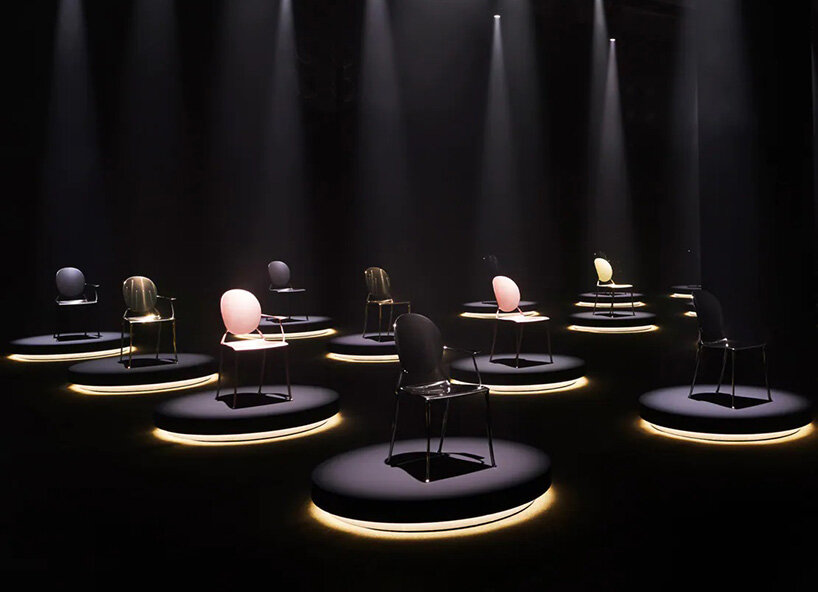 Philippe Starck and Dior united in the pursuit of perfection with a refined edition of Christian Dior's Medallion Chair — this time renamed Miss Dior in a tribute to femininity. The event marked the first collaboration between the fashion house and the French designer and architect. Debuted in an ethereal and cavernous theater below Milan's Palazzo Citterio, the space reflected the elegant minimalism of the chair.
Read more on designboom here.
TWENTY BY TOM DIXON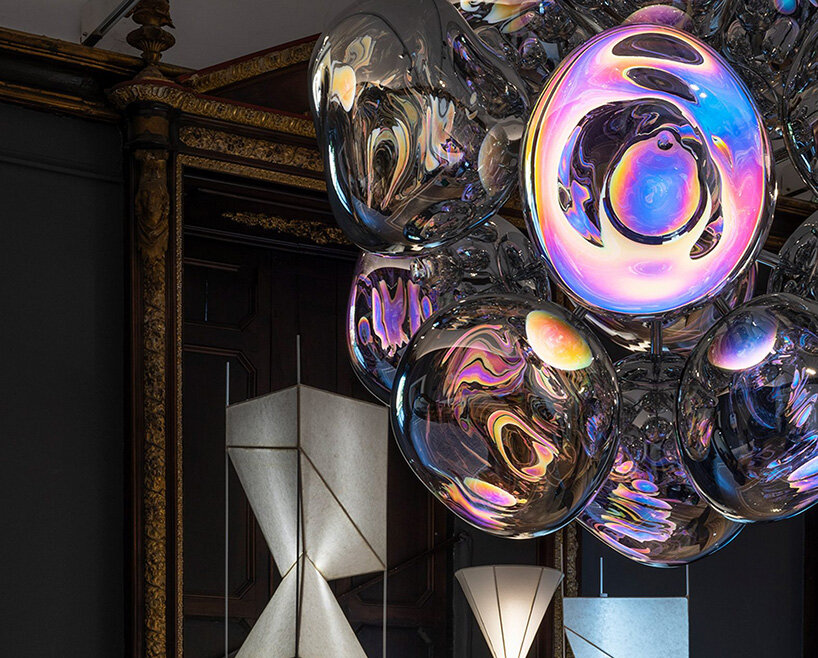 Recognized as a trailblazing creative powerhouse across innovative products and high concept interiors, British designer Tom Dixon commemorated 20 years of the global design empire he established in 2002. To celebrate, the brand hosted the TWENTY exhibition, and introduced its latest creations which focused on innovation and materiality.
OUBLIÉ BY DIMORE STUDIO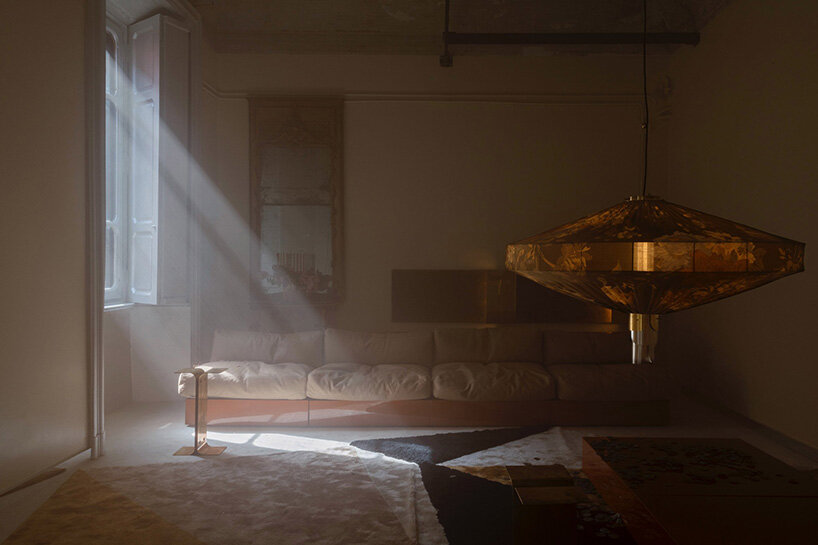 Sealed away in a 'forgotten' Milanese apartment was Dimore Studio's Oublié show. The dimly-lit hazy space showcased the studio's new collection comprised of furniture, textiles, and lighting pieces, all with a strong Emiliano Salci and Britt Moran signature. The journey inside the apartment appeared like a dream, and gave the sensation of slowly waking up.
Read more on designboom here.
RALPH'S MILAN AT PALAZZO RALPH LAUREN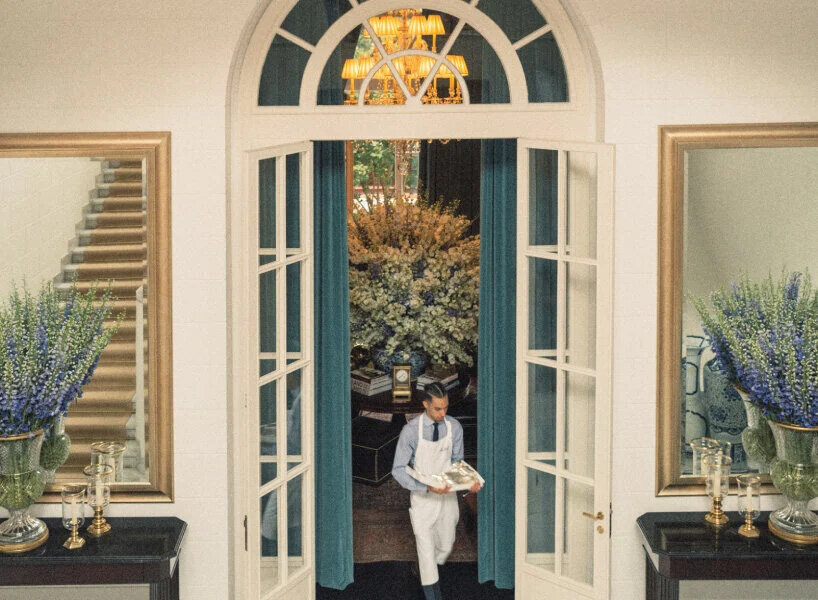 image courtesy of Ralph Lauren
For one week only, Palazzo Ralph Lauren was transformed into Ralph's Milan to introduce the Fall 2022 home collection. The interiors reflect an American sensibility that Ralph Lauren envisions: heirloom quality furnishings crafted from rich mahogany; and antiqued brass and burnished leather mixed with pairings of tartans, paisleys, and zebra prints. Treasured art and antiques added a layer of authenticity, while floral arrangements create an inviting quality of home. The palazzo's interior courtyard – dressed for al fresco dining in classic blue and white ticking stripes, florals, and checks from the home collection – offered guests a welcoming respite in cosmopolitan Milan.
Read more on designboom here.
'Everywhereness' by Ruby Barber for Porsche + TAG Heuer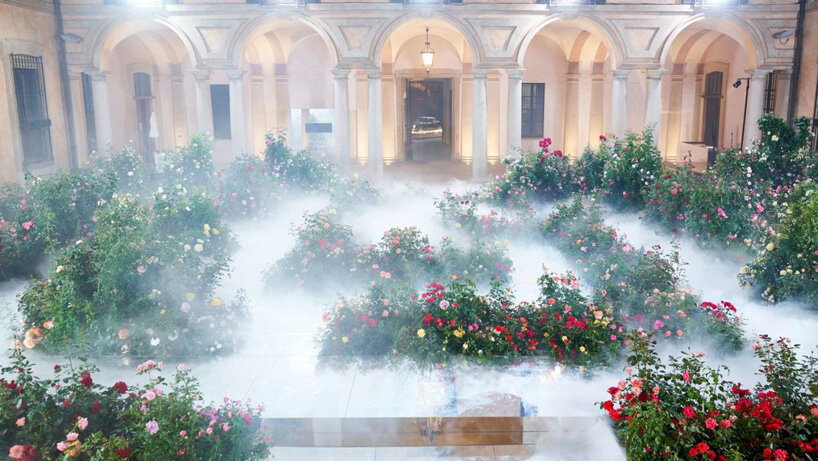 the artwork in the courtyard of the Palazzo Clerici | image courtesy of Porsche
In the courtyard of the Palazzo Clerici, Porsche presented 'Everywhereness', an immersive art installation by Ruby Barber (Studio Mary Lennox, Berlin), which connects nature with modern technology. The artwork consisted of a labyrinth of wild roses, a section of footpaths made of mirrors, and live drones that added surreal effects. Alongside the artist's botanic installation, a 1972 Porsche 911 S 2.4 Targa was on view in the form of a restored unique piece. TAG Heuer accompanied the exhibition as its timekeeper, communicating the performance times of the art installation to the audience.
ACCANTO AL FUOCO/BY THE FIRE BY STUDIO LUCA GUADAGNINO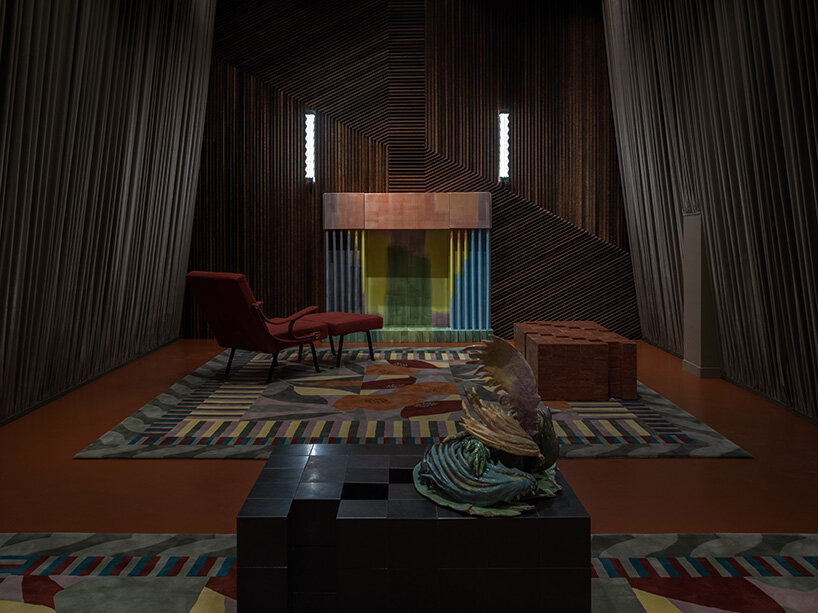 Perhaps one of the most talked about shows of the week, Studio Luca Guadagnino presented Accanto al Fuoco/By the Fire. Set within Spazio RT, the show encompassed a warm atmosphere composed of coffee tables, fireplaces, wood paneling, glass sconces, technical lights and ceramics designed by the studio in collaboration with other high-scale brands. The compact space showcased two-living rooms inspired by the mid-century Italian architect Carlo Scarpa.
Gaea Pendant by Ini Archibong for Sé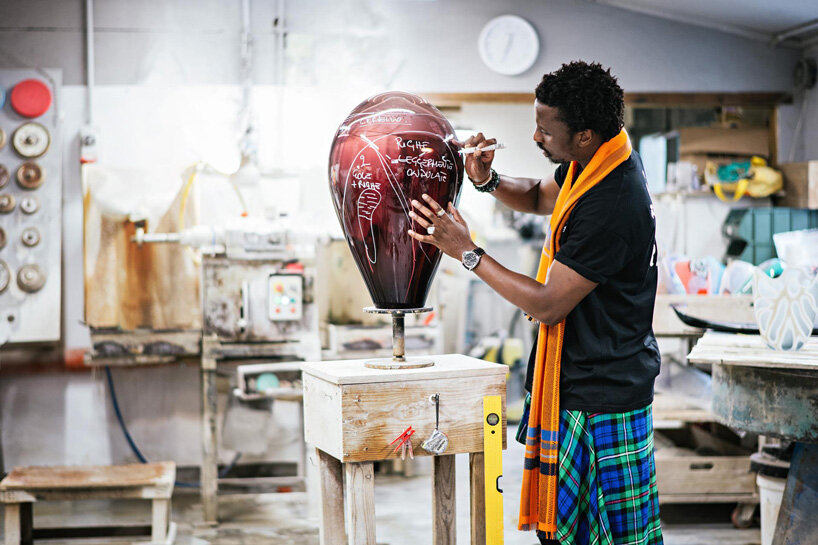 Sé Collections, Gaea pendant | portrait of Ini Archibong in Murano
Luxury European design brand Sé unveiled a limited-edition Gaea Pendant by designer Ini Archibong at Rossana Orlandi Gallery. Created in the heart of Murano, the highly detailed, sculptural glass masterpiece is crafted from a rich garnet colored glass and features a bespoke ceramic beaded cord. This marks the first of the new limited-edition designs from Archibong, where he challenges and pushes Murano's traditional glass making methods to strive for a creation with a striking modernity which, when illuminated, has a delicate and ethereal feel.
SPOKEN LINES BY BENI RUGS x COLIN KING AT ALCOVA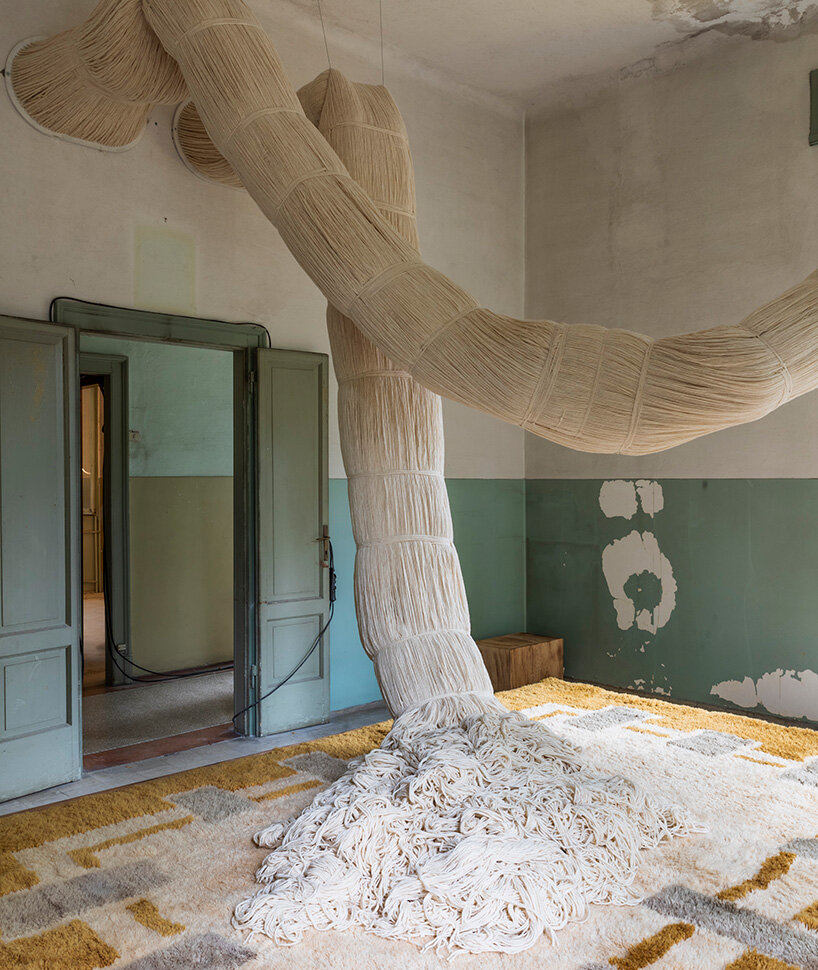 Beni Rugs surprised visitors at Alcova with a colossal site-specific wool sculpture made by Moroccan artist Amine El Gotaibi which gently rested on Colin King's carpet collection. The collaborative installation explored the heritage versus the modernity of traditional Moroccan rug-making and how it has evolved alongside contemporary design influences.
FLOATING FOREST BY STEFANO BOERI INTERIORS for TIMBERLAND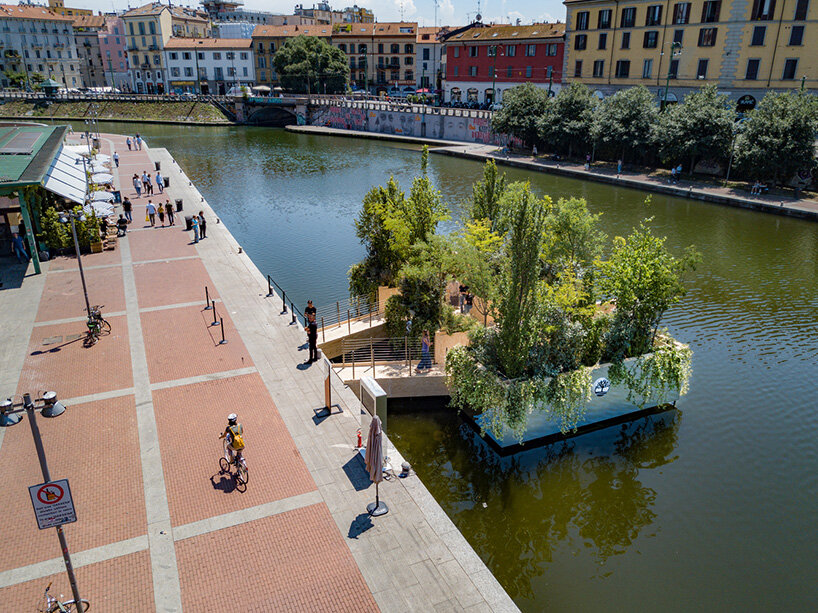 Milan-based architect Stefano Boeri set afloat a multi-sensory forest created as an independent ecosystem on the waters of the city's Darsena. Created in collaboration with Timberland, the installation offered a place for intersection and reconciliation between the natural sphere and human beings. Complete with 610 plants and 30 species, the project aimed to multiply biodiversity and activate environmental benefits related to urban forestry, in connection with other green spaces in Milan.
ALESSI 100-001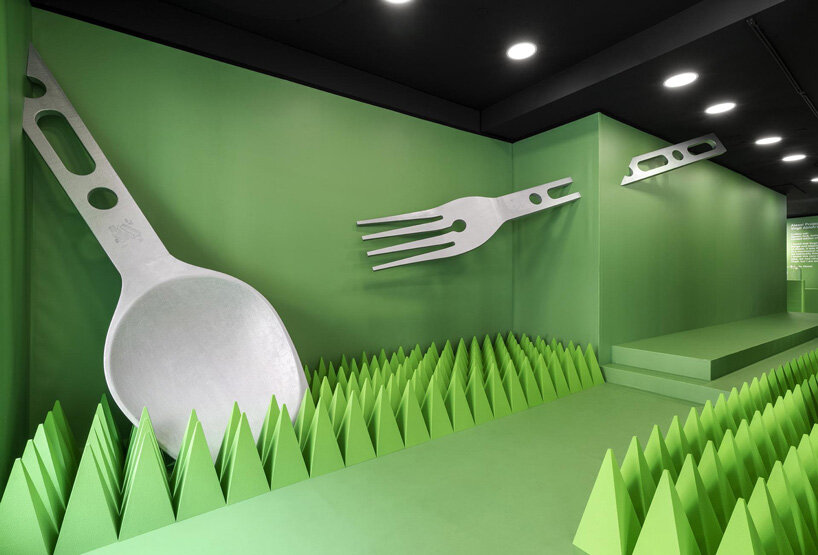 Alessi Project 001: Virgil Abloh's Occasional Object cutlery set | image courtesy of Alessi
Alessi's centenary year was celebrated at Milan Design Week with the exhibition 'Alessi 100 – 001' at Galleria Manzoni, expressing the character of the Italian Design Factory as epitomised by its past, present, and future. While the 100 of the exhibition title refers to the design firm's activity throughout its first century, which is illustrated through a series of installations curated by AMDL CIRCLE, the multidisciplinary studio founded by designer and architect Michele De Lucchi, the 001 refers to Alessi's first project of its next 100 years. This is a cutlery set created in partnership with Virgil Abloh and his London-based design studio Alaska Alaska, which is showcased in a modern-surrealist installation created by Studio Temp.
ELEMENTI PER PAESAGGI BY NATHALIE DU PASQUIER FOR MUTINA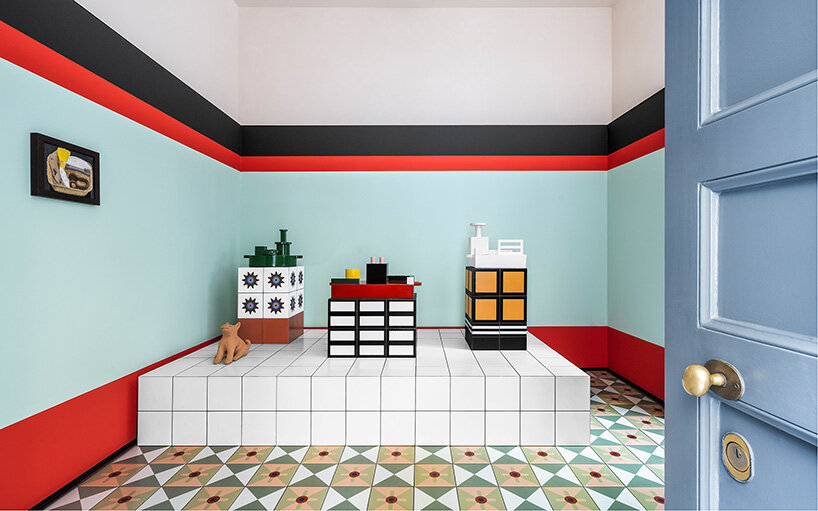 Memphis designer Nathalie Du Pasquier created an installation at Casa Mutina Milano to officially present the Paesaggi collection. The french architect and designer used the Mattonelle Margherita to create a lively and dynamic scenography reflection her spirit and creative approach.
THINKING DESIGN, MAKING DESIGN: WORK BY A-POC ABLE ISSEY MIYAKE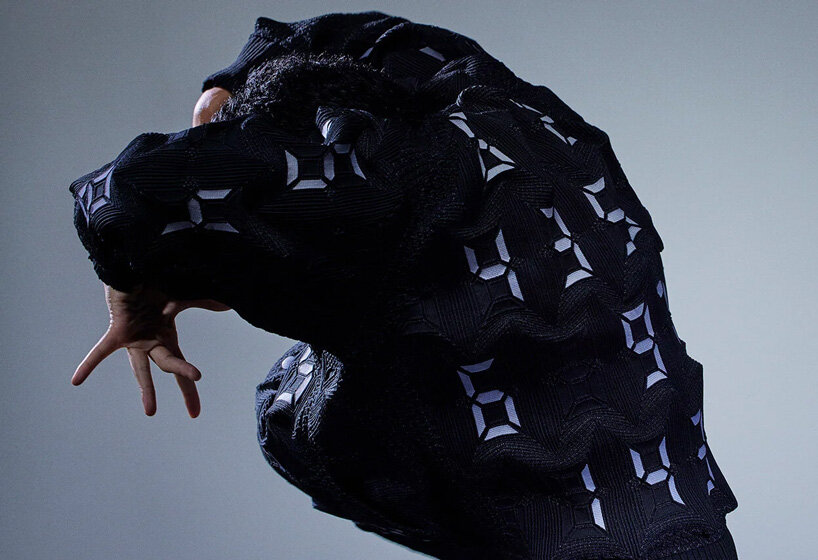 image courtesy of Issey Miyake
ISSEY MIYAKE / MILAN hosted the collaborative, experimental exhibition THINKING DESIGN, MAKING DESIGN: work by A-POC ABLE ISSEY MIYAKE and Japanese artist Tatsuo Miyajima. The TYPE-II Tatsuo Miyajima project was on view during Milan Design Week 2022, unveiling the conceptualization and realization of the design work behind the revolutionary fashion brand.
Read more on designboom here.
juliana neira
I designboom
jun 20, 2022
KEEP UP WITH OUR DAILY AND WEEKLY NEWSLETTERS
a diverse digital database that acts as a valuable guide in gaining insight and information about a product directly from the manufacturer, and serves as a rich reference point in developing a project or scheme.
designboom will always be there for you
milan, new york, beijing, tokyo

,
since 1999