MILAN DESIGN WEEK 2023 HIGHLIGHTS
For 2023, Milan Design Week returned to its traditional mid-April schedule for the first time in three years, injecting the Italian city with an exciting burst of creativity. Centered around the renowned Salone del Mobile fair and complemented by Fuorisalone, the week-long event took place from April 17 to 23, offering a series of presentations from a variety of brands, studios, organizations, and institutions.
This lively convergence of design-oriented activities caters to both professionals and design enthusiasts from around the world, who travel to Milan to discover the newest product releases and experience a growing number of immersive installations taking place around the city. As always, historical districts, buildings, and palazzos were activated through numerous events, exhibitions and installations at the intersection of design, architecture and fashion. See below for our picks of the BEST shows of Milan Design Week 2023, check our dedicated account here for extensive coverage of everything that went down during the week, and stay tuned for our round up of Salone del Mobile.
LOTS OF DISCO AT THE DAAily Bar!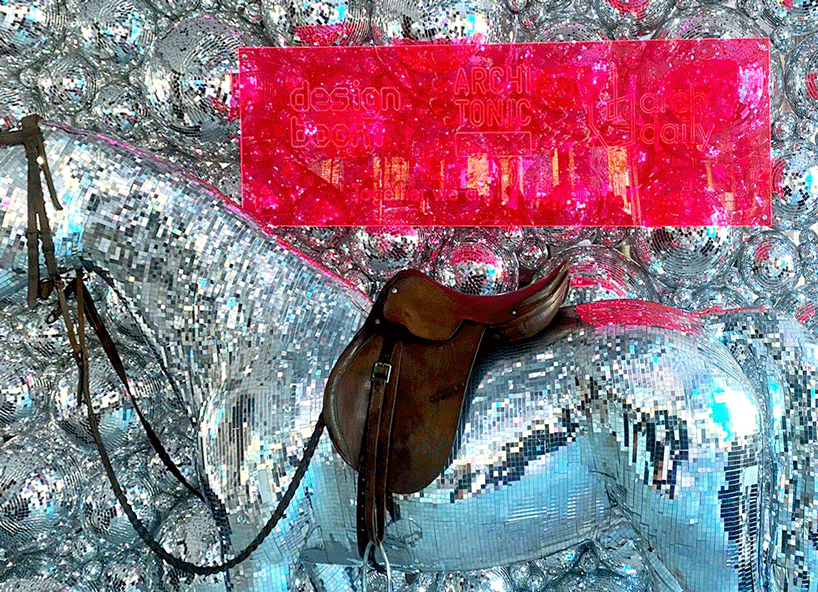 image © designboom
Situated on the eastern edge of the Brera Design District, at the Centro Svizzero building, the DAAily Bar successfully hosted daily meet ups for the design community for the second year in a row. The bar exuded radiance, thanks to a reflective balloon installation, a sequence of neon lights, and a disco ball horse, designed by pfeffermint. The space was also decorated with furniture by Weishäupl and Magnus Olesen and surfaces by Alucobond and Hexis, to complete the vibrant look and set the scene for an unforgettable party organized by designboom (where we presented our recently-launched spanish version to our guests!), Architonic, and Archdaily. You have to have been there to understand how great the party was, but if we have to describe it in a few words: busy, fun, and sparkly!
TIME & STYLE DESIGN TALKS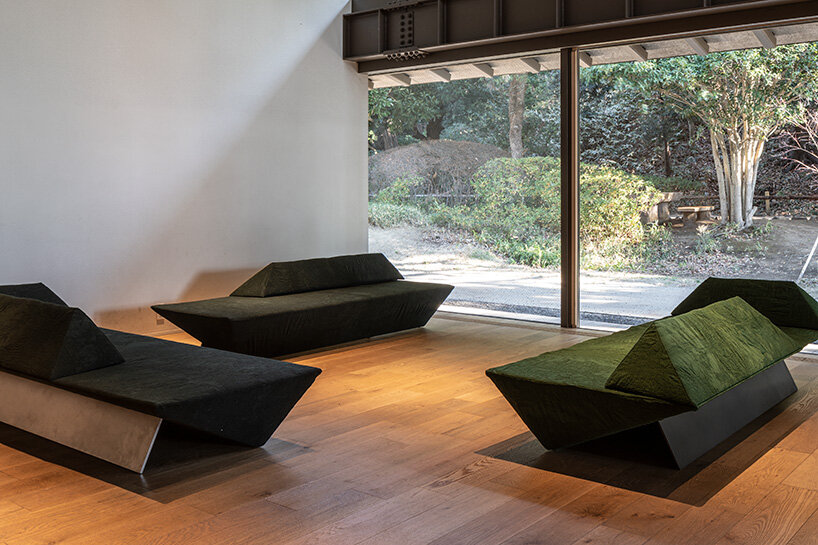 In the continued effort to evolve traditional Japanese techniques to create products for modern life, Time & Style welcomed a series of collaborative design talks and furniture debuts, and western-eastern fusion during Milan Design Week 2023. Ryutaro Yoshida, CEO of Time & Style, was joined in conversation with Kengo Kuma, Claesson Koivisto Rune, DRILL DESIGN, and Aoi Huber Kono, moderated by designboom founder Birgit Lohmann. A care for craft, materials, and makers was the focus of these unmissable moments.
BEYOND THE SURFACE WITH OMA AND SOLIDNATURE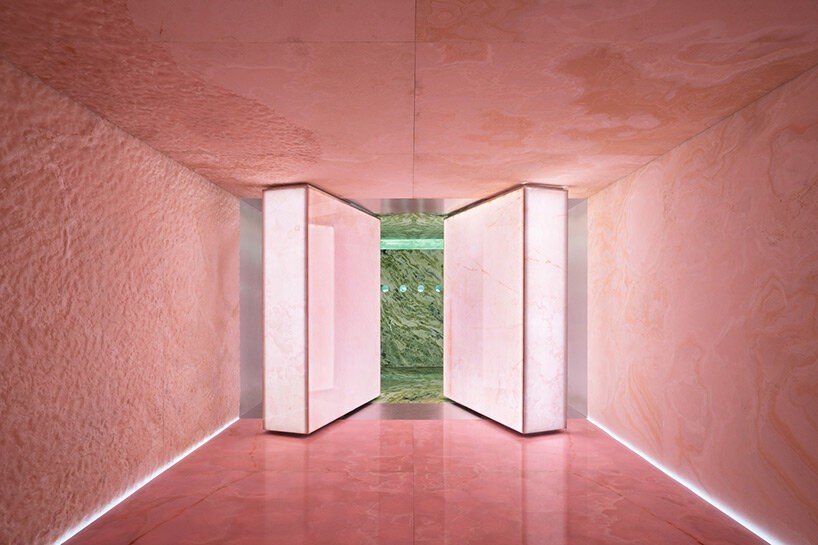 image by Marco Cappelletti
SolidNature returned to Milan Design Week with a wonderland exhibition designed by Ellen Van Loon and Giulio Margheri of OMA brushing against installations by Sabine Marcelis, Studio Ossidiana, Bita Fayyazi, and Ward Strootman. 'Beyond The Surface' took up temporary residence at Spazio Cernaia in the heart of Brera, and cast a portal for visitors to jump into a parallel universe where the formation and quarrying of stone are bounded by the process of dreaming.
Gaetano Pesce sculpts cavernous journey for BOTTEGA VENETA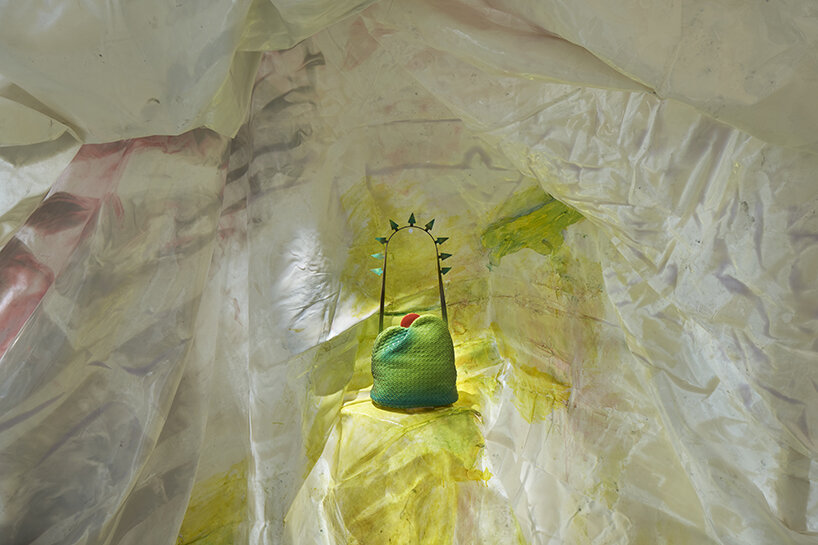 image courtesy of Bottega Veneta
Following the commission given to Gaetano Pesce to create a temporary, site-specific artwork for the Summer 2023 Bottega Veneta fashion show, the dialogue continued at Milan Design Week 2023, with a unique installation called 'Vieni a Vedere' (Come and See). Pesce was given complete creative freedom to create an immersive and cavernous installation in the brand's Montenapoleone store, using resin and fabric to offer a unique experience for visitors. The installation frames a special edition of handbags created by Bottega Veneta based on Pesce's designs.
Hermès encloses new home collections in iron rod installation
video © designboom
Hermès returned La Pelota in Brera's Via Palermo 10 for the presentation of its 2023 home collections. designboom had the chance to speak with Charlotte Macaux Perelman and Alexis Fabry, Hermès Maison's artistic directors, who explained more about the concept behind this year's presentation. A minimalist interplay of grid and lines guided visitors through a meandering journey of furniture and homeware collections. The displayed rugs, chairs, boxes and lamps were enclosed in iron rods and softened by the polished look of concrete, creating an intriguing display.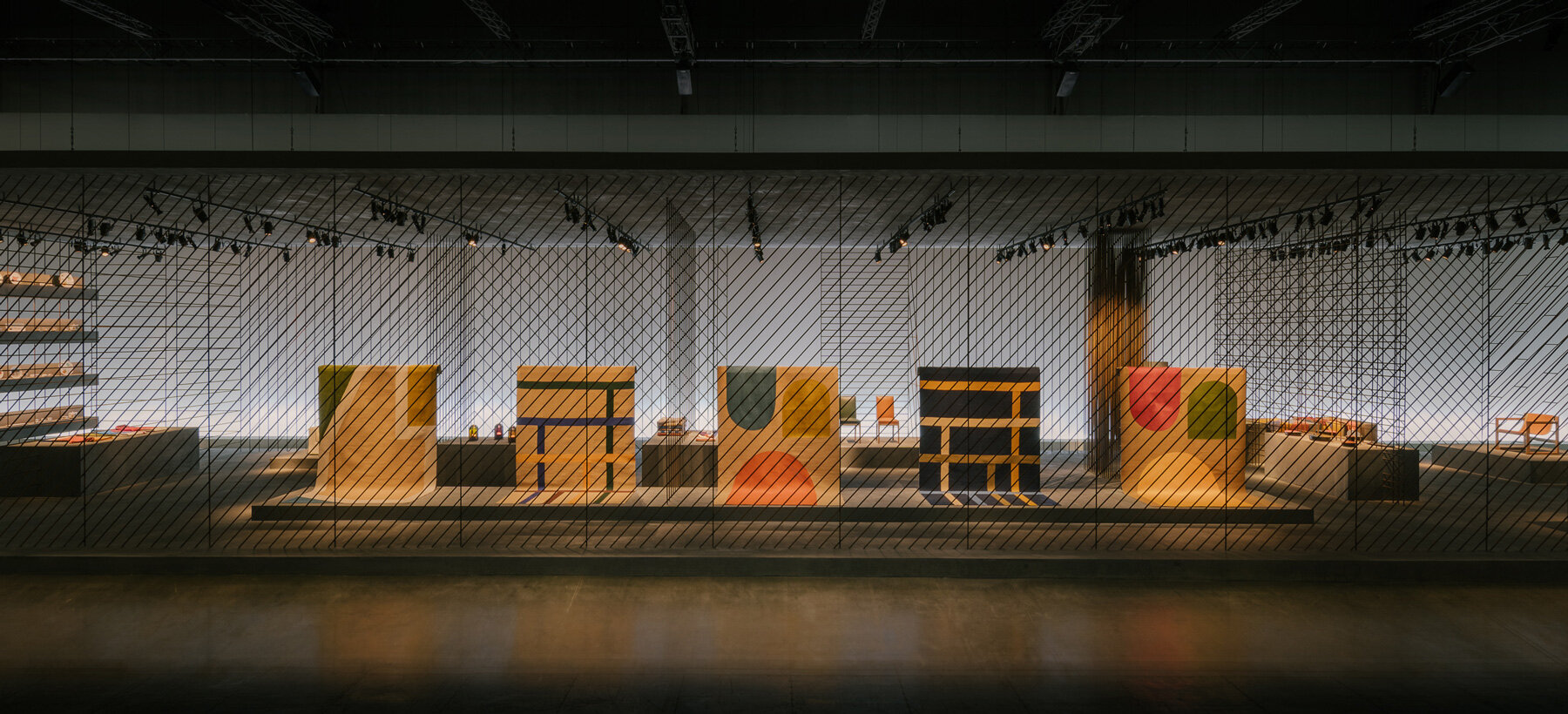 GALERIE PHILIA occupies 'desacralized' church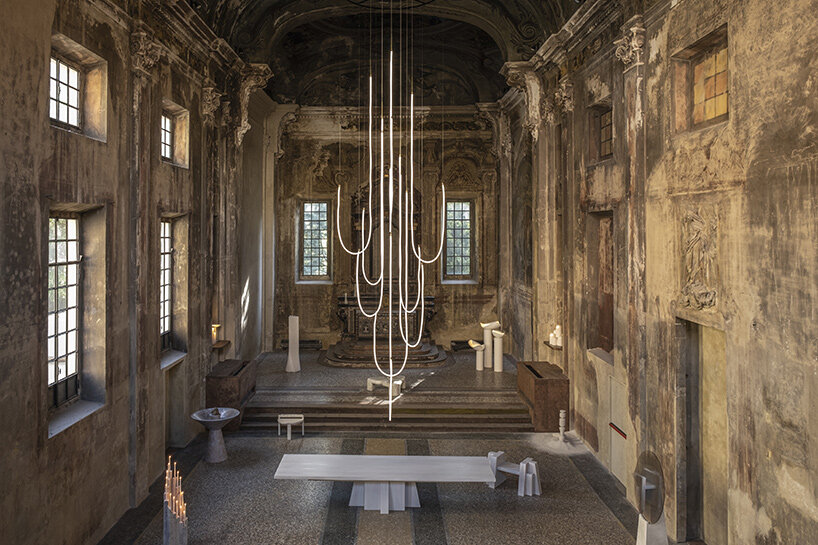 image courtesy Galerie Philia
Galerie Philia occupied the church of San Vittore e 40 Martiri with its dream-like exhibition 'Desacralized.' Scattered across the stone nave, beneath a lofty vaulted ceiling, the gallery showcased the lighting and furniture pieces by more than twenty international designers, both established and emerging, including Rick Owens and Ukrainian studio Faina. The exhibition delved into the concept of 'desacralization,' or withdrawing a sacred status — the church itself has been deconsecrated and repurposed for various community uses since its closure for worship in the late eighteenth century.
'nomad' BY Marc Fornes/THEVERYMANY for Louis Vuitton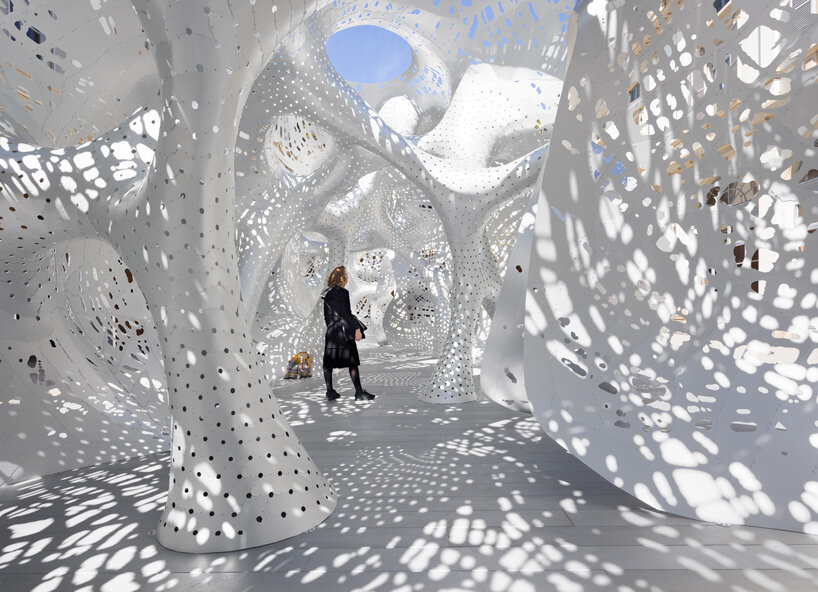 image courtesy of naaro
Louis Vuitton presented
'Nomad'
, an intricate pavilion designed by
MARC FORNES / THEVERYMANY
. Serving as a fascinating example of the New York-based French architect's signature coral-like designs, the
Louis Vuitton
pavilion emerged as a living entity that has organically bubbled up from the courtyard of Palazzo Serbelloni. The ultra-thin structure is composed of over 1,600 uniquely shaped and patterned anodized aluminium sheets, some as thin as 1 millimeter.
OBJECTS OF COMMON INTEREST's glossy RESIN furniture
Objects of Common Interest showcased glossy furniture sets made of liquified iridescent resin at the POIKILOS exhibition curated by Studio Vedèt at Nilufar Depot. The resin is poured into molds and hardens to create solid pieces, which retain their versatile nature when combined with natural materials like iron, marble, or wood. Objects of Common Interest can melt and transform these pieces back into their original liquid state while retaining their diaphanous reflection and materiality through this innovative technique.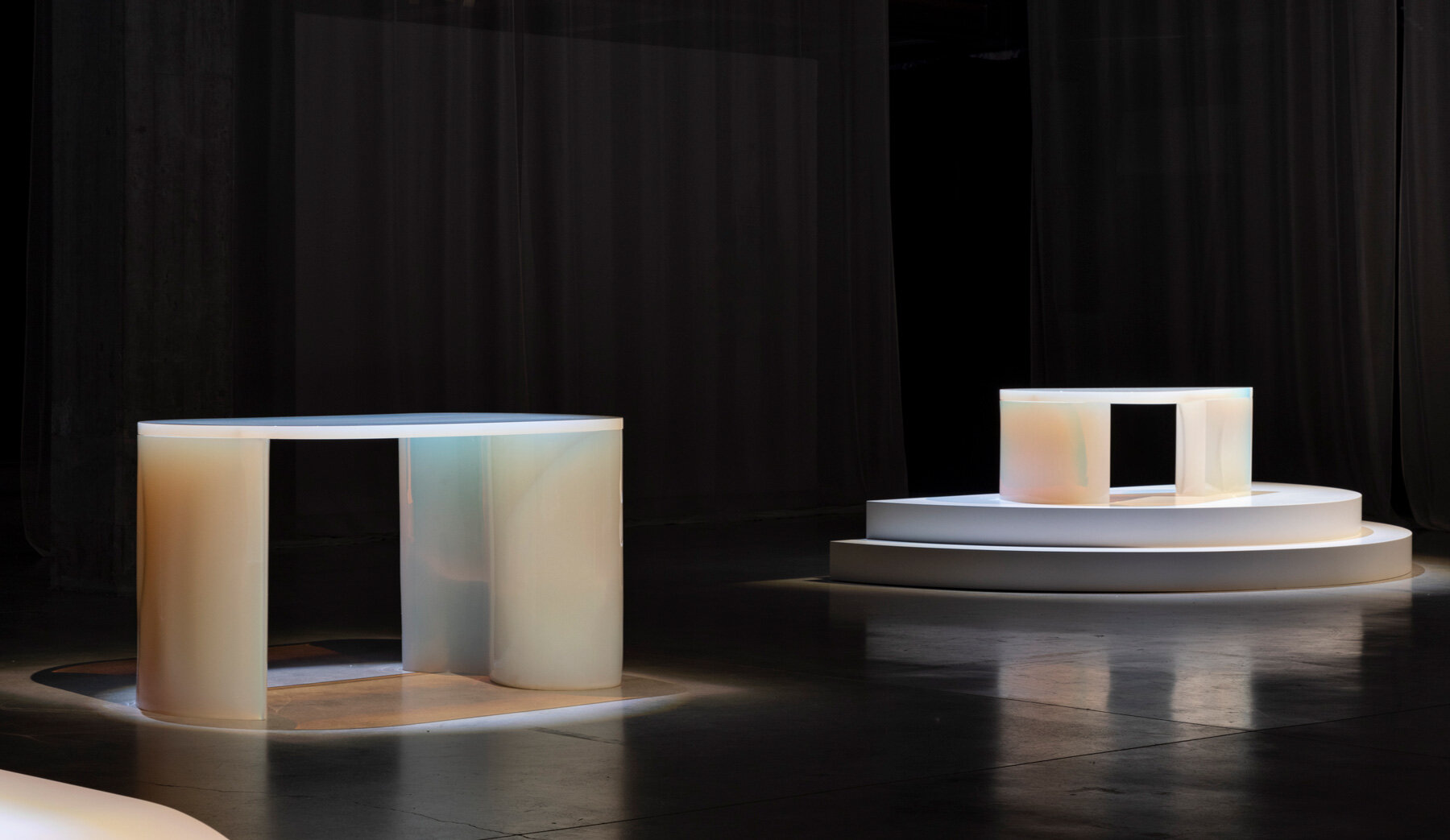 POIKILOS at Nilufar Depot | image by Ruy Teixeira
CASSINA presents 'Echoes, 50 years of iMaestri'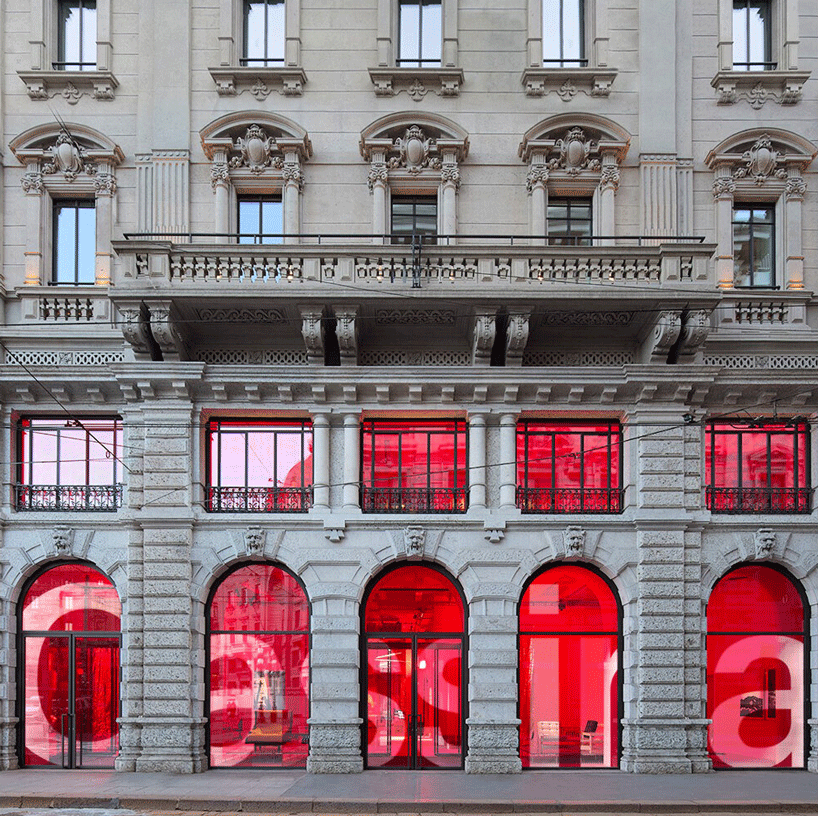 image courtesy of Cassina
Cassina marked the 50th anniversary of the iMaestri Collection with 'Echoes, 50 years of iMaestri', a curated exhibition by art director Patricia Urquiola and Federica Sala, showcased at Palazzo Broggi. The exhibition, held in a contemporary and industrial space within the historic Cordusio area of Milan, commemorated the past while envisioning the future, offering a glimpse into the upcoming book Echoes, edited by Ivan Mietton and published by Rizzoli, set for release in autumn 2023.
Cassina's anniversary offered a unique opportunity to bridge the past and present by featuring the works of great masters of the 20th century as well as new figures whose work has a strong connection with its history. The exhibition welcomed works by Vico Magistretti, Gio Ponti and Carlo Scarpa and, unveiled a prototype from the upcoming Eames Lighting Collection, to be launched in 2024, which will be based on designs by Charles and Ray Eames.
loewe'S playful chair series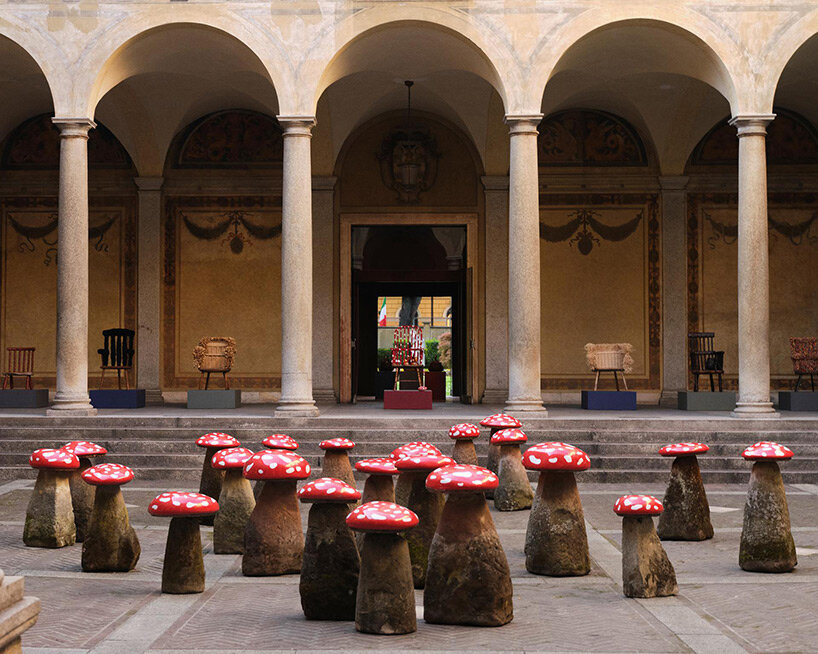 image courtesy of LOEWE
LOEWE presented a collection of new chairs that showcased the brand's playful side and experimentation with unconventional materials and colors. The seating designs featured handwoven materials, including foil and shearling, creating unique textures and soft sculptural protrusions. Expert craftspeople from around the world contributed to the weaving process, reinventing everyday objects and transforming them into one-of-a-kind pieces. The collection was showcased at the Palazzo Isimbardi courtyard and demonstrated how weaving and embellishment can be avant-garde tools for design. According to LOEWE, this approach allows the brand to reinvent even the most humble of objects.
ALESSI celebrates steel with 'Ars Metallica'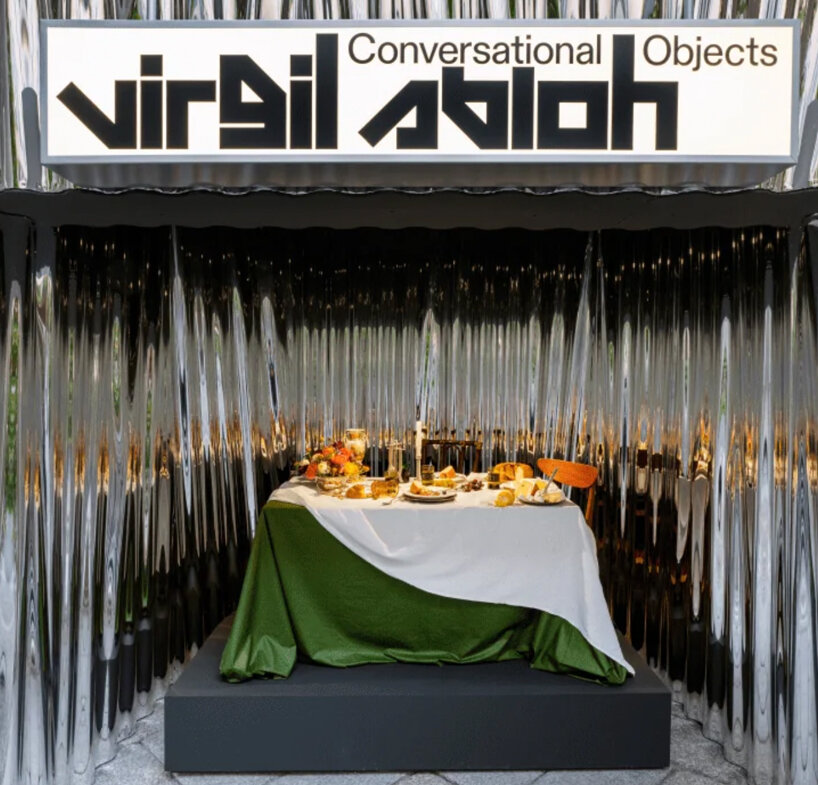 image courtesy of Alessi
Alessi celebrated steel in the historic Palazzo Borromeo d'Adda with 'Ars Metallica', showcasing works by Philippe Starck, Virgil Abloh, Salvador Dalì, and other prominent designers and artists. The exhibition unveiled four new exciting collaborations, including 'Poêle' by Philippe Starck, a furniture collection inspired by frying pan manufacturing, and 'Conversational Objects' by Virgil Abloh, featuring a cutlery set with a holder and candlestick holder, designed in matte-finish stainless steel inspired by Alessi's industrial assembly. The exhibit also featured 'Obget Inutile' by Salvador Dalì and 'Il Tornitore Matto' ('The Mad Turner'), a collaboration among nine international designers.
Droog commemorates 30-year-long career at Triennale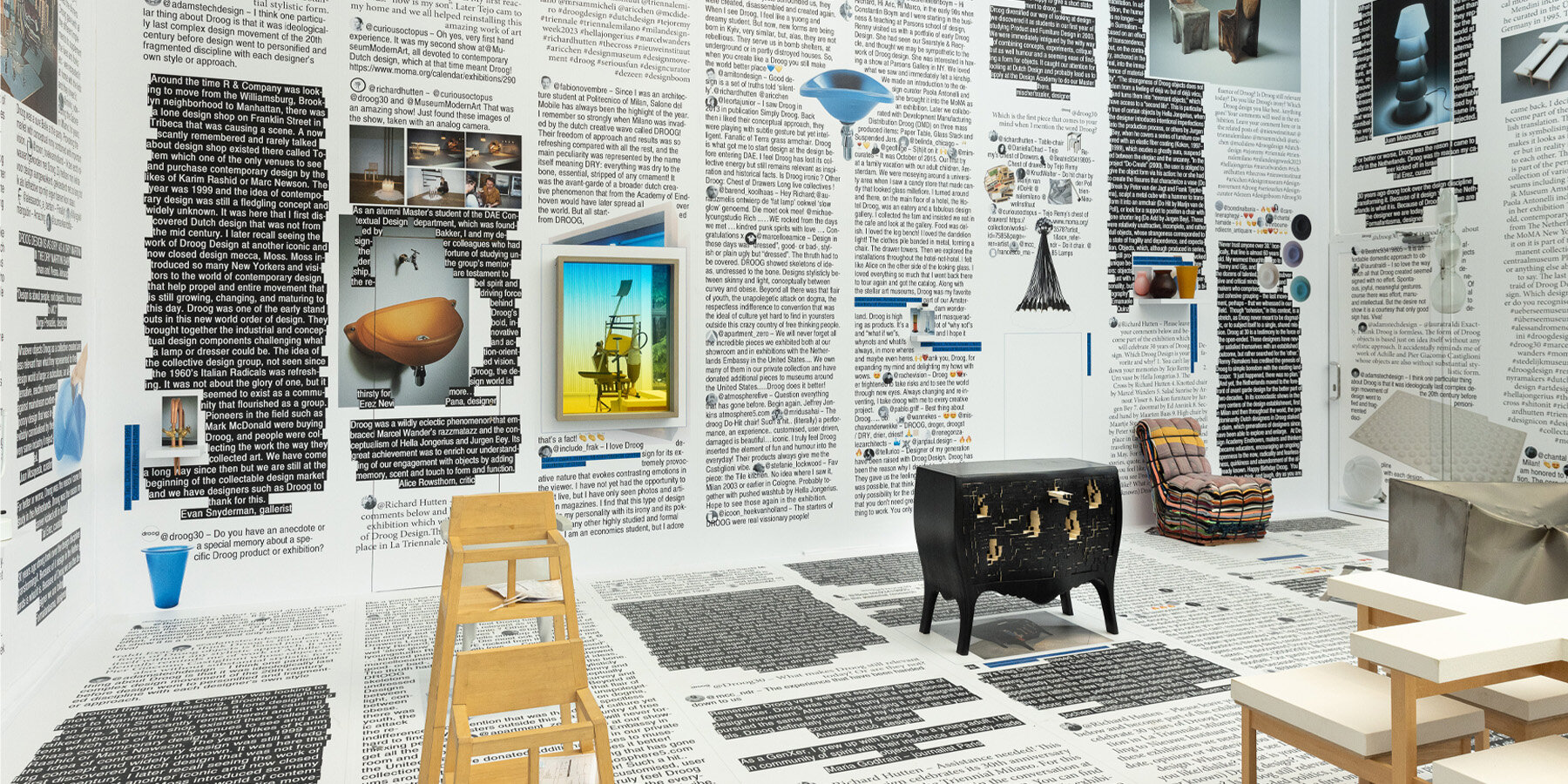 image © Gianluca Di Ioia
Droog exhibited their 'Design or Non-design?' show at the Triennale, commemorating their 30-year-long, irreverent, and rebellious career, while showcasing their contemporary and newfound mainstream appeal. Droog's debut in Milan in 1993 established it as a fascinating and rough brand with a captivating storytelling approach that rebelled against the idea of form and function, creating a new aesthetic, approach, and language. The exhibition showcases various objects, including Tejo Remi's Chest of Drawers, Marijn van der Poll's Do Hit Chair, Marcel Wanders' Knotted chair, and Richard Hutten's 2013 Glass Lantern. All the objects aim to make the ordinary extraordinary, with the Do Hit Chair being shaped uniquely by the owner, and the Glass Lantern modernizing a typical Chinese paper lantern.
an installation in six acts by Michael Anastassiades for Flos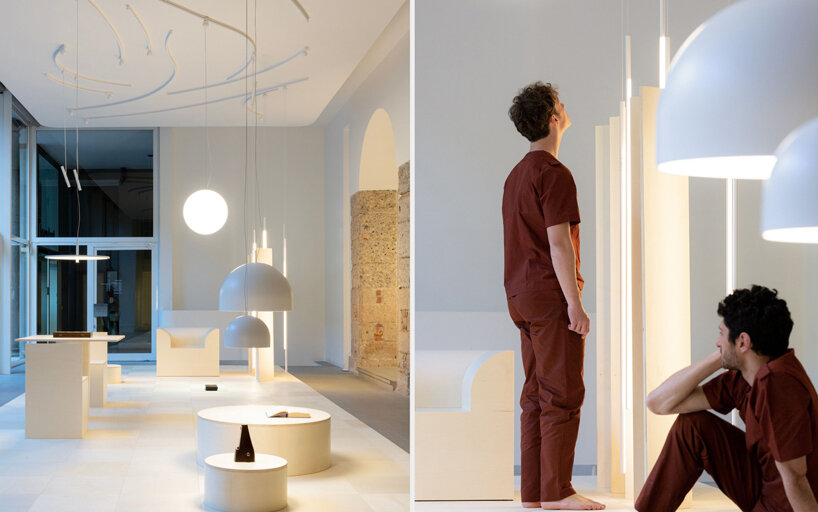 images by Mattia Greghi
Over the course of the design week, Flos hosted a site-specific installation and six act narrative for the launch of Michael Anastassiades's revolutionary and eclectic lighting system 'My Circuit'. Set in the Corso Monforte flagship store, 'Six Acts – My Circuit' presented six vignettes of domestic life, with curated light installations and live performances by Fabio Cherstich that were unveiled day-by-day.
issey miyake & nature architects' fabric takes 3D weave pattern when steamed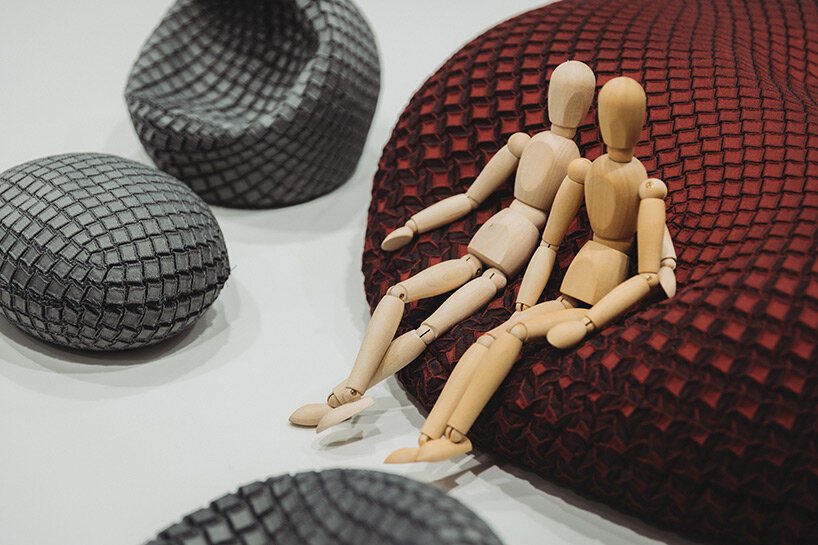 image courtesy of Issey Miyake
Issey Miyake/Milan presented Thinking Design, Making Design: Type V Nature Architects Project. The exhibition is the result of A-POC ABLE Issey Miyake's latest collaboration with Nature Architects, a spin-off company from the University of Tokyo that provides design drawings that realize functions to various manufacturers using cutting-edge technology utilizing metamaterials. The collaboration of the design and engineering experts brings out a flat fabric that takes a three-dimensional form in high-temperature steam.
philippe starck suspends miss dior chairs in aerial carousel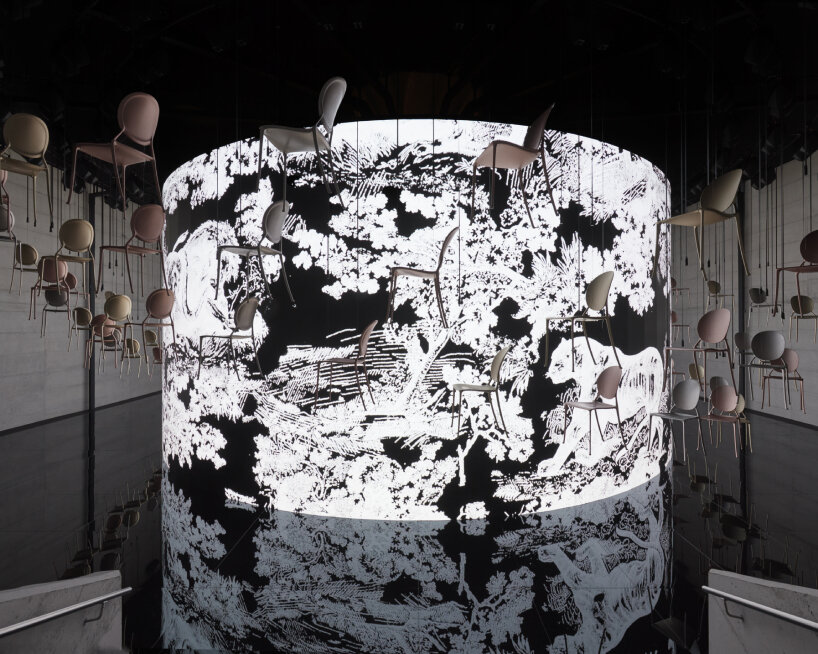 image © Adrien Dirand
Philippe Starck, who took us around his favorite spots during the opening day of Milan Design Week, wove an enthralling wonderland in the heart of Dior Maison's home in Palazzo Citterio in Brera. Within the expansive space, the renowned designer suspended Miss Dior chairs from the first Dior by Starck collection back in 2022 and formed a layered aerial carousel that alludes to the whimsical times of one's childhood. The magnetic black floor mirrored the fictive performance throughout the space, basking the breadth of the room in a hypnotic and immersive experience. Starck's poetic Miss Dior chairs only signalled the beginning of his seat concert with the Maison. His flock of chairs was followed by the reinvention of the iconic Medallion chair, a homage to the emblematic figure of Monsieur Dior. Under the hands of Philippe Starck, the covetable Monsieur Dior armchair receives another life in the body of plush seats imprinted with elements of nature, a glance into the Monsieur's reverence for the environment, from flora to fauna.
Doppia Firma AT PALAZZO LITTA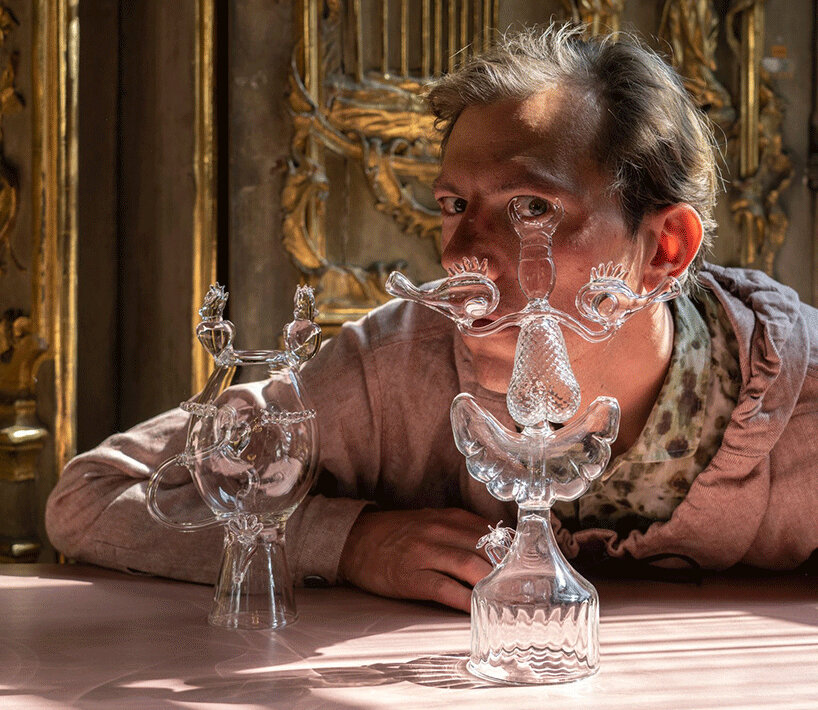 Matteo Cibic at the opening of Doppia Firma | image © Luca Rotondo
Doppia Firma turned its attention to the concept of playful: a theme that has always been present in contemporary and applied arts that push the boundaries. This year's theme ranged from play to humor, from irony to allusion, from metaphor to joke to deliberate confusion, and to the inversion of perspectives and values. The project, exhibited at Palazzo Litta, highlighted creations by Adam Nathaniel Furman, Atelier Biagetti, Jaime Hayon, and many more. The aim is to give birth to new artworks that arise from a cross-fertilisation of a design culture open to contemporary vision and a savoir-faire that is a genuine expression of territorial uniqueness.
INTERNI Design re-evolution at Statale University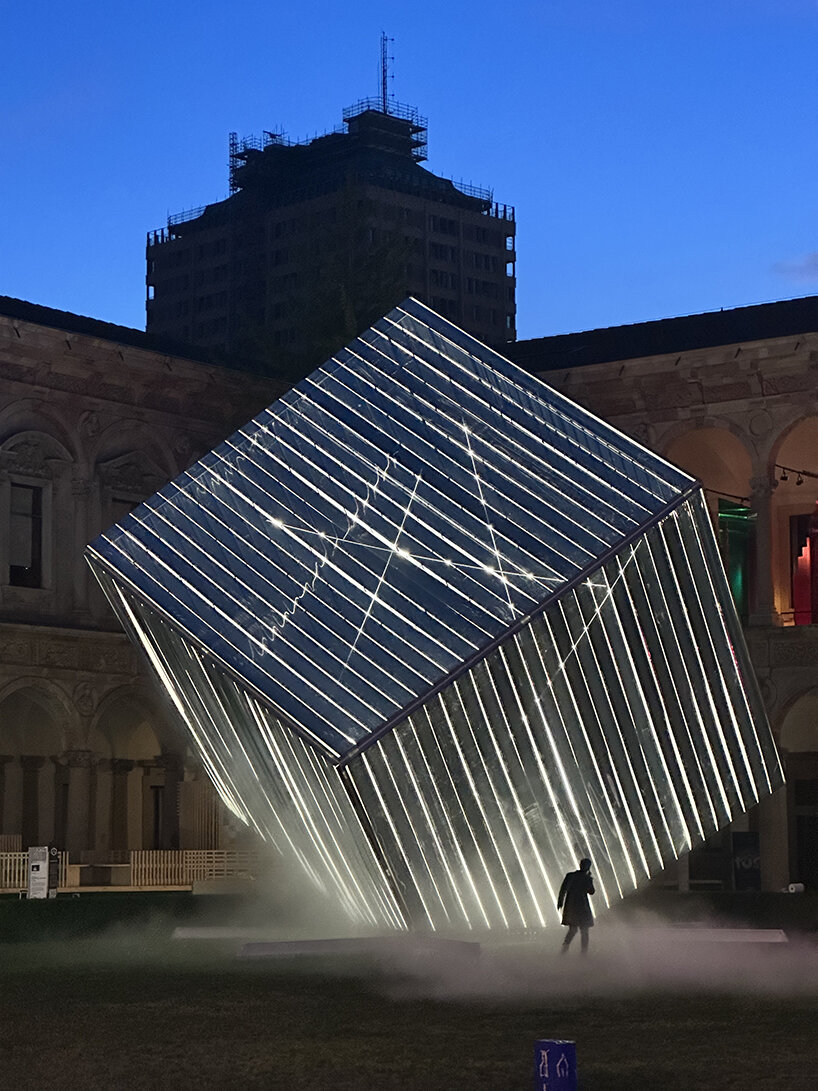 image courtesy of MAD architects
The 'INTERNI Design Re-Evolution' exhibition took place at the Statale University with the aim of encouraging interdisciplinary collaboration and cross-contamination with other fields, such as science, economics, art, and set design. The exhibition was divided into five thematic clusters centered around the themes of sustainability, nature, artificial intelligence, and conscious design, with corresponding installations at the university headquarters on Via Festa del Perdono and the Brera Botanical Garden. On view were 'Momentum' by MAD architects, the 'Walk the Talk – Moving Energy' installation by Italo Rota and CRA-Carlo Ratti Associati, Stefano Boeri's colorful carousel of 36 swings, and many more.
DIMORESTUDIO'S TWENTIETH ANNIVERSARY CELEBRATION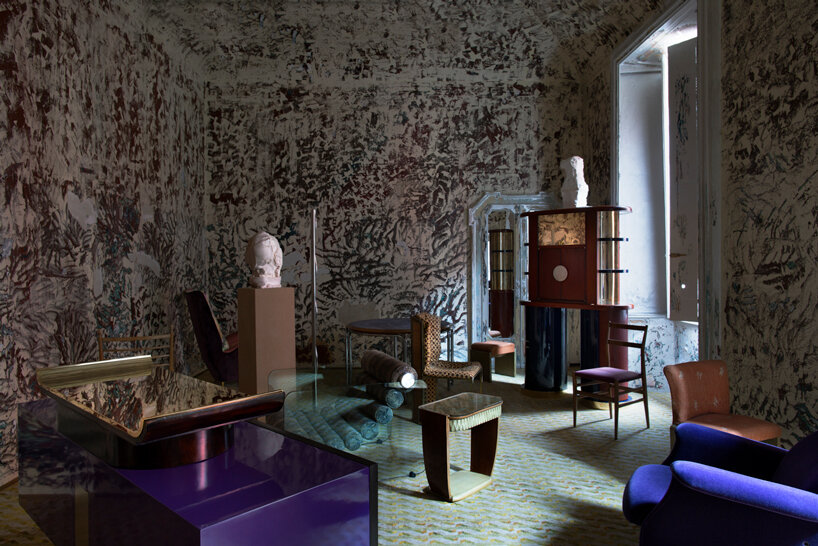 'No Sense' in Via Solferino | image © Silvia Rivoltella
Dimorestudio celebrated its 20th anniversary with two completely opposite installations during Salone del Mobile 2023: 'Silence', in the new Dimorecentrale location, and 'No Sense' in Via Solferino. In 'Silence', four well-defined environments characterized by the details that have made the 'Dimore' universe unique and recognized worldwide were presented within the large industrial space. Meanwhile in the historic apartment in Via Solferino, 'No Sense' represented a return to the roots of Dimorestudio, Dimoregallery and Dimoremilano, unifying these three realities with a more holistic concept that encompasses the Dimore universe.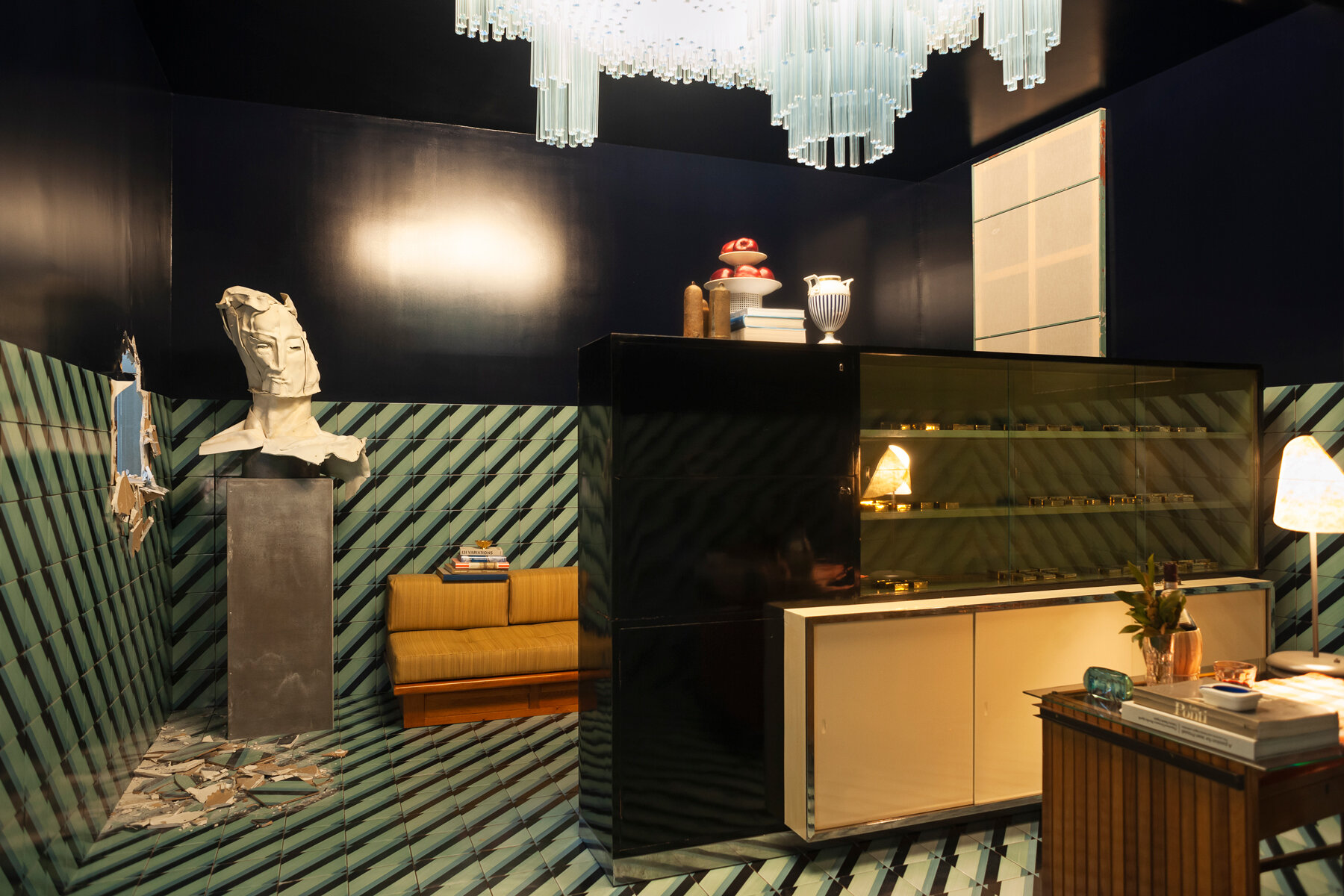 'Silence' at Dimorecentrale | image © Andrea Ferrari
myrto katsikopoulou
I designboom
apr 26, 2023
KEEP UP WITH OUR DAILY AND WEEKLY NEWSLETTERS
happening now! antoniolupi extends its expertise beyond the bathroom with the 'living' collection, a series of home furnishings that complement its esteemed collection of bathroom furniture and accessories.
a diverse digital database that acts as a valuable guide in gaining insight and information about a product directly from the manufacturer, and serves as a rich reference point in developing a project or scheme.
designboom will always be there for you
milan, new york, beijing, tokyo

,
since 1999