ornate: bethan laura wood's 2021 solo show for nilufar
ornate is a solo show by bethan laura wood for nilufar gallery, which celebrates a decade of dialogue between wood and gallerist nina yashar. new works, shown alongside existing pieces by the designer, are partnered with historical works selected by yashar to offer a wonderful journey into private lives and hidden spaces. in today's period of instability and uncertainty, the need to have 'a room of one's own' prevails in the tradition of virginia woolf. thus, wood takes references from that historical era – and in particular the british aesthetic movement and art nouveau – to create pieces that blur the line between two-dimensional decoration and three-dimensional form.
even more, her work invites the viewer to travel through her mind's eye to the many cities and cultures that have played an important role in informing and influencing her practice over the last 10 years. on the occasion of milan design week 2021, designboom met with bethan laura wood at nilufar gallery for a deeper dive into the stories behind her collections – each one steeped in tributes to the people she's met and the experiences she's gathered.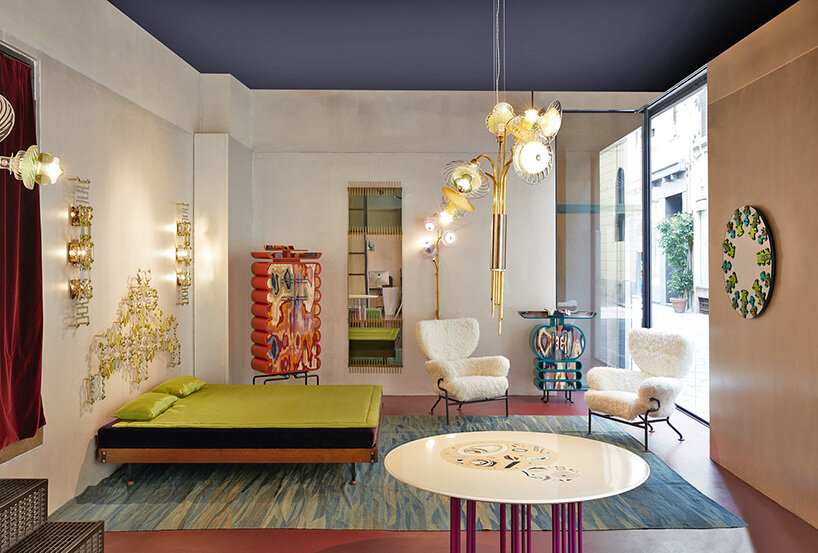 ornate show at nilufar gallery | image © mattia iotti
a woman's world: the boudoir aesthetic
bethan laura wood's new work focuses on the boudoir – a woman's private space for both spiritual contemplation and physical cultivation – and the objects that may be found there. the first pieces of the new collection are the ornate bedhead and a pair of sconces, made up of a series of wiggles and curves that interlock to create various structures. here, the patterns were made intrinsic to the design; 'I wanted to look at the idea of ornamentation being the thing you build at the start rather than at the end,' comments wood. you can discover more of the designer's work here.
these first pieces were inspired by a mix of peggy guggenheim's bedhead by alexander calder and james mcneill whistler's 'harmony in blue and gold: the peacock room. indeed, wood was interested in emulating a three-dimensional pattern that sits between embellishment and structure. she used aluminum that was CNC milled and bespoke anodized alongside aluminum specialist neal feay, then hand-assembled and punctuated with brass pin details in her studio.
'I've always loved the bedhead that calder made for peggy guggenheim – this idea of a giant piece of jewelry for the home. and a lot of the work I do borrows the detailing often used in small-scale or jewelry design. I then reclaim those details to fit a whole other, bigger context. that's kind of why I felt like the beadhead was a really fitting piece to make for the show,' explains the designer.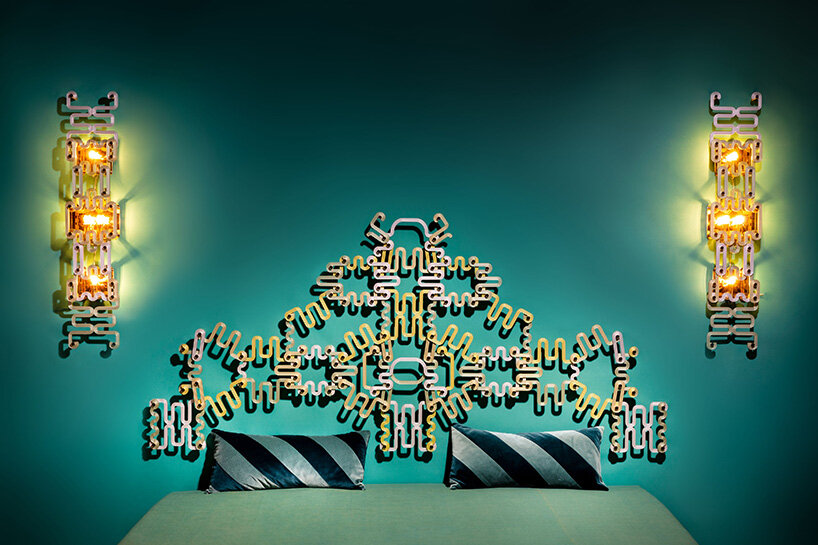 ornate bedhead and sconces | image © angus mills
how wood's travel stories weave into HER BOUDOIR PIECES
wood goes on telling designboom about how the bedhead is a metaphorical culmination of her travels across europe, mexico, california and east asia. working directly with or in response to exceptional craftspeople and the particular colors and material palettes of the cities she visits, bethan creates remarkable designs made in dialogue between mexican and italian craftsmen – pushing their boundaries and her own:
'within the bedhead structure, there is a nod to the different travels that I've done over the last 10 years that have heavily influenced my work. venice is the first place where I did a residency outside of the UK and when I think about this city, I think of the fish on the island of burano. when it was too rainy to fish, they used to make these flat copper fishes and I have a few of them at home. the section in the middle is a reference to mexico – I took a lot of photographs there and that country has had such a fundamental part in informing my practice. most of the time, it's the colors of mexico that I concentrate on. then the top of the bedhead finishes off with a nod to the samurai helmet. the last window of travels that I've done has been mainly in asia. ever since, I've been trying to digest and understand how to make works in response to all the influences, crafts, and people that I've encountered there'.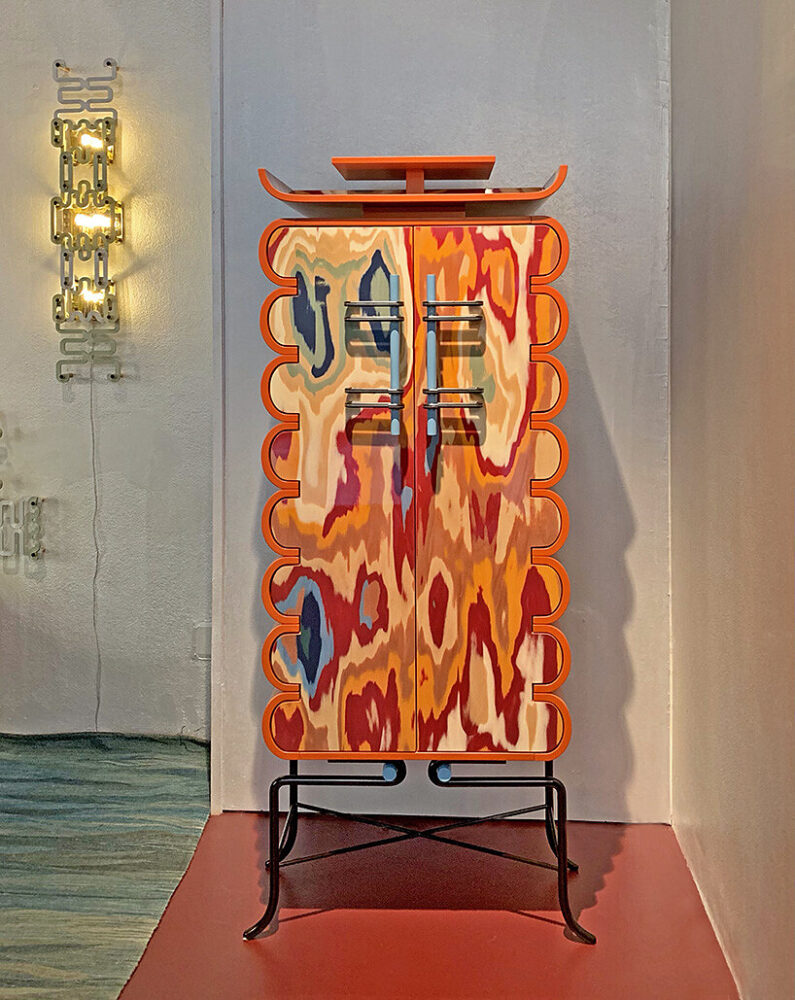 meisen cabinet | image © designboom
meisen FABRIC AND WOOD veneer: A MARRIAGE OF RIPPLING COLORS
originally an investigation into handles, wood's second collection has developed into cabinets and a desk with curvaceous forms dressed in ALPI's veneer which echoes her love of meisen kimonos. on seeing the ALPI veneer mid-process, she was fascinated with its complex composition, just as she had been with the dying process of the meisen kimono fabric. wood hand-selected each sheet of veneer to showcase ripples and waves of color; the individual sheet depicts a unique moment in the fabrication process before reworking to achieve product uniformity.
the feathered edges of each color wave created by the natural wood grain resemble the shimmering patterns of the weft and warp in ikat weaving used to produce the iconic meisen fabric. 'quite often when I work with veneer, it's like a multiple-step process. they dye individual sheets of veneer with a specific color and stack them up. that stack is then recut and sliced. that's how you get these waves of undulating colors from the very same stack. you start with this bright red color then, at some point, you get this very calm and rich green hue,' wood tells designboom as she walks us through her design pieces.
to create the cabinets and desk, wood joined pattern with forms inspired by entomology, in particular the legs and antennae of crickets as well as the elytron of beetles. the traditional forms of east asian cabinets and chests, another strong influence on the aesthetic movement, are also quoted.
aperitivo and juicy cuts: a tribute to venetian mirror craft
wood's third collection – the aperitivo mirrors – further demonstrates her love for venice and the art of handmade swirls and curls. it also reflects her penchant for optical cutting that creates stylized marks similar to droplets of juice or the pip of an exotic fruit. more importantly, this project highlights her passion for fake food and the blurred line between natural compositions found in fruit/vegetables and the artifice of stylized food imagery and presentation. for this collection, she combines modern cutting techniques alongside traditional hand-formed details to show how this ancient art may reflect changing times in contemporary crafts.
'these are all made in murano with venetian glass artists, the barbini, who specialize in making really old school venetian, curly-worldly, baroque beauties and I wanted to find a way to work with them in a contemporary way. I love the technique that they use, where they grind the glass from behind to create these beautiful optic bubbles,' further states wood.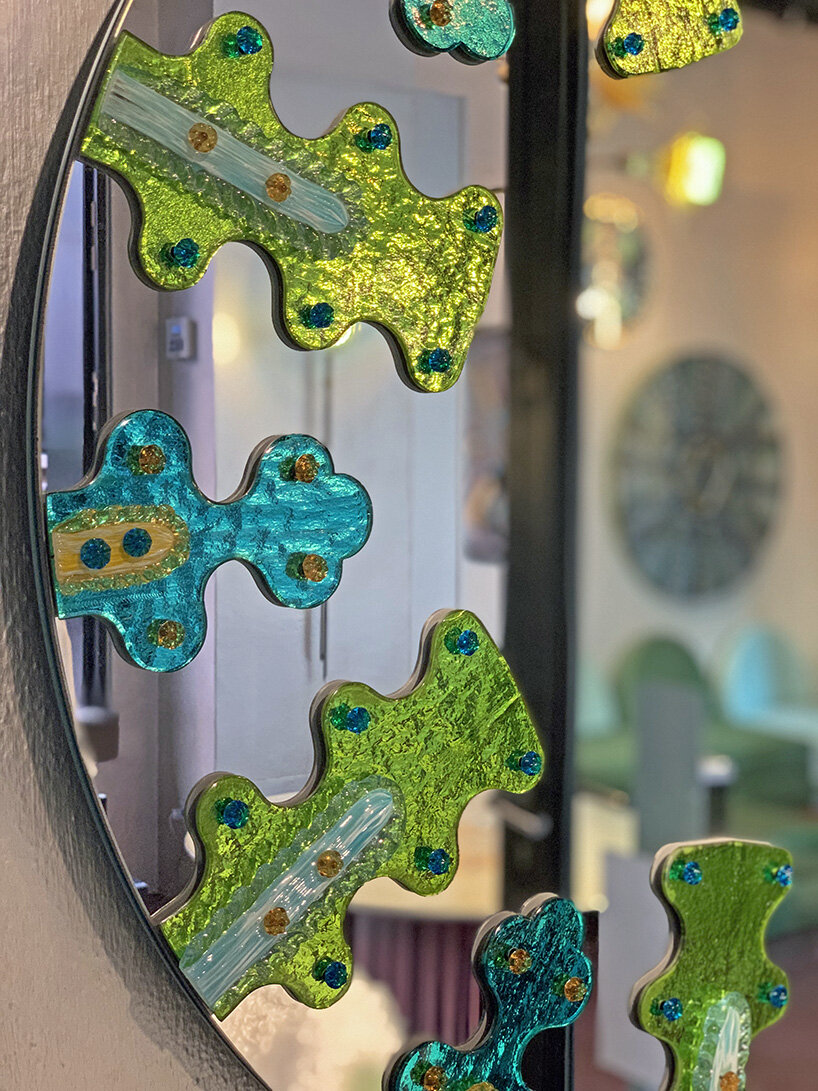 colorful details on the mirrors echo the fruity taste of an aperitivo night | image © designboom
closing the show with THE bon bon chandelier and sconces
last but not least, wood's fourth collection – the bon bon chandelier and sconces – is developed with pyrex artisan pietro viero by mixing milky and transparent glass to create a sickly-sweet confection of flowers. she tells us that the chandelier 'comes from a larger body of work originally commissioned by a champagne house. I had made a two-and-a half meter tree sculpture for them and I really wanted to develop a domestic scale piece using the same principles'.
the individual bon bon blooms are shaped in reference to the bubbly curves of bonbon jars and reflect the pastel milky glass. each flower is mounted to an individual stem of either brushed steel or brass, then grouped together to create delicate bunches of blooms, which may be wall-mounted or hung as a chandelier.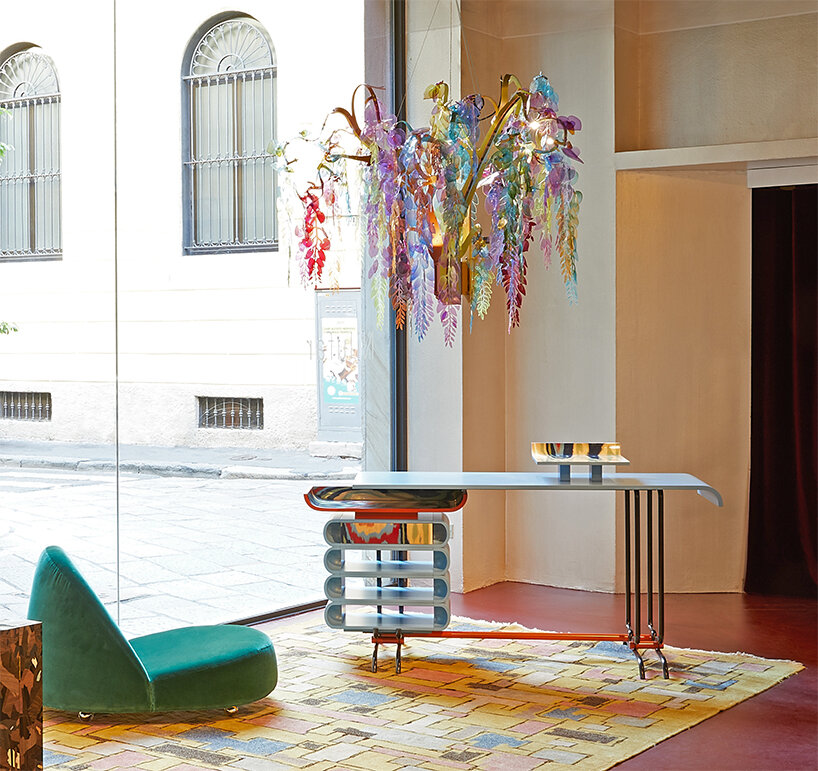 the bon bon chandelier | image © mattia iotti
before parting ways, bethan laura wood gave us a final reflection on her pieces showcased at nilufar:
'a lot of my work actually takes the tools that are normally much more associated with big massive systems of production, like plastic and laminates, and reassesses how we view those materials. for example, by taking a material that we quite commonly throw away, like plastic, and treat it in this precious way of hand dying – we start giving it new features. the beauty is in the materials; when you spend time with them and you explore the things that they can do – you can get these kinds of results'.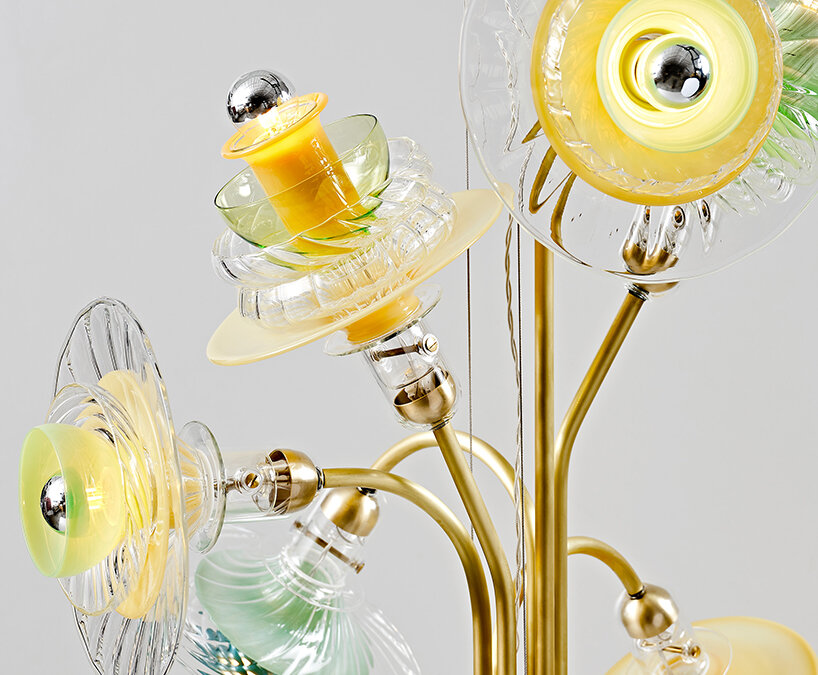 the bon bon sconces | image © emanuele tortora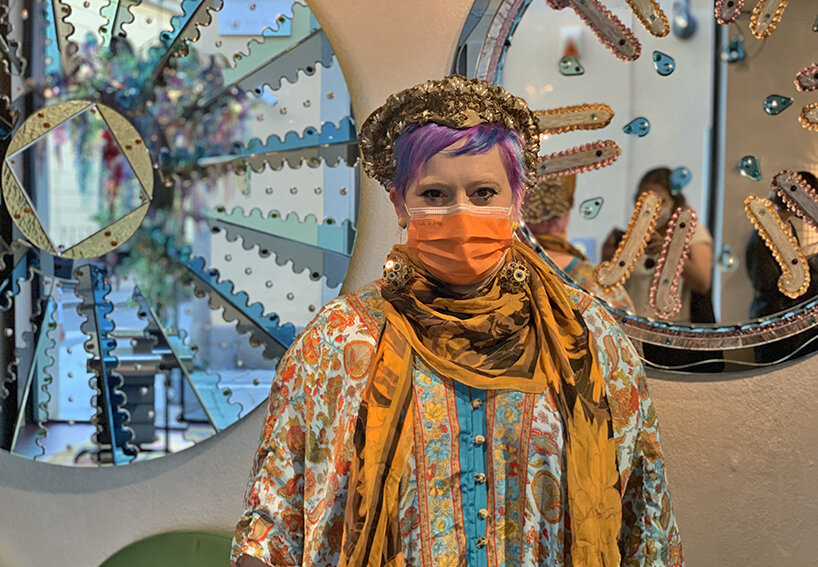 bethan laura wood at nilufar gallery for her 2021 solo show | image © designboom
project info:
name: ornate
year: 2021
designer: bethan laura wood
location: nilufar gallery, milan
a diverse digital database that acts as a valuable guide in gaining insight and information about a product directly from the manufacturer, and serves as a rich reference point in developing a project or scheme.
designboom will always be there for you
milan, new york, beijing, tokyo

,
since 1999