jul 16, 2011
bethan laura wood: totem light + moon rock at nilafur gallery
bethan laura wood: totem light + moon rock at nilafur gallery bethan laura wood at her nilafur gallery  installation image © designboom
the habitat shows itself as a different planet, as a science-fictional landscape with bethan laura wood, a young english designer and formerly one of martino gamper's students. embellished by a contemporary and present-day interpretation of eighteenth-century 'marqueterie', her 'moon rock tables' scattered in space hold a series of light points made of transparent glass. lamps able to create, like 'ziggurat' or imaginary architectures, a glimpse of the moon, a skyline characterized by fascinating modular articulations, magical superimpositions of transparent shapes whose lightness recall air bubbles…
'totem' image © ruy teixeira
'totem' is a lighting collection which is a development of wood's interest in layering and mixing different shapes, colors and textures to evoke connections with the viewer's imagination. working together with artisan pietro viero, the each pieces is made from pyrex glass which is hand-blown into various volumes that are associated with the medical and chemistry industries illuminated by crown-mirrored bulbs. they are layered and locked together resulting in airy light that explores the translucency and thinness that is intrinsic to this type of glass. the overall dimensions of each 'totem' is 300mm to 1000mm (not including bulbs or cord) with a width of 240mm (not including bulbs). they come in a limited edition of 4 + 2 APs per design.
'totem' image © ruy teixeira
different variations of the 'totem' light images © ruy teixeira
bethan laura wood's conceptual sketches of 'totem' typologies image © designboom
'totem' table lamp image © designboom
'moon rock' tables image © designboom
'moon rock' is a collection of tables which come as an extension of wood's 'super fake project. the laminated marquetry table tops executed in colored MDF with a powder coated steel structure. to be used individually or grouped together, they create a luna landscape, playing with the ambiguity of the natural environment. the series draws on the craters of the moon and the composition of the solar system. the furniture celebrates different qualities of standard laminates, treating them like rare wood veneers rather than cheap substitutes.
top view of a 'moon rock' table image © designboom
detail of table surface image © designboom
installation view image © designboom
both 'totem' and 'moon rock' have been developed exclusively for milan's nilafur gallery. they first debuted during milan design week 2011 and more recently were on show at design miami basel 2011.
close-up installation view at nilafur gallery image © ruy teixeira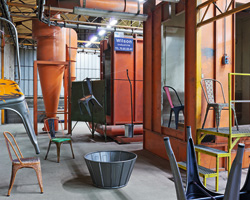 jul 31, 2015
jul 31, 2015
dec 26, 2014
dec 26, 2014
jul 19, 2011
jul 19, 2011
jun 23, 2011
jun 23, 2011
jun 20, 2011
jun 20, 2011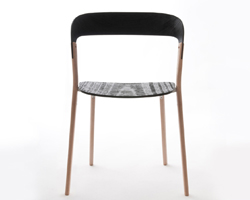 apr 07, 2012
apr 07, 2012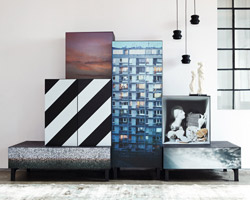 mar 21, 2012
mar 21, 2012
jun 19, 2011
jun 19, 2011