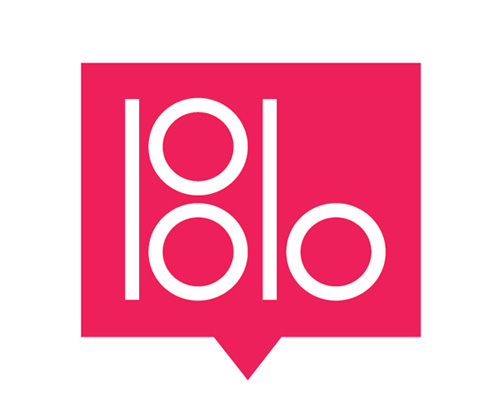 aug 18, 2014
blopboard illustrates our opinions with infographics
blopboard logo by eddie opara of pentagram
blopboard is a new social network that enables users to ask questions, share opinions, and visualize how opinions and attitudes change over time. the platform uses the power of infographics to share what people are thinking—in real time, as they think it.
designed by pentagram's eddie opara and his team, blopboard as a visually and socially engaging community that invites anyone to share their ideas and opinions, with data aggregated in thought-provoking charts and diagrams that can be customized by users.
the designers worked closely with blopboard co-founder amy kaufman to create the structure and functionality of the platform, which is available as both a website and mobile app.

how blopboard works
blopboard is built on questions, and the design makes it fun, quick and easy for users to both ask and answer. the intuitive interface helps users format their questions with eye-catching images and custom typography, as well as the infographics that show the results. the polls and questions can be as whimsical or deep as users want them to be, and inclined to personal interests. each question is structured as its own module that can be embedded on any site or shared on facebook, twitter and google+. blopboard is open to users worldwide, and users are encouraged to build a community of people they follow.
the playful name is inspired by the word 'blop'—an amorphous mass of stuff, or a multitude—and suggests the shifting opinions of a group. the platform features a continuous voting system that lets users both comment on and change votes. as soon as users answer one question, they are presented with another. each question is accompanied by a timeline that allows users to watch the activity around voting, to see how opinions change over time, or how events affect responses. indecision is also counted; users can see how many times a question has been skipped or passed over.'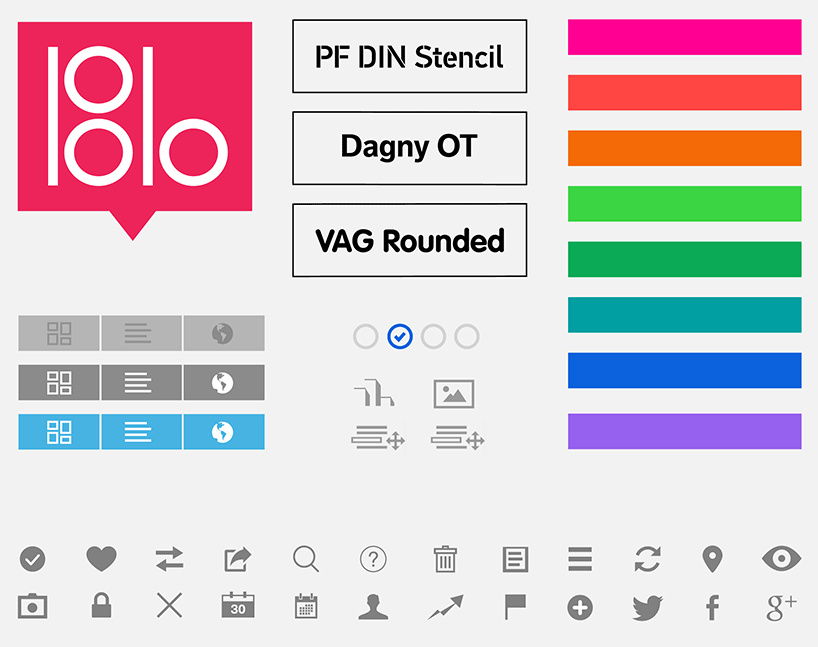 components of the the blopboard visual identity
blopboard believes infographics tell a colorful story, and the design features bright, appealing graphics that emphasize surface and pattern and help make the platform enjoyable to use. the identity forms a pair of 'B's from lines and circles that represents a poll or form, waiting to be filled in. the letters are placed in a speech bubble that communicates the platform's emphasis on sharing opinions. in the animated version of the logo, the circular forms cycle like a loading screen, suggesting the tabulation of information. new rail is the principal typeface.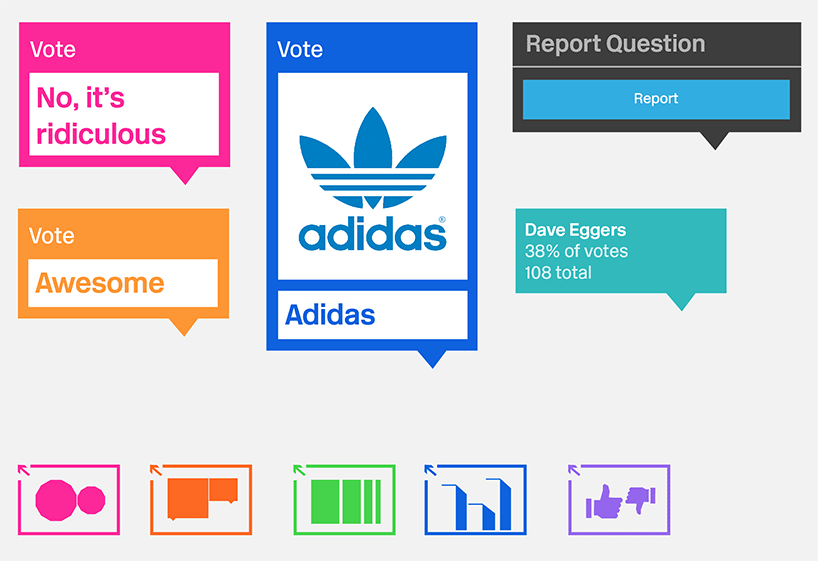 questions can be customized with a range of infographics that include dodecahedron, up and down thumbs, bubbles, rectangles and bar charts. to help create context, users can select from three fonts—PF din stencil, dagny OT and vag rounded—and a palette of contemporary colors. each poll can contain up to eight answers, and each answer can feature its own photo. a description provides extra details about the question.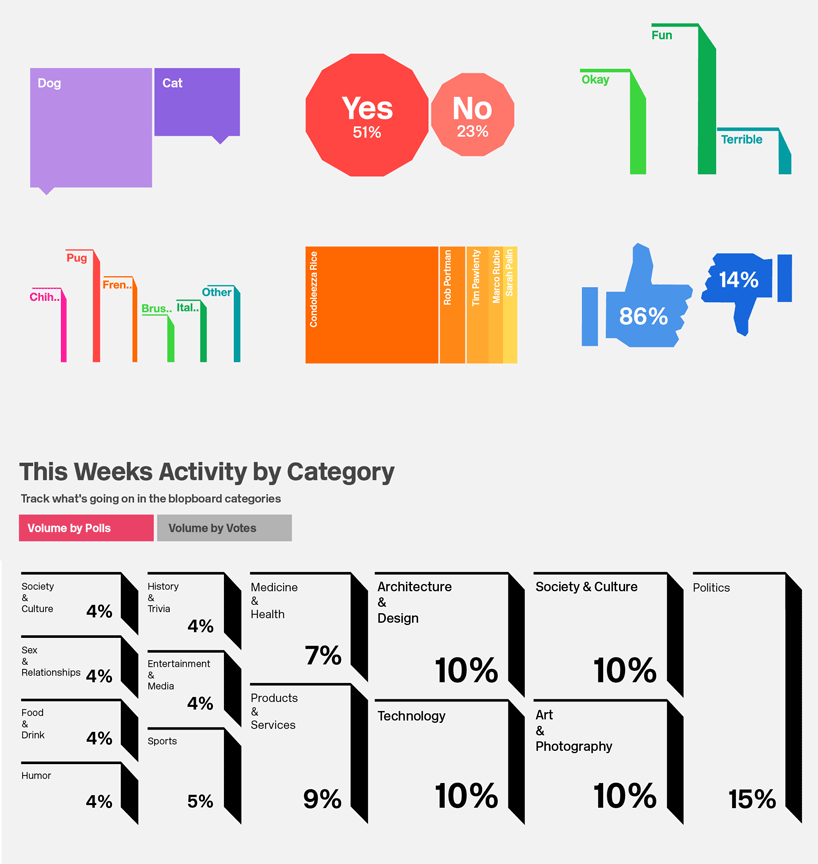 the content of blopboard has been organized like a digest or magazine, making it easy for users to find the topics they care about. questions are classified in 32 categories of interest that cover every possible subject, from architecture & design to food & drink, fashion & style to celebrity, in the news, business & finance. this organization helps make the platform more accessible for users, and sets blopboard apart from similar sites that use more standard tagging. at the same time, the fast pace of the questions and the presentation of related polls makes blopboard instantly addictive.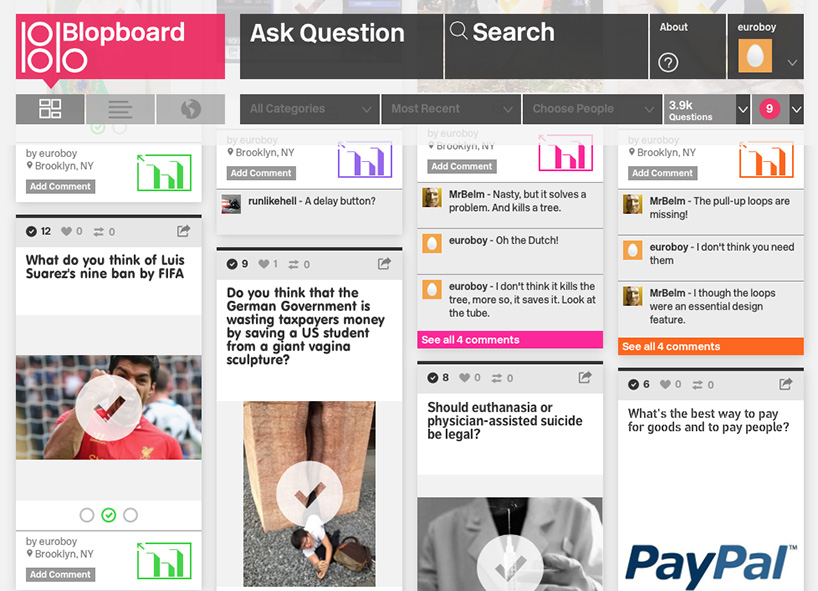 blopboard home page on desktops and laptops
the website version can be experienced in three different modes: as tiles, a list, or an 'explorer' view that shows what questions are trending across categories. the explorer summarizes weekly activity across the platform, including lists of the top questions in each category and the percentages of opinions. most importantly, the explorer writes headlines based on poll results, creating a real-time gazette of opinions across the site. designed to be beneficial to media, the mode has the feel of a newspaper. questions are rewritten in an eloquent, relevant way that offers a quick 'read' of what users are thinking.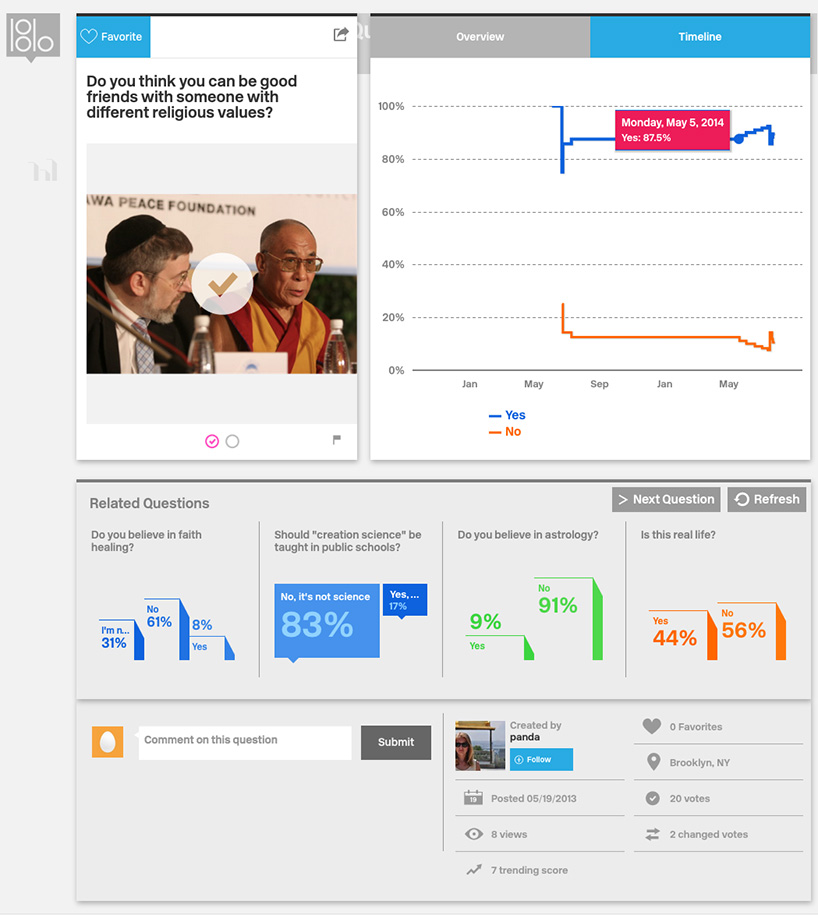 timeline view shows changes in voting as they happen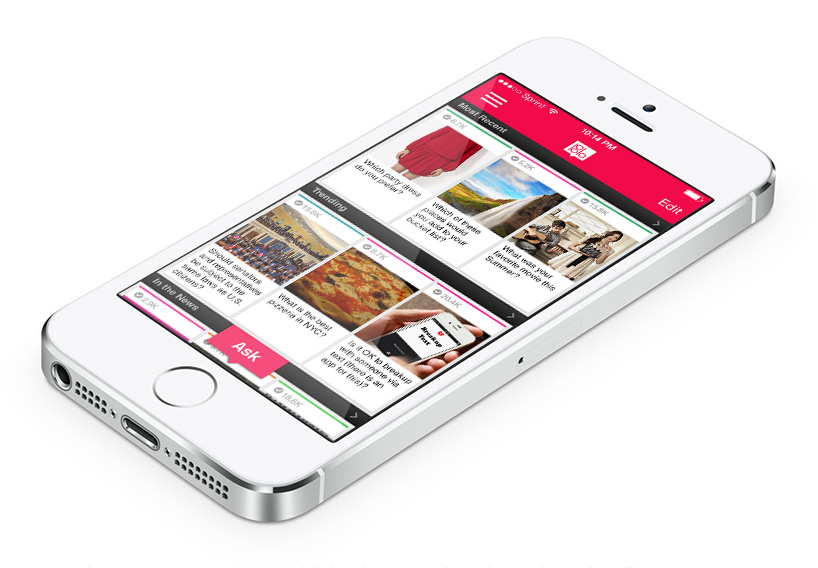 blopboard iPhone app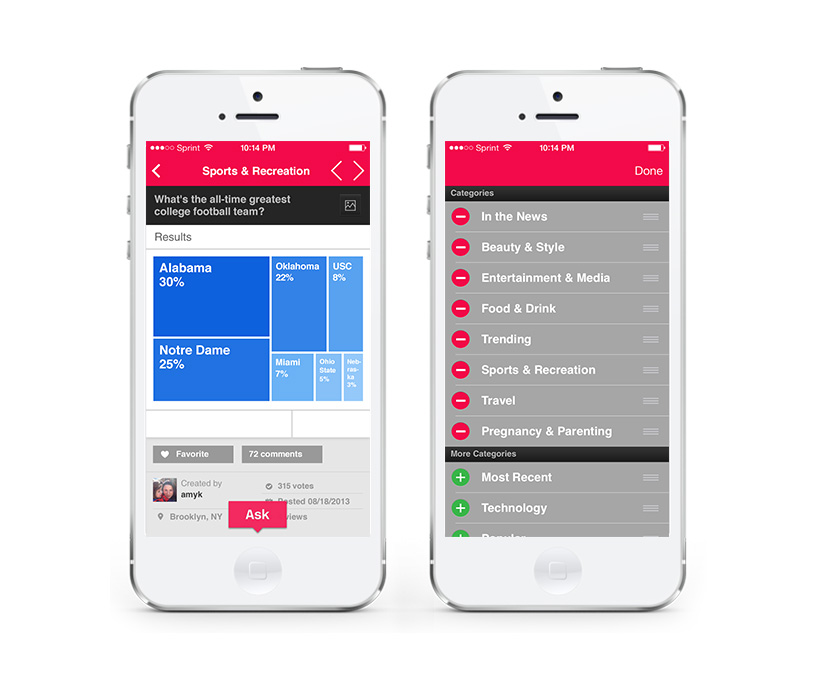 an intuitive interface helps users quickly assemble their questions and set preferences for how they'd like to experience information.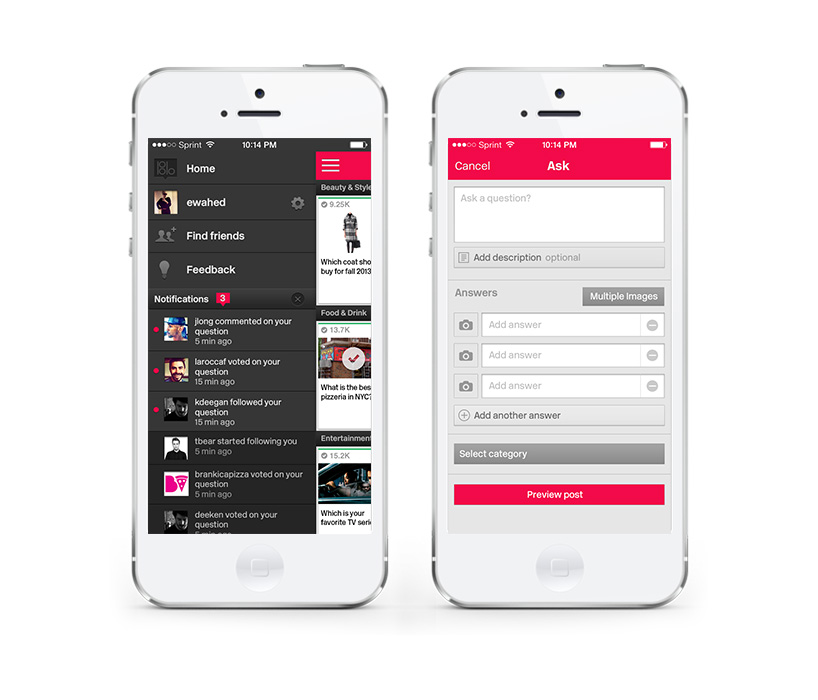 blopboard iphone app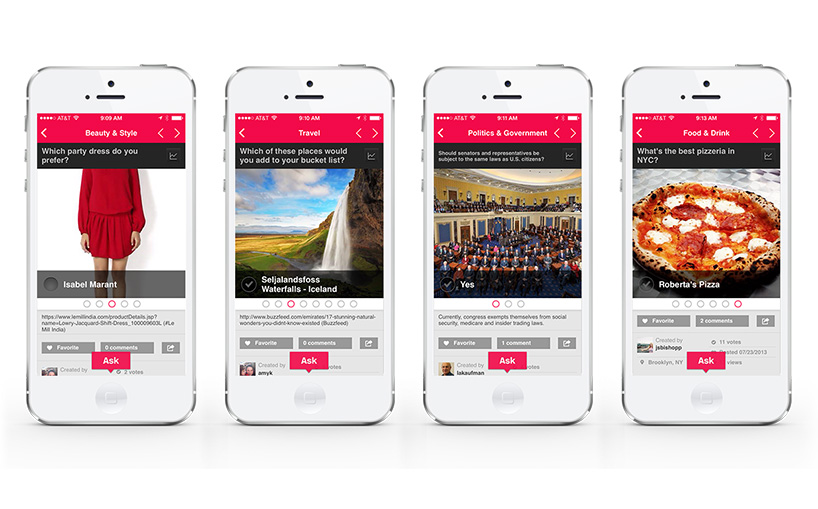 the mobile app gives users the ability to ask questions anywhere
project team
eddie opara, partner-in-charge and designer; brankica harvey, associate and designer; frank larocca, yo-e ryou and ken deegan, designers; thorbjorn gudnason, taylor franklin, tim collins and carrie kawamura, design assistants; hunter cross, mark lindsay, nien lam, sebastian buys, cristiano baptista, paul miller, tomoya shimaguchi and lance clifton, developers.
apps
(125 articles)
feb 05, 2020
feb 05, 2020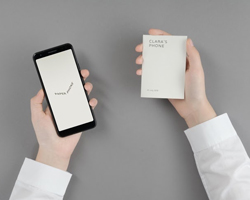 oct 24, 2019
oct 24, 2019
may 10, 2019
may 10, 2019
jan 06, 2019
jan 06, 2019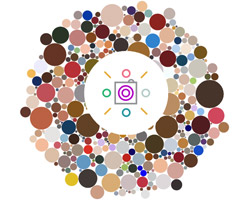 jan 02, 2019
jan 02, 2019
dec 30, 2018
dec 30, 2018
apr 25, 2020
apr 25, 2020
apr 10, 2020
apr 10, 2020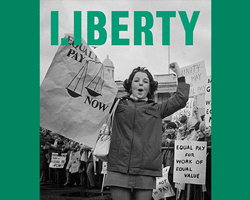 apr 08, 2020
apr 08, 2020
dec 18, 2019
dec 18, 2019
oct 15, 2017
oct 15, 2017
sep 10, 2017
sep 10, 2017
a diverse digital database that acts as a valuable guide in gaining insight and information about a product directly from the manufacturer, and serves as a rich reference point in developing a project or scheme.