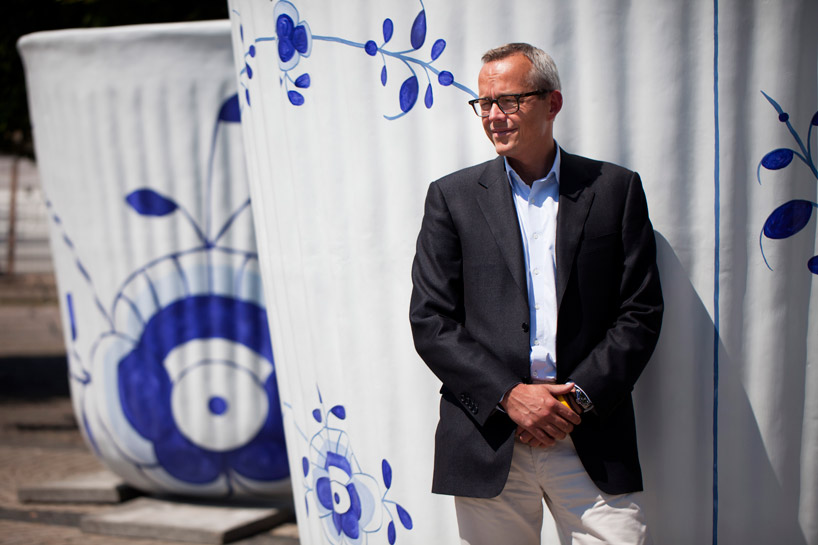 nov 16, 2012
BODW forum 2012: speakers highlight - mads ryder
BODW forum 2012: speakers highlight – mads ryder  portrait of mads ryder
mads ryder became CEO of royal copenhagen a/s in 2009, after holding senior positions at weightwatchers and lego. royal copenhagen is one of the historical and superior manufacturers of hand-painted porcelain by ancient methods. it is renowned with its finest craftsmanship and elegant designs, especially its blue fluted porcelain and the exclusive flora danica dinnerware series.
being a company with strong historical background, it is about how to 'grow with time' and maintain its value in the market. in order to stay closed with the century, royal copenhagen takes the balance between history and new trends. it works in between 'tradition and evolution' constantly by developing new shapes and designs based on the traditional ones. this 'legacy story' continues consistently in modern century.
blue fluted plain. in production since 1775 and to this very day painted by hand as in 1775.
a modernize collection – blue fluted mega was produced since 2000. designed by a young talent karen kjældgaard-larsen, this collection has bought out new perspectives on traditional image of blue flute. blue fluted pattern were enlarged and arranged irregularly on the porcelain, in contrast to classics but still honouring the 1775 design. blue fluted mega is now available in the dinnerware collection.
early in 2012, royal copenhagen engaged in the copenhagen culture night (CNN) event, several exquisite craftsmen hand painted the large-scale posters and billboard with classic blue flute on streets. the prestigious hand painting techniques could be showcased to the public and had closed relationship with the city.
blue fluted mega, designed by karen kjældgaard-larsen, mixed with white fluted
royal copenhagen's products are eco-friendly since porcelains come from nature. the impact towards environment has been minimized throughout the production. while good porcelain can be passed in several generations but still in nice condition. more importantly, the prestigious craftsmanship can be passed as well.
business of design week3 – 8 december 2012hong kong convention & exhibition centre
for more information, please visit: www.bodw.com and BODW's facebook page.

designboom is an international media partner of the business of design week (BODW) first hosted by the hong kong design centre (HKDC) in 2002, business of design week (BODW) is a must-attend ideas exchange platform for asia's most innovative thinkers and business leaders. now in its 10th year, BODW – as the finale of 2012 design year – continues to inspire valuable dialogue through an unrivaled blend of forums, seminars, exhibitions and outreach programmes for designers, business leaders, educators, SMEs and the public to exchange ideas and address a wide array of 21st century challenges. if you want to stay on top of cutting edge opportunities in design, technology and brand management, this is one event you won't want to miss! this year, BODW is partnering with denmark. it is certain that it will bring about more positive changes in the people centered design and business communities.
BODW 2012hongkong convention and exhibition center 03-08.12.2012
mar 13, 2013
mar 13, 2013
jan 11, 2013
jan 11, 2013
jan 08, 2013
jan 08, 2013