the word craft bears a profound significance for bombardier. it's a word that describes the product, and also the process; a term that accounts for both aviation and artistry; the end result, and the pursuit of making. for the world's leading manufacturer of private jets and trains, craft is of critical importance. for over 50 years, bombardier business aircraft has built on its rich heritage with a forward looking, innovative spirit embodied by its team, and the aircraft they proudly manufacture. behind every fleet is a force of expert engineers, visionary designers, and master artisans, dedicated to bringing the highest levels of luxury and quality to their craft.
this year, bombardier enters its new flagship global 7500 business jet into service. designed and built with no compromise in terms of performance and comfort, the new global aircraft is in a class of its own, and truly manifests the bombardier spirit of 'exceptional by design'. designboom visited bombardier's state-of-the-art facilities in montréal to discover how this cutting-edge business jet is born.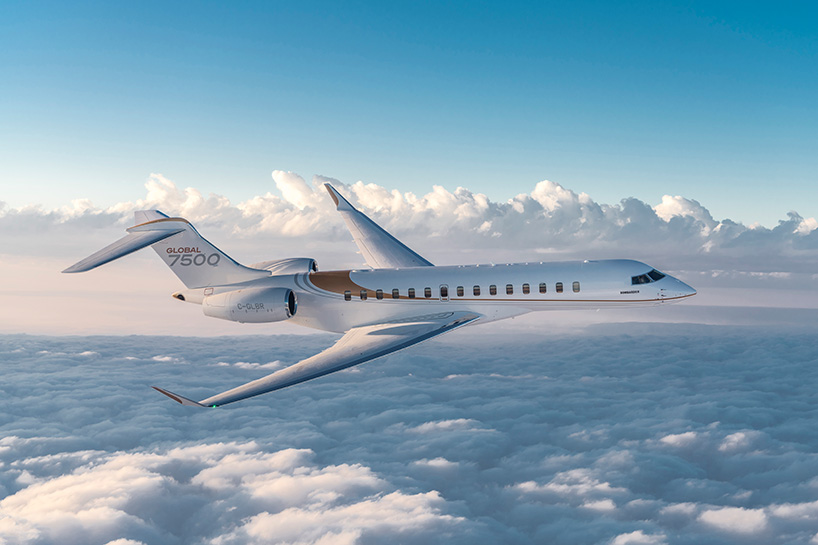 in a class of its own, the global 7500 is designed with no compromise in terms of performance and comfort
designing and manufacturing a business jet as extraordinary as the global 7500 requires a holistic collaboration between a number of multidisciplinary teams. the intensive process — which takes shape over the course of several years — is typically set in motion by engineering teams, who begin by defining the performance characteristics first and then the cabin amenities afterwards. in the case of the global 7500, the priority was to define the on-board experience first and then to 'wrap an aircraft around it'. it all began with the industrial design team defining the customer experience on-board, and collaborating at the earliest stages of development with the engineering teams to ensure that the requirements of the interior — cabin dimensions, window size and placement, structural layout — was embedded into the DNA of the airframe. deriving aesthetic cues from cutting-edge architectural schemes, automotive design, boutique hotels, and various forms of luxury living, the team then begin to hone in on the layout, furniture, and materials that will be used.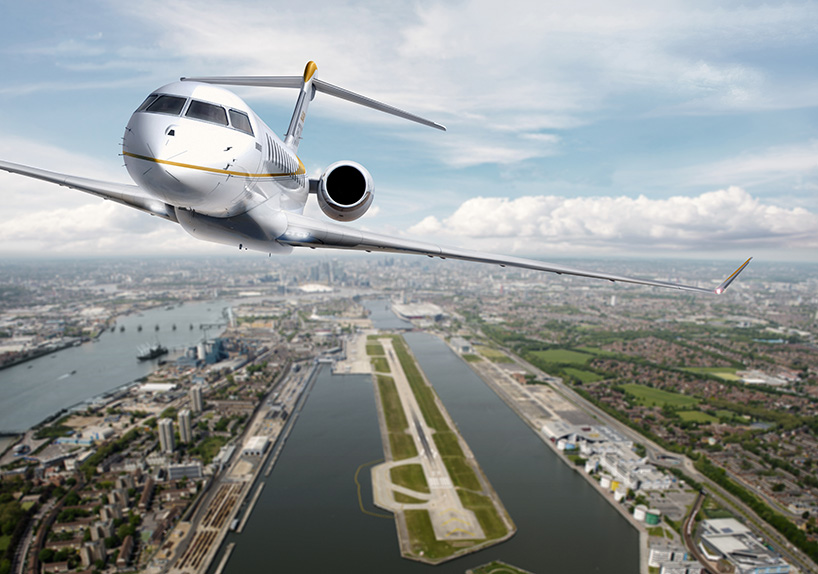 the global 7500 aircraft is the world's largest and longest range business jet
at the helm of the design vision for the global 7500 is tim fagan, head of the industrial design team for bombardier business aircraft. fagan and his team, working closely with engineering and manufacturing, were responsible for the development of the aircraft interior and only with total buy-in from all departments involved was able to create an exceptional in-flight passenger experience. 'as a designer, what's really rewarding about leading an industrial design activity for an aircraft like the global 7500 is that it becomes a series of individual design projects with individual design focuses,' fagan tells us. whether it's lighting, seating, elements of interaction, or entertainment spaces, every detail of a bombardier business aircraft is meticulously selected and thoughtfully designed. 'to have them all come together into a unified a whole, so that each piece is working together, is really exciting.'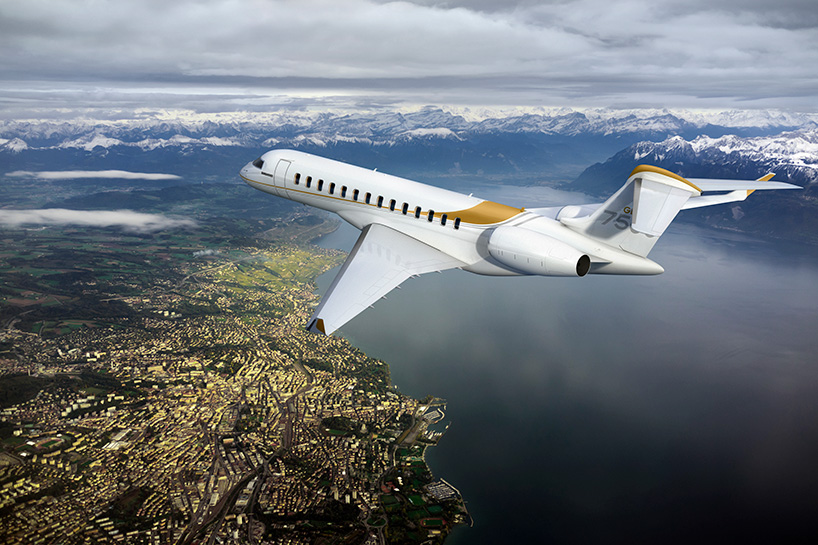 the global 7500 is the only business aircraft that can connect new york to hong kong
conceived as a home in the sky, the global 7500 is the industry's only business jet designed with four living spaces and a dedicated rest area for crew. all the familiarities of home, the necessities of the office, the essentials of life — and more — exist inside the aircraft. truly expansive and generously proportioned, the global 7500 feels familiar and comfortable, like home, but simultaneously delivers all the business tools a passenger might need to be productive at 51,000 feet. boasting unparalleled space and interior design flexibility, cabins can be completely personalized with virtually limitless suite selections, floor plans, and furnishing options. club, conference, entertainment, lounge and master suites offer incomparable on-board amenities, like a permanent bed, complete kitchen, stand up shower, work tables that seat six, and a configurable divan.
watch the designers of the global 7500 bring a cutting-edge business jet from conception to completion
stepping inside the global 7500 induces a strong sense of warmth and welcome, and light plays an important part of well-being on board. during the day, the interior of the cabin is flooded with natural light, thanks to extra-large, carefully placed windows which align with every seated position and are centered at every table. sight lines have been maximized, both outside the aircraft and downward so that passengers can check out the terrain as they jet to their next destination. this bright and inviting space creates the perfect atmosphere for quiet reflection, conversation or business productivity. meanwhile — thanks to the global 7500's full-spectrum RGB lighting system — daylight simulation adapts to timezones to ease passengers into sleep and gently wake them up, making sleeping in the sky as natural as it is at home.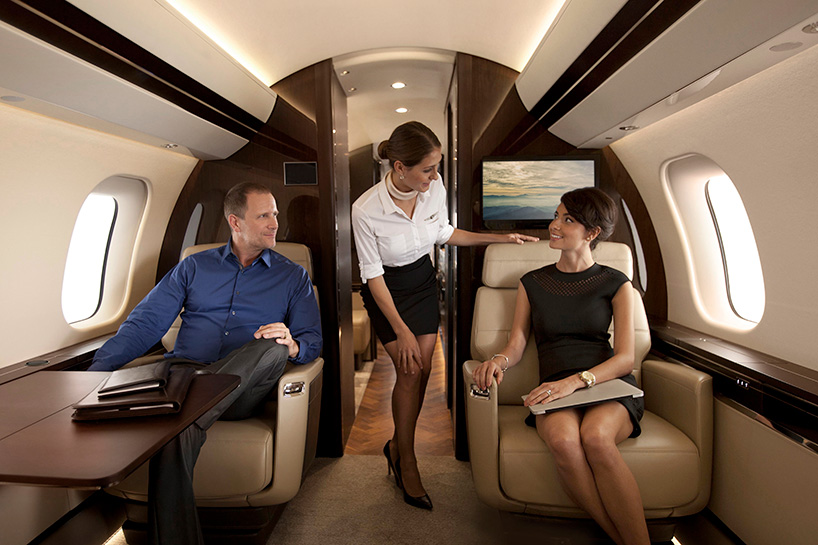 four true living cabin zones can be tailored to suit the customer's needs
in delivering a home in the sky, comfort, functionality, and beauty are considerations that lie at the core of the design vision for the global 7500. 'we wanted to make our motto of 'exceptional by design' a reality inside the cabin,' fagan continues. 'what that means for us, at a basic level, is 'no comprise'. it means that if you're sleeping, you need to have an amazing night's sleep with perfect lighting, considered amenities and a welcoming bed; if you want to connect with the office, or loved ones back home, you can do so instantly; seating should allow passengers to be refreshed and comfortable all the way through their flight — the idea of no compromise really becomes part of the DNA of the aircraft.'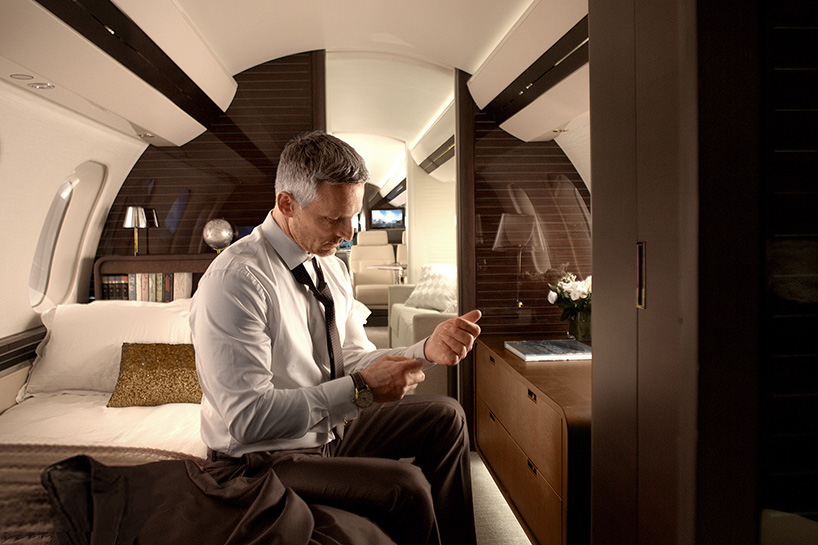 an array of floor plans and furnishing options make the global 7500 a jet that offers virtually limitless possibilities
fagan and his team's emphasis on 'no compromise', particularly in regards to seating, is ever-evident in the design debut of the 'nuage seat' — the most comfortable seat in aviation. masterfully crafted and thoughtfully engineered over several years and many evolving design iterations, 'nuage' delivers class-defining comfort for life above the clouds. its revolutionary architecture marks the first meaningful change in the operation and design of a business aircraft seat in 30 years. on a long-range jet — the only one in the world that can connect new york to hong kong, and singapore to san francisco, non-stop — delivering ergonomic perfection was a fundamental design undertaking.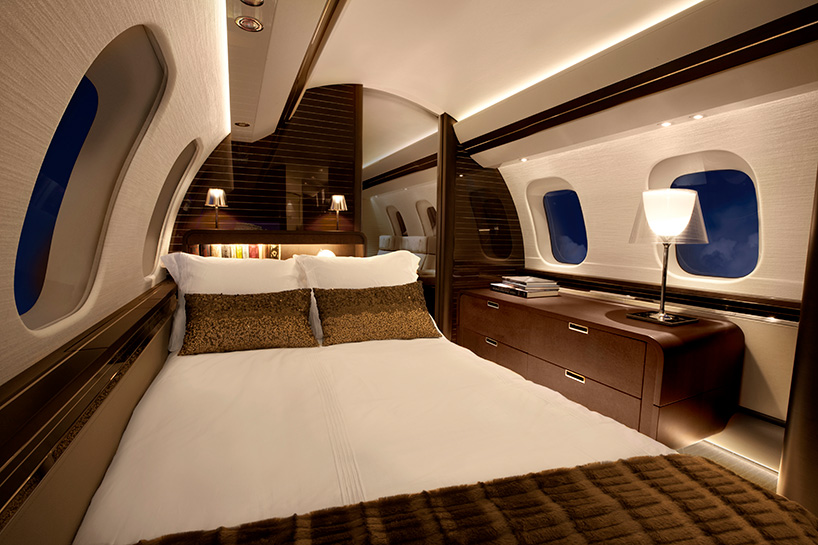 the customizable cabin includes space for a permanent bed and stand up shower
few pieces of furniture can carry a legacy like a great chair, and generating the vision for a totally new seat that would stand the test of time was no small feat. the task required the industrial design team at bombardier business aircraft to dig deep into design history. fagan cites norwegian industrial designer peter opsvik, whose exuberant and exploratory approach to seating research and design influenced the process in developing 'nuage'. opsvik's work is observational and practical, studying how people behave in seating and experimenting with non-traditional approaches — a method which resulted in some very unusual designs that challenged the norm.
embracing a research-driven and experimental strategy, fagan and his team focused on maximizing comfort and relaxation during long-haul flights to come up with something truly revolutionary.

a 3-place berthable divan can be expanded into an additional sleeping space
at the heart of 'nuage' are three pivotal design features unavailable on any other seat in business aviation: unprecedented deep recline; a one-of-a-kind floating base; and a unique tilting headrest. the result of years of research and development, the tilt-link recline system is what puts 'nuage' in a pioneering class. unlike other aircraft seats that only pivot at the back — making the body feel as if it's sliding forward — 'nuage' dips the entire seat backwards at the knees as it reclines. this works to keep the body fully supported with no added pressure on the legs, cradling the body to ensure optimal comfort. 'from a design perspective, if you create a linkage that tips the seat pan a little below the hips, users can go into a sort of zero gravity position,' fagan describes. 'you feel completely cradled, you maintain contact between your body and the seat, and also preserve the contact between your feet and the floor — another hugely important element for seated comfort.'
see why 'nuage' is described as 'the most comfortable seat in aviation'
meanwhile, the 'nuage' seat's floating base houses a novel fluid movement system for effortless tracking, and a carefully engineered axis that maintains an intuitively centered point of rotation in any position. 'the mechanism that allows you to move the single seats around the cabin — to get closer to the table, or to rotate to speak to someone next to you — has been resigned to make it smooth, effortless and completely silent,' fagan continues. 'we've also relocated the point of rotation directly underneath the seat pan, so that as you so move around the cabin, the point of rotation is always directly below your center of gravity. it's a subtle change, but it feels very natural and intuitive.' the trackless footprint also gives the cabin floor a pristine look.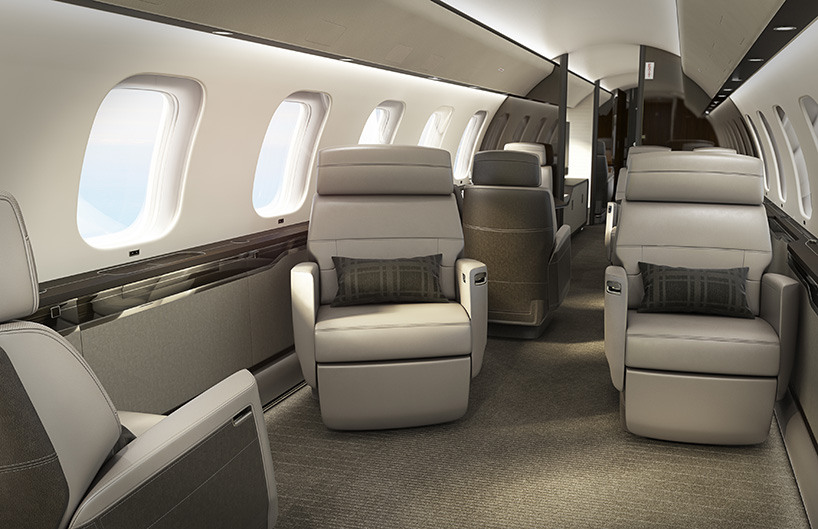 the 'nuage' seat has been designed to support passengers while working, relaxing, eating or sleeping
another subtle, but very important development is the 'nuage' seat's tilting headrest. this fully-adjustable headrest provides essential neck support in every position, while helping to maintain an effortless line of sight when watching TV or reading in a reclined position. 'we really looked at how people were using their long-range aircraft,' fagan says, 'and that might include lying back while watching a movie. when you've gotten into your reclined position, you can reach back and raise and adjust the headrest, pivoting it so it really cradles the base of your head.'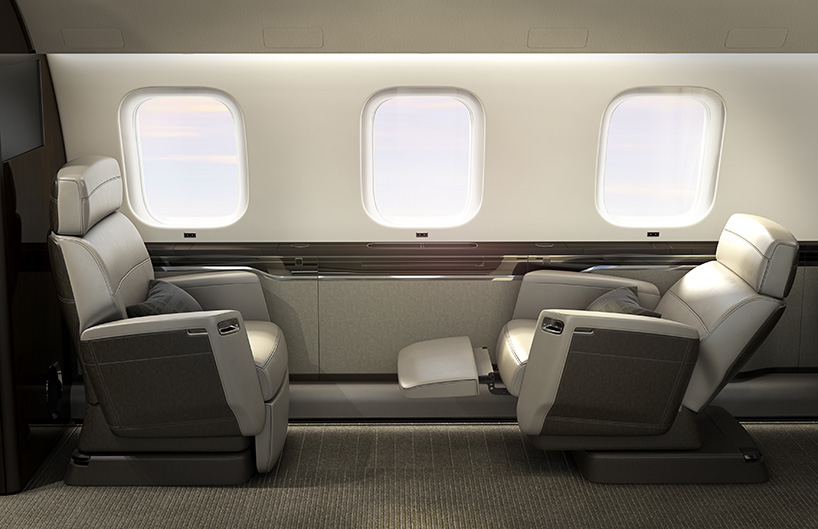 each seat is meticulously tailored and personalized to its owner
being fully supported from head to toe is a major factor in making flight feel like home, and user interaction plays an important role in shaping the experience of ultimate comfort. cutting-edge technology meets intuitive functionality on the 'nice touch' cabin management system (CMS), designed exclusively for the global 7500 aircraft. 'nice touch' CMS introduces a new way for passengers to engage with the cabin through two new methods of interaction: the bombardier touch dial, located by every seated position; and the suite controllers, which can be found throughout the aircraft's living spaces. the optimal number of controls at just the right locations further supports the home-like experience that the global 7500 delivers.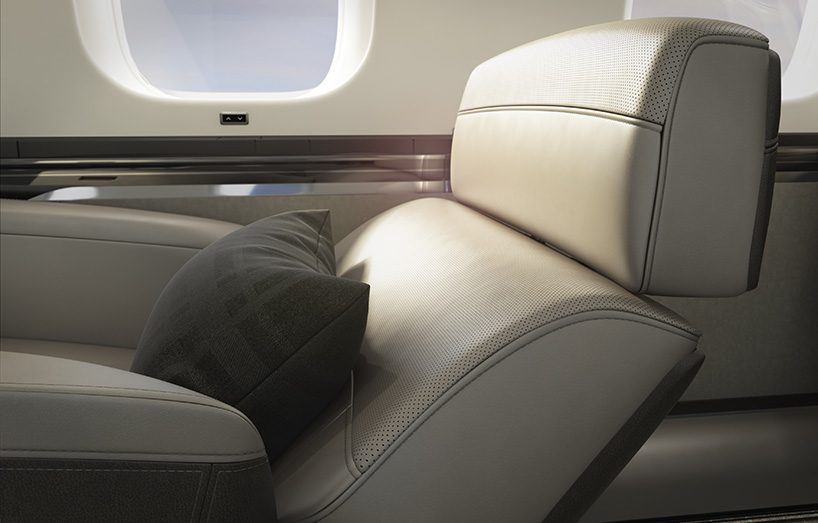 the headrest can be tilted forward, delivering perfect support for the head
the touch dial — business aviation's first application of an OLED touch display — has been designed to give the user precise control and a tactile experience when making fine adjustments in the cabin. an exquisitely detailed, moveable ring around the outside elegantly rises from the side ledge with a single swipe. fagan says the dial was inspired by rotary controls common to domestic settings. 'if you look at a high-end stereo system, often you'll see a rotary dial that gives very precise control over the volume,' he describes. 'there's a familiarity with that; being able to grab a dial is natural to the user.' paired with the 'nice touch' app, or via the suite controllers, passengers can adjust a wide variety of cabin settings with total ease, such as sound and entertainment features, temperature settings, daylight simulation, lighting schemes and shades — helping to fine-tune the perfect on-board ambiance.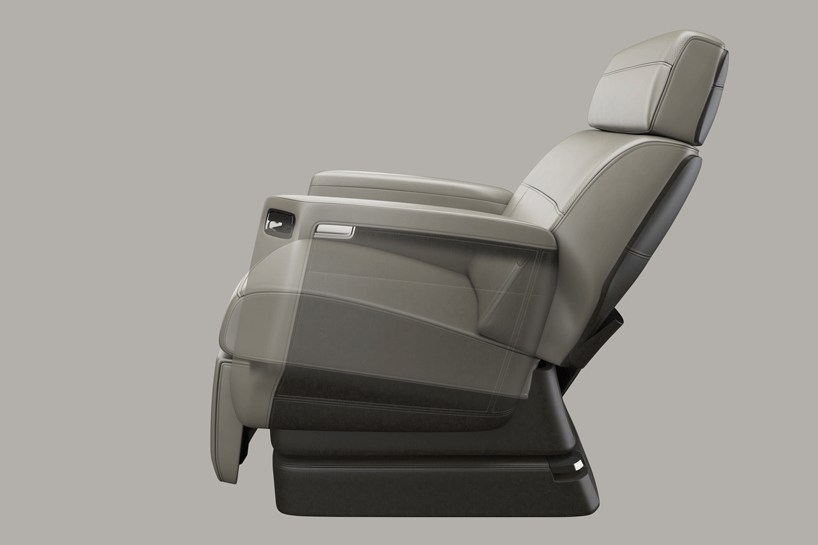 as the backrest reclines, the seat pan just below the hips dips as well, cradling the body
as the evolution of design direction, conception, and extensive development nears an end, the journey for the global 7500 continues on to execution, production, and — finally — into the customer's hands.
at bombardier's state-of-the-art centre of excellence in montréal, high-precision completion work for global business jets takes place by a tremendous team of master craftspeople, artisans and engineers. skilled craftsmen with expertise in areas like cabinet making and finishing, woodworking, and upholstery gather to develop an aircraft interior that is truly unparalleled. interiors are evaluated in a one-of-a-kind bombardier-designed test rig that replicates the conditions of flight related to airframe motions and loads using a production fuselage mounted on a pneumatic bed.
'nice touch' CMS is designed to give the user precise control of making fine adjustments in the cabin
nearby, bombardier's laurent beaudoin completion centre is where the global family cabin interiors are finally installed. here, customers are completely immersed in bombardier's 'exceptional by design' philosophy. a dedicated team of interior designers and account managers work closely with the customer to determine how they will use their aircraft, what their style is and the mood they want to create on-board. inside a spectacular showroom, clients review a remarkable range of fabric, carpet, material, and veneer options; can choose decorative stitching and cushioning for their 'nuage' seat; and unearth limitless décor possibilities to customize their craft to the heights of tailored luxury.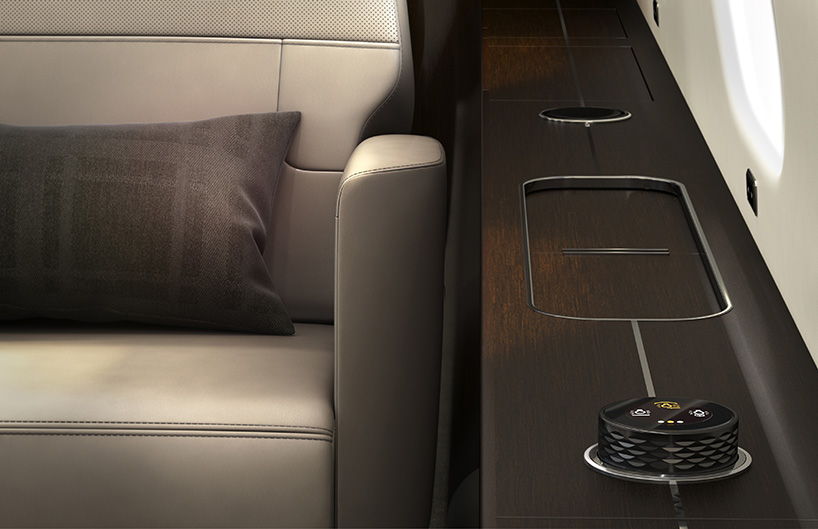 the dial sits flush against the side ledge until a passenger activates it with a swipe
the global 7500 recently achieved a major milestone by receiving type certification. this achievement marks the final milestone ahead of the first aircraft delivery by year end, and underscores its status as the world's largest, longest range and most luxurious purpose-built business jet. it can fly further than any other business jet, reaching an unsurpassed range of 7,700 nautical miles and connecting some of the world's most expansive city pairings. upon entry into service, the global 7500 will offer not only its signature smooth ride but also a superior spaciousness and home-like quality like no other. it's no exaggeration to say that the global 7500 has changed the face of business aviation.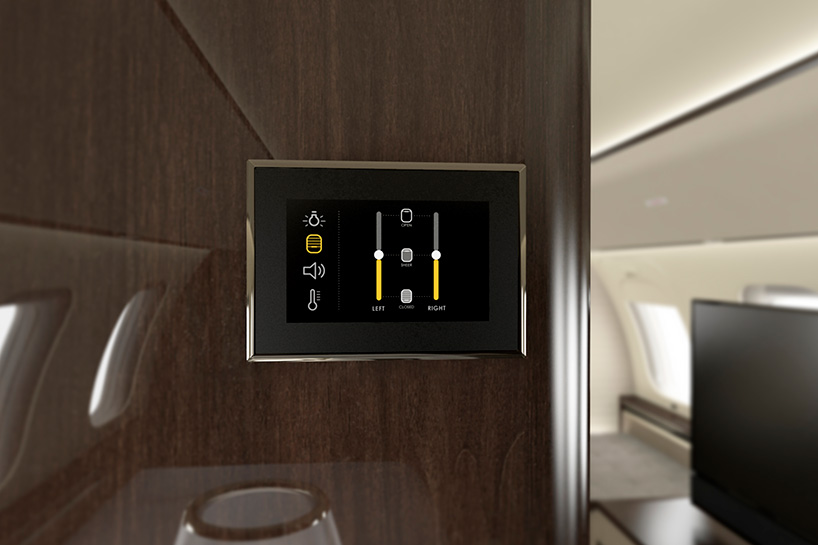 LCD screens are integrated in every cabin zone, offering control over internal conditions
stay tuned as designboom delves deep into what it's like to be a designer of a business jet in an exclusive video interview with tim fagan, coming soon.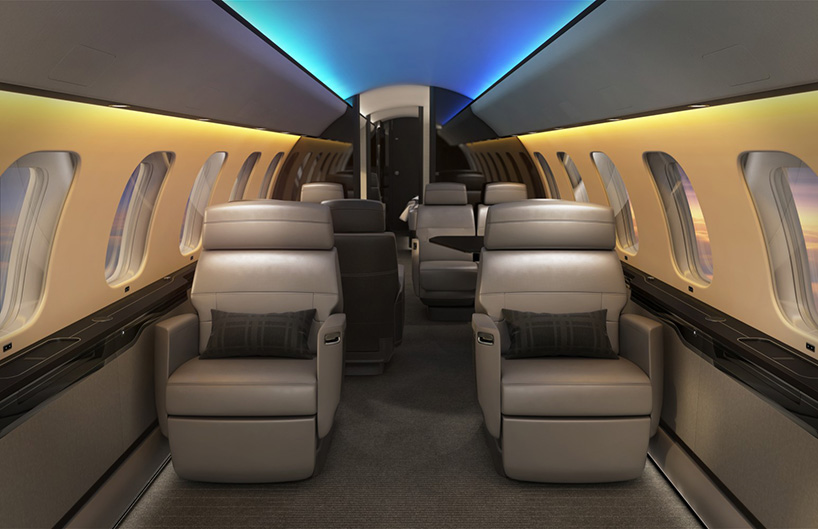 using CMS, passengers can create and save their own lighting conditions when they find the perfect ambiance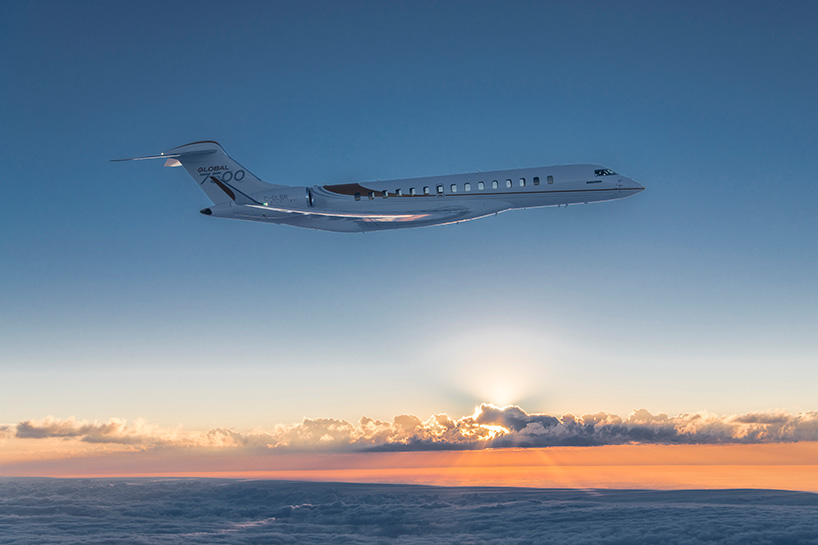 the global 7500 is on track for entry-into-service by the end of 2018
nina azzarello
I designboom
nov 22, 2018
KEEP UP WITH OUR DAILY AND WEEKLY NEWSLETTERS
happening now! antoniolupi extends its expertise beyond the bathroom with the 'living' collection, a series of home furnishings that complement its esteemed collection of bathroom furniture and accessories.
a diverse digital database that acts as a valuable guide in gaining insight and information about a product directly from the manufacturer, and serves as a rich reference point in developing a project or scheme.
designboom will always be there for you
milan, new york, beijing, tokyo

,
since 1999